NOTE: Each higher access level includes ALL the benefits of the lower levels. Private Lessons include all the benefits of a Premium Access Plans as long as you remain a student on the schedule.
Welcome to the LearningUkulele.com Site
We, I, Me ( Curt Sheller ) is-are a independent musician, private teacher, coach, publishing company catering to the musical needs of musicians worldwide.
My various websites over the years have include resources, links, lessons, TABs, play-along tracks, videos and related goodies to help you develop as a player and enjoy your chosen instrument to the fullest. I've been on the web collecting and developing this site for over 20 years. Sort of a digital pack-rat collecting information from around the world. The latest incarnation is this LearningUkulele.com — Learning Ukulele with Curt site.
So you might be saying to yourself. "Self, or whatever you call yourself - How can there be so many lessons?". Well, most of the lessons are small and dedicated to a single topic or subtopic and focused on a single task. And, over 30 years of serious study, research, and exploration. That, as well as collecting and lot of related information for ukulele, all my lessons notes from those years of study, can lead to a lot of lessons and information on the site.
Learning Ukulele with Curt • Lessons
ALL Available Lessons on LearningUkulele.com in a condensed format – title's only view OR catalog view with lesson descriptions.
Learning Ukulele with Curt • Lesson Series
A Lesson Series is a collection related lessons that fall into a logical, organized sequence of lessons and material to study and learn from. Each series has a progression of lessons that build upon the previous lessons. With so many lessons available on Learning Ukulele with Curt it can be a daunting task to know where to start and the lessons to select.
Getting Started Series
Suggested lessons that ALL my private students and site members get. This series of lessons sets the foundation and establishes common musical terminology for communication and all future lesson material.The whole goal of this series of lessons under this Getting Started with Ukulele lessons series is to get you playing basic chords in common keys using common strums. Related side lesson material will be suggested and recommended.
"I just had a damn guitar in my hands 16 hours a day, and I experimented all the time." Chet Atkins interview Rolling Stone in 1976.
"A long apprenticeship is the most logical way to success. The only alternative is overnight stardom, but I can't give you a formula for that."

Chet Atkins from The Book Of Country Music Wisdom
Someone told Chet Atkins, "Man, that guitar sure sounds good!" Chet set the guitar down on a chair and asked him, "Ok, how does it sound now?"

"The self-taught man seldom knows anything accurately, and he does not know a tenth as much as he could have known if he had worked under teachers; and, besides, he brags, and is the means of fooling other thoughtless people into going and doing as he himself had done." ― Mark Twain
( A little tough talk from Mark, but quite true. Curt )
How About More Uke
Here is a track titled Glen's Cove from my 2016 CD How About More Uke?. Glen's Cove was inspired by Glen Hirabayashi of The Aloha Boys after a weekend-long jam session I had with Glen. Glen and his wife Donna came up to the Philadelphia Folk Festival and hung out all weekend with us at our Funky Frets vendor booth.
Glen's Cove
More about the CD can be found at: www.CurtSheller.com
For Booking a Concert, Workshop or Clinic Contact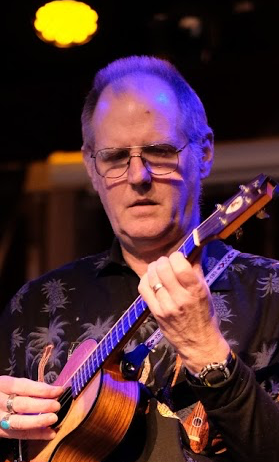 Curt Sheller is available for concerts, workshops, book signings, festivals, etc. Contact Curt directly or Kelly for the quickest response or more information.
Cost depends on the type of event, how many people at the event, where the event is located, if the venue/booking agent is supplying sound/lighting/backline, travel expenses etc. Contact Curt directly or Kelly for the quickest response. ( It's more affordable than your think. )
Visit Curt's site ( www.curtsheller.com ) for music, video, additional information and the most up-to-date performance and workshops dates for Curt and/or the trio.
Kelly Thompson
484 • 415 • 9677
kelly@funkyfrets.com
Bernadette Sheller
484 • 942 • 8041
bern@funkyfrets.com
Curt Sheller
484 • 942 • 8040
curt@curtsheller.com
"If you always put limits on everything you do, physical or anything else, it will spread into your work and into your life. There are no limits. There are only plateaus, and you must not stay there, you must go beyond them." ― Bruce Lee
684 Lessons and Counting
There are over 684 lessons available with more being added all the time. All lessons are FREE or part of a really low cost site membership . Site members and active students have access to the PDF files, audio examples and video.
Lessons are being added and updated all the time. For the latest new and updated lessons visit the New & Updated Lessons page with the latest lessons and updates.
Getting started with 'ukulele, and a few basic open position chords and a few simple strums are relatively easy – it's not magic.
As with any instrument, getting beyond the basics gets a little harder. So, don't be fooled into thinking that there's a magic potion for learning the ukulele, or any instrument.It comes down to work, organizing the material you want to learn,and actually doing it.
The music you play can be as simple or complex as you want. The Ukulele is a powerful musical instrument for expressions and communication that can be taken to any level you want.
"What's the secret?"
So "What's the secret?" – As I tell all my students when I ask them "Do you want to know the secret?". Naturally, they say yes, and I tell them - "There is no secret. It's only hard work and persistence."

"Press on: Nothing in the world can take the place of persistence. Talent will not; nothing is more common than unsuccessful men with talent. Genius will not; unrewarded genius is almost a proverb. Education will not; the world is full of educated derelicts. Persistence and determination alone are omnipotent."
— Calvin Coolidge, The 30th. President [1923-1929]
The Elements Of A Successful Music Program
Here are a few of the elements of a successful music program that you would typically cover in a well-rounded musical education. These apply to whether you're taking private lessons or embarking on a self-study program.
Chords, Chords and More Chords
If there is one thing that you'll do more than anything else on ukulele, it's play chords. Chords one after another is called a progression and that is what makes of the harmonic part of a song. And it's wanting to play songs that draw you to the ukulele in the first plays.
From almost FREE to a one-time payment and never pay again, there are three plans levels to choose from with flexible payment options:
Site Membership Includes
Access to selected Premium Lesson Download material
Access to selected Premium Play-along jam tracks
Unlimited 24/7 access to ALL your Student/User Assets & Resources, including premium play-along tracks and their lead sheets as long as your an active user
Individual Student/User Assets & Resources area to manage all the site goodies
In-Depth Technique Studies
Selected FREE Book Downloads
Cancel anytime
Secure Auto renew - don't worry about forgetting to renew
Bronze Plan
FREE Bronze Access - A limited selection of basic lessons ( currently over 140 ) and 100+ songs for ukulele as well as basic general music reference material — Completely FREE — Simply Register/Signup to access associated lessons, books, songs and their related assets.
Gold Plan
Premium Gold Access - The Premium Plan gives you Unlimited 24/7 access to ALL lessons, downloads, songs, play-along jam tracks, videos, email access to Curt, resources and related assets. As well as ALL books by Curt Sheller as FREE downloads.
Private Lesson Plans and Pricing
Get personalized one-on-one guidance, at your own pace, anytime and anywhere in the world.
Initial analysis and assessment of your current skills and goals.
Personal User Assets and Account Page account page for books, lessons, songs and individual session notes.
Personalized plan and learning materials.
FREE downloads of any of my books used in your sessions using your User Assets and Account Page.
Unlimited private email correspondence. Video and audio correspondence, as needed is also part of the plans.
Unlimited 24/7 access to ALL your User Assets and Resources, including premium play-along tracks and their lead sheets.
Unlimited 24/7 access to downloads of any of my books used in your sessions.
Skype, Facetime or

g

o

o

g

l

e

Hangout sessions on request for checking up on progress.
All private students are a GOLD level site member.
NOTE: Each higher access level includes ALL the benefits of the lower levels. Private Lessons include all the benefits of a Premium Access Plans as long as you remain a student on the schedule.
Just browsing over both books, they look fantastic! I'm a guitarist and uke player for over 25 years and was thinking about writing a ukulele book but you've already written what I think are the best, most comprehensive and thorough books I've ever seen for the instrument. I just might end up buying every book you've written and I'll be giving my highest recommendation for your books to my friends and students. Thank you so much for taking the time to write such great books! — Peter Rhee
Aloha, Curt, All I can say is WOW! What you have accomplished is simply incredible! All the best — Glen Hirabayashi, The Aloha Boys
Folks, if you haven't stopped by Curt's site, do so right now! ..And get his books, they are fantastic. This guy knows his stuff and is able to pass it along too. — Alan Johnson Proprietor, The 4th Peg
I can highly recommend Curt's Uke books — I have four of them and they are excellent. — fatveg — Portland
Thanks for visiting and checking out the site!

Original Curtie Animation from 1987 for my first web site on a Macintosh II.
33 years ago.
"Built for myself (Curt), and sharing with the `Ukulele community!"
LearningUkulele.com has one of the largest collections of lessons, songs, and TABS, luthiers, ukulele builders, ukulele festival and club information, and, ukulele links on the web. I've been on the ®Internet since the early 1990's and This site just never stops growing!!!
Content is added and updated almost daily - so check back often.