Learn a New Ukulele Chord Each Day of 2017!!!
Today's Chord a Day, March 28th - F7b9b5
Each day of 2017 there's a new chord you can learn and add to your chord vocabulary. First time here? Start with the January 1st chord.
Booking Information for Performances and Workshops
All the information you need to book Curt Sheller for your club, venue, festival or ukulele event.
For Booking a Concert, Workshop or Clinic Contact:
Curt Sheller is available for concerts, workshops, book signings, festivals, etc. Contact Curt directly or Kelly for the quickest response or more information. Booking 2017 dates and beyond now.
Visit Curt's site ( www.curtsheller.com ) for music, video, additional information and the most up-to-date performance and workshops dates for Curt and/or the trio.
Kelly Thompson
484 • 415 • 9677
kelly@funkyfrets.com
Curt Sheller
484 • 942 • 8040
curt@curtsheller.com
Performance, Workshops, Recording and Vendor Dates
---
2017
March 18
House Concert - Herdon, VA, I'll be presenting two (3) `ukulele workshops (Ukulele Doodling: Introduction to Scales and Soloing on Ukulele, Exploring Jazz Chords on Ukulele ). Followed by a solo concert.
Here is an announcement from the Glen Hirabayashi who is hosting the workshops and performance.
It's like getting six months worth of lessons all in one day.
Friday, April 14 - Trio
Half Moon Cafe - 313 Main St. Oley, PA •The Curt Sheller Jazz Trio. We'll be doing a lot of new songs.
Saturday, April 22
4th annual Allegheny Ukulele Soiree - The Laurel Lodge Altoona, PA, I'll be presenting three (3) `ukulele workshops (Learning the Ukulele Fingerboard, Ukulele Doodling: Introduction to Scales and Soloing on Ukulele, Building Left Hand Technique ) and with Lil' Rev there I'll sure to be sitting in.
June 24 - Solo
Godfrey Daniels - 7 E 4th St., Bethlehem, PA • Solo opening slot for The Kennedys
October 7
Funky Frets Uke Fest - Boyertown, PA, United States • Presenting several workshops and performing.
---
2016
Saturday, April 23, 2016 6:00 PM - Funky Frets, Boyertown, PA - Solo set for Jazz Appreciation Month.
Saturday, April 2, 2016 - The Other Farm Brewing Company, Boyertown, PA - Trio, Opening for Andy Mowatt.
Saturday, April 23, 2016 - Funky Frets Jazz Appreciation Night, Boyertown, PA - Solo.
Saturday, May 21, 2016 - Bear's Den, 133 S Chestnut St, Boyertown, PA - Funky Frets Acoustic Night - Solo Ukulele
Thursday - Sunday, August 18-21, 55th Philadelphia Folk Festival, Harleysville, PA (as vendor and lot of jams at the booth)
Friday - Saturday, August 26–27, Ukrainian American Cultural Center, Whippany, NJ
Sunday, September 11, 2016 - ScSchuylkill Valley Boys Uke Jam, Garrett Mill Park Pavilion, Route 3 (West Chester Pike) & Route 926, Willistown Pa. - Solo performance as well as a duo with Betsy Manning.
Friday, September 30, 2016 - Funky Frets Uke Fest, Boyertown, PA - Trio
Friday, October 14, 2016 - Funky Frets Night at the Boyertown PickFest, Other Farm Brewing Company, Boyertown, PA - Trio
On Going
Third Sunday of every month (except August) - Getting Started Ukulele Workshop @ 1PM and followed by the Funky Frets Meetup Jam @ 2:30PM -Funky Frets 600 E. Philadelphia Ave., Boyertown, PA USA
2015
The Curt Sheller Trio in Action at the 2015 Pickfest October 2015
Set List
Milestones
I'll Remember April
Rain Shine
Satin Doll
Glenn's Cove
Summer's Dawn (Gone)
Sway
Poney Express
Blue Bossa
While My Guitar Gently Weeps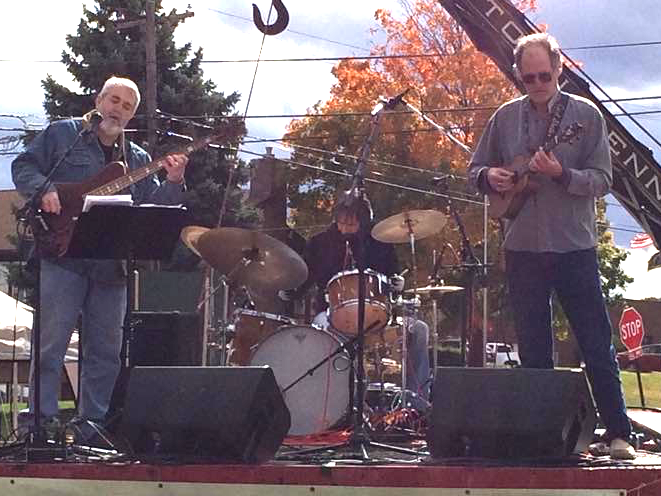 The Curt Sheller Trio in Action at the 2013 Funky Frets Grand Opening
Set List
Milestones
3:20 - Sway
7:15 - Don't Get Around Much Anymore
11:20 - My Favorite Things
16:20 - I'll Remember April
20::46 - Blue Bossa
25:20 - Norwegian Wood
28:52 - While My Guitar Gently Weeps
Just browsing over both books, they look fantastic! I'm a guitarist and uke player for over 25 years and was thinking about writing a ukulele book but you've already written what I think are the best, most comprehensive and thorough books I've ever seen for the instrument. I just might end up buying every book you've written and I'll be giving my highest recommendation for your books to my friends and students. Thank you so much for taking the time to write such great books! — Peter Rhee
Aloha, Curt, All I can say is WOW! What you have accomplished is simply incredible! All the best — Glen Hirabayashi, The Aloha Boys
Folks, if you haven't stopped by Curt's site, do so right now! ..And get his books, they are fantastic. This guy knows his stuff and is able to pass it along too. — Alan Johnson Proprietor, The 4th Peg
I can highly recommend Curt's Uke books — I have four of them and they are excellent. — fatveg — Portland
Thanks for visiting and checking out the site!
Thanks, for visiting!!! Content is added and updated almost daily - so check back often.
LearningUkulele.com has one of the largest collections of lessons, songs, and TABS, luthiers, ukulele builders, festival informations, clubs, and ukulele links on the web. I've been on the ®Internet since the early 1990's. This site just never stops growing!!!