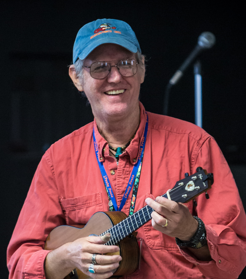 Learning Ukulele with Curt
The home for Learning Ukulele and All Things Ukulele with Curt Sheller
600+ lessons, 100+ Songs, Books, Clubs, Festivals and Resources
for ukulele players of ALL levels...
The basics and beyond. Take your playing to the next level.
Go to Site... 200+ FREE Lessons Songs Register or Sign Up Today! Login
"In an era, where when so many of the great Jazz Ukulele players have gone on to play in the angel band, Curt rightly steps up to be my personal favorite when it comes to jazz on the ukulele.
His musical knowledge is unending and his improvisational chops are #1. When the planets align and we're able to jam it's a real thrill." - Lil' Rev