Blue Skies
Written by Irving Berlin in 1926 as a last minute addition to the Rodgers and Hart musical, Betsy.
PUBLISHED: Oct 1, 2011 • UPDATED: Dec 27, 2017 • LESSON CODE: UL403 •
Instruments: ukulele Subjects: jazz • repertoire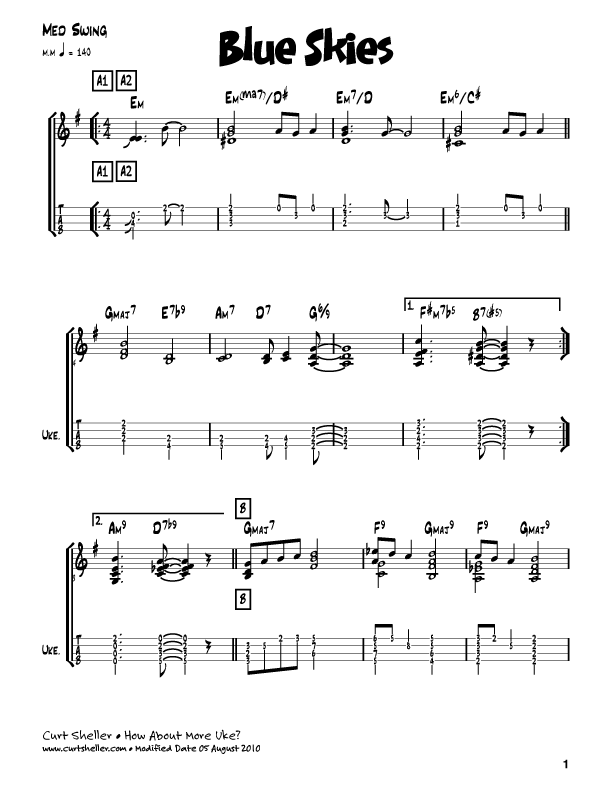 All 1 sample page(s) are viewable on-line.
If you are a registered site member and have the correct permissions you can view ALL the pages of this PDF at a larger size. You can resize the browser window smaller to a tablet or phone size and the pages will magically grow larger.
Blue Skies
Blue Skies is a popular song, written by Irving Berlin in 1926.
The song was composed in 1926 as a last minute addition to the Rodgers and Hart musical, Betsy. Although the show only ran for 39 performances, "Blue Skies" was an instant success, with audiences on opening night demanding 24 encores of the piece from star, Belle Baker. During the final repetition, Ms. Baker forgot her lyrics, prompting Berlin to sing them from his seat in the front row.
In 1927, the music was published and Ben Selvin's recorded version was a #1 hit. That same year, it became one of the first songs to be featured in a talkie, when Al Jolson performed it in The Jazz Singer. 1946 was also a notable year for the song, with a Bing Crosby/Fred Astaire film taking its title, and two recorded versions by Count Basie and Benny Goodman reaching #8 and #9 on the pop charts, respectively. Crossing genres, Willie Nelson's recording of "Blue Skies" was a #1 country music hit in 1978. The fact that it became a No. 1 country song (especially by a Texan artist) was not entirely surprising as it clearly was a major western swing and country standard as a 1939 version by Moon Mullican and a 1962 Jim Reeves interpretation have shown.
Blue Skies is one of many popular songs whose lyrics use a "Bluebird of happiness" as a symbol of cheer: "Bluebirds singing a song -- Nothing but bluebirds all day long."
How About More Uke?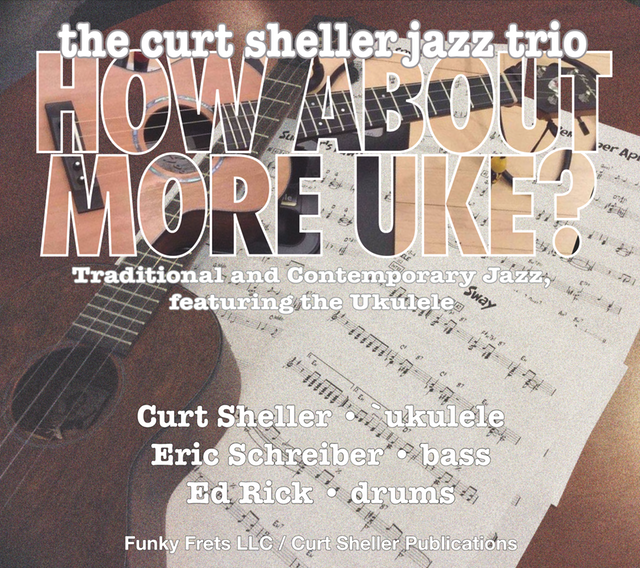 Release Date: December 2, 2015
Here is my new CD: How About More Uke? It is being officially released December 2, 2015. A collection of jazz standards, original compositions by myself (Curt Sheller), Chuck Anderson and Jim Beloff / Herb Otha. Featuring Curt Sheller: `ukulele, Eric Schreiber: bass and Ed Rick: drums.
10 Minute Demo of How About More Uke? CD
Remembering songs is all about the form and harmonic content and movement with taking in the similarities between songs. And, just like a road map they're landmarks that will trigger memories of how to get through various sections, changes or parts of a song.
This section of a song's page presents some tips on how I try and remember a particular song.
No Road Map for Blue Skies check back soon.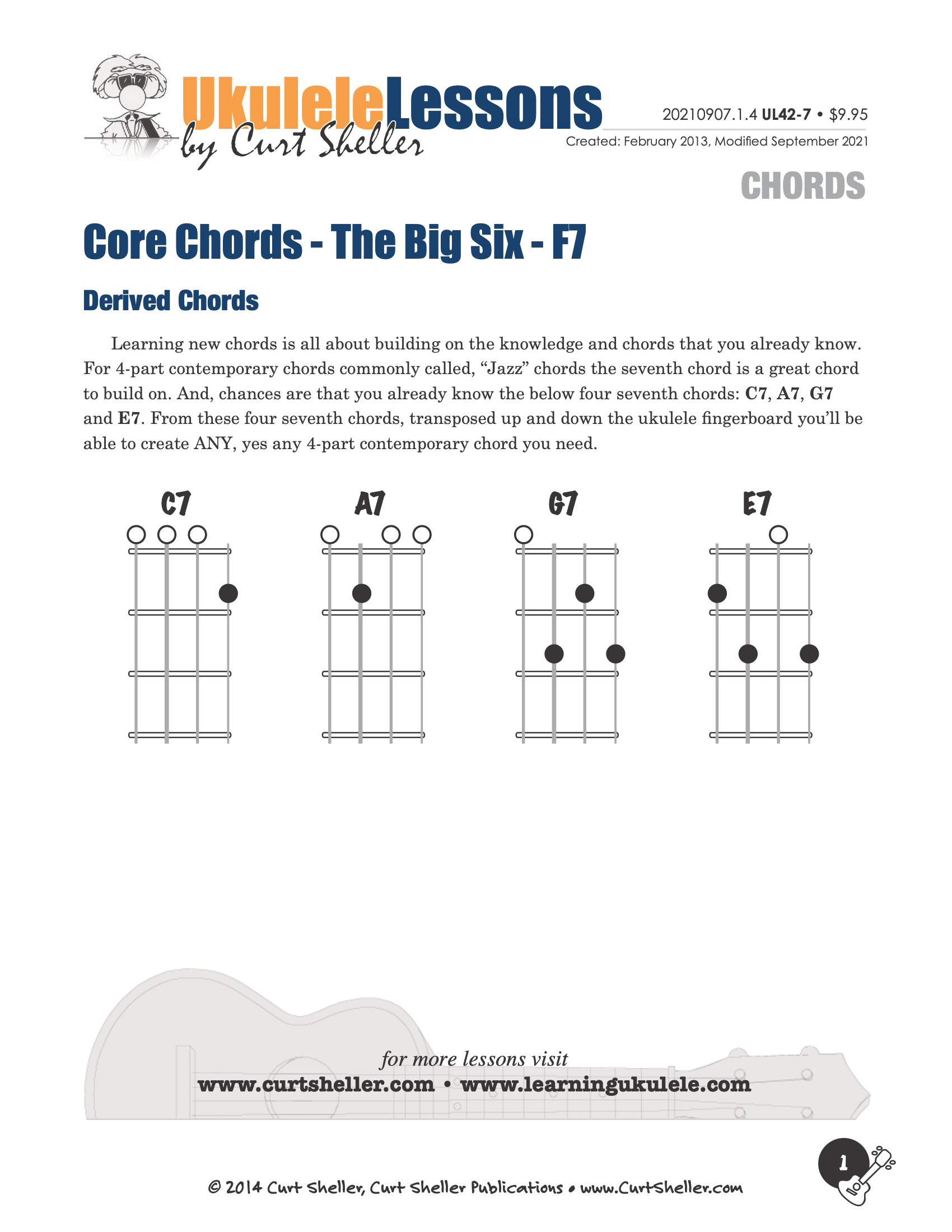 Core Chords - The Big Six - Building a Solid Chord Foundation
• Updated: Jan 23, 2020
The Big Six Core Chords is a series of lessons for building your core, essential 4-part chords. These chords commonly called jazz chords, are really just 4-part chords used in a wide range of musical styles. These chords include: Seventh , Major Seventh, Minor Seventh, Half Diminished Seventh or Minor Seven Flat Five, Diminished Seventh, and Augmented Seventh. These six chords form a core set of chords.
NOTE: Each higher access level includes ALL the benefits of the lower levels. Private Lessons include all the benefits of a Premium Access Plans as long as you remain a student on the schedule.
---
Just browsing over both books, they look fantastic! I'm a guitarist and uke player for over 25 years and was thinking about writing a ukulele book but you've already written what I think are the best, most comprehensive and thorough books I've ever seen for the instrument. I just might end up buying every book you've written and I'll be giving my highest recommendation for your books to my friends and students. Thank you so much for taking the time to write such great books! — Peter Rhee
Aloha, Curt, All I can say is WOW! What you have accomplished is simply incredible! All the best — Glen Hirabayashi, The Aloha Boys
Folks, if you haven't stopped by Curt's site, do so right now! ..And get his books, they are fantastic. This guy knows his stuff and is able to pass it along too. — Alan Johnson Proprietor, The 4th Peg
I can highly recommend Curt's Uke books — I have four of them and they are excellent. — fatveg — Portland
Thanks for visiting and checking out the site!
Original Curtie Animation from 1987 for my first web site on a Macintosh II. 34 years ago. Man, does time fly.
"Built for myself (Curt), and sharing with the `Ukulele community!"
LearningUkulele.com has one of the largest collections of lessons, songs, and TABS, Luthiers, ukulele builders, ukulele festival and club information, and, ukulele links on the web. I've been on the ®Internet since the early 1990's and This site just never stops growing!!!
Content is added and updated almost daily - so check back often. I really do need to get out more ;-)