I'll Remember April
Published in 1942 and written by Gene de Paul with the lyrics by Patricia Johnston and Don Raye
PUBLISHED: Sep 30, 2011 • UPDATED: Aug 10, 2020 • VIEWS: 87 • LESSON CODE: UL409 •
Instruments: ANY leadsheet Subjects: jazz • standard • repertoire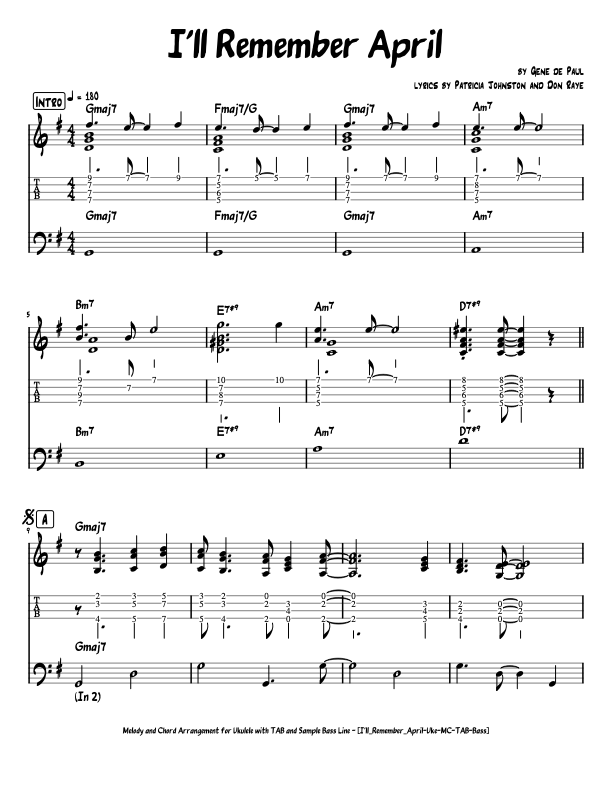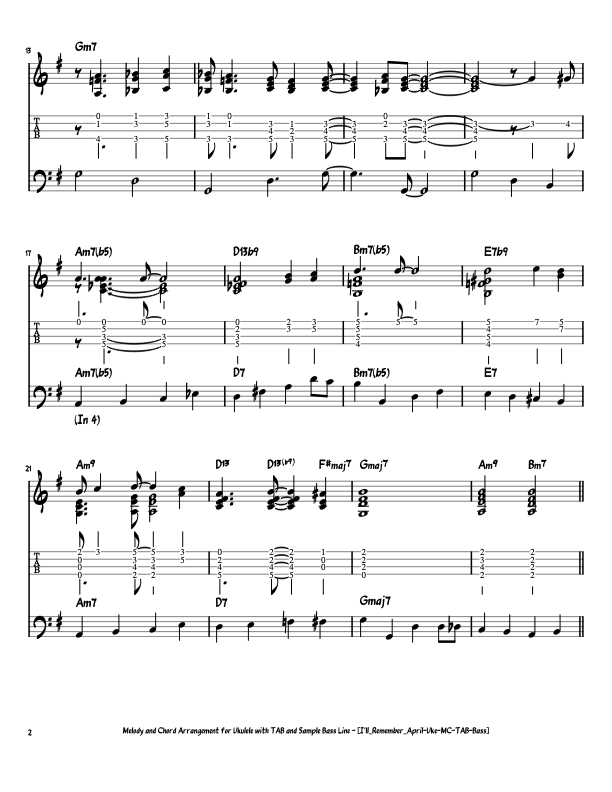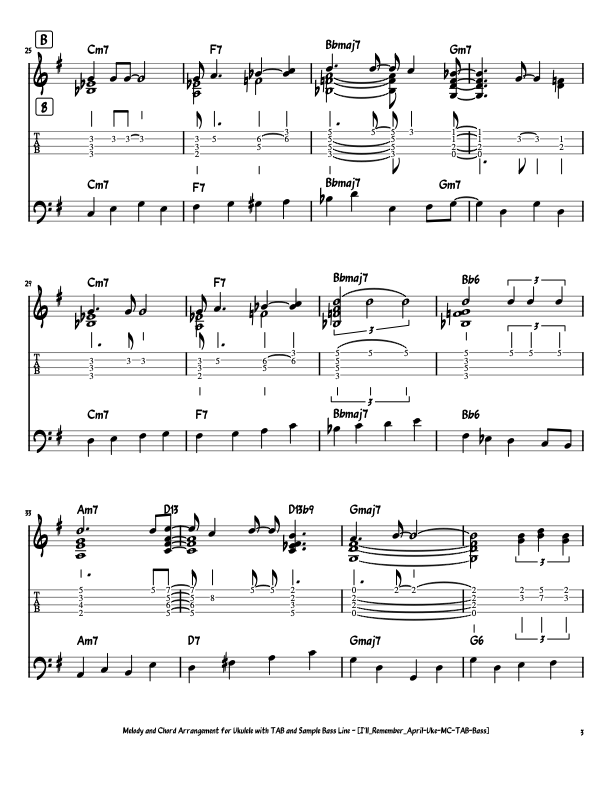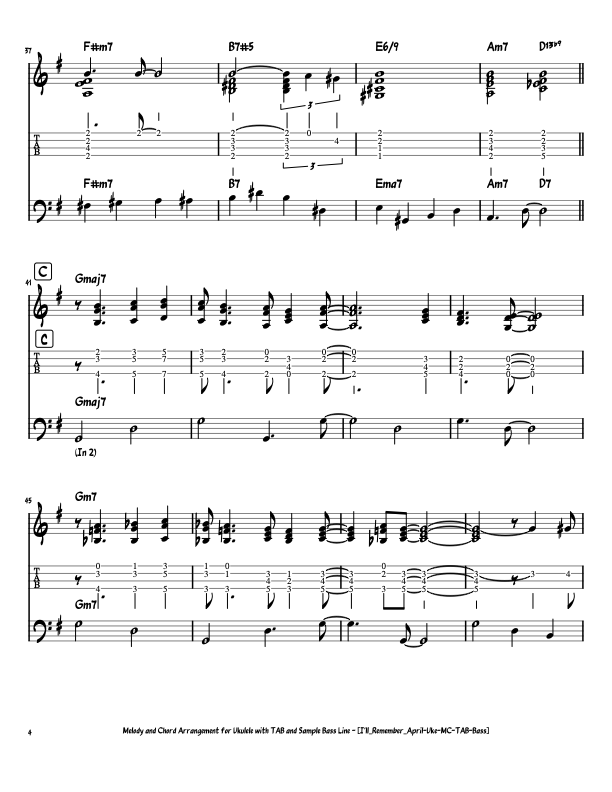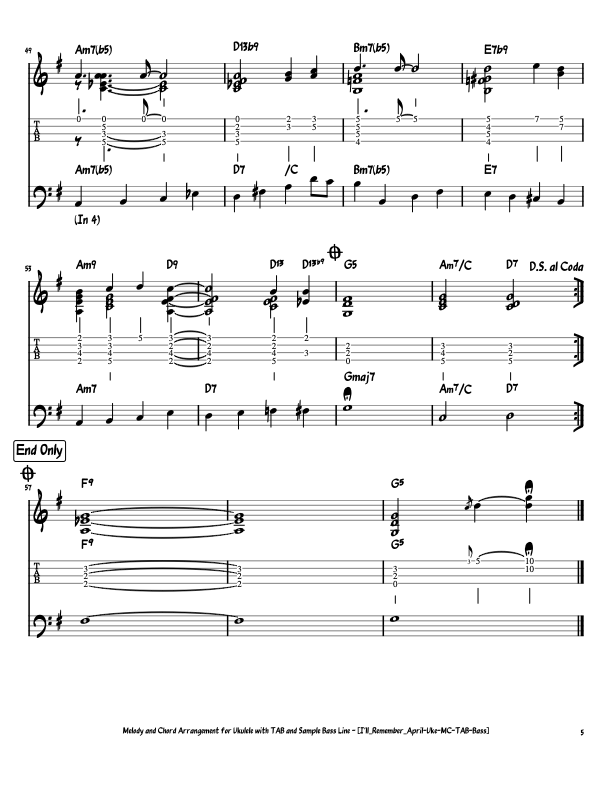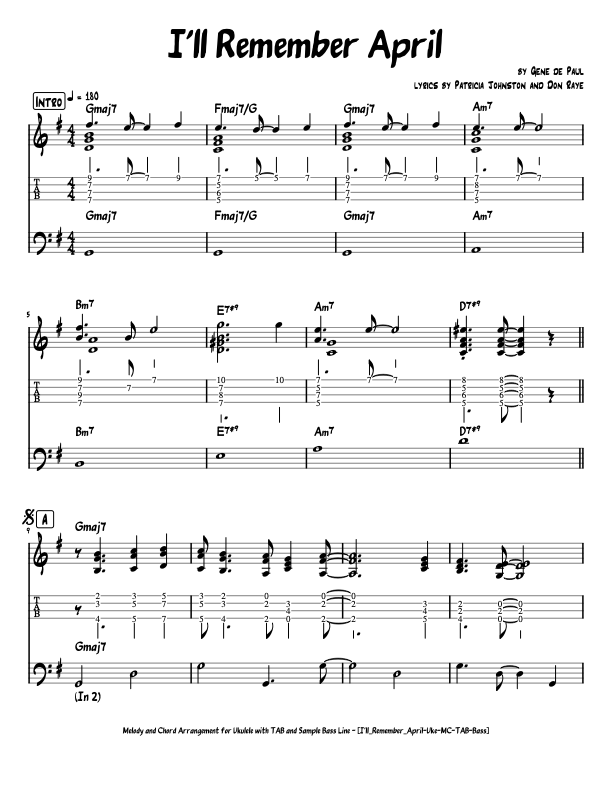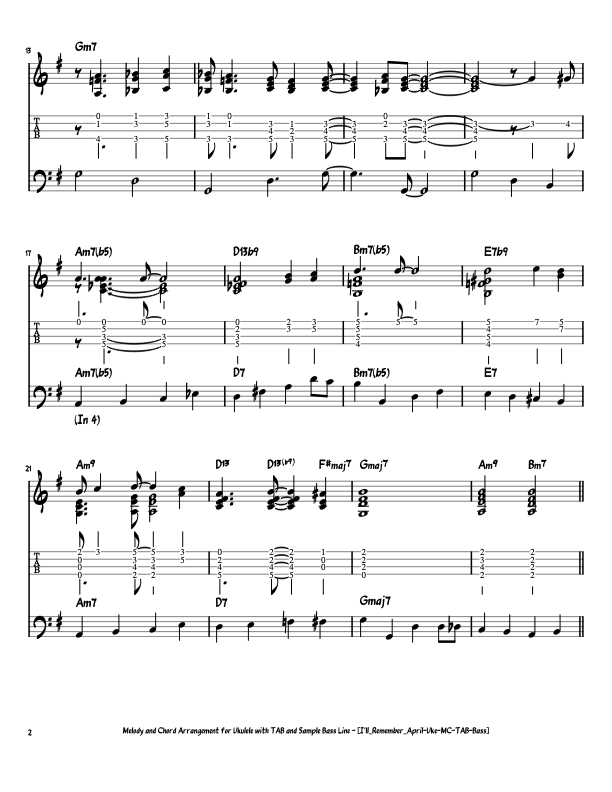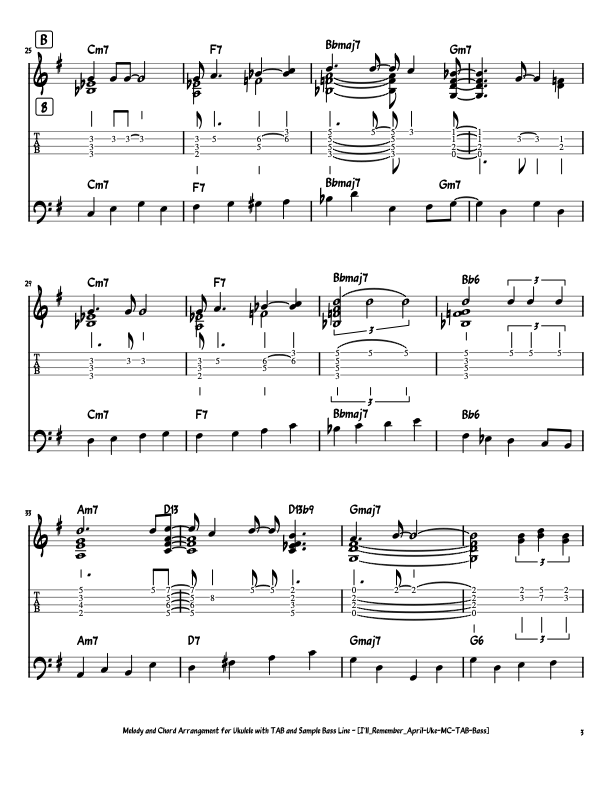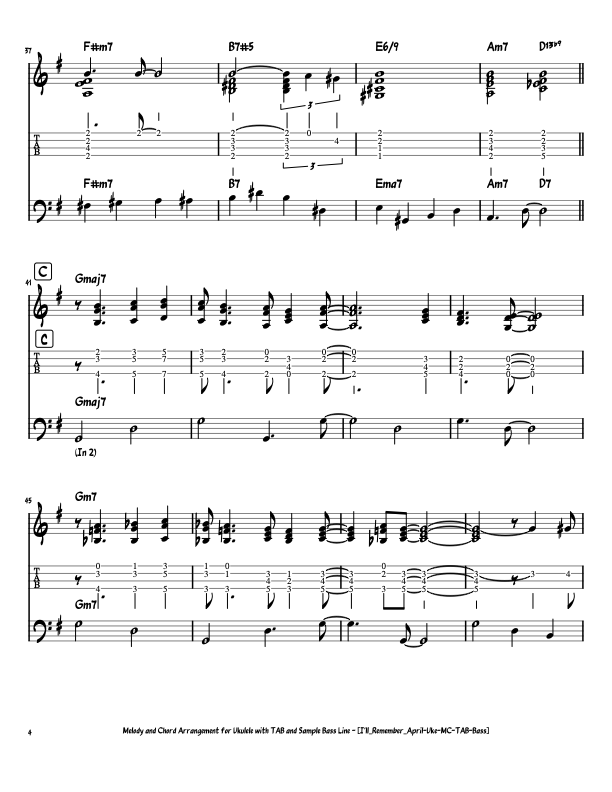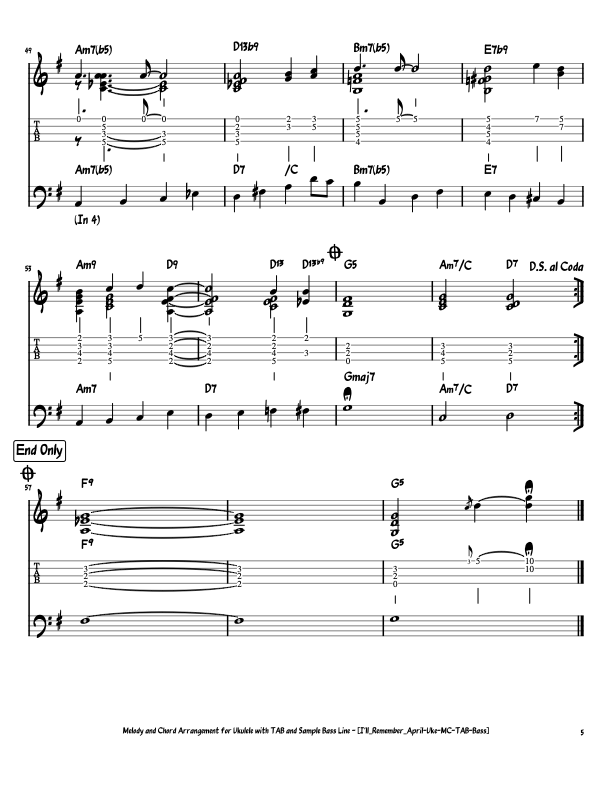 All 5 sample page(s) are viewable on-line.
If you are a registered site member and have the correct permissions you can view ALL the pages of this PDF at a larger size. You can resize the browser window smaller to a tablet or phone size and the pages will magically grow larger.
View the Download section below to download the song files for the complete and most up-to-date versions.
I'll Remember April
I'll Remember April was written by Gene de Paul with the lyrics by Patricia Johnston and Don Raye. The song was published in 1942. It was once sung by Judy Garland. The song debuted in the 1942 Abbott and Costello comedy Ride 'Em Cowboy, sung by Dick Foran.
This song is on my CD How About More Uke?.
I'll Remember April

MuseScore is an FREE Open Source and the World's most popular music notation software with a lot of great sources of scores, tutorials, and reference material. I use it on my iMac and Linux system. Finally get to bag the subscription for Sibelius.
What You Need to Perform (Play) This Song?
In order to play this song you need to know 1) Are your going to sing the song or 2) play it instrumentally? Each has a different set of requirements.
Sing and Accompany Yourself
To accompany yourself and sing this song you need to naturally know the lyrics of the song and the melody of the song. You can either memorize both (recommended) or read it.
You can start with either the melody or chords - doesn't matter which comes first. The melody is a good starting point as you can actually sing any song A Capella, solo and unaccompanied instrumentally and it will be the song. Playing the chords by their self, typically does not convey enough of musical information for others to know what song you are playing. Songs actually use common chords and progressions over and over. One progression can be
Melody
Learning the melody is necessary for sing or playing it instrumentally and actually a good idea when accompanying others.
Learning the melody can be done by learning to read music and finding the sheet music or lead sheet for the song. Or, listening over and over to learn it by ear ( not recommended ), which is a bit error prone and takes a lot longer than read it.
When reading the melody it's a good idea to use the fingering principles from the Six Secrets of Ukulele Fingering for efficient and low maintenance fingering of the melody. This actually allows you to play the melody and someone else accompanies you, just like your singing.
Chords
Chords are the easiest to start with. All you need is at least one chord voicing for each chord in the song and be able to successfully switch chords in the sequence or order that are the song, the underlying progression.
Knowing the chords will allow you to accompany other that are singing.
How About More Uke?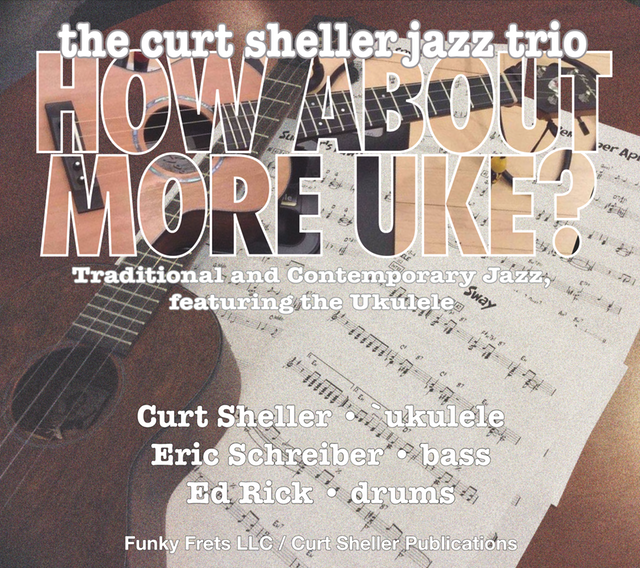 Release Date: December 2, 2015
Here is my new CD: How About More Uke? It is being officially released December 2, 2015. A collection of jazz standards, original compositions by myself (Curt Sheller), Chuck Anderson and Jim Beloff / Herb Otha. Featuring Curt Sheller: `ukulele, Eric Schreiber: bass and Ed Rick: drums.
10 Minute Demo of How About More Uke? CD
I'll Remember April - How About More Uke? CD - Curt Sheller Trio

Updated: Dec 31, 2016

Members Only
Log-in to access.
Remembering songs is all about the form and harmonic content and movement with taking in the similarities between songs. And, just like a road map they're landmarks that will trigger memories of how to get through various sections, changes or parts of a song.
This section of a song's page presents some tips on how I try and remember a particular song.
I'll Remember April is a jazz standard typically played in the key of G major. Like most jazz standards vs. simple pop, folk, rock, blues and country songs that stay in one key, I'll Remember April starts in G major and then modulates through a few other keys along the way.
Here is how I remember "I'll Remember April" in the key of G.
Start on the I major 7 chord, Gmaj7 for four bars, then a parallel minor Im7 minor seven chord Gm7 for four bars.
Up a whole step , a major second and an unresolved minor II V for Am7b5 E7
Up a whole step again, a major second and an unresolved minor II V for Bm7b5 F7
Back to a major II V I in the starting key for G Major for Am7 D7 Gmaj7
From the Gmaj7 (I) chord up a perfect fourth to a m7 for a II V I modulation to the key of Bb major for Cm7 F7 Bbmaj7 repeat this II V I again
Down a half step , a minor second to a II V I for Am7 D7 Gmaj7 which is back to the home starting key.
Down a half step , a minor second to a II V I for F#m7 B7 Emaj7
Then a II V I in the home key of G for Am7 D7 Gmaj7 for the turn to the final section of the song which is the same changes as the beginning A section.
Shorthand for I'll Remember April - Key of G
Over the years I tried to come up with a short hand notation for condensing the longhand version above. Here is what I've come up with so far. See if you can decode it without a legend.
This song can be considered to have an A B A or A1 B A2 structure.
I'll Remember April starts similar to How High the Moon and On Green Dolphin Street with the move from major the minor on the same root (prime`)
I major `prime Im7
Up a major second with a minor II V
Up a major second with a minor II V
Back home using a II V I major
Up a perfect fouth II V I major (2x)
Down a minor second II V I ( home key )
Down a minor second II V I
TB II V I and repeat the A section
Performing a harmonic analysis to determine how chords are functioning harmonically within a song or chord progression allows you to:
Actually remember a song and compare it to other songs with similar harmonic characteristics.
Allow transposition to other keys on the fly - getting off the paper and out of the book.
Communicate with like minded musicians.
Select scale and chord substitutions for performance and creative exploration.
You'll get to a point in your development as a musician where your repertoire is too vast to actually be able to rehearse all the songs you know on a daily basis. You need tools to help recall songs that you haven't performed in a long time or even never performed.
Basically Know a Song Intellectually as well as by sound.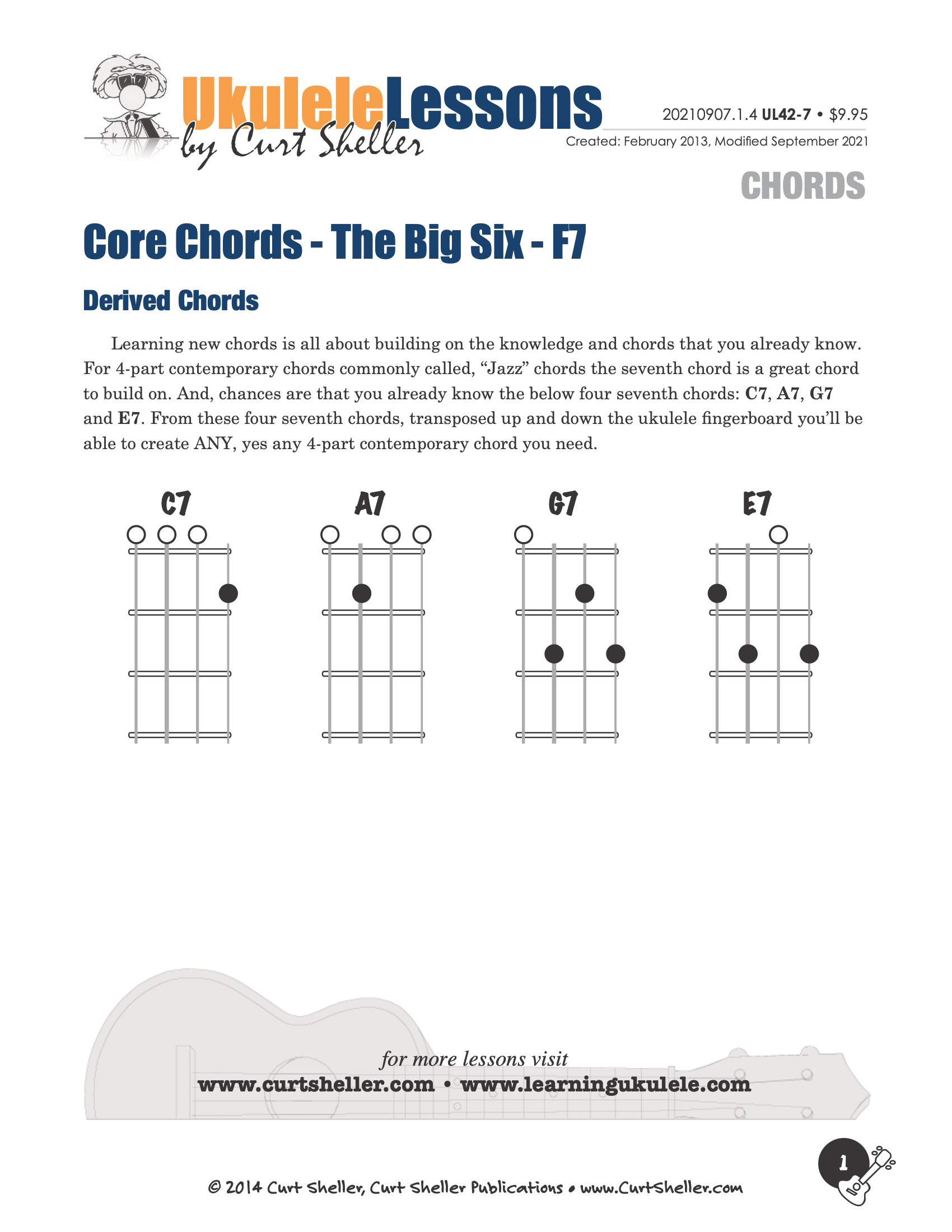 Core Chords - The Big Six - Building a Solid Chord Foundation
• Updated: Jan 23, 2020
The Big Six Core Chords is a series of lessons for building your core, essential 4-part chords. These chords commonly called jazz chords, are really just 4-part chords used in a wide range of musical styles. These chords include: Seventh , Major Seventh, Minor Seventh, Half Diminished Seventh or Minor Seven Flat Five, Diminished Seventh, and Augmented Seventh. These six chords form a core set of chords.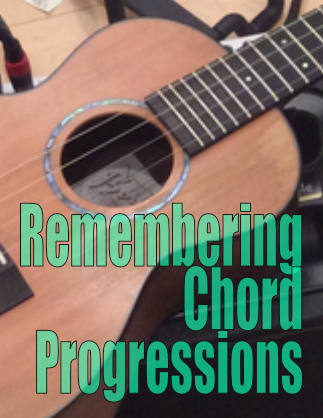 Remembering Songs
• Updated: Mar 19, 2019
Listening to songs and wanting to play the same songs on ukulele - that's what draws most people to the ukulele. That and it looks like a load of fun and easy too play - which it is. Then you need to actually remember the songs that you're learning so you can play them again. And, hopefully not have to read them off a sheet all the time.
Remembering a song is lot like remembering the directions for a road trip. There are the turn-by-turn directions, road maps, signs and landmarks that will get you to where you are going. Turn here, turn there, remember this and remember that landmark. With a songs it's the chords, the melody, style, the harmonic cells, the form, etc that are part of the song that you want to remember.
A Guide to Advanced Chords Series - Chord Building Chart

Updated: Dec 31, 2016

Members Only
Log-in to access.
Ukulele Fingerboard Chart for C Tuning, Low or High G

Updated: May 11, 2019
Ukulele Fingerboard Chart for C Tuning, Low or High G. Shows natural, sharp and flat notes for the ukulele fingerboard. This tuning can be used on a soprano, concert, tenor and baritone ukuleles.

Members Only
Log-in to access.
Movable 7th Chords for Ukulele Chord Chart - C Tuning

Updated: Dec 31, 2016

Members Only
Log-in to access.
I'll Remember April - How About More Uke? CD - Curt Sheller Trio

Updated: Dec 31, 2016

Members Only
Log-in to access.
A to Z Blues Progressions for Ukulele - Example O

Updated: Dec 31, 2016

Members Only
Log-in to access.
A to Z Blues Progressions for Ukulele - Example I

Updated: Dec 31, 2016
Solo ukulele recording of the example I blues progression.

Members Only
Log-in to access.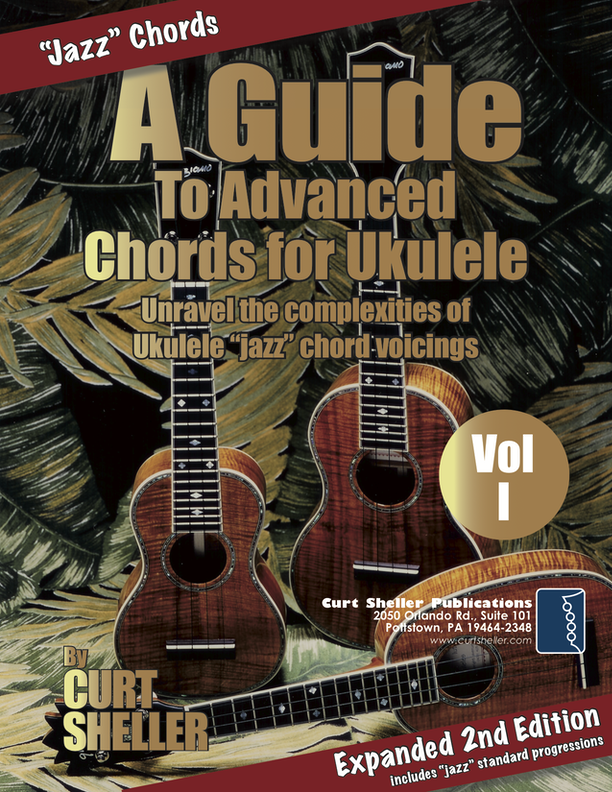 A Guide to Advanced Ukulele Chords - Volume I

Updated: Feb 13, 2020
Beyond learning basic Ukulele chords most players struggle with advanced chords. Commonly called <q>jazz</q>chords, these more sophisticated voicings find a wide use in all forms of music. A Guide to Advanced Chords for Ukulele - presents a highly organized and efficient approach to the mysterious subject of advanced chords. Chord dictionaries are not the answer.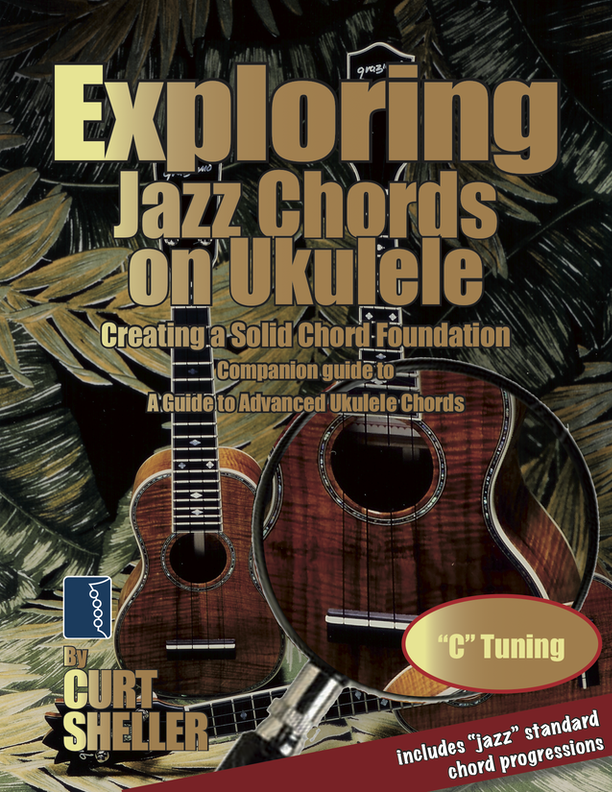 Exploring Jazz Chords on Ukulele

Updated: Nov 24, 2009
Exploring jazz chords using a variety of common chord progressions based on songs from the standard jazz repertoire. Core Chords are the basic set of chords needed to play a wide range of music, in a variety of styles. This set of chords includes basic open position chords, basic movable form chords and the core 4-part "jazz" chords.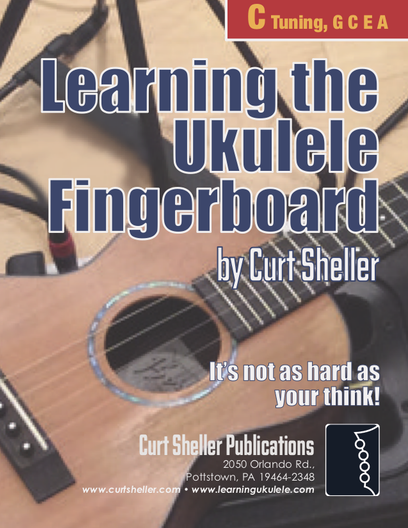 Learning the Ukulele Fingerboard - C Tuning

Updated: Apr 19, 2017
Finally, learn the names of the notes of the fingerboard. Learning the notes of your instrument allows you the flexibility of not having to remember so many shapes. There are simply way too many chords, scale and notes patterns, and shapes to remember. It all comes down the notes.
Harmonic Analysis for Scale and Chord Selection
Updated: Jan 1, 2003
Harmonic Analysis is the process used to determine the harmonic function of chords within a chord progression or song. A chord progression is defined as a sequence of chords, each chord has a root and is a particular chord type. The relationship of a chord's to a scale determines its function within that scale's tonality.
Benny Chong- Abe Lagrimas Jr. - Reggie Padilla Live at NAMM 2015 "I'll Remember April"
I'll Remember April - How About More Uke"? CD
I'll Remember April - The Curt Sheller Jazz Trio from the How About More Uke? CD.
I'll Remember April
A Curt Sheller Trio performance for the Berks Jazz Fest. I'll Remember April was written by Gene de Paul with the lyrics by Patricia Johnston and Don Raye.
You can get a general idea of how this arangement sounds with the above playback. I'll typically vary the dynamics and and add filles and alternate between strumming and fingerstyle when performing this.
NOTE: Each higher access level includes ALL the benefits of the lower levels. Private Lessons include all the benefits of a Premium Access Plans as long as you remain a student on the schedule.
---
Just browsing over both books, they look fantastic! I'm a guitarist and uke player for over 25 years and was thinking about writing a ukulele book but you've already written what I think are the best, most comprehensive and thorough books I've ever seen for the instrument. I just might end up buying every book you've written and I'll be giving my highest recommendation for your books to my friends and students. Thank you so much for taking the time to write such great books! — Peter Rhee
Aloha, Curt, All I can say is WOW! What you have accomplished is simply incredible! All the best — Glen Hirabayashi, The Aloha Boys
Folks, if you haven't stopped by Curt's site, do so right now! ..And get his books, they are fantastic. This guy knows his stuff and is able to pass it along too. — Alan Johnson Proprietor, The 4th Peg
I can highly recommend Curt's Uke books — I have four of them and they are excellent. — fatveg — Portland
Thanks for visiting and checking out the site!
Original Curtie Animation from 1987 for my first web site on a Macintosh II. 34 years ago. Man, does time fly.
"Built for myself (Curt), and sharing with the `Ukulele community!"
LearningUkulele.com has one of the largest collections of lessons, songs, and TABS, luthiers, ukulele builders, ukulele festival and club information, and, ukulele links on the web. I've been on the ®Internet since the early 1990's and This site just never stops growing!!!
Content is added and updated almost daily - so check back often. I really do need to get out more ;-)