Sunny
BMI rates "Sunny" number 25 in its "Top 100 songs of the century".
PUBLISHED: Oct 1, 2011 • UPDATED: Oct 1, 2011 • VIEWS: 434 • LESSON CODE: UL520 •
Instruments: ukulele ANY Subjects: repertoire • jazz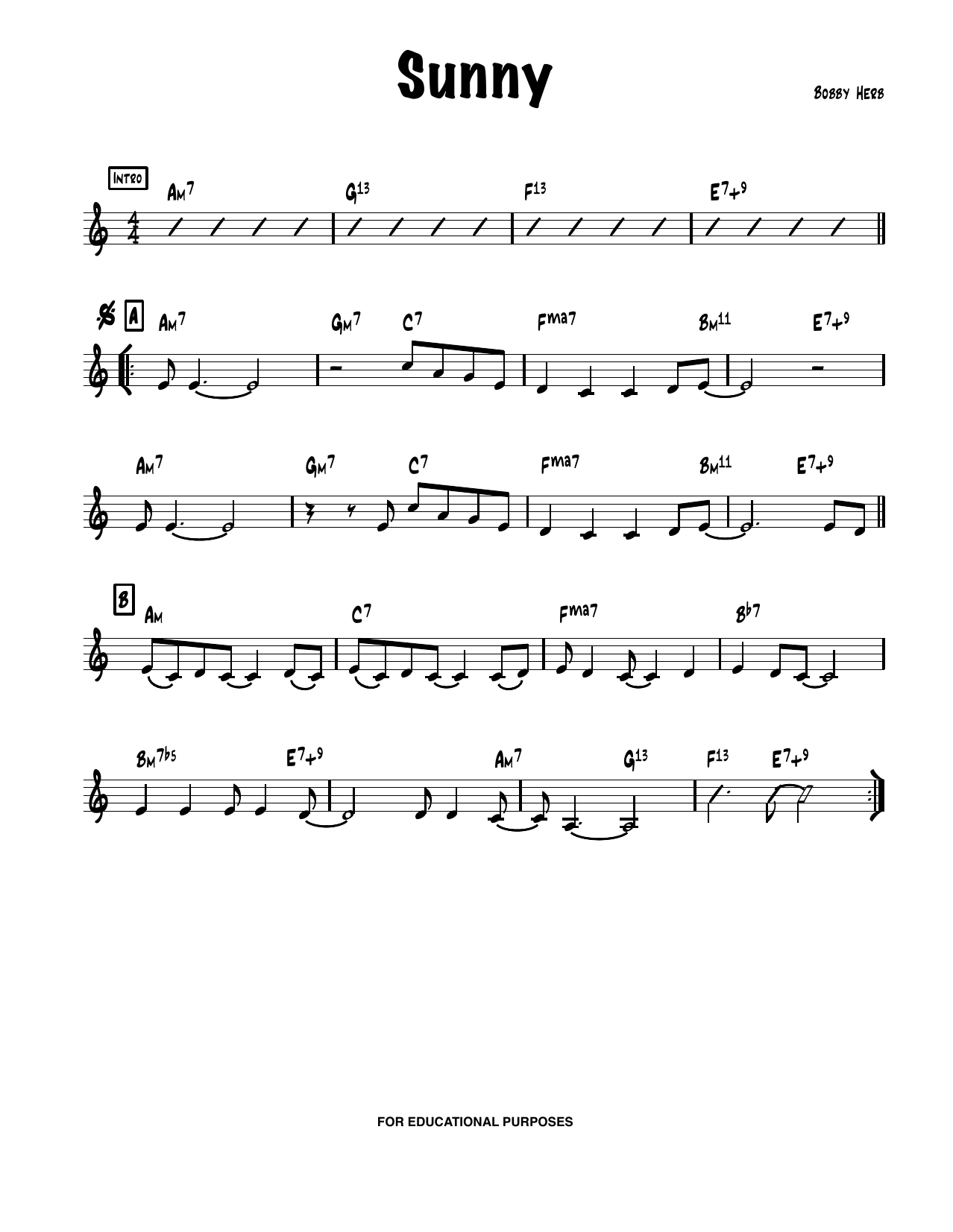 All 1 sample page(s) are viewable on-line.
To view the pages at a larger size you can resize the browser window smaller to a tablet or phone size and the pages will magically grow larger. If you are a registered member and have the correct permissions.
View the Download section below to download the song files for the complete and most up-to-date versions.
Sunny
Sunny is the name of a song written by Bobby Hebb. It is one of the most covered popular songs, with hundreds of versions released. BMI rates "Sunny" number 25 in its "Top 100 songs of the century".
---
Sunny - Premium Playalong Track
Great track to explore the A Blues scale.
This play-along is ONLY available to active users with Gold Level, Premium Site Access. "Can't give it all away."
Here is a FREE track as a sample of the quality of these custom play-along tracks.
Desafinado - Premium Playalong Track with Guitar Melody Played
I, (Curt) originally created these tracks to perform over for gigs and this was a demo for booking gigs.
These Premium Playalong Tracks are available to LearningUkulele.com Site Members and are my personal one-of-kind tracks I (Curt) and Chuck Anderson recorded and arranged.
Download the Lead Sheet and have a go at it.
Hebb wrote the song after 22 November 1963, the day after U.S. President John F. Kennedy was assassinated, Hebb's older brother Harold was killed in a knife fight outside a Nashville nightclub. Hebb was devastated by both events and many critics say that those events inspired the tune. Others claims Bobby wrote the song for God. Certainly, events influenced Bobby's songwriting, but his timeless melody, crossing over into R&B (#3 on U.S. R&B chart) Country and Pop (#2 on U.S. Pop chart), together with the optimistic lyrics, came from the artist's desire to express that one should always "look at the bright side" - a direct quote from the author. Hebb has said about "Sunny":
"All my intentions were just to think of happier times – basically looking for a brighter day – because times were at a low tide. After I wrote it, I thought "Sunny" just might be a different approach to what Johnny Bragg was talking about in 'Just Walkin' in the Rain'".
Web Resources
Sunny - Lead Sheet, Key of Am

Updated: Dec 31, 2016

Members Only
Log-in to access.
Sunny - Premium Play-along Track

Updated: Dec 31, 2016

Members Only
Log-in to access.
Remembering songs is all about the form and harmonic content and movement with taking in the similarities between songs. And, just like a road map they're landmarks that will trigger memories of how to get through various sections, changes or parts of a song.
This section of a song's page presents some tips on how I try and remember a particular song.
No Road Map for Sunny check back soon.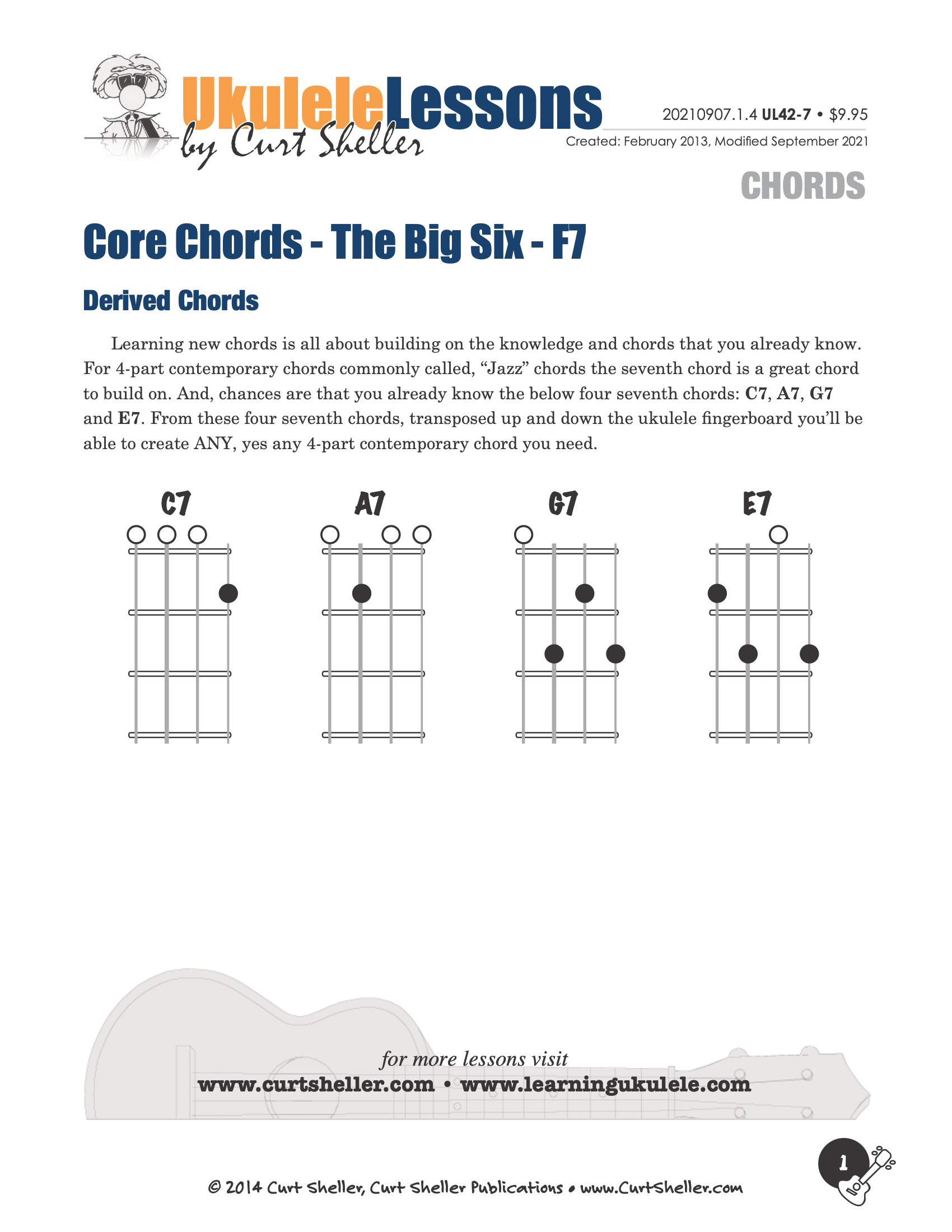 Core Chords - The Big Six - Building a Solid Chord Foundation
• Updated: Jan 23, 2020
The Big Six Core Chords is a series of lessons for building your core, essential 4-part chords. These chords commonly called jazz chords, are really just 4-part chords used in a wide range of musical styles. These chords include: Seventh , Major Seventh, Minor Seventh, Half Diminished Seventh or Minor Seven Flat Five, Diminished Seventh, and Augmented Seventh. These six chords form a core set of chords.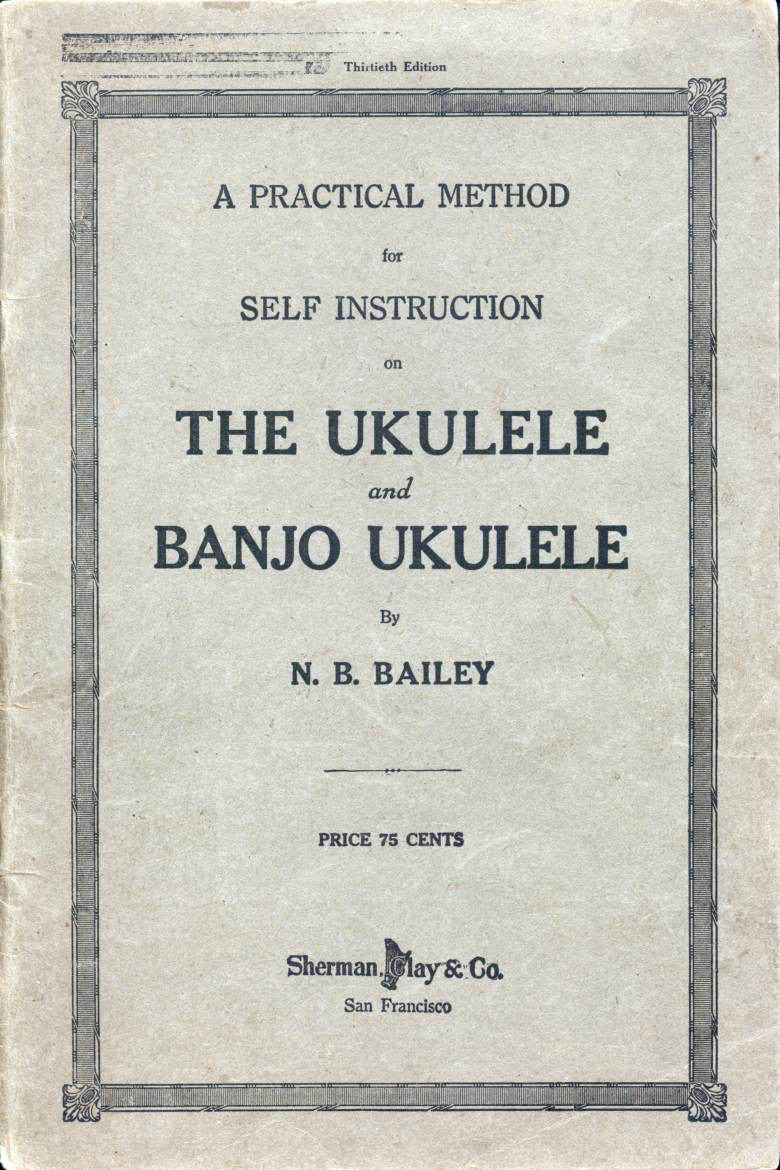 A Practical Method for Self Instruction on The Ukulele and Banjo Ukulele

Updated: Jan 7, 2020
A careful analysis of the unsatisfactory method heretofore published, and through study of the different styles of playing used by the best performers on the Ukulele, no two of which play a like, has led us to compile this work which comprises the best and most practical feature of all.
On Broadway
Updated: Feb 9, 2016
"On Broadway" is a song written by Barry Mann and Cynthia Weil in collaboration with the team of Jerry Leiber and Mike Stoller. Weil and Mann were based at Aldon Music, located at 1650 Broadway, New York City, and the song as written by Mann/Weil was originally recorded by the Cookies (although the Crystals' version beat them to release) and featured an upbeat lyric in which the protagonist is still on her way to Broadway and sings "I got to get there soon, or I'll just die." Additionally the melody was in compound time and the backing riff modulated between the root and the minor 2nd.
Moondance
Updated: Mar 9, 2020
Moondance is a popular song written by Northern Irish singer-songwriter an Morrison and is the title song on his 1970 album Moondance. Morrison did not release the song as a single until November 1977, seven and a half years after the album was released. It reached the Billboard Hot 100, charting at #92. The single's B-side, "Cold Wind in August" had been released in the same year, on his latest album at the time, A Period of Transition.
Light My Fire
Updated: Dec 9, 2019
Light My Fire is a song by The Doors which was recorded in August 1966 and released the first week of January 1967 on the Doors' debut album. Released as a single in April, it spent three weeks at number one on the Billboard Hot 100 chart, and one week on the Cash Box Top 100, nearly a year after its recording. A year later, it re-entered the Billboard Hot 100 in 1968 following the success of Jose Feliciano's version of the song, peaking at number 87.
NOTE: Each higher access level includes ALL the benefits of the lower levels. Private Lessons include all the benefits of a Premium Access Plans as long as you remain a student on the schedule.
---
Just browsing over both books, they look fantastic! I'm a guitarist and uke player for over 25 years and was thinking about writing a ukulele book but you've already written what I think are the best, most comprehensive and thorough books I've ever seen for the instrument. I just might end up buying every book you've written and I'll be giving my highest recommendation for your books to my friends and students. Thank you so much for taking the time to write such great books! — Peter Rhee
Aloha, Curt, All I can say is WOW! What you have accomplished is simply incredible! All the best — Glen Hirabayashi, The Aloha Boys
Folks, if you haven't stopped by Curt's site, do so right now! ..And get his books, they are fantastic. This guy knows his stuff and is able to pass it along too. — Alan Johnson Proprietor, The 4th Peg
I can highly recommend Curt's Uke books — I have four of them and they are excellent. — fatveg — Portland
Thanks for visiting and checking out the site!

Original Curtie Animation from 1987 for my first web site on a Macintosh II. 34 years ago. Man, does time fly.
"Built for myself (Curt), and sharing with the `Ukulele community!"
LearningUkulele.com has one of the largest collections of lessons, songs, and TABS, luthiers, ukulele builders, ukulele festival and club information, and, ukulele links on the web. I've been on the ®Internet since the early 1990's and This site just never stops growing!!!
Content is added and updated almost daily - so check back often. I really do need to get out more ;-)