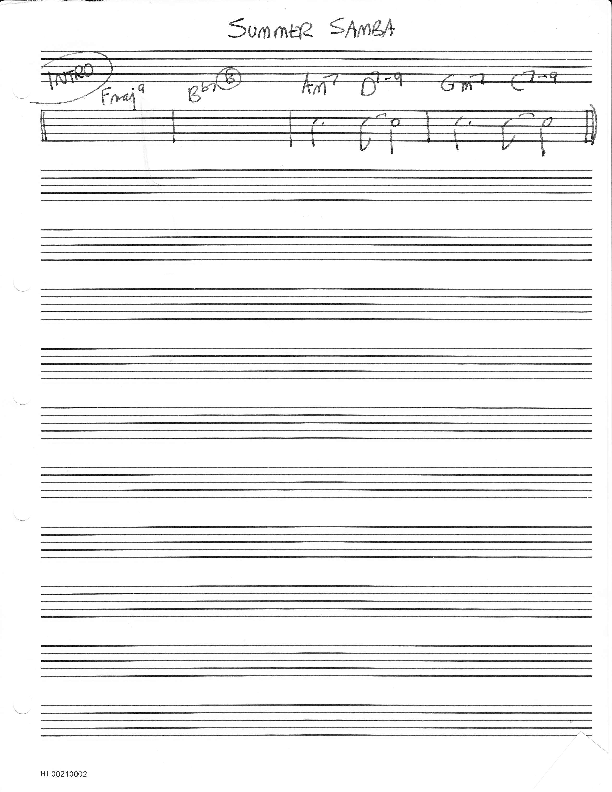 All 1 sample page(s) are viewable on-line.
To view the pages at a larger size you can resize the browser window smaller to a tablet or phone size and the pages will magically grow larger.
Or, a PDF Only View .
View the Download section of this page to download the song files for the complete and most up-to-date versions.
Summer Samba (also known as So Nice or its original Portuguese title, "Samba de Verão") is a 1964 bossa nova song by Brazilian composer Marcos Valle, with English-language lyrics by Norman Gimbel; the original Portuguese lyrics came from Paulo Sérgio Valle, brother to the composer.
The song was first popularized by the Walter Wanderley Trio in 1966 — the album Rain Forest on which it was issued reached platinum status in 1970 — also reaching the U.S."Easy Listening" chart in versions by Johnny Mathis, Vikki Carr, and Connie Francis during that same year. In fact, at least one source claims that three different versions were on the Billboard charts at the same time in 1966. Allmusic has said of Wanderley's version, "His recording ... is regarded as perhaps a more definitive bossa tune than "Girl From Ipanema." Wanderley's version was the biggest seller in the U.S., reaching #26 on the Billboard Hot 100 in 1966, (#3 on the Easy Listening chart) , and is still a favourite on Adult Standards radio stations.
Other notable versions include those by Astrud Gilberto and by Bebel Gilberto, both of which have been used in several television programs and in widely broadcast TV advertisements. As of the year 2000, the song had been recorded by more than 180 different artists worldwide.
More Below
---
Summer Samba - Premium Playalong Track
This play-along is ONLY available to active user with Gold Level, Premium Site Access. "Can't give it all away."
Here is a FREE track as a sample of the quality of these custom play-along tracks.
Desafinado - Premium Playalong Track with Guitar Melody Played
I, (Curt) originally created these track to perform over for gigs and this was a demo for booking gigs.
The Premium Playalong Tracks available to LearningUkulele.com Site Members are my personal one-of-kind tracks I (Curt) and Chuck Anderson recorded and arranged.
Download the Lead Sheet and have a go at it.
Main Song Download(s)
The main downloads for this Song.
top
Summer Samba - Leadsheet for Play-along Track

Updated: Dec 31, 2016
The accompanying leadsheet for the Summer Samba play-along track.

Members Only
Log-in to access.
Summer Samba - Premium Play-along Track

Updated: Dec 31, 2016
Premium play-along track for Summer Samby the by Brazilian composer Marcos Valle.

Members Only
Log-in to access.
Song Road Map
Tips and tricks for remembering a song.
top
Remembering songs is all about the form and harmonic content and movement with taking in the similarities between songs. And, just like a road map they're landmarks that will trigger memories of how to get through various sections, changes or parts of a song.
This section of a song's page presents some tips on how I try and remember a particular song.
---
No Road Map for Summer Samba check back soon.
Related Lessons
Related Lessons for Summer Samba at this time.
top
Additional Song Files, Resources and Assets
These are the related song files, resources and assets for Summer Samba at this time.
top
Ukulele Fingerboard Chart for C Tuning, Low or High G

Updated: May 11, 2019
Ukulele Fingerboard Chart for C Tuning, Low or High G.

Members Only
Log-in to access.
Open Position Flash Cards for Ukulele C Tuning

Updated: Dec 31, 2016
Standard music notation flash chards for learning the notes in open position for C tuning.
Movable 7th Chords for Ukulele Chord Chart - C Tuning

Updated: Dec 31, 2016
A handy dandy single sheet chart showing the each voicing of the four, seventh chords Big Six seventh chord voicings.

Members Only
Log-in to access.
Related Lesson Series
Related Lessons Series for Summer Samba at this time.
top
NOTE: Each higher access level includes ALL the benefits of the lower levels. Private Lessons include all the benefits of a Premium Access Plans as long as you remain a student on on the schedule.
Just browsing over both books, they look fantastic! I'm a guitarist and uke player for over 25 years and was thinking about writing a ukulele book but you've already written what I think are the best, most comprehensive and thorough books I've ever seen for the instrument. I just might end up buying every book you've written and I'll be giving my highest recommendation for your books to my friends and students. Thank you so much for taking the time to write such great books! — Peter Rhee
Aloha, Curt, All I can say is WOW! What you have accomplished is simply incredible! All the best — Glen Hirabayashi, The Aloha Boys
Folks, if you haven't stopped by Curt's site, do so right now! ..And get his books, they are fantastic. This guy knows his stuff and is able to pass it along too. — Alan Johnson Proprietor, The 4th Peg
I can highly recommend Curt's Uke books — I have four of them and they are excellent. — fatveg — Portland
Thanks for visiting and checking out the site!

Original Curtie Animation from 1987 for my first web site on a Macintosh II.
33 years ago.
"Built for myself (Curt), and sharing with the `Ukulele community!"
LearningUkulele.com has one of the largest collections of lessons, songs, and TABS, luthiers, ukulele builders, ukulele festival and club information, and, ukulele links on the web. I've been on the ®Internet since the early 1990's and This site just never stops growing!!!
Content is added and updated almost daily - so check back often.