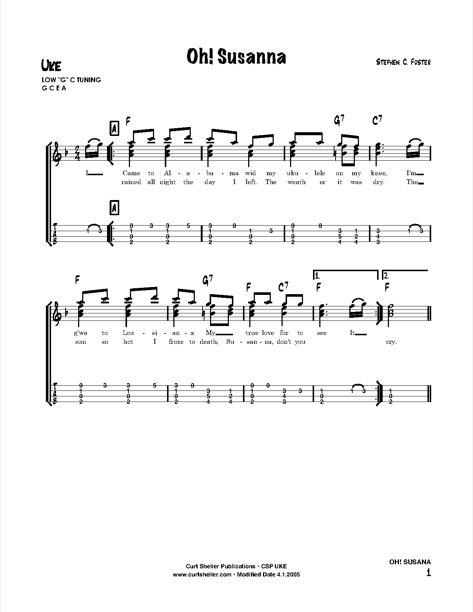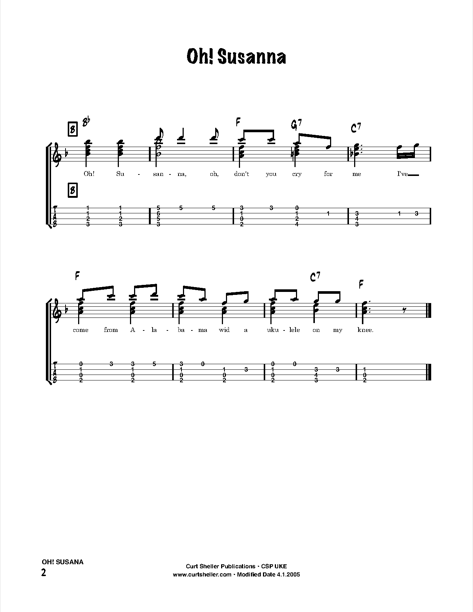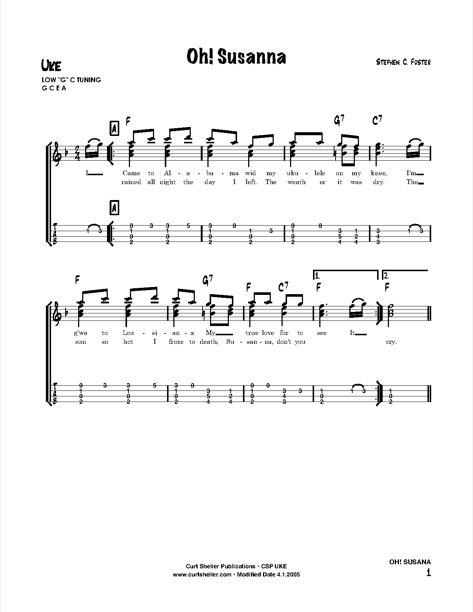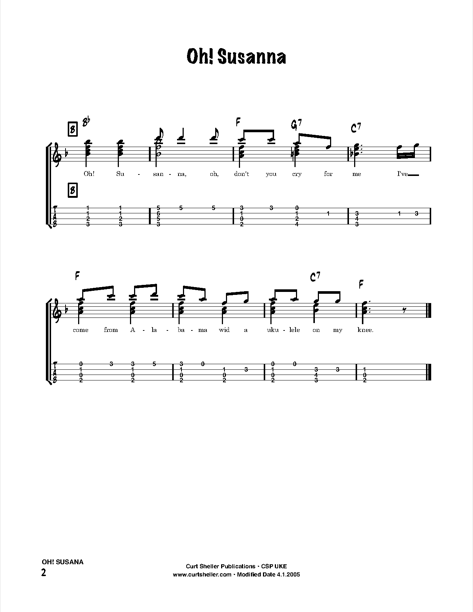 All 2 sample page(s) are viewable on-line.
To view the pages at a larger size you can resize the browser window smaller to a tablet or phone size and the pages will magically grow larger. If you are a registered member and have the correct permissions.
Oh! Susanna is a minstrel song by Stephen Foster (1826-1864). It was published by W. C. Peters & Co. in Cincinnati, Ohio in 1848. The song was introduced by a local quintette at a concert in Andrews' Eagle Ice Cream Saloon in Pittsburgh, Pennsylvania on September 11, 1847. Foster was said to have written the song for his men's social club. The name Susannah may refer to Foster's deceased sister Charlotte, whose middle name was Susannah. Glenn Weiser suggests the song was influenced by an existing work, "Rose of Alabama" (1846), with which it shares some similarities in lyrical theme and musical structure.
---
Chords
This is a simple I V two chord song at its core. The V chord can be approached using its secondary dominant V of V II7 chord. I the key of C major the chord would be C and G7, with the G7 being approached using D7.
Melody
The melody is almost entirely comprised of the Major Pentatonic scale. The chorus starts on the root of the five (V) chord and is the only additional note that is not in the major pentatonic scale of the song.
Web Resources
Main Song Download(s)
The main downloads for this Song.
Oh! Susanne - Chord Lead Sheet

Updated: Dec 31, 2016
Oh! Susanne - Chord Lead Sheet. Suitable for situtitions where you already know the song and need the chords.

Members Only
Log-in to access.
Song Road Map
Tips and tricks for remembering a song.
Remembering songs is all about the form and harmonic content and movement with taking in the similarities between songs. And, just like a road map they're landmarks that will trigger memories of how to get through various sections, changes or parts of a song.
This section of a song's page presents some tips on how I try and remember a particular song.
---
No Road Map for Oh! Susanna check back soon.
Related Lessons
Related Lessons for Oh! Susanna at this time.
Additional Song Files, Resources and Assets
These are the related song files, resources and assets for Oh! Susanna at this time.
Oh! Susanne - Chord Lead Sheet

Updated: Dec 31, 2016
Oh! Susanne - Chord Lead Sheet. Suitable for situtitions where you already know the song and need the chords.

Members Only
Log-in to access.
Related Books
Related Books for Oh! Susanna at this time.
Related Lesson Series
Related Lessons Series for Oh! Susanna at this time.
Reading Music on Ukulele - Primer

Updated: Jan 1, 2003
There are a few things in music that students and players avoid. These are things like learning to read and knowing the notes of their own instrument. It is hard on guitar - but not so hard on ukulele. With the right guidance and plan of attack. IT IS EASY.
NOTE: Each higher access level includes ALL the benefits of the lower levels. Private Lessons include all the benefits of a Premium Access Plans as long as you remain a student on the schedule.
Just browsing over both books, they look fantastic! I'm a guitarist and uke player for over 25 years and was thinking about writing a ukulele book but you've already written what I think are the best, most comprehensive and thorough books I've ever seen for the instrument. I just might end up buying every book you've written and I'll be giving my highest recommendation for your books to my friends and students. Thank you so much for taking the time to write such great books! — Peter Rhee
Aloha, Curt, All I can say is WOW! What you have accomplished is simply incredible! All the best — Glen Hirabayashi, The Aloha Boys
Folks, if you haven't stopped by Curt's site, do so right now! ..And get his books, they are fantastic. This guy knows his stuff and is able to pass it along too. — Alan Johnson Proprietor, The 4th Peg
I can highly recommend Curt's Uke books — I have four of them and they are excellent. — fatveg — Portland
Thanks for visiting and checking out the site!

Original Curtie Animation from 1987 for my first web site on a Macintosh II.
33 years ago.
"Built for myself (Curt), and sharing with the `Ukulele community!"
LearningUkulele.com has one of the largest collections of lessons, songs, and TABS, luthiers, ukulele builders, ukulele festival and club information, and, ukulele links on the web. I've been on the ®Internet since the early 1990's and This site just never stops growing!!!
Content is added and updated almost daily - so check back often.