Showing 1 of 1 sample page(s). Click on above image for larger view.
Blues in G
A basic / standard I, IV, V blues in the key of G major.
Showing 1 of 1 sample page(s).
A basic / standard I, IV, V blues in the key of G major.
This is great progression for exploring the Blues, Major Pentatonic and Mixolydian scales. As well as arpeggios and just generally improvisation and soloing over a blues progression.
Main Song Download(s)
The main downloads for this Song.
Blues in G - Lead Sheet
Lead sheet for premium play-along Blues in G track.
Blues in G - Premium Play-along Track
A basic blues in the key of G.
Song Road Map
Tips and tricks for remembering a song.
A Road Map Through Song
Remembering songs is all about the form and harmonic content and movement with taking in the similarities between songs. And, just like a road map they're landmarks that will trigger memories of how to get through various sections, changes or parts of a song.
This section of a song's page presents some tips on how I try and remember a particular song.
No Road Map for Blues in G check back soon.
Related Song Files, Resources and Assets
Related Assets for Blues in G at this time.
Movable 7th Chords for Ukulele Chord Chart - C Tuning
A handy dandy single sheet chart showing the each voicing of the four, seventh chords Big Six seventh chord voicings.
Members Only
Log-in to access.
Related Lessons
Related Lessons for Blues in G at this time.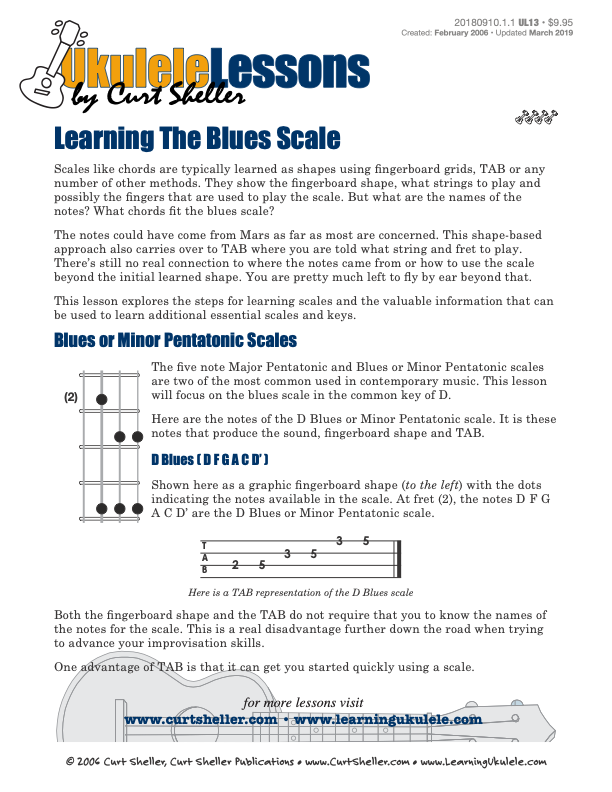 Learn the Blues ( Minor Pentatonic ) and Pentatonic ( Major Pentatonic ) scales on ukulele.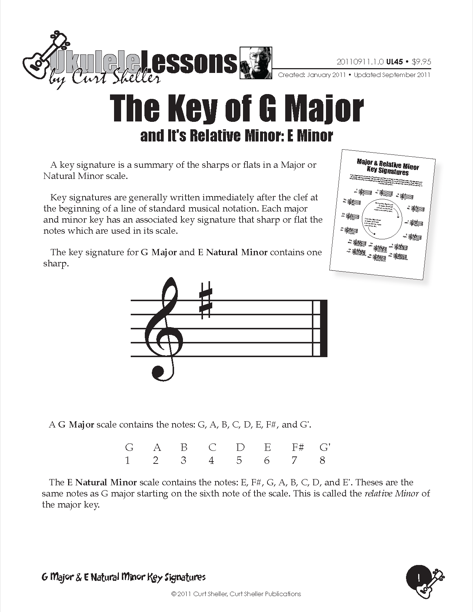 G major (or the key of G) is a major scale based on G, with the pitches G, A, B, C, D, E, and F#.
Related Song Books
Related Books for Blues in G at this time.
Related Lesson Series
Related Lessons Series for Blues in G at this time.
Key Signatures - G Major
The key of G major-E minor.
Cover the primary and secondary chords and common chord progressions.
Types of Chords Available on Ukulele
The types of chords possible on ukulele include open position chords, movable form chords, 4-part chords, a.k.a. jazz chords and free from chords.
Open Position Chords
These are the basic first chords most players learn. There're the chords in the first one, two, three and fours frets of the ukulele and include at least one open string.
Basic Movable Form Chords
Sometimes called "barre" chords, these chords are the basic open position chords that venture beyond the third fret and do not include open strings.
4-part Contemporary Chords, a.k.a. Jazz Chords
Beyond basic open position chords and basic movable form chords these are the core set of 4-part chords that are used to build ALL your contemporary, more advanced chords. Commonly called "Jazz" chords these are the chords where the knowing how principles of how chords are constructed and your knowledge of the names of the notes of the ukulele fingerboard offer the most benefit to using and expanding your chord vocabulary. From these core chords you can create all those crazy named chords such as: 9#11, 7#5-9, 13b5, 7+9 - and on the fly as needed.
Free Form Chords
Free Form chords are those chords that do not fall into one of the above categories. They typically don't show up in chord dictionaries or software programs. You can create these chords when you know the notes of the ukulele fingerboard, know how chords are constructed and know the names of the notes the chord and the intervals that make up the chord.
Traditional and Contemporary Triads
Somewhere in the mix of the above four chord categories, triads should be explored. Triads are the foundation of most chords. They are amazing versatile chords that can be used harmonically as chords or melodically in solos. The student and the type of music determines
A triad is a three note chord. In traditional chord theory there are four traditional triad chord types: major, minor, diminished and augmented. And four contemporary triad chord types: sus2, sus4, add2 and add9.
Triads can be used harmonically, as chords and melodically, as single notes. Triads are a great way to get started with creating melodic solos and improvising.
In my personal and teaching experience triads are the first real challenging chords after the basic open position chords and movable basic chords. I personally found them even harder that the 4-part "jazz" chords.
Common Chord Progressions and Remembering Songs
Learning the similarities between chord progressions and songs helps you remember a lot of songs. There's a lot more in common between songs than one might think.
This series of lessons explores common chord progressions.
Remembering songs is lot like remembering the directions for a road trip. There are the turn-by-turn directions, road maps, signs and landmarks. Turn here, turn there, remember this and remember that landmark. With a songs it's the chords, the harmonic cells and form of the song.
With a few music tools and an understanding of the principles of how chords and chords progressions work. You can start unraveling what's going on in a song. There's a lot more in common between songs than you might think. Each song has it's own direction, signs and landmarks.
Basic Ukulele Chords Charts
Not so much a series - but the basic chords ALL ukulele players should know.
Basic Ukulele Chords Charts - As much as I preach the need to not have to rely on chords charts. When you're first learning the ukulele and chords these charts are a real help - just not long a term alternative to actually knowng your chords, where they come from and how to create them when needed.
Jazz Standard Chord Progressions
These are the chord progressions, extracted from my book Exploring Jazz Chords on Ukulele for use with on-line and private students.
Modular Phonetic Rhythm by Chuck Anderson
Modular Phonetic Rhythm represents a significant advance in the teaching and application of rhythm. Eliminating many inefficient aspects of rhythm education, Modular Phonetic Rhythm streamlines the traditional educational approach, resulting in a reflexive reaction to rhythm.
Related Songs
Related Songs for Blues in G at this time.
Related Videos
Related Videos for Blues in G.
No videos for Blues in G at this time.
disqus displayed in production only!!!
---
NOTE: Each higher membership level includes ALL the benefits of the lower membership levels.

The Private Lesson Plans include all the benefits of a Premium Access Plans as long as you remain a student on on the schedule.
Just browsing over both books, they look fantastic! I'm a guitarist and uke player for over 25 years and was thinking about writing a ukulele book but you've already written what I think are the best, most comprehensive and thorough books I've ever seen for the instrument. I just might end up buying every book you've written and I'll be giving my highest recommendation for your books to my friends and students. Thank you so much for taking the time to write such great books! — Peter Rhee
Aloha, Curt, All I can say is WOW! What you have accomplished is simply incredible! All the best — Glen Hirabayashi, The Aloha Boys
Folks, if you haven't stopped by Curt's site, do so right now! ..And get his books, they are fantastic. This guy knows his stuff and is able to pass it along too. — Alan Johnson Proprietor, The 4th Peg
I can highly recommend Curt's Uke books — I have four of them and they are excellent. — fatveg — Portland
Thanks for visiting and checking out the site!

Original Curtie Animation - 1987 for my first web site
32 years ago.
LearningUkulele.com has one of the largest collections of lessons, songs, and TABS, luthiers, ukulele builders, ukulele festival and club information, and, ukulele links on the web. I've been on the ®Internet since the early 1990's and This site just never stops growing!!!
Content is added and updated almost daily - so check back often.