View the Download section of this page to download the song files for the complete and most up-to-date versions.
Chris Montez (born Ezekiel Christopher Montanez on January 17, 1943) is an American singer.
Montez grew up in Hawthorne, California, influenced by the Latino-flavored music of his community and the success of Ritchie Valens.
In 1962, he recorded the single "Let's Dance" on Monogram Records (written and produced by Jim Lee). It went to No.4 on the Billboard Hot 100 chart in the U.S. and to No.2 on the UK Singles Chart (spending four weeks there). The follow-up, "Some Kinda Fun", was a lesser hit in the U.S., but reached No.10 in the U.K. in January 1963. Nonetheless, both records sold over one million copies, and were awarded gold discs.
1966 Comeback
Montez returned to the recording studio in 1965, this time at A&M Records. Montez was searching for the same rock and roll formula that would replicate the success of "Let's Dance". During a recording session, A&M co-founder Herb Alpert (who co-produced Montez's first A&M album) suggested that Montez try a different approach: a middle of the road, soft sound. Though reluctant at first, Montez agreed to go along with his mentor's suggestion.
Call Me (a Tony Hatch composition first recorded by Petula Clark) was the first single released from his 1966 A&M album, The More I See You. The title single from the album, sung in a soft, very high tenor range and played on primarily adult-formatted radio stations, confused some  disc jockeys, who were unfamiliar with Montez's past work. The song became enormously popular and has been used many times in movies, notablyFrantic, starring Harrison Ford. When announcing the song, the DJs would often refer to Montez as a female. But by the time the album was released, Montez's pictures on the front and back of the jacket cleared up any mystery surrounding his sex, as explained in the album's notes on the back of the record jacket.
Main Song Download(s)
The main downloads for this Song.
Call Me - Leadsheet for Play-along Track
The leadsheet for the Call Me play-along track.

Members Only
Log-in to access.
Call Me - Premium Play-along Track
Call Me (a Tony Hatch composition first recorded by Petula Clark) was the first single released from his 1966 A&M album, The More I See You.

Members Only
Log-in to access.
Song Road Map
Tips and tricks for remembering a song.
A Road Map Through Song
Remembering songs is all about the form and harmonic content and movement with taking in the similarities between songs. And, just like a road map they're landmarks that will trigger memories of how to get through various sections, changes or parts of a song.
This section of a song's page presents some tips on how I try and remember a particular song.
No Road Map for Call Me check back soon.
Related Song Files, Resources and Assets
Related Assets for Call Me at this time.
QuickStart Progressions Mixolydian Track 1 - Rock, Play-along Track
Rock play-along track for exploring the Mixolydian scale from the QuickStart Scale and Arpeggio Series of books.

Members Only
Log-in to access.
Basic Ukulele Chord Chart
A chart of the most common ukulele chords in the most common keys of C, G, D, A, and E.
Movable 7th Chords for Ukulele Chord Chart - C Tuning
A handy dandy single sheet chart showing the each voicing of the four, seventh chords Big Six seventh chord voicings.

Members Only
Log-in to access.
Related Lessons
Related Lessons for Call Me at this time.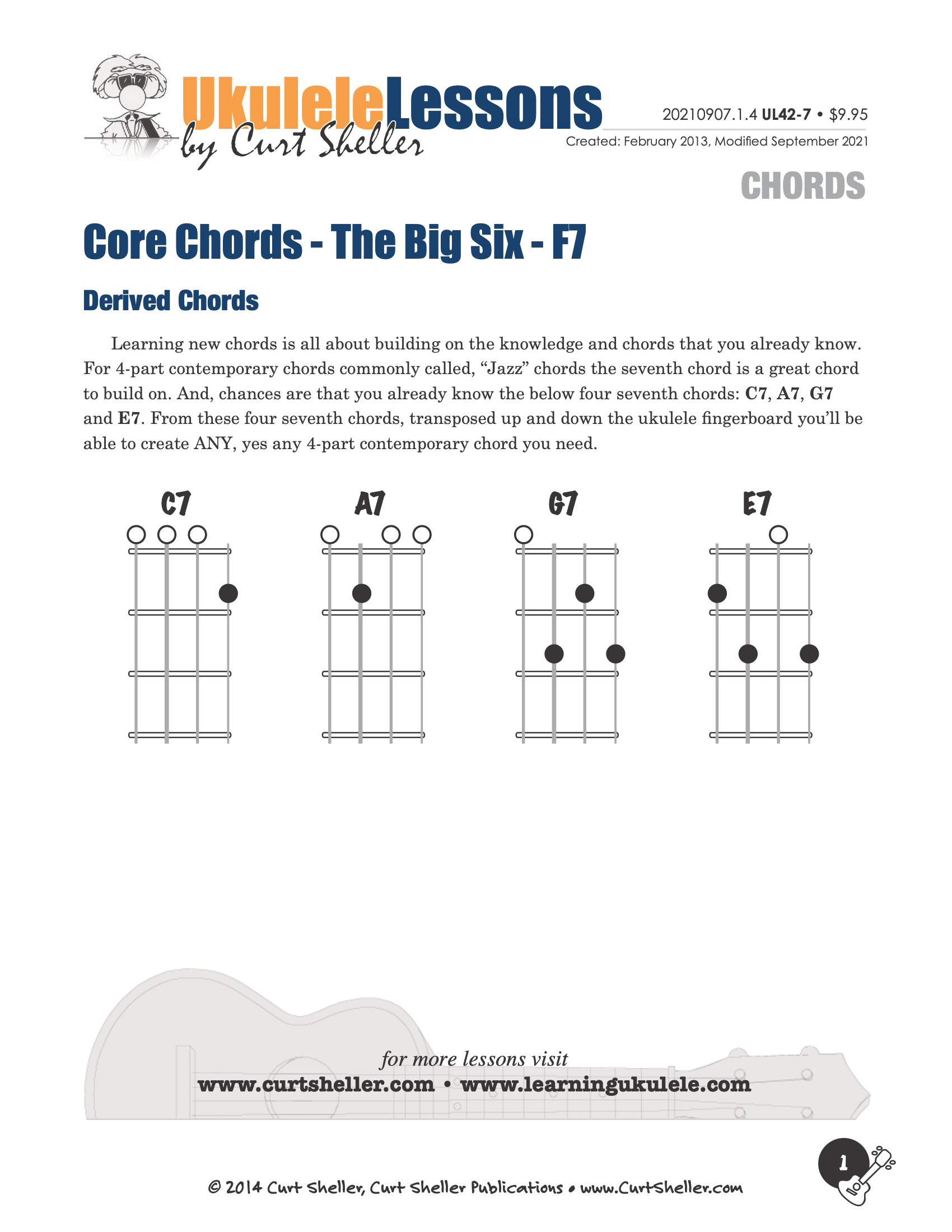 Core Chords is a series of lessons for building your core, essential 4-part chords.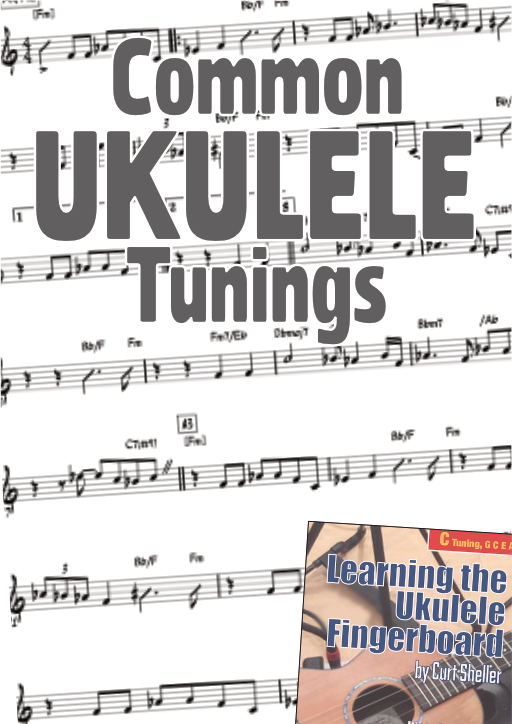 Any tuning is possible on a ukulele as long as the ukulele's construction supports it and a string is available.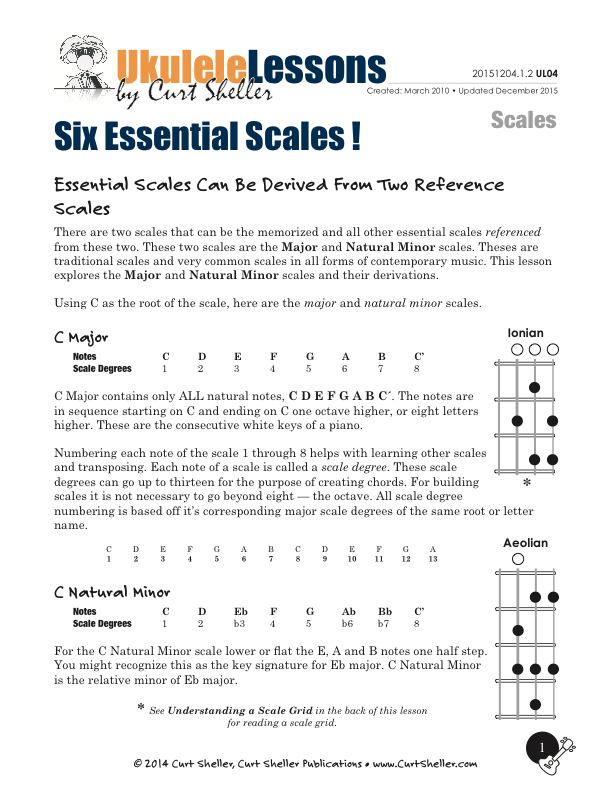 The six essential scales are: Blues, Major Pentatonic, Mixolydian, Dorian, Aeolian, and Ionian.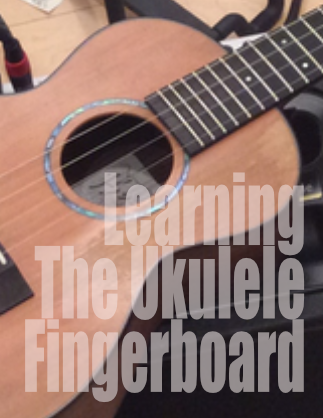 Most players struggle with learning the names of the notes of the ukulele fingerboard.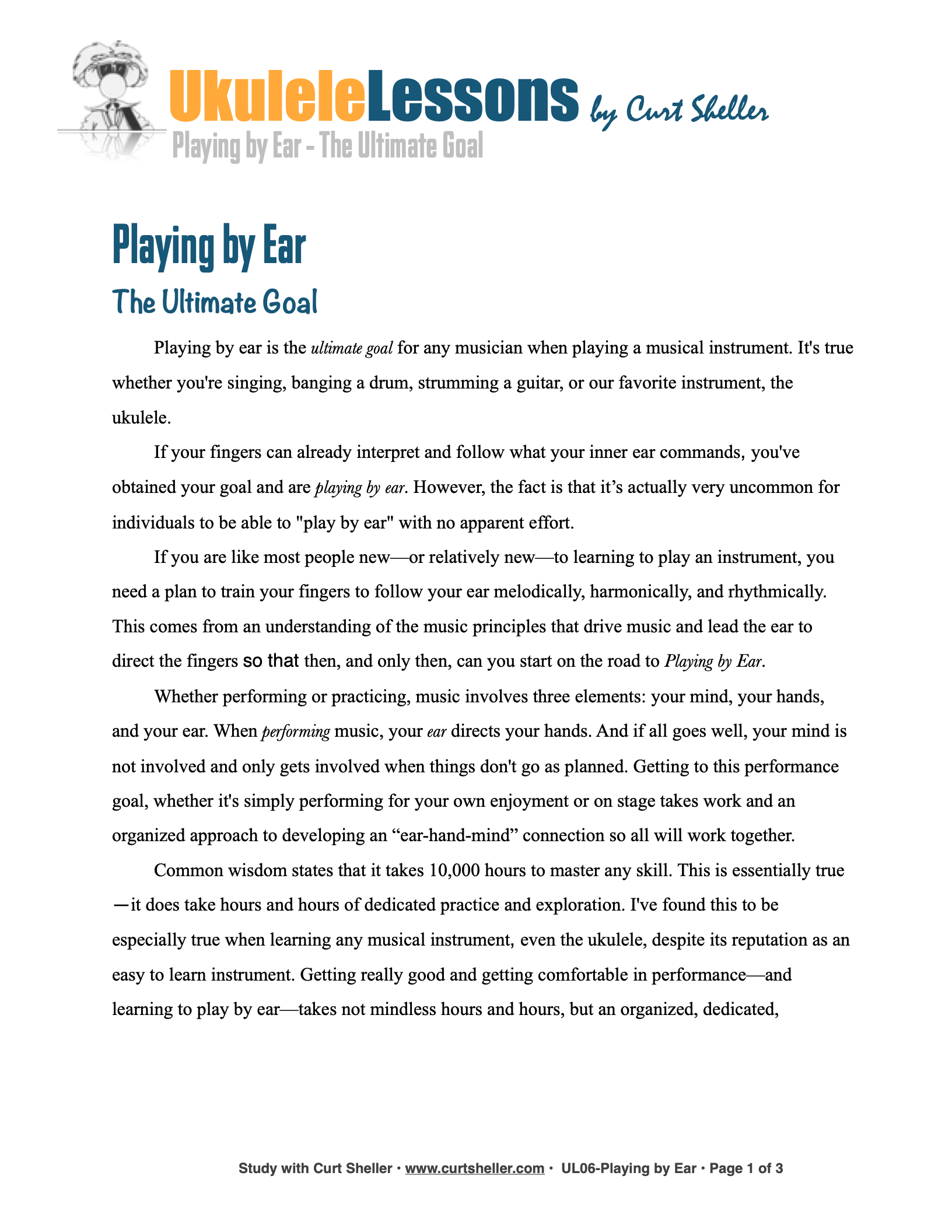 Playing by ear is the ultimate goal for any musician when playing a musical instrument.
Related Song Books
Related Books for Call Me at this time.
No related books for Call Me at this time.
Related Lesson Series
Related Lessons Series for Call Me at this time.
No related lesson series for Call Me at this time.
Related Songs
Related Songs for Call Me at this time.
No related songs for Call Me at this time.
Related Videos
Related Videos for Call Me.
No videos for Call Me at this time.
disqus displayed in production only!!!
NOTE: Each higher membership level includes ALL the benefits of the lower membership levels.

The Private Lesson Plans include all the benefits of a Premium Access Plans as long as you remain a student on on the schedule.
Just browsing over both books, they look fantastic! I'm a guitarist and uke player for over 25 years and was thinking about writing a ukulele book but you've already written what I think are the best, most comprehensive and thorough books I've ever seen for the instrument. I just might end up buying every book you've written and I'll be giving my highest recommendation for your books to my friends and students. Thank you so much for taking the time to write such great books! — Peter Rhee
Aloha, Curt, All I can say is WOW! What you have accomplished is simply incredible! All the best — Glen Hirabayashi, The Aloha Boys
Folks, if you haven't stopped by Curt's site, do so right now! ..And get his books, they are fantastic. This guy knows his stuff and is able to pass it along too. — Alan Johnson Proprietor, The 4th Peg
I can highly recommend Curt's Uke books — I have four of them and they are excellent. — fatveg — Portland
Thanks for visiting and checking out the site!

Original Curtie Animation - 1987 for my first web site
32 years ago.
LearningUkulele.com has one of the largest collections of lessons, songs, and TABS, luthiers, ukulele builders, ukulele festival and club information, and, ukulele links on the web. I've been on the ®Internet since the early 1990's and This site just never stops growing!!!
Content is added and updated almost daily - so check back often.