The Lion Sleeps Tonight
Also known as "Wimoweh", "Wimba Way" or "Awimbawe", is a song written and recorded originally by Solomon Linda.
PUBLISHED: Oct 15, 2013 • UPDATED: Jan 26, 2016 • VIEWS: 127 • LESSON CODE: UL578 •
Instruments: ANY ukulele Subjects: repertoire • beginner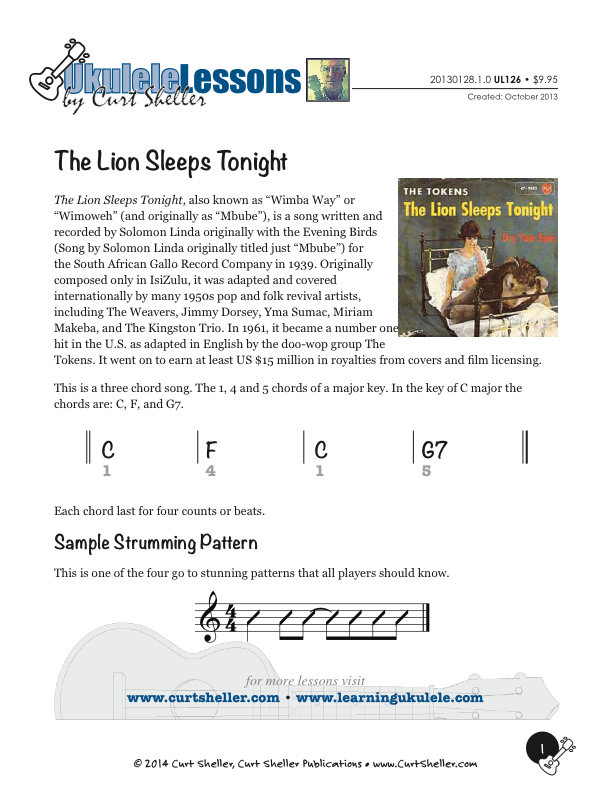 All 1 sample page(s) are viewable on-line.
To view the pages at a larger size you can resize the browser window smaller to a tablet or phone size and the pages will magically grow larger. If you are a registered member and have the correct permissions.
View the Download section below to download the song files for the complete and most up-to-date versions.
The Lion Sleeps Tonight
The Lion Sleeps Tonight, also known as "Wimoweh", "Wimba Way" or "Awimbawe", is a song written and recorded originally by Solomon Linda with the Evening Birds for the South African Gallo Record Company in 1939, under the title "Mbube". Composed in Zulu, it was adapted and covered internationally by many 1950s pop and folk revival artists, including Pete Seeger, the Weavers, Jimmy Dorsey, Yma Sumac, Miriam Makeba and the Kingston Trio. In 1961, it became a number one hit in the United States as adapted in English with the best known version by the doo-wop group the Tokens. It went on to earn at least US$15 million in royalties from cover versions and film licensing.
This song was a favorite of my late and great ukulele friend Gordon Velasco. He used it many a time for first time ukulele players. A really fun song to play.
There are only three chords which are the primary chords for the major key the song is in. In the key of C major the chords are: C, F and G or G7.
For the melody it starts on the root of the major scale of the key and the first three notes of the melody go right up the sale: 1 2 3 or do, re, me. For C major that is C D E.
---
The Lion Sleeps Tonight - Chords

Updated: Dec 31, 2016
Chord lead sheet for The Lion Sleeps Tonight.

Members Only
Log-in to access.
Remembering songs is all about the form and harmonic content and movement with taking in the similarities between songs. And, just like a road map they're landmarks that will trigger memories of how to get through various sections, changes or parts of a song.
This section of a song's page presents some tips on how I try and remember a particular song.
No Road Map for The Lion Sleeps Tonight check back soon.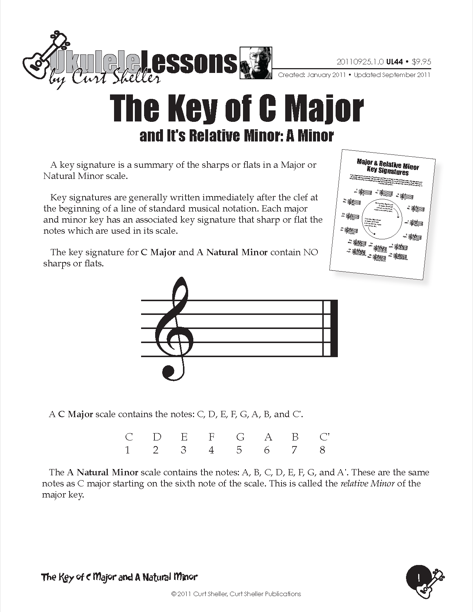 Key Signatures - C Major and A Minor
• Updated: Sep 21, 2011
Learn the recognize the key signature for C Major and A Minor. Learn their corresponding Major and Natural Minor scales with basic ukulele chords for each scale. Sometimes called the learning key, the key of C Major is one of the easiest keys to memorize and begin using.
Harmonic Analysis for Scale and Chord Selection
Updated: Jan 1, 2003
Harmonic Analysis is the process used to determine the harmonic function of chords within a chord progression or song. A chord progression is defined as a sequence of chords, each chord has a root and is a particular chord type. The relationship of a chord's to a scale determines its function within that scale's tonality.
NOTE: Each higher access level includes ALL the benefits of the lower levels. Private Lessons include all the benefits of a Premium Access Plans as long as you remain a student on the schedule.
---
Just browsing over both books, they look fantastic! I'm a guitarist and uke player for over 25 years and was thinking about writing a ukulele book but you've already written what I think are the best, most comprehensive and thorough books I've ever seen for the instrument. I just might end up buying every book you've written and I'll be giving my highest recommendation for your books to my friends and students. Thank you so much for taking the time to write such great books! — Peter Rhee
Aloha, Curt, All I can say is WOW! What you have accomplished is simply incredible! All the best — Glen Hirabayashi, The Aloha Boys
Folks, if you haven't stopped by Curt's site, do so right now! ..And get his books, they are fantastic. This guy knows his stuff and is able to pass it along too. — Alan Johnson Proprietor, The 4th Peg
I can highly recommend Curt's Uke books — I have four of them and they are excellent. — fatveg — Portland
Thanks for visiting and checking out the site!

Original Curtie Animation from 1987 for my first web site on a Macintosh II. 34 years ago. Man, does time fly.
"Built for myself (Curt), and sharing with the `Ukulele community!"
LearningUkulele.com has one of the largest collections of lessons, songs, and TABS, luthiers, ukulele builders, ukulele festival and club information, and, ukulele links on the web. I've been on the ®Internet since the early 1990's and This site just never stops growing!!!
Content is added and updated almost daily - so check back often. I really do need to get out more ;-)