Silent Night
Composed in 1818 by Franz Xaver Gruber to lyrics by Joseph Mohr in the small town of Oberndorf bei Salzburg, Austria.
PUBLISHED: Nov 25, 2014 • UPDATED: Nov 25, 2014 • LESSON CODE: UL587 • VISITS: 3
ukulele Subjects: arrangement • holiday • solo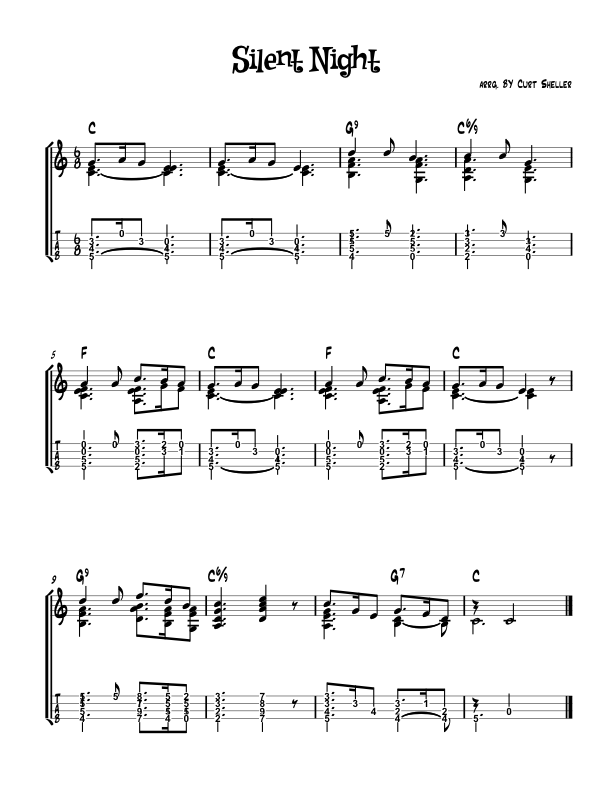 All 1 sample page(s) are viewable on-line.
To view the pages at a larger size you can resize the browser window smaller to a tablet or phone size and the pages will magically grow larger.
Or, a PDF Only View .
Silent Night (German: Stille Nacht, heilige Nacht) is a popular Christmas carol, composed in 1818 by Franz Xaver Gruber to lyrics by Joseph Mohr in the small town of Oberndorf bei Salzburg, Austria. It was declared an intangible cultural heritage by UNESCO in March 2011. The song has been recorded by a large number of singers from every music genre.
The song was first performed on Christmas Eve 1818 at St Nicholas parish church in Oberndorf, a village on the Salzach river. The young priest, Father Joseph Mohr, had come to Oberndorf the year before. He had already written the lyrics of the song "Stille Nacht" in 1816 at Mariapfarr, the hometown of his father in the Salzburg Lungau region, where Joseph had worked as a coadjutor.
Melody and Chord Arrangement Notes
One funny tip is to be carful with the first part of the melody. It's sounds like Blow the Man Down.

The most important note is the melody then the color tones of the chords and finally I tried to get the roots of the chord in there to convey the root movement of the chord progression. A low G open string will sound like some sort of G chord.

If adding and expanding on the melody or taking rhythmic liberties be sure your additions are perceived as counter melodies or fills and not the main melody.

Silent Night is a simple melody and basic chord progression and too many harmonic changes like altered chords take away from the simple nature of the song. Coming back to a basic C major triad helps with this.

I tried to take advantage of the open strings one and two, the A and E when possible. Also, the double C notes at the end.
More Below
---
Main Song Download(s)
The main downloads for this Song.
top
Silent Night - Melody and Chord Ukulele Arrangement

Updated: Dec 31, 2016
Melody and chord arrangement Ukulele using a low G, C tuning.
Song Road Map
Tips and tricks for remembering a song.
top
Remembering songs is all about the form and harmonic content and movement with taking in the similarities between songs. And, just like a road map they're landmarks that will trigger memories of how to get through various sections, changes or parts of a song.
This section of a song's page presents some tips on how I try and remember a particular song.
---
No Road Map for Silent Night check back soon.
Related Songs
Related Songs for Silent Night at this time.
top
Related Lesson Series
Related Lessons Series for Silent Night at this time.
top
Reading for Ukulele - The Next Steps

Updated: Mar 30, 2020
Reading can be thought of on many different levels. 1) the ability to slowly and painfully work out the written music. 2) the ability to hear the music by looking at the notation. 3) the ability to notate< your ideas in standard music notation. 4) the ability to read music as you read a book or an article. 5) the ability to communicate with other musicians in the written language of music. 6) the ability to learn songs that you have never heard.
Modular Phonetic Rhythm by Chuck Anderson

Updated: Mar 30, 2020
Modular Phonetic Rhythm represents a significant advance in the teaching and application of rhythm. Eliminating many inefficient aspects of rhythm education, Modular Phonetic Rhythm streamlines the traditional educational approach, resulting in a reflexive reaction to rhythm.
NOTE: Each higher access level includes ALL the benefits of the lower levels. Private Lessons include all the benefits of a Premium Access Plans as long as you remain a student on on the schedule.
Just browsing over both books, they look fantastic! I'm a guitarist and uke player for over 25 years and was thinking about writing a ukulele book but you've already written what I think are the best, most comprehensive and thorough books I've ever seen for the instrument. I just might end up buying every book you've written and I'll be giving my highest recommendation for your books to my friends and students. Thank you so much for taking the time to write such great books! — Peter Rhee
Aloha, Curt, All I can say is WOW! What you have accomplished is simply incredible! All the best — Glen Hirabayashi, The Aloha Boys
Folks, if you haven't stopped by Curt's site, do so right now! ..And get his books, they are fantastic. This guy knows his stuff and is able to pass it along too. — Alan Johnson Proprietor, The 4th Peg
I can highly recommend Curt's Uke books — I have four of them and they are excellent. — fatveg — Portland
Thanks for visiting and checking out the site!

Original Curtie Animation from 1987 for my first web site on a Macintosh II.
33 years ago.
"Built for myself (Curt), and sharing with the `Ukulele community!"
LearningUkulele.com has one of the largest collections of lessons, songs, and TABS, luthiers, ukulele builders, ukulele festival and club information, and, ukulele links on the web. I've been on the ®Internet since the early 1990's and This site just never stops growing!!!
Content is added and updated almost daily - so check back often.