Learn a New Ukulele Chord Each Day of 2017!!!
Today's Chord a Day, January 21st - A
Each day of 2017 there's a new chord you can learn and add to your chord vocabulary. First time here? Start with the January 1st chord.
LearningUkulele.com Songbook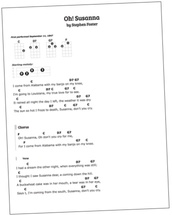 Here is a selection of songs typically downloaded and performed at ukulele clubs, jams, meetup groups and festivals.
A lot of clubs have a songbook that they have compiled from songs collected on-line. A lot of these songs don't have the correct chord changes and common substitutions. The chord grid fingering recommendations aren't always the most efficient. Bottom line there is typically a lot of issues that could and should be addressed. Ukulele players are getting better and can make their own decisions and use the original changes and more contemporary chords. Some of the cores are simply wrong or mis-named.
So, using my extensive knowledge of chords, chord progressions, chord substitutions and years of research, studying and teaching experience with hundreds of students. I've corrected and enhanced these songs and added a lot of performance tips and information that will help with your performing these songs.
Coming Soon!!
The Daily Ukulele: 365 Songs for Better Living
The Daily Uke book by Flea Market Music is fast becoming the to go to song book for meetup groups and clubs alike.
There are lot of good reasons for using this book. One, is it is professionally prepared and has , not just the chords and lyrics but the actual melody written in standard music notation - which reading music on ukulele is really not that hard to learn. Second, and pretty important the original songwriters and publishers will get royalties for the hard work and copyrighted works.
A lot of people use YouTube for learning how a song goes and this is one the the best resources for the Daily Uke book songs to hear how they sound.
The Daily Ukulele: 365 Songs for Better Living
( Red on Black Productions ) - Inspired by Jumpin' Jim Beloff and a brand new Ukulele, I (Heather) decided to not only teach myself how to play, but make some videos of myself during the process. You can play along with me by following the chords on screen, or go out and grab yourself "The Daily Ukulele" and strum a different song every day with easy arrangements of 365 of your favorite songs in one big songbook!
Just browsing over both books, they look fantastic! I'm a guitarist and uke player for over 25 years and was thinking about writing a ukulele book but you've already written what I think are the best, most comprehensive and thorough books I've ever seen for the instrument. I just might end up buying every book you've written and I'll be giving my highest recommendation for your books to my friends and students. Thank you so much for taking the time to write such great books! — Peter Rhee
Aloha, Curt, All I can say is WOW! What you have accomplished is simply incredible! All the best — Glen Hirabayashi, The Aloha Boys
Folks, if you haven't stopped by Curt's site, do so right now! ..And get his books, they are fantastic. This guy knows his stuff and is able to pass it along too. — Alan Johnson Proprietor, The 4th Peg
I can highly recommend Curt's Uke books — I have four of them and they are excellent. — fatveg — Portland
Thanks for visiting and checking out the site!
Content is always being added and updated. So check-in often. Thanks, for visiting!!!
One of the largest collections of lessons, songs and TABS, archtop luthiers, ukulele builders, festival information, ukulele links on the web. I've been on the web since the early 90's and growing everyday. This site just never stops growing!!!