My Personal Recommendations
These are the three amplifiers that I personally have and use ALL the time. As well as direct to a PA at times such as a Mackie Reach, Fuishman SA Sereis , or house PA.
AER Compact 60/3 - Light weight, portable and a great sound. This and the Fishman Loudbox amps are the first amps that I use that I could dial in the sound that I was looking for really fast without much effort.
Fishman Loudbox Series - As a dealer for Fishman products at our family music store, Funky Frets in Boyertown, we carry the full line of Fishman Loudbox amplifiers.
Yamaha THR Series - For ukulele I have and use the THR5A, the acoustic modeling version. It sits right on my desk for quick access. Really nice to practice with in an amplified scenario like performing. Also great for ukulele meetups and jams when you are called on to take a solo.
AER Audio Electric Research
USA / Canada Distributor
Musiquip Inc.
325 Bouchard Blvd.
Montreal, QC,
Canada H9S 1A9
Phone: +1 (866) 832-8679
Fax: +1 (800) 563-2948
info@musiquip.com
www.musiquip.com
Latitude: 45.447342
Longitude: -73.729935
Links
from the AER Audio Electric Research web site
Hand-built in Germany, AER amps are widely considered to be the hallmark of acoustic amplification. 
Since 1992, our company has used high-quality components, sophisticated circuit technology, and precision craftsmanship to convert their designs into melodious sound.
At AER, electronics still means a great deal of manual work. Measuring and simulation do not suffice. In the end, every single amp is played and checked for sound and function. A small, dedicated and extremely talented team of just over 20 employees are kept busy checking, equipping, documenting, installing, assembling, and checking all over again!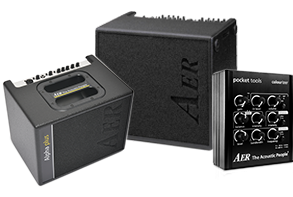 The Compact 60 has proven that there is an all-round, small, powerful and yet simple to use complete solution for stage, stu- dio and home use that works up to the highest demands and standards of acoustic players.
It has found many friends around the world with it's size smiled at in the beginning being it's second strongest side. It has be- come the standard equipment "the amp of choice" for those musicians who value sound, simplicity and independence. It has qualified for nearly all instruments and applications. 60 watts, dynamic control, 8ohm (200 mm) twin cone speaker, Twin-channel, 3 and 2 band EQ, digital effects, 6,5 kg (14.3 lbs)

I use the AER Compact 60/3 for my ukulele, acoustic guitar, classical guitar as well as my seven string archtop guitar. A pretty versatile amp to be able to cover all theses playing situations. Have even ran my tele through it with great success.

The Alpha defines the starting point of professional acoustic amplification at AER. Based on the success and the experience with the Compact 60 we developed an even smaller lightweight model that has no difficulties living up to the rigors of the road.
Open sounding and quick in response this amp masters different ranges and is thus not afraid of bigger instruments. 40 watts, dynamic control, 8ohm (200 mm) twin cone speaker, Single-channel, two inputs, digital reverb, 6,1 kg (13.5 lbs)
More information available on the AER Audio Electric Research's web site.
Even more information, discussion and comments on this listing.
Fender Musical Instruments Corporation (FMIC)
Fender Musical Instruments Corporation (FMIC) is the world's leading guitar manufacturer, and its name has become synonymous with all things rock 'n' roll. Iconic Fender® instruments such as the Telecaster®, Stratocaster®, Precision Bass® and Jazz Bass® guitars are known worldwide as the instruments that started the rock revolution, and they continue to be highly prized by today's musicians and collectors.
Boss (Roland Corporation U.S.)
Known around the world as the company that put the "stomp" in "stompbox," BOSS is the division of Roland Corporation most easily recognized for its legendary line of colorful guitar and bass effects pedals. But beyond these killer pedals, BOSS has pushed the envelope for over 30 years with innovative multi-effects, rhythm machines, personal digital studios and other easy-to-use instruments for musicians of all types. Put simply, BOSS gives you the great-sounding tools you need to spend less time tweaking and more time playing.
Henriksen, Inc.
The Henriksen JazzAmp was created in 2006 to satisfy a void in the marketplace for a jazz archtop guitar amplifier that produced a pure and true reproduction of the instrument's tone. After having purchased a number of amps, and trying out an even larger number purporting to be jazz friendly amplifiers, I saw a common flaw in the basic design of all of these amps, at least for playing jazz. To my way of looking at it, that common flaw was in the institution of tone circuitry. Why not, I thought, create an amp with no tone controls at all. That would leave "tone color" decisions as the exclusive province of the instrument. The presumption is made that a high quality jazz archtop inherently has built in the jazz tone desired which then only needs to be made louder. Time and market acceptance has proven this to be a valuable insight.
L. R. Baggs
We started this in a loft in downtown Los Angeles, California, with a hope and a dream, and no business sense whatsoever. The first L.R. Baggs product was our LB6 Series Pickup. We would like to thank Leo Kottke for his early support. Stores would call us and say, "Leo Kottke said he was using your pickup." We could literally track his touring route as the stores would order in his wake. Early endorsers were Steven Sheehan of the Judds, James Taylor and Kathy Mattea. These endorsers gave us the encouragement and support that sustained us when we had more enthusiasm than business sense. They spread the word and gradually our business grew.
Roland
Roland Corporation is a leading manufacturer and distributor of electronic musical instruments, including keyboards and synthesizers, guitar products, electronic percussion, digital recording equipment, amplifiers, and audio processing devices. With over 40 years of innovation that continues to shape the sound of modern music, Roland sets the standards in music technology for the world to follow.
FREE Bronze Plan - A limited selection of basic lessons ( currently over 140 ) and 100+ songs for ukulele as well as basic general music reference material — Completely FREE — Simply Register/Signup to access associated lessons, books, songs and their related assets.
---
NOTE: Each higher membership level includes ALL the benefits of the lower membership levels.

The Private Lesson Plans include all the benefits of a Premium Access Plans as long as you remain a student on on the schedule.
Just browsing over both books, they look fantastic! I'm a guitarist and uke player for over 25 years and was thinking about writing a ukulele book but you've already written what I think are the best, most comprehensive and thorough books I've ever seen for the instrument. I just might end up buying every book you've written and I'll be giving my highest recommendation for your books to my friends and students. Thank you so much for taking the time to write such great books! — Peter Rhee
Aloha, Curt, All I can say is WOW! What you have accomplished is simply incredible! All the best — Glen Hirabayashi, The Aloha Boys
Folks, if you haven't stopped by Curt's site, do so right now! ..And get his books, they are fantastic. This guy knows his stuff and is able to pass it along too. — Alan Johnson Proprietor, The 4th Peg
I can highly recommend Curt's Uke books — I have four of them and they are excellent. — fatveg — Portland
Thanks for visiting and checking out the site!

Original Curtie Animation - 1987 for my first web site
31 years ago years ago.
Content is added and updated almost daily - so check back often.
LearningUkulele.com has one of the largest collections of lessons, songs, and TABS, luthiers, ukulele builders, ukulele festival and club information, and, ukulele links on the web. I've been on the ®Internet since the early 1990's and This site just never stops growing!!!