Luthier / Company Associations
Rat Ukes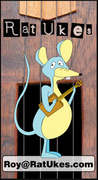 Sicklerville , New Jersey, USA
from the Rat Ukes web site
Rat Ukes are constructed to make the best use of old, distinctive, sometimes broken, ukuleles. Wooden cigar boxes are employed to become uke bodies as they are generally well constructed of fine solid woods.
Even more information, discussion and comments on this listing.
Mark Roberts Guitars & Ukuleles

Portland, Oregon
USA
Phone: 503.453.7441
from the Mark Roberts Guitars & Ukuleles web site
Mark Roberts has maintained a lifelong passion about creativity and understanding the nature, patterns, and systems of the world around us. An extensive background in all disciplines of fine art, furniture design, and product design have uniquely crafted his approach to design and craft fine instruments.
Even more information, discussion and comments on this listing.
Red Sands Ukuleles

Heidi Litke
General Delivery
Kensington PE C0B 1M0
Canada
eMail: heidilitke@me.com
from the Red Sands Ukuleles web site
Red Sands Ukuleles are hand made by Heidi Litke. Always by her side is shop production manager and loving husband Rob Litke. On the island of Prince Edward Canada, we hand pick island woods to make these beautiful instruments of Soprano, Concert and Tenor sizes. Woods include maple, birch and spruce. We finish our Red Sands Ukuleles with a non toxic, hand rubbed "French Polish" finish. We will display ukuleles as they become available on our "Gallery" page. We will also have a sound clip for you to listen too. So come and join us on this wonderful adventure of ukulele playing!
Even more information, discussion and comments on this listing.
Renaissance Guitar Company

Compass Rose Ukulele Company***
**Rick Turner
*815 Almar Ave.
Santa Cruz, CA** 95060
USA
(P) 831 460 9144
(F) 831 469 9146
from the Renaissance Guitar Company web site
Rick Turner started out as a music-lover and amateur East Coast musician, a self-described "espresso drinking, beret wearing, poetry reading, bongo playing" pre-hippie. He decided that the band wasn't going anywhere and moved out west, where he started work building electric guitars. Six months after the move, Rolling Stone printed a rave review on his now-defunct band. Rick, however, was already on to bigger and better things: winding pickups by hand.
Even more information, discussion and comments on this listing.
Les Rietfors
Waimanalo, **Hawaii
**USA
from the Les Rietfors web site
Les Rietfors Age 53, called to God February 17, 2005. A life-long resident of Kailua, he was born there on October 3, 1951. Les passed away peacefully at home, surrounded by his family, after a short illness. A loving and devoted husband and father, he is survived by Cheryl, his wife of 25 years, and daughters Amanda Rietfors and Ashley (Ken) Casazza of Fresno, California. He is also survived by his father Fritz (Lois) Rietfors, jr. of Kamuela and brothers Ron nieces. His mother, Esther Hodde Rietfors, preceded him in death.
Even more information, discussion and comments on this listing.
RISA Musical Instruments GmbH

Rigk Sauer
Pferdsbachstr. 31
D-64823 Gross-Umstadt
Germany
Phone: +49-(0)6078-911183
Fax: +49-(0)6078-911176
Latitude: 49.839954
Longitude: 8.968433
from the RISA Musical Instruments GmbH web site
RISA Musical Instruments is a young innovative company. They design, produce and distribute small stringed instruments. Niche products with volume potential are our main focus.
Even more information, discussion and comments on this listing.
Road Toad Music
Owen Holt
Road Toad Music
P.O. Box 51817
San Jose, CA 95151
USA
ph: (408)223-8006
from the Road Toad Music web site
Road Toad Music produces quality handcrafted ukulele and bass instruments. Among the ukulele that Owen makes are a line of bass ukes. I played a few at the 2006 New York Ukulele Festival and they are amazing. You can believe the sound that comes from these. Owen also designed the Kala UBass.
Even more information, discussion and comments on this listing.
Roberts Luthiery
Roberts Luthiery - hours by appointment only
1141 Valley View Drive
Downers Grove, IL 60516
USA
630-204-3990
RobertsLuthiery@comcast.net
from the Roberts Luthiery web site
I craft my guitars using only the finest materials and use the best of traditional and modern construction techniques. The results are instruments that have extraordinary tone, playability, and artistry for the discriminating guitarist.
Even more information, discussion and comments on this listing.
The Jazz Uke

T. Hank Robinson
402-496-1899
from the The Jazz Uke web site
The Jazz Uke™ represents the first evolutionary refinement of the ukulele since the Baritone was created. In an attempt to provide serious ukulele players with an instrument which compensates for some of the technical limitations of most standard ukuleles, the Jazz Uke (TM) was designed with a neck that joins the body at the 14th fret, a 17 7/8in scale, cutaway, and arched top.
Even more information, discussion and comments on this listing.
Russ Morin Woodworking
Big Rusty Ukuleles
1750 Kaahumanu Avenue
Greenville, SC
USA
from the Russ Morin Woodworking web site
Russ Morin often finds himself caught between the future and the past. The 49-year-old woodworker has an aversion to power tools, but he is an avid user of YouTube. A handmade wooden high-wheel bicycle, current project, sits to one side of his workshop while a mini replica of a steam engine sits on another.
Even more information, discussion and comments on this listing.
Pepe Romero

California
USA
Phone: 858-342-7463
from the Pepe Romero web site
Pepe Romero Jr. was born into a family that lives the Spanish guitar. From his childhood Pepe loved the guitar. He grew up playing some of the world's greatest guitars from the incredible collection of his father. Growing up surrounded by guitars made by Torres, Esteso, Santos Hernandez, Hauser, and Miguel Rodriguez set the standard for how a guitar should be made.
Even more information, discussion and comments on this listing.
NOTE: Each higher access level includes ALL the benefits of the lower levels. Private Lessons include all the benefits of a Premium Access Plans as long as you remain a student on the schedule.
Just browsing over both books, they look fantastic! I'm a guitarist and uke player for over 25 years and was thinking about writing a ukulele book but you've already written what I think are the best, most comprehensive and thorough books I've ever seen for the instrument. I just might end up buying every book you've written and I'll be giving my highest recommendation for your books to my friends and students. Thank you so much for taking the time to write such great books! — Peter Rhee
Aloha, Curt, All I can say is WOW! What you have accomplished is simply incredible! All the best — Glen Hirabayashi, The Aloha Boys
Folks, if you haven't stopped by Curt's site, do so right now! ..And get his books, they are fantastic. This guy knows his stuff and is able to pass it along too. — Alan Johnson Proprietor, The 4th Peg
I can highly recommend Curt's Uke books — I have four of them and they are excellent. — fatveg — Portland
Thanks for visiting and checking out the site!

Original Curtie Animation from 1987 for my first web site on a Macintosh II.
33 years ago.
"Built for myself (Curt), and sharing with the `Ukulele community!"
LearningUkulele.com has one of the largest collections of lessons, songs, and TABS, luthiers, ukulele builders, ukulele festival and club information, and, ukulele links on the web. I've been on the ®Internet since the early 1990's and This site just never stops growing!!!
Content is added and updated almost daily - so check back often.