Site Help
With so much content on LearningUkulele.com and more being added and updated daily, it can be hard to find your way around – I (Curt), even have forgotten just what is here. Here are a few tips to exploring and diving deeper and deeper into the site's content.

Don't forget, you can always take advantage of what computers are good at, and that is Searching and Finding Information Quickly .
Overall Site Navigation
In additional to being a great site for learning ukulele Learning . LearningUkulele.com is also a great Reference site for All Things Ukulele.
Top Level Navigation
This is the top level https://www.LearningUkulele.com entry point or menu bar. It shows the main sections of the site. the Lessons , Series , Songs , Books , Videos , play-alongs tracks, etc. and loads of information on the `Ukulele - our favorite instrument.

There is an additional icon (burger) visible to show and hide the sidebar navigation. This is especially useful when the site is viewed on smaller screens such tablets and smart phones.
Search
Don't forget about what computers are good at - finding things fast .
For Learning Ukulele with Curt I use the blazingly fast, open-source, fuzzy search engine MeiliSearch for searching lessons, books, songs, series, etc. For general site searching I use DuckDuckDuckGo - The search engine that doesn't track you.
Sidebar Panel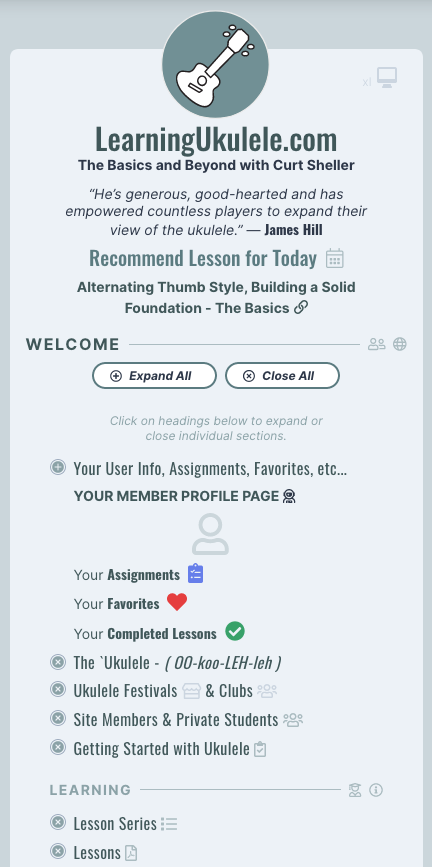 A sidebar, only visible larger screens is the panel to the left of the main page content. For mobile/phone viewers the sidebar can cover the entire screen and will close when clicking on a link to a new page or section.. The look might change over time.
THese individual sections in the sidebar can expand revealing additional links related to a section or be collapsed hiding that section.
With the overwhelming number of lessons, books, songs and related assets available on Learning Ukulele with Curt, this are is the place to go to explore all that is available.
Lessons, Songs, Books, Assets
This is what the majority of the content on LearningUkulele.com is all about.

This page header contains information on the lesson, song or book's title and brief description, the tagged instruments and subjects as well as the published and updated dates. As well as allowing members to track completed progress and their favorites .

These icons for the lessons, books, songs, etc member access level , or as well as icons for marking a lesson as completed or tagging anyone of the various lessons. books, songs, playalong, tracks, videos and assets on the site as a favorite.
The section also allows paid premium gold members to tag the lessons as a favorite or completed. The clipboard icon is for Curt when he assigns lessons to student members as well as recommendations to gold members.
Your Your Completed Lessons and Your Favorites can be viewed on Your Member Profile Page.
Every lesson, song, book, series, and asset page has associated, related and recommended assets, lessons, songs, lessons series, videos, books and related info that go with it.
A few lessons and books are part of ALL active site memberships. These are accessed just as an active student would access their lesson material view the login menu or their Site Member Profile page.
User Assets and Account Page
From the Login menu, accessible from the top menu bar or sidebar area. You can view view and manage your membership subscription, lessons, books, songs and assets that are part of your site membership.
For students you can also access you calendar and lessons assignments.
How Much Practice?
Practice, would be better described as exploration – NOT "practice"
As far as practice is concerned, do as much as you can. Realize that there are many things and activities competing for you time and attention – work, family, school, money, etc, etc. You WILL progress in my program of study. Only your rate of progress is variable and of course, related to time and effort you put into it. No matter the time available, you will progress.
Unlike the traditional schools system with grades, tests, pressure to progress at a pre-established pace and competition. Private one-on-one study has none of that, this is pure learning. You learn because you want to learn. I provide the tools, guidance and organization to make that happen for you.
All learning is cumulative, especially learning a musical instrument like the ukulele. Don't worry about the weeks with low or no practice. You always continue to get benefit from any previous practice sessions. Your goal is to improve – day by day – week by week. That won't stop you from achieving your goals.
Simply play as much as you can, interacting with other musicians. At the very least, work with prerecorded tracks, CDs and/or YouTube. Those tracks could be professionally produced or they could be just you recording and playing over chord changes.
Enjoy the process of developing your skills. Don't be overly focused on some objective standard about your proficiency. There is no objective standard!
Enjoy the site and any questions reach out and let us know.
NOTE: Each higher access level includes ALL the benefits of the lower levels. Private Lessons include all the benefits of a Premium Access Plans as long as you remain a student on the schedule.
---
Just browsing over both books, they look fantastic! I'm a guitarist and uke player for over 25 years and was thinking about writing a ukulele book but you've already written what I think are the best, most comprehensive and thorough books I've ever seen for the instrument. I just might end up buying every book you've written and I'll be giving my highest recommendation for your books to my friends and students. Thank you so much for taking the time to write such great books! — Peter Rhee
Aloha, Curt, All I can say is WOW! What you have accomplished is simply incredible! All the best — Glen Hirabayashi, The Aloha Boys
Folks, if you haven't stopped by Curt's site, do so right now! ..And get his books, they are fantastic. This guy knows his stuff and is able to pass it along too. — Alan Johnson Proprietor, The 4th Peg
I can highly recommend Curt's Uke books — I have four of them and they are excellent. — fatveg — Portland
Thanks for visiting and checking out the site!
Original Curtie Animation from 1987 for my first web site on a Macintosh II. 34 years ago. Man, does time fly.
"Built for myself (Curt), and sharing with the `Ukulele community!"
LearningUkulele.com has one of the largest collections of lessons, songs, and TABS, Luthiers, ukulele builders, ukulele festival and club information, and, ukulele links on the web. I've been on the ®Internet since the early 1990's and This site just never stops growing!!!
Content is added and updated almost daily - so check back often. I really do need to get out more ;-)