Overall Site Navigation
In additional to being a great site for learning ukulele. LearningUkulele.com is also a great Reference site for All Things Ukulele, luthiers, builders, strings, accessories, festivals, clubs, and a lot more. And, with all that info available it can be a bit of a task to find just what you're looking for.
Here's a bit of help, hopefully in your navigating the site.
Top Level Navigation
This is the top level, the first page if came to the site using the https://www.LearningUkulele.com entry point or menu bar. It shows the main sections of the site. the Lessons , Series , Songs , Books , Videos , play-alongs tracks, etc. and loads of information on the `Ukulele - our favorite instrument. This is the top-level site navigation to the main sections of the site.
Sidebar or aside
There is an additional icon, called a burger menu, the three (3) bars in top-level navigation are that when viewing the site on smaller screens such tablets and smart phones that becomes visible to show and hide the sidebar (aside) navigation. This is a deeper dive into LearningUkulele.com to sections and pages not accessible from the top-level, main navigation area.
Sidebar/aside Panel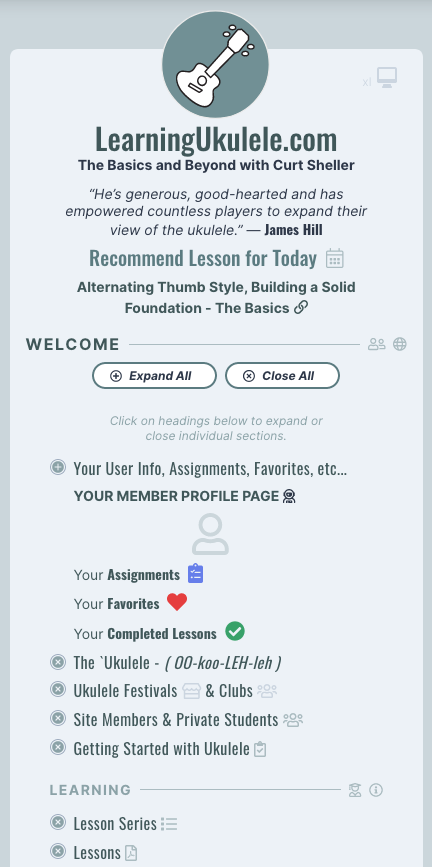 A sidebar ( current site color might differ than shown in the images ), only visible on larger screens if the panel to the left of the main page content. For mobile phone and smaller tablet viewers the sidebar can cover the entire screen and will close when clicking on a link to a new page or section. The look might change over time. Sometimes the color scheme is based on the season.
These individual sections in the sidebar can expand revealing additional related to a section or be collapsed hiding that section.
With the overwhelming number of lessons, books, songs and related assets available on Learning Ukulele with Curt, this area is the place to go to explore all that is available.
Lessons, Songs, Books, Assets
This is what the majority of the content on LearningUkulele.com is all about.

This above page header contains information on an LearningUkulele.com asset — a lesson, song, or book's title and brief description, the tagged instruments and subjects for the asset as well as the published and updated dates. There are also icons, for members to track their, completed lessons and their favorites and any Assigned assets . More information one theses below.
What Do All the Icons Mean?

These icons for the lessons, books, songs, etc member access level , or as well as icons for marking a lesson as completed or tagging anyone of the various lessons. books, songs, playalong, tracks, videos and assets on the site as a favorite.
The section also allows paid premium gold members to tag the lessons as a favorite or completed. The clipboard icon is for Curt or yourself showing assigned lessons, books, songs, assets.
Your Your Completed Lessons and Your Favorites can be viewed on Your Member Profile Page.
Related Assets — Every lesson, song, book, series, and asset page has associated, related and recommended assets, lessons, songs, playalong, lessons series, videos, books and listings.
A few lessons and books are part of ALL active site memberships. These are accessed just as an active student would access their lesson material view the login menu or their Site Member Profile page.
User Assets and Account Page
From the Login menu, accessible from the top menu bar or sidebar area. You can view view and manage your membership subscription, lessons, books, songs and assets that are part of your site membership.
For students you can also access you lessons shedule calendar and lesson notes.
How Much Practice?
Practice, would be better described as exploration – NOT "practice"
Enjoy the site and any questions reach out and let us know.