Learning `Ukulele with Curt
Learning `Ukulele with Curt
The home for Learning Ukulele and All Things Ukulele with Curt Sheller: Ukulele Player, Musician, Author, Publisher, Educator, Graphic Artist, Programmer, Website Designers, Shipping Clerk, Janitor, Roadie, Chauffeur, Short-Order Cook, Carpenter, Electrician, Plumber, Sound Engineer, MC. Kumu a'o...

Site Membership FAQ
How the Site Membership works?.
How Does the Memberships Work?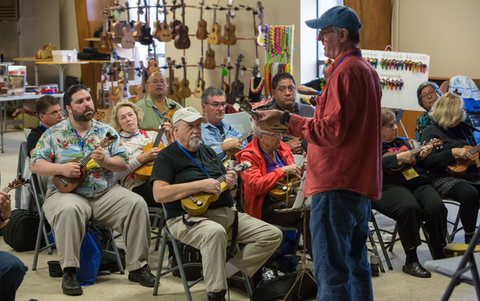 For membership billing and subscriptions services I use stripe — a secure credit card processing service.

When you sign up for a LearningUkulele.com Site Membership, your credit card will be billed for each period until you decide to cancel it. Payment is for a full time-period of a membership subscription; you cannot pay for partial subscription periods. You can cancel anytime during your current billing cycle, and your membership will revert to the FREE / bronze level at the end of your current billing cycle.
Do I need a stripe Account?
You do need a stripe account for reoccurring membership/subscriptions. They are strictly a secure credit card processing company.
About stripe
Stripe is the best way to accept payments on-line and in mobile apps. They handle billions of dollars every year for forward-thinking businesses around the world, currently powers businesses in 25 countries.
Are All Memberships Levels the Same?
Each membership level has a different level of site access. With the premium - gold site membership having FULL access to all premium content which includes video, premium play-along jam tracks, all lesson downloads, and more. The only difference between some of the membership plans are the discount applied to selecting a longer renewal period.
Is There a FREE Membership?
There is a FREE membership option. This is what I'm calling a Bronze membership plan. All you need to do for this plan is to register.
For access to ALL premium content such as the play-along tracks you need a Gold site membership plan. A site membership goes a long way in helping me justify the tremendous amount of time, effort and resources I spend on the site and developing new lesson content. This is pretty much what I do if not teaching or performing.
Upgrading Your Membership?
You can upgrade your site membership at any time by visiting your Member Assets & Account Page page accessible after logging in. Simply click on a better plan. At the end of your current plan period your new plan and payment will start.
How DO I Cancel My Membership?
You can cancel anytime or never. However, your membership will continue to auto-renew until canceled. You don't have to call or email me. All payments are for a full recurring period of membership, and there are no refunds for partial subscriptions. Cancel at any time, at least 5-business days before the beginning of your next renewal cycle. If you wait or forget to cancel before the next subscription period, you are automatically charged. Your Account Profile page is where you can manage your membership options.
What Happens to My Resources and Assets?
When you cancel your subscription you are simply reverted to the FREE Bronze site membership. and, you can still access all your resources that apply to your current membership level.
What If I forget to Cancel My Membership?
You're responsible for the recurring charges until you decide to cancel, regardless of how much or little you use or access the website.
I recommend you place a reminder on your computer's calendar to remind yourself. However, you can cancel anytime, and your membership runs until the end of your current payment cycle.
You can cancel at any time, and your membership remains in effect until the end of the actual membership period.
Planned Feature: TO send a renewal notification 15 days before the renewal happens ( once I figure out how to do that ;))
Just browsing over both books, they look fantastic! I'm a guitarist and uke player for over 25 years and was thinking about writing a ukulele book but you've already written what I think are the best, most comprehensive and thorough books I've ever seen for the instrument. I just might end up buying every book you've written and I'll be giving my highest recommendation for your books to my friends and students. Thank you so much for taking the time to write such great books! — Peter Rhee
Aloha, Curt, All I can say is WOW! What you have accomplished is simply incredible! All the best — Glen Hirabayashi, The Aloha Boys
Folks, if you haven't stopped by Curt's site, do so right now! ..And get his books, they are fantastic. This guy knows his stuff and is able to pass it along too. — Alan Johnson Proprietor, The 4th Peg
I can highly recommend Curt's Uke books — I have four of them and they are excellent. — fatveg — Portland
Thanks for visiting and checking out the site!
Content is added and updated almost daily - so check back often.
LearningUkulele.com has one of the largest collections of lessons, songs, and TABS, luthiers, ukulele builders, ukulele festival and club information, and, ukulele links on the web. I've been on the ®Internet since the early 1990's and This site just never stops growing!!!