My Path to Jazz
My main expertise as a musician, guitarist and ukulele player falls squarely in the jazz world. Not your normal influence starting guitar lessons in 1963-64, right when the Beatles where on the Ed Sullivan show for three consecutive Sundays in February 1964. Did the rock'n'roll thing in my teen years. And, with a renewed interest in guitar while in the Navy I started guitar lessons with Paul Bryne, Phoenixville, PA USA, who turned me on to jazz.
Not being a singer I loved that style of playing, singing through your instrument. I always did love instrumental guitar and melody and chord style on the guitar is the highest form of contemporary guitar. Akin to being able to play what a piano play can do with two hands and ten fingers and on guitar six strings and four fingers or ukulele four strings and four fingers.
Having seriously studied jazz guitar and music since 1978 with Chuck Anderson, one of the busiest and most successful private teachers in the world, as well as an internationally recognized master jazz guitarist and private educator, he has built an educational practice of international proportions. I've accumulated a lot of knowledge pertaining to jazz on the guitar and now the ukulele.
Here are my many books on learning the elements that every ukulele player venturing in jazz needs to know.
Here is what Peter Rhee said about my (Curt Sheller) books.
Just browsing over both books, they look fantastic! I'm a guitarist and uke player for over 25 years and was thinking about writing a ukulele book but you've already written what I think are the best, most comprehensive and thorough books I've ever seen for the instrument. I just might end up buying every book you've written and I'll be giving my highest recommendation for your books to my friends and students. Thank you so much for taking the time to write such great books! — Peter Rhee
Chord Books for Exploring Jazz on Ukulele
A few of my selected chord books useful in the pursuit of playing jazz on ukulele.
A Guide to Advanced Ukulele Chords - Volume I
Updated: 13 Feb 2020
Beyond learning basic Ukulele chords, most players struggle with advanced chords. Commonly called "jazz" chords, these more sophisticated voicings find a wide use in all forms of music. A Guide to Advanced Chords for Ukulele - presents a highly organized and efficient approach to the mysterious subject of advanced chords. Chord dictionaries are not the answer.
The Advanced Guide to Chord Progressions for Ukulele - Volume I
Updated: 18 Jan 2023
Before individual chords become the background of songs, they must be put into orders called chord progressions. The Advanced Guide to Chord Progressions for Ukulele organizes progressions according to string family, position, voice leading and chord magnetism.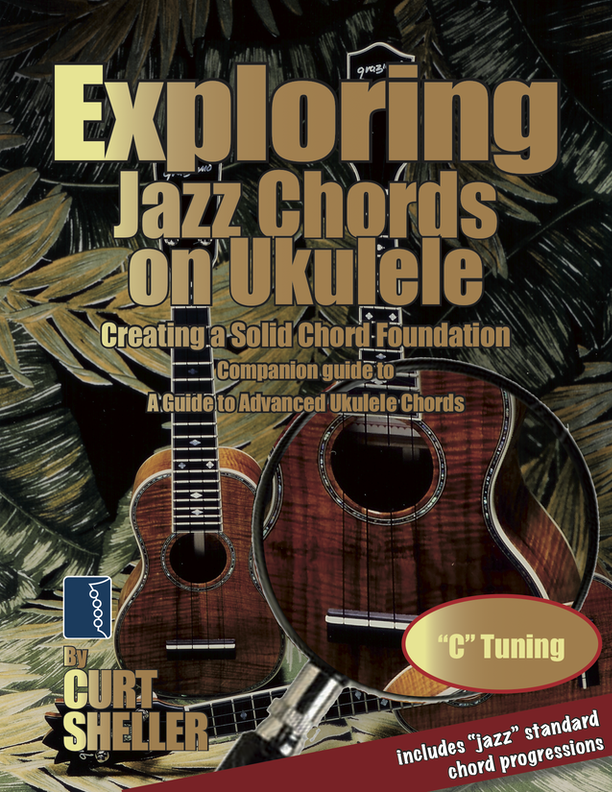 Hard Copy Book
$17.95

Exploring Jazz Chords on Ukulele
Updated: 20 Apr 2022
Exploring jazz chords using a variety of common chord progressions based on songs from the standard jazz repertoire. Core Chords are the basic set of chords needed to play a wide range of music, in a variety of styles. This set of chords includes basic open position chords, basic movable form chords and the core 4-part "jazz" chords.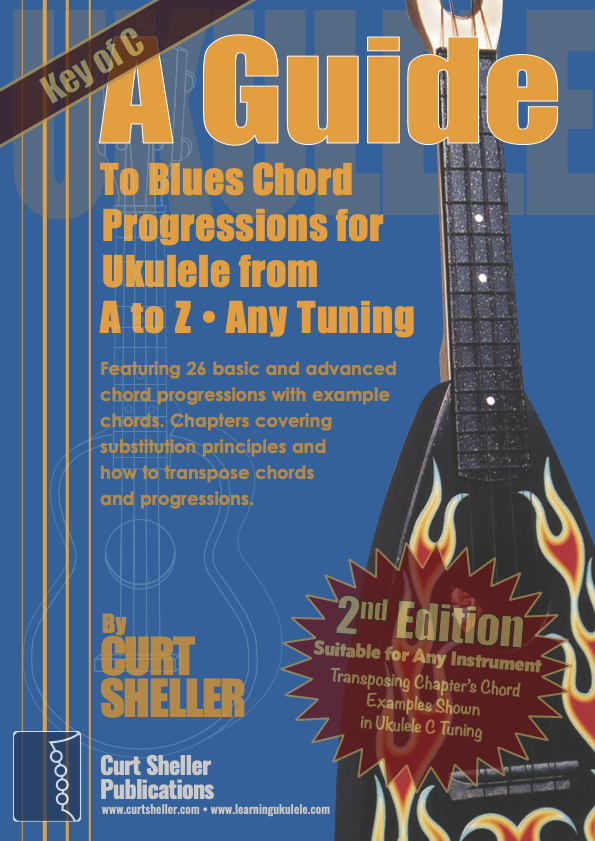 Hard Copy Book
$17.95

A Guide to Blues Chord Progressions for Ukulele A to Z
Updated: 15 Jun 2006
The Blues are at the heart of all American music. It has influenced Country, Rock, Folk, Jazz, Bluegrass and just about every form of American music we listen to today. 26 blues progression in C and G tuning, progressing from basic to advanced jazz progression, with chord grids and substitutions explained.
Scale & Arpeggio Books for Exploring Jazz on Ukulele
A few of my selected scale and arpeggio books useful in the pursuit of playing jazz on ukulele.
QuickStart Scale Fingerings for Ukulele, Volume I, C Tuning
Updated: 16 May 2023
Learn to create exciting solos in a variety of contemporary styles! Scales are used to improvise, create melodies and riffs. With broad knowledge of the essential scales that are used in contemporary music and a mastery of the ukulele's fingerboard and fingering principles, you're well on your way.
QuickStart Arpeggio Fingerings for Ukulele, Triads C Tuning
Updated: 10 Jan 2020
QuickStart Scale Arpeggio Fingerings for Ukulele - Triads is a concise, well organized book ideal for any ukulele player beginning to explore the ukulele's full potential as a musical instrument. Arpeggio Fingerings for Ukulele - Triads keeps a sharp focus on essential arpeggios and their fingerings. All material is covered in every key.
Analyzing Chord Progression for Chord Substitution and Scale Selection
Harmonic Analysis for Scale Selection and Chord Substitution
Updated: 10 Jun 2021
Harmonic Analysis is the understanding of the functional sequence of chords. It is the process used to analyze the harmonic structure of a progression, song or composition. This analysis is then used to make scale selections for improvisation and chord substitution.
Miscellaneous Books for Exploring Jazz on Ukulele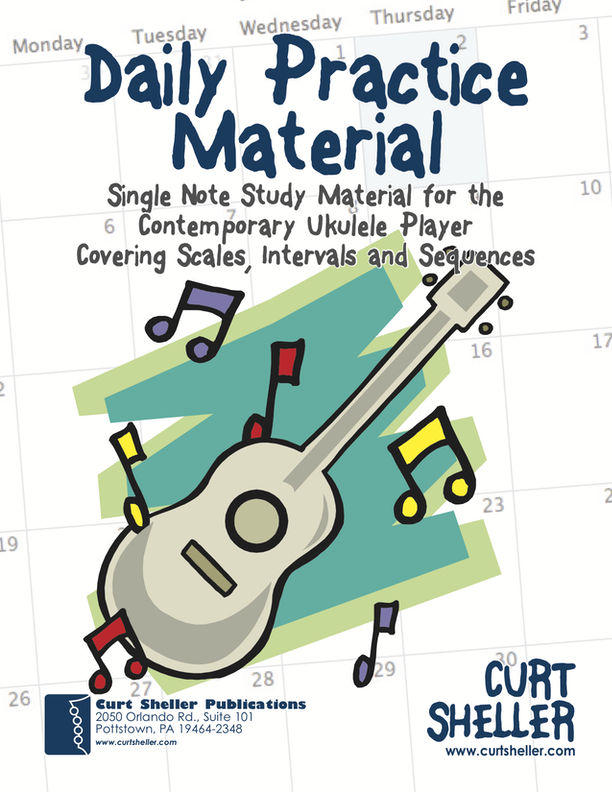 Hard Copy Book Not Available
Daily Practice Material for the Contemporary Ukulele
Updated: 28 Sep 2021
Daily Practice Material for the Contemporary Ukulele Player is an organized collection of daily practice and reference material for the contemporary ukulele player. This material can be used to develop the vocabulary and knowledge necessary for single note playing.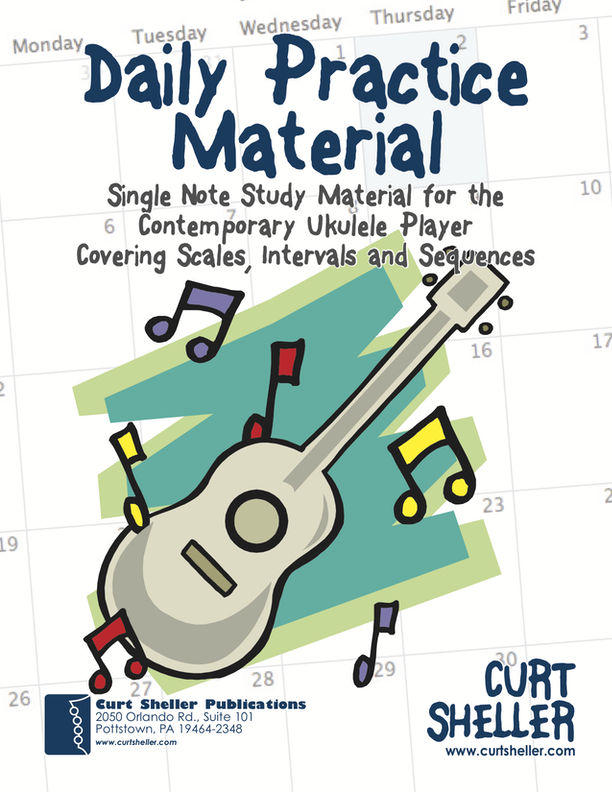 Printable PDF: FREE