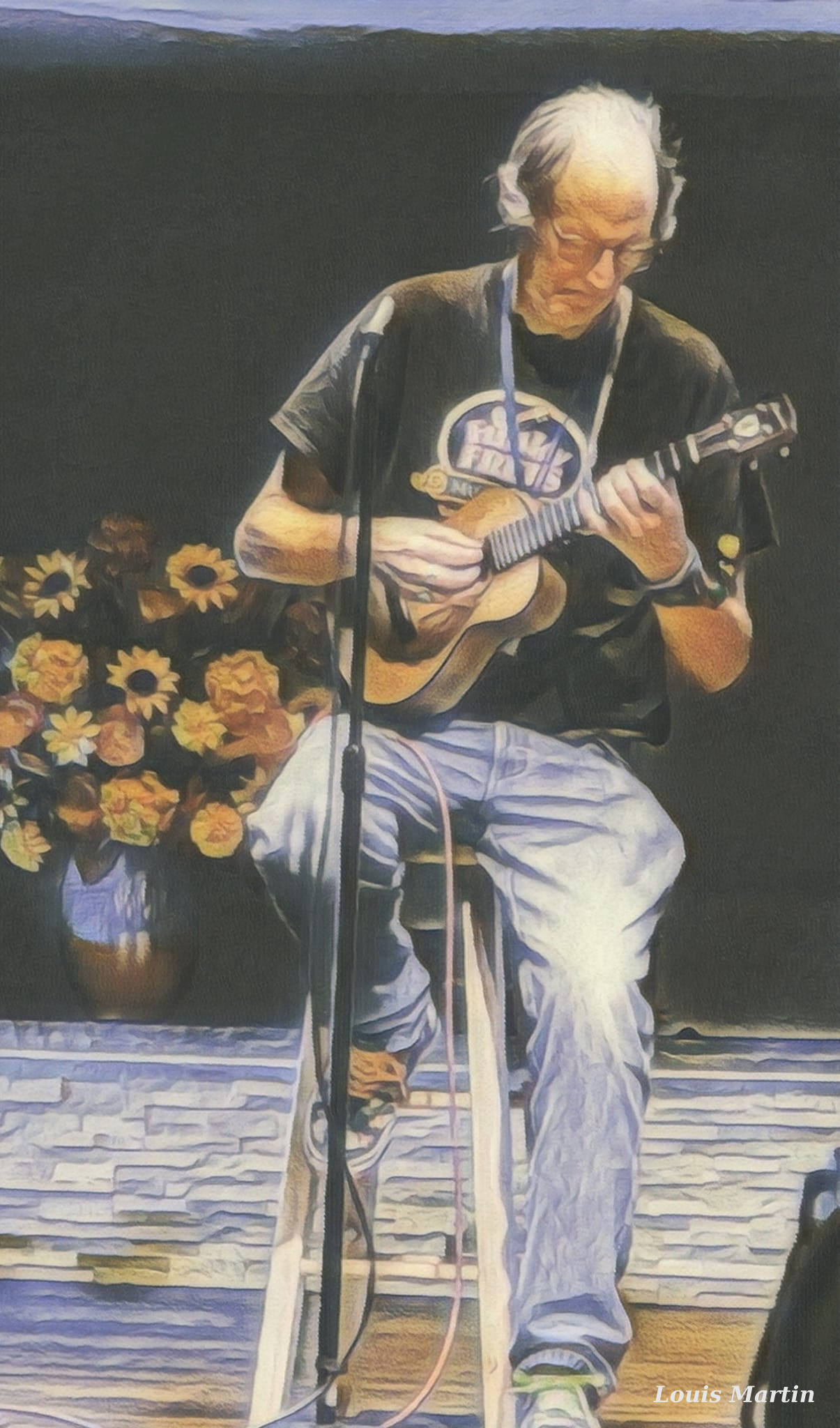 Learning Ukulele with Curt is Curt Sheller and is a truly massive learning and Ukulele resources site. Rich in content and has been on the web in one form or another since 1992 and has focused solely on the Ukulele since 2003.
More than a few Learning Ukulele with Curt site visitors have said you can spend days and days on the site and not see everything. I even forget how much there is available — and I spend days and days on it — every day. Enjoy!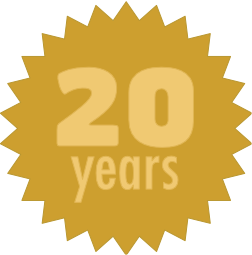 2023: LearningUkulele.com / Learning Ukulele with Curt has been on the web for 20 years.
Glen Hirabayashi has told me every time I mention LearningUkulele.com, I need to say. "LearningUkulele.com — the most comprehensive ukulele site in the world." — He might just be right.
More Than Lessons!
LearningUkulele.com IS more than just lessons. It also has the most comprehensive collection of Listings on the World Wide Web (www) for Instruments, Luthiers, Gear, Clubs, Festivals, Strings, Cases & Gigbags, Links, and much, much more. Pretty much anything ukulele related is all here. I've been a sort of digital pack rat over the years and have collected a massive amount of information surrounding the ukulele and music.
I'm constantly researching and finding new information to post on LearningUkulele.com. LearningUkulele.com as a resource for myself as well as countless private students and fellow ukulele plays and musicians.
The meaning of life is to find your gift. The purpose of life is to give it away. — Pablo Picasso
Not only that, I've been a Professional Musician/Graphic Artist/Computer Programmer/Competitive Racewalker for over 40 years, having studied jazz with my main instrument being the guitar until 2003 when the ukulele took over.
I've taken advantage of my extensive experience studying, learning, teaching, researching, and exploring music. I bring this experience to all my ukulele content and have made it available right here on Learning Ukulele with Curt. I started exploring the potential of the ukulele back in 2003, with the ukulele NOW my primary performance instrument and teaching focus.
Regardless of the resources you use to learn to play any instrument, it's important to know WHAT there is to learn and HOW will this affect ones goals. Whether it's playing in a band, singing and playing, teaching others, or being a singer-songwriter, there are specific things to learn and specific skills to develop for any music related task you tackle.
Privacy — Learning Ukulele with Curt does not track you, NO google services like Google Analytics, Google Drive, or the Google Suite. NO tracking cookies, etc. No Ads — support is totally based on the limited sales of my books (minimal $$$), Site Memberships, rare donations, and private one-on-one lessons either in-person or virtual.
A Premium Site Membership goes a long way in helping keep LearningUkulele.com going and current.
Don't Get Around Much Anymore: the Muse and Magic of JAZZ UKULELE MAVEN CURT SHELLER by Lil' Rev
by Lil' Rev Published: Summer, 2019, UKulele Magazine
If the ukulele world had its own trading cards, there would be no shortage of superheroes. We know their names and have heard many of them at festivals and on YouTube, except perhaps one, whose humble and unassuming manner might have caused you to overlook his cool jazz styling. Ladies and gentlemen, allow me to introduce to you, Curt Sheller.
By day—and often into the night—Sheller plies his trade teaching an impressive load of private lessons (over 60 students a week) from Funky Frets, a music store he opened with his wife Bernadette and daughter Kelly Thompson in Boyertown, Pennsylvania.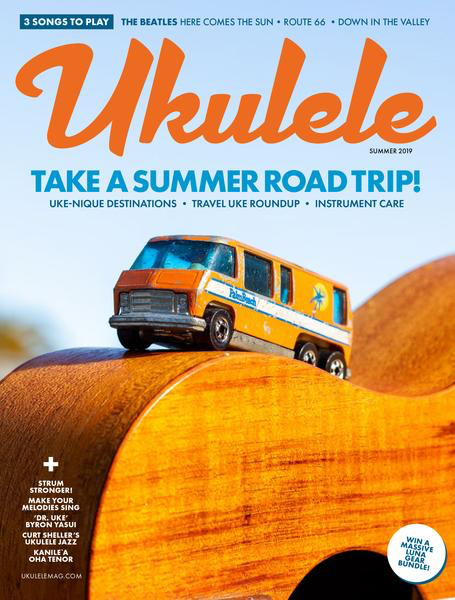 Don't Get Around Much Anymore: the Muse and Magic of JAZZ UKULELE MAVEN CURT SHELLER by Lil' Rev • Published: Summer, 2019, UKulele Magazine
---
Check out the complete article at: www.ukulelemag.com/stories/jazz-ukulele-curt-sheller
More Than You Probably Wanted to Know About Curt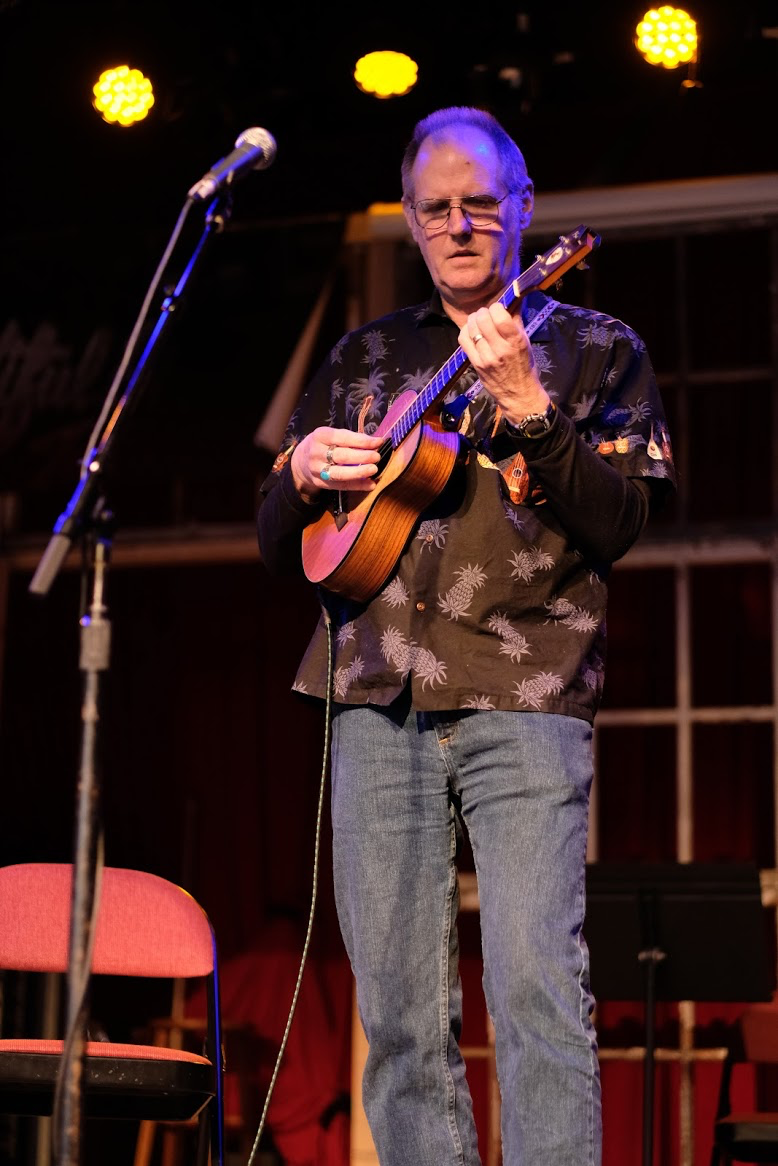 As a Professional Musician, my primary focus since 2003 has been performing jazz and contemporary music using the ukulele as my principal instrument, as well as presenting workshops and performing at various ukulele festivals throughout the year.
Having been a serious student of music and jazz in particular, as well as having studied contemporary music and the music business with world renowned master musician Chuck Anderson for over thirty years. (Yes, Chuck is that good and one — if not the most knowledgeable musician I've ever run across). I bring a wealth of music knowledge and experience to the ukulele world and have guided, taught and coached many ukulele players with their journey exploring the ukulele and music in general.
In addition to writing, performing, recording and presenting workshops. I maintain a busy private teaching schedule of 50 to 60 students a week on various instruments, mainly the ukulele and guitar. In December 2015, I released my second CD, and first featuring the ukulele as the lead instrument, titled — How About More Uke?. The CD features the Curt Sheller Jazz Trio. The trio is myself, Curt Sheller on ukulele and two fellow world-class musicians and friends: Eric Schreiber on bass and Ed Rick on drums. Using the classic guitar, ukulele, bass and drums trio format, we explore instrumental music with a focus on jazz, improvisation, and contemporary music using the ukulele as the primary lead instrument.
It All Started 1963/64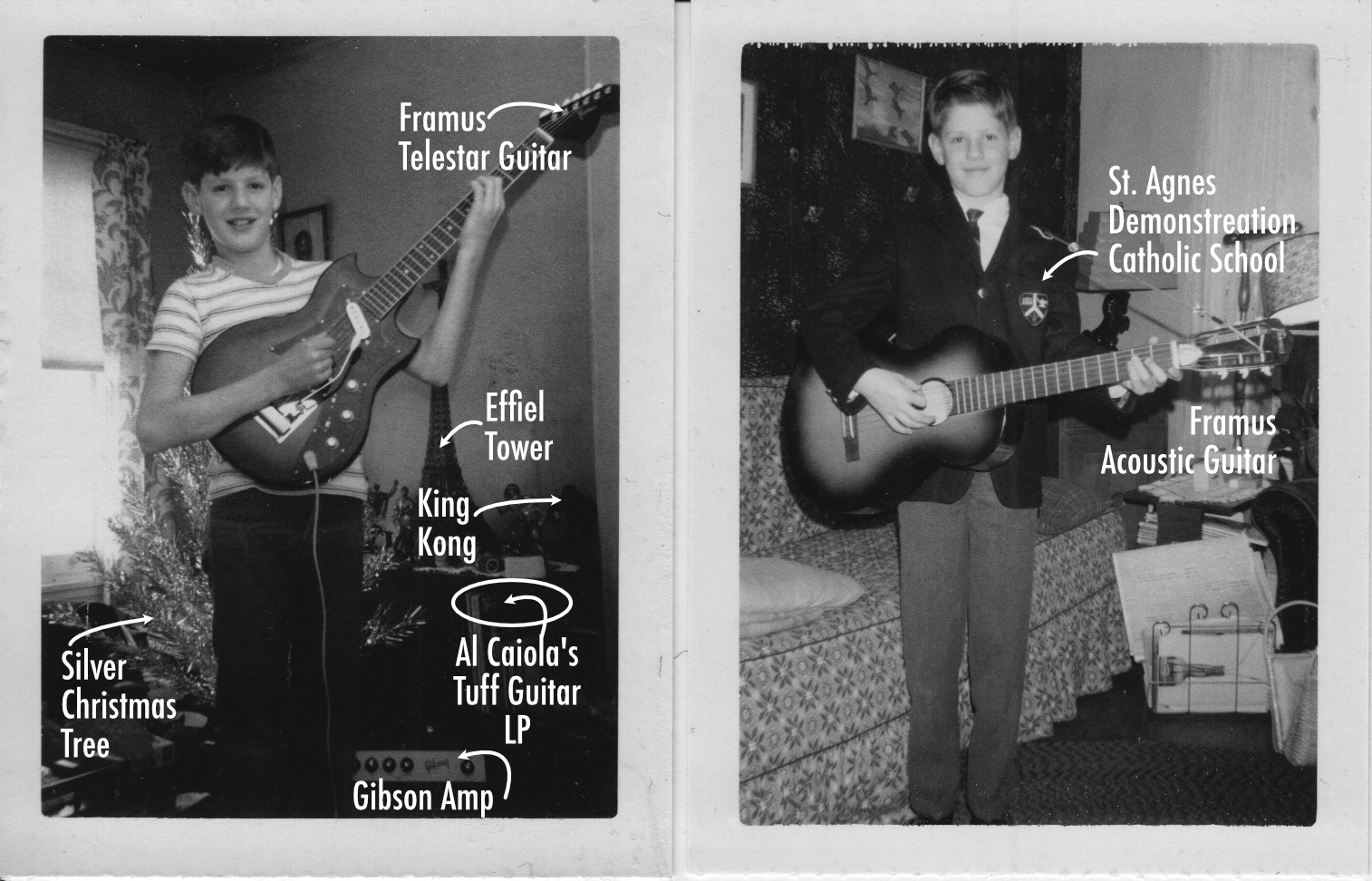 Still have the Framus electric guitar and the Al Caiola - Tuff Guitar LP . I was probably around 10 years old at this time. Handsome fellow?
Back to the 'Ukulele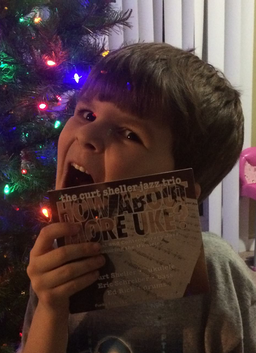 After a 20 plus year break from the 'ukulele - ( couldn't figure it out back then and no info around, let alone finding a qualified teacher for 'ukulele ). I came back to the uke.
It's 2003 and I began taking advantage of my jazz guitar skills, training, teaching and performance experience and started pursuing and exploring the potential of the ukulele. Researching the field I saw very little material organized at a level that actually works for intermediate to advanced players – most of the beginner stuff is suspect as well. I have developed an international reputation as a ukulele expert having written 50+ books for `Ukulele and Guitar . In my private teaching practice I typically have between 50 to 60 students a week of all levels.
Checkout my ukulele CD, "How About More Uke?" - I've been planning and talking about this CD for a few years and finally have gotten around to getting it done.
Musician
Stated guitar at age 9 (1963) and have been too stubborn to give up ever since. Stick with anything long enough, and you tend to get good at it. Hook up with the right teachers and mentors and tend to get better.
The key to success in any field is, to a large extent, is as simple as doing quality exploration over and over and over. And hooking up with the inspiring teachers and mentors.
I've been a serious student of jazz guitar since 1978. Researching and studying for over 30 years. Then — the ukulele took over and has been my 100% focus since 2003.
Graphic Artist

I started my professional working career as a commercial graphic artist. I started drawing from the Sunday comics at eight years old.
After my stint in the Navy, I went to The Studio School of Art and Design in Philadelphia, PA, a two-year art school for Commercial Art. Then spent 12 years in a corporate art department generating junk mail, working my way up to senior designer and running the computerization of the art department.
As a graphic designer and artist, I now mainly focus my efforts in the music industry for a select group of fellow musicians, artists and myself.
Author
I've written over 50 books for ukulele, guitar and music. This LearningUkulele.com has over 600 lessons and growing.
Publisher
I currently publish and handle distribution for all my books and on-line lessons.
I do have a few select dealers that have carried my ukulele books.
Programmer / Web Developer
Teaching myself how to program starting with HyperTalk and Hypercard around 1987 and then proceeded with a few independent contracting assignments using C++, MacApp, and Java. Now I focus on PHP and JavaScript for my web development. My CurtSheller.com, LearningUkulele.com and the Funky Frets sites are all hand-coded using PHP, HTML, CSS, Javascript and MySQL.
2015 Update • LearningUkulele.com and all my public sites are now developed using Laravel a MCV open source PHP framework. So that Smalltalk book I bought last century can finally pay off.
Racewalking

For a twenty year stretch starting in my 30s (1987). I was a very competitive racewalker. Even had a national master's 20km track record and was 1996 New Jersey Racewalker of the Year.
I have won national age group medals and a few open national medals. With my best finish of 2nd place overall in the USATF National 40km Walk ( 24.6 miles ). As well as a top 30 overall time (1996) of the year in the 20km walk. A long time member of the Shore AC — Thank you Elliot Denman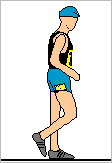 "I fear not the man who has practiced 10,000 kicks once, but I fear the man who had practiced one kick 10,000 times." — Bruce Lee
My Introduction (Re-introduction) to Ukulele
After a brief introduction to the ukulele in 1978 by two distant uncles at a family reunion, I rediscovered the ukulele in 2003.
Finding limited material for intermediate and advanced ukulele players, I have authored over 30 books for ukulele players. I have performed and presented workshops and clinics at various ukulele festival across the USA from New York to LA.
Here is what the Windy City Uke Festival Has Said About Me
Curt Sheller is probably the most published person on the planet for intermediate and advanced ukulele publications. His instruction manuals and training materials are the most extensive in advanced concepts of blues and improvisational jazz on the ukulele. His works include Advanced Guide to Chord Progressions for Ukulele, Exploring Jazz Chords on Ukulele, QuickStart Arpeggio Fingerings for Ukulele just to name a few.
My Ukulele Books
Just browsing over both books, they look fantastic! I'm a guitarist and uke player for over 25 years and was thinking about writing a ukulele book but you've already written what I think are the best, most comprehensive and thorough books I've ever seen for the instrument. I just might end up buying every book you've written and I'll be giving my highest recommendation for your books to my friends and students. Thank you so much for taking the time to write such great books!" - Peter Rhee
My Ukulele Performances
Curt, I really enjoyed your set at The Whiskey--your low key intros, mic persona provided a cool contrast with your complex uke technique and ingenious arrangements! - Best wishes, Jared Denhard