My Personal Recommendations for a Ukulele DI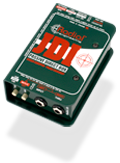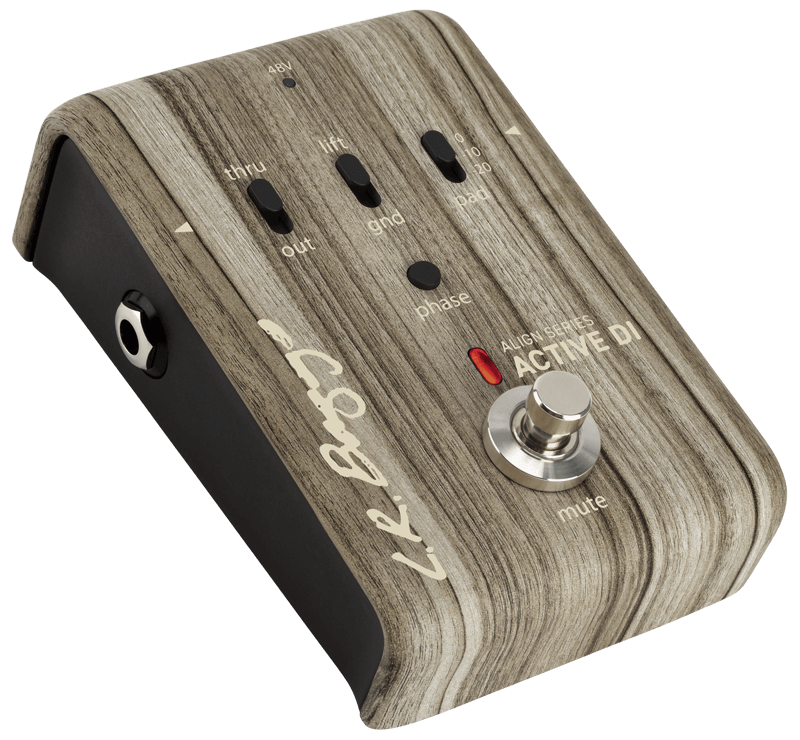 The Fire-Eye Red-Eye, the Radial JDI or J48 are the two pedals that I go to for the ukulele live. Get the Jenson equipped Radial.

2019 Update: The LR Baggs Align Series Avtive DI is promising. I have the Reverb, Chorus and Equilizer pedals testing out for my ukulele.


Been using the Fire-Eye, Red-Eye exclusively with my ukuleles. Simplest the best and easiest to use DI i've ran across. Going to get a few more of these for our Funky Frets store main stage.
I love this Red-Eye for is lack of additional knobs and controls - less to mess up. And, for the boost part for taking solos at loud jams with a full band - guitar and all can drown out the ukulele.
Checkout these links for some great info on sorting out just what a DI - active or passive - does.
The Funky Frets Main Stage
@ Funky Frets Music Store, 124 N. Chestnut St., Boyertown, PA USA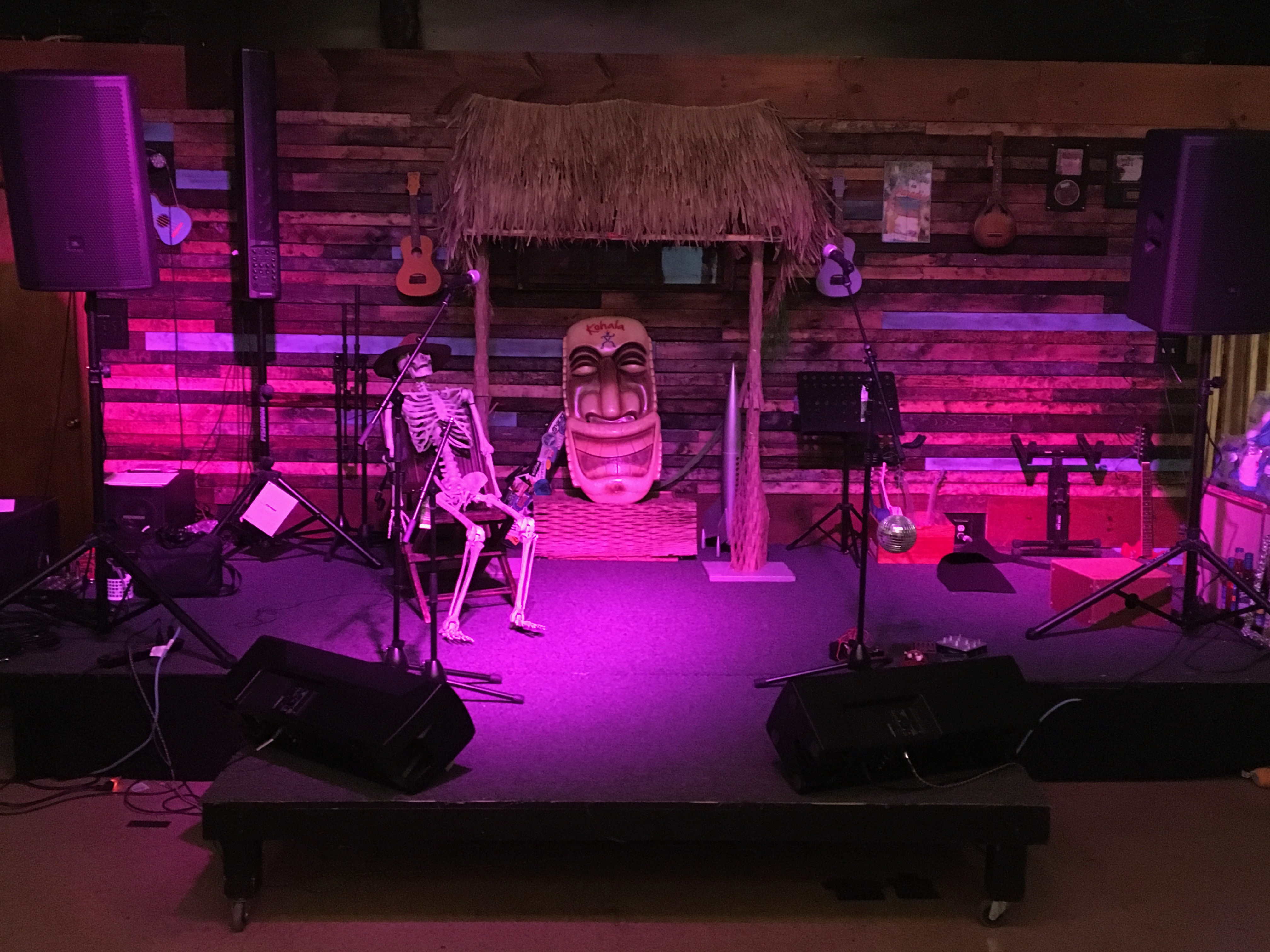 Some performers just like to play on and on!
The Funky Frets Main Stage can accommodate up to 60 for a House Concert atmosphere.
Fire-Eye Development, Inc.

3800 Mia Tia
Austin, Texas 78731
USA
Tel: 512-346-6944
Hand-made in the USA
Latitude: 30.354115
Longitude: -97.760925
Links
from the Fire-Eye Development, Inc. web site
Flat response and high headroom - no knobs to fiddle with on-stage.
The Red-Eye is an all analog, handmade, high input impedance DI and clean boost. Designed and improved over the course of several years to meet the needs of performing musicians, the Red-Eye is crafted from the highest quality components available. Engineered by an electronics engineer with over 50 years of professional experience, the Red-Eye design focuses on high fidelity, low noise and simple plug and play performance. This no frills precision approach to amplification offers a truly satisfying experience for musicians and their audience.
Red-Eye DI/Boost
Also available a twin for switching A/B instruments.
The Red-Eye DI/Boost is flat-out the BEST and easiest DI that I have ever used. It is my go to pedal for all situtitions.
Hoping to have these available at our Funky Frets Music Store in the near furure.
More information available on the Fire-Eye Development, Inc.'s web site.
Even more information, discussion and comments on this listing.
Radial Engineering

Radial Engineering
1588 Kebet Way
Port Coquitlam, British Columbia, Canada
V3C 5M5
Latitude: 49.239849
Longitude: -122.757858
Links
from the Radial Engineering web site
Radial Engineering Ltd. is a manufacturer of professional audio products based in Vancouver, British Columbia, Canada. The company offers a wide array of products that are sold under brand names such as Radial, Tonebone, Primacoustic, Reamp and Zebracase. These are offered through a network of dealers and distributors that span the globe. Quality construction, exceptional audio performance and superb customer service are the underpins that have served to make Radial one of the most respected and trusted brands in the industry.
Which DI?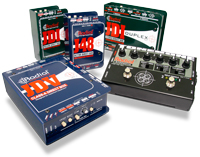 A simple rule of thumb:
If the source is active, use a passive DI box
If the source is passive, use an active DI box
Source Instruments - Ukulele with Piezo Pickup


these are the same for a Classical guitar
Radial has a great page for selecting the right DI for pretty much any instrument and pickup combination: Comparing DIs
More information available on the Radial Engineering's web site.
Even more information, discussion and comments on this listing.
L. R. Baggs

483 N. Frontage Rd.
Nipomo, California 93444
USA
Phone (805) 929-3545
Fax (805) 929-2043
Links
from the L. R. Baggs web site
We started this in a loft in downtown Los Angeles, California, with a hope and a dream, and no business sense whatsoever. The first L.R. Baggs product was our LB6 Series Pickup. We would like to thank Leo Kottke for his early support. Stores would call us and say, "Leo Kottke said he was using your pickup." We could literally track his touring route as the stores would order in his wake. Early endorsers were Steven Sheehan of the Judds, James Taylor and Kathy Mattea. These endorsers gave us the encouragement and support that sustained us when we had more enthusiasm than business sense. They spread the word and gradually our business grew.
LR Baggs Para DI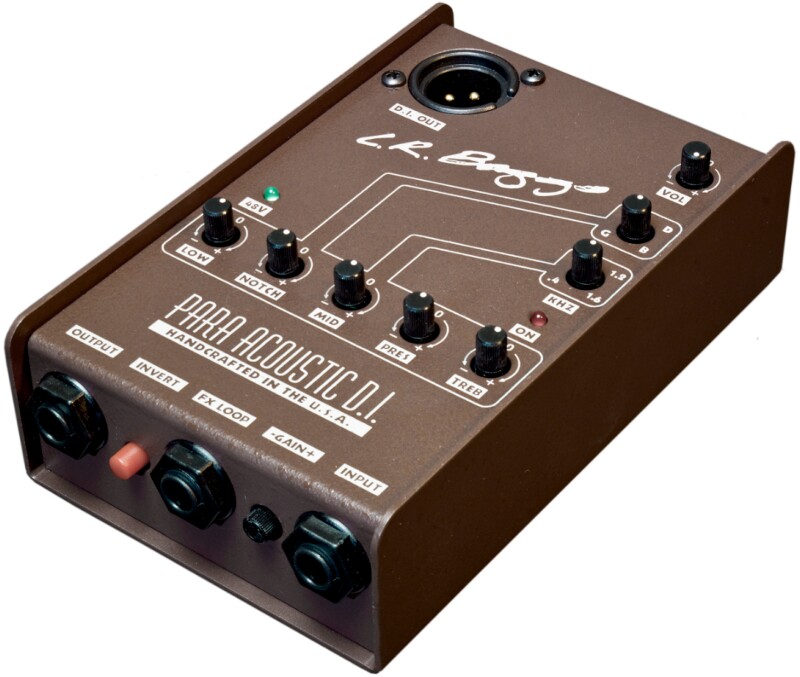 The Para Acoustic D.I. is a studio-quality direct box, featuring a five-band equalizer with tunable notch and midrange controls, adjustable gain and phase inversion. Our proprietary Quasi-Passive EQ circuitry is totally transparent and allows control over voicing without sacrificing tone — a big advance over conventional equalizers. In short, the Para D.I. Is engineered to bring out the best in any pickup.
( Curt - This is my go to performance DI for ukulele.)
More information available on the L. R. Baggs's web site.
Even more information, discussion and comments on this listing.
Additional D.I. / Preamp Resources
I'm sure there are a few more out there. Let me know if you have a favorite for ukulele.

BBE Sound
BBE Sound is a premier audio technology company dedicated to improving the quality of amplified sound for all people, from everyday consumers to music and sound professionals. BBE High Definition Sound technologies are found throughout the audio entertainment production spectrum; from the stage and studio, where world-renowned musicians insist upon using BBE professional audio processors, to consumer electronics manufacturers who implement BBE High Definition Sound technologies into their products so that they provide a more satisfying audio experience to their customers.
Whirlwind USA
Whirlwind manufactures and distributes a wide variety of products through our worldwide network of independent dealers. Some only sell pro audio, some only service the install and contracting markets and others are music stores which primarily sell our snakes, cables and interface boxes.
NOTE: Each higher membership level includes ALL the benefits of the lower membership levels.

The Private Lesson Plans include all the benefits of a Premium Access Plans as long as you remain a student on on the schedule.
Just browsing over both books, they look fantastic! I'm a guitarist and uke player for over 25 years and was thinking about writing a ukulele book but you've already written what I think are the best, most comprehensive and thorough books I've ever seen for the instrument. I just might end up buying every book you've written and I'll be giving my highest recommendation for your books to my friends and students. Thank you so much for taking the time to write such great books! — Peter Rhee
Aloha, Curt, All I can say is WOW! What you have accomplished is simply incredible! All the best — Glen Hirabayashi, The Aloha Boys
Folks, if you haven't stopped by Curt's site, do so right now! ..And get his books, they are fantastic. This guy knows his stuff and is able to pass it along too. — Alan Johnson Proprietor, The 4th Peg
I can highly recommend Curt's Uke books — I have four of them and they are excellent. — fatveg — Portland
Thanks for visiting and checking out the site!

Original Curtie Animation - 1987 for my first web site
32 years ago.
LearningUkulele.com has one of the largest collections of lessons, songs, and TABS, luthiers, ukulele builders, ukulele festival and club information, and, ukulele links on the web. I've been on the ®Internet since the early 1990's and This site just never stops growing!!!
Content is added and updated almost daily - so check back often.