Monthly One-on-One Private Lesson Plans
Nothing better than one-on-on private, custom lessons for musical progress.
Learn a New Ukulele Chord Each Day of 2018!!!
Today's Chord a Day, February 20th - dim7 •
Each day of 2018 there's a new chord you can learn and add to your chord vocabulary. First time here? Start with the January 1st chord.
There is also a series of lessons I ran 2013 called Chord a Week, "Open Position Chords" Series . This series explores several open position chords and their movable versions.
Learn a new strumming pattern(s) starting each week 2018 with my new video series!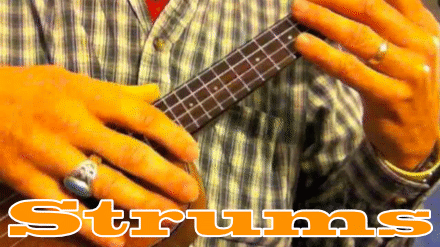 Private Lesson Plans and Pricing

Get personalized one-on-one guidance, at your own pace, anytime and anywhere in the world.
All private students, on-line or in-person are automatically a GOLD level site member as long as they are enrolled.
These lessons are demanding and require a commitment on the student's part to guarantee success.
Each lessons includes material for chords and chords progressions, scales, repertoire, technique and the principles music, etc. For more on what a typically custom lessons program for you draws from checkout this page: The Elements of a Successful Music Program.
Initial analysis and assessment of your current skills and goals.
Personal LearningUkulele.com Site Membership account page for books, lessons, songs and individual session / lessons notes.
Personalized plan and learning materials. All lessons are incremental and build on each student's successes with the individual assignments.
FREE downloads of any of my books used in your sessions using your Member Assets & Account Page.
Unlimited private eMail correspondence. Video and audio correspondence, as needed is also part of the plans.
Unlimited 24/7 access to your Member Assets & Account Page, including premium play-along tracks and their lead sheets.
Skype or Facetime sessions on request for checking up on progress.
Contact me ( Curt ), directly at 484-942-8040 ( USA East Coast ) and we can discuss your goals and set up a convenient schedule for your lessons.

Gold PREMIUM Plan

Log-In or register to subscribe or update a site membership plan or private lesson plan.
$60
One Private Lesson
One private, one hour lesson.

Gold PREMIUM Plan

Log-In or register to subscribe or update a site membership plan or private lesson plan.
$120
Two Private Lessons Subscription
Two private one-on-one lessons a month. One hour each.

Gold PREMIUM Plan

Log-In or register to subscribe or update a site membership plan or private lesson plan.
$240
Four Private Lessons Subscription
Four private one-on-one lessons a month. One hour each.
NOTE: The single private lesson can be used when you can't commit to a lesson schedule or would like to book a one-off lesson as a trial or add an extra lesson outside of your normal schedule.
(From a posting to the jazz guitar newsgroup) Rocco, I took a lesson from a guy named Curt Sheller, who lives in Pottstown, PA area. Depending on where you live in the Philly area, that might be a bit of a drive for you, but he is well worth it. He's an excellent teacher. I took a lesson from him a couple of months ago, and had planned on taking a one-hour lesson per month from him, but then my work required me to travel almost every week since then and so I haven't been able to master the assignments he gave me so far.
I have taken single lessons from a few teachers in the area, and he is by far the best I've seen.
He is the only guy that I could find that is truly flexible in terms of scheduling, and to top it off, he's the best teacher for the guitar I've ever found as well... - Bob
Site Membership Plans
FREE Plan - A limited selection of basic lessons ( currently over 140 ) and 100+ songs for ukulele as well as basic general music reference material — Completely FREE — Simply Register/Signup to access associated lessons, books, songs and their related assets.
---
Basic Plan - The Basic Plan gives you access to a larger selection of lessons, downloads, books, songs and all of the premium play-along jam tracks. A site membership so inexpensive that I might as well have called it FREE.
---
Premium Plan - The Premium Plan gives you access to ALL lessons, downloads, songs, play-along jam tracks, videos, email support, resources and related assets. As well as additional FREE book downloads - depending on your payment plan selected - pay more, get more.
Basic Plan
$19.95 a year
So inexpensive that I might as well have called it FREE
Premium Plans
Monthly to Annual Plans Available From:
$9 to $81
Private Lessons
Two and four private lessons a month plans available from
$120 to $240 a month. These are one-on-one private lessons - one hour each.
All private students are automatic Gold Site Members and their lessons rate will never go up as long as there remain students.
NOTE: Each higher membership level includes ALL the benefits of each lower level of membership.
The Private lessons plans includes all the benefits of the Premium Access Plans
Just browsing over both books, they look fantastic! I'm a guitarist and uke player for over 25 years and was thinking about writing a ukulele book but you've already written what I think are the best, most comprehensive and thorough books I've ever seen for the instrument. I just might end up buying every book you've written and I'll be giving my highest recommendation for your books to my friends and students. Thank you so much for taking the time to write such great books! — Peter Rhee
Aloha, Curt, All I can say is WOW! What you have accomplished is simply incredible! All the best — Glen Hirabayashi, The Aloha Boys
Folks, if you haven't stopped by Curt's site, do so right now! ..And get his books, they are fantastic. This guy knows his stuff and is able to pass it along too. — Alan Johnson Proprietor, The 4th Peg
I can highly recommend Curt's Uke books — I have four of them and they are excellent. — fatveg — Portland
Thanks for visiting and checking out the site!
Content is added and updated almost daily - so check back often.
LearningUkulele.com has one of the largest collections of lessons, songs, and TABS, luthiers, ukulele builders, ukulele festival and club information, and, ukulele links on the web. I've been on the ®Internet since the early 1990's and This site just never stops growing!!!