A `Ukulele is:
Light Weight, Affordable and Portable
Easy on the Fingers ( Four Strings, Four Fingers )
Less Need for Strumming Accuracy
A Low Level of Expectation — so we can get away with a lot.
And where else in the musical world can you go, sing and play poorly, and have a blast with your fellow cohorts.
On the ukulele the music you play/make can be as simple or complex as you want. The ukulele is a powerful musical instrument for communication in its own right. And, did I mention it's a blast and a lot of fun to play and explore?
It's the new social instrument for this millennium and here to stay this go around — the craze is over. Just admit it and have a fun.
You'll not find a more accepting and helpful group of people than your local ukulele gathering. You'll make lifelong friends and have a great time.
Parts of the Ukulele
Learn your way around your new found friend.
So what's stopping you? Go get Yourself a `Ukulele and get going. You'll discover a life-long friend.
The Ukulele History
In 1879, a Braguinha also called Machete, arrived in Hawaii on a Portuguese ship loaded with laborers destined for the sugar cane fields. Hawaiians made the instrument their own and loosely translated, called it "`ukulele". Which translates to "jumping flea," It's believed to have originated because of the way a performer's fingers jump around on the strings?
Three immigrants in particular, cabinetmakers from the island of Madeira, off the coast of Portagul, Manuel Nunes, José do Espírito Santo, and Augusto Dias, are generally credited as the first ukulele makers.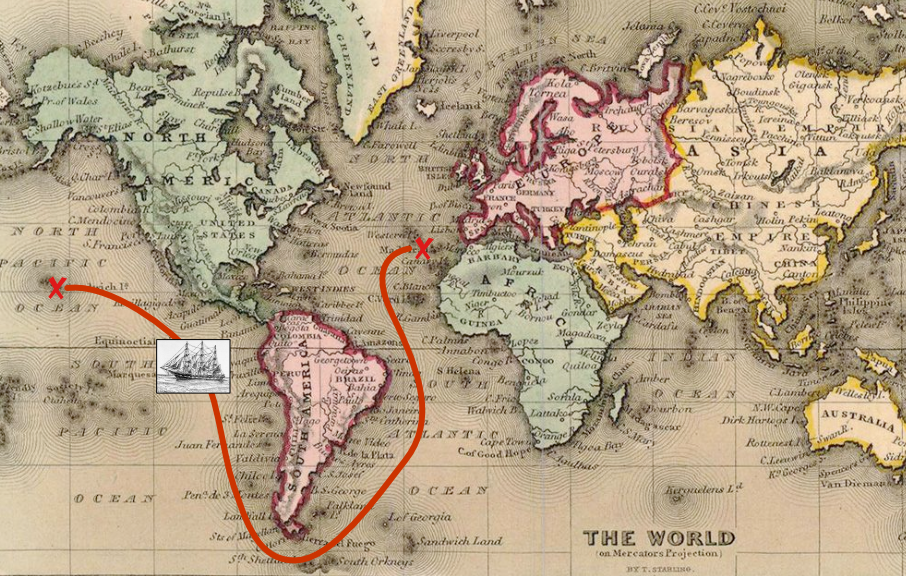 Here is a link to a great article, with a lot more information on the History of the `Ukulele by Dagan B.
from WikipediA • best known of several similarly named ships, the Ravenscrag (spelled without the "i") is a British sailing vessel commanded by Capt. Biggam that on 23 August 1879 brought 419 Portuguese immigrants from the Madeira Islands to the Hawaiian Islands to work as contract laborers in the sugarcane plantations. The ship left the Madeiran port of Funchal on 23 April 1879 and took exactly four months to cross the Atlantic Ocean, round Cape Horn, and then sail across the Pacific to Honolulu, Hawaii. Among the passengers were Manuel Nunes, Augusto Dias, Jose do Espirito Santo, and Joao Fernandes, who are credited with introducing the ukulele to Hawaii. This was the second ship of Portuguese immigrants to reach the Islands, having been preceded on 30 September 1878 by the German bark SS Priscilla.
So we can count our blessings that the Hawai'ian's weren't introducted to the Accordion or Tuba, the traditional, popular German instruments at the time. Or the Bladder Fiddle, Dudelsack, Hackbrett, Nyckelharpa. (Curt — Dodged a musical bullet with that one.)
The Ukulele Timeline
Virtuoso musicians such as Jake Shimabukuro and James Hill are altering traditional perceptions of ukulele music. As well as singer / songwriters such as Victoria Vox touring the world and spreading the Aloha!.
Checkout UKEtopia!-Adventures in the Ukulele World Jim Beloff. Jim's new memoir of his journey and part of this Third Wave of ukulele popularity.
The current Third Wave of the ukulele corresponding to the influence of YouTube and the Internet®.
Check out all the famous people and musicians associated with the ukulele on the Ukulele Musicians Page .
Weekly TV host Arthur Godfrey keeps ukuleles in the spotlight.
A shift from the popularity of radio to most households having access to a TV and the second wave of the ukulele craze.
Arthur Godfrey is responsible for selling 9,000,000 Mario Maccaferri plastic ukuleles during the 50s.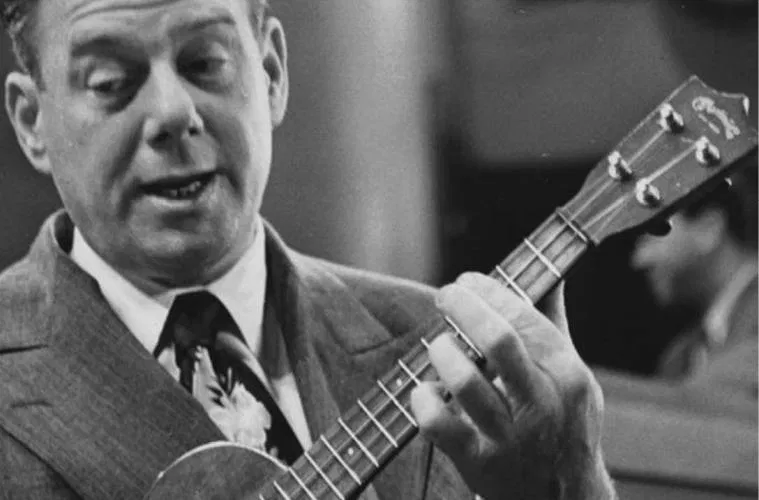 Ukulele craze revived by the solders and sailor returning home from South Pacific after World War II.
This is the start of the Second Wave of the ukulele corresponding to the influence of TV.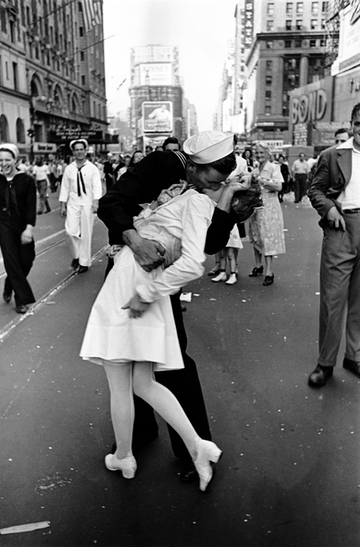 After the Panama Pacific International Exposition Ukuleles all the rage. This corresponds to the popularity and availability of radio in the decade of the 20s to 40s. The First truly fast way of disseminating news, entertainment, and information to a mass audience. This was a big shift in the technology for communication around the world.
This is the First Wave of the ukulele corresponding to the influence of Radio.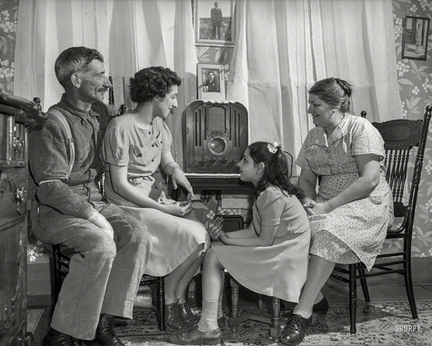 Panama Pacific International Exposition in San Francisco, California USA unveils ukulele to the world. The Panama–Pacific International Exposition (PPIE) was a world's fair held in San Francisco, in the United States, between February 20 and December 4 in 1915. Its ostensible purpose was to celebrate the completion of the Panama Canal, but it was widely seen in the city as an opportunity to showcase its recovery from the 1906 earthquake.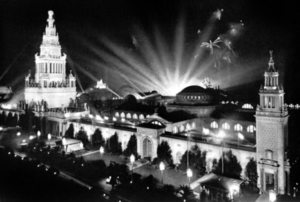 This is when it all started
Portuguese sailors introduce Hawaiians to small four-stringed instrument that gave rise to the ukulele. King David Kalakaua was influential in the initial rise of popularity of the ukulele.
Among the passengers were Manuel Nunes, Augusto Dias, Jose do Espirito Santo, and Joao Fernandes, who are credited with introducing the ukulele to Hawaii. This was the second ship of Portuguese immigrants to reach the Islands, having been preceded on 30 September 1878 by the German bark SS Priscilla.
Should You Study Music With A Teacher or Should You "Wing" It On You Own?
This question always comes up in this type of discussion about music.
Here is Chuck Anderson's take on the question.
An objective assessment of the two alternative approaches leads me (Chuck Anderson) invariably towards the formal route. Why? Because without guidance, there is a tendency to go in circles, What do you practice, when do you move to the next topic? When are you doing something wrong? How do you practice what doesn't exist to you? - Chuck Anderson

Here are links to some great resources, right here on Learning Ukulele with Curt for answering the questions to What Do I Study? when going it alone or with a teacher.
Getting Started Series of `Ukulele Lessons • This series of lessons is intended to take a beginning ukulele player, just Getting Started through the basics.

Learning the `Ukulele - The Top Ten • regardless of the resources you use to learn to play any instrument, it's important to know what there is to learn and how that affects what you want to do.

What Level Player Are You? • You might be a beginner in one aspect of your learning and intermediate or advanced in other areas. This is especially true if you have experience playing other instruments, or have focused on one aspect of your playing.

The Elements of a Successful Music Program • Few Of The Elements That Would Be Typically Covered In A Well Rounded Musical Education

The Study of Music Today • There is a lot of information available that is just wrong, so try to consult a legit expert on the subject. Don't assume that the information is correct because it's in a magazine or on-line. Magazines are notorious for featuring well-known players who can't teach. They often have a very fuzzy idea of what they're doing and what to call specific scales, chords, and techniques. - Chuck Anderson

Glossary of Terms • a list of musical terms that are likely to be encountered in printed scores, music reviews, program notes, and when communicating with your fellow musicians.

3 Ways to Study with Curt • Private In-Person One-on-One Lessons, One-on-One Virtual Lessons if you can't make it to Pennsylvania, USA, or Lessons via Email Correspondence.

It's All About Learning Songs • Using songs for learning to play the ukulele is the most common approach to, well, learning to play a song.
Common Ukulele Sizes
The ukulele comes in four (4) common sizes: Soprano (sometimes called Standard), Concert , Tenor , and Baritone .
A ukulele can can be tuned to any tuning as long a s there is a string available and the construction supports it. With that in mind here are the common tunes for the four common sized ukulele.
The Baritone ukulele is tuned (D G B E), just like the thin 4 strings of a standard guitar. This is called "G" Tuning. String can be a low D or a high G.
The Soprano, Concert and Tenor ukuleles typically uses "C" Tuning G C E A or "D" tuning (A D F# B). The Tenor can also be tuned like the Baritone ukulele, typically with a high "G".
A ukulele can have a mellow-mainland or bright-island sound.
Comparing the Four Different Sizes of Ukulele that are in common use today.
Gear
Information on ALL the related goodies that go along with the ukulele – The Strings , Cases , Pickups , Amplifiers , Cables , Pedals , and such to you might need for your ukulele is available right here on LearningUkulele.com, Learning Ukulele with Curt.
Simulating Various Ukulele Scale Lengths
If you don't have any concert size instruments nearby to try in a store you can create the scale length on your tenor with an inexpensive capo. A capo on the second or third frets of a tenor leaves you with a scale length (and fret spacing) similar to a concert and the neck width at that level should be very close to that found on most concerts. And if you want to get an idea of what a soprano scale would feel like put the capo at the 4th fret and you'll be almost exactly at the standard 13 5/8 inch length. However the width at that point on a tenor will in most cases be greater than at the nut of a soprano.
Comparing the Four Different Sizes of Ukulele that are in common use today.
Good Trade!
Woman is at a uke festival with a lovely soprano ukulele under her arm. Another woman walks up and gazes admiringly at the first woman's uke, at which point the woman holding the uke looks over and says with a smile; "I got it for my husband." Second woman nods and says, "good trade."
PDF & Hard Copy Books
Immediate Downloads of PDF Books. Hard Copies are, naturally shipped.
Most, if not all of the above books are available for FREE download as part of a Premium LearningUkulele.com Site Access.
In addition to on-line, right here on LearningUkulele.com, hard copy books are available at , Funky Frets and a few select ukulele dealers. Retailers wishing to carry books by Curt Sheller can contact me, Curt directly here on LearningUkulele.com for more info and to get setup. However, I'm pretty much going all digital and make the content viewable online - just like you can preview a book at a traditional book store.