Ukulele for Guitar Players
A guide to transferring the accumulated experience and knowledge gained as a guitar player to the ukulele.
PUBLISHED: Jul 12, 2006 UPDATED: Jul 12, 2006 • VIEWS: 78 • BOOK CODE: UKEGTR •
Instruments: ukulele guitar Subjects: chords • scales • intermediate • beginner • transposing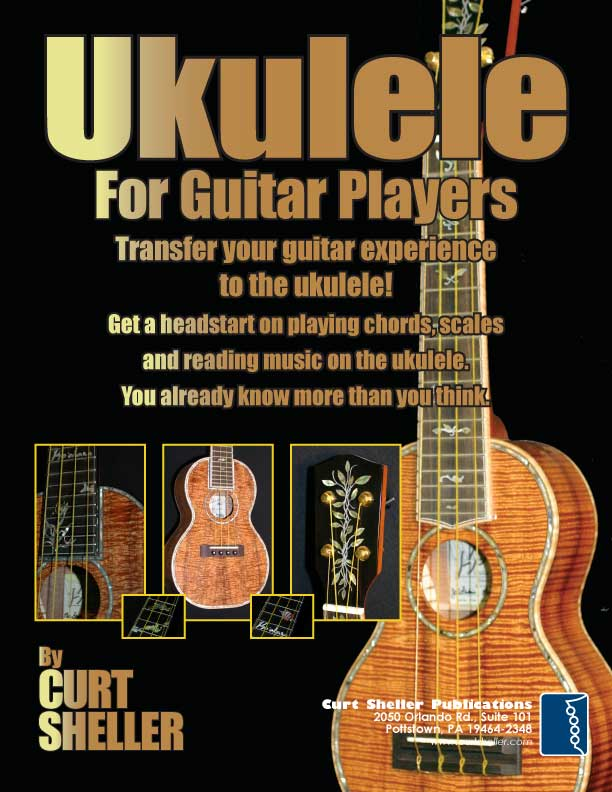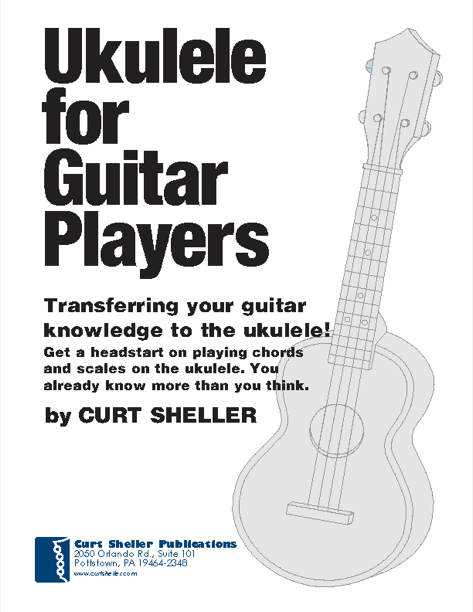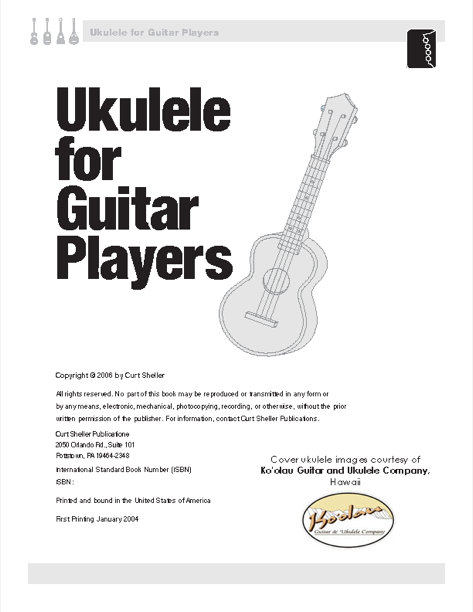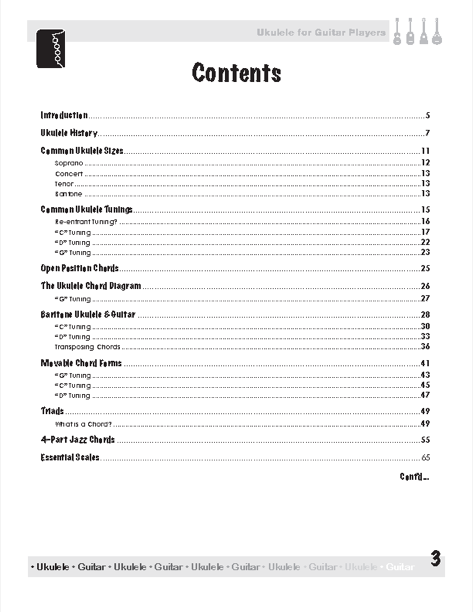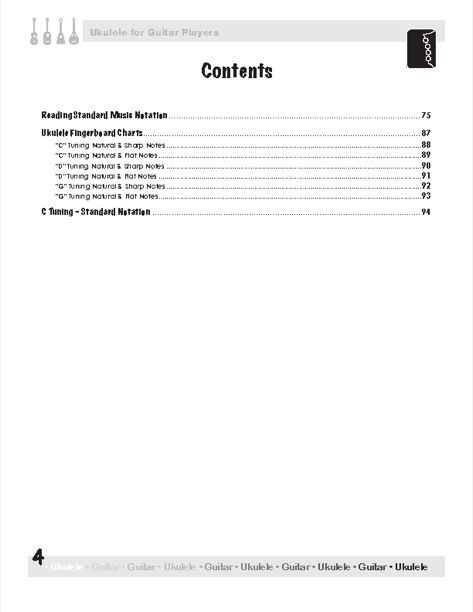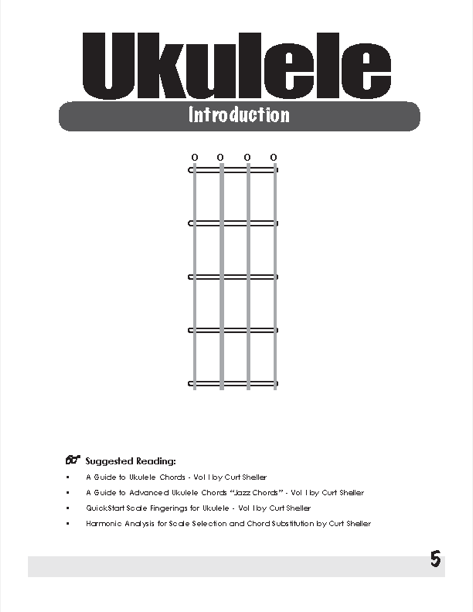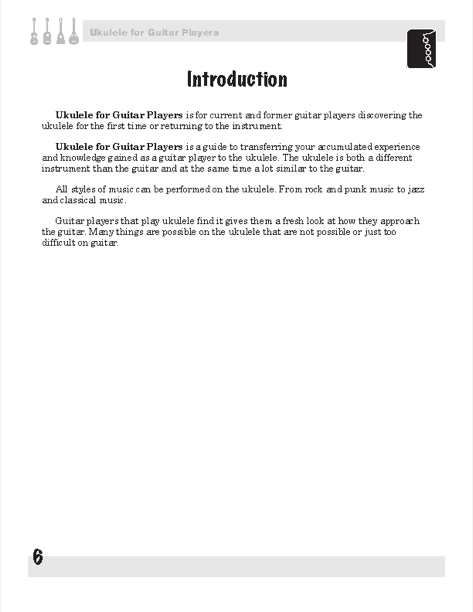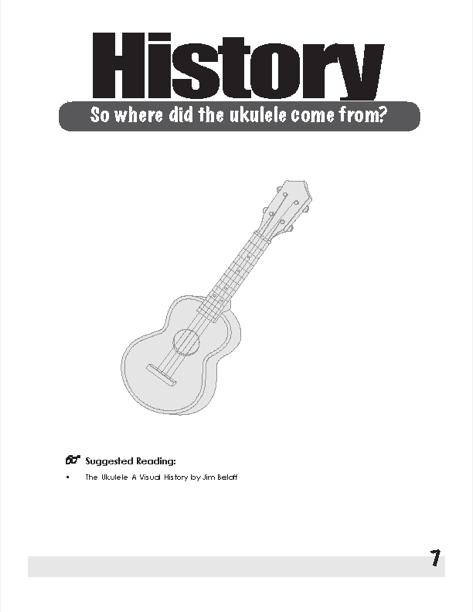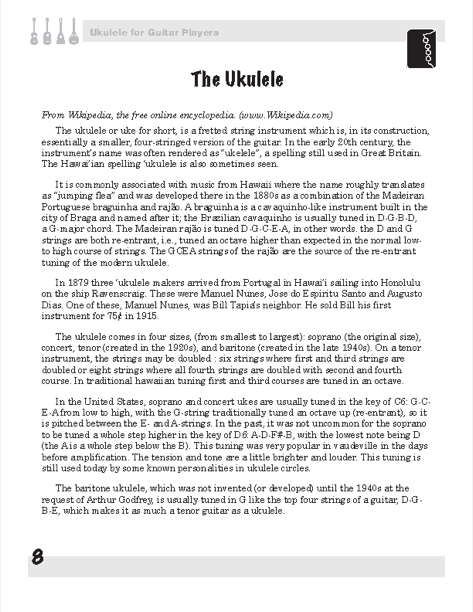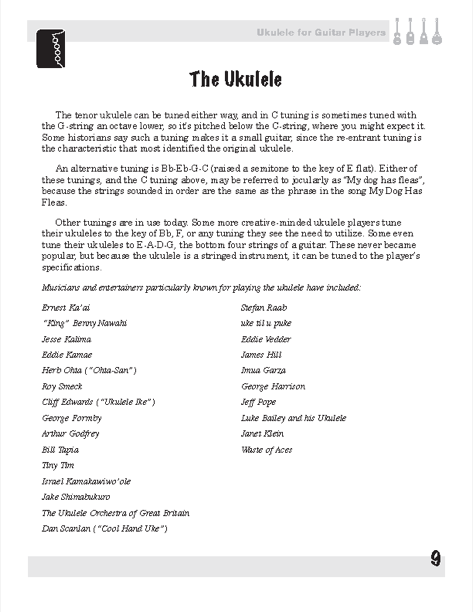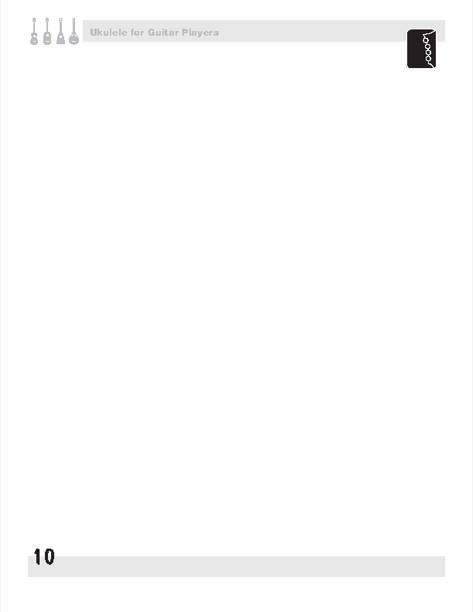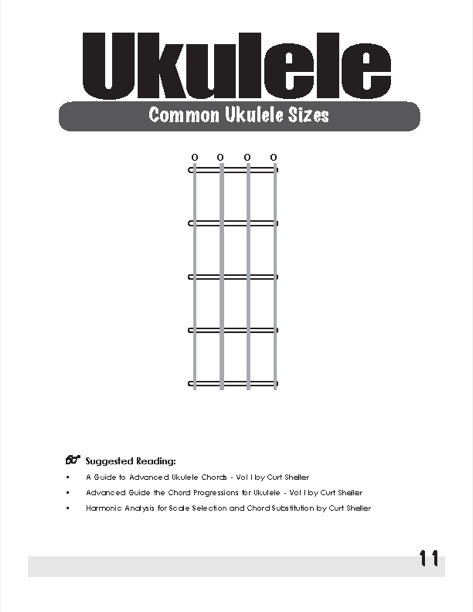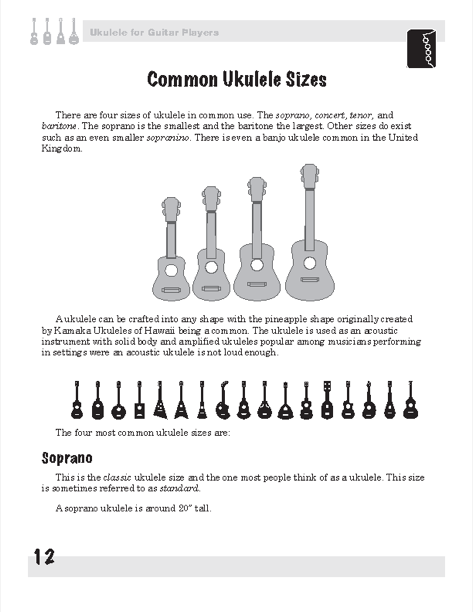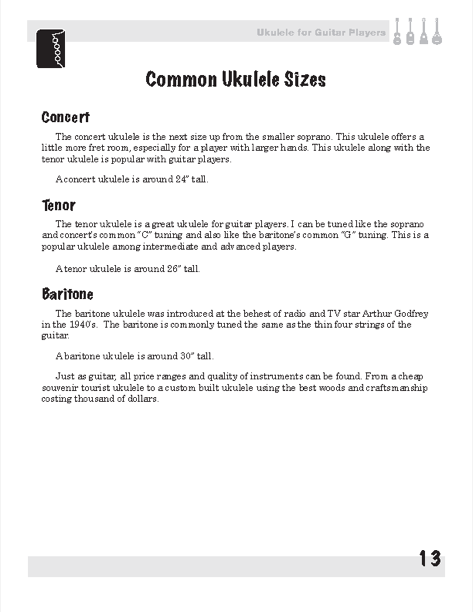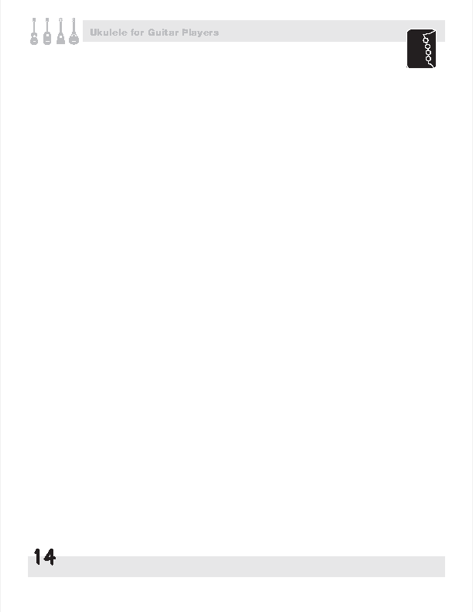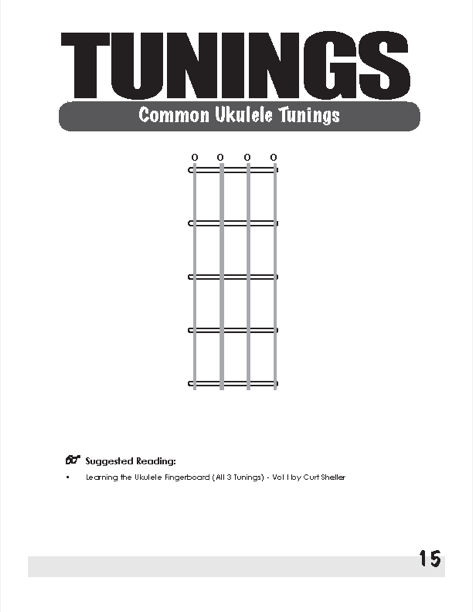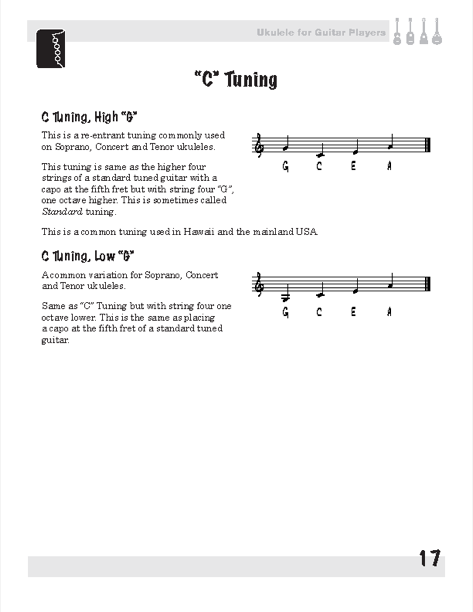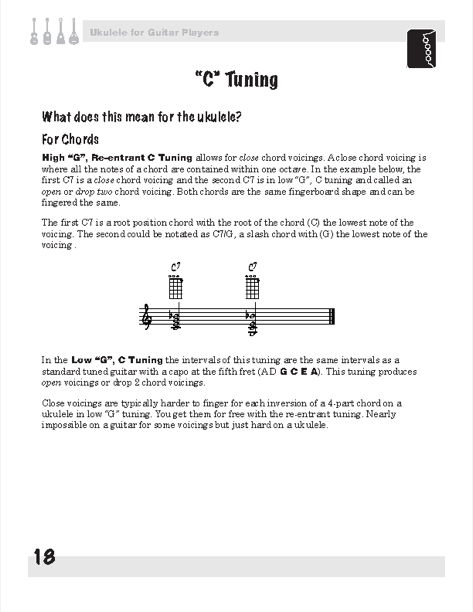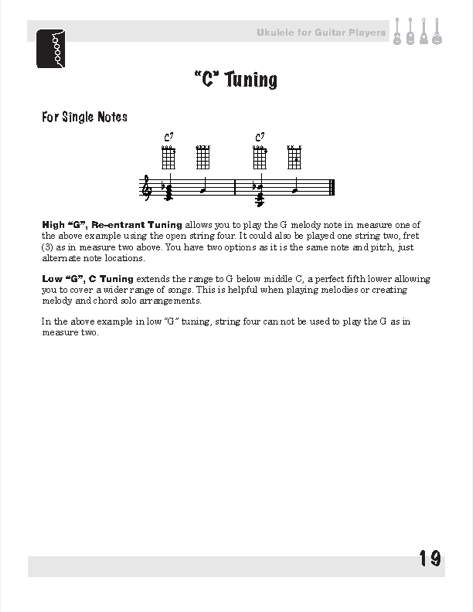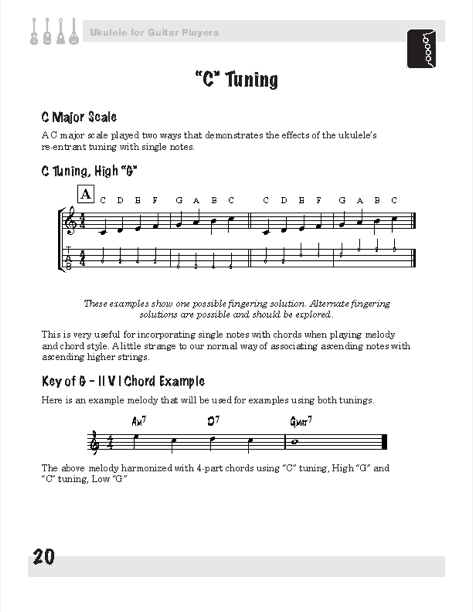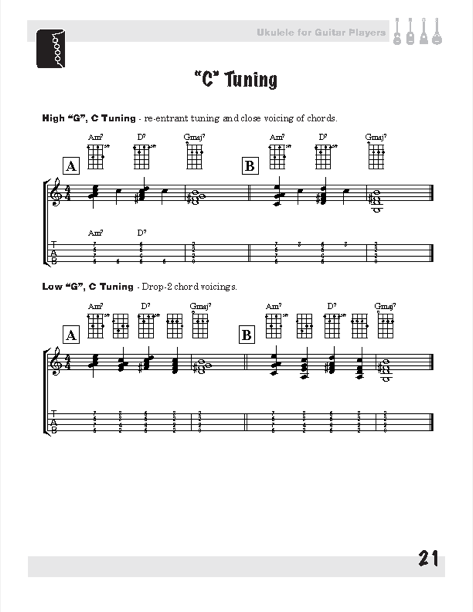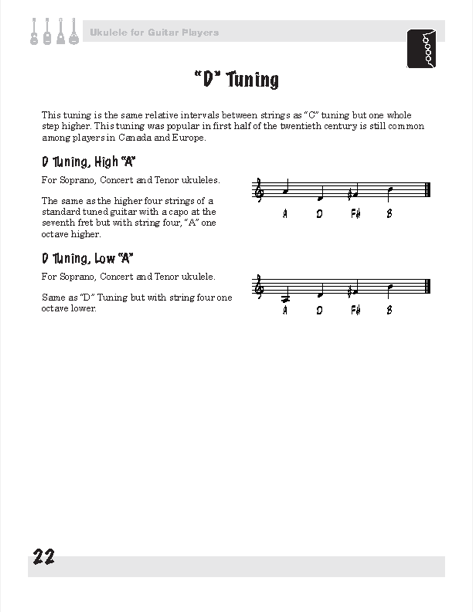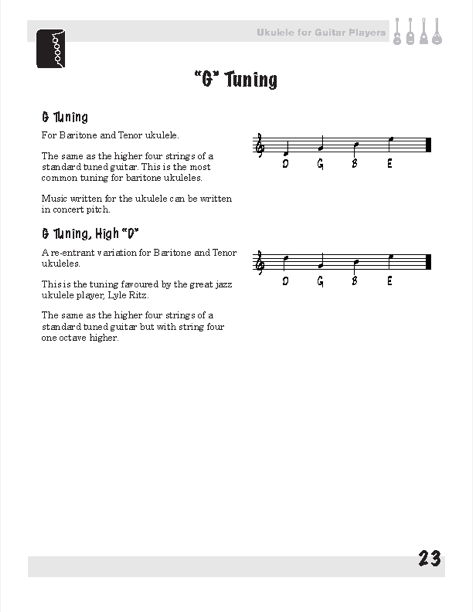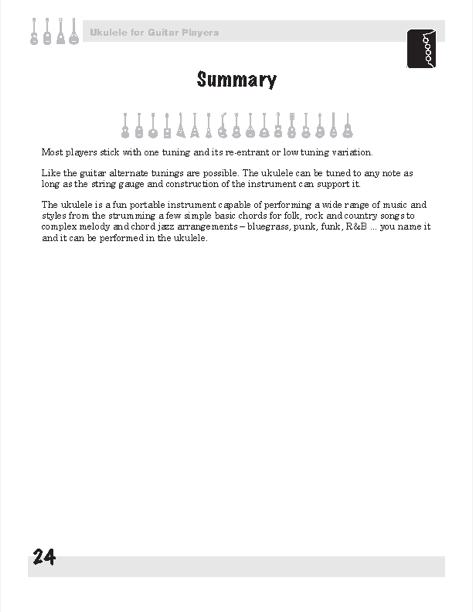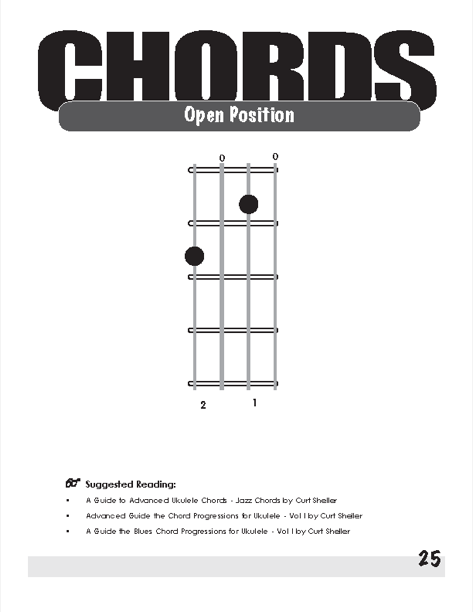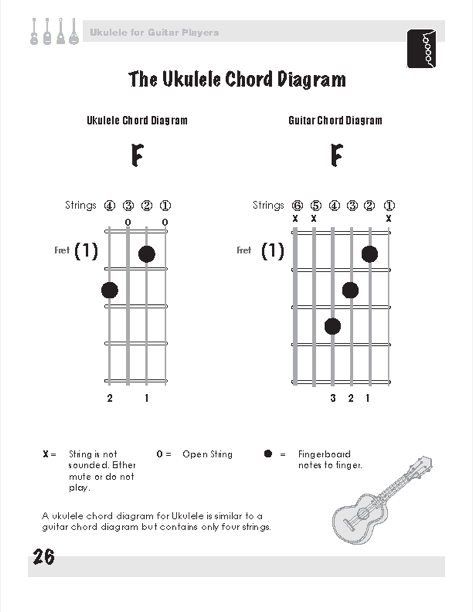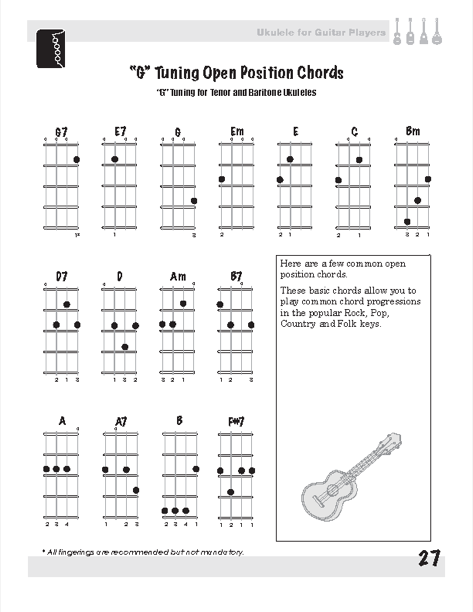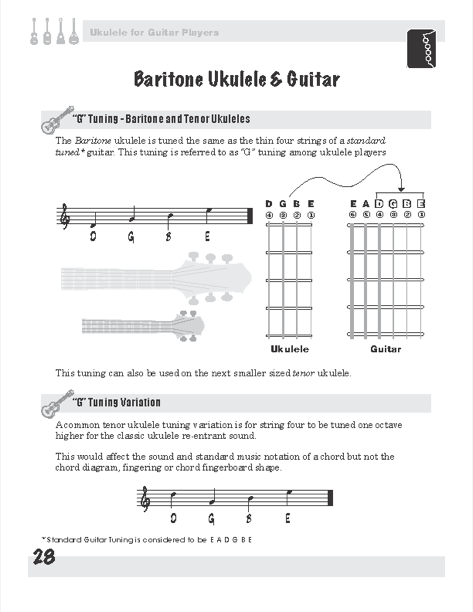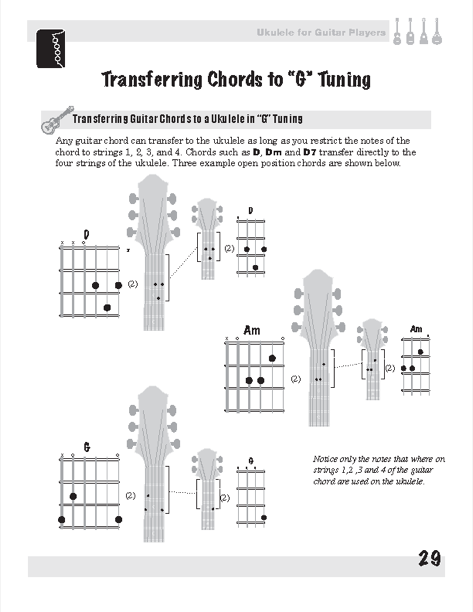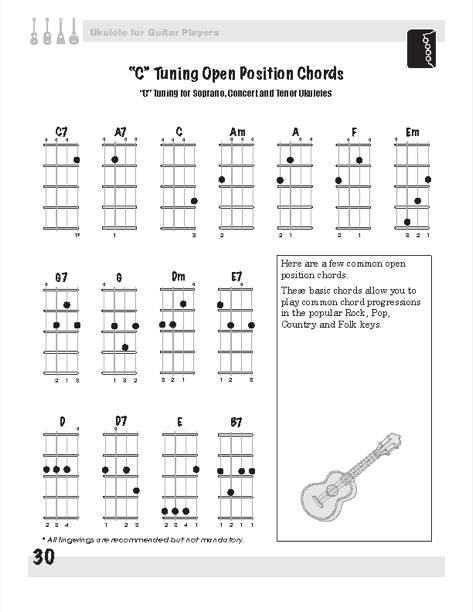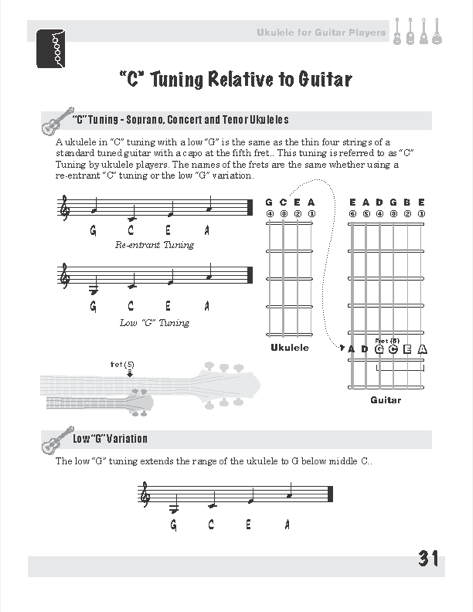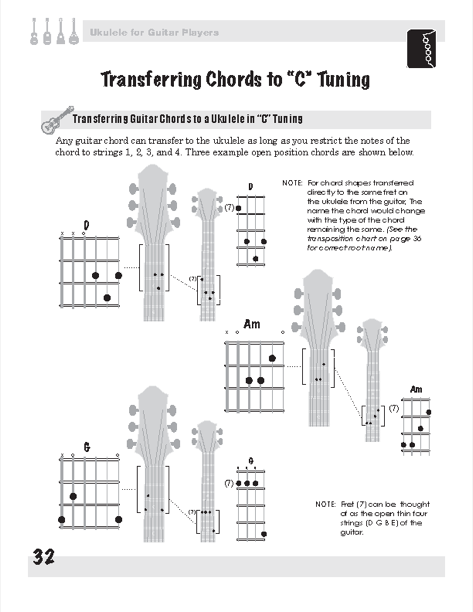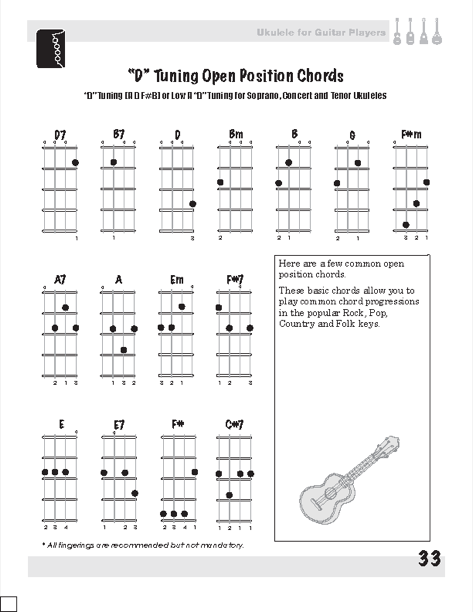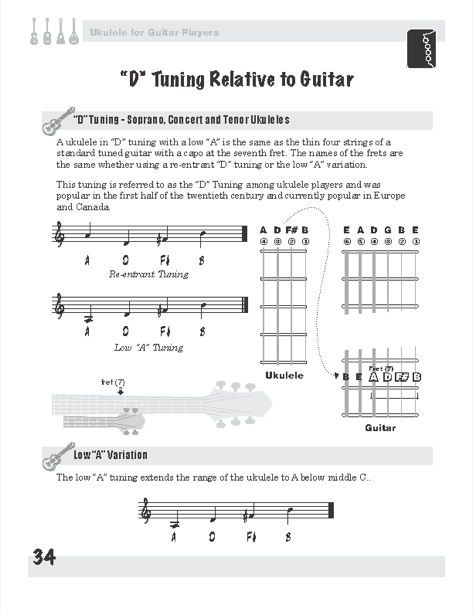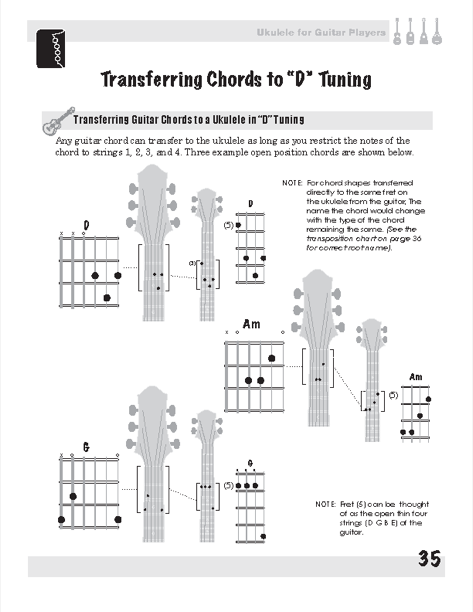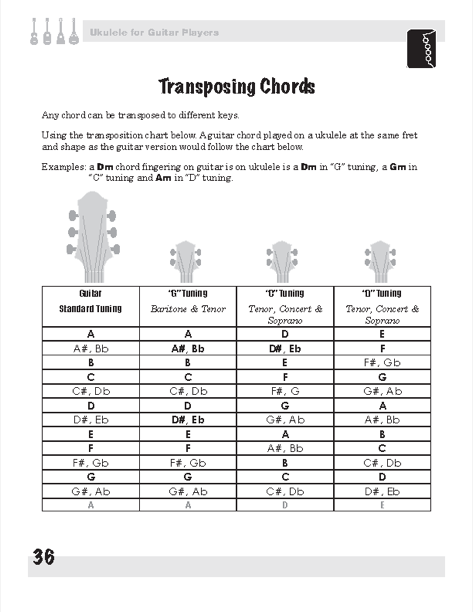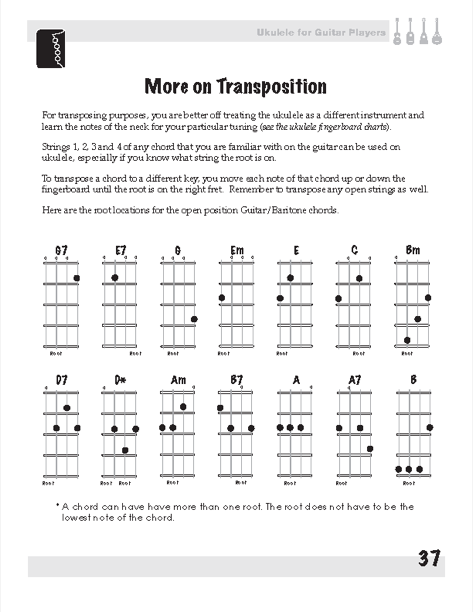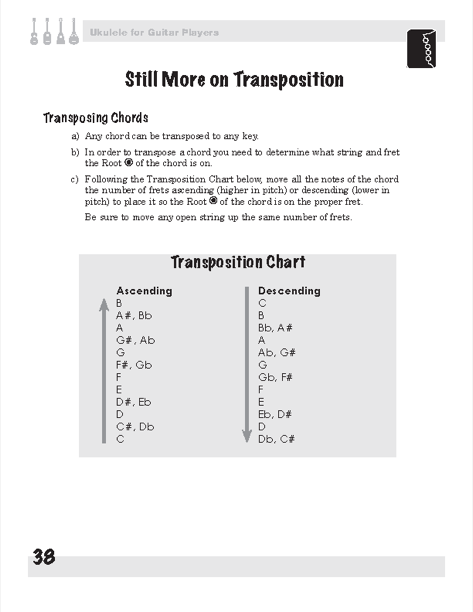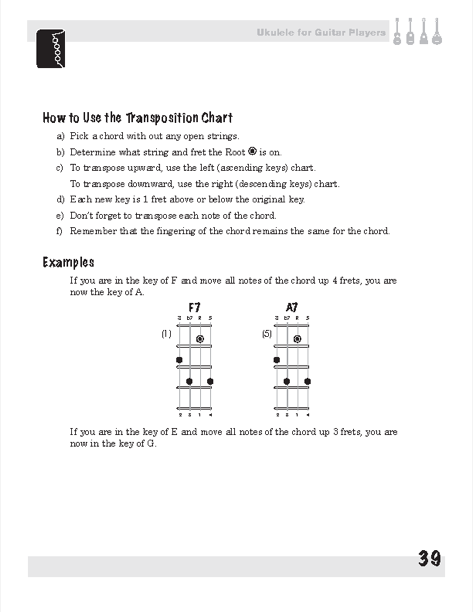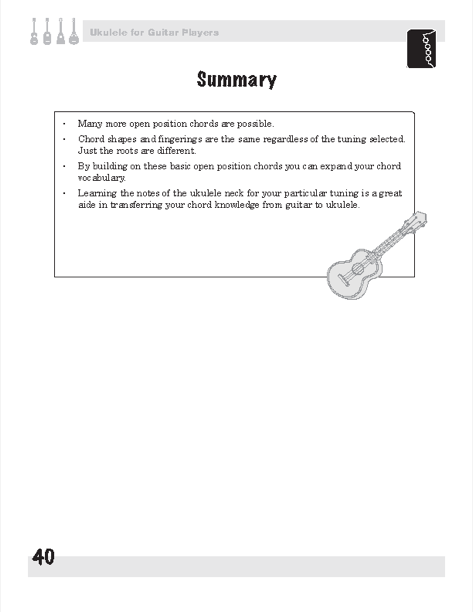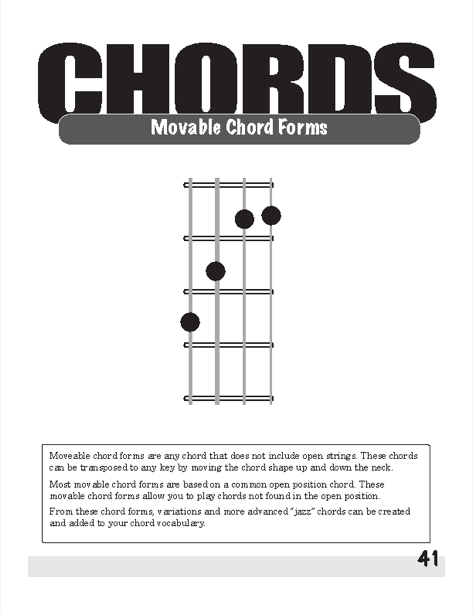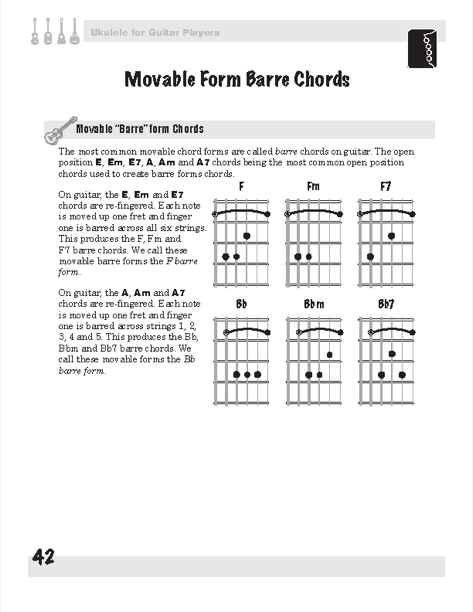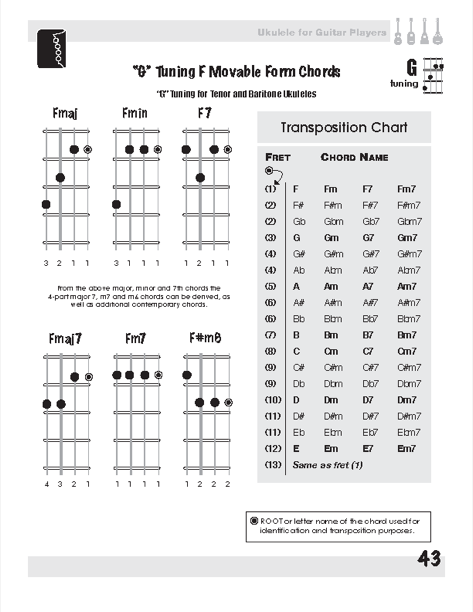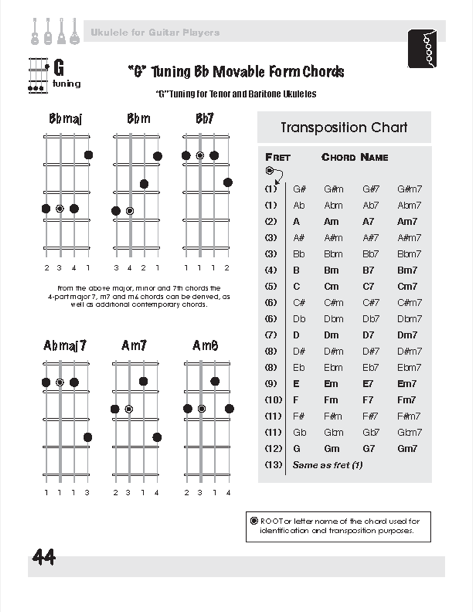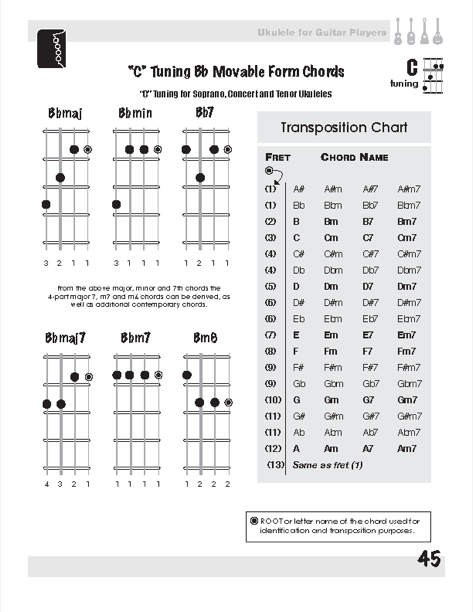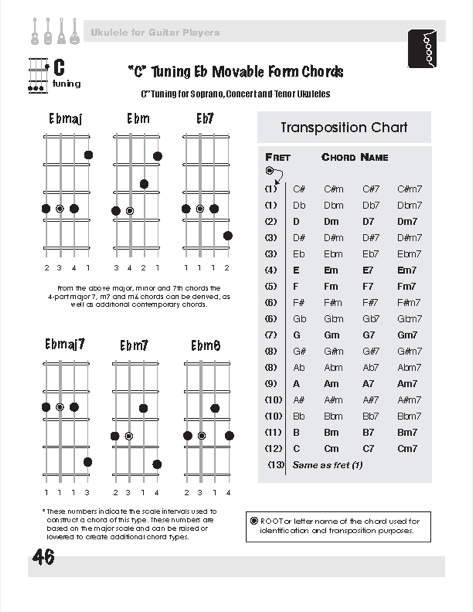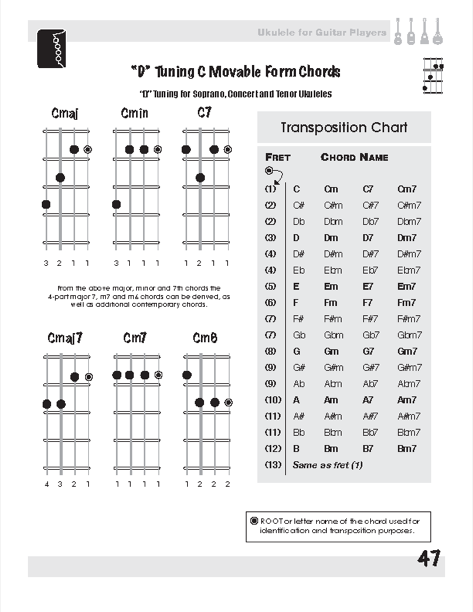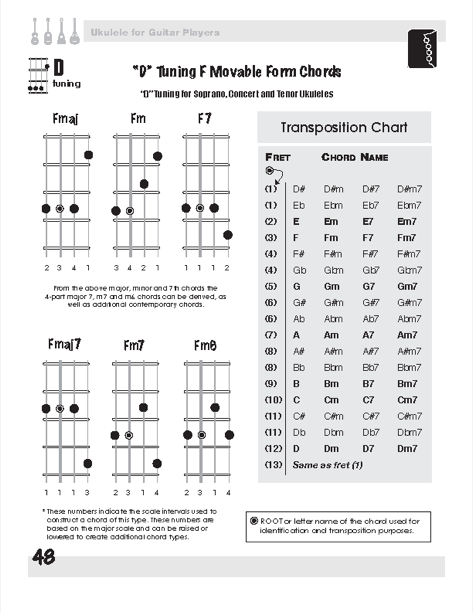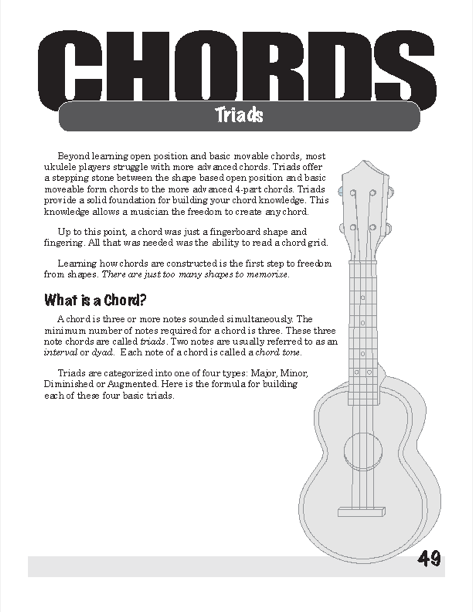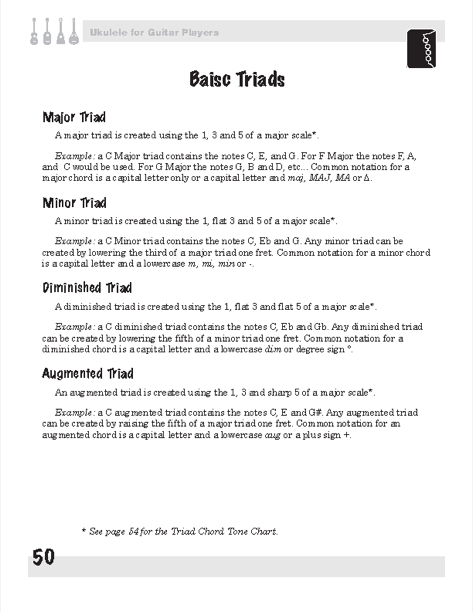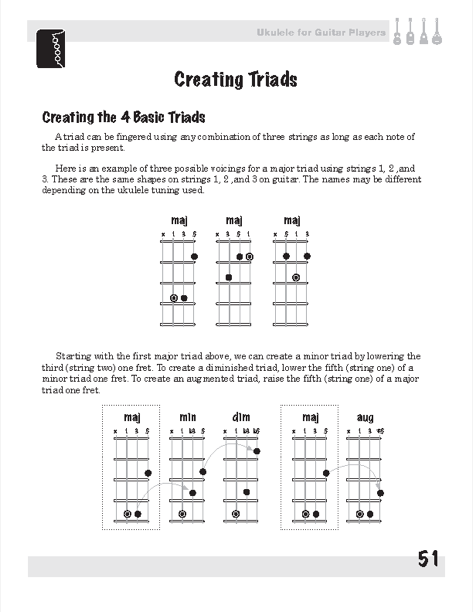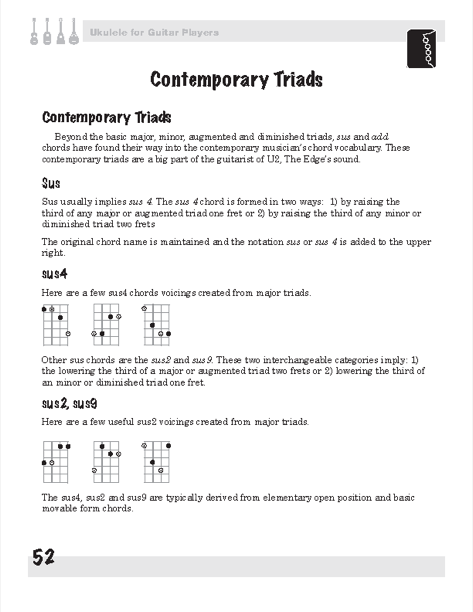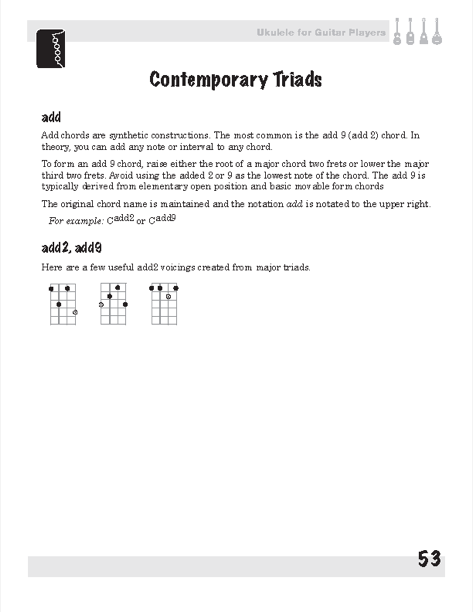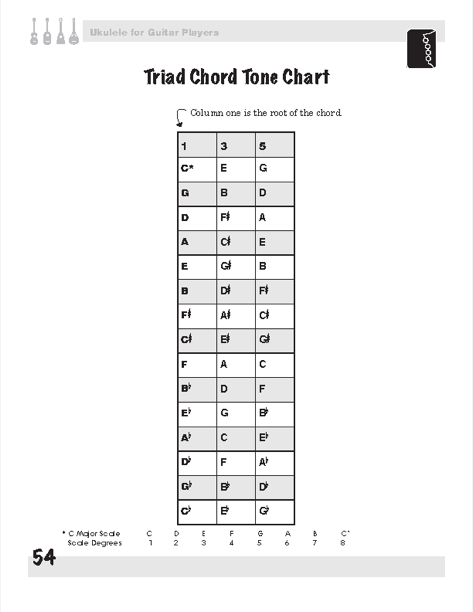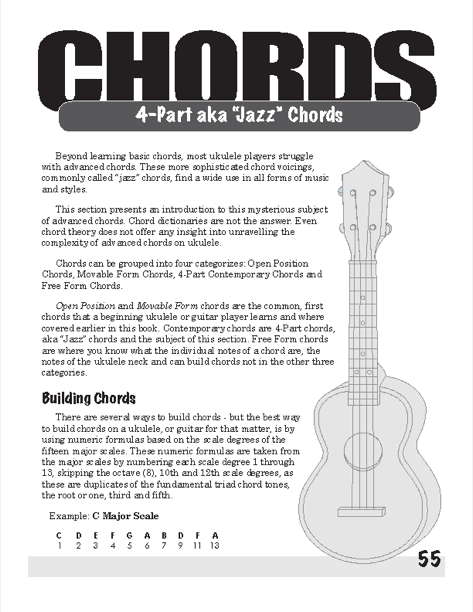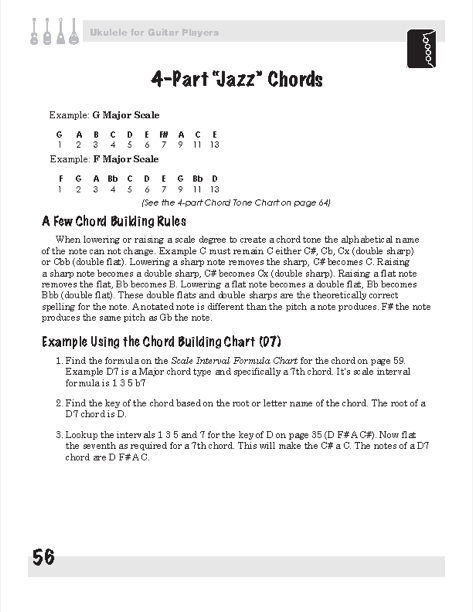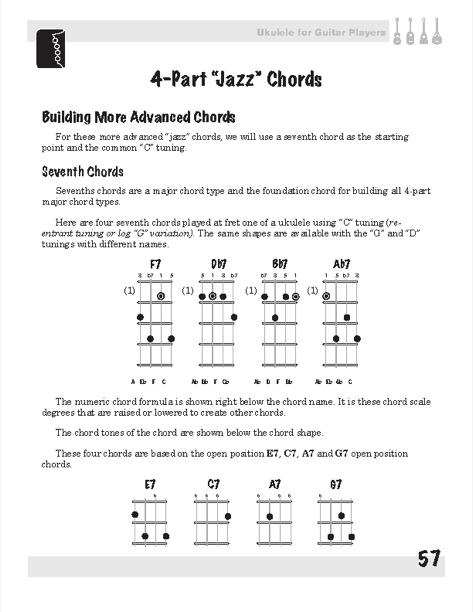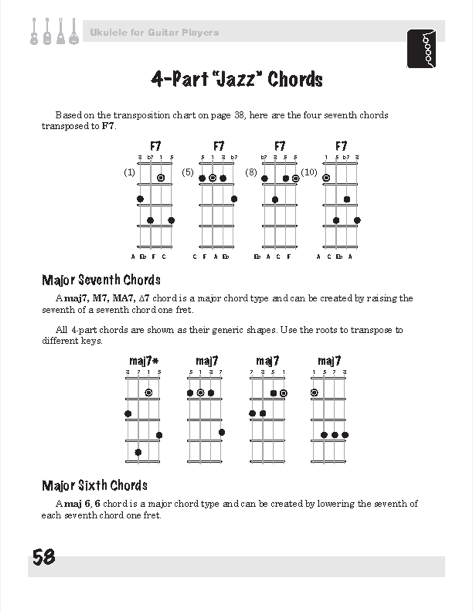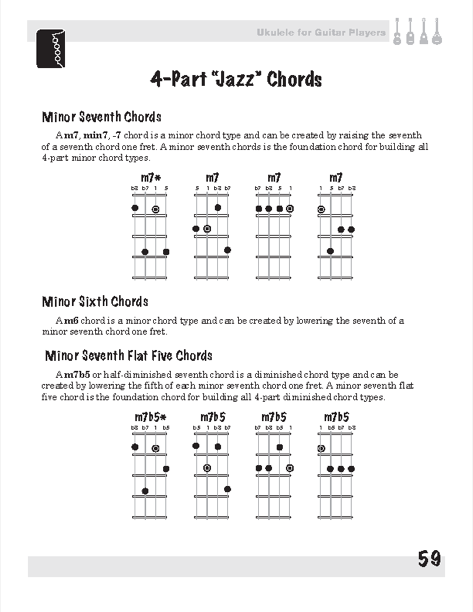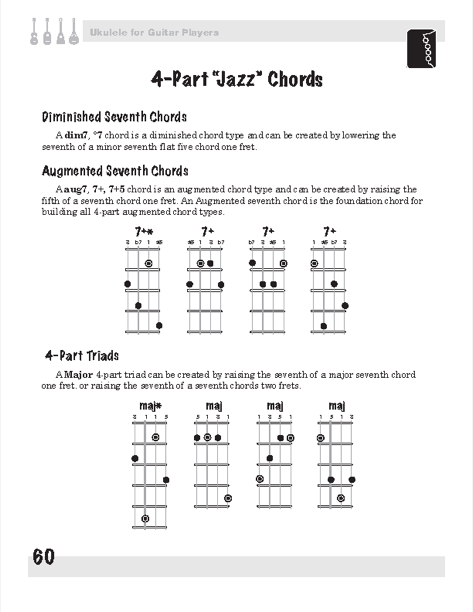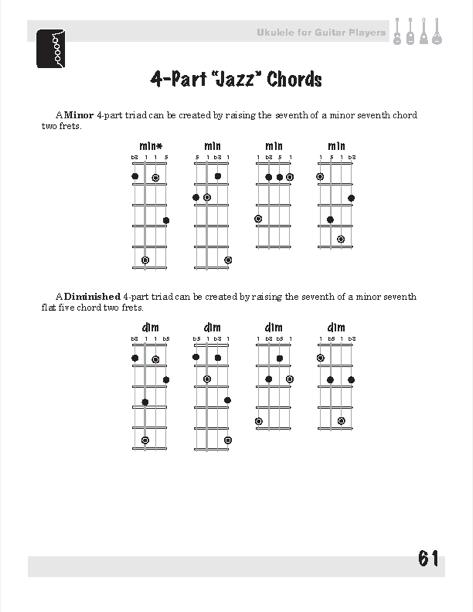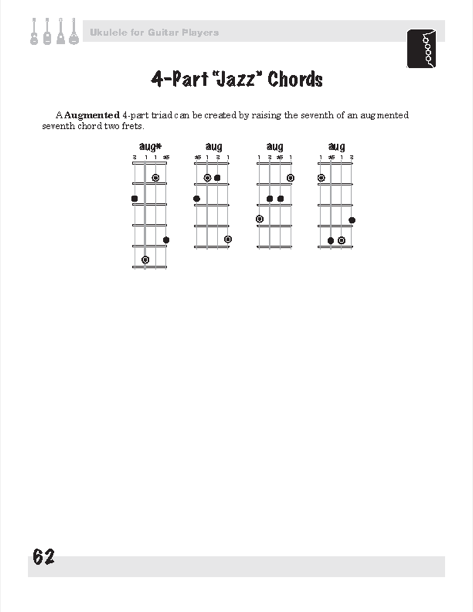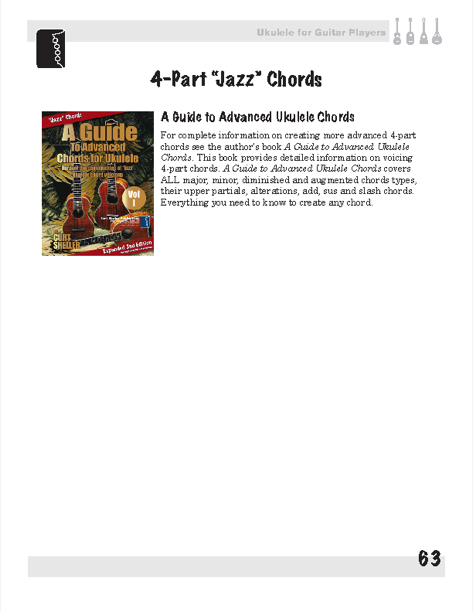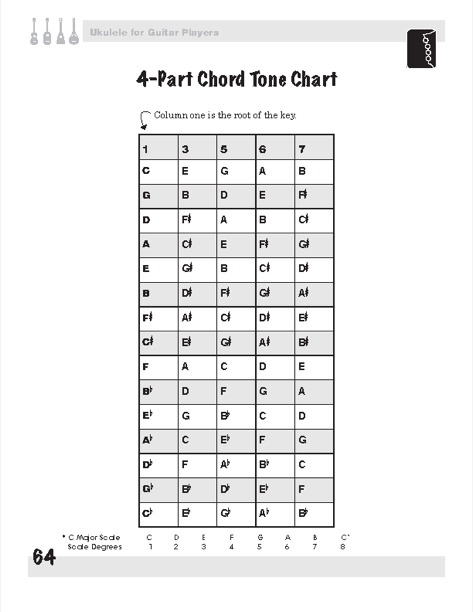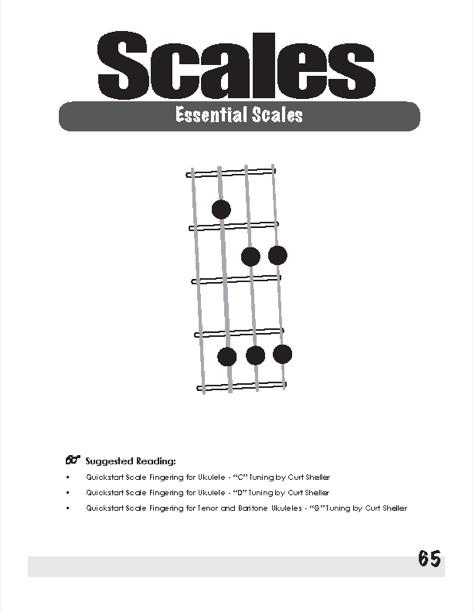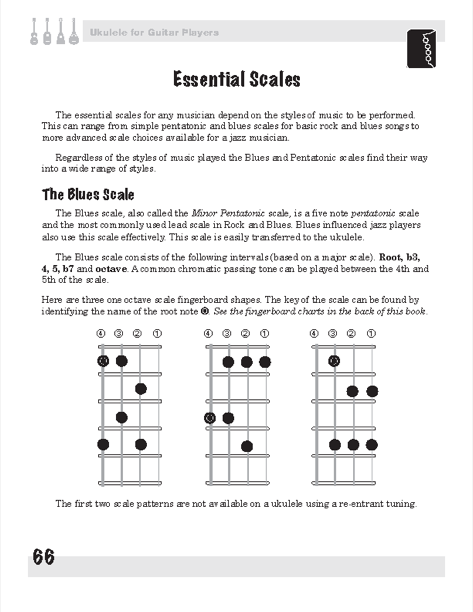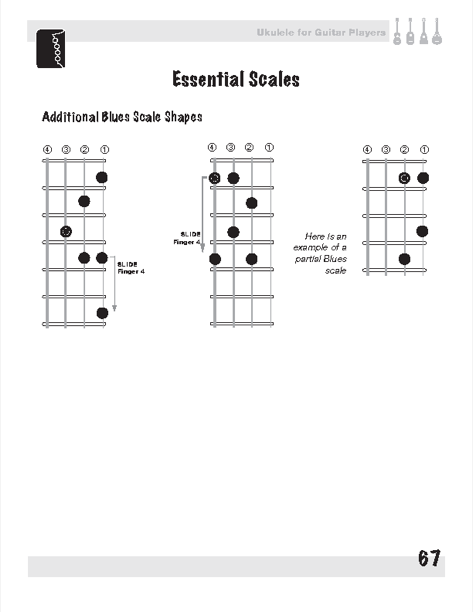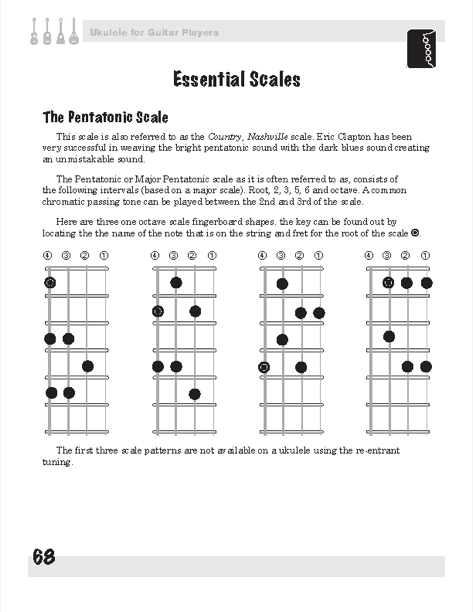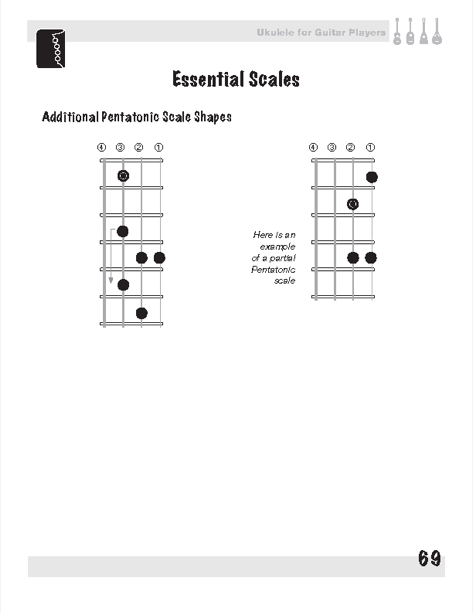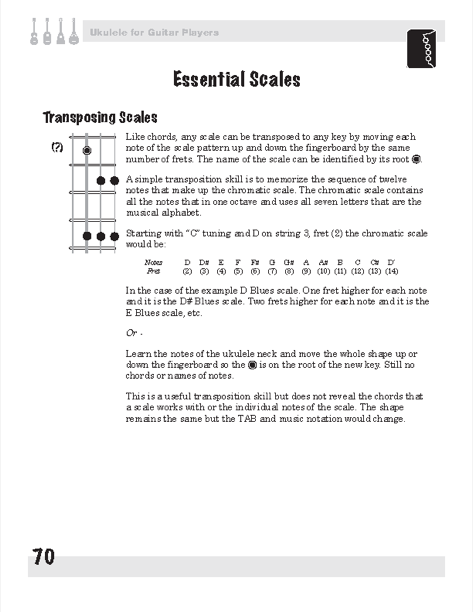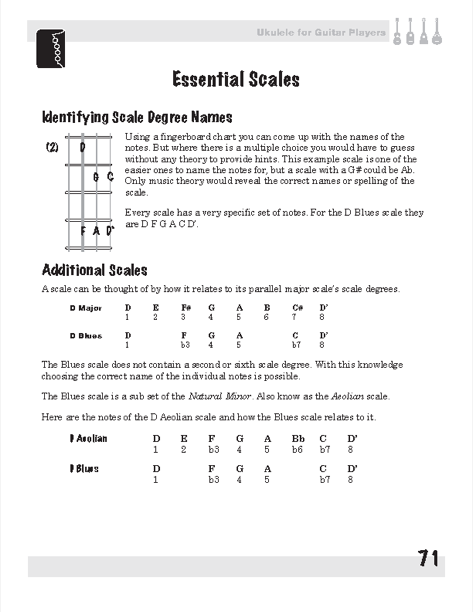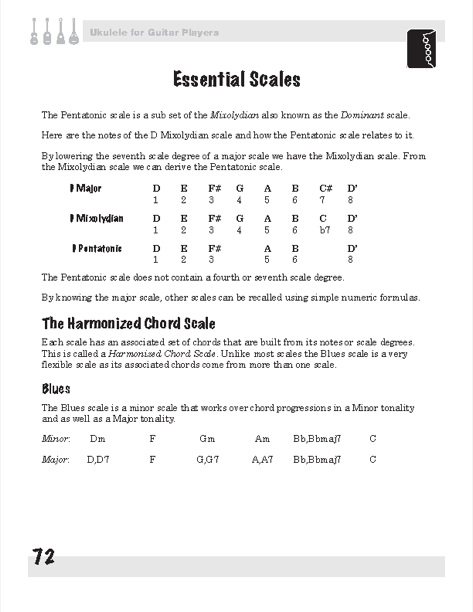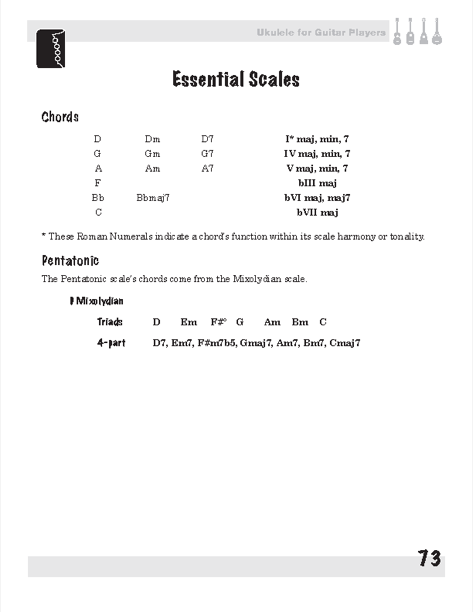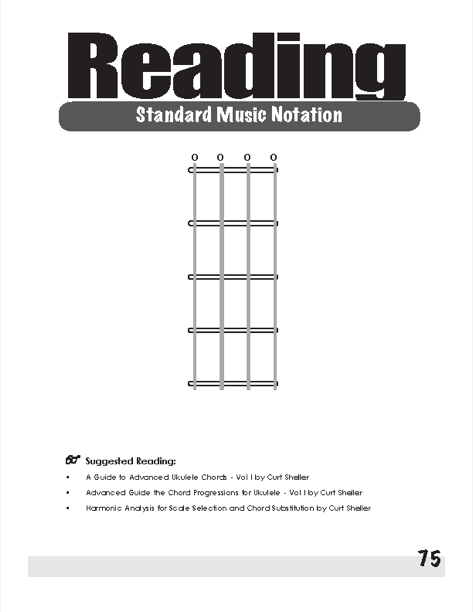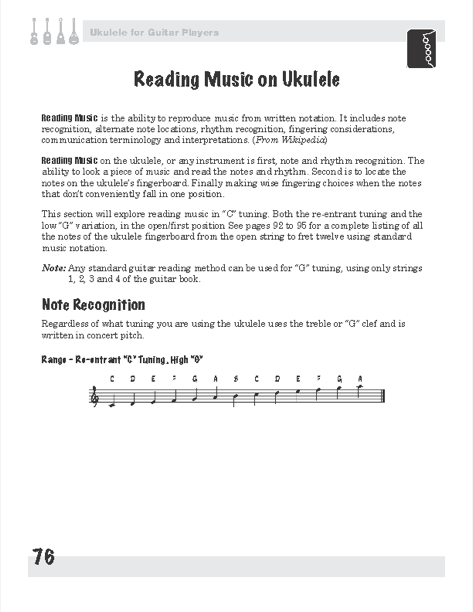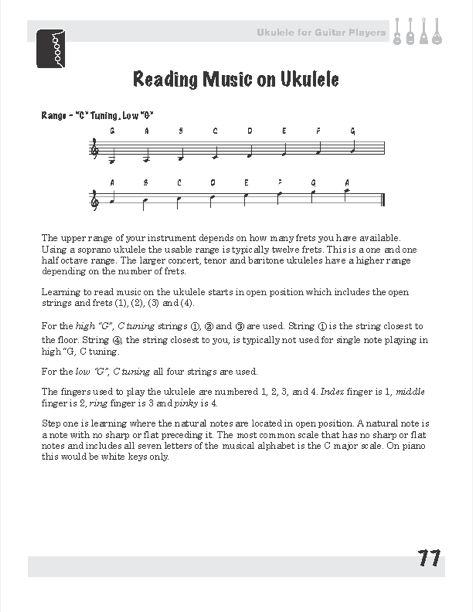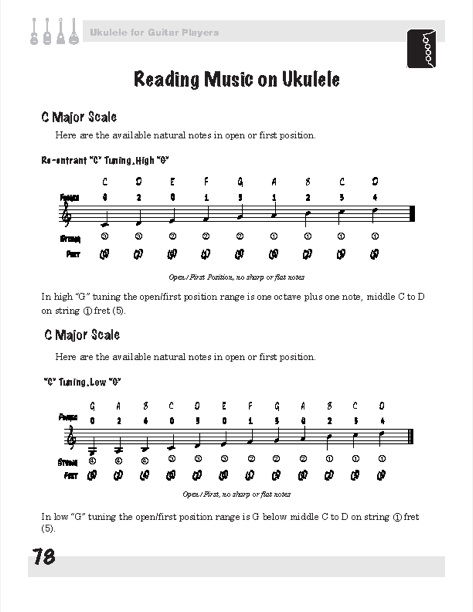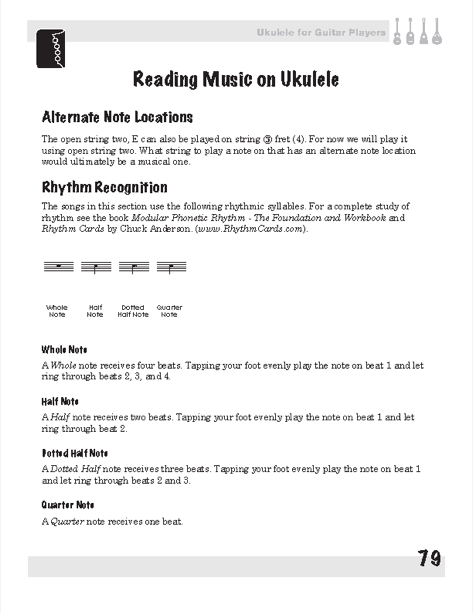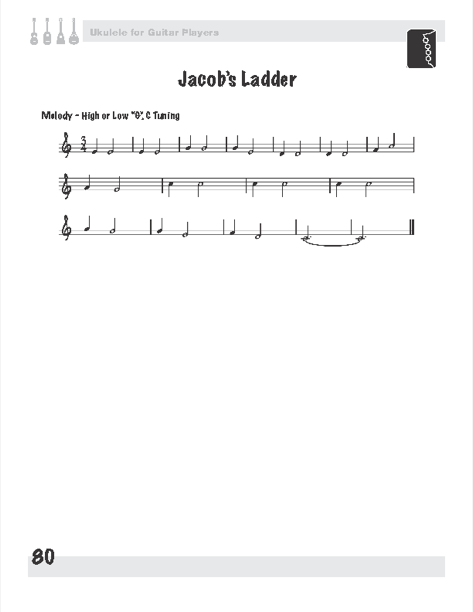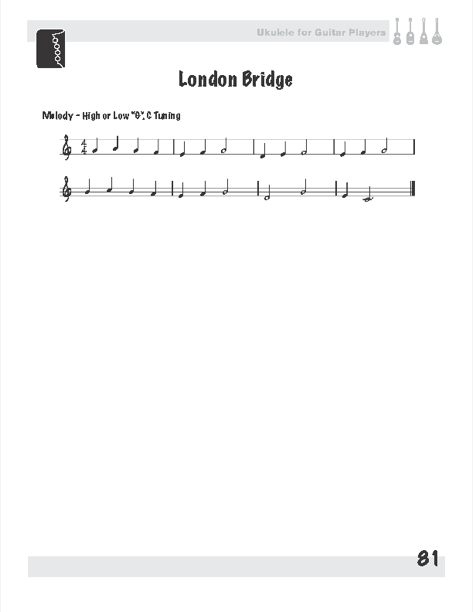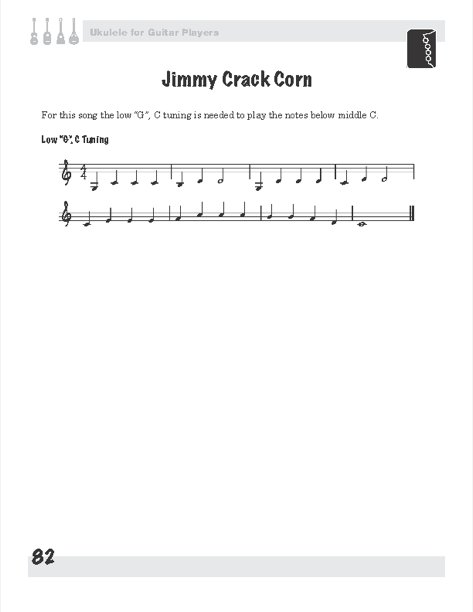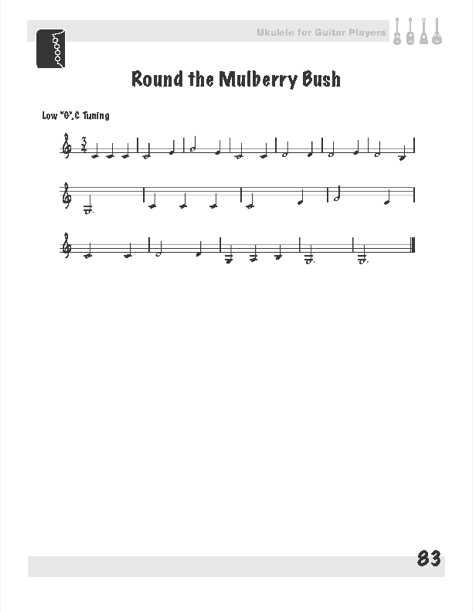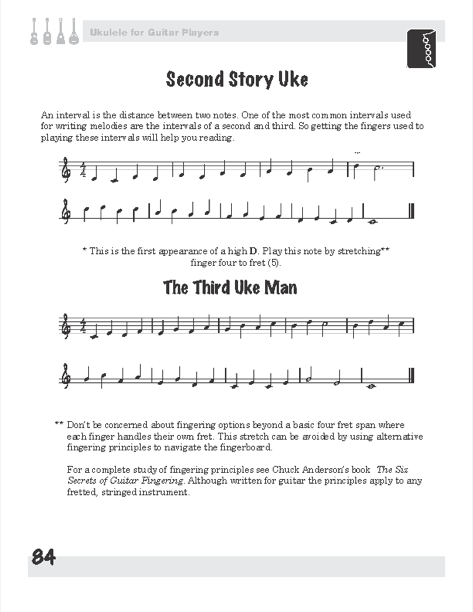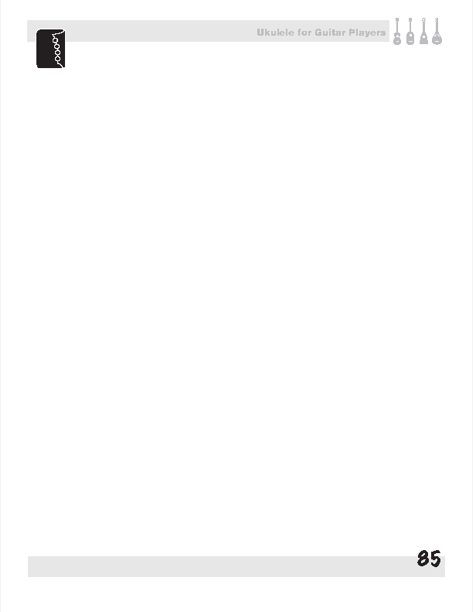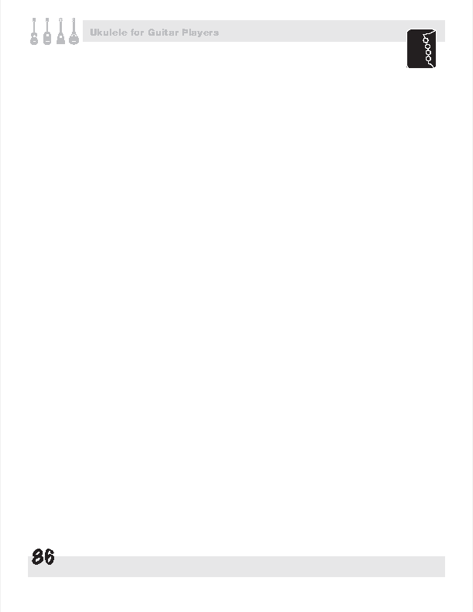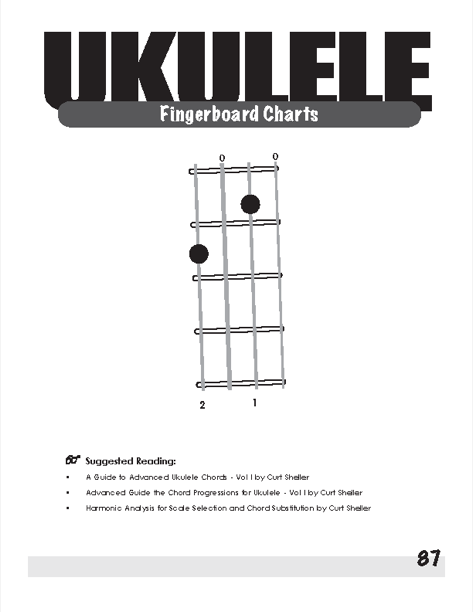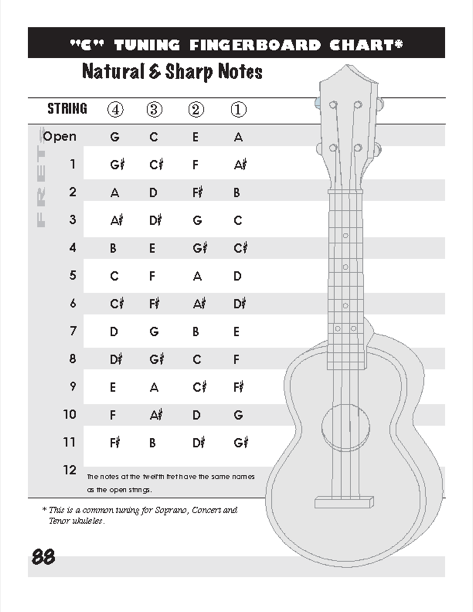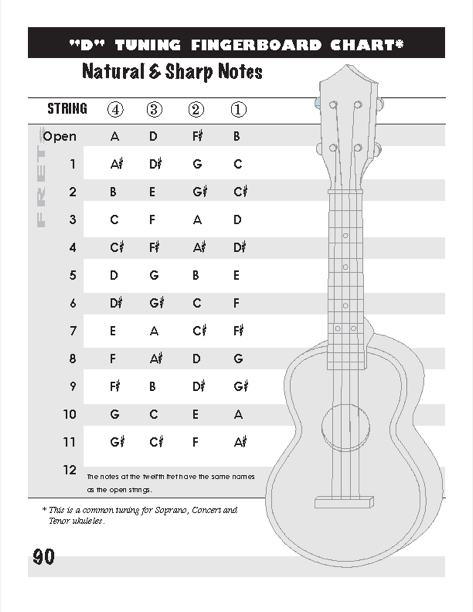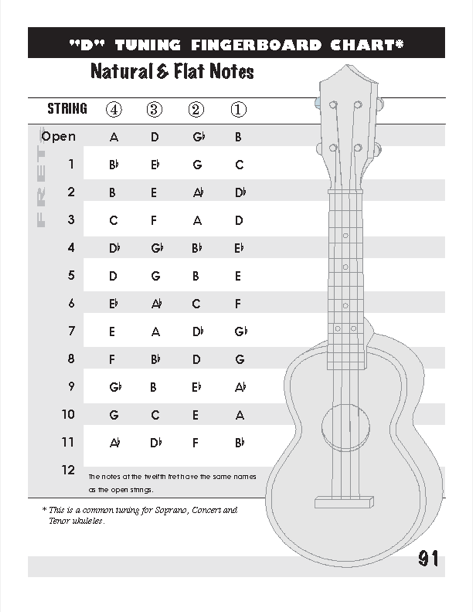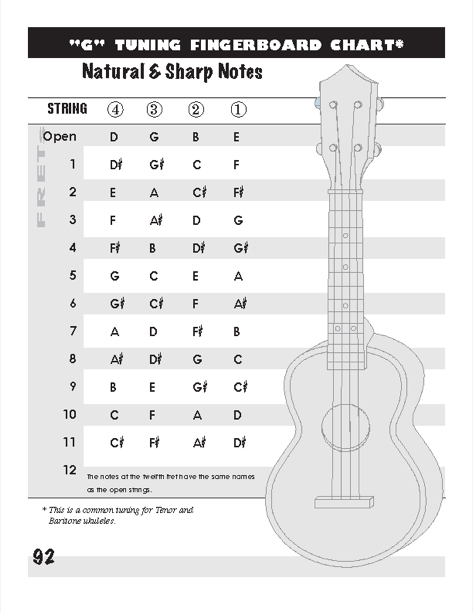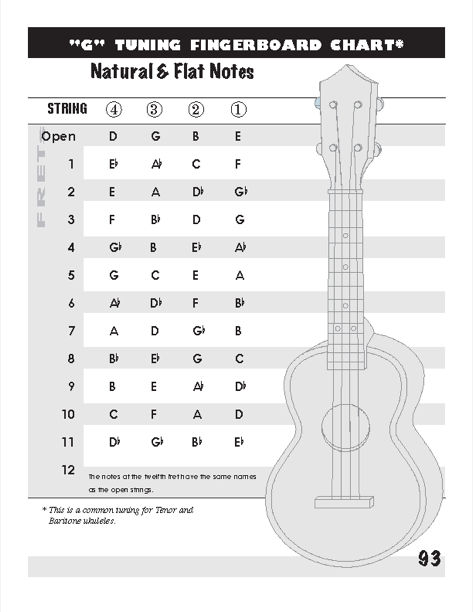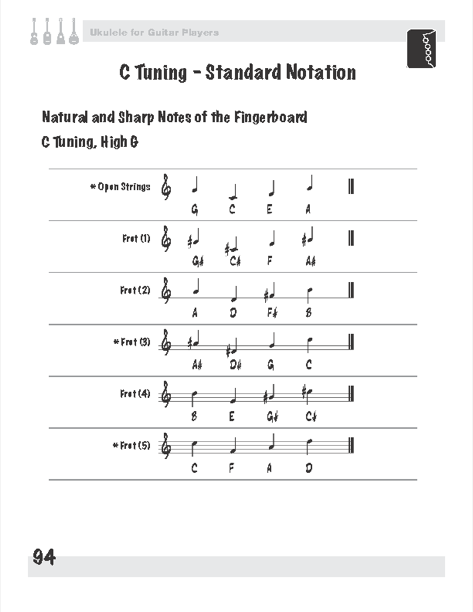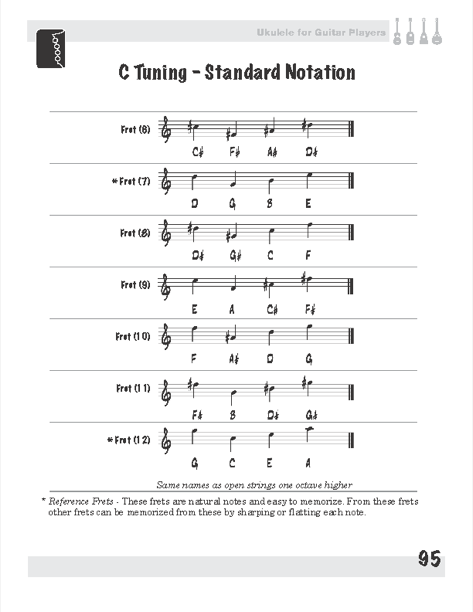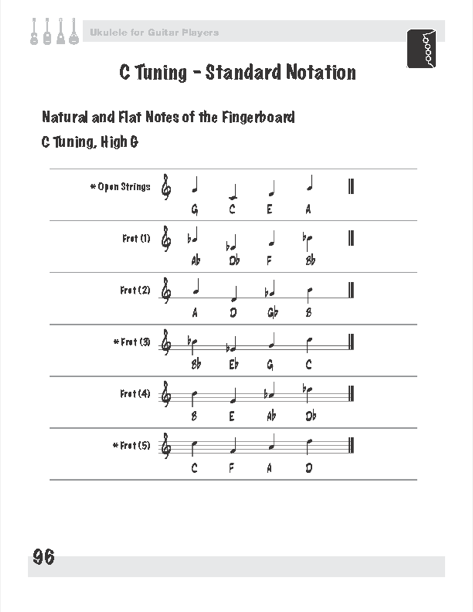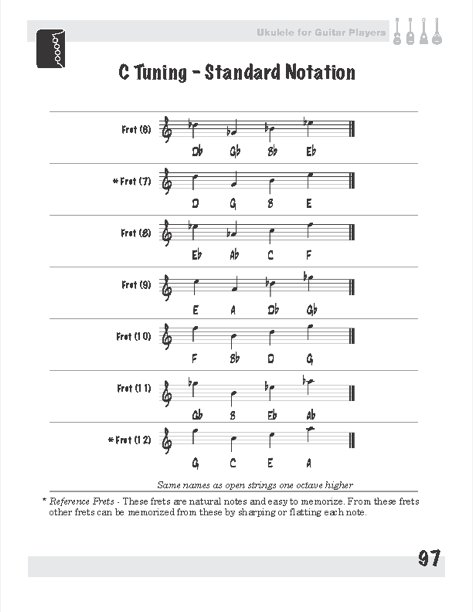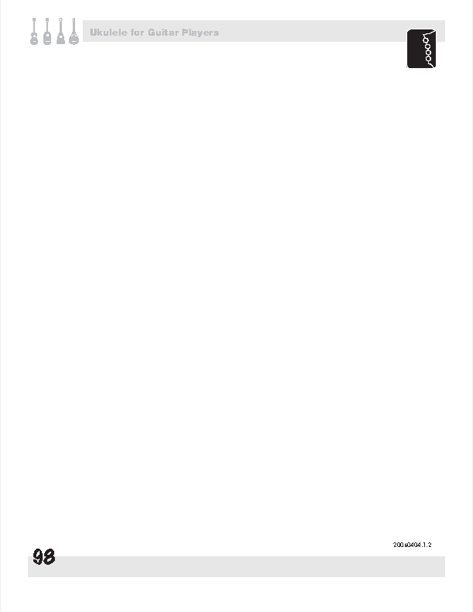 All 98 sample page(s) are viewable on-line.
If you are a registered site member and have the correct permissions you can view ALL the pages of this PDF at a larger size. You can resize the browser window smaller to a tablet or phone size and the pages will magically grow larger.
This Download is NOT part of your LearningUkulele.com membership level. Sign-up for a Site Access or Upgrade your current access level to download this PDF or your can purchase a copy for download.
Each PDF file is a formatted high resolution file that prints out great. You'll need Adobe Reader or a PDF viewing application to view your PDF file.
Ukulele for Guitar Players
Product Code: UKEGTR
Author(s): Curt Sheller
Publisher(s): Curt Sheller Publications
Published: 2006-07-12 00:00:00
ISBN-13: 978-1-60321-001-0
Size: 8.5 x 11
Size: 8.5 x 11
Pages: 98
Price, Hard Copy: $19.95
Price, PDF: $3
You already know more than you think!
A guide to transferring the accumulated experience and knowledge gained as a guitar player to the ukulele.
Covers chords, scales, reading and the three most common ukulele tunings.
This book is for current and former guitar players discovering the ukulele for the first time or returning to the instrument
Ukulele for Guitar Players is a guide to transferring the accumulated experience and knowledge gained as a guitar played to the ukulele. Or exploring the possibilities that the ukulele offer. Covers chords, scale and an introduction to reading standard music notation on ukulele.
The ukulele is both a different instrument than the guitar and at the same time a lot like the guitar.
Guitar players that also play the ukulele find that it gives them a different and fresh look at how they also approach the guitar.
<div class="notice notice-quote">
<h4>Regarding my book Ukulele For Guitar Players</h4>
Ex-Beatle George Harrison received a gift from his good friend Tom Petty shortly before his death - a ukulele. Paul McCartney also gifted Harrison a ukulele. That's when I knew ukuleles were going mainstream. No more Don Ho jokes. No more Arthur Godfrey jokes. Ukuleles were cool. Ukulele For Guitar Players by Curt Sheller bets there's a new wave of guitar players discovering the uke for the first time, or returning to the instrument. Modern virtuosos include Jake Shimabukuro, James Hill, and ukulele jazz legend Lyle Ritz. The book enables guitar players to make the transition to the ukulele by using basic open-position chords, movable-form chords, triads, advanced-jazz chords, and essential scales. An introduction to reading standard music notation on ukulele, Sheller highlights both the similarities and the differences between the instruments. One gets the feeling if George Harrison was still with us, he'd be getting this book as a gift. ( illinoisentertainer.com, Posted on March 30th, 2006 in Monthly, Gear) </div>
Why Buy My Books
How to pay for this book
Thanks for visiting LearningUkulele.com! I hope you've enjoyed the site so far. My site does not run ads. It's supported by visitors, premium site members, and readers like you.
Short Answer
Because this book is only available directly through me (Curt Sheller), this site, and at our Funky Frets family music store. It is the only way this book can earn its keep, and its only source of revenue is visitors and site members like you. If you don't pay, the book dies, gets no updates, etc…
Good news is you can become a Premium Site Member your get this book for FREE as part of your paid subscription.
Long Answer
I'm not a venture-funded startup nor a major corporation. I'm—a self-employed musician, author, teacher, graphic artist located in southeastern Pennsylvania, USA. And this web site, books, lessons, songs and content have been grinding along in one form or another along since 1995, the ukulele part has literally been a full time effort since 2003 - literally years of effort have gone into creating this content.
Making my books only available on this, my web site is an experiment in using the web as a serious book publishing platform. My goal is to take my music expertise and knowledge that I've gained from the past 40 plus years of serious study, research and application as a performer, student, author, private music teacher and make it available in your quest to be a better musician, enjoy the ukulele more or just having more fun in what you are doing.
I wanted to deliver and present this material with a high standard of quality typically associated with traditional printed, mass produced books by traditional publishers. While taking advantage of all the web has to offer.
All my, Curt Sheller books are the sole product, with 100% of, and all the effort, graphic design, site coding, content, marketing, fulfillment, etc... - by one person – yours truly. And with the help of a few trusted fellow musicians, family, and friends to review before a book is released to wild.
Your purchase supports all that it takes to keep this site going. And, a membership is the best way to do that. I'll not do the Pateron or Kickstarter route for begging for money (nothing against fellow artists that go that route. pateron is a great way to support an artist - just not my cup-of-tea.)
Table of Contents: Ukulele for Guitar Players
Introduction
Ukulele History
Common Ukulele Sizes
Common Ukulele Tunings

"C" Tuning

C Tuning, High "G"
C Tuning, Low "G"

"D" Tuning

D Tuning, High "A"
D Tuning, Low "A"

"G" Tuning

G Tuning
G Tuning, High "D"
Summary

Open Position Chords

The Ukulele Chord Diagram
"G" Tuning

"G" Tuning Open Position Chords
Baritone Ukulele & Guitar
Transferring Chords to "G" Tuning

"C" Tuning

"C" Tuning Open Position Chords
"C" Tuning Relative to Guitar
Transferring Chords to "C" Tuning

"D" Tuning

"D" Tuning Open Position Chords
"D" Tuning Relative to Guitar
Transferring Chords to "D" Tuning

Tuning Transposition Chart
Transposing Chords
Summary

Movable Chord Forms

"G" Tuning F Movable Form Chords
"G" Tuning Bb Movable Form Chords
"C" Tuning Bb Movable Form Chords
"C" Tuning Eb Movable Form Chords
"D" Tuning C Movable Form Chords
"D" Tuning F Movable Form Chords

Triads
4-Part Jazz Chords

Major Triads
Minor Triads
Diminished Triads
Augmented Triads
Seventh Chords

Scale Interval Formula Chart
The Fifteen Major Scales (Keys)
Essential Scales

The Pentatonic Scale
Additional Blues Scale Shapes
The Pentatonic Scale
Additional Pentatonic Scale Shapes
Identifying the Names of the Notes
Getting More Information
What Are a Scale's Associated Chords?
Blues vs. Minor Pentatonic
Expanding the Blues Scale

Reading Standard Music Notation

Round the Mulberry Bush
The Third Uke Man
Second Story Uke

Learning The Ukulele Fingerboard
Errata: Ukulele for Guitar Players
2/21/2007 - Added sample pages
2/3/2006 - Book Released (20060305.1.1)
1/1/2006 - Errata File Created
The latest download ( PDF or eBook ) always has the latest changes and errata changes incorporated and contain the most up-to-date version of the file. If you download the book from LearningUkulele.com you'll be notified when there is a new version of the book available.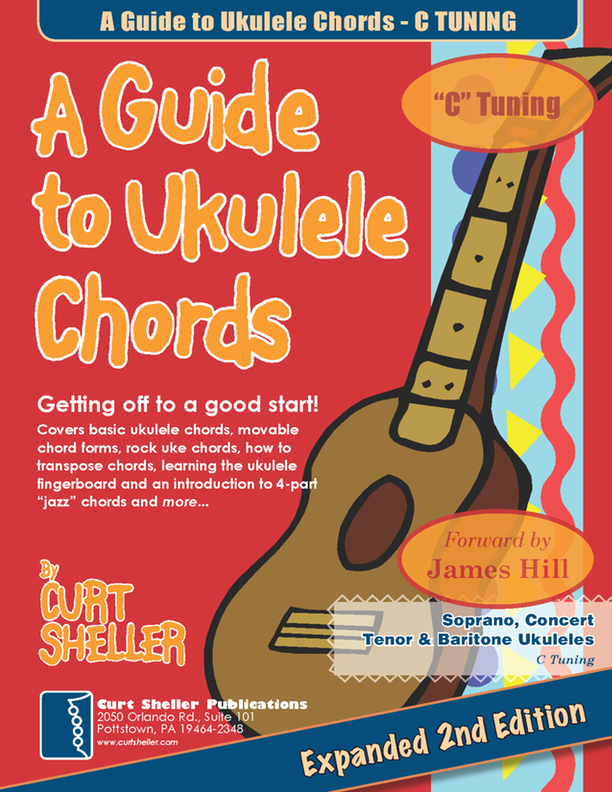 A Guide to Ukulele Chords, 2nd Edition

Updated: Jan 10, 2020
A Guide to Ukulele Chords, Second Edition is designed as a guide to ukulele chords. Covering the basic ukulele chords that ALL ukulele players SHOULD know. A Guide to Ukulele Chords covers movable chord forms, rock chords, how to transpose chords, learning the ukulele fingerboard and includes an introduction to 4-part, a.k.a jazz chords and more...
Brown Eyed Girl
Updated: Feb 5, 2016
Brown Eyed Girl is a song by Northern Irish singer-songwriter Van Morrison. Written and recorded in 1967 by Van Morrison and produced by Bang Records chief Bert Berns, it was first released in May 1967 on the album Blowin' Your Mind!. When released as a single, it rose to number eight on the Cashbox charts, and reached number ten on the Billboard Hot 100.
NOTE: Each higher access level includes ALL the benefits of the lower levels. Private Lessons include all the benefits of a Premium Access Plans as long as you remain a student on the schedule.
---
Just browsing over both books, they look fantastic! I'm a guitarist and uke player for over 25 years and was thinking about writing a ukulele book but you've already written what I think are the best, most comprehensive and thorough books I've ever seen for the instrument. I just might end up buying every book you've written and I'll be giving my highest recommendation for your books to my friends and students. Thank you so much for taking the time to write such great books! — Peter Rhee
Aloha, Curt, All I can say is WOW! What you have accomplished is simply incredible! All the best — Glen Hirabayashi, The Aloha Boys
Folks, if you haven't stopped by Curt's site, do so right now! ..And get his books, they are fantastic. This guy knows his stuff and is able to pass it along too. — Alan Johnson Proprietor, The 4th Peg
I can highly recommend Curt's Uke books — I have four of them and they are excellent. — fatveg — Portland
Thanks for visiting and checking out the site!
Original Curtie Animation from 1987 for my first web site on a Macintosh II. 34 years ago. Man, does time fly.
"Built for myself (Curt), and sharing with the `Ukulele community!"
LearningUkulele.com has one of the largest collections of lessons, songs, and TABS, luthiers, ukulele builders, ukulele festival and club information, and, ukulele links on the web. I've been on the ®Internet since the early 1990's and This site just never stops growing!!!
Content is added and updated almost daily - so check back often. I really do need to get out more ;-)