This is where I – (Curt) will hopefully keep you updated on the pages that have been changed, added, or been edited. For Lessons , Songs , and Books checkout their respective home pages.
2023
20 years of LearningUkulele.com & Learning Ukulele with Curt.
September
NEW Rocky Top , Rock Around The Clock , Under The Boardwalk , Mele Kalimaka added to The Daily Ukulele, a.k.a, Yellow Book Harmonic Analysis Worksheets series of lessons.

UPDATED

Updates to the Jazz Repertoire and Blues Repertoire . Curt presented two workshop this past weekend on Exploring Jazz and Blues at the 2023 New Jersey Uke Fest — Great to back in NJ. Both drawn right from these pages.
2023 and summer in the Northern Hemisphere is winding down, kids are back to schools, vacations ending. Good time for one to get back into more ukulele and learn a few new songs and in my case (Curt) re-learn a few of my old sons. Update the leadsheets to any tweaks I've made to my arrangements.

UPDATED

Added the Songs , updates to a lot of the songs. It's about playing songs.
August
July
UPDATED

— Finally figured out getting the Sidebar Navigation to show and hide depending on the screen size. You can also finally, using the burger menu button to show and hide the Sidebar one mobile (smaller screens).
June
May
UPDATED

and this Week's Featured Lesson: Major Arpeggios in Five Positions •

When it comes to chords, it's important to understand the notes they consist of and their intervals. Each chord is made up of a combination of specific notes, and the intervals between these notes determine the chord's quality and character. By learning the names and intervals of the notes in a chord, you can understand its structure and how it functions within a particular musical context.

NEW

UPDATED

Added Tiny Tim to the Ukulele History Timeline .
NEW

UPDATED

updated ALL festival listings I could and added a few new one.
NEW

UPDATED

and Expanded, 2nd Edition of QuickStart Scale Fingerings for Ukulele, Volume I, C Tuning book. THis is a FREE version for ALL Premium Members. However, anyone can view the entire book online, albeit a smaller version depending on your computer screen.
NEW

UPDATED

leadsheets for the Bobby Timmons's classic, Moanin' . Now includes bot the original key of Fm chart matching the Premium Play-along track and a Ukulele friendly key of Cm leadsheet.
NEW Added Ryan's Ukes to the Ukulele Luthiers listing. I, (Curt) meet Ray at the 2023 Allegheny Ukulele Soirée and he builds some amazing ukulele.

UPDATED

•

LESSON

Series

Churning through the songs in the the songs in the Daily Ukulele (the Yellow Book) and performing an harmonic analysis on selected songs (70+ done as of May 1st) using the principles from my (Curt) book: Harmonic Analysis for Scale and Chord Selection . Checkout the Daily Ukulele Song Index for the songs that are done. We'll be adding songs as they are done. Let Curt if there are any songs you would like tackled.
April
March
February
UPDATED

• Site Terms and Conditions/Policy .

UPDATED

•

LESSON

Series

Harmonic Analysis for Scale and Chord Selection lessons series is being updated with all the PDF content being viewable online. All the content for the book, Harmonic Analysis for Scale and Chord Selection book has always been available for viewing using the Online PDF Viewer. Over the course of the next few weeks all the content will be available viewable online with additional content added.
NEW • Every wanted to know just how to warmup for a performance or the local jam? A new Lessons Series has been stated with some tips and tricks that the pros us

LESSON

Series

Warm Up Routines .
NEW • Related Books and Workshops have been added to ALL

LESSON

Series

.

UPDATED

•

UKULELE

Lesson

Ukulele Chords – Triads, Strings 1 2 3 .

UPDATED

• Punxsutawney Phil saw his shadow and said six more weeks of winter.

UPDATED

• Waiting for Punxsutawney Phil to let us know (Northeast USA) is we have six more weeks of winter.
We'll let you know the result February 2nd, Ground Hoq Day.
Punxsutawney Phil
WikipediA : Punxsutawney Phil is the name given to a groundhog residing in Young Township near Punxsutawney, Pennsylvania, who is the central figure in Punxsutawney's annual Groundhog Day celebration. The Groundhog Day celebration is rooted in a Celtic and Germanic tradition that says that if a hibernating animal casts a shadow on February 2, the pagan holiday of Imbolc (known among Christians as Candlemas), winter and cold weather will last another six weeks. If no shadow is seen, legend says, spring will come early. In Germany, the tradition evolved into a myth that if the sun came out on Candlemas, a hedgehog would cast its shadow, predicting snow all the way into May.[9] When German immigrants settled in Pennsylvania, they transferred the tradition onto local fauna, replacing hedgehogs with groundhogs. Several other towns in the region hold similar Groundhog Day events.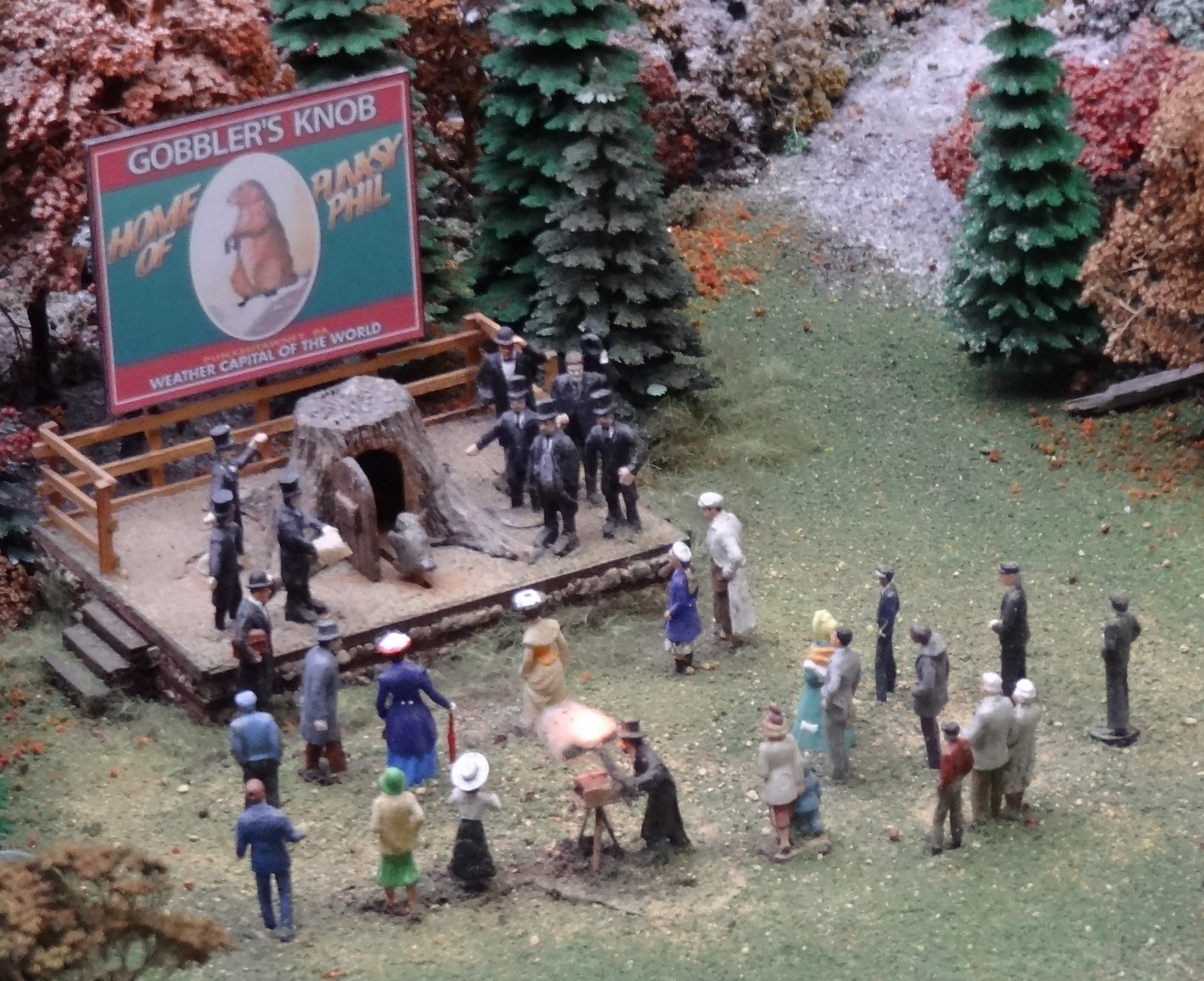 There are quite a few towns that have their own ground hog seasonal prognosticator: Balzac Billy, Balzac, Alberta, Canada • Milltown Mel, Milltown, New Jersey, USA, General Beauregard Lee, George, USA for Southern USA • Staten Island Chuck, Staten Island, New York City, USA.
January
NEW • Added Bonanza Ukuleles to the Instrument Manufactures & Luthiers listings. Couldn't find any place on their site for what state they live in. Do know they are in the USA.

UPDATED

• Updates to Open Position Chords and Their Movable Forms Series . This is a great companion to the Learn A Chord A Day Series .
NEW • Added Triad information to January's Chord a Day chords .
NEW • Finally got around to implementing Instant PDF Downloads when buying a PDF (working through getting all PDFs for instant download.) to the site. I no longer have to be sure to catch an email that a PDF has been purchased. You will get an email with a download link right after purchase to download the file.

UPDATED

• The Learn a New Chord Each Day!!! series has been updated with the common Harmonic Functions of the chords This series was started 2013 and has been added to and updated each year ever since.
NEW • Added Root Position piano chords to January's The Learn a New Chord Each Day!!! . This is great for adding a bit of piano to your repertoire. Especially with the ability to do your own home recording. The later great jazz ukulele player, Lyle Ritz , one of the Wrecking Crew session bassists. Did the bass on a his CD, No Frills ukulele CD on a MIDI keyboard direct into a MacBook.
December
November
October
September
August
NEW User Profile Access Menu
Members can now access their Favorites, Completed Lessons, Assets & Assignments and if a Private Student their Lesson Notes through a handy dandy dropdown menu by clicking on their profile avatar in the upper right hand corner of the page.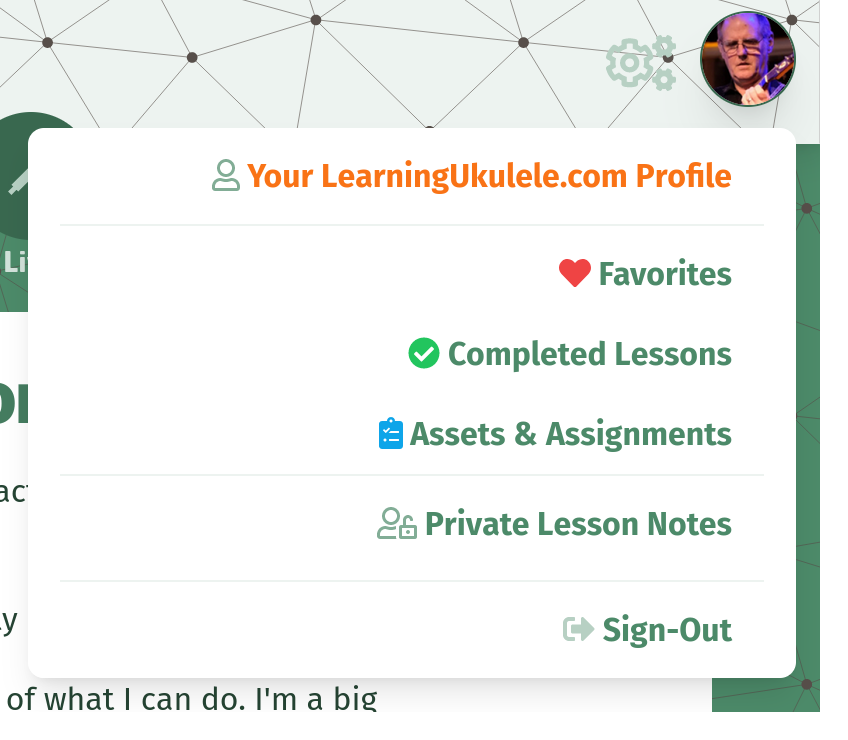 July
June
May
April
March
WOW!, I actually keep this up for a year — might actually keep it going.
February
January
December
November
October
September
August
July
June
May
April
March
Up To March 2021
There have been a lot of changes, tweaks and new information added to LearningUkulele.com. So take a look around and see what you can find.