Classic Jazz Styled Ukuleles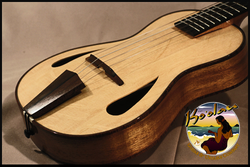 Although you can play any style music on any ukulele. There are certain styles of instrument associated with particular styles of music. Think archtop guitars and jazz, Maccaferri and Selmer style guitar associated with Django Reinhardt and gypsy jazz styles.
With that in mind here a few builders that can build you an archtop or Django style ukulele. Kala and Amahi Ukuleles makes a production ukulele that is in the archtop guitar style. I personally think the Django style ukulele is really cool. Both available at Funky Frets Music Store , Boyertown, PA USA.

Stapleton Guitars
Luthiers
I got my first guitar when i was about 13.A cheap and extremely nasty plywood model with metal strings about 1/2 " off the fingerboard(got me started on slide mind!)First thing I did was shave down the floating bridge to save my soft little fingers -it was the start of a long journey. Years went by I learnt to pick a little and went through a succession of gradually better guitars until I visited a guitar shop in Denmark St London(tin pan alley) and tried a Martin an epiphany - had to get one .I saved for a second hand D-35 but I wanted more. Budget would not allow so I hit on the idea of building my own. Enrolled at an evening class. 4 years later there it was a steel string, solid as a wardrobe but it played.


Kepasa Ukulele
Luthiers
Kepasa Ukuleles are custom made by Kevin Crossett in Middlesex, VT. Kepasa Ukuleles are available in soprano, concert and tenor models, many of which are inspired by vintage ukuleles such as the LeDomino, Hollywood, Vita, and other makes and models from the mainland yesteryear. The Kepasa Madeira is influenced by the Dias style soprano, and the Kepasa Gypsy Rose is influenced by the early Selmer-Maccaferri gypsy guitars. All models are optionally available with the Mi-Si Acoustic Trio pickup system, as well as other pickup options. Kevin is also the owner of The&nbsp;GuitarSam&nbsp;<a href="http://www.guitarsam.com" target="_blank">music store</a>&nbsp;in Montpelier, Vermont

Stefan Sonntag
Luthiers
Corresponding in size to the tenor ukulele, the Uke has a scale length of 39 cm. It is built like an acoustic archtop guitar, with parallel bracing and handcrafted arched top and back. The one-piece bridge provides a very direct transmission of string vibration to the body. The Uke is amplified by a single-coil pickup made by Coil Tec.</p


Pō Mahina - 'Ukulele & Guitars
Luthiers
My name is Dennis Lake and here you'll find photos and information on the Custom 'Ukulele and Guitars I make at my home shop here on the southern slope of Mauna Loa, in the remote and rural Ka'u District of the Big Island of Hawai'i. This is a very small shop. I work alone, with an occasional assist from a talented friend. Since all of my instruments are individually made, and most are custom orders, each is really "one of a kind".


Koll Guitar Company
Luthiers
Saul Koll grew up in southern California just north of Los Angeles in a town called Newhall. He always had an interest in how things were made and what made things work. While other kids were playing sports, Saul was in the garage taking expensive toys apart and gluing the components into new weird new contraptions. At 12 he started to play the guitar and his compulsive tendencies were then directed to learning the instrument. It was about this time that he found a book on guitar making at the library in Redondo Beach. It was Classic Guitar Construction by Irving Sloan. One of the earliest writings on the subject and as it turns out eventually very influential.(Notice how even at the beach, Saul was at the library!) Saul found the book intriguing but beyond his skills at age 12. He continued his guitar studies and school and all the usual teenage stuff.

Andreas Kapkes
Luthiers
Whatever You'd like to ask for - perhaps a jazz-mandola, bouzoukis, speciality guitars small or big, A or F mandolins, tenor guitars, ukuleles, a mando-uke, banjos, electric guitars and mandolins, carved tops and backs, fancy woods, custom inlays, french polish... whatever you've seen in the books or heard of... don't hesitate to ask for your own special instrument. There will be a way to make your dream come true at a reasonable price!