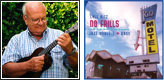 Lyle Ritz
Musicians
( In the studio with Ray Charles ) Lyle Joseph Ritz (born January 10, 1930 in Cleveland, Ohio) is an American jazz ukulele musician who was a key part of the Hawaii ukulele genre. As part of the The Wrecking Crew, Ritz contributed to many American pop hits from the mid 1960s to the early 1980s. He was inducted to the Ukulele Hall of Fame Museum in 2007 and the Musicians Hall of Fame and Museum in 2007.



Benny Chong
Musicians
Ben Chong taught himself to play the ukulele when he was about 11 years old. After nine years or so, he virtually put the ukulele away for some thirty-five years. When I met him in 1964, he was the guitarist with the Ali'is, the band that backed up Don Ho. In 2000, I invited him to be one of the four artists in "The Art of Solo ukulele", a concert series that led to a CD and a public TV special. These events revitalized his interest in the ukulele, resulting in his album.



Byron Yasui
Musicians
Byron Yasui has been on the music faculty at the University of Hawai'i in his native Honolulu since 1972, where he teaches music theory, composition, and jazz improvisation. His experiences as a classroom instructor of 'ukulele include workshops at the 'Ukulele Hall of Fame Museum Expositions of 2001, 2002, and 2003 (all on the east coast), the 2004 UkeFestWest in Santa Cruz, California, the 'Ukulele Guild of Hawai'i annual conventions of 2002, 2003, and 2004, countless workshops at the University of Hawai'i Windward Community College since 2002, the Aloha Music Camps of 2004 and 2005 (Moloka'i), and various one day workshops on all of the Hawaiian islands since 2000. Many of these workshops were tied in with his participation as an 'ukulele soloist in concerts at the various venues.



Abraham Lagrimas Jr.
Musicians
Abe Lagrimas, Jr. is a versatile multi-instrumentalist who begun his musical journey when he first sat behind the drums at the age of four. As he learned more about drums and music, Abe gained an interest in other instruments as his career progressed. Predominantly known as a drummer, Abe is highly proficient on the vibraphone and the ukulele and continues to perform throughout the world on all three instruments and in many different musical situations.



Curt Sheller
Musicians
As an Author and Publisher I created Curt Sheller Publications in 1998 as a small publishing company catering to the needs of musicians, guitar players and ukulele players worldwide. Curt Sheller Publications provides for the resources and information to develop as a musician. Curt Sheller has over 40 years of playing experience, 20 plus years of teaching experience and publishing for over 10 years. As a Musician I have over 40 years playing experience in a variety of styles and s settings, most notably jazz. As a Private Music Teacher and *Educator Curt maintains a teaching schedule averaging between 40 and 60 private students a week.


Sarah Maisel
Musicians
Sarah Maisel (ukulele and vocals), hailed as the "Queen of Jazz Ukulele" by international music critics, has taken the world by storm and strum. 2013 has been quite a milestone for Sarah as she found herself performing for the first time overseas at the largest ukulele festivals in England and Australia.



Gerald Ross
Musicians
I began playing guitar at the age of fourteen, but my first musical instrument was a plastic recorder (song flute) that my brother gave to me. I would play along with records or with the music on the radio. I never thought about what I was doing I just played what sounded right to me. It must have sounded pretty good because my brothers would have me perform for their friends. They would turn on the radio and I would immediately be able to play along with whatever song they found. I also played the musical instruments that my three brothers would bring home from their school music lessons, a trumpet, a violin and a snare drum. My brothers quickly tired of their music lessons but during those few short months the instruments were in the house I had a wonderful time making sounds and attempting to make music with these instruments.



Craig Brandau
Musicians
After playing the guitar for over 40 years, Craig discovered the ukulele, and has not looked back. Although he enjoys nearly all styles of music, his true passion is creating chord melody arrangements and finds the ukulele to be a perfect fit. Craig's ukulele idols include Herb Ohta-San, Benny Chong, and Lyle Ritz. However, his single greatest influence is the legendary guitar player and arranger, Howard Heitmeyer.



Mark (Spanky) Gutierrez
Musicians
Mark "Spanky' Gutierrez was given a 'ukulele by a friend that owns a local second hand guitar store in the spring of 2002. He had no idea how it would impact his life. It was a no name baritone and the intonation was way off beyond the fifth fret but he couldn't put it down. Mark kept searching for a tune he couldn't play on the little instrument but there always seemed to be a way to work it out.



Paul Hemming's Uketet
Musicians
With The Paul Hemmings Uketet, the unassuming four-stringed Hawaiian instrument takes its place front and center, alongside bass and drums, in a well-seasoned jazz combo that pushes the boundaries of what has often been considered a mere novelty instrument. Based in New York City.
"Chords can not be named out of context. They can only be named in the context of a chord progression or chord sequence and then only when the chord's harmonic function within that progression can be determined." — Curt Sheller (me)
"That's the single most sensible statement about music that I've read in months, maybe years. Thanks, Curt." — John Kavanagh, The 4th Peg Parlor Room
"Curt, I really enjoyed your set at The Whiskey--your low key intros, mic persona provided a cool contrast with your complex uke technique and ingenious arrangements!" — Jared Denhard
NOTE: Each higher access level includes ALL the benefits of the lower levels. Private Lessons include all the benefits of a Premium Access Plans as long as you remain a student on the schedule.
---
Just browsing over both books, they look fantastic! I'm a guitarist and uke player for over 25 years and was thinking about writing a ukulele book but you've already written what I think are the best, most comprehensive and thorough books I've ever seen for the instrument. I just might end up buying every book you've written and I'll be giving my highest recommendation for your books to my friends and students. Thank you so much for taking the time to write such great books! — Peter Rhee
Aloha, Curt, All I can say is WOW! What you have accomplished is simply incredible! All the best — Glen Hirabayashi, The Aloha Boys
Folks, if you haven't stopped by Curt's site, do so right now! ..And get his books, they are fantastic. This guy knows his stuff and is able to pass it along too. — Alan Johnson Proprietor, The 4th Peg
I can highly recommend Curt's Uke books — I have four of them and they are excellent. — fatveg — Portland
Thanks for visiting and checking out the site!
Original Curtie Animation from 1987 for my first web site on a Macintosh II. 34 years ago. Man, does time fly.
"Built for myself (Curt), and sharing with the `Ukulele community!"
LearningUkulele.com has one of the largest collections of lessons, songs, and TABS, Luthiers, ukulele builders, ukulele festival and club information, and, ukulele links on the web. I've been on the ®Internet since the early 1990's and This site just never stops growing!!!
Content is added and updated almost daily - so check back often. I really do need to get out more ;-)