What is Improvisation?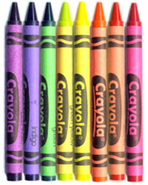 Improvisation or improv is the art of creating spontaneous melodies, i.e., solos, licks, and riffs.
Many novice performers often feel discouraged when confronted with the task of mastering "scales." Some might have a basic understanding of a scale or two but encounter challenges when attempting to translate that knowledge into musical expression. There's a sense of enigma or enchantment surrounding the origins of ideas for these impromptu melodies and licks. When you factor in the complexities of finger placement and the various possible note positions, it's no surprise that players find improvisation to be a formidable endeavor.
It's like a box of crayons and a blank page – Where do I start?.
Improv is simply composing melodies in real-time. So if you know where melodies come from and what they are mad of - it becomes relatively easy. This series of lessons takes the mystery out of creating your solos, licks, and riffs.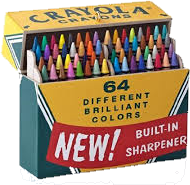 As a young crayon artist, 4 or 5 year old, I was sure I too would be a better coloring book artist if I got my hands on my older cousin's box of 64 crayons with the sharpener. Well, when I did, I became really good at sharpening crayons. It turns out it's the artist, not the crayon.
The same goes for music. We're all given' them the same box of crayons. It's not the number of crayons that you have; it's what you can do with what you have.
PDF & Hard Copy Books
Immediate Downloads of PDF Books. Hard Copies are, naturally shipped.
Most, if not all of the above books are available for FREE download as part of a Premium LearningUkulele.com Site Access.
In addition to on-line, right here on LearningUkulele.com, hard copy books are available at , Funky Frets and a few select ukulele dealers. Retailers wishing to carry books by Curt Sheller can contact me, Curt directly here on LearningUkulele.com for more info and to get setup. However, I'm pretty much going all digital and make the content viewable online - just like you can preview a book at a traditional book store.
Improvisation is More Than Just Scales
Most people think, to learn improvisation, you need to master your scales. That's true—but it's just a starting point. And, granted, scales are a big part of what you draw from for improvisation. In additional to your scales, there's also intervals, arpeggios, and sequences — which actually also come from scales as well. It's how you use and apply them that counts.
Essential Jazz Scales?
A scale is not really a Jazz scale or Blues or Rock. A scale is just a collection of notes. It is how you use and develop these collections of notes. Some are more common in one style vs. another.
In Jazz, we can base a large majority of the scales that we will ever need off the Major (Ionian) and Natural Minor (Aeolian) scales. From these two scales, you can create or derive any other scales and scale modes that you need for playing jazz.
Here are the Major / Ionian and Natural Minor / Aeolian scale shapes to memorize. These two scales are core, Reference Scales, (pg 19 of Daily Practice Material for the Contemporary Ukulele ). Whatever you call them, they are essential.
Essential Scale for Exploring Jazz
All scale examples are shown with a C root for comparison.
Contemporary Scales
Blues or Minor Pentatonic* ( C, Eb, F, G, Bb, C` )
Pentatonic or Major Pentatonic ( C D E G A C` )
Modal Scales
Ionian ( C, D, E, F, G, A, B, C` )
Dorian ( C, D, E, F, G, A, B, C` )
Phrygian ( C, Db, Eb, F, G, Ab, Bb, C` )
Lydian ( C, D, E, F#, G, A, B, C` )
Mixolydian or Dominant ( C, D, E, F, G, A, Bb, C` )
Aeolian or Natural Minor ( C, D, Eb, F, G, Ab, Bb, C` )
Locrian ( C, Db, Eb, F, Gb, Ab, Bb, C` )
Notice: All te modal scales end in ian.
Traditional Scales
Major ( C D E F G A B C` )
Natural Minor ( C D Eb F G Ab Bb C` )
Harmonic Minor ( C D Eb F G Ab B C` )
Jazz Melodic Minor ( C D Eb F G A B C` )
Diminished ( C D Eb F Gb Ab A B C`)
Whole Tone ( C D E F# G# A# C`)
Altered Scales
Mixolydian +4 or Lydian Dominant ( C D E F# G A Bb C` )
Mixolydian -2, -6 ( C Db E F G Ab Bb C` )
Mixolydian -2 ( C Db E F G A Bb C` )
Mixolydian -6 ( C D E F G Ab Bb C` )
Supplemental Scales
Inverted Diminished ( C Db D# E F# G A Bb C` )
Super Locrian ( C Db Eb Fb Gb Ab Bb C` )
* There is some overlap with these essential scales, with some just alternate names for the same set of notes.
DERIVED SCALES — From these essential jazz scales other scales can be derived for use in the jazz idiom.
Most of the above scales are available as an individual book from my QuickStart Series of Scale and Arpeggio Fingering series books.
QuickStart Scale & Arpeggio Fingerings are a highly organized, efficient system of scale and arpeggio fingerings. Each fingering pattern is shown with a fingerboard shape, TAB and standard music notation. Related chords are also explained for each scale.
Master these fingerings and unlock your potential for improvisation.
Whether your interest is in Blues, Rock, Jazz, Country or somewhere in between ant QuickStart Scale & Arpeggio Fingerings Series book is a valuable addition to your musical library.
The Blues
The Blues — a progression, a scale, a felling. The blues is at the heart of all American music. It's found its way into rock, country, folk. R&B and Jazz. It's a great vehicle to explore jazz.
The Mixolydian Scale and the Blues
The Mixolydian scale, sometimes called the Dominant scale, is a great place to start when learning to soloing in more advanced jazz styles. This is a great "bridge" scale widely used in the blues, rock, and R&B styles. It's a great scale to get your feet wet with when exploring jazz.
The Mixolydian scale is created by lowering the seventh scale degree of a major scale one half step. This gives the Mixolydian scale a formula of (1 2 3 4 5 6 b7 8).
The Blues is the most common song form in music and can easily be "jazzed" up with 4-part chords .
In Jazz, we can base a lot of the scales that we'll ever need from the Major (Ionian) and Natural Minor (Aeolian) scales. From theses two scales, you can create the essential scales you need in jazz styles.