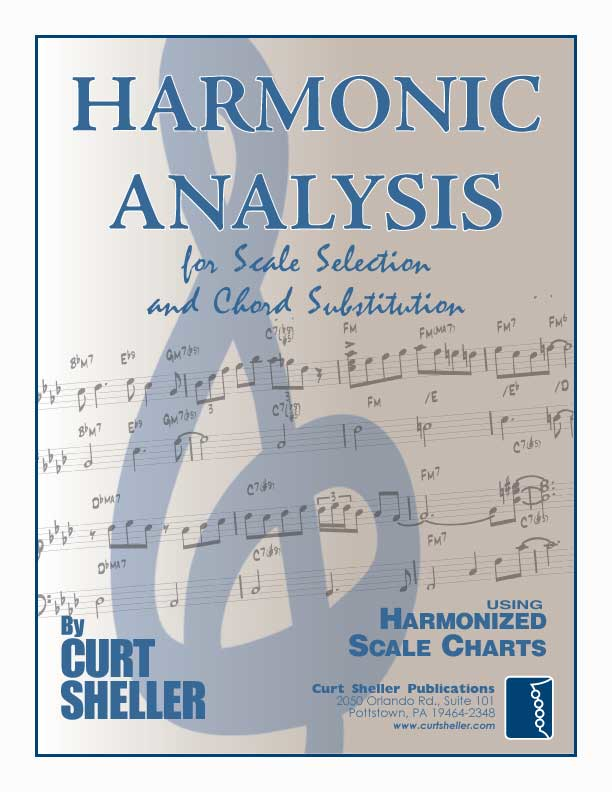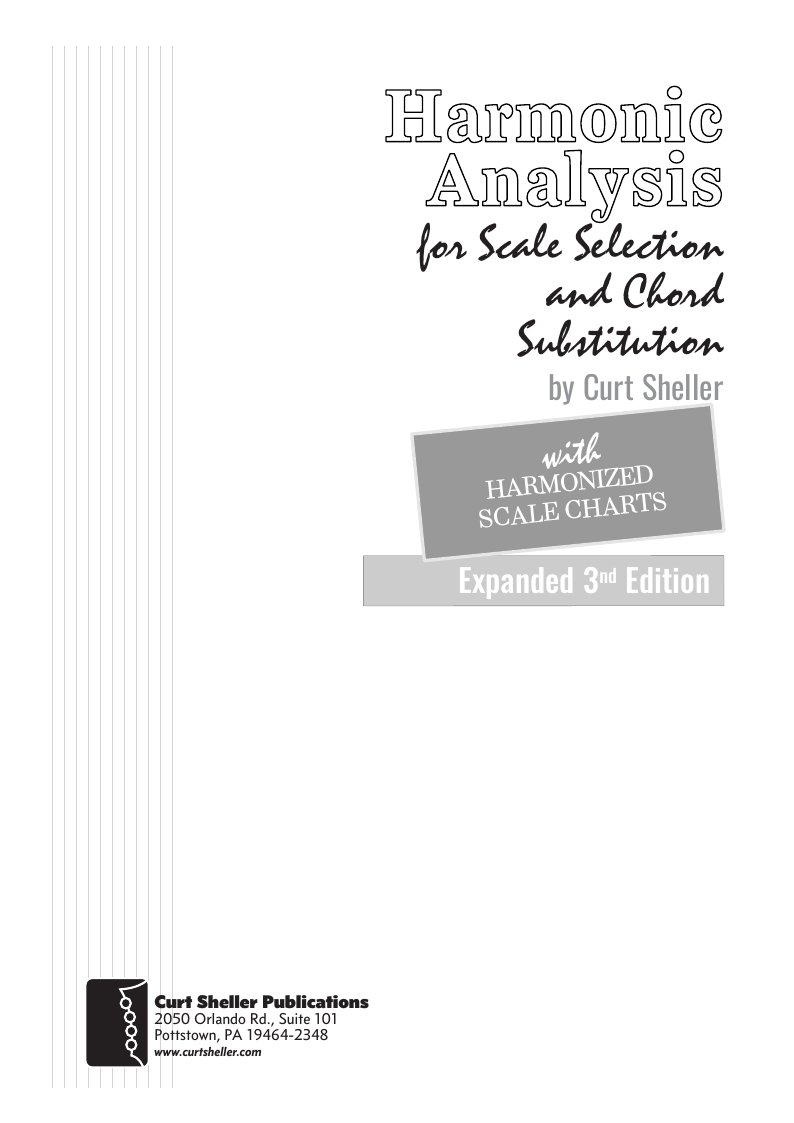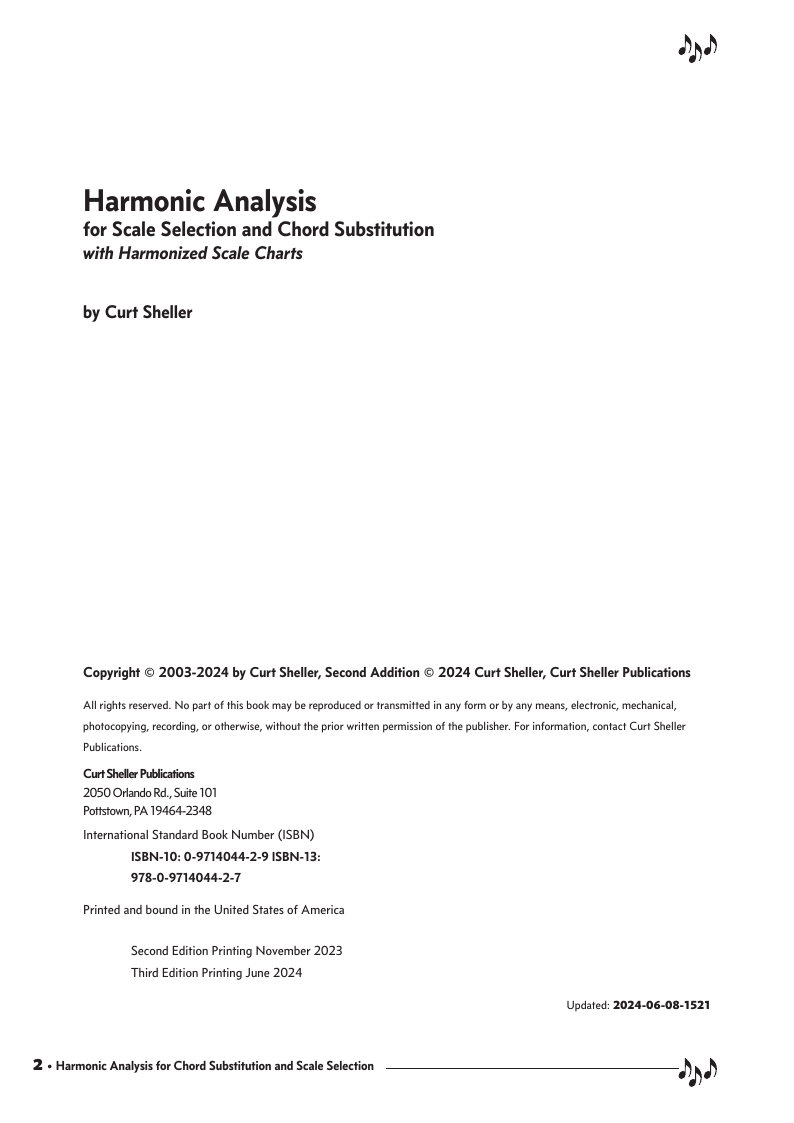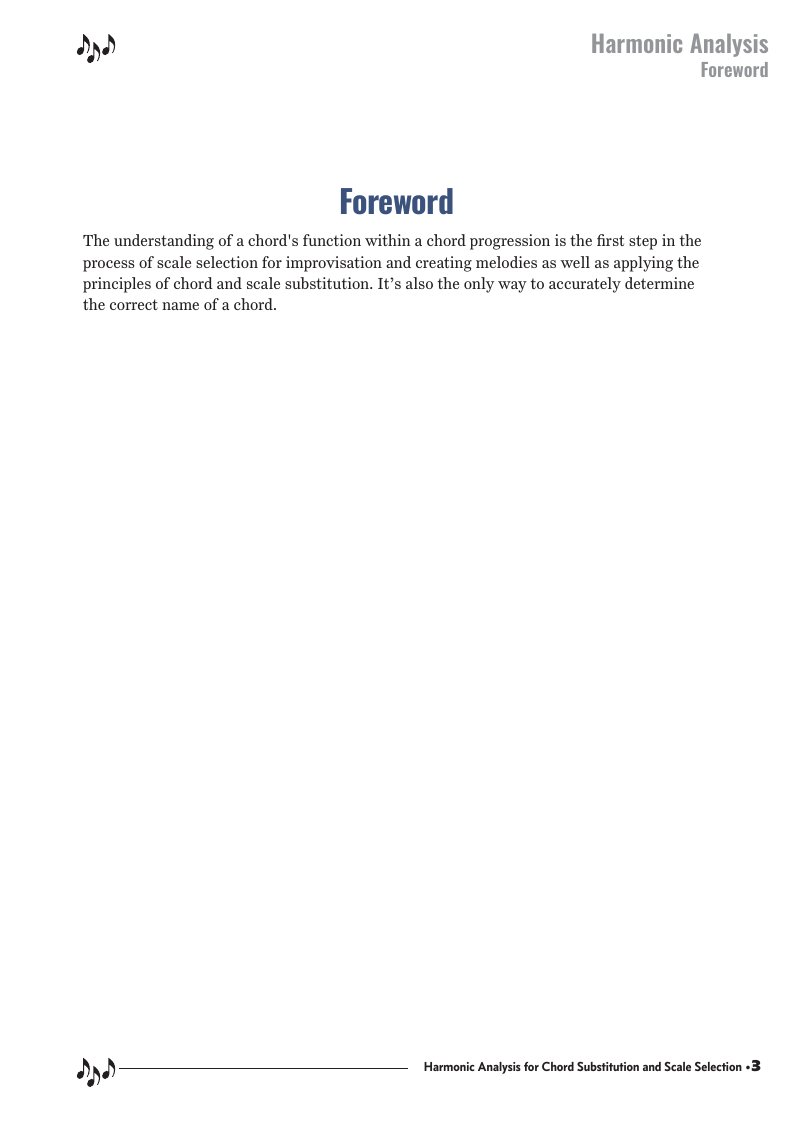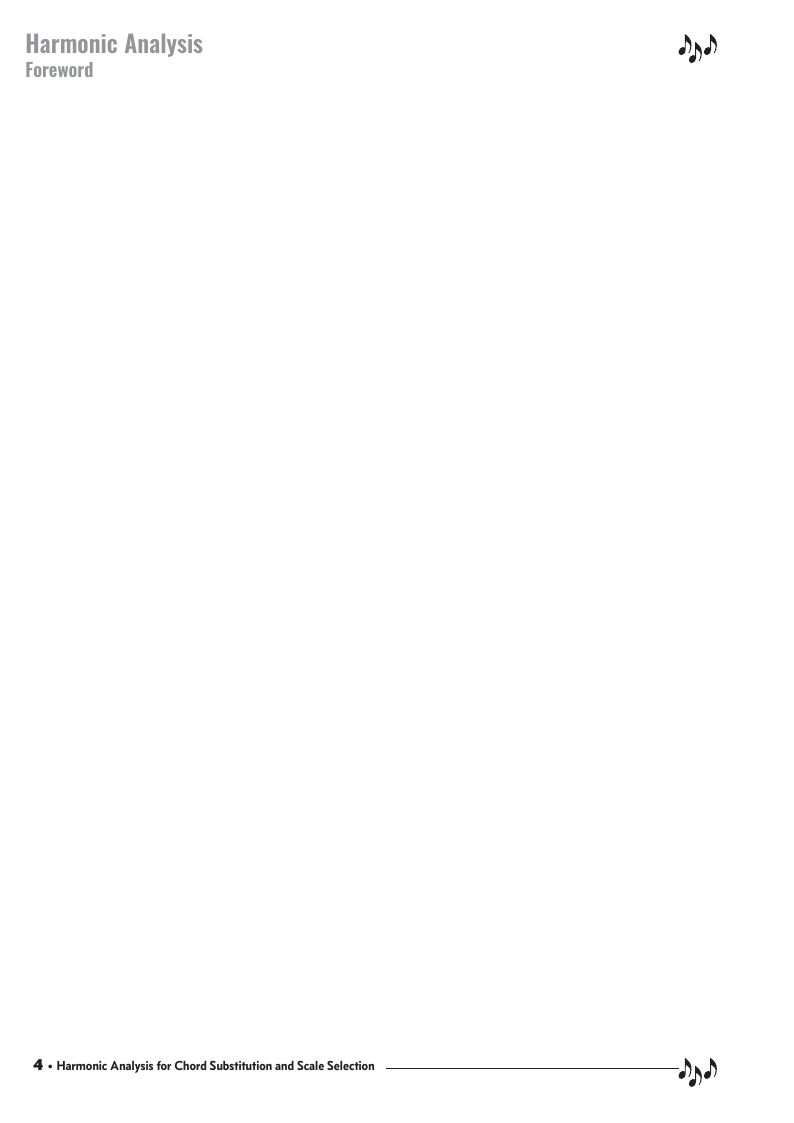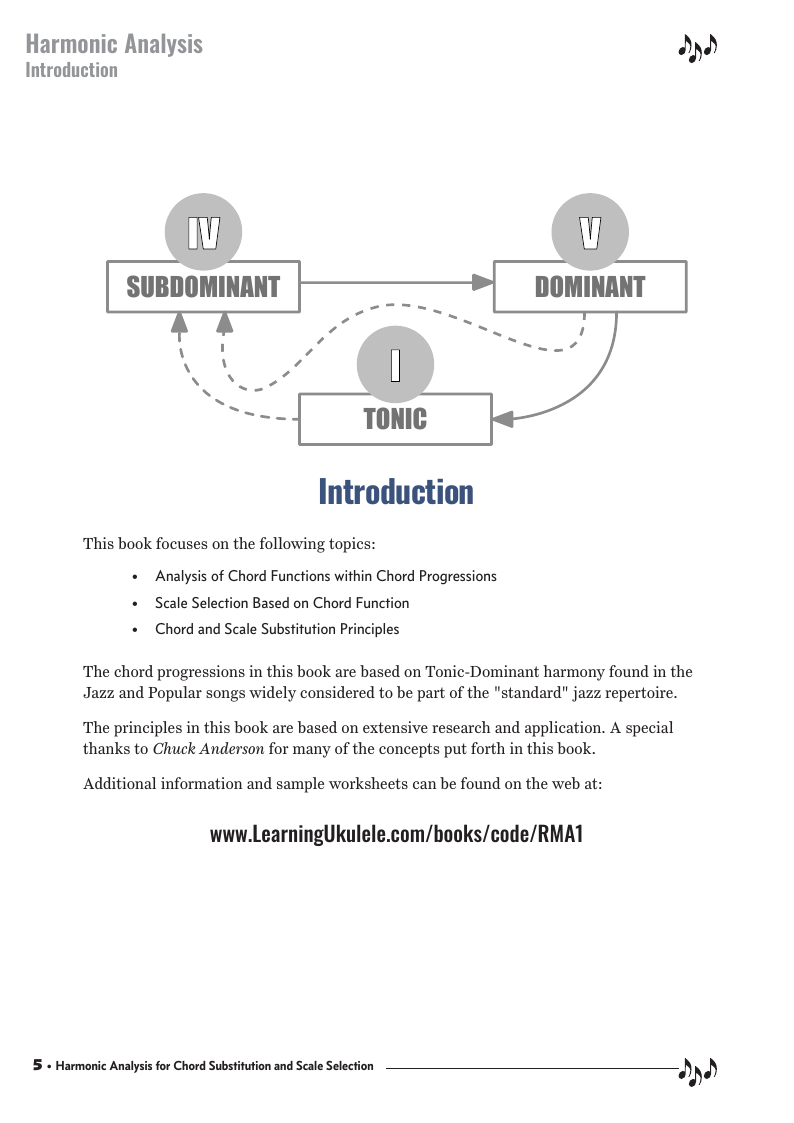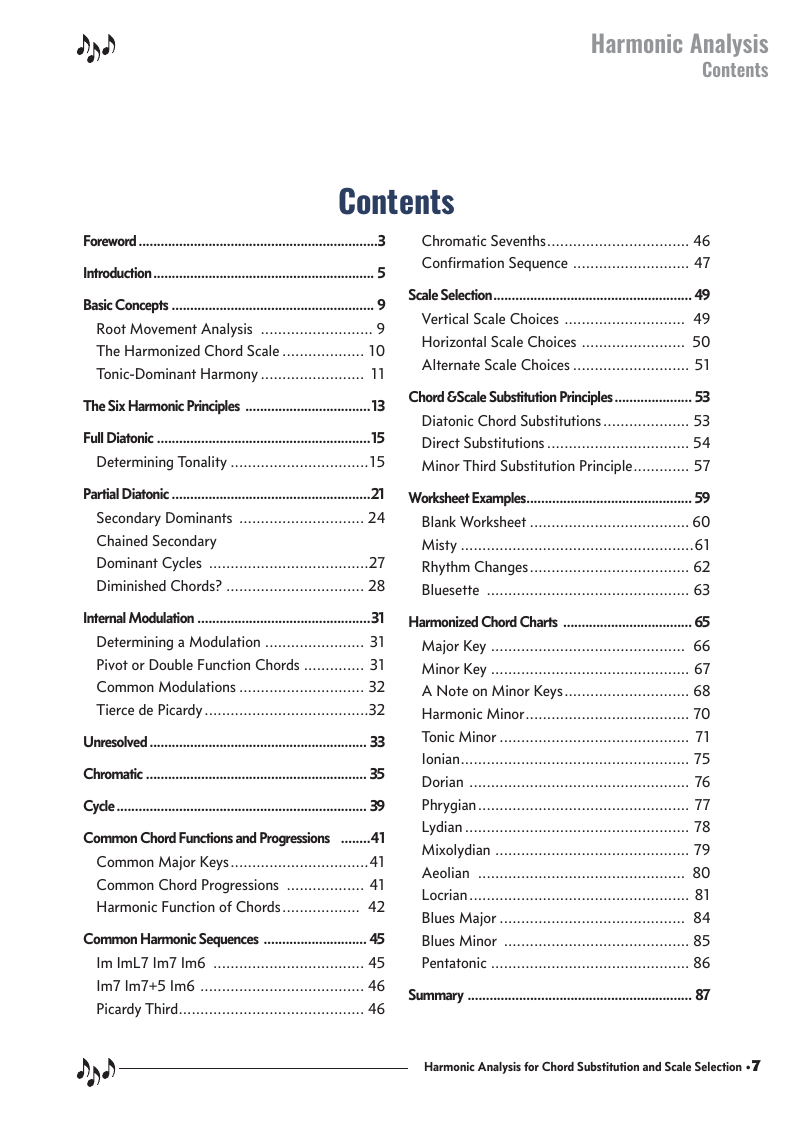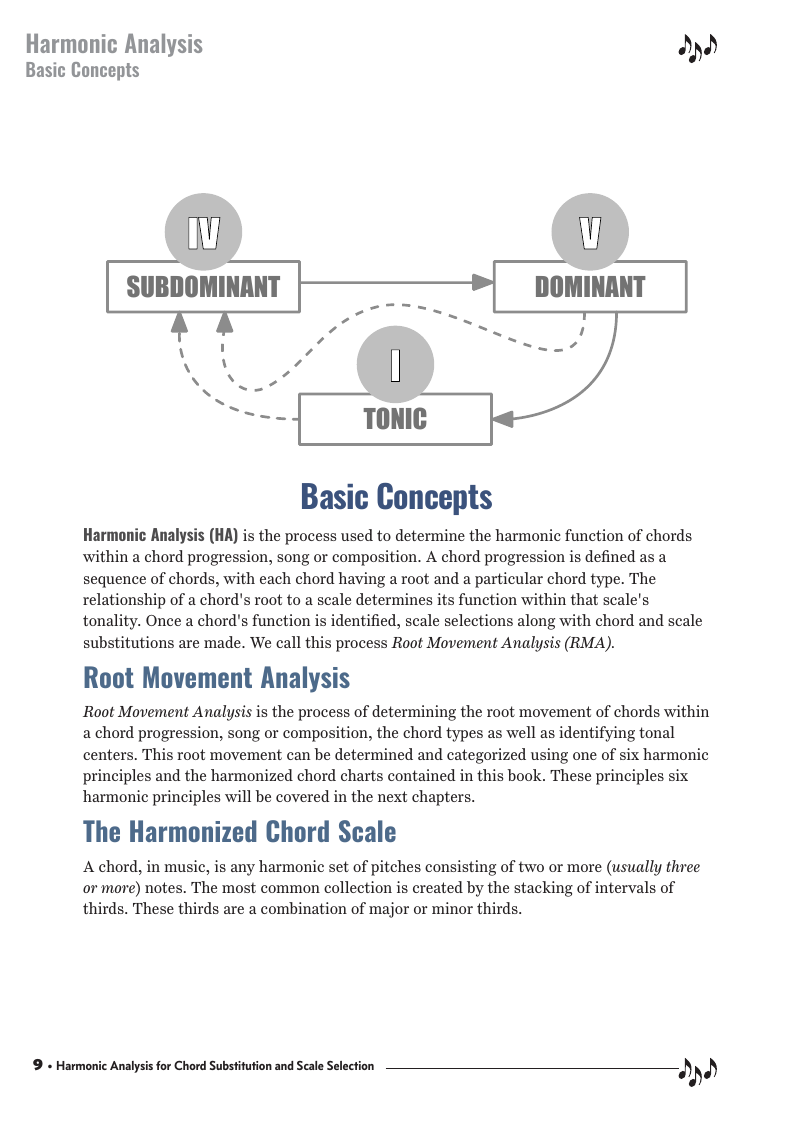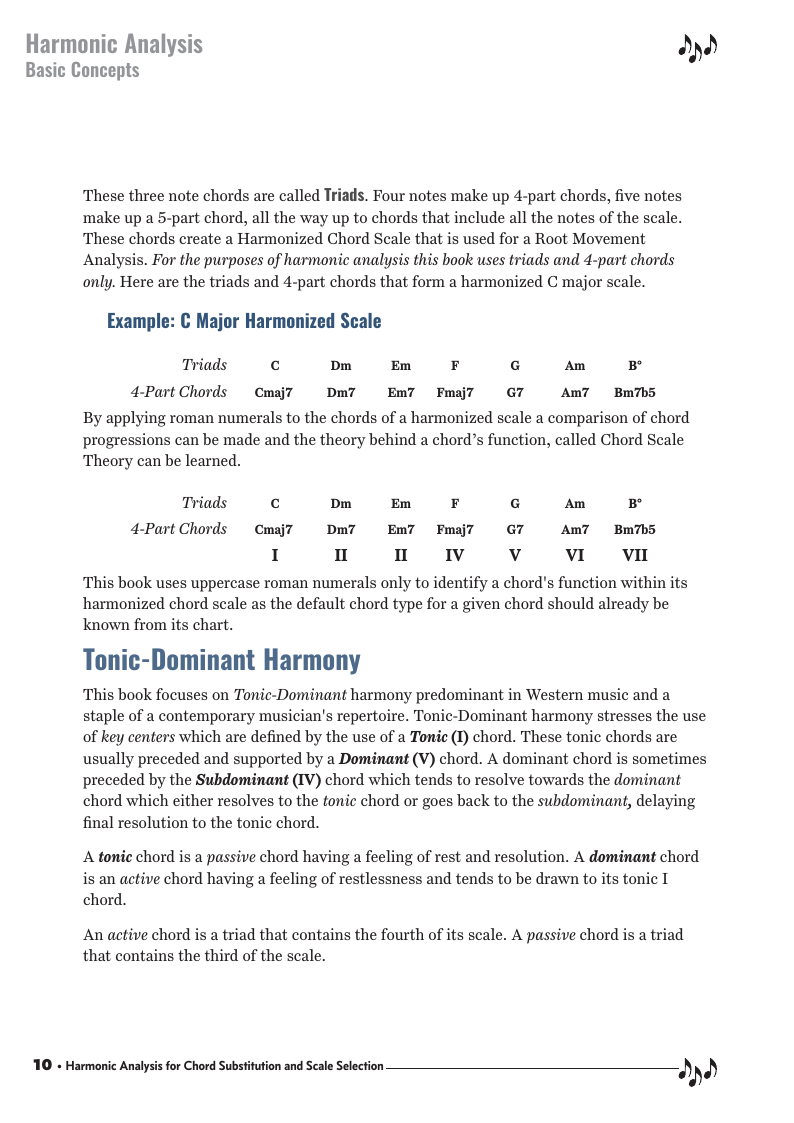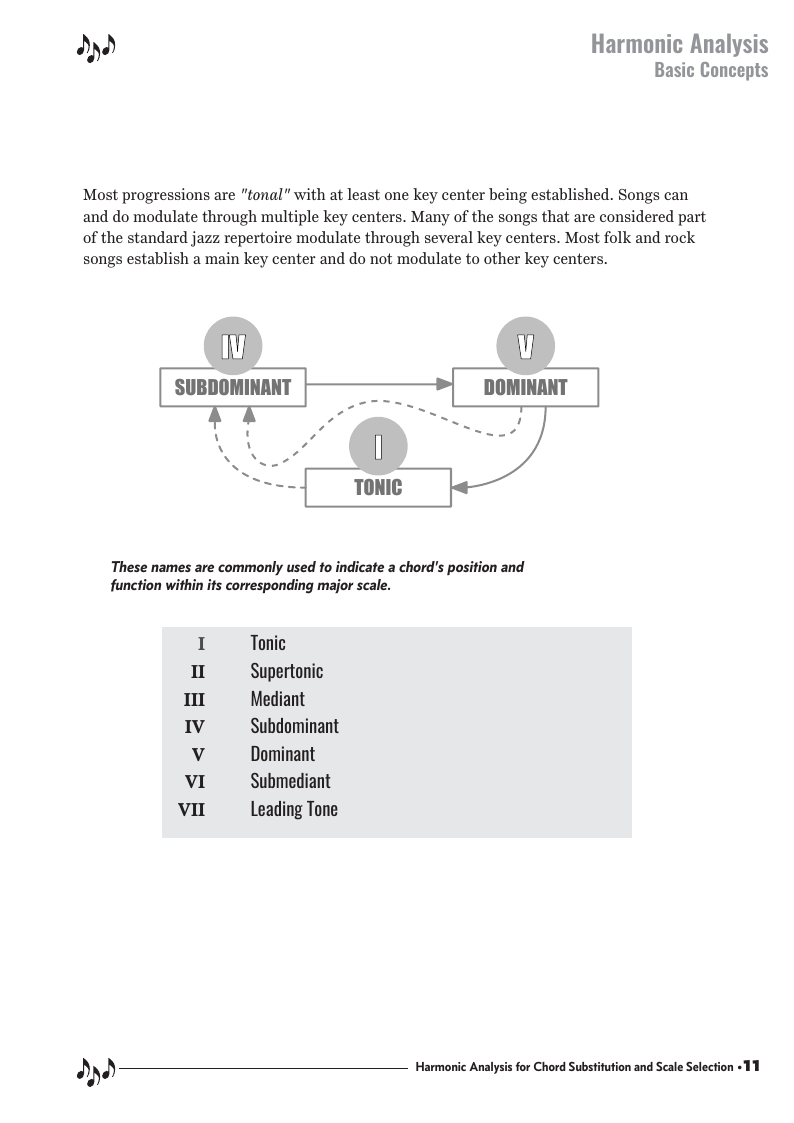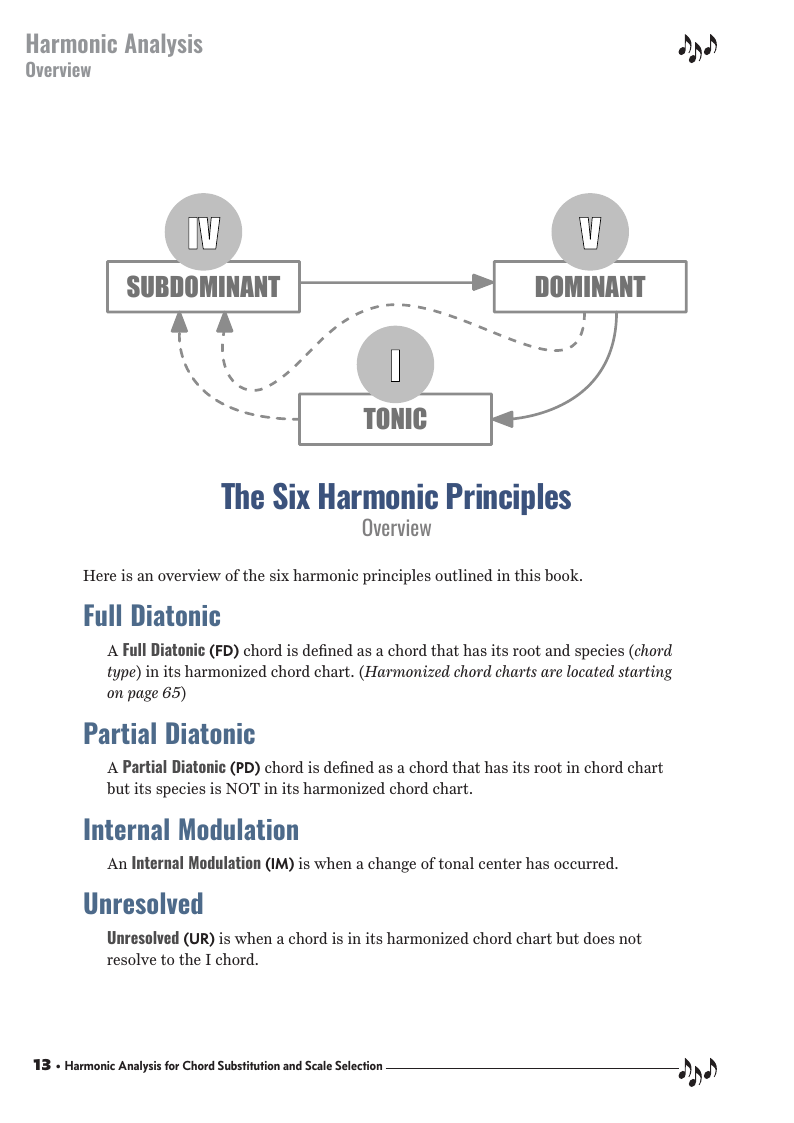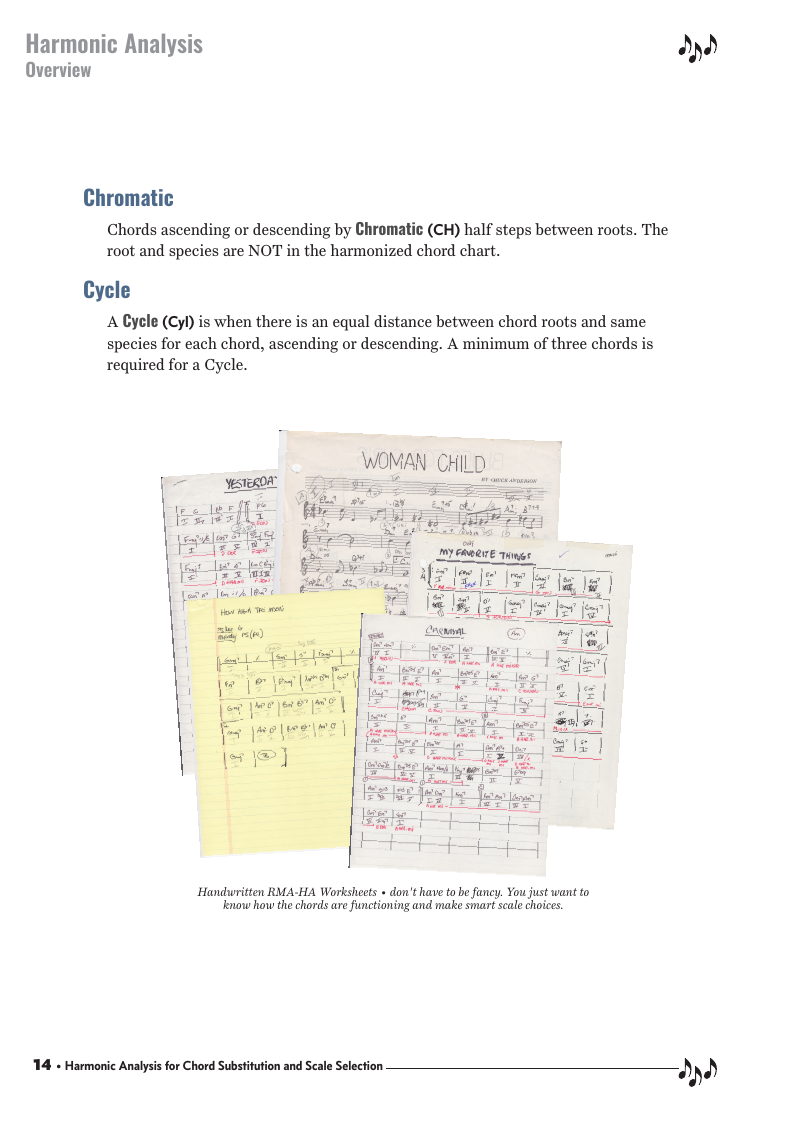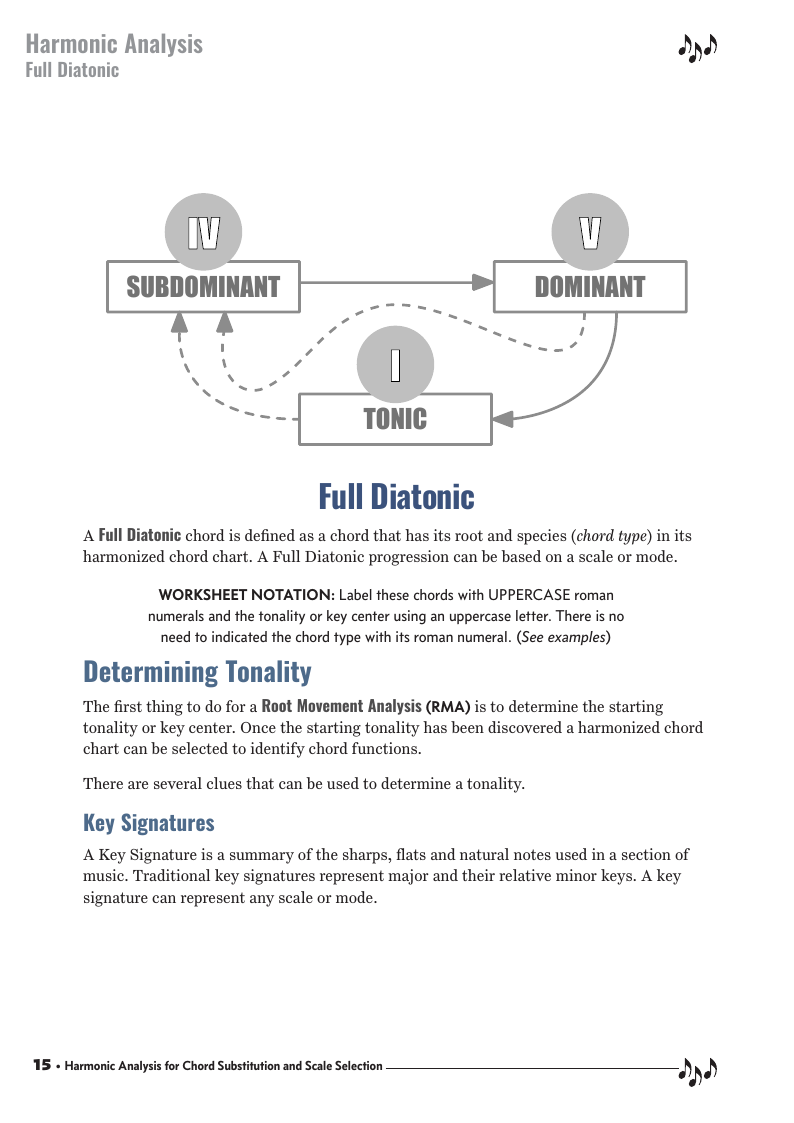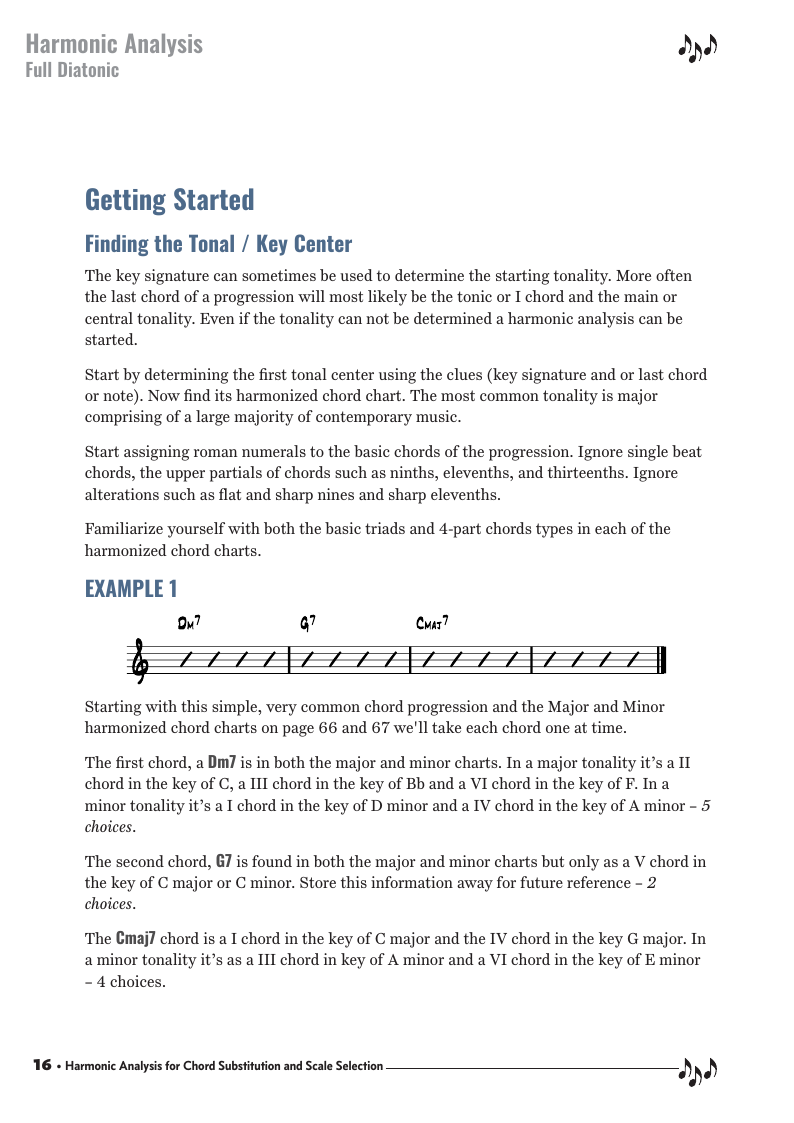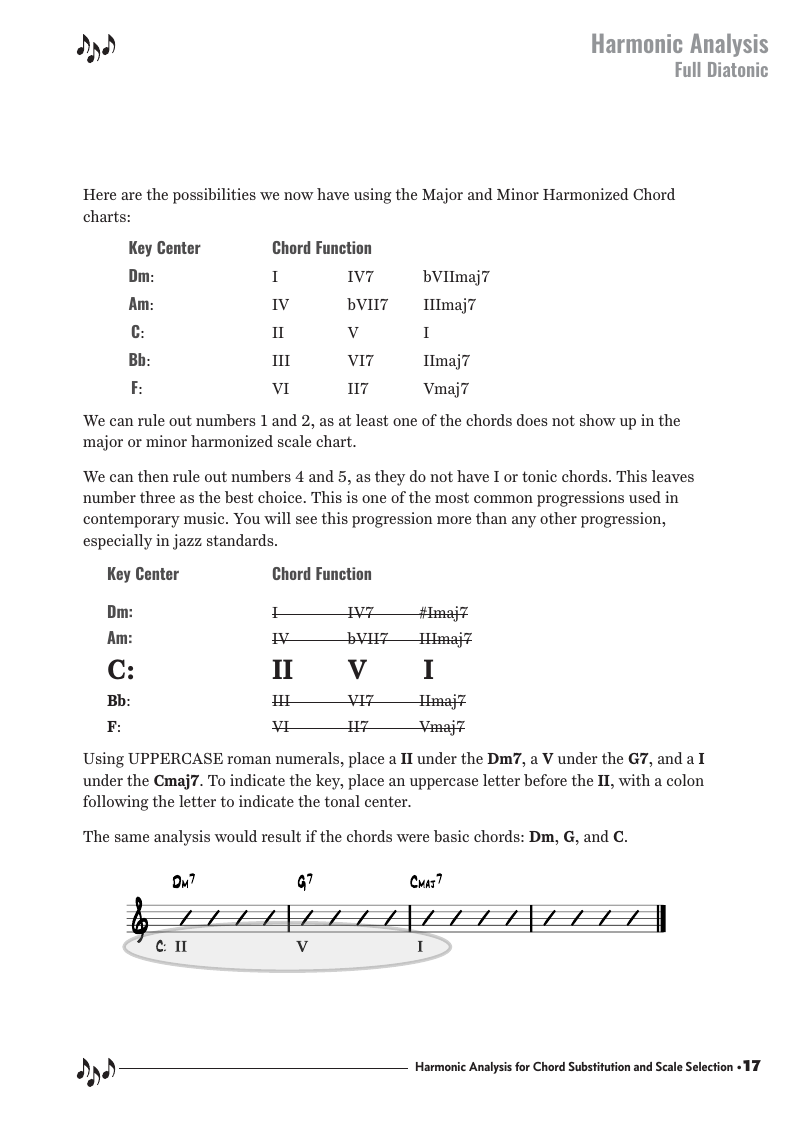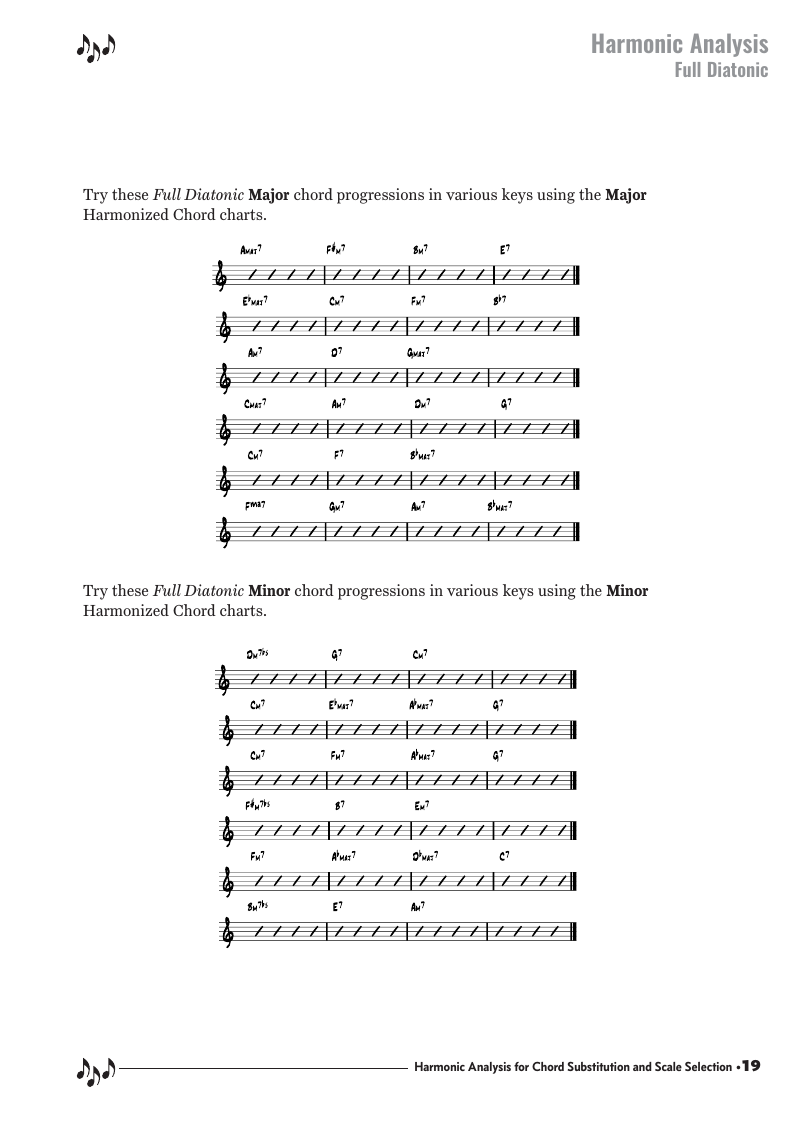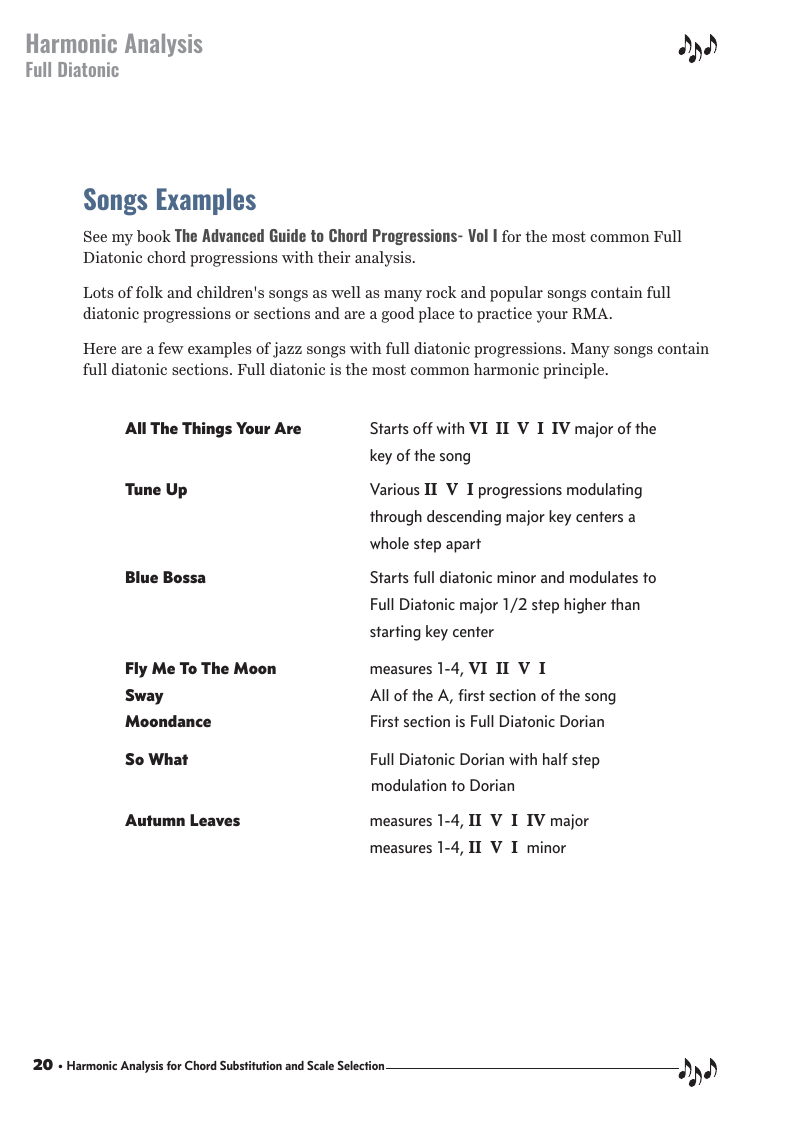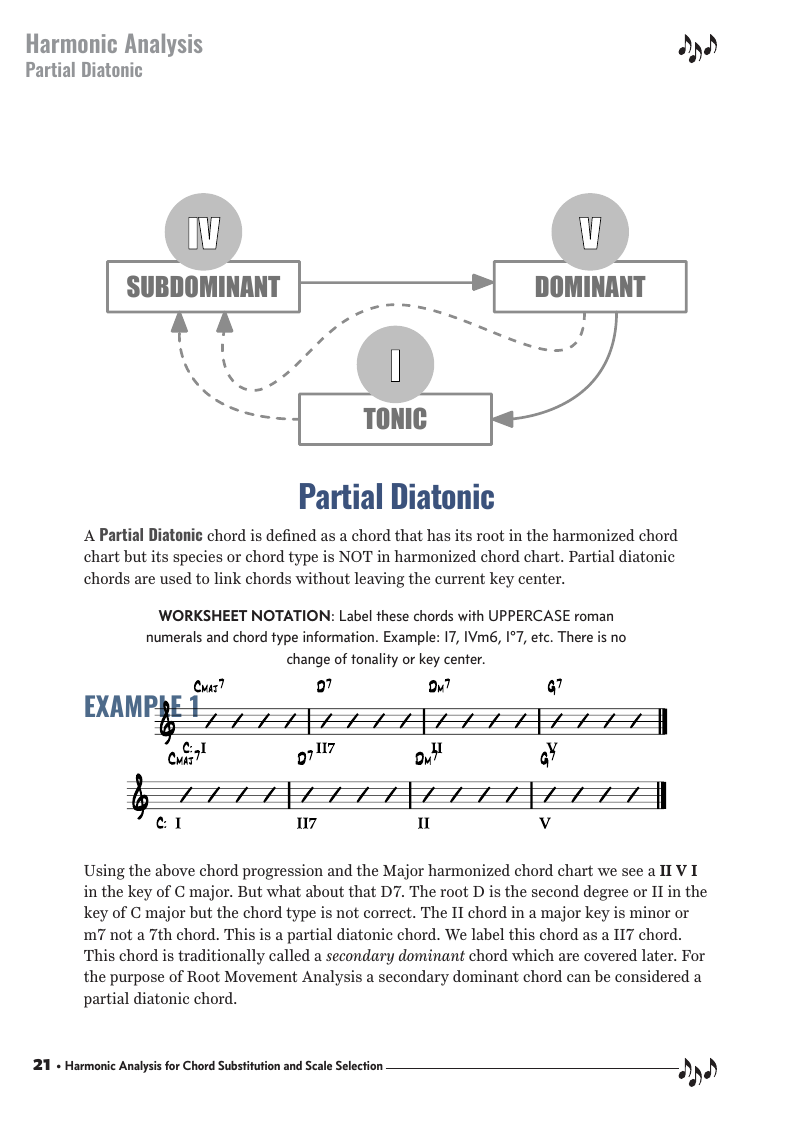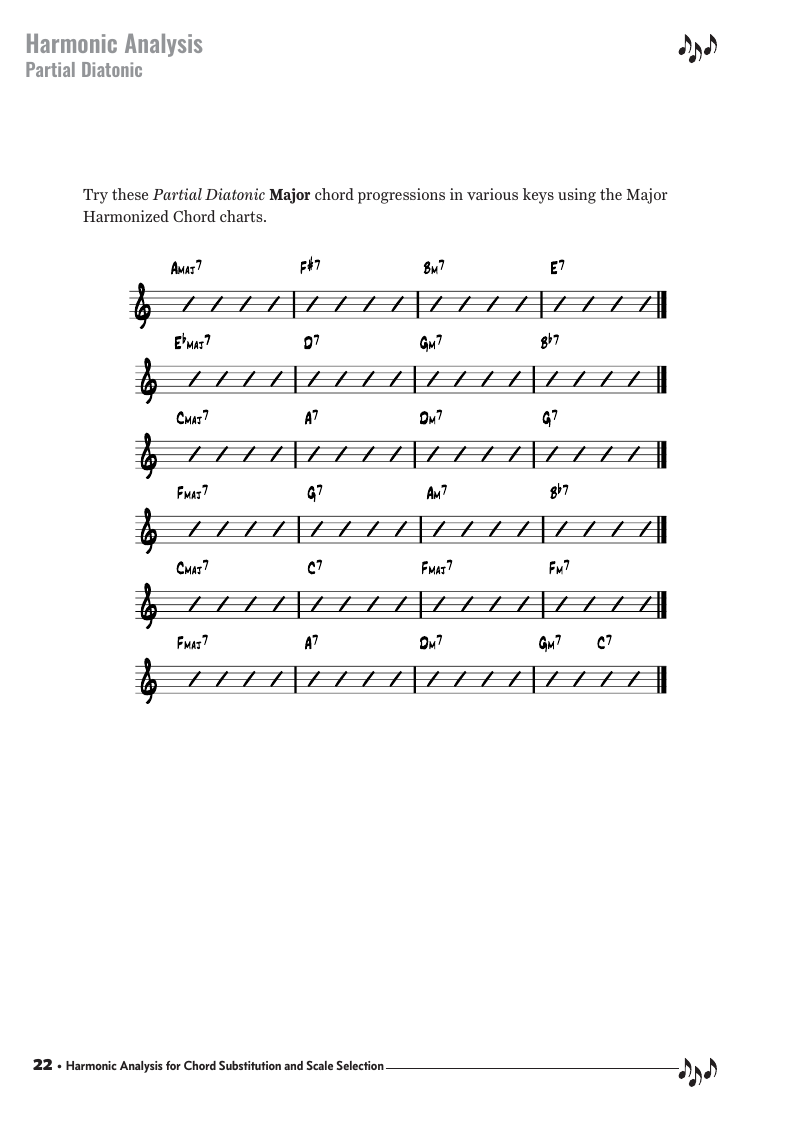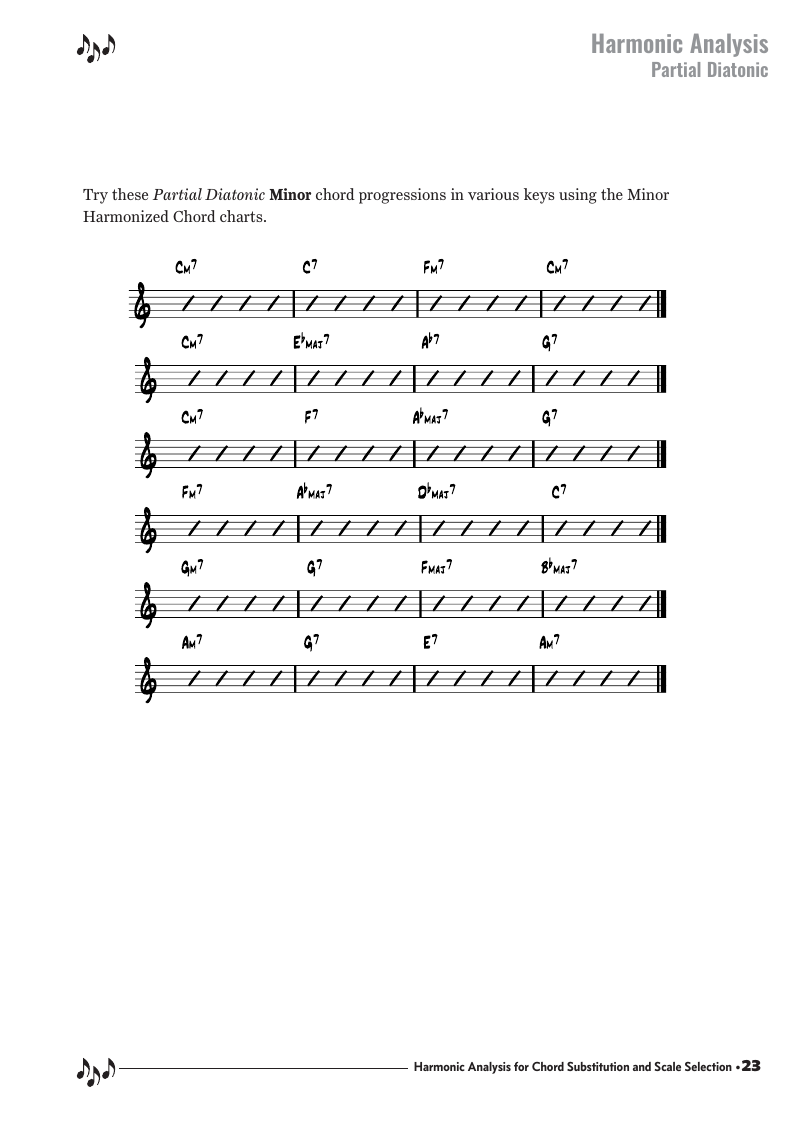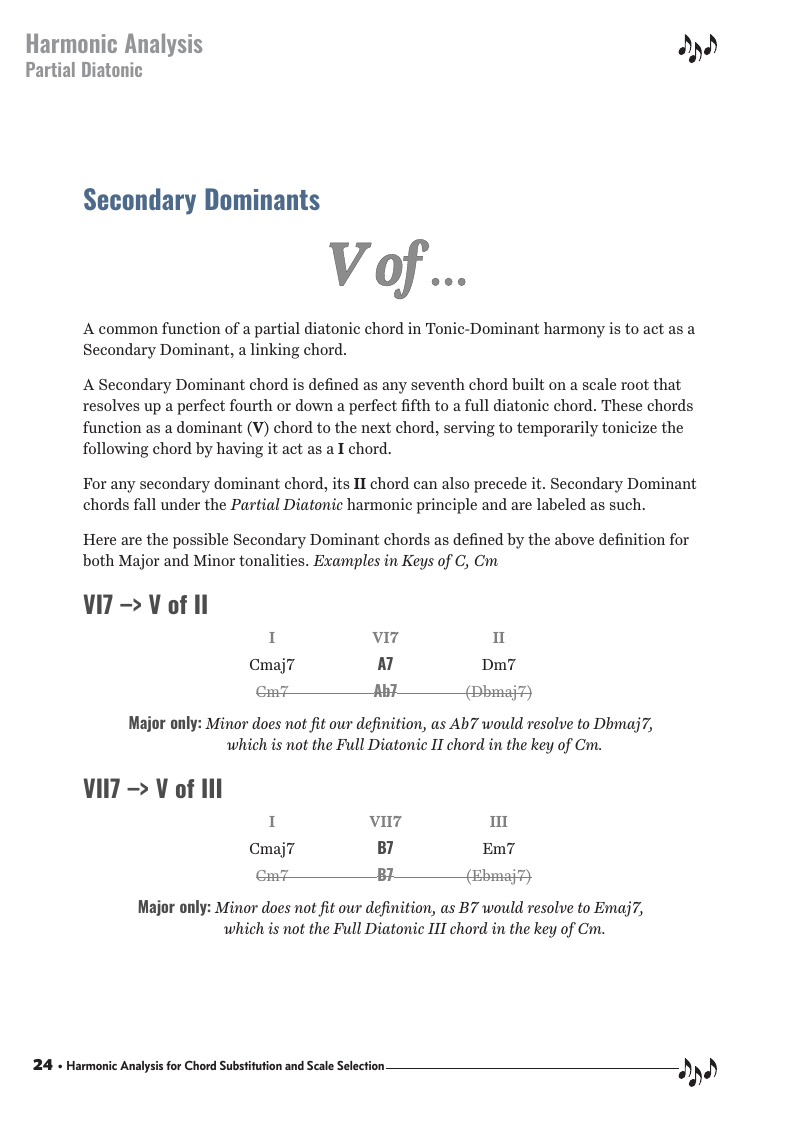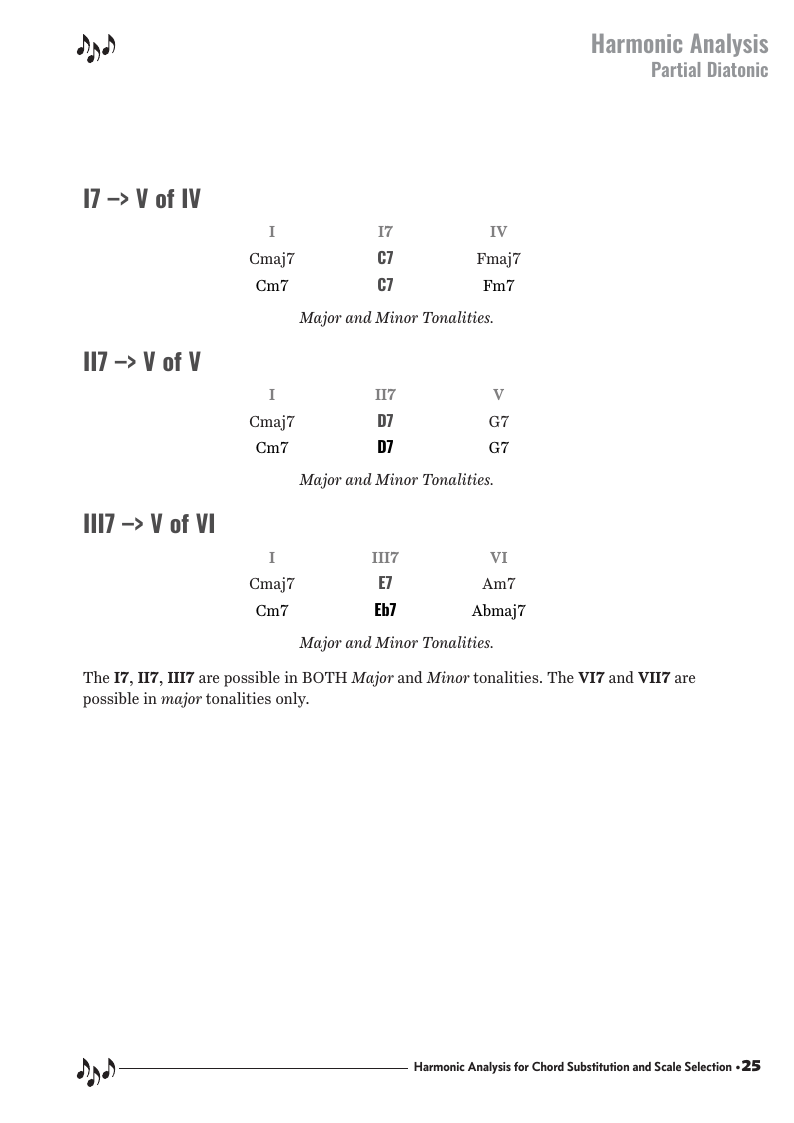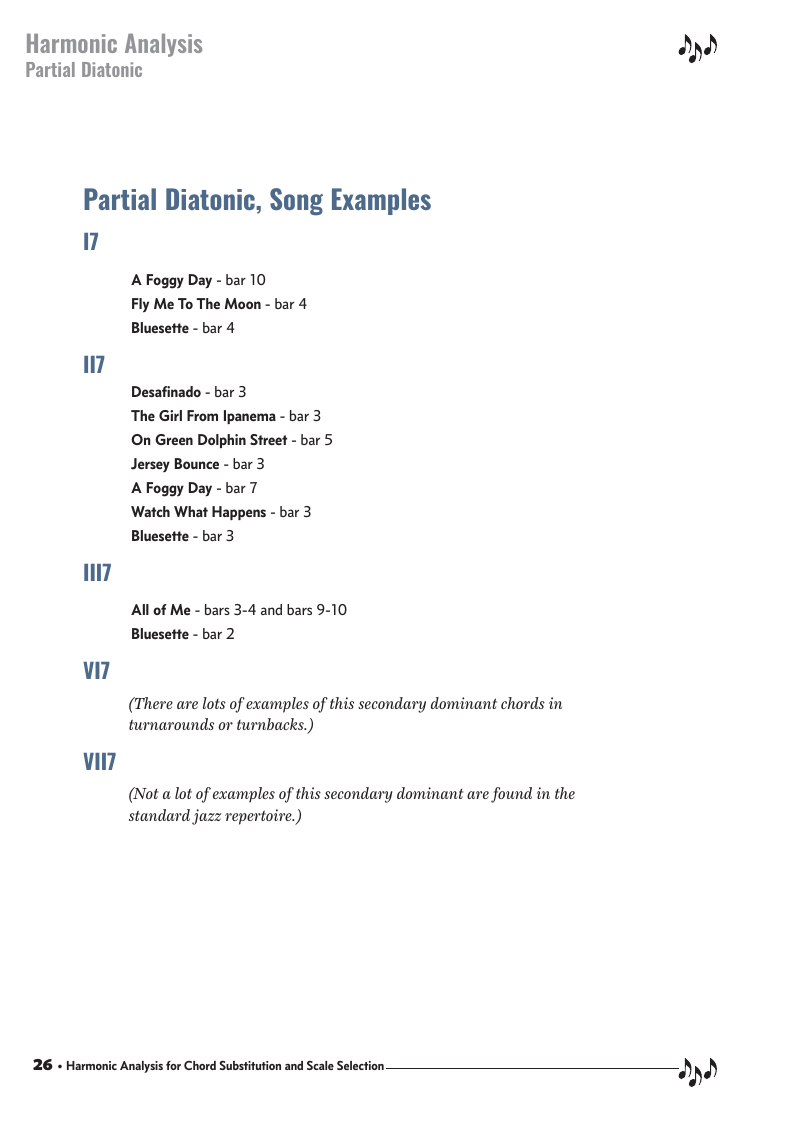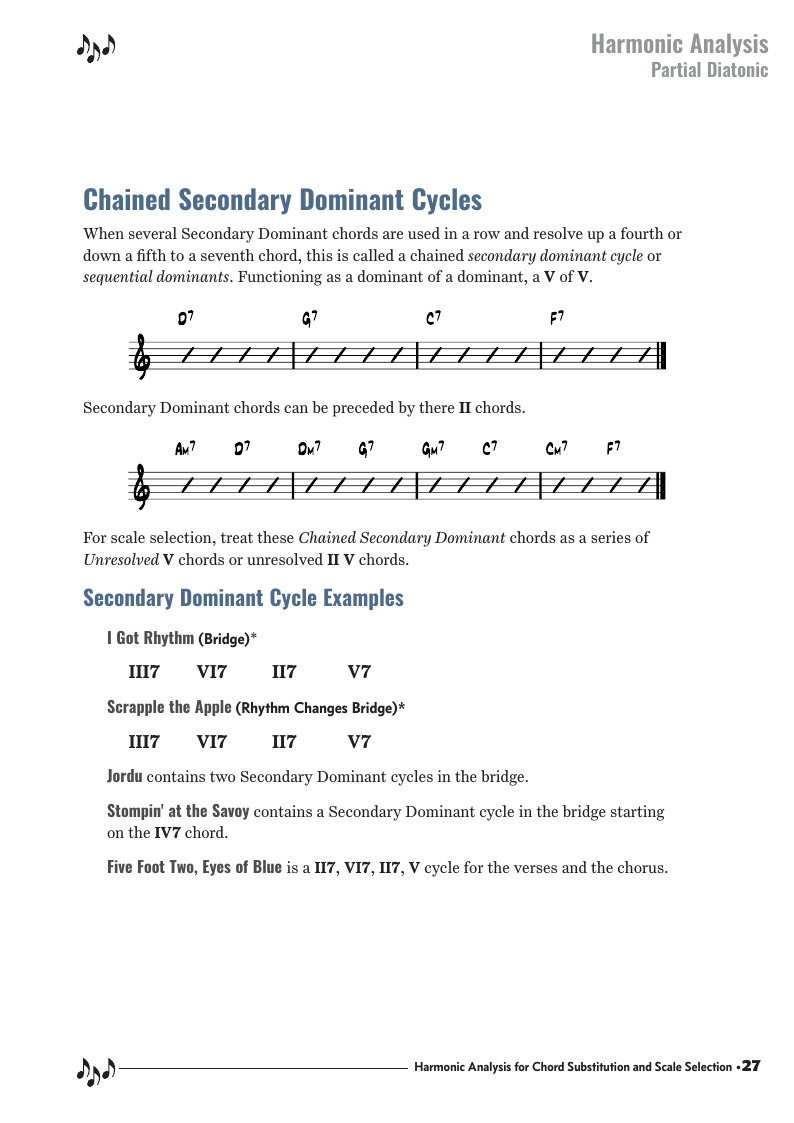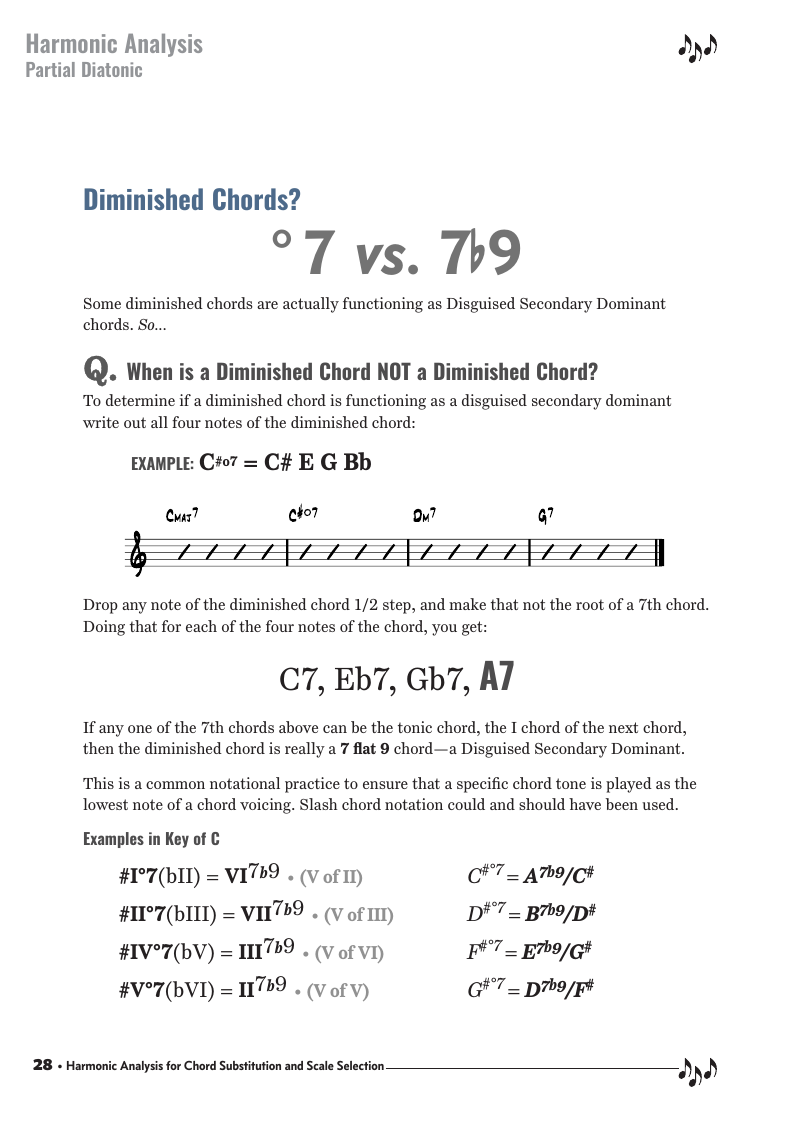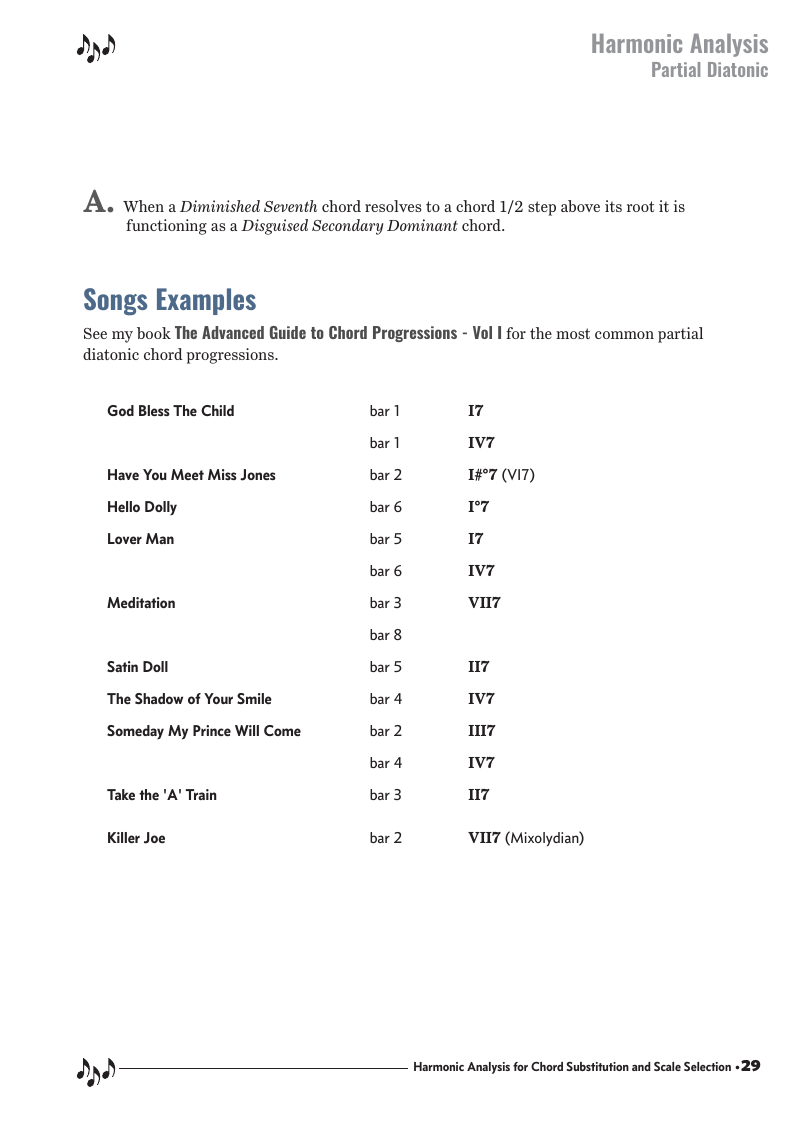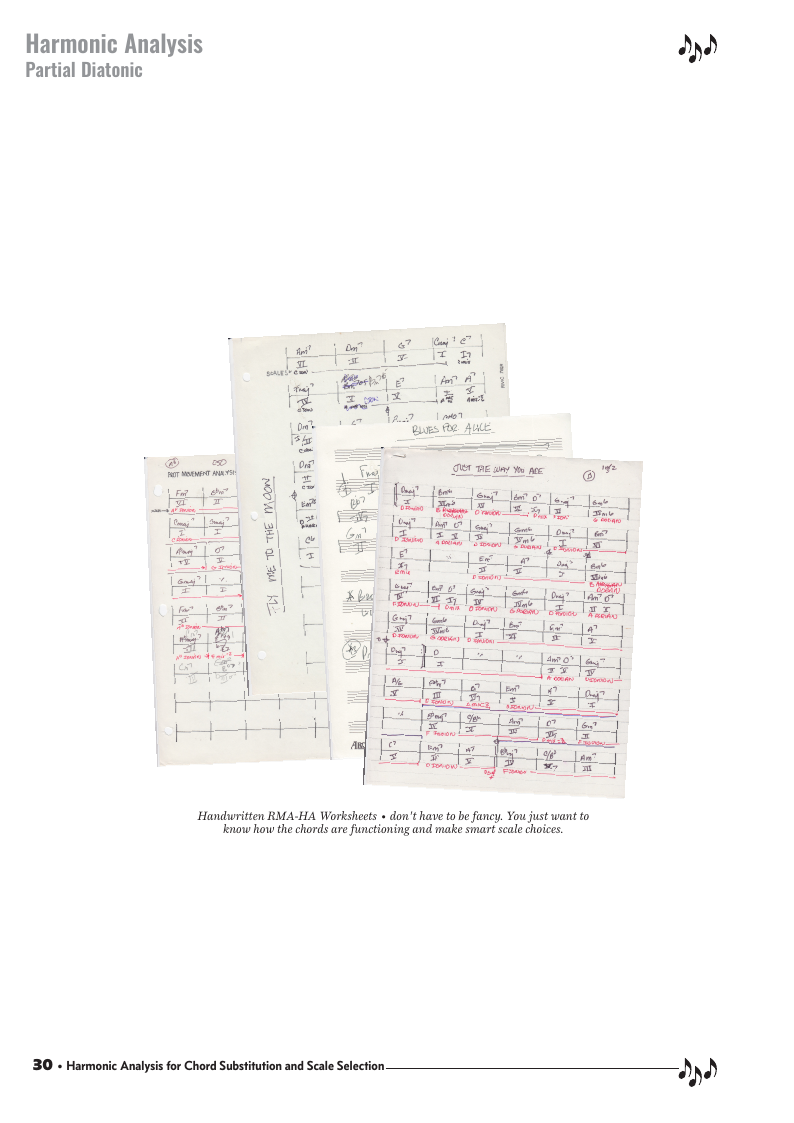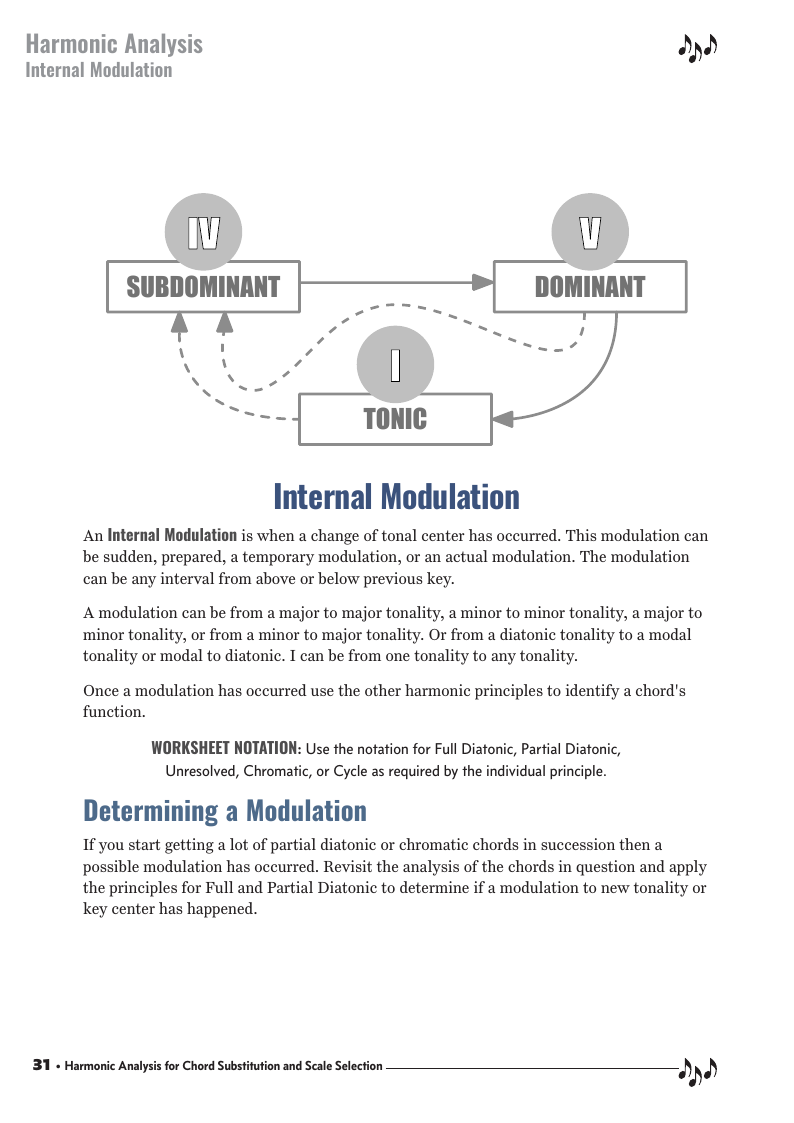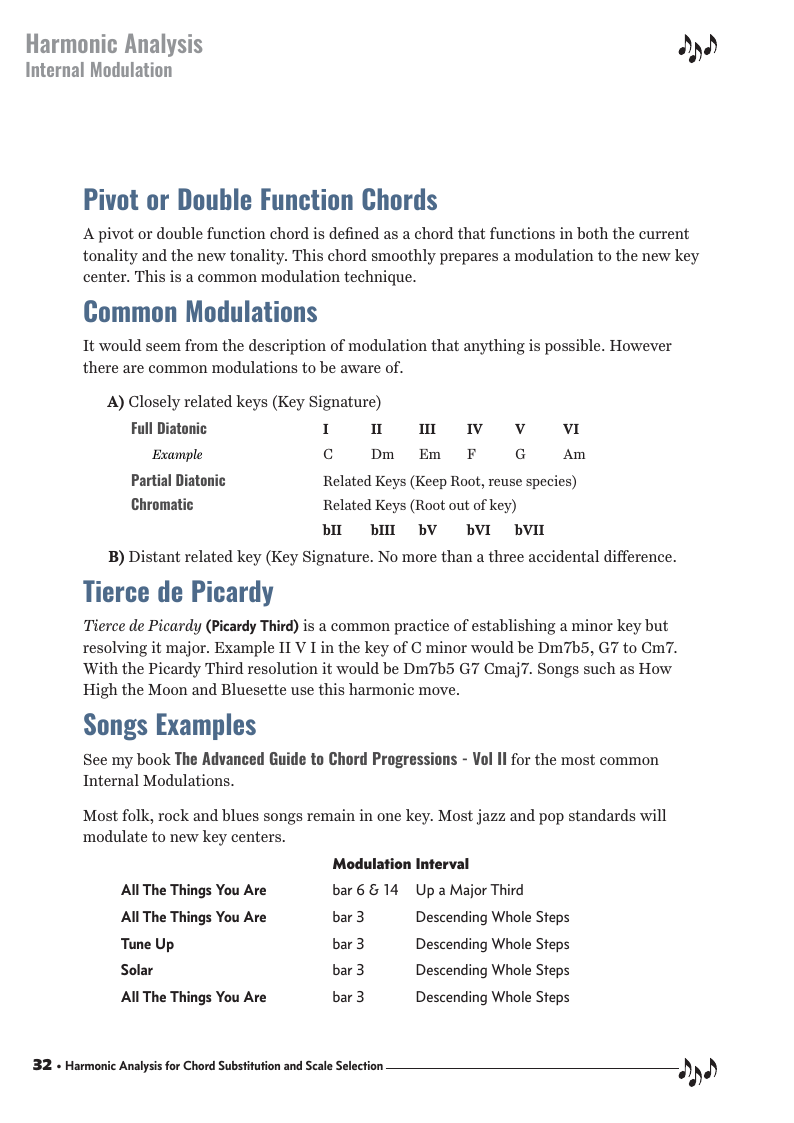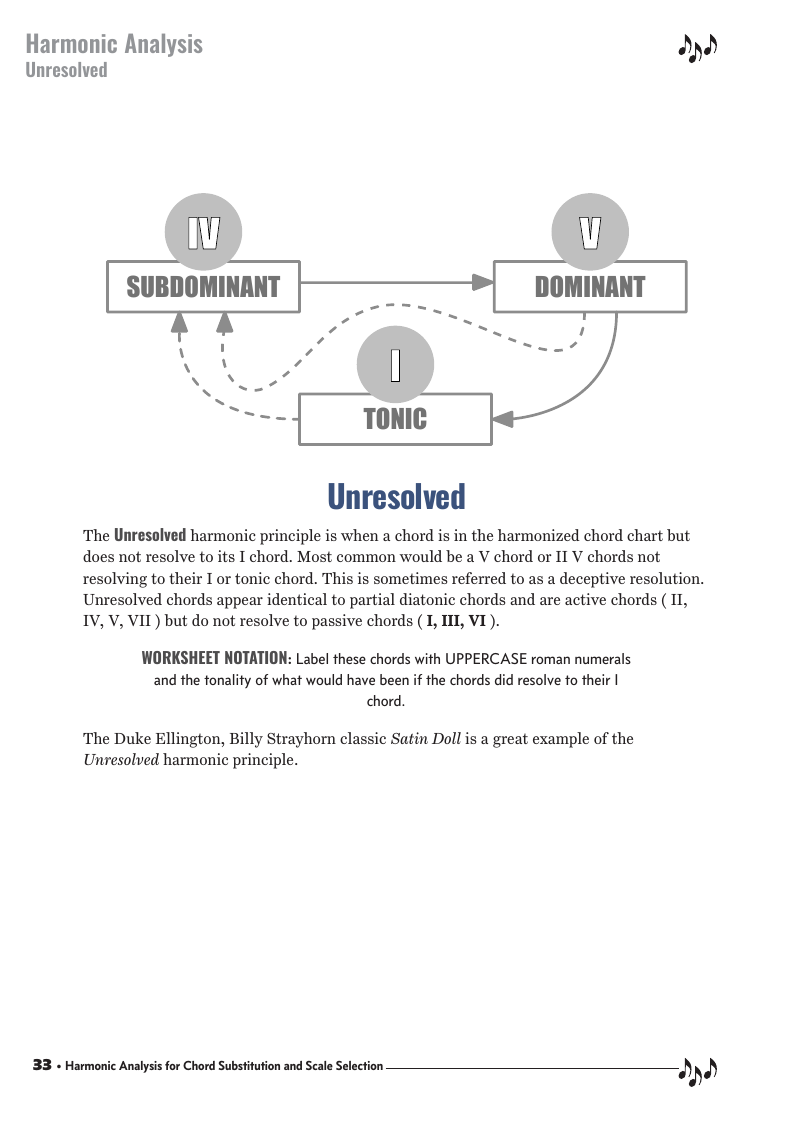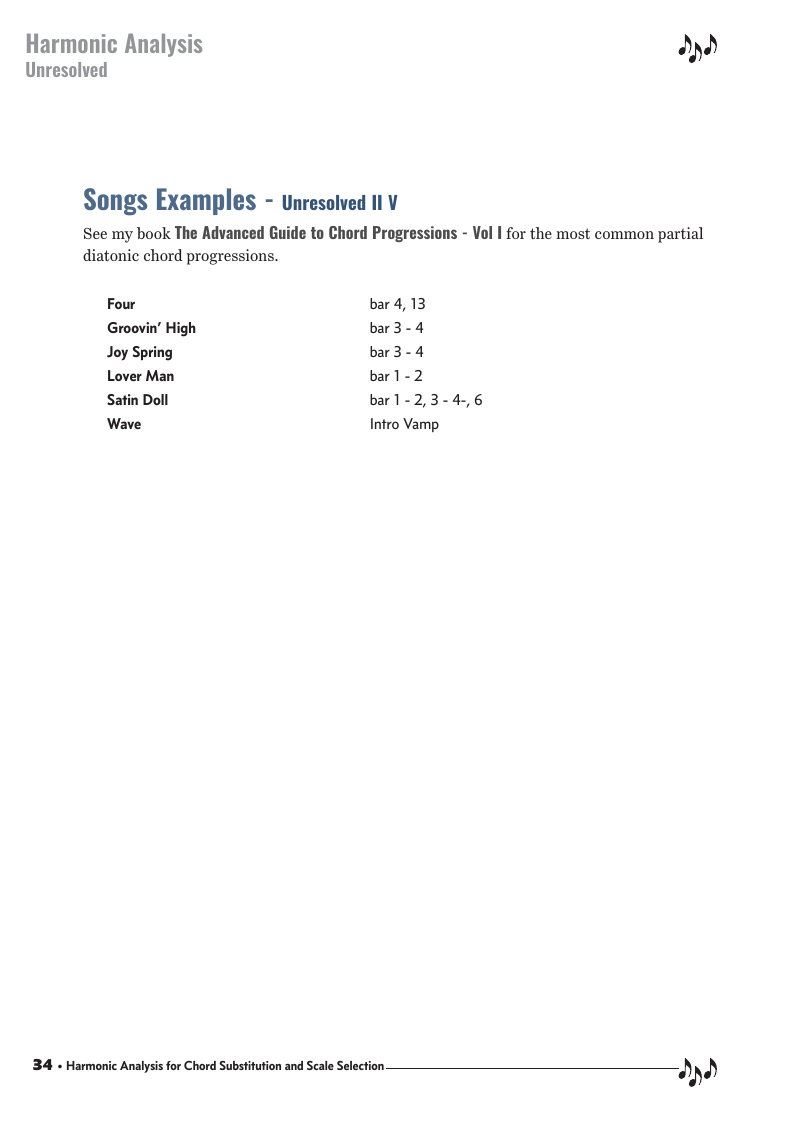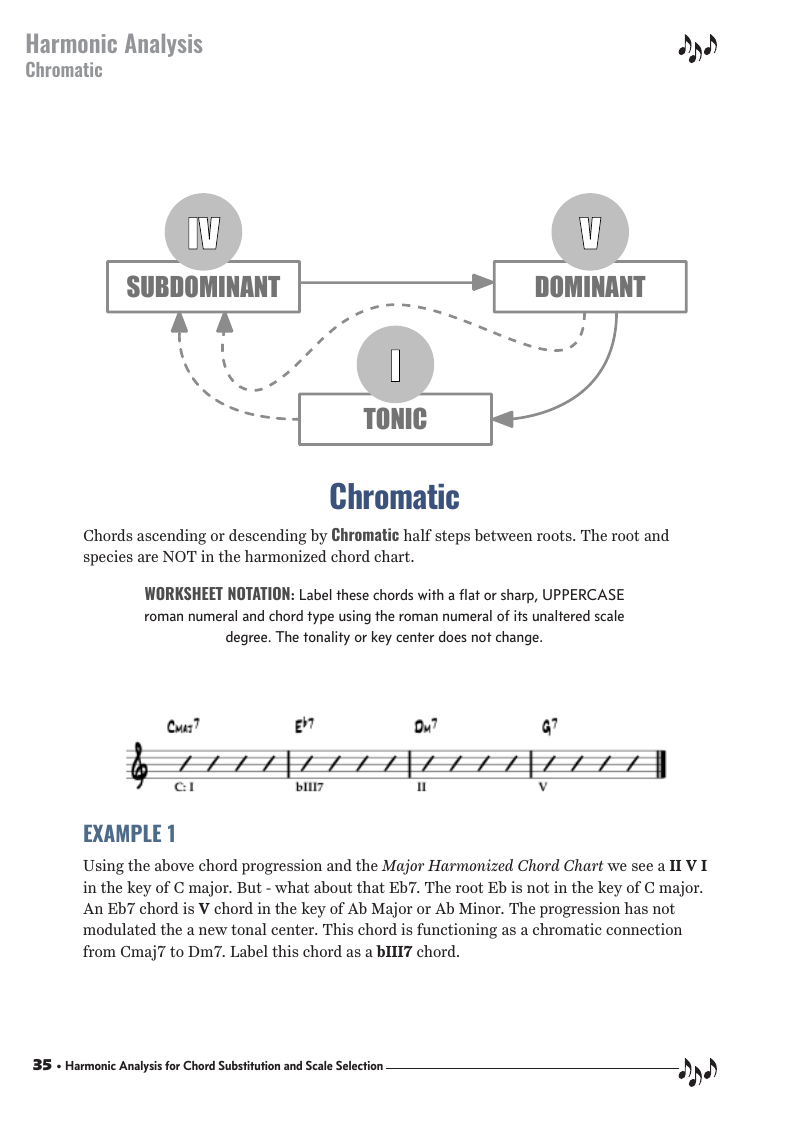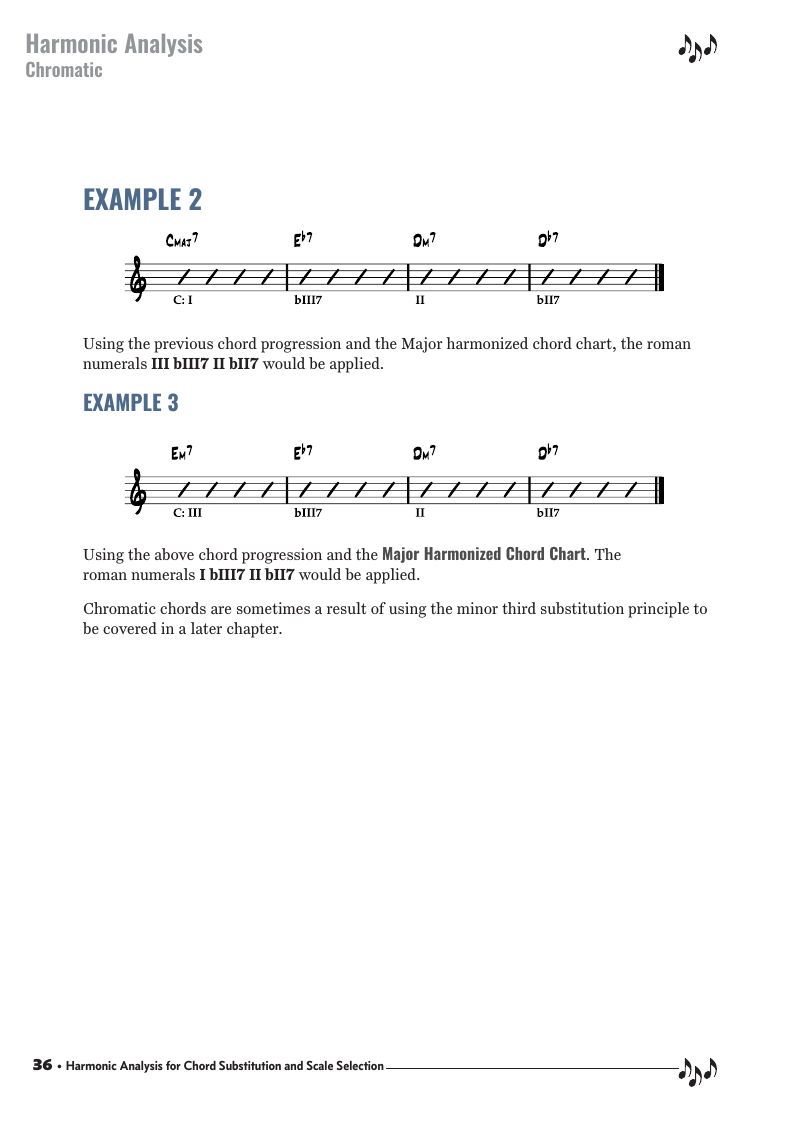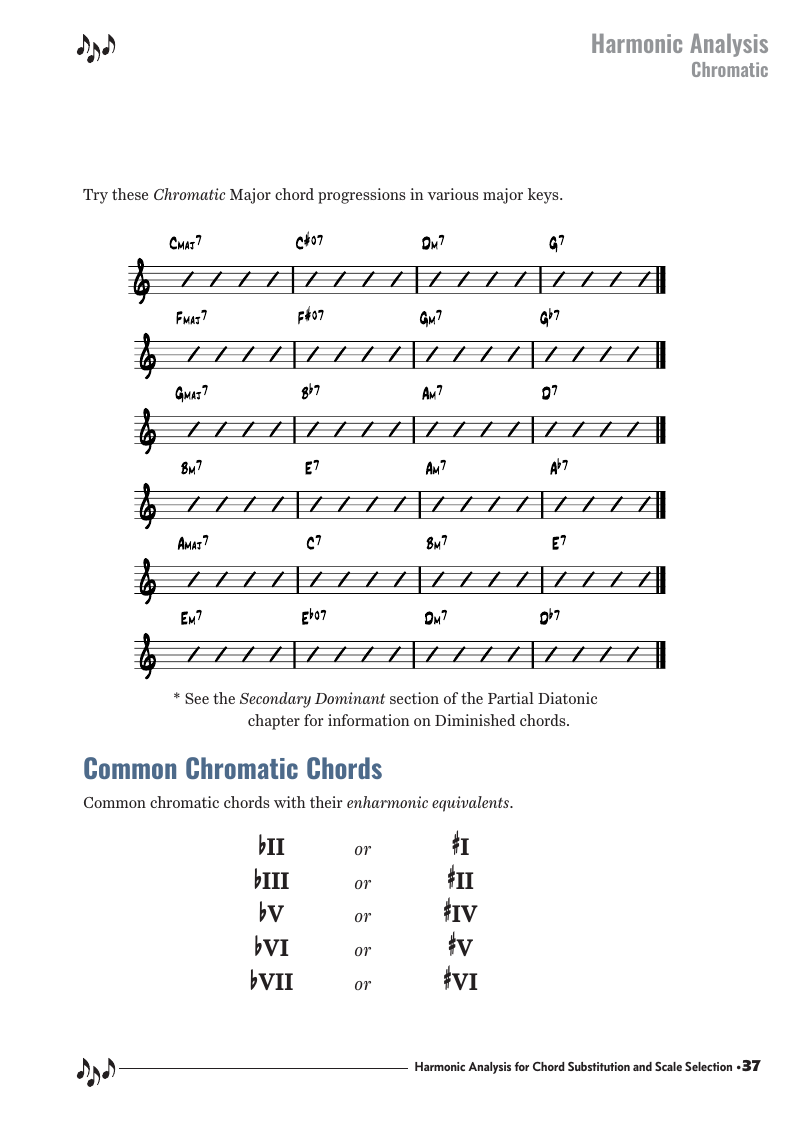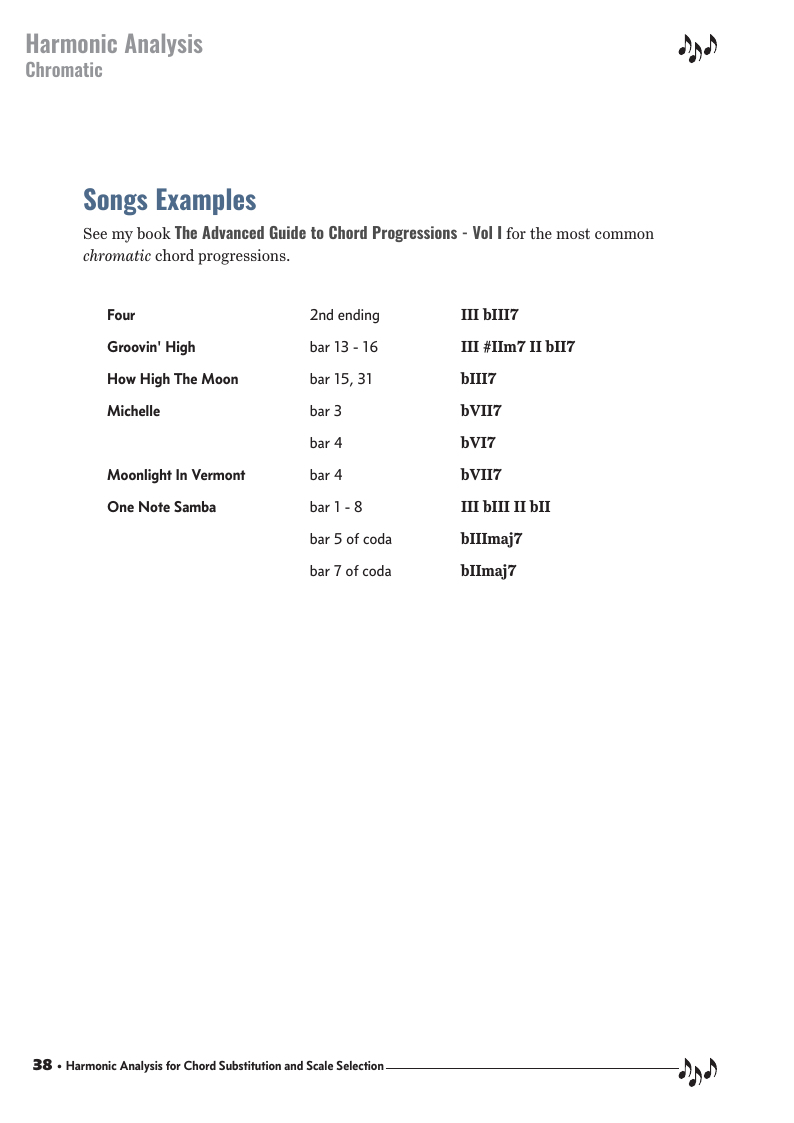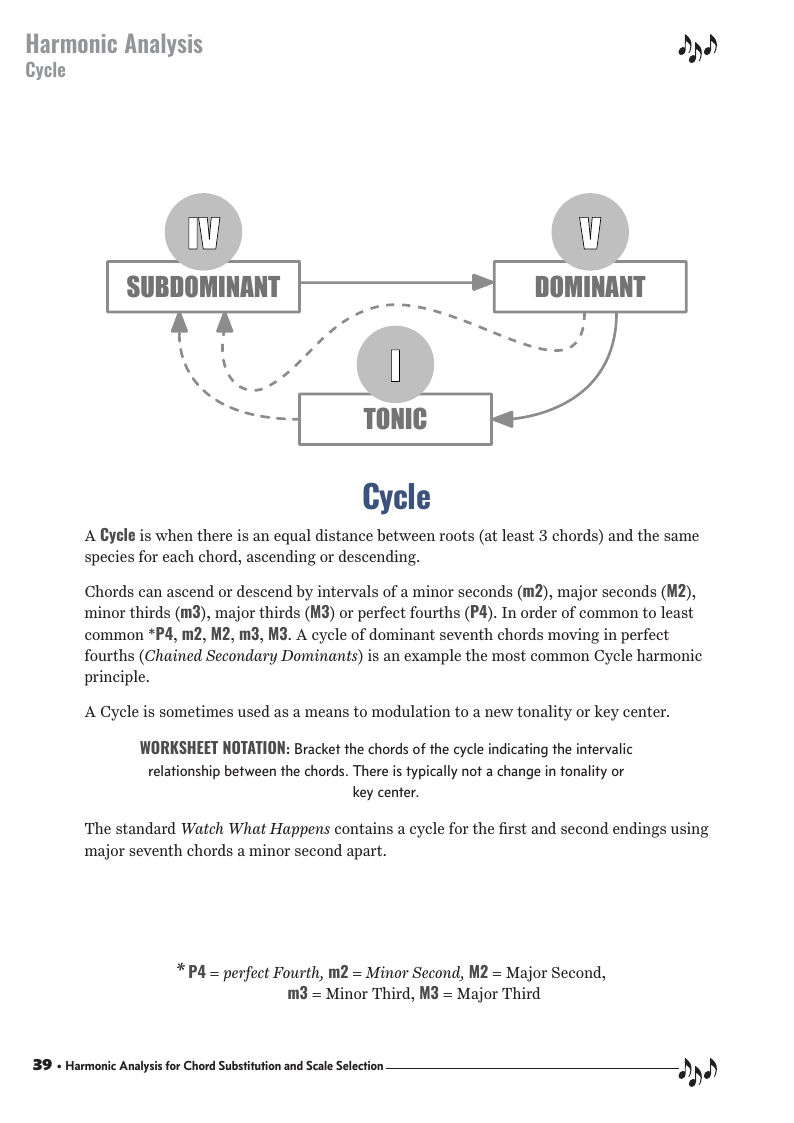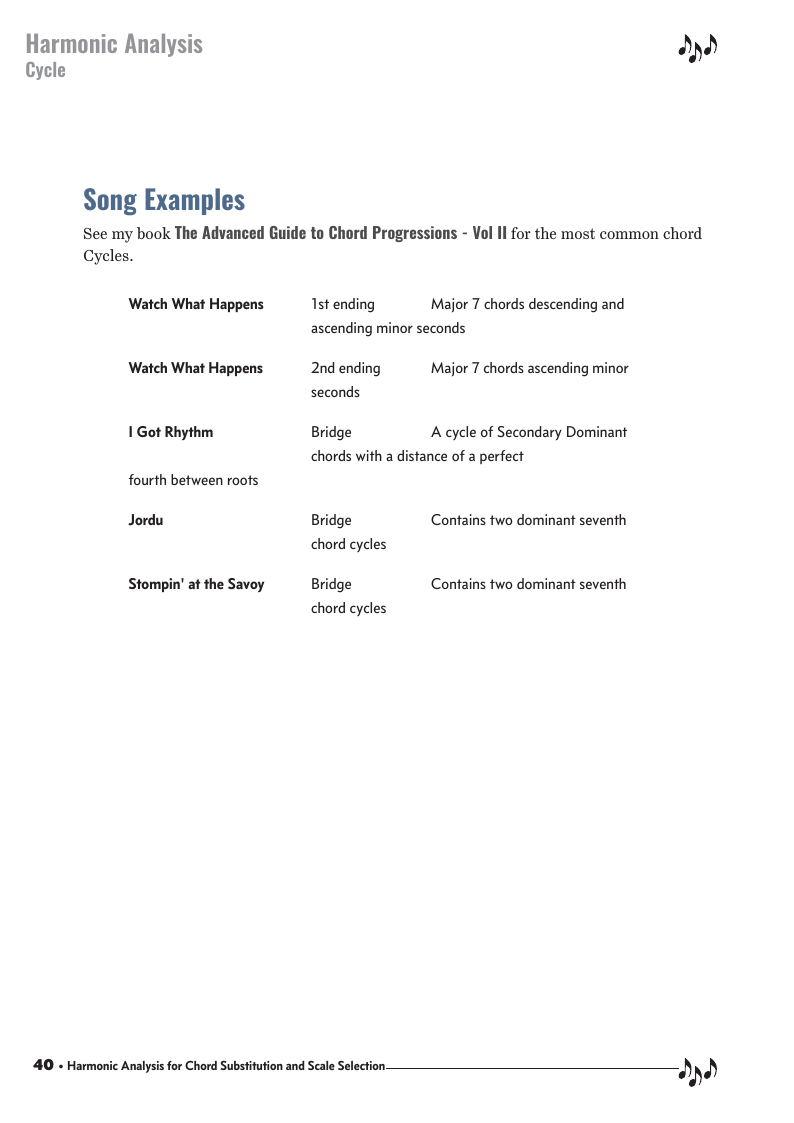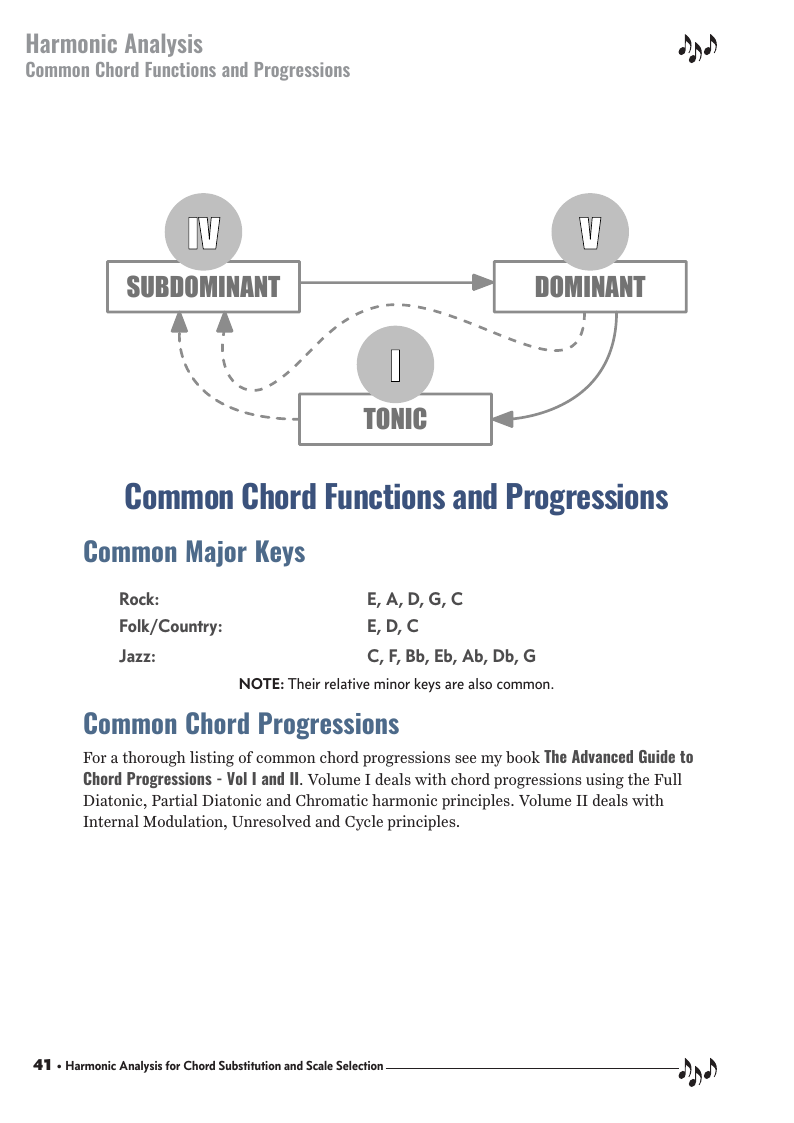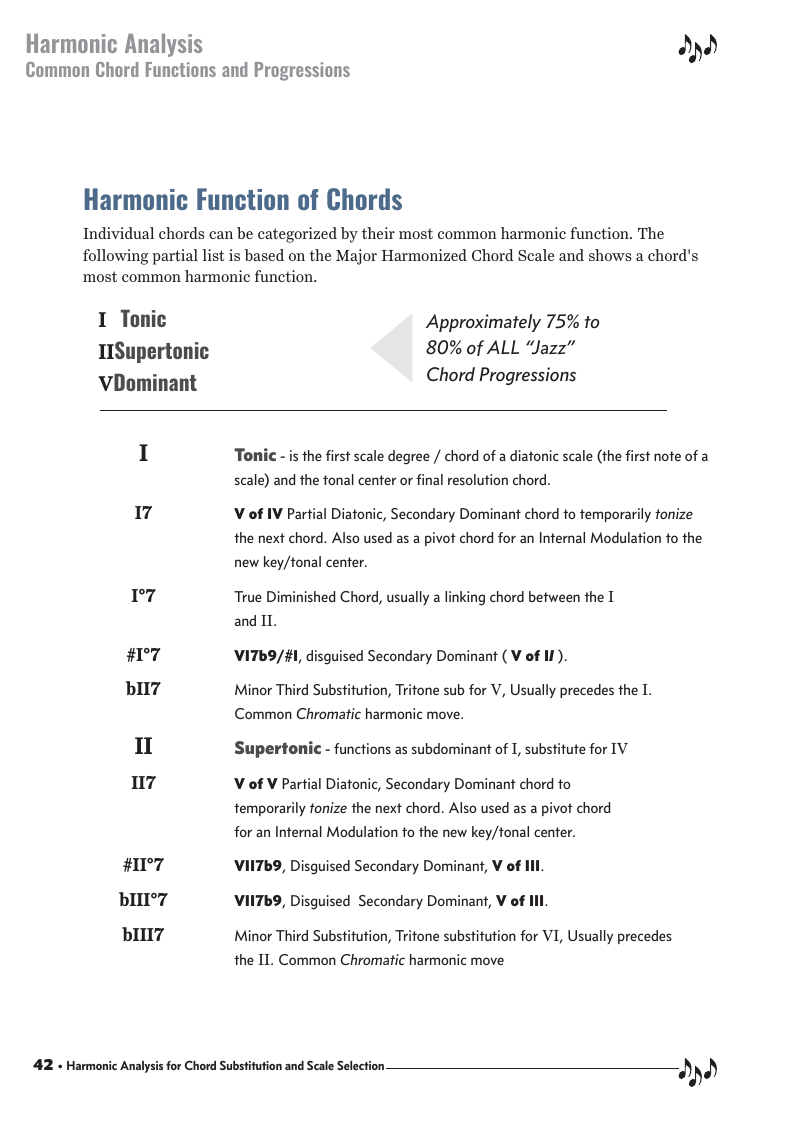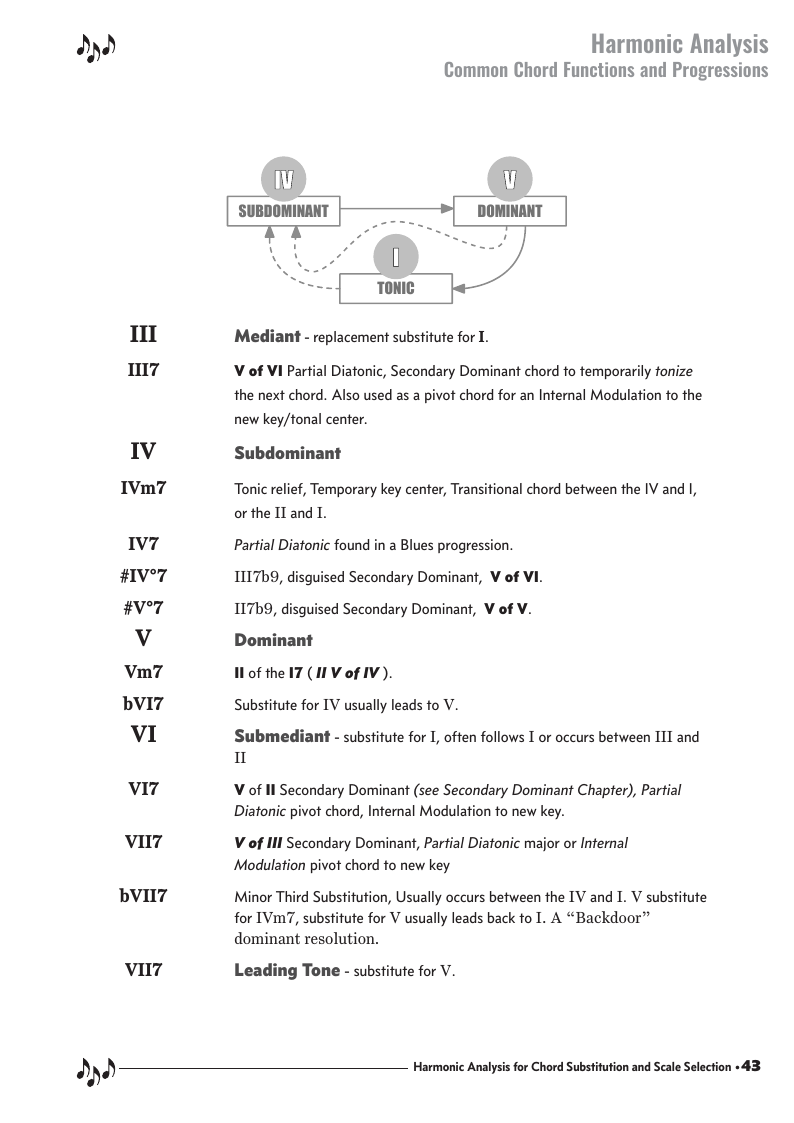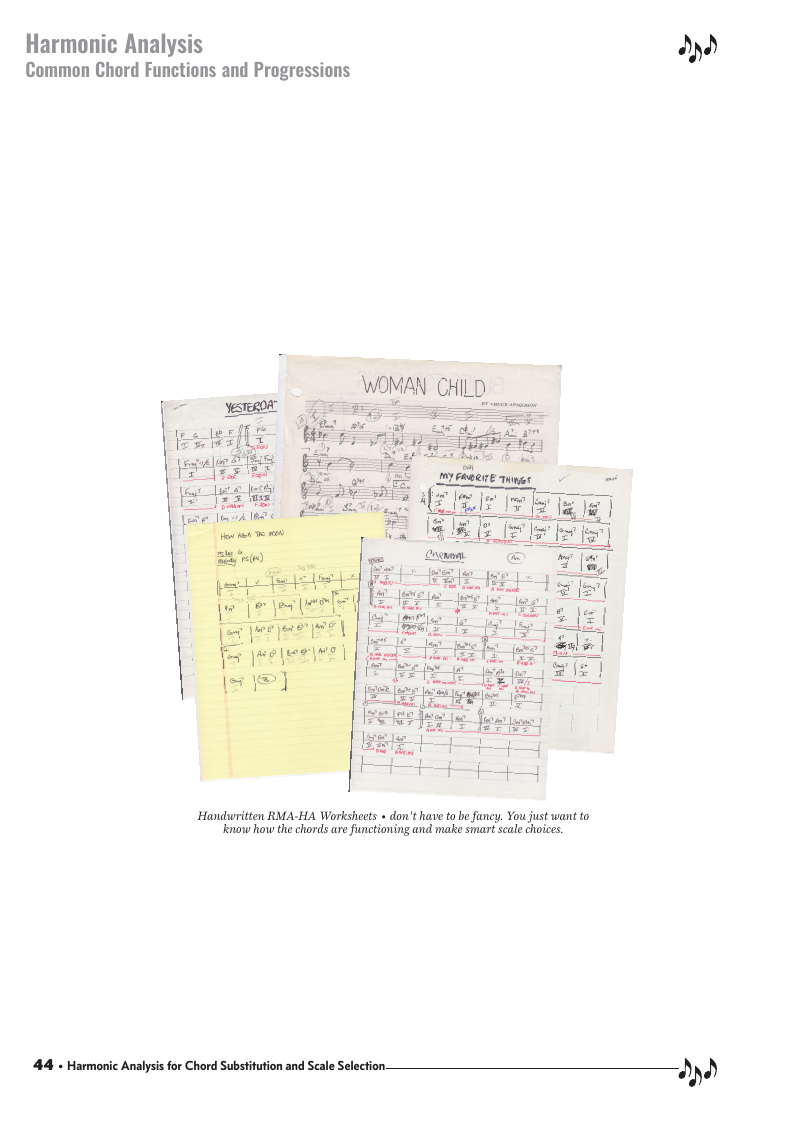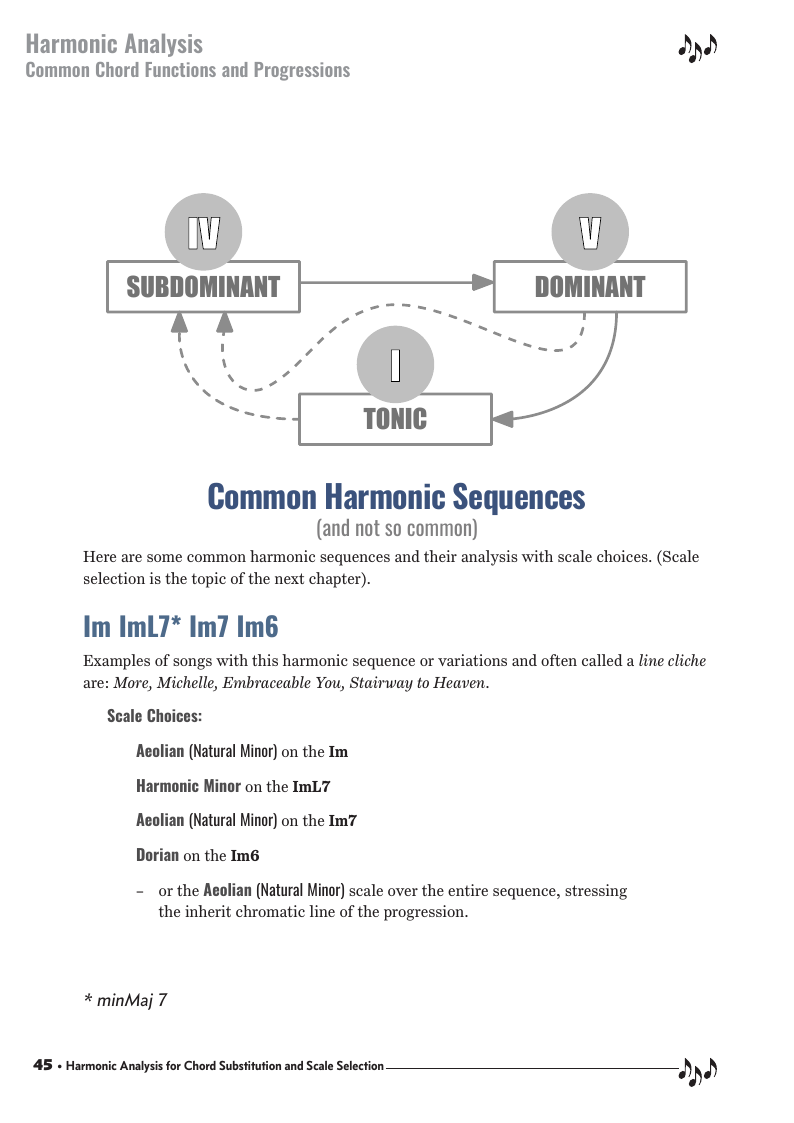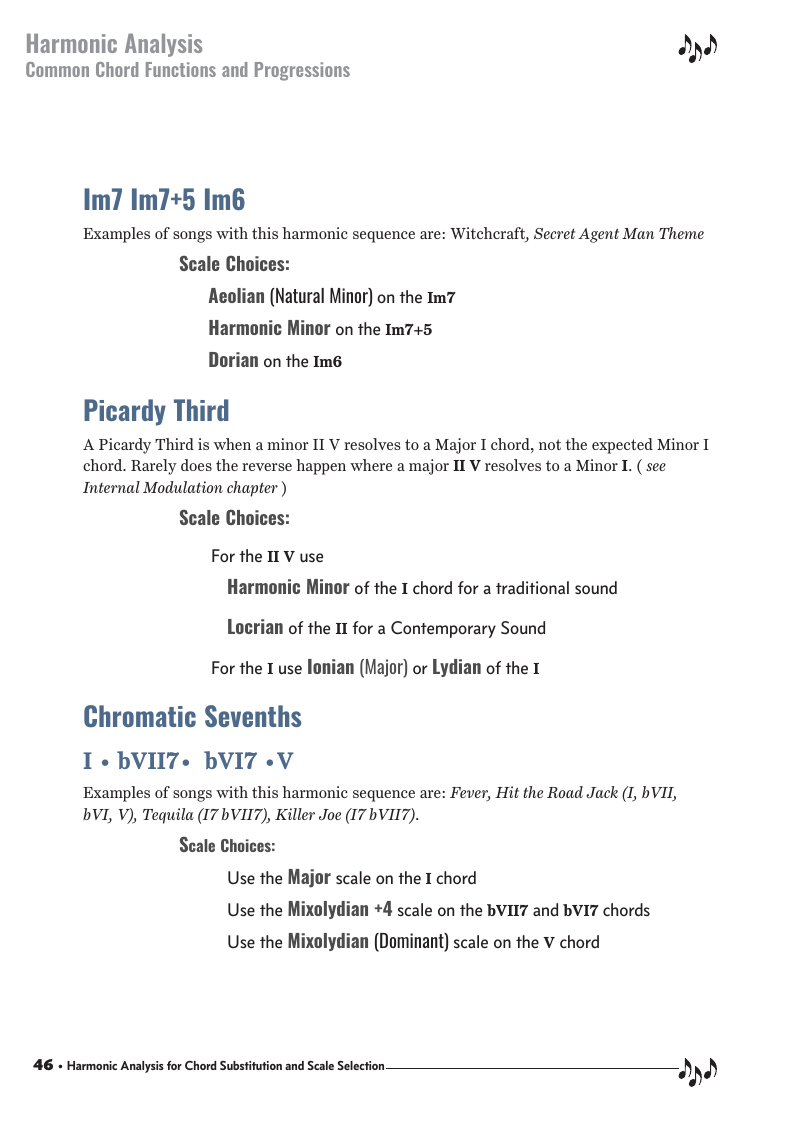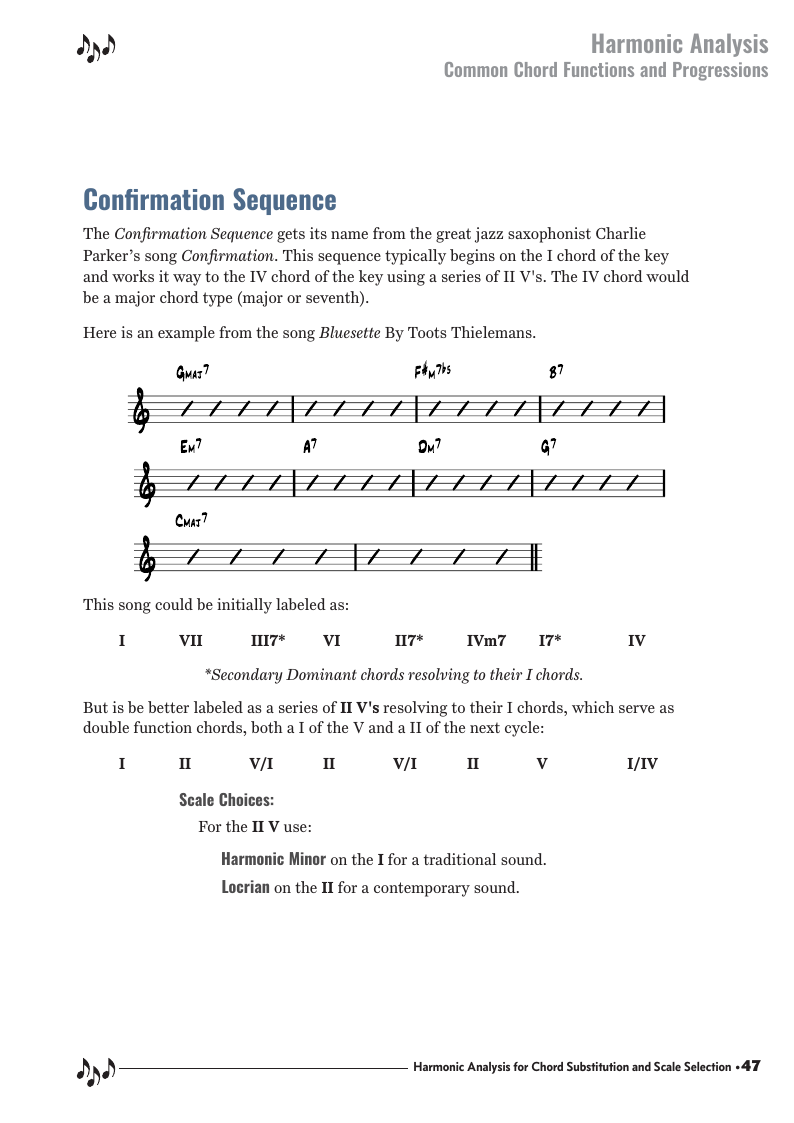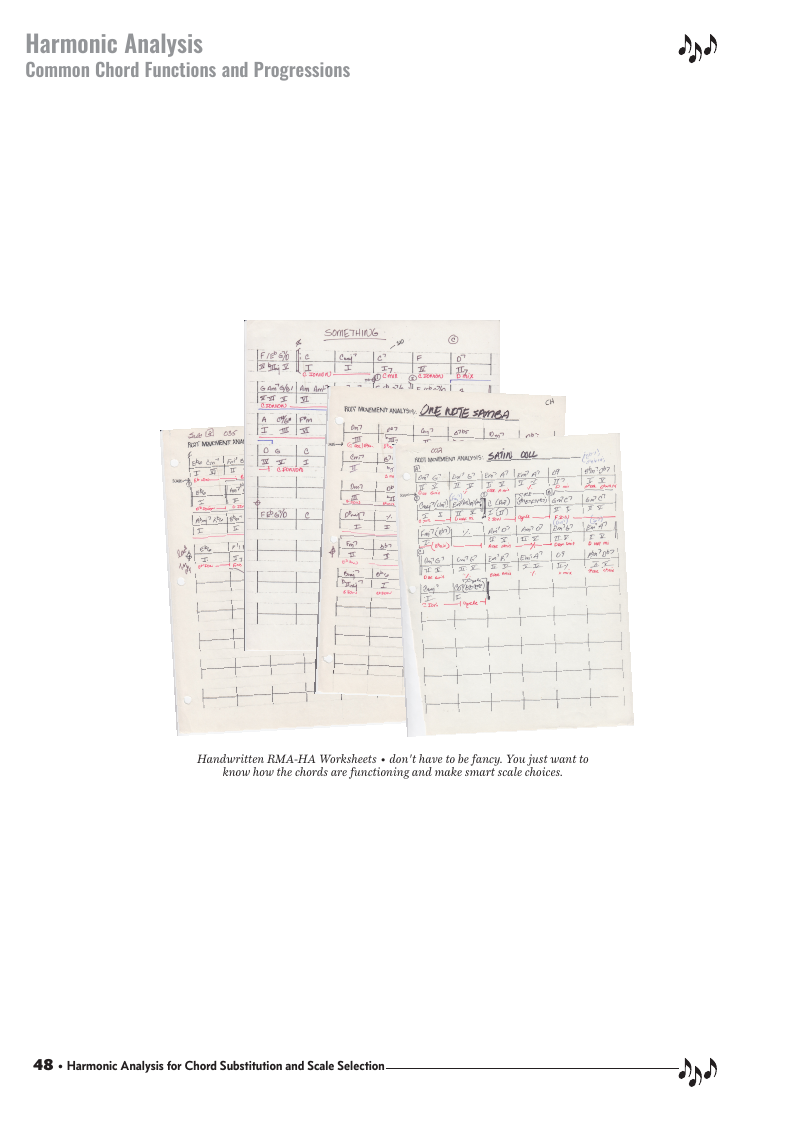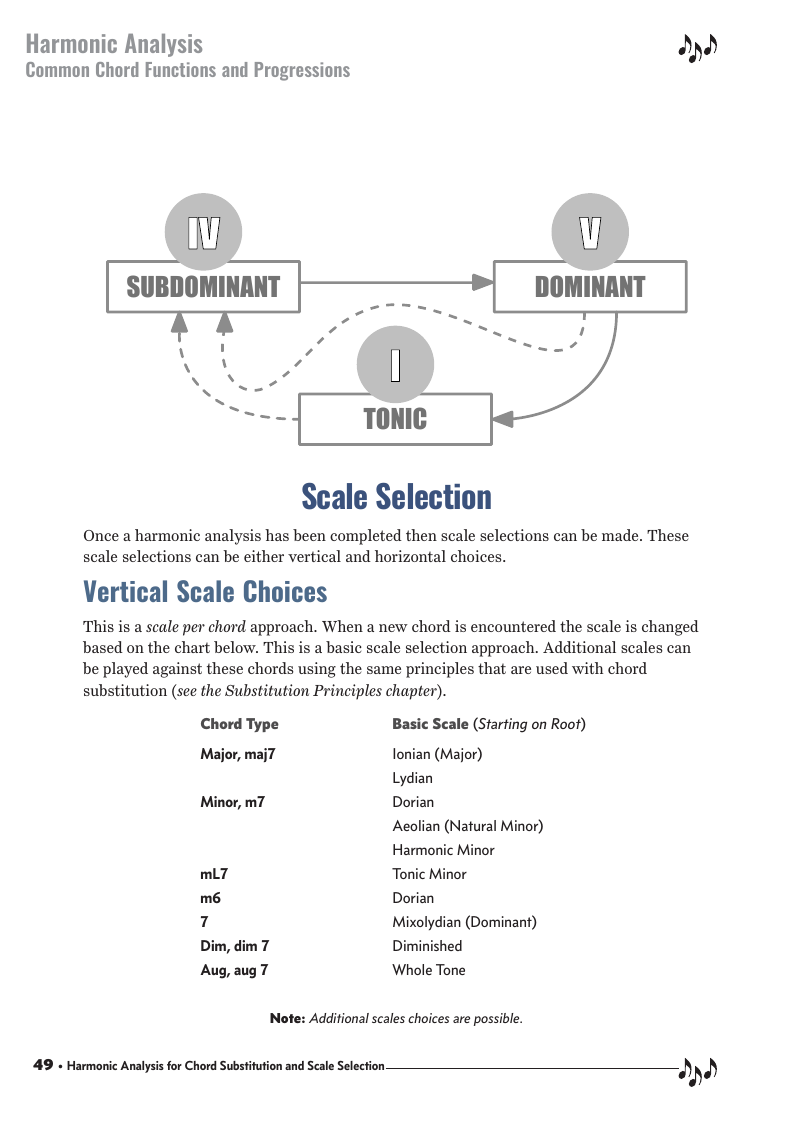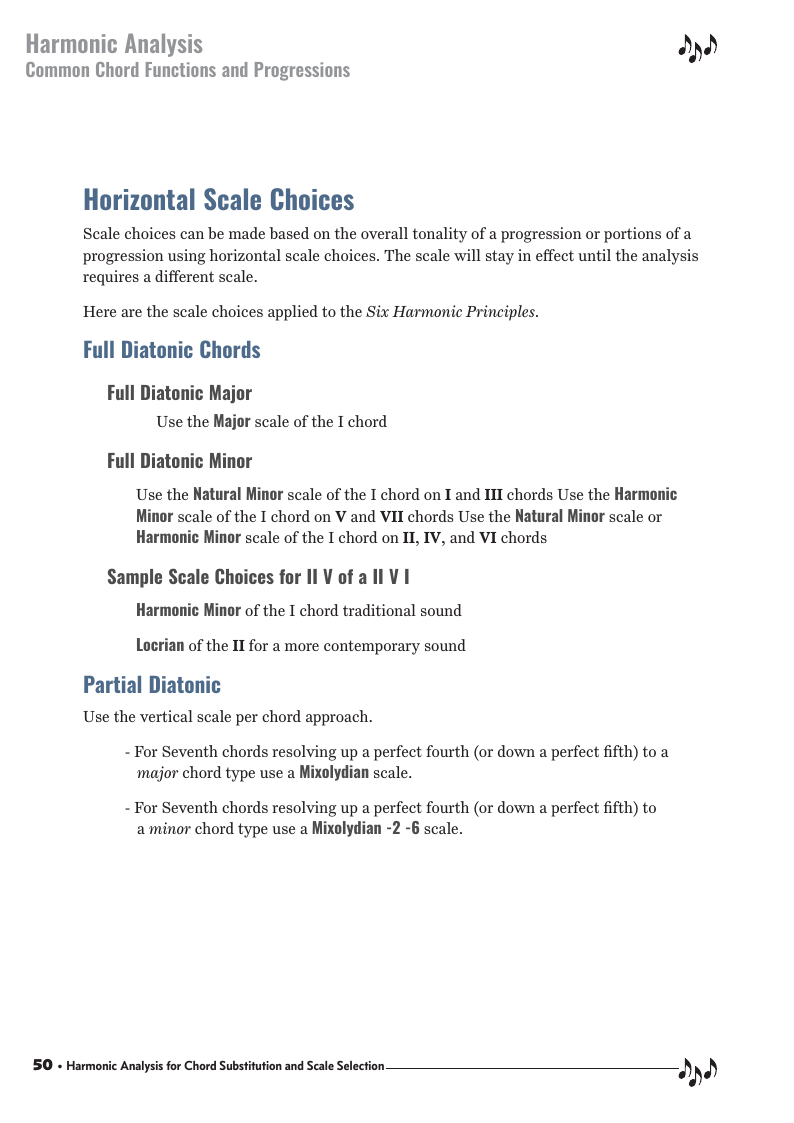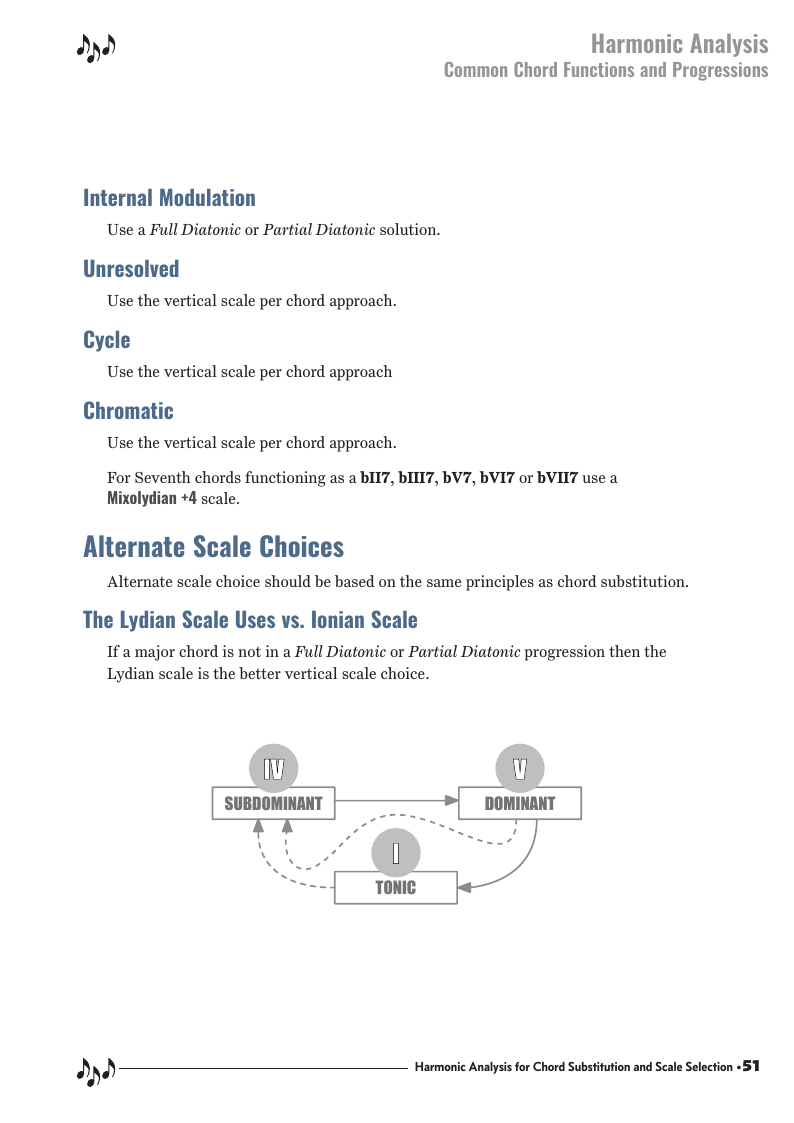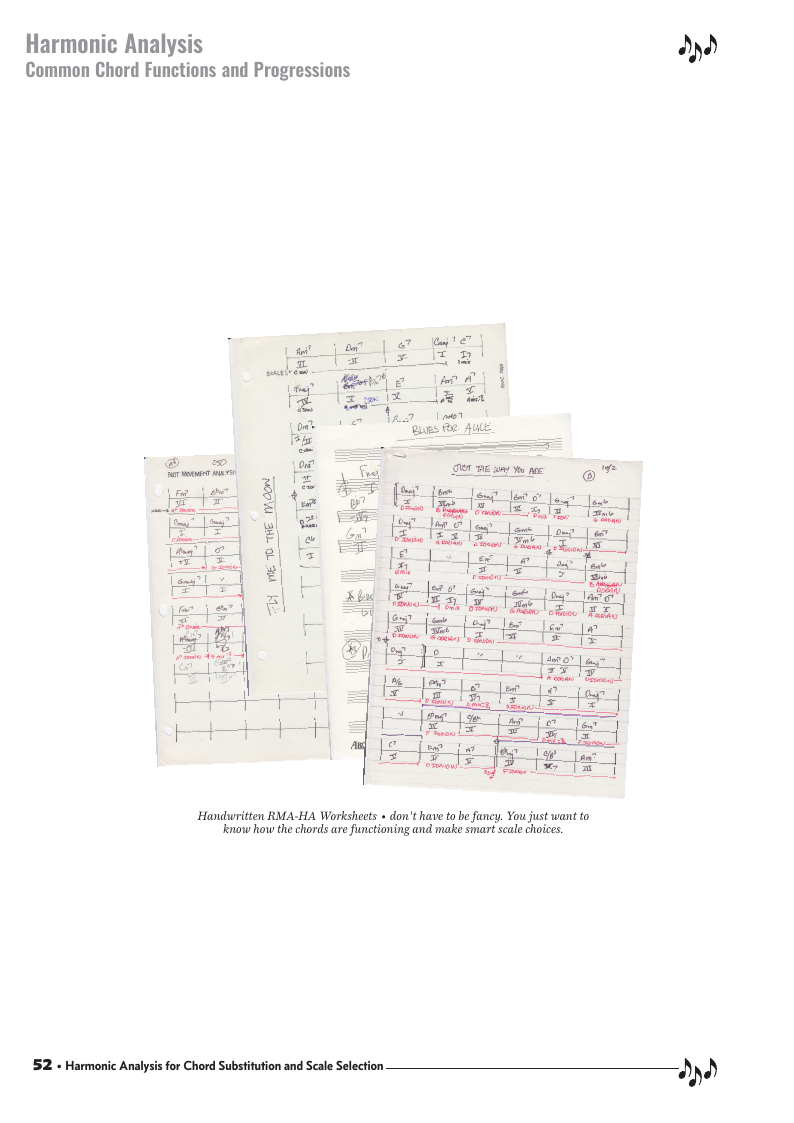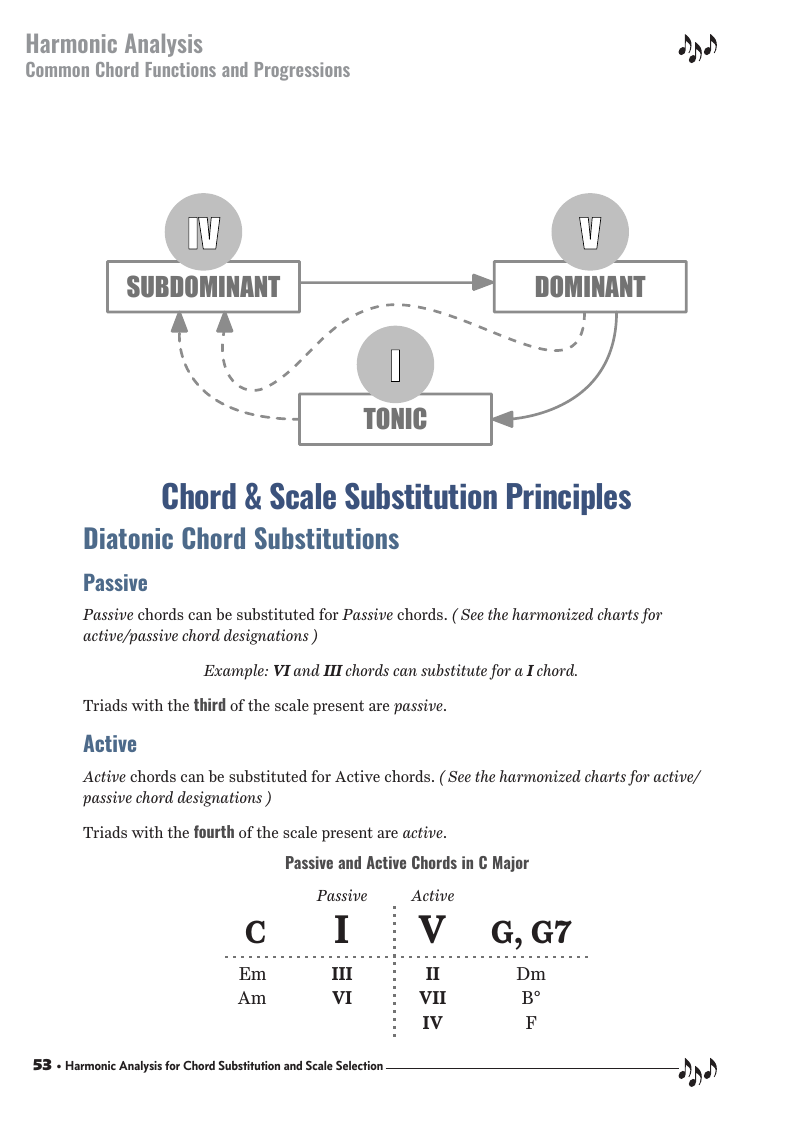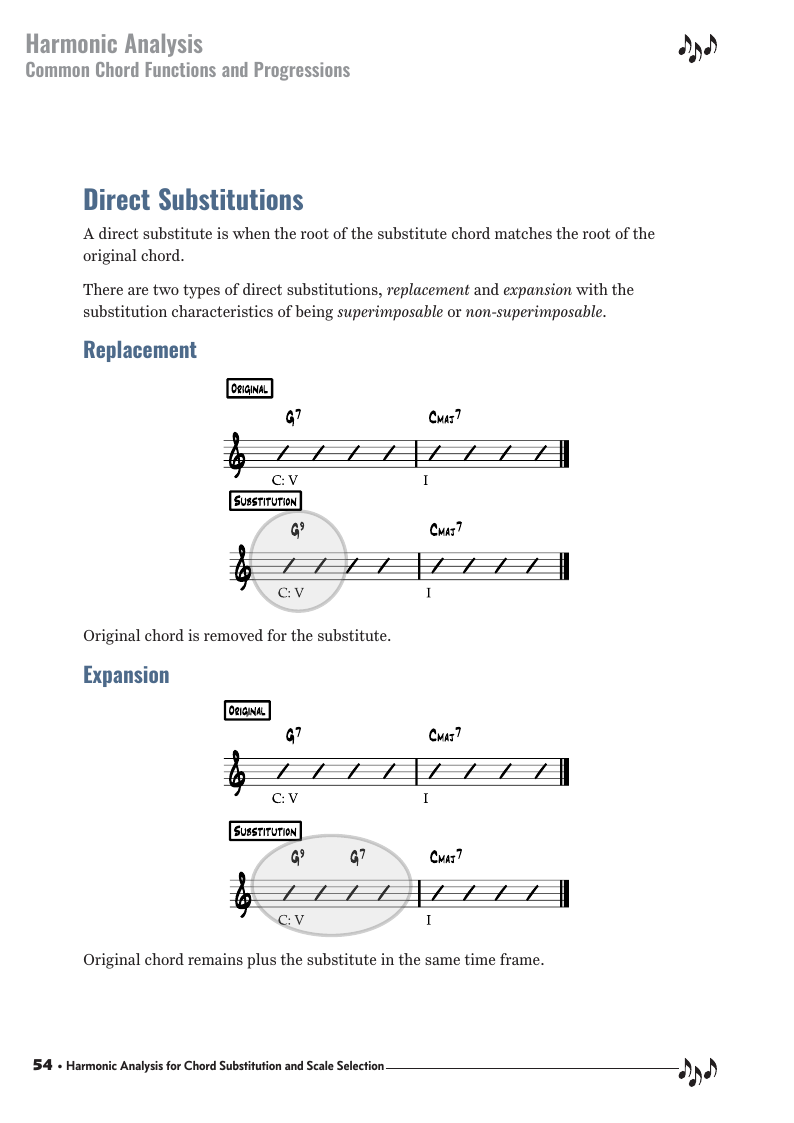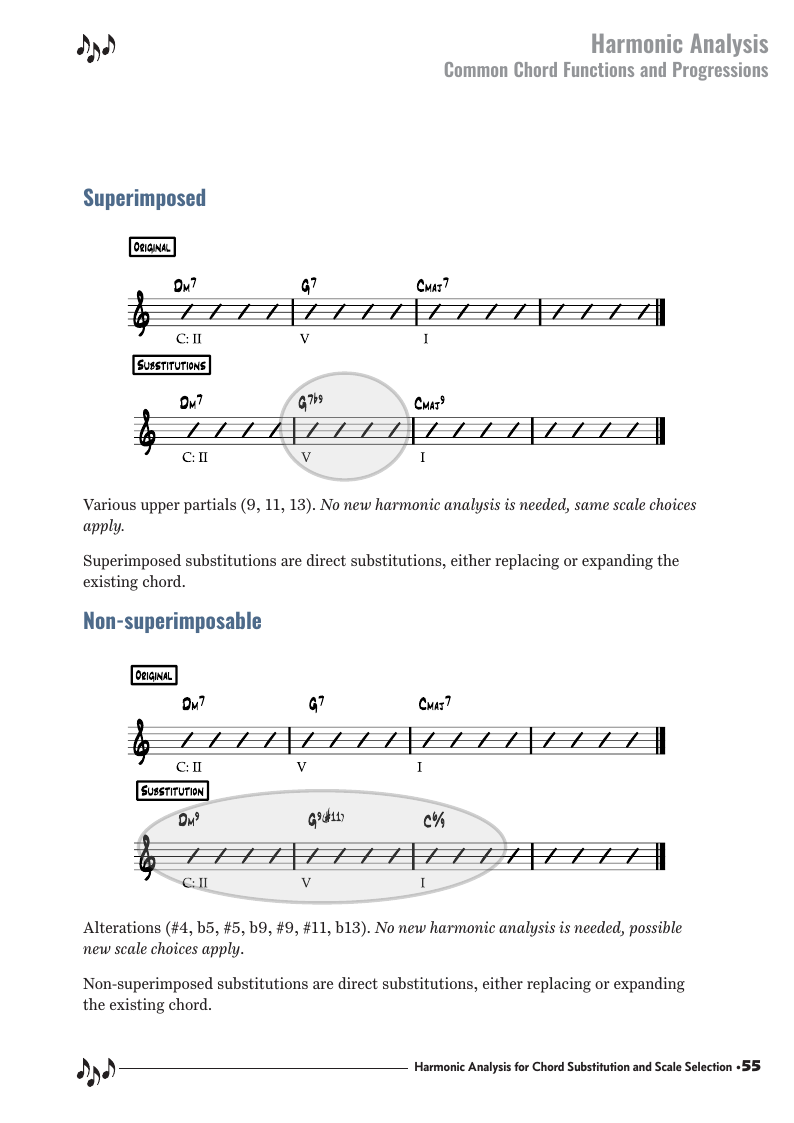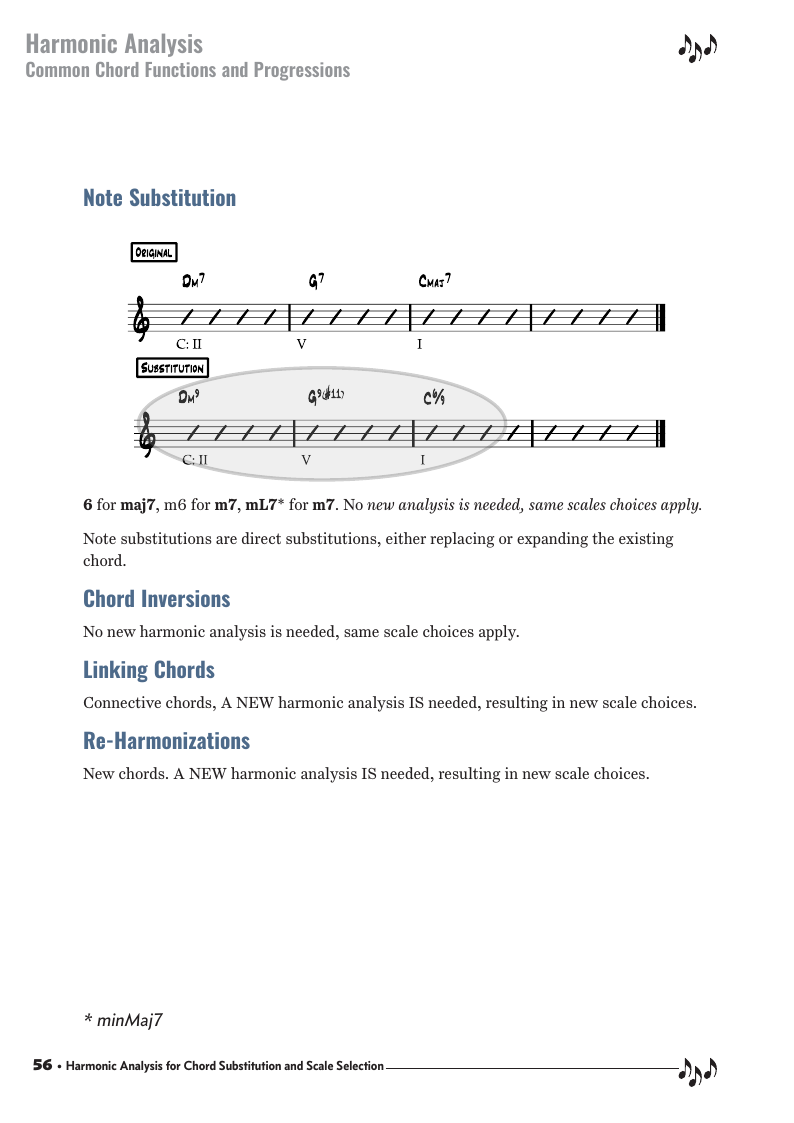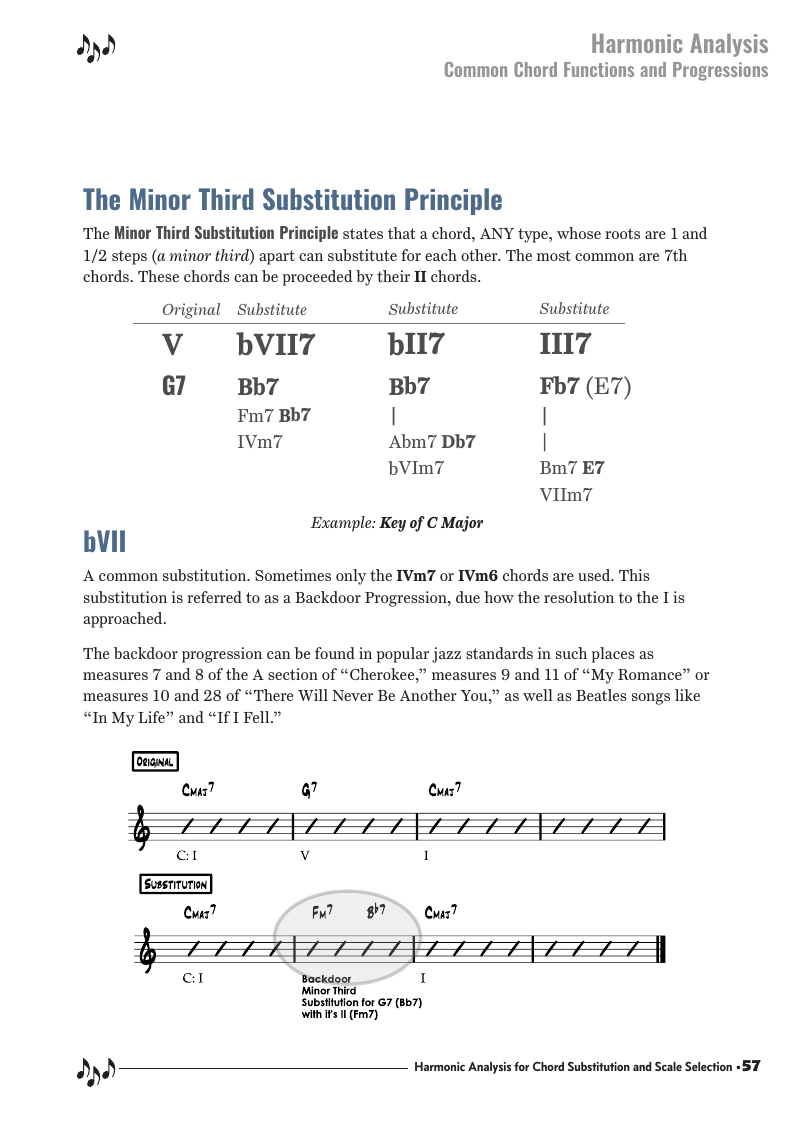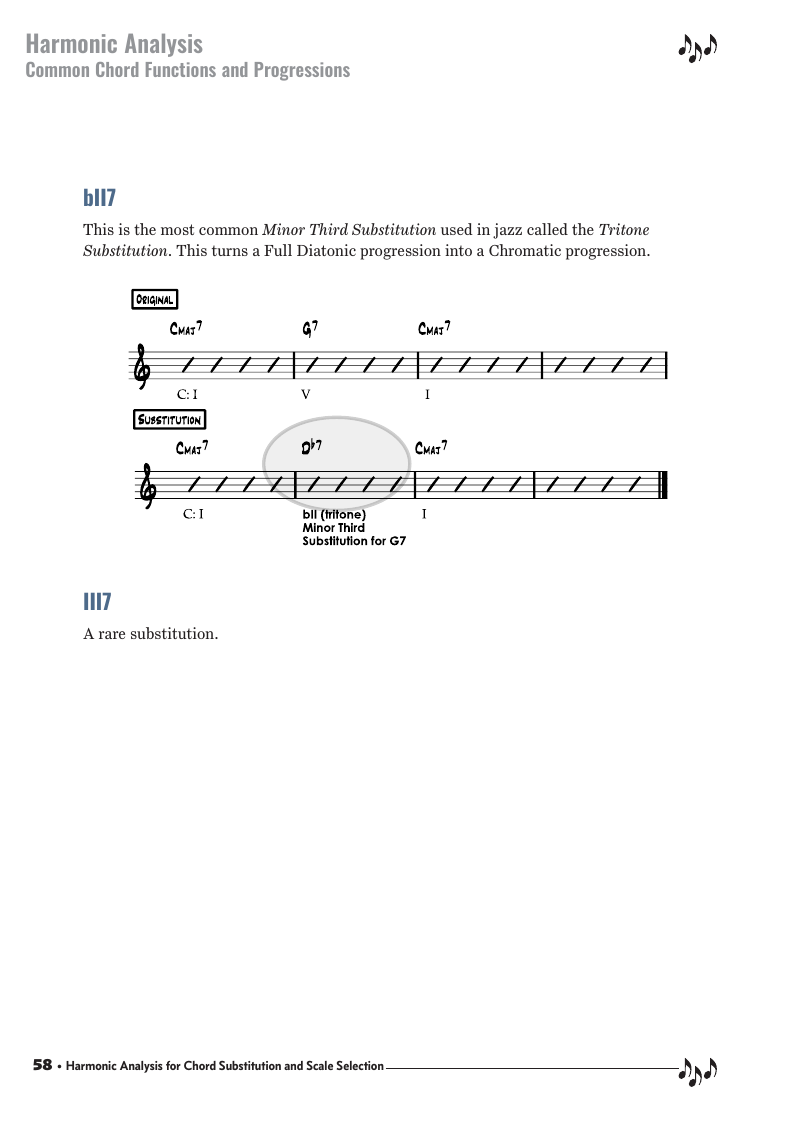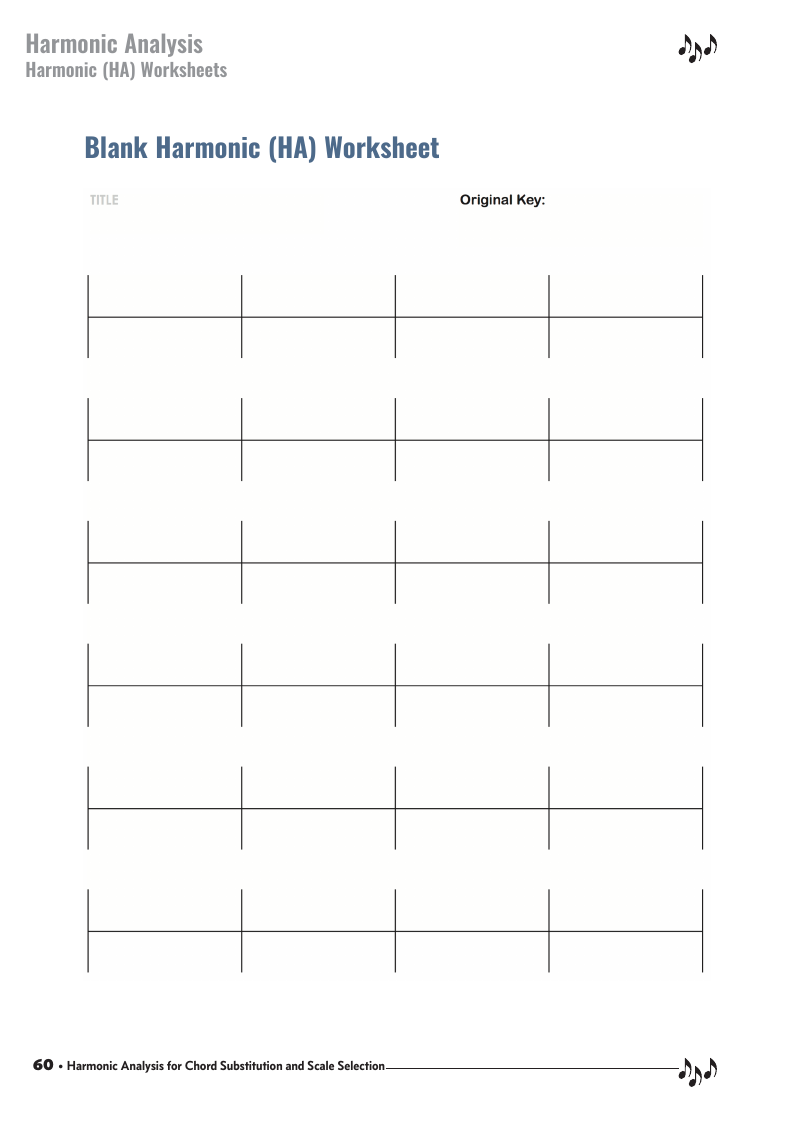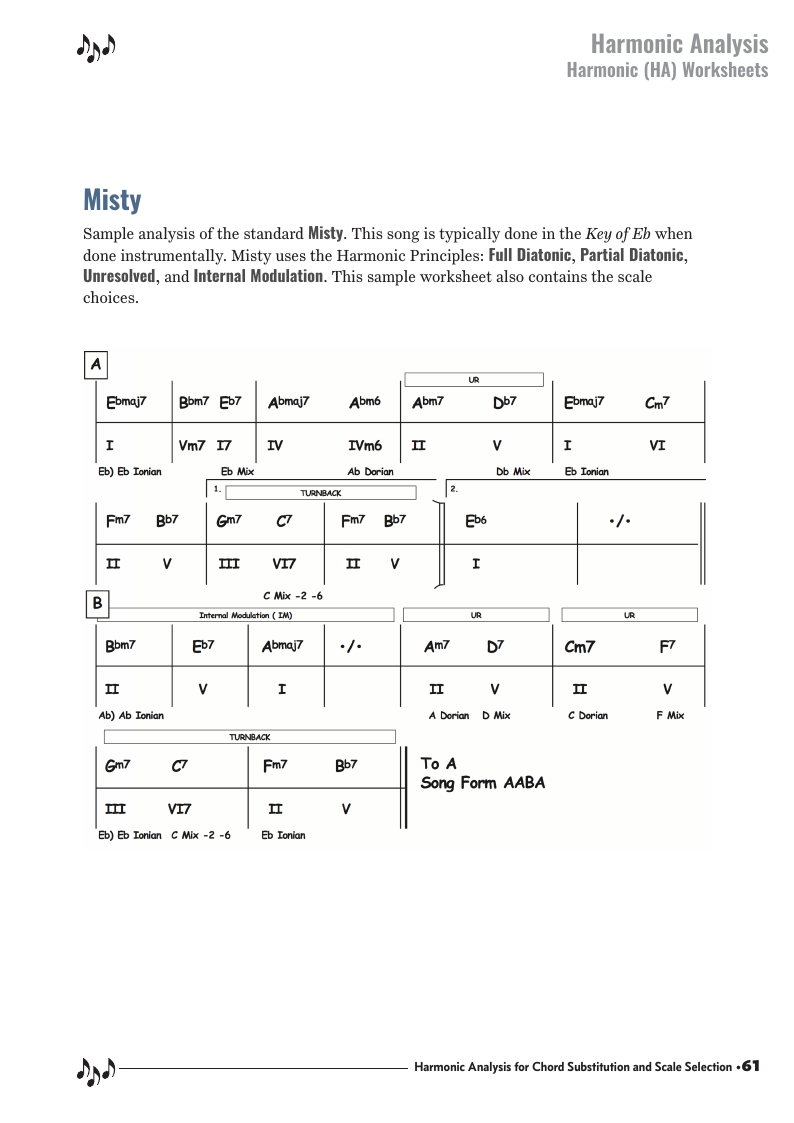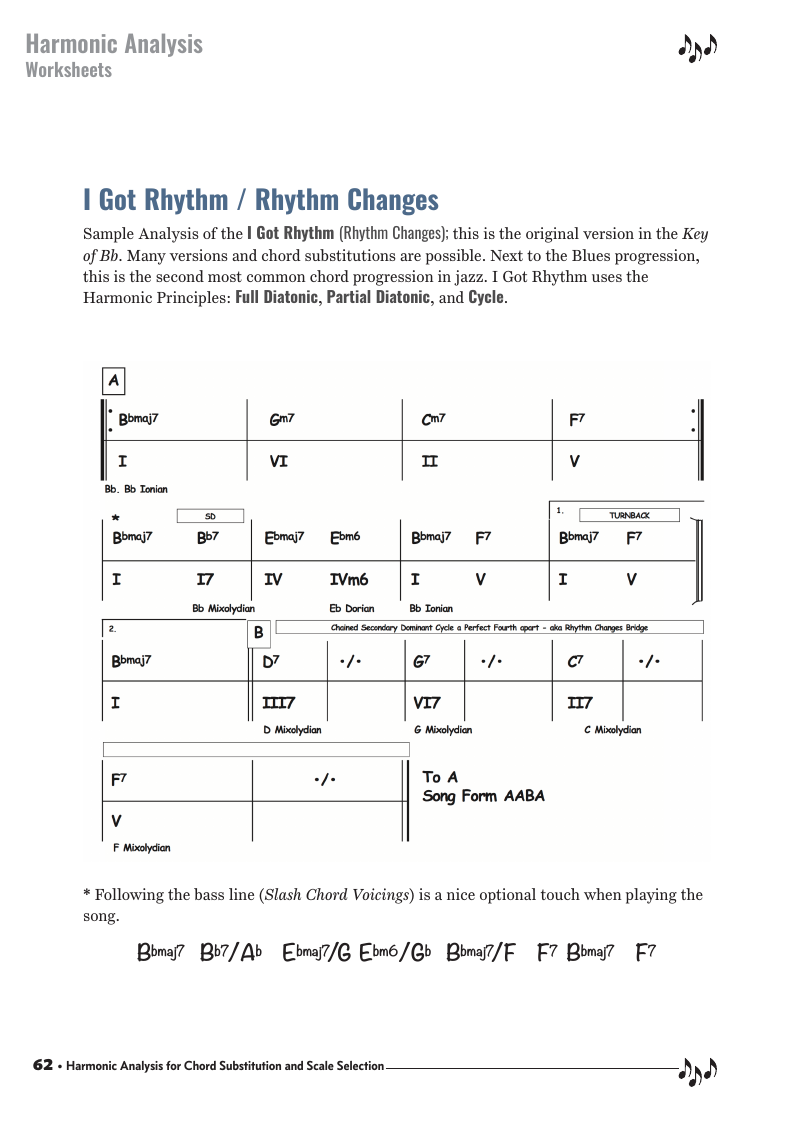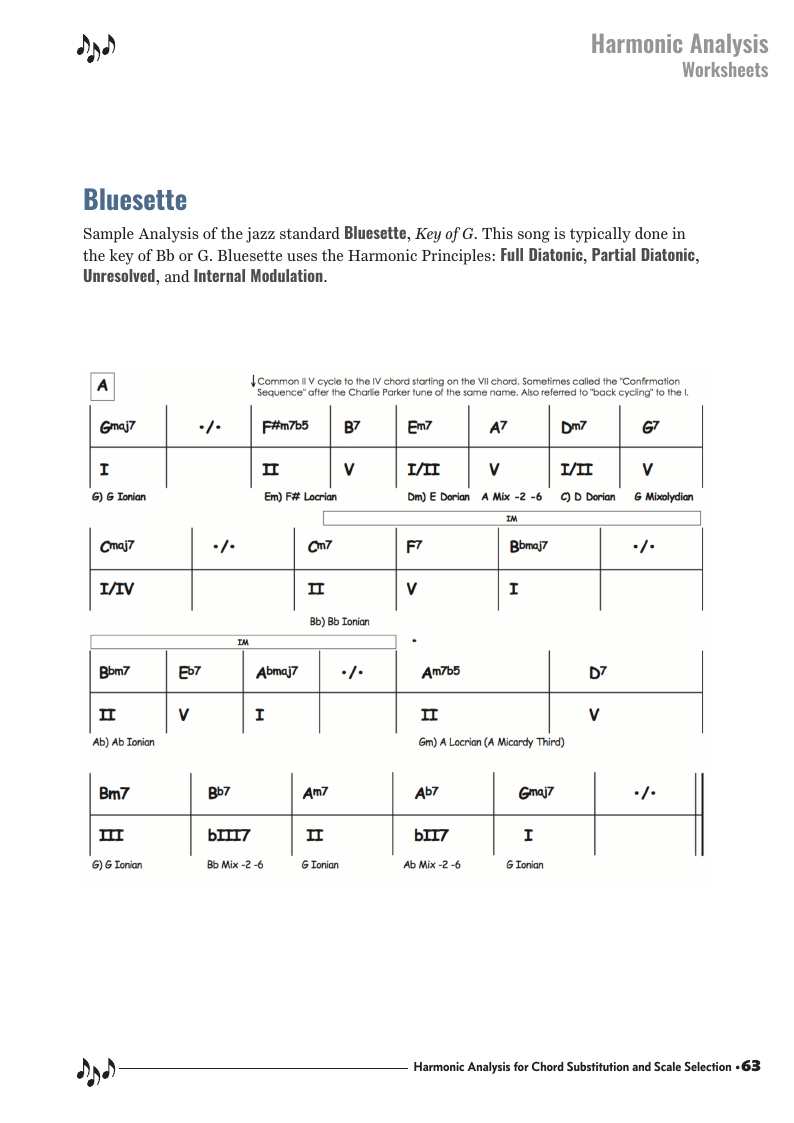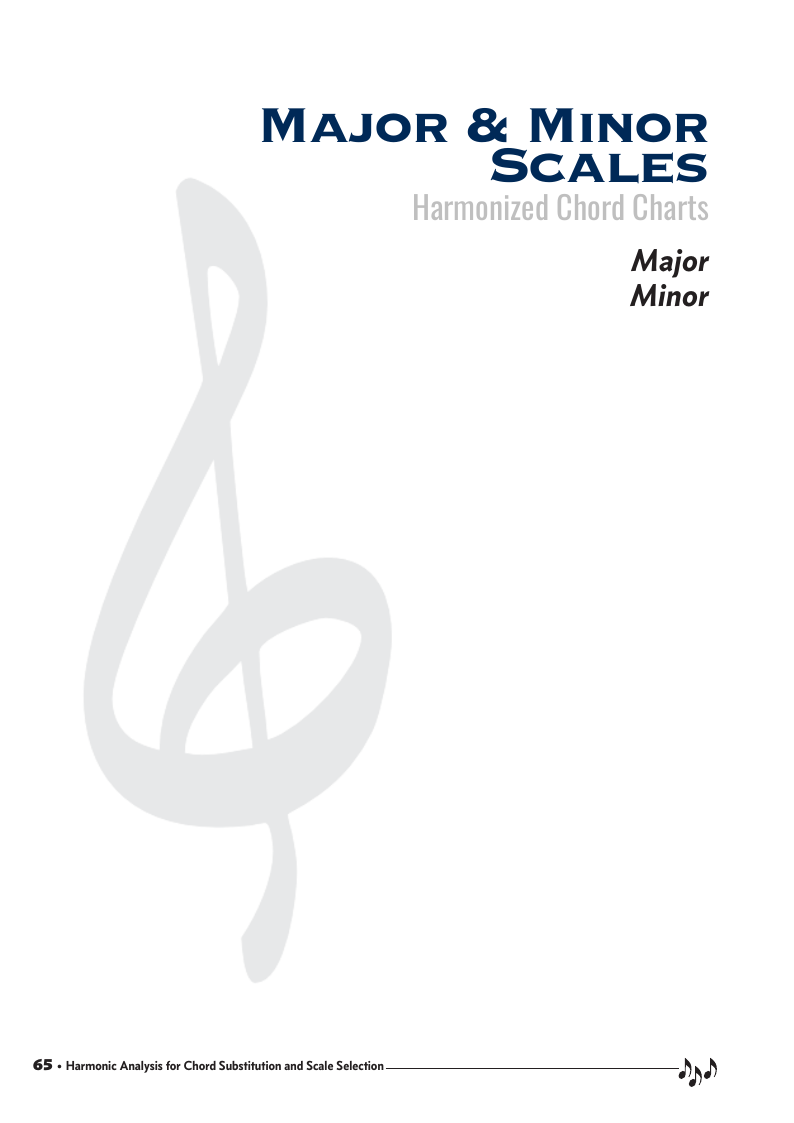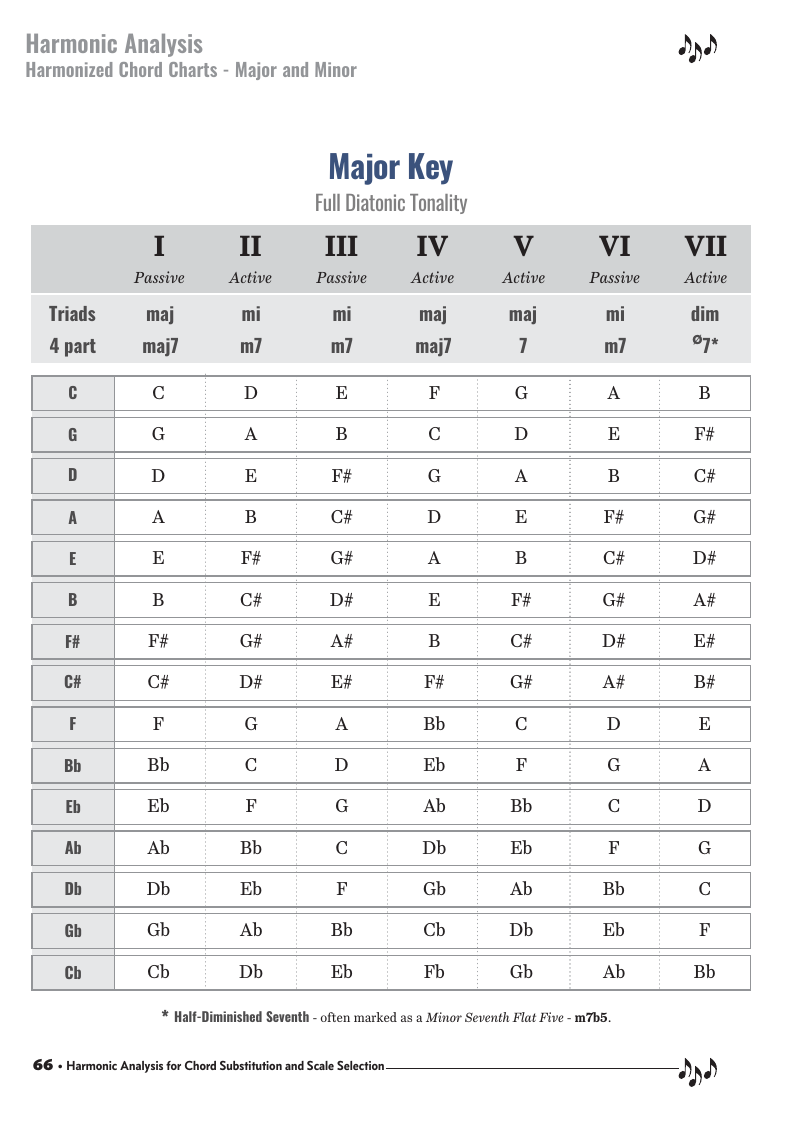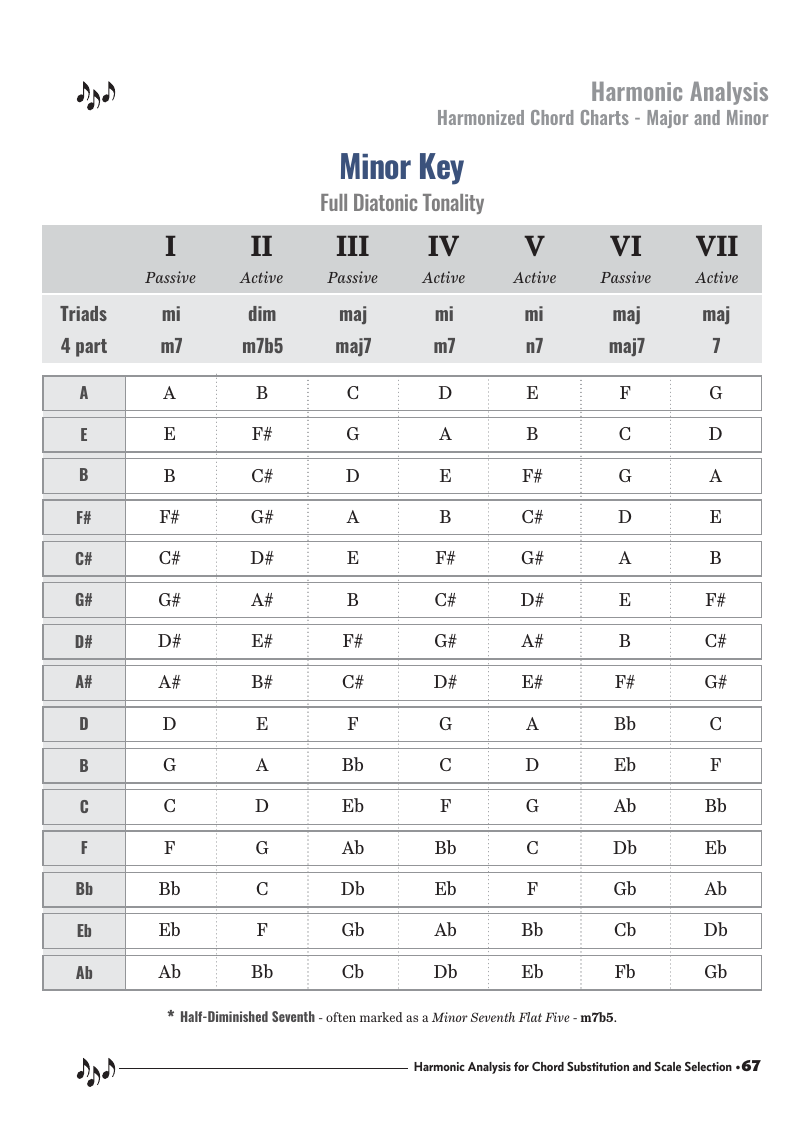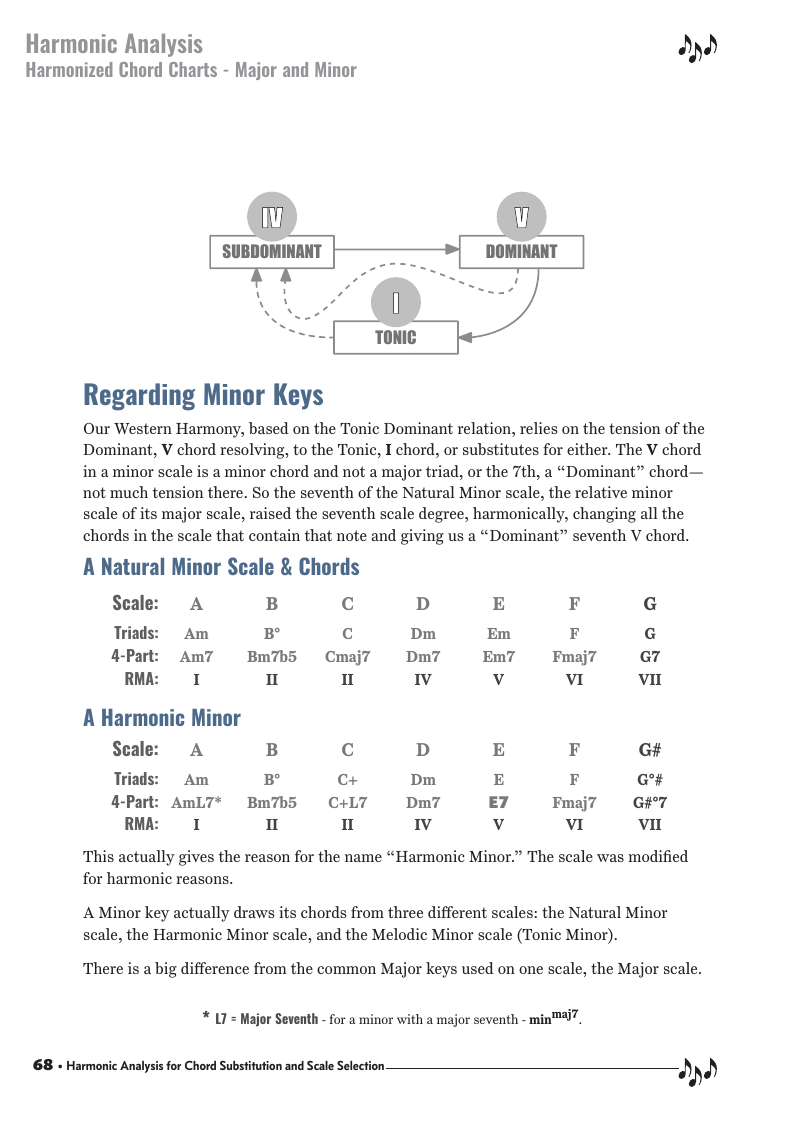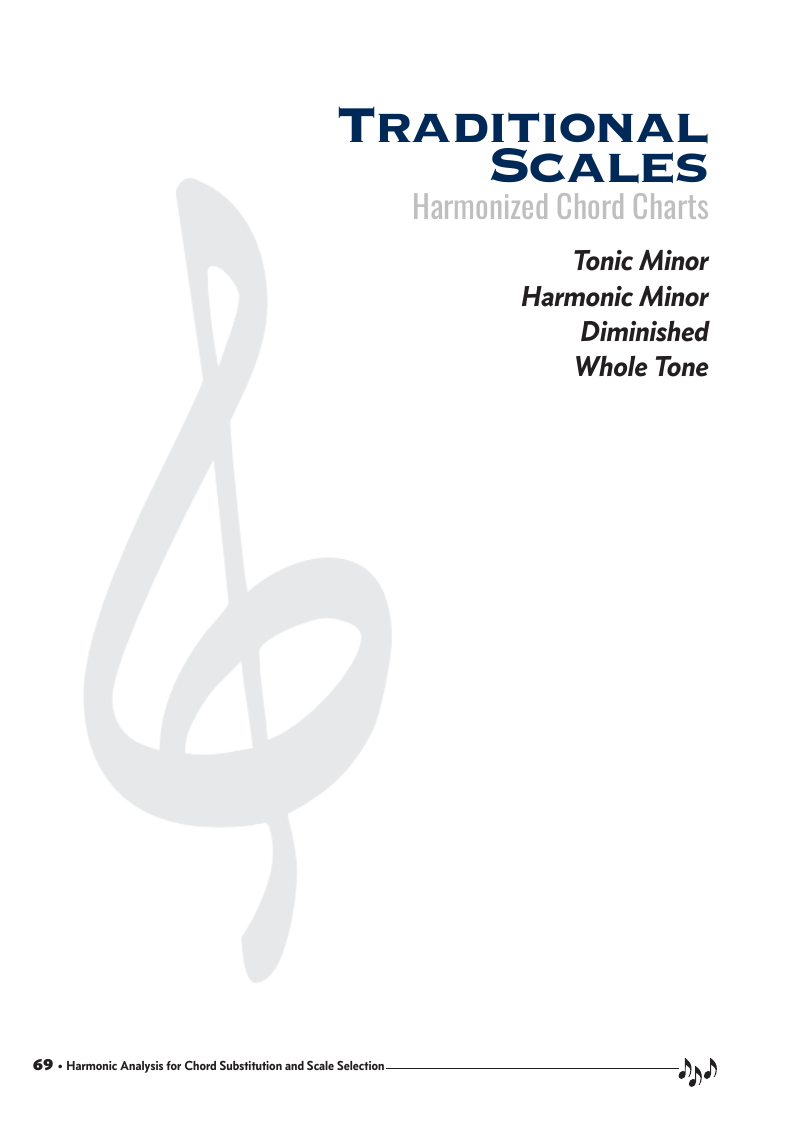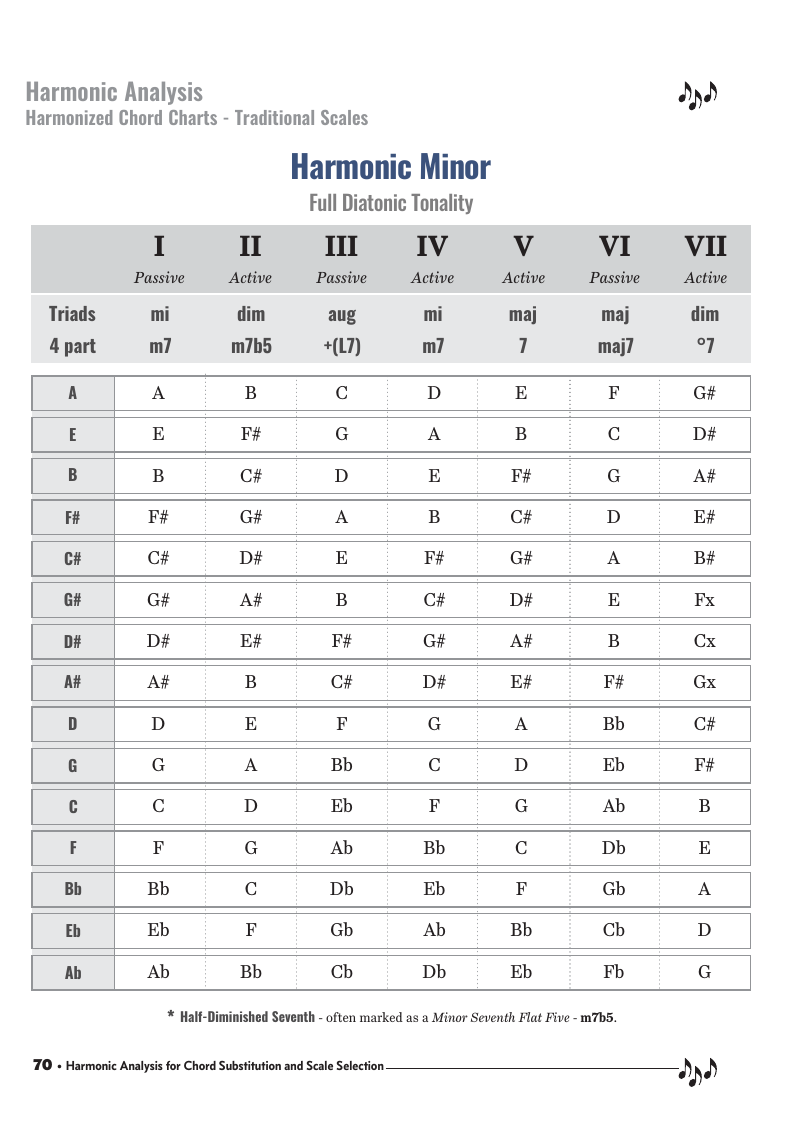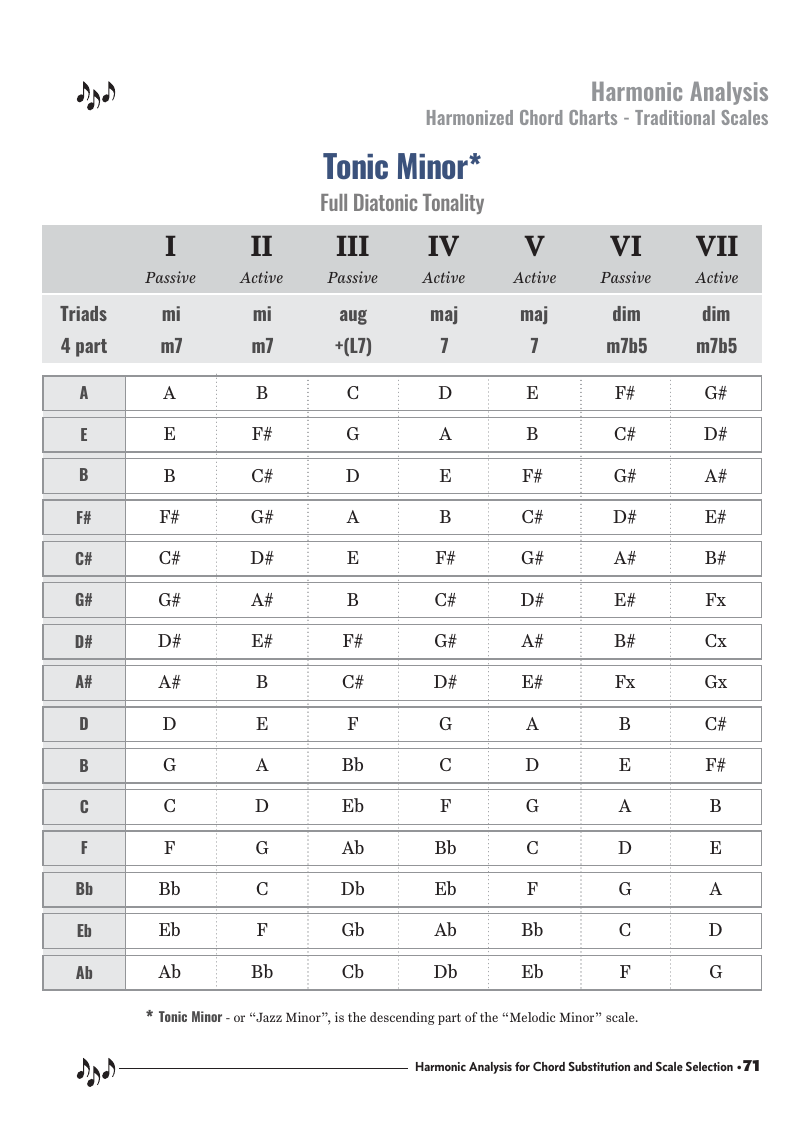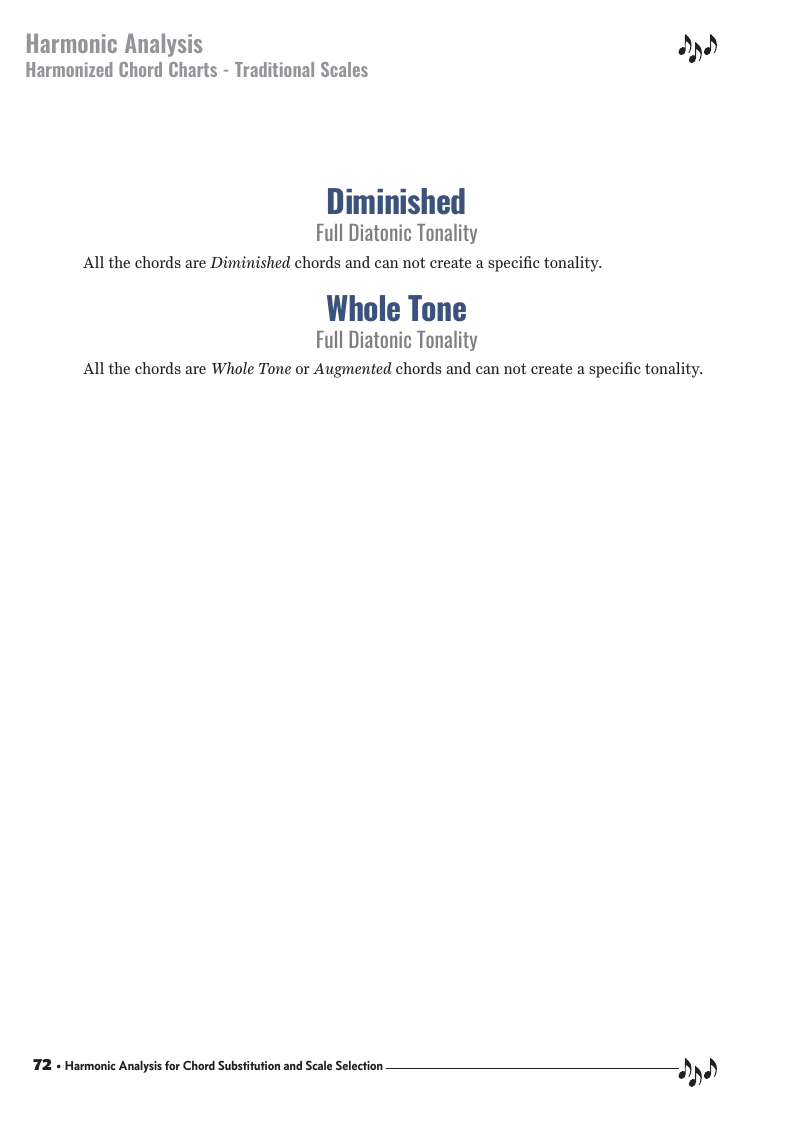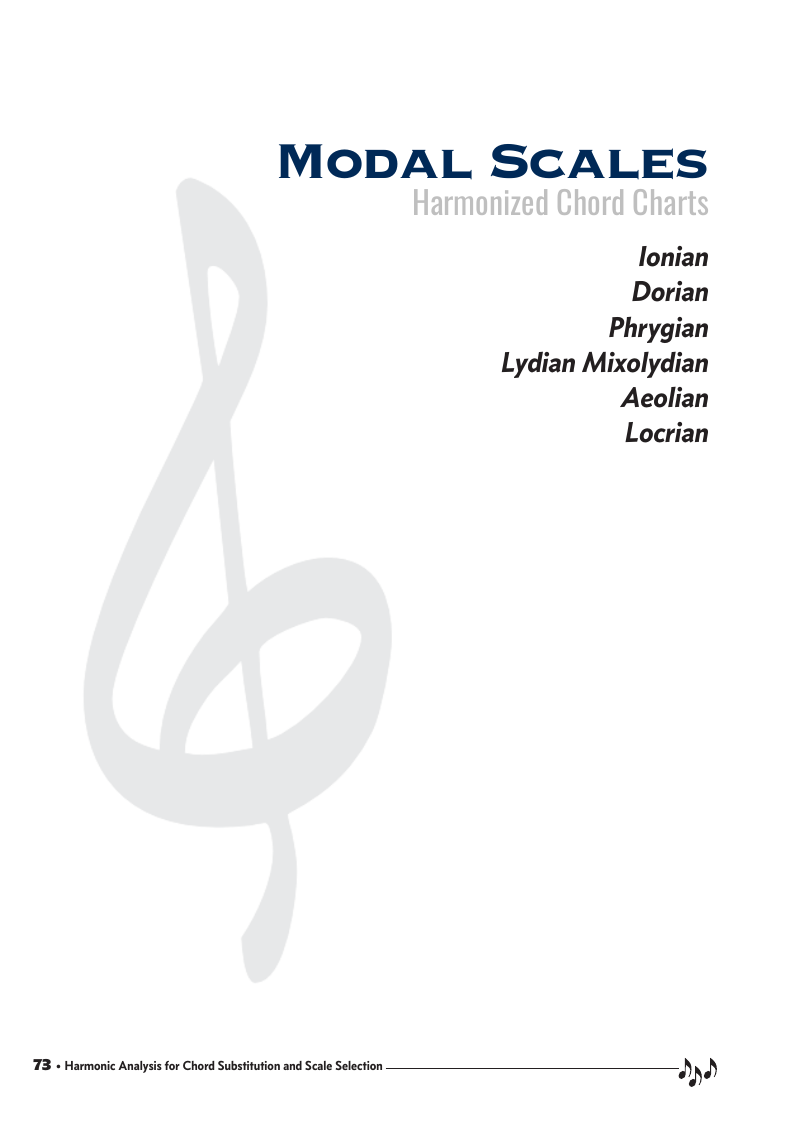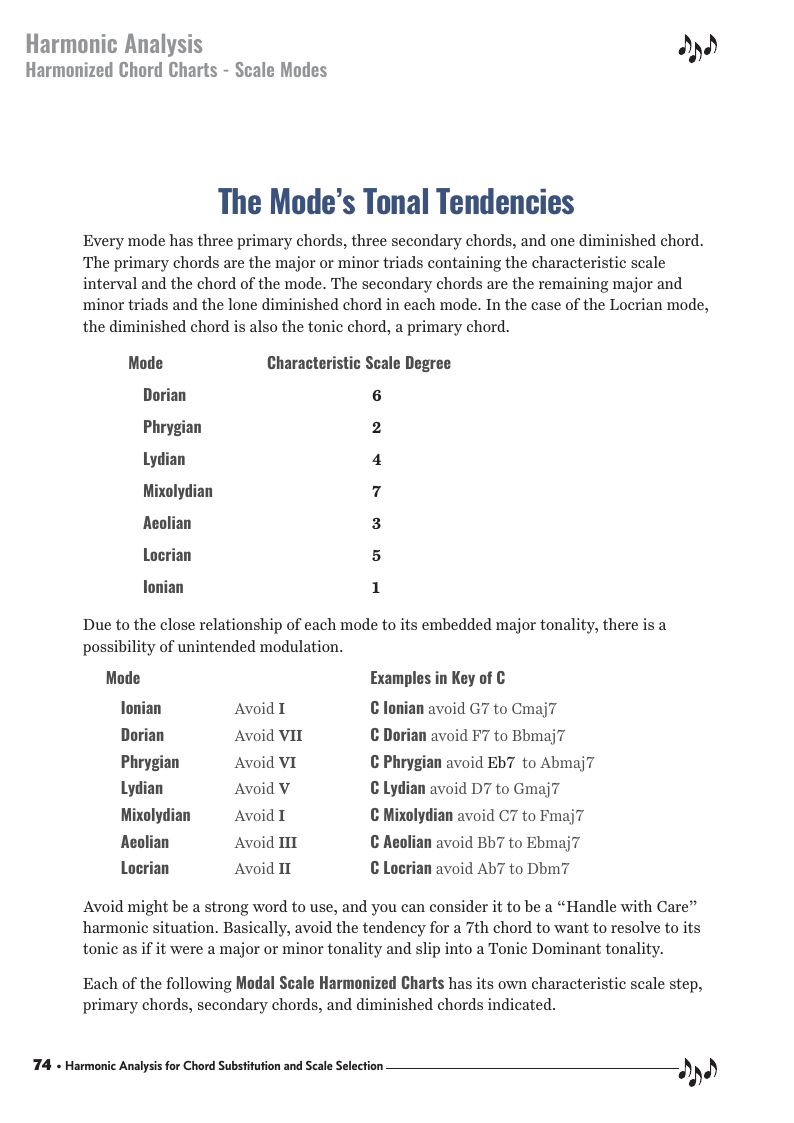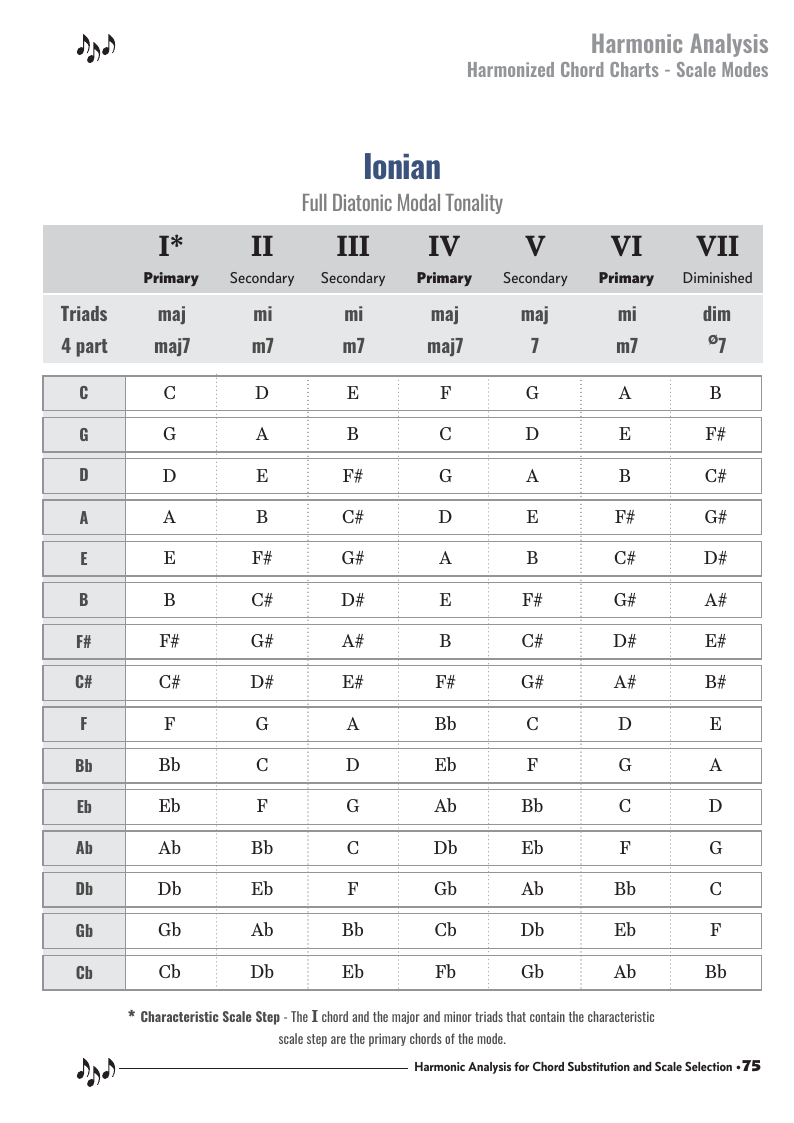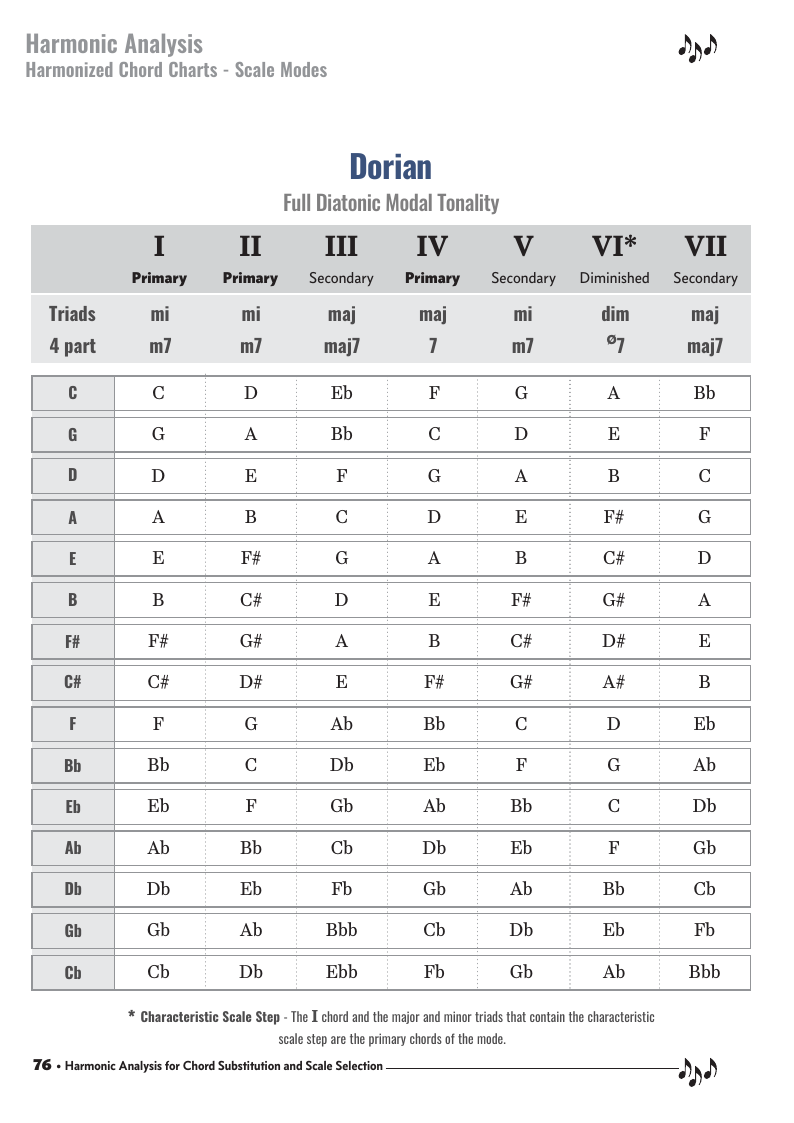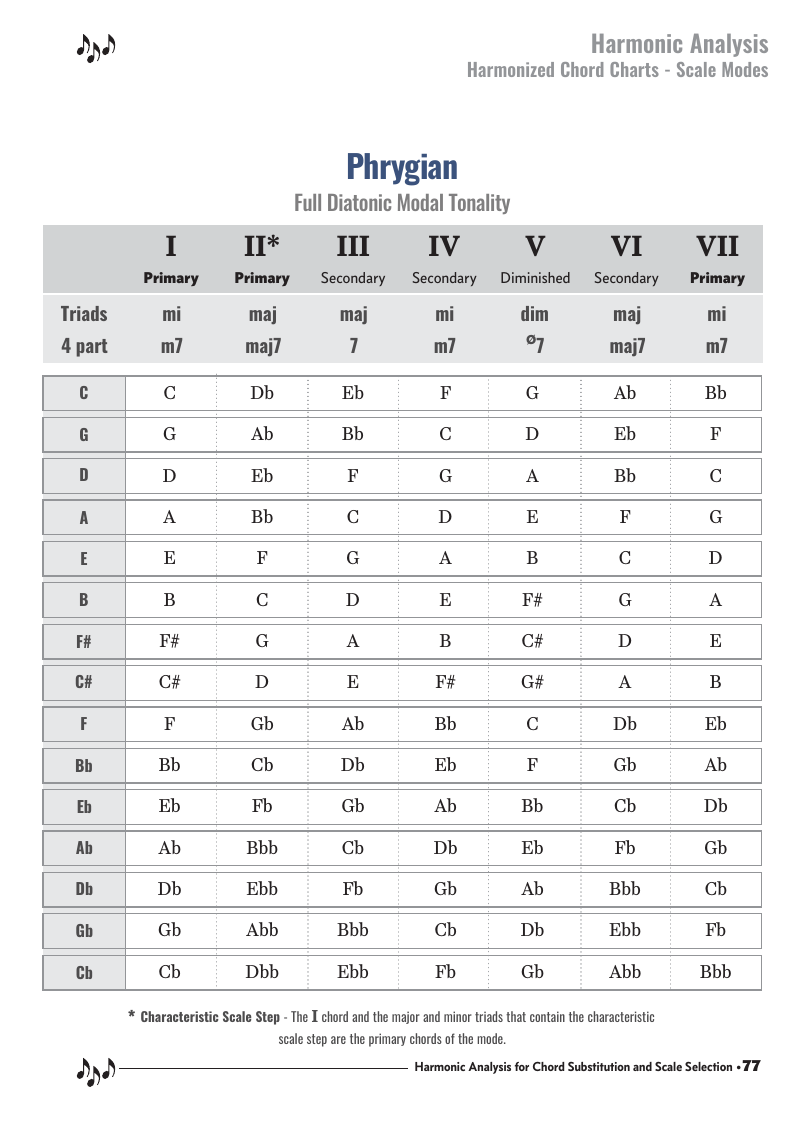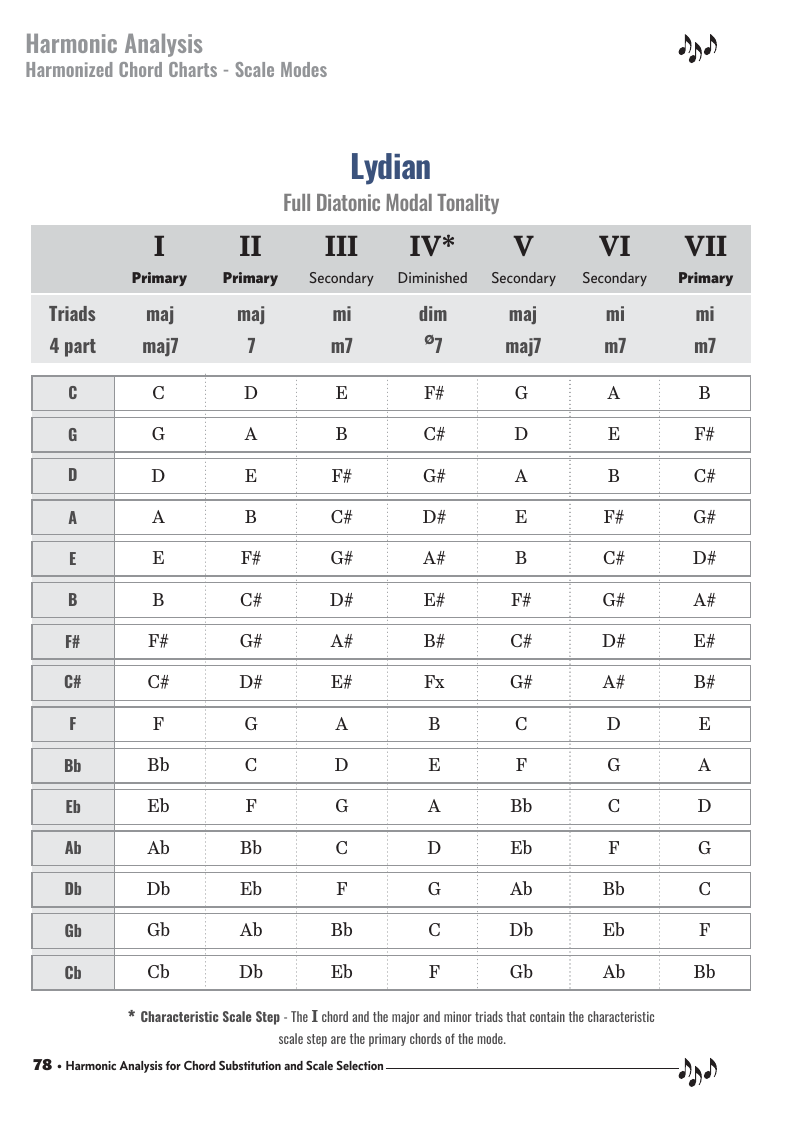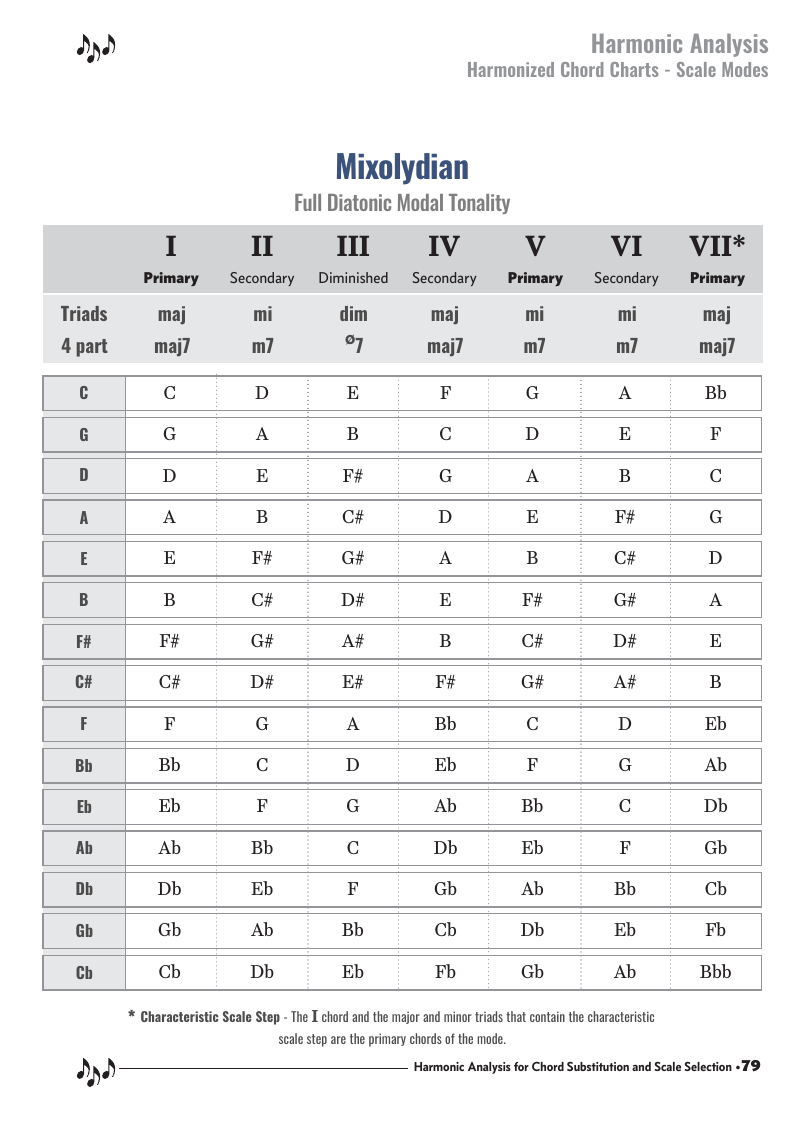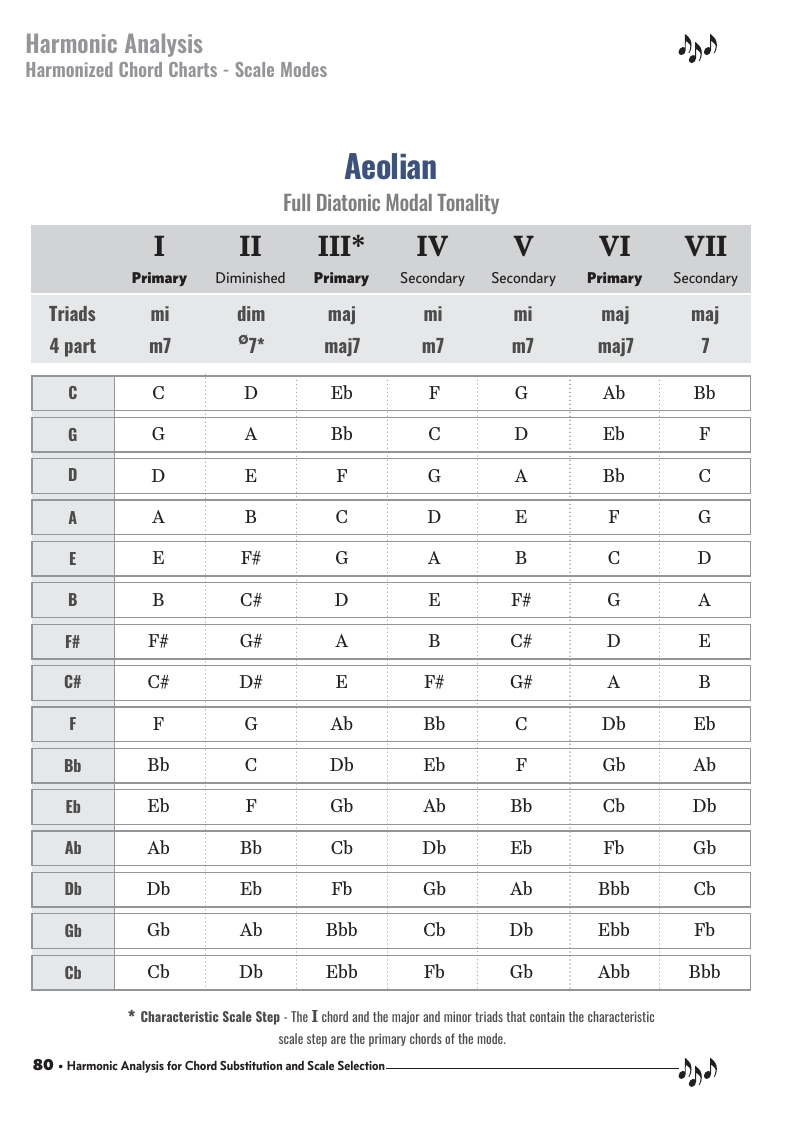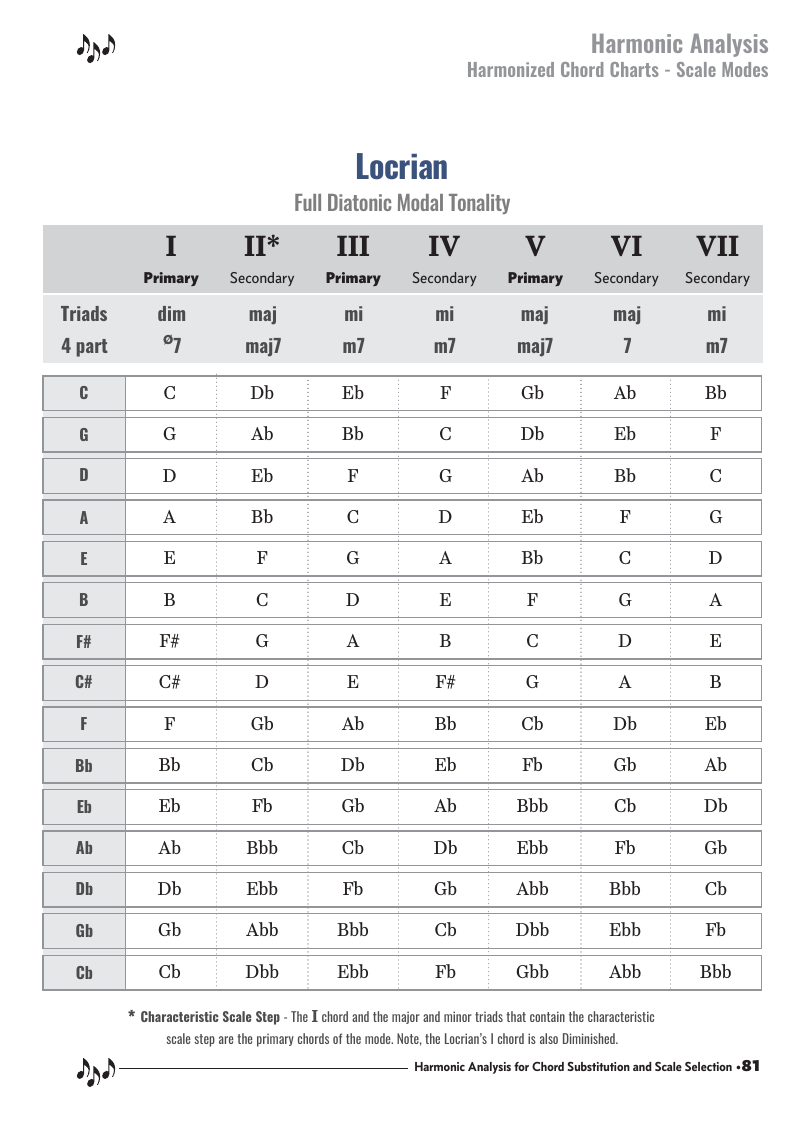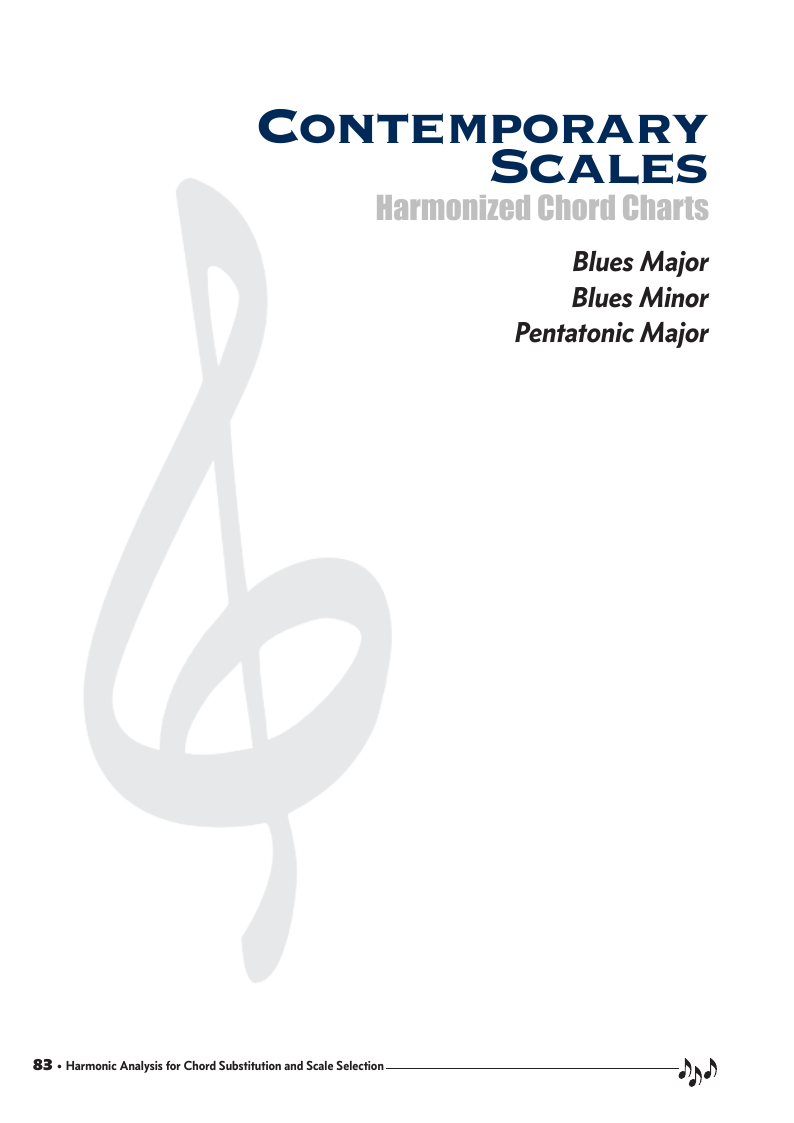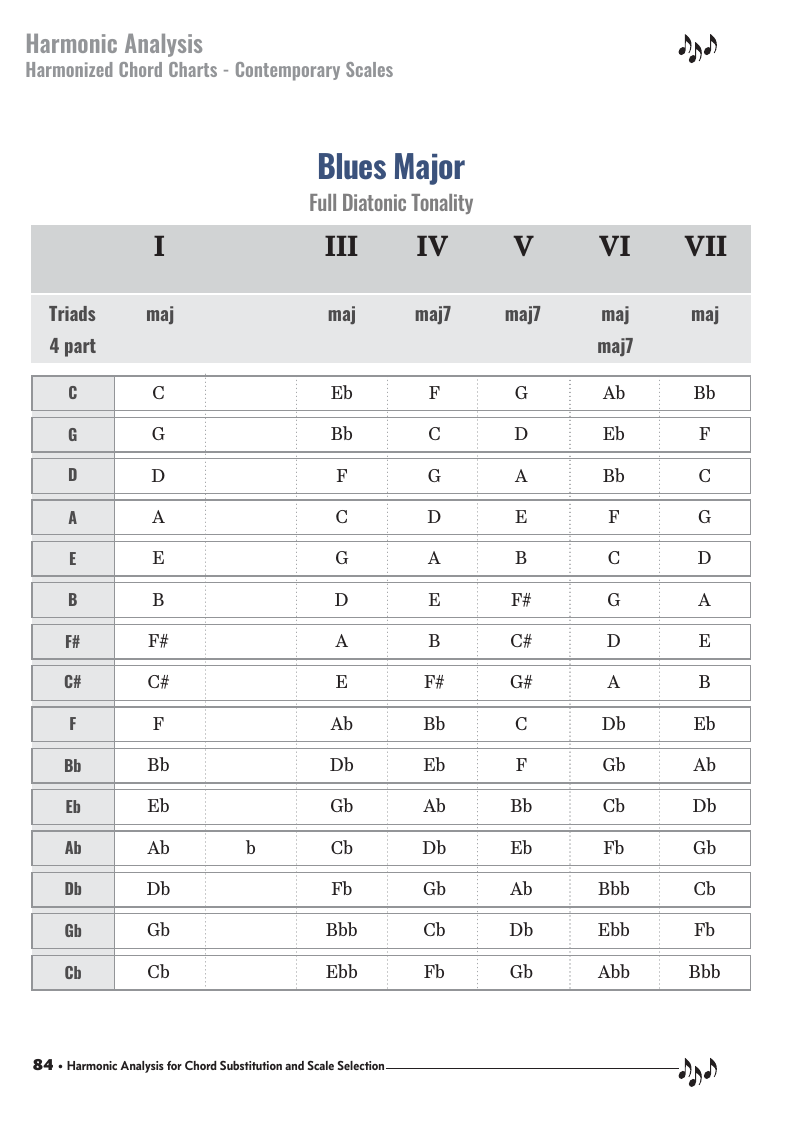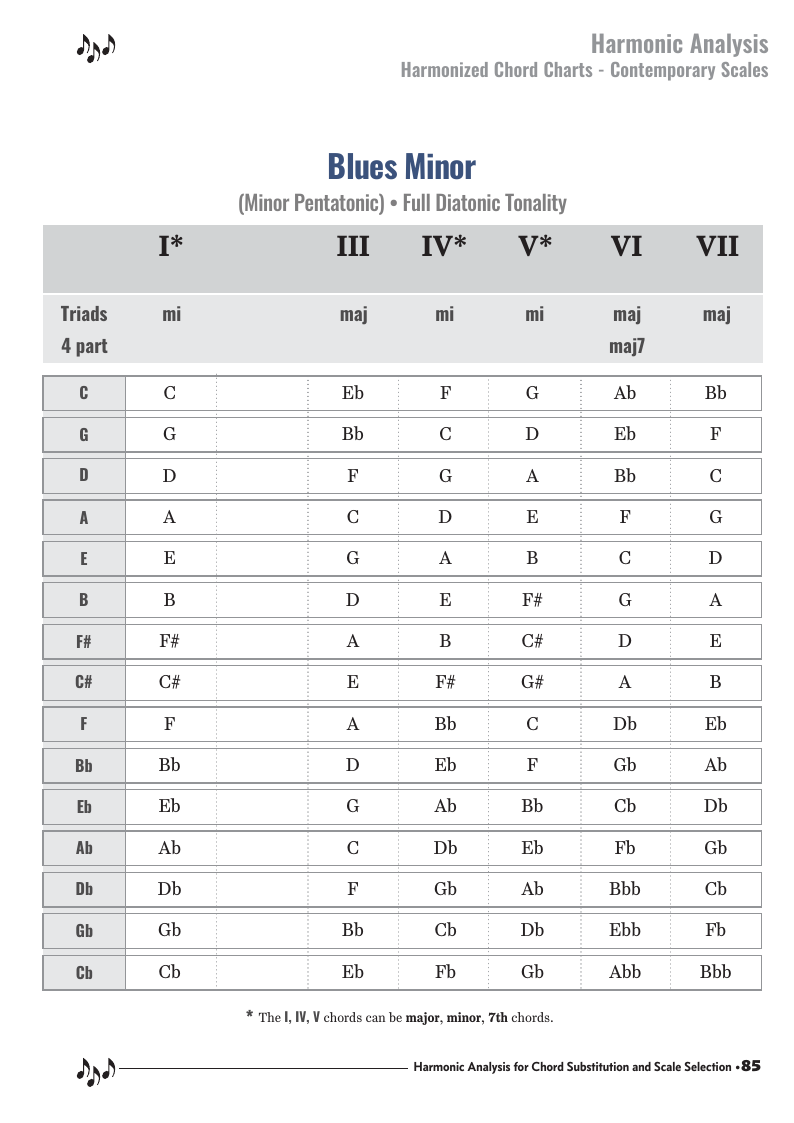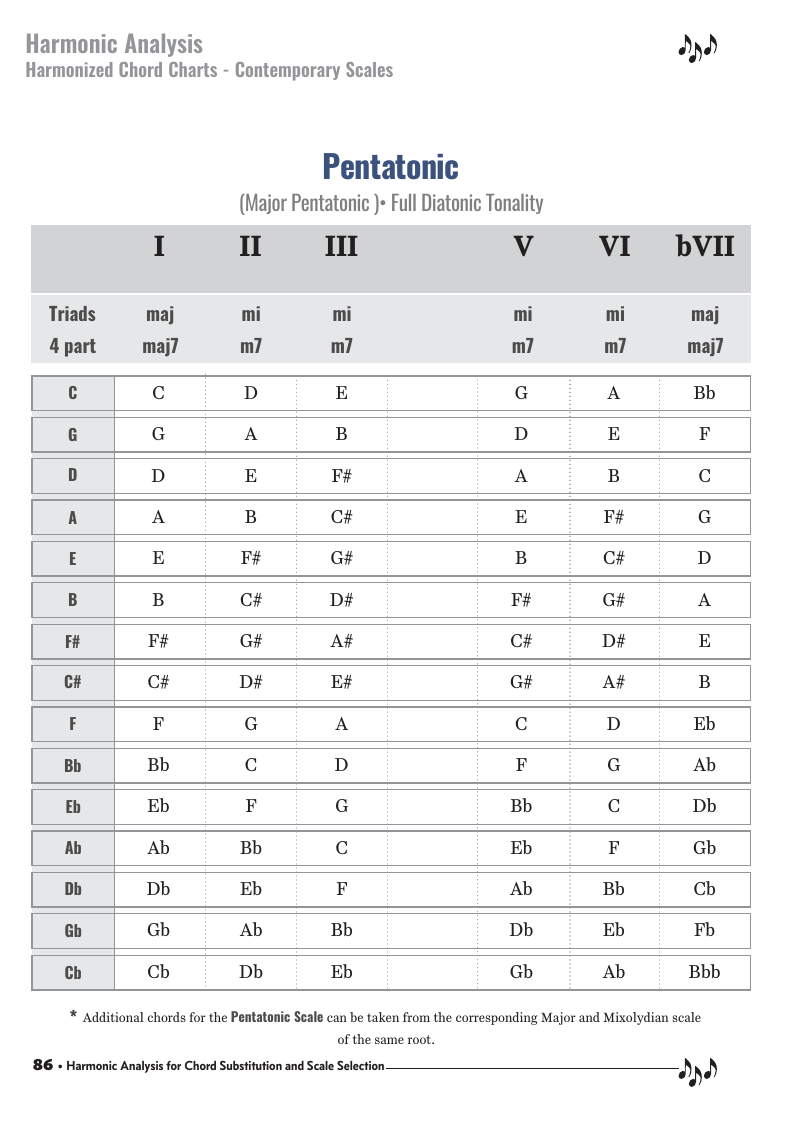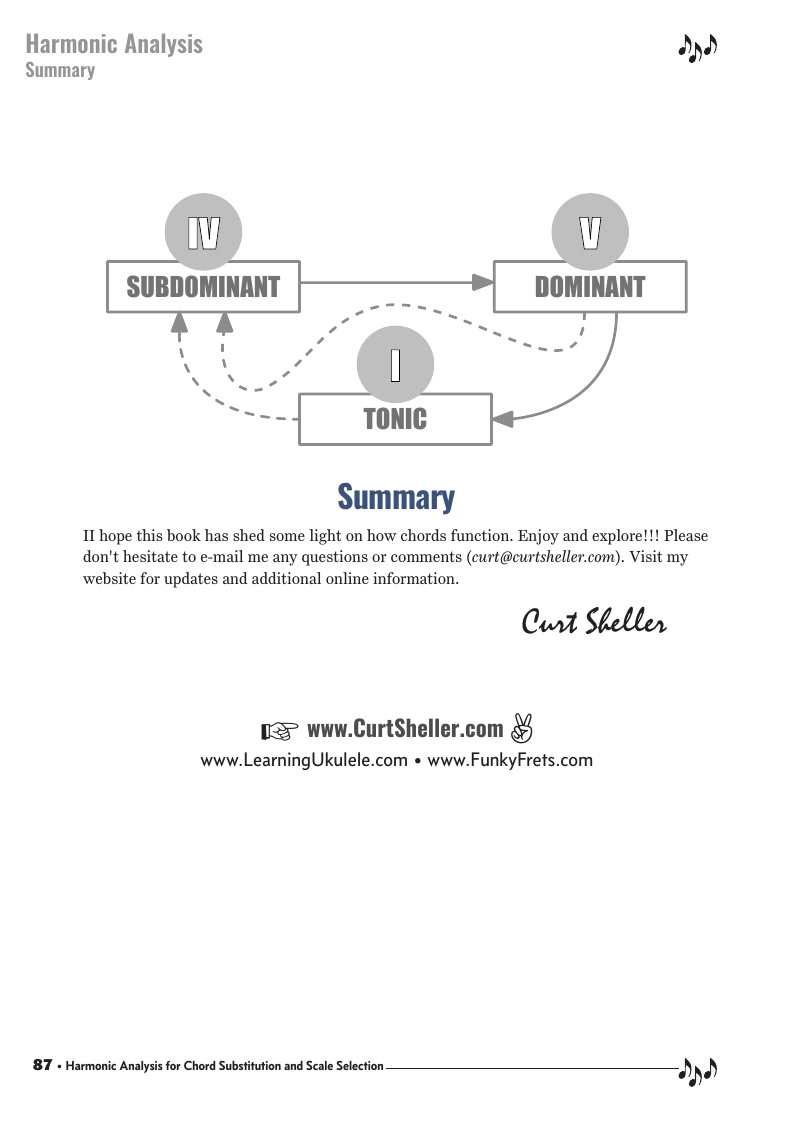 All 88 sample page(s) are viewable on-line.
To view the pages at a larger size you can resize the browser window smaller to a tablet or phone size and the pages will magically grow larger.
Or, a PDF Only View .
Sign-In to access this download if you are already have full site access or Sign-up for a Premium Site Access , — Or your can purchase a copy for download.
Each PDF file is a formatted high resolution file that prints out great. You'll need Adobe Reader or a PDF viewing application to view your PDF file.
Harmonic Analysis for Scale Selection and Chord Substitution
Product Code: RMA1
Author(s): Curt Sheller
Publisher(s): Curt Sheller Publications
Published: 2003-01-02
ISBN-10: 0-9714044-2-9
ISBN-13: 978-0-9714044-2-7

Size: 8.5 x 11
Size: 8.5 x 11
Pages: 88
Price, Hard Copy: $19.95
Price, PDF: $9

Harmonic Analysis is the understanding of the functional sequence of chords. It is the process used to analyze the harmonic structure of a progression, song or composition. This analysis is then used to make scale selections for improvisation and chord substitution.
books/how-to-buy-the-book
Excerpt from Harmonic Analysis for Scale Selection and Chord Substitution
Forward
The understanding of a chord's function within a chord progression or song is the first step in the process of scale selection for improvisation and creating melodies,as well as applying the principles of chords and scale substitution. It's also the only way that can accurately be used to determine the correct name of a particular chord.
Introduction
This book focuses on the following:
Analysis of Chord Functions within Chord Progressions
Scale Selection Based on Chord Function
Chord and Scale Substitution Principle
The chord progressions in this book employ the principles that occur in Tonic-Dominant harmony used in the Jazz and Popular songs widely considered to be part of the "standard" jazz repertoire.
A special thanks to Chuck Anderson for many of the concepts put forth in this book. As well as Glen Hirabayashi with help in editing this second edition.
Basic Concepts
Harmonic Analysis (HA) is the process used to determine the harmonic function of chords within a chord progression, song or composition. A chord progression is defined as a sequence of chords, with each chord having a root and a particular chord type. The relationship of a chord's root to a scale determines its function within that scale's tonality. Once a chord's function is identified, scale selections along with chord and scale substitutions are made. We call this process Root Movement Analysis (RMA).

Root Movement Analysis
Root Movement Analysis is the process of determining the root movement of chords within a chord progression, song or composition, the chord types as well as identifying tonal centers. This root movement can be determined and categorized using one of six harmonic principles and the harmonized chord charts contained in this book. These principles six harmonic principles will be covered in the next chapters.

The Harmonized Chord Scale

A chord, in music, is any harmonic set of pitches consisting of two or more (usually three or more) notes. The most common collection is created by the stacking of intervals of thirds. These thirds are a combination of major or minor thirds.
These three note chords are called triads. Four notes make up 4-part chords, five notes make up a 5-part chord, all the way up to chords that include all the notes of the scale. These chords create a Harmonized Chord Scale that is used for a Root Movement Analysis. For the purposes of harmonic analysis this book uses triads and 4-part chords only...
Why Buy My Books
How to pay for this book
Thanks for visiting LearningUkulele.com! I hope you've enjoyed the site so far. My site does not run ads. It's supported by visitors, premium site member, and readers like you.
Short Answer
Because this book is only available directly through me (Curt Sheller), this site and at our Funky Frets family music store. It is the only way this book can earn its keep and its only source of revenue is visitors and site members like you. If you don't pay, the book dies, gets no updates, etc…
Good news is you can become a Premium Site Member and get this book for FREE as part of your paid access.
Long Answer
I'm not a venture-funded startup nor a major corporation. I'm—a self-employed musician, author, teacher, graphic artist located in southeastern Pennsylvania, USA. And this web site, books, lessons, songs and content have been grinding along in one form or another along since 1995, the ukulele part has literally been a full time effort since 2003 - literally years of effort have gone into creating this content.
Making my books only available on this, my web site is an experiment in using the web as a serious book publishing platform. My goal is to take my music expertise and knowledge that I've gained from the past 40 plus years of serious study, research and application as a performer, student, author, private music teacher and make it available in your quest to be a better musician, enjoy the ukulele more or just having more fun in what you are doing.
I wanted to deliver and present this material with a high standard of quality typically associated with traditional printed, mass produced books by traditional publishers. While taking advantage of all the web has to offer.
All my, Curt Sheller books are the sole product, with 100% of, and all the effort, graphic design, site coding, content, marketing, fulfillment, etc... - by one person – your truly.
Your purchase supports all that it takes to keep this site going. And, a membership is the best way to do that. I'll not do the Pateron or Kickstarter route for begging for money ( nothing against fellow artists that go that route - just not my cup-of-tea.
Table of Contents: Harmonic Analysis for Scale Selection and Chord Substitution
Introduction
Basic Concept

The Harmonized Chord Scale
Root Movement Analysis

The Six Harmonic Principles (Overview)
Full Diatonic
Partial Diatonic

Secondary Dominants

VI7 - V of II
VII7 - V of III
I7 - V of IV
II7 - V of V
III7 - V of VI
Chained Secondary Dominant Cycles
Diminished Chords?
Internal Modulation
Determining a Modulation
Pivot or Double Function Chords
Common Modulations
Unresolved
Chromatic
Cycle
Common Chord Functions and Progressions
Common Major Keys
Common Chord Progressions
Chord's Harmonic Function
Common Harmonic Sequences
Im ImL7 Im7 Im6
Im7 Im7+5 Im6
Picardy Third
Chromatic Sevenths
Confirmation Sequence
Scale Selection
Vertical Scale Choices
Horizontal Scale Choices

Full Diatonic Chords
Partial Diatonic
Internal Modulation
Unresolved
Cycle
Chromatic

The Lydian Scale Uses vs Ionian Scale
Chord & Scale Substitution Principles
Direct Substitutions
Substitution Characteristics

Superimposed
Non Superimposable
Note Substitution

Inversions
Linking
Re-harmonizations
Diatonic Substitutions
The Minor Third Substitution Principle
Worksheet Examples
Harmonized Chord Charts
Major Key
Minor Key
Harmonic Minor
Tonic Minor
Ionian
Dorian
Phrygian
Lydian
Mixolydian
Aeolian
Locrian
Blues Major
Blues Minor
Pentatonic
Summary
Index
Errata: Harmonic Analysis for Scale Selection and Chord Substitution
top
6/2/2006 - Updated ISBN number to new ISBN-13 number.
10/24/2004 - 20041024.1.1 - Fixed a few typos.
4/1/2004 - New color cover.
1/25/2004 - Several changes made and additional common progressions added. Version 200401252230
1/19/2004 - Page 78 Aeolian chord chart D Aeolian row wrong. All future versions of the book will reflect this change. Version 200401201100
The latest download ( PDF or eBook ) always has the latest changes and errata changes incorporated and contain the most up-to-date version of the file. If you download the book from LearningUkulele.com you'll be notified when there is a new version of the book available.
Related Lessons
Related Lessons for Harmonic Analysis for Scale Selection and Chord Substitution at this time.
top
Related Book Files, Resources and Assets
Related Assets for Harmonic Analysis for Scale Selection and Chord Substitution at this time.
top
A Guide to Advanced Chords Series - Chord Building Chart
A handle dandy reference chart for building fifteen (15) basic triads and 4-part chords.

Members Only
Log-in to access.
Key Signatures - Cycle of Fourths and Fifths
A handy reference chart of all 15 major and relative minor key signatues.

Members Only
Log-in to access.
Related Book Books
Related Books for Harmonic Analysis for Scale Selection and Chord Substitution at this time.
top
Related Songs
Related Songs for Harmonic Analysis for Scale Selection and Chord Substitution at this time.
top
Related Lesson Series
Related Lessons Series for Harmonic Analysis for Scale Selection and Chord Substitution at this time.
top
NOTE: Each higher membership level includes ALL the benefits of the lower membership levels. The Private Lesson Plans include all the benefits of a Premium Access Plans as long as you remain a student on on the schedule.
Just browsing over both books, they look fantastic! I'm a guitarist and uke player for over 25 years and was thinking about writing a ukulele book but you've already written what I think are the best, most comprehensive and thorough books I've ever seen for the instrument. I just might end up buying every book you've written and I'll be giving my highest recommendation for your books to my friends and students. Thank you so much for taking the time to write such great books! — Peter Rhee
Aloha, Curt, All I can say is WOW! What you have accomplished is simply incredible! All the best — Glen Hirabayashi, The Aloha Boys
Folks, if you haven't stopped by Curt's site, do so right now! ..And get his books, they are fantastic. This guy knows his stuff and is able to pass it along too. — Alan Johnson Proprietor, The 4th Peg
I can highly recommend Curt's Uke books — I have four of them and they are excellent. — fatveg — Portland
Thanks for visiting and checking out the site!

Original Curtie Animation from 1987 for my first web site on a Macintosh II.
33 years ago.
"Built for myself (Curt), and sharing with the `Ukulele community!"
LearningUkulele.com has one of the largest collections of lessons, songs, and TABS, luthiers, ukulele builders, ukulele festival and club information, and, ukulele links on the web. I've been on the ®Internet since the early 1990's and This site just never stops growing!!!
Content is added and updated almost daily - so check back often.