Ko'olau Ukuleles - Collector Series
There are a lot of great ukulele builders making some of the finest instruments in the world. And, the Ko'olau Guitar & Ukulele Company makes the best high end ukes that are a work of art.
These are my go to ukuleles. The Pono Pro Classic series of ukulele amazing - one of the highest, it not the highest quality production ukuleles in the world. - Curt
---
Black Bear Ukuleles - Theme Ukulele
There are a lot of great ukulele builders making some of the finest instruments in the world. And, the Ko'olau Guitar & Ukulele Company makes the best high end ukes that are a work of art.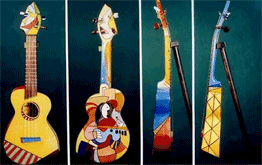 Black Bear Ukuleles - Theme Ukulele



Black Bear Ukuleles
Luthiers
My name is Duane Heilman, and I am a luthier and owner of Black Bear Guitars and Ukuleles, a one man shop located in Yakima, Washington, in the U.S. I have been designing, building, and repairing stringed instruments since 1991, and creating ukuleles since 1998. My designs and construction techniques have grown out of years of study and observation of vintage and modern ukes. I try to incorporate my own artistic sense into each instrument as well, and sometimes the results can be quite different and full of surprises -- even to me!
Tony Graziano Ukuleles - The "Erickenbacker"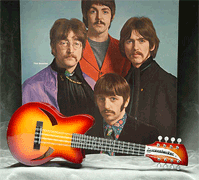 Tony Graziano Ukuleles - The "Erickenbacker"



Graziano Ukuleles
Luthiers
Tony Graziano Ukuleles, Tony Graziano has been building musical instruments since 1969 and became interested in the Ukulele in 1978 , and then in 1995, after several years of building both guitars and Ukuleles, Tony began building Ukuleles almost exclusively. Tony likes to think of the ukulele as an instrument of the millennium. Its compact, easy to travel with, and brings joy to all who hear and play them. All Tony Graziano Ukes are built by Tony in his Santa Cruz shop using of the finest woods available. His is a page of information on the woods, with descriptions, used by Tony Graziano to build his fine ukuleles.
Shark Uke by Norman Takeya
Shark Uke by Norman Takeya
Ukulele by Joel Eckhaus (Earnest Instruments)




Earnest Musical Instruments
Luthiers
EARNEST INSTRUMENTS are created for musicians who require functional, distinctive, high quality tools for making music. These are not your garden variety music store axes, but uncommon musical instruments designed to meet the needs of innovative players looking for something a little different. Rather than build reproductions of standard manufactured items, EARNEST combines time-tested styles and designs to create unique, original instruments with a classic appearance. Every effort is made to build the finest sounding and playing instruments. Their expense results from the quality of the materials and workmanship rather than unnecessary detail or excessive ornamentation. Materials are chosen for utility, tone, and appearance. Domestic and lesser known exotic tonewoods are favored over rare, overpriced, and often endangered species. Natural and manufactured materials are combined with appropriate adhesives and fasteners, at optimum humidity, to insure the stability and durability of the instruments. Earnest Instruments are built for a lifetime of music making!
Big Bufo Bass Baritone by Owen Holt



Road Toad Music
Bass
Road Toad Music produces quality handcrafted ukulele and bass instruments. Among the ukulele that Owen makes are a line of "bass" ukes. I played a few at the 2006 New York Ukulele Festival and they are amazing. You can't believe the sound that comes from these. Owen also designed the Kala UBass.
Mele Ukulele Double Neck Tenor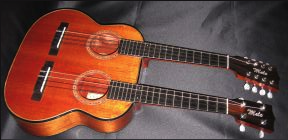 Mele Custom Mahogany Double-Neck Tenor


Mele Ukulele
Luthiers
Mele Ukulele builds and sells fine ENTIRELY HAND MADE ukuleles and guitars at incredibly low prices. Our ukuleles feature great tone and playability, top quality Hawaiian koa and other fine SOLID tonewoods, and detailed inlay work. For nearly 20 years, Mele Ukulele continues to offer what can be considered among the best value in instruments today
NOTE: Each higher access level includes ALL the benefits of the lower levels. Private Lessons include all the benefits of a Premium Access Plans as long as you remain a student on the schedule.
---
Just browsing over both books, they look fantastic! I'm a guitarist and uke player for over 25 years and was thinking about writing a ukulele book but you've already written what I think are the best, most comprehensive and thorough books I've ever seen for the instrument. I just might end up buying every book you've written and I'll be giving my highest recommendation for your books to my friends and students. Thank you so much for taking the time to write such great books! — Peter Rhee
Aloha, Curt, All I can say is WOW! What you have accomplished is simply incredible! All the best — Glen Hirabayashi, The Aloha Boys
Folks, if you haven't stopped by Curt's site, do so right now! ..And get his books, they are fantastic. This guy knows his stuff and is able to pass it along too. — Alan Johnson Proprietor, The 4th Peg
I can highly recommend Curt's Uke books — I have four of them and they are excellent. — fatveg — Portland
Thanks for visiting and checking out the site!
Original Curtie Animation from 1987 for my first web site on a Macintosh II. 34 years ago. Man, does time fly.
"Built for myself (Curt), and sharing with the `Ukulele community!"
LearningUkulele.com has one of the largest collections of lessons, songs, and TABS, Luthiers, ukulele builders, ukulele festival and club information, and, ukulele links on the web. I've been on the ®Internet since the early 1990's and This site just never stops growing!!!
Content is added and updated almost daily - so check back often. I really do need to get out more ;-)