On-line Content Only • PDF Download Available • Video Available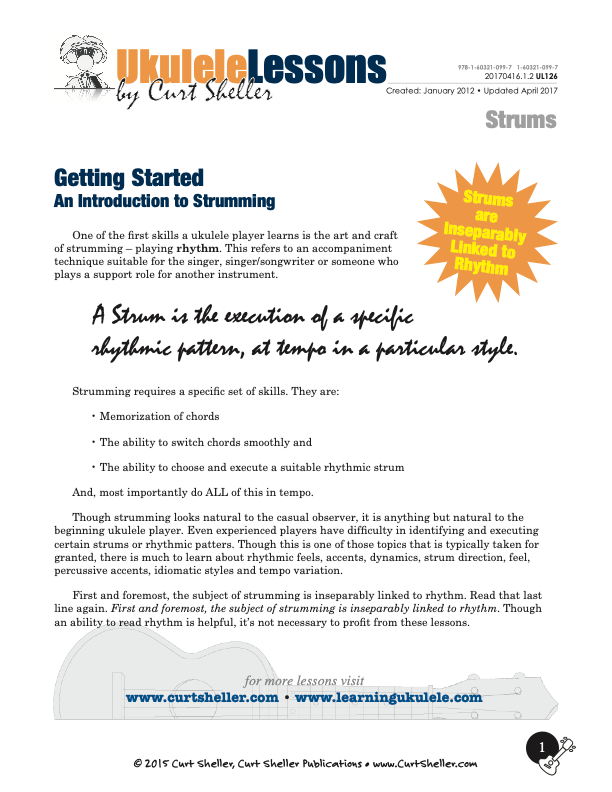 `Ukulele Strums - Getting Started
• Updated: 06 Apr 2020
One of the first skills a ukulele player learns is the art and craft of strumming – playing rhythm. This refers to an accompaniment technique suitable for the singer, singer/songwriter or someone who plays a support role for another instrument.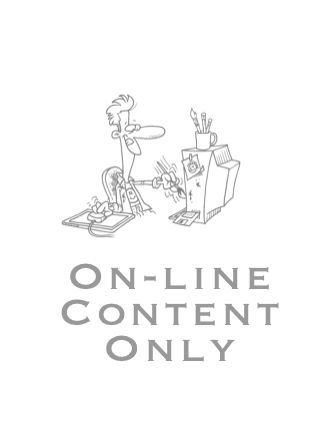 Basic `Ukulele Strums and Variations
• Updated: 26 Apr 2016
"A strum is the execution of a specific rhythmic pattern, at tempo, in a particular style." A strum can be broken down into its rhythmic syllables. These rhythmic syllables are defined by what particular style is being performed. Basic ukulele strums and variations to get you started.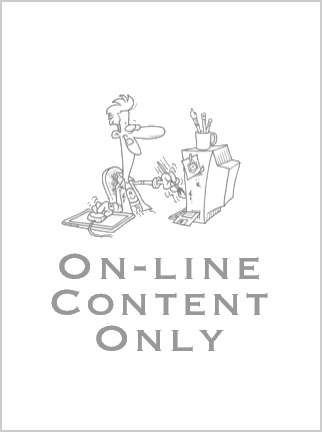 Modular Phonetic Rhythm
• Updated: 01 Aug 2018
"Modular Phonetic Rhythm" by Chuck Anderson represents a significant advance in the teaching and application of rhythm. Eliminating many inefficient aspects of rhythm education, Modular Phonetic Rhythm streamlines the traditional educational approach, resulting in a reflexive reaction to rhythm. This approach is applicable to all ages and to all styles of music.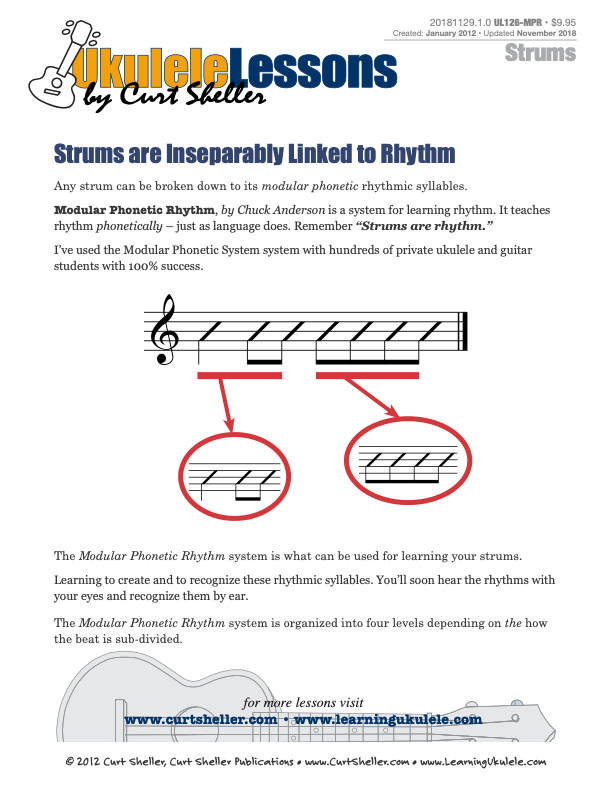 `Ukulele Strums and The Modular Phonetic Rhythm System
• Updated: 12 Mar 2013
Strums are Inseparably Linked to Rhythm. Any strum can be broken down to its Modular Phonetic rhythmic syllables. Modular Phonetic Rhythm, by Chuck Anderson is a system for learning rhythm. It teaches rhythm phonetically - just as language does. Remember 'Strums ARE rhythm'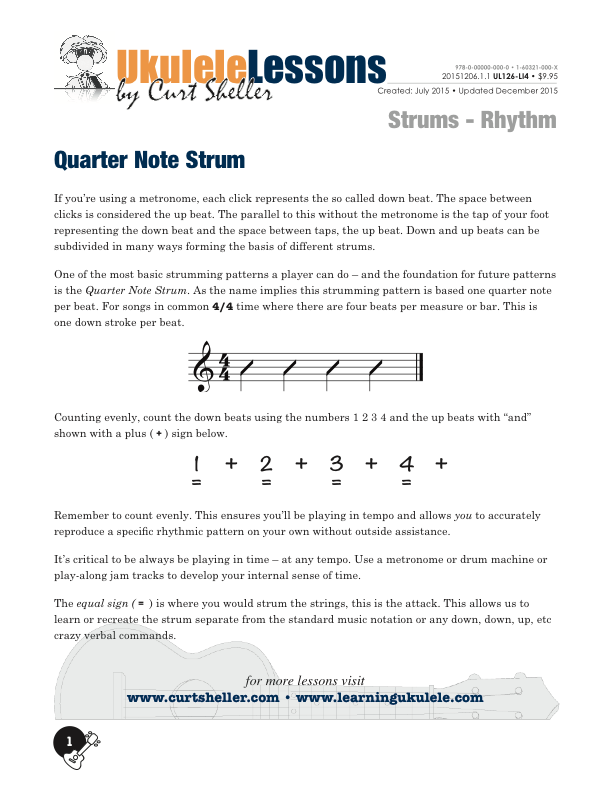 Quarter Note Strum
• Updated: 10 Apr 2020
Chords and music are organized into bars or measures with the most common number of beats per bar or measure being four. One of the most basic strumming patterns and the foundation for ALL future strumming is the "Quarter Note Strum". As the name implies this strumming pattern is one quarter note per beat.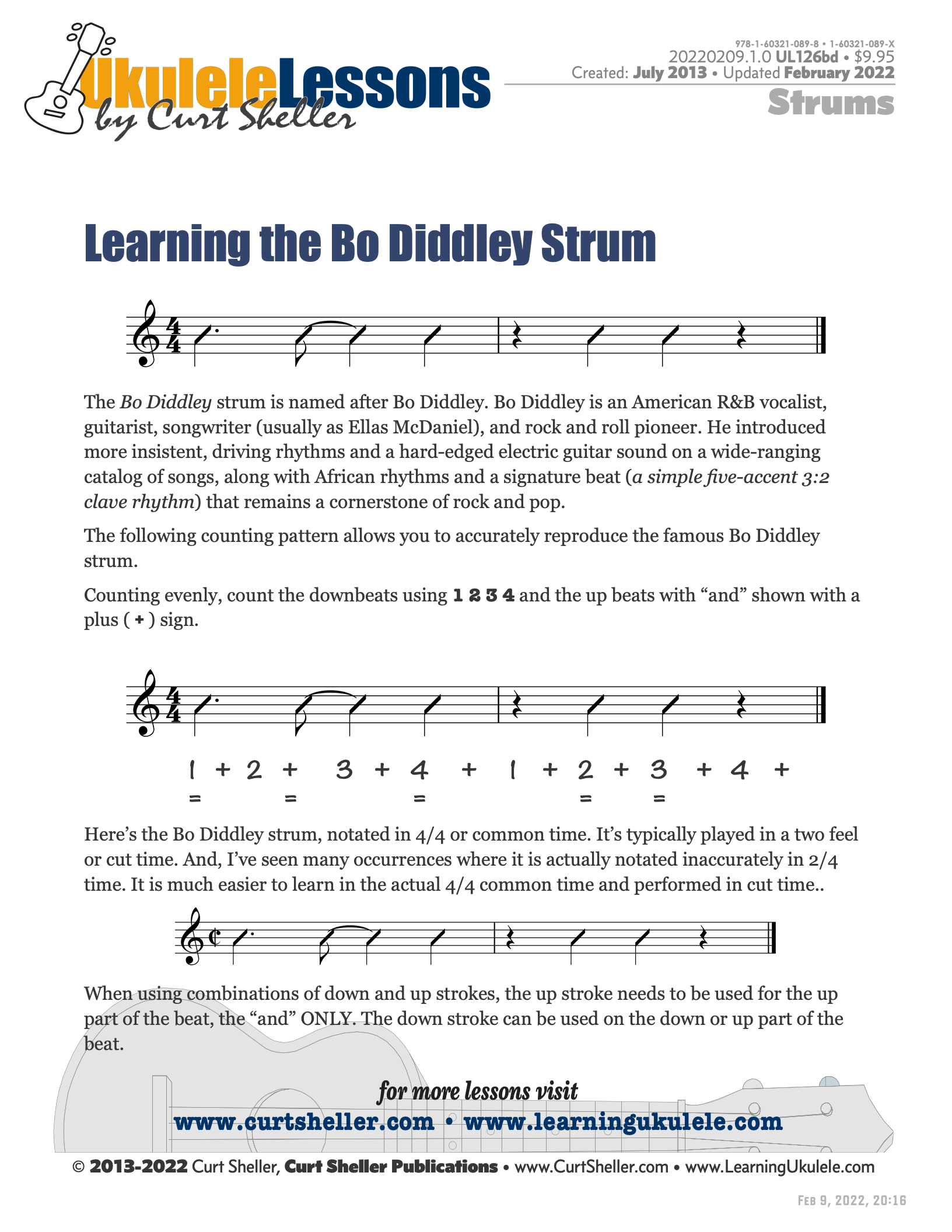 Learning the Bo Diddley Strum
• Updated: 18 Feb 2022
The Bo Diddley strum is named after Bo Diddley. Bo Diddley is an American R&B vocalist, guitarist, songwriter ( usually as Ellas McDaniel ), and rock and roll pioneer. He introduced more insistent, driving rhythms and a hard-edged electric guitar sound on a wide-ranging catalog of songs, along with African rhythms and a signature beat (a simple five-accent clave rhythm) that remains a cornerstone of rock and pop.