It's about securing your digital life.
Sample Diceware Passphrase: ended-snooze-suburb-uphold-uproar-shadily
(from WikipediA) Diceware is a method for picking passphrase that uses ordinary dice to select words at random from a special list called the Diceware Word List . Each word in the list is preceded by a five digit number. All the digits are between one and six, allowing you to use the outcomes of five dice rolls to select a word from the list.
The original diceware word list consists of a line for each of the 7,776 possible five-die combinations.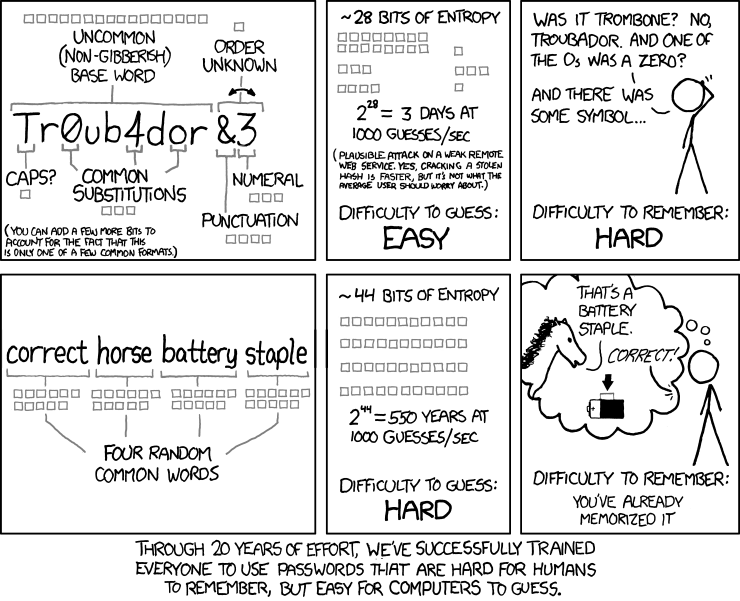 And, Thanks to Donald J. Trump "Person-Woman-Man-Camera-TV" is no longer a good password.
The level of unpredictability of a Diceware passphrase can be easily calculated: each word adds 12.9 bits of entropy to the passphrase. Originally, in 1995, Diceware creator Arnold Reinhold considered five words (64 bits) the minimal length needed by average users. However, starting in 2014, Reinhold recommends that at least six words (77 bits) should be used.
"Please confirm that no one has ever had a copy of your private key and that it uses a strong passphrase. Assume your adversary is capable of one trillion guesses per second." - Edward Snowden, January 2013
Resources & Links
NOTE: Each higher access level includes ALL the benefits of the lower levels. Private Lessons include all the benefits of a Premium Access Plans as long as you remain a student on the schedule.
---
Just browsing over both books, they look fantastic! I'm a guitarist and uke player for over 25 years and was thinking about writing a ukulele book but you've already written what I think are the best, most comprehensive and thorough books I've ever seen for the instrument. I just might end up buying every book you've written and I'll be giving my highest recommendation for your books to my friends and students. Thank you so much for taking the time to write such great books! — Peter Rhee
Aloha, Curt, All I can say is WOW! What you have accomplished is simply incredible! All the best — Glen Hirabayashi, The Aloha Boys
Folks, if you haven't stopped by Curt's site, do so right now! ..And get his books, they are fantastic. This guy knows his stuff and is able to pass it along too. — Alan Johnson Proprietor, The 4th Peg
I can highly recommend Curt's Uke books — I have four of them and they are excellent. — fatveg — Portland
Thanks for visiting and checking out the site!
Original Curtie Animation from 1987 for my first web site on a Macintosh II. 34 years ago. Man, does time fly.
"Built for myself (Curt), and sharing with the `Ukulele community!"
LearningUkulele.com has one of the largest collections of lessons, songs, and TABS, Luthiers, ukulele builders, ukulele festival and club information, and, ukulele links on the web. I've been on the ®Internet since the early 1990's and This site just never stops growing!!!
Content is added and updated almost daily - so check back often. I really do need to get out more ;-)