Music Notation Software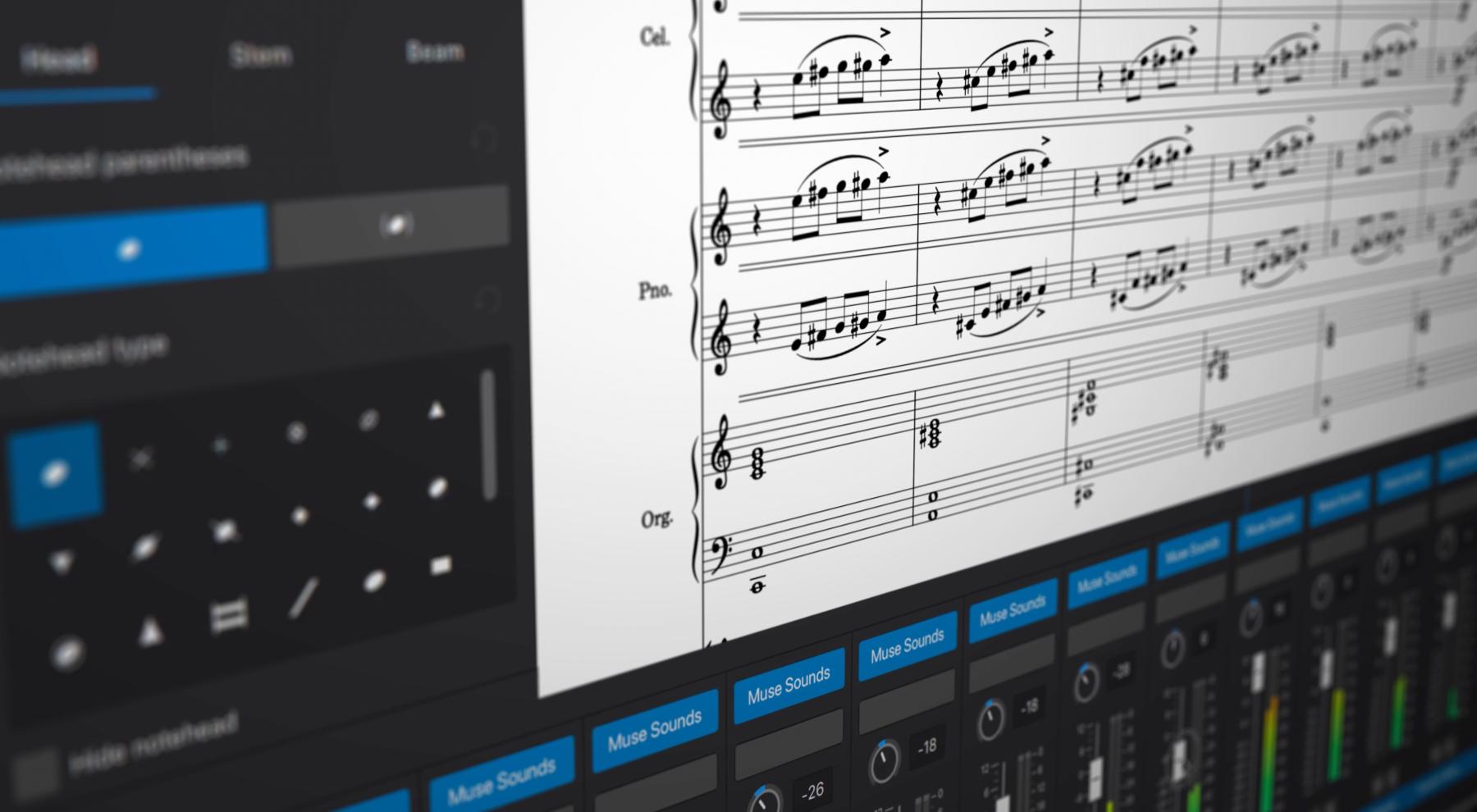 MuseScore
MuseScore is a scorewriter for Windows, macOS, and Linux, comparable to Finale and Sibelius, supporting a wide variety of file formats and input methods. It is released as free and open-source software under the GNU General Public License. MuseScore is accompanied by a freemium mobile score viewer and playback app, and an online score sharing platform. The makers of MuseScore claim that it is the world's most popular notation software.



Sibelius Software
The latest generation of the world's best-selling music notation software, Avid® Sibelius® 7 is sophisticated enough to meet the demands of top composers, arrangers, and publishers, yet simple enough for beginners and students. Work quickly with the brand-new, task-oriented user interface.



Notion Music
Notion Music products allow musicians of all levels and genres to use their computers or iPad's to compose, playback, and experience music creation with an ease and simplicity that is unprecedented in the industry. We are dedicated to perfecting music creation software, combining a fervent passion and vast musical knowledge with sounds of finest musicians and best recording technology in the world. Founded in 1998 as VirtuosoWorks, Notion Music, Inc has received numerous awards recognizing the innovative vision of its software. In 2013 PreSonus Audio Electronics, Inc purchased the assets of Notion Music, Inc
Dorico , Finale are other options. I personally have used Sibelius for a lot of scores on LearningUkulele.com and moving all my scores to MuseScore.
Digital Audio Workstations (DAW)
A Digital Audio Workstation (DAW) is an electronic device or application software used for recording, editing and producing audio files. DAWs come in a wide variety of configurations from a single software program on a laptop, to an integrated stand-alone unit, all the way to a highly complex configuration of numerous components controlled by a central computer. Regardless of configuration, modern DAWs have a central interface that allows the user to alter and mix multiple recordings and tracks into a final produced piece.
A search for Digital Audio Workstation (DAW) on the good ole' Inter-web will yield you a lot of results.

Ardour
Ardour is a hard disk recorder and digital audio workstation application that runs on Linux, macOS, FreeBSD and Microsoft Windows. Its primary author is Paul Davis, who was also responsible for the JACK Audio Connection Kit. It is intended as a digital audio workstation suitable for professional use.



Apple, Inc.
Released with much fanfare in January of 1984, the Macintosh was the first affordable computer to include a Graphical User Interface. It was built around the new Motorola 68000 chip, which was significantly faster than previous processors, running at 8 MHz. The Mac came in a small beige case with a black and white monitor built in. It came with a keyboard and mouse, and had a floppy drive that took 400k 3.5in disk the first personal computer to do so. It originally sold for $2,495.
SMuFL Music Fonts
The Standard Music Font Layout (SMuFL) standard was created by the Dorico development team at Steinberg. It provides a consistent standard way of mapping the thousands of musical symbols required by conventional music notation into a single font that can be used by a variety of software and font designers. It was first implemented in MuseScore, then in Dorico's first release and in Finale.
Types of Music Software
This is a list of software for creating, performing, learning, analyzing, researching, broadcasting and editing music. This article only includes software, not services.

WikipediA :

List of Music Software
Resources & Links