It's when you start exploring the Jazz repertoire that you realize that there a far too many chord shapes to memorize. And, you are right, you really need to rely on a solid foundation of cores and the ability to derive any chord you need based on your understating of where chords come from and how to create any chord you need.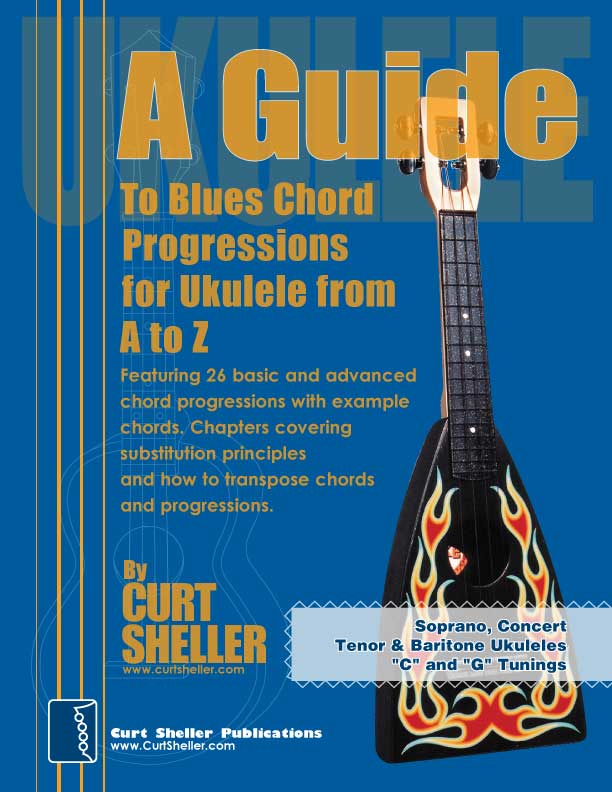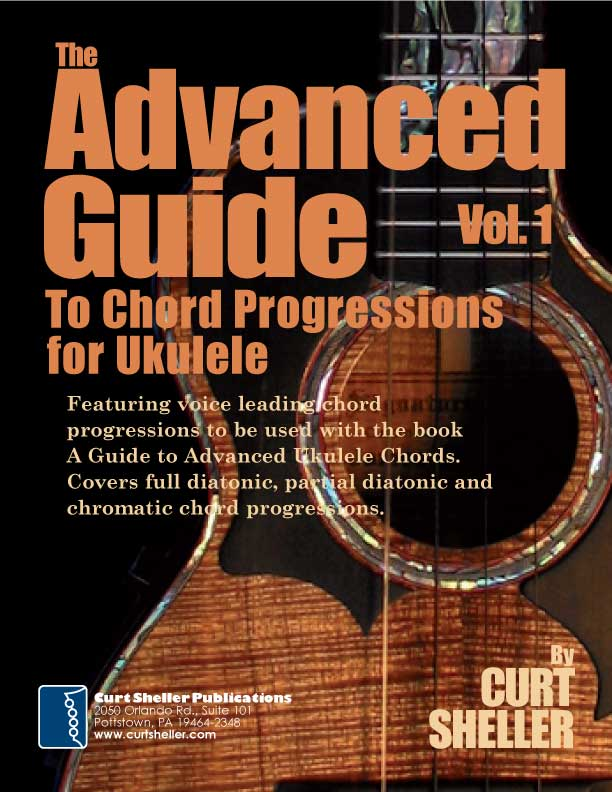 Just What is a "Jazz" Chord? • There is no such thing as a jazz chord. Jazz chords are simply, contemporary 4-part chords that find their way into a wide range of contemporary music.

The Seventh Chord • Often referred to as a Dominant Seventh . This is a chord that can form the "core" foundation for ALL your jazz chords. For ukulele I use the F7 chord as this foundation. On, guitar we use C7.

Core Chords - The Big Six • Your Jazz chord system for creating ANY chord you'll ever need. Really, ANY chord you ever encounter in a song or lead sheet you WILL be able to create.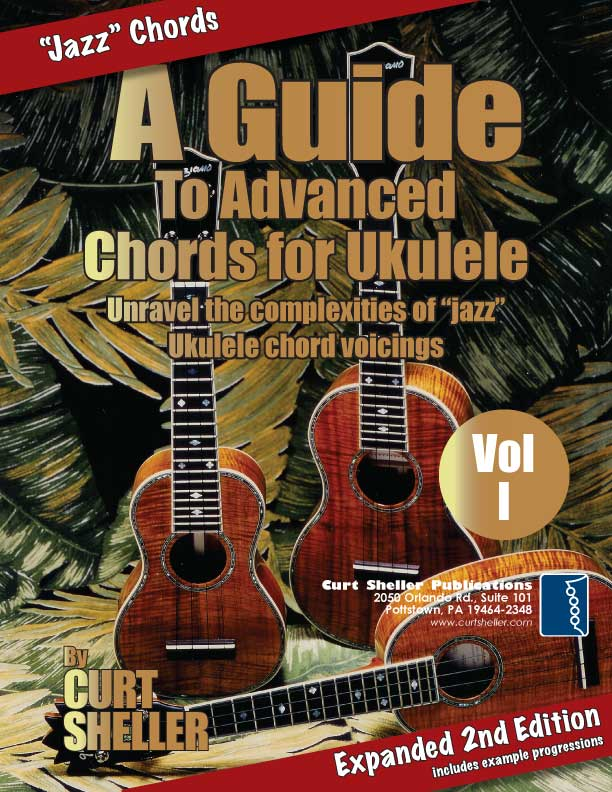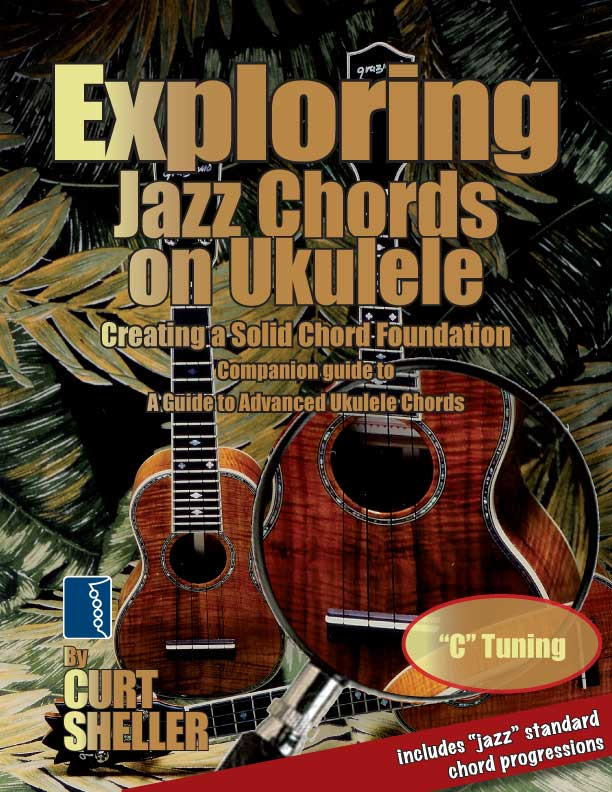 Just what is a JazzChord?
There is no such thing as a jazz chord. Jazz chords are simply contemporary 4-part chords that find their way into a wide range of contemporary music.
Just as the name Folk or Cowboy chords are associated with basic open position chords that movie cowboy singers such as Roy Rodgers and folk artist's John Denver played. The chords that jazz guitarists played came to be called jazz chords.
These jazz chords are simply chords. Typically, 4-part chords like major sevenths, sevenths, and minor sevenths. Although these chords appear more sophisticated and venture beyond the first few frets. These chords can be organized and learned just as you did for the basic chords you first learned.
On guitar 4-part, jazz chords can be played on any set of four strings. The core set of jazz chords that a jazz guitarist should know involve the string sets: 1234, 2345, 3456, 1235, and 2346. That makes for 20 voicings for each chord on guitar to learn. On the ukulele, only the 1234 string family is available — a little less daunting of a task. The number of chords to master as a jazz guitarist contributes to the mystic of jazz chords being hard to learn. Not especially hard to learn, just a lot of them to learn and master.
Examples of 4-part chord names are Cmaj7, Am7, Bm7b5, G7+, G13, Eb7#11, etc. Pretty much any chord with a 7, 9, 11, or 13 as part of their name. Alterations such as b5, #5, b9, #9, #11, or b13 are common chords in a jazz player's repertoire of chords. Contemporary chords such as sus and add chords also find their way into jazz.
I have authored several books on the subject of chords for ukulele with a few dealing specifically with 4-part, jazz chords. The majority of the lessons right here on LearningUkulele.com are chord related. And, that is what we do the most – chords.
A complete system for creating ANY jazz chord can be found in my book: A Guide to Advanced Ukulele Chords Volume I . The books presents a highly organized and efficient approach to the mysterious subject of these advanced chords. Chord dictionaries aren't the answer. Even chord theory does not offer any insight into unraveling the complexity of advanced chords.
A NEW 2nd Edition includes example chord progressions based on songs from the Great American Songbook and the Jazz musician's repertoire using basic 4-part chords.
What is a Chord?
A chord is three or more notes sounded together. It's that simple!. A chord can be as simple as a three-note triad, all the way up to a fancy jazz chord like G13+9. Chords have a letter name, and it's root and type information indicating the type of chord and any alterations or extensions or upper partials.
Here are a few suggested lessons on chord alterations and extensions or upper partials.
You need ONE chord, four voicings, that can serve a foundation for building ALL your 4-part, contemporary "jazz" chords. These 4-part chords, sometimes called "Jazz" chords are simply 4-part chords. The seventh chords, sometimes called The Dominant Seventh Chord is a great starting chord for that purpose.
Most professional guitarists' have a core set of chords that form the foundation for all their 4-part chords. Ukulele players need this same foundation.
A Seventh chord is a great starting chord to form your "core" chord foundation. The seventh chord forms the foundation for all our major 4-part chord types. From your core seventh chords, you can create the minor, diminished and augmented chord types.
Six 4-part chords that form the foundation for all your jazz chords: the seventh, major seventh, minor seventh, half-diminished seventh, diminished seventh and augmented seventh chords as your core foundations chords. Virtuoso jazz guitarist Chuck Anderson calls these the "Big Six", a great name.
Most ukulele players already know the four open position versions that form the core seventh chords. You might already recognize a few of them below.