LED Tuners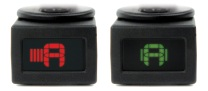 A needle, LCD or regular LED type tuner uses a microprocessor to measure the average period of the waveform. It uses this to then drive the needle or array of lights. The array of lights from LED that appears to move to left or right seems better than the meter needle of the early meter tuners. When the musician plays a single note, the tuner senses the input from the microphone or input jack (from an electric instrument). The tuner then displays the input frequency in relation to the desired pitch and indicates whether the pitch of that note is lower, higher, or approximately equal to the desired pitch. With needle displays, the note is in tune when the needle is in a 90° vertical position, with leftward or rightward deviations indicating that the note is flat or sharp, respectively. Tuners with a needle are often supplied with a backlight, so that the display can be read on a darkened stage. An early (1970s) meter needle tuner seemed inferior (more difficult to use) than the more expensive light emitting diodes (LED) type.
Recommended LED Tuner Manufactures
Planet Waves — Headstock Tuner
Ko'olau Guitar and Ukulele — 'Ohau Chromatic Tuner, no frills reliable tuner.
Strobe Tuners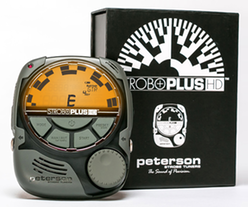 Strobe tuners (the popular term for stroboscopic tuners) are the most accurate type of tuner. There are three types of strobe tuners: The mechanical rotating disk strobe tuner, an LED array strobe in place of the rotating disk, and "virtual strobe" tuners with LCD displays or ones that work on personal computers. A strobe tuner shows the difference between a reference frequency and the musical note. Even the slightest difference between the two will show up as a rotating motion in the strobe display. The accuracy of the tuner is only limited by the internal frequency generator. The strobe tuner detects the pitch either from an TRS input jack or a built-in or external microphone connected to the tuner.
Recommended Strobe Tuner Manufactures
Peterson Strobe Plus

Planet Waves
Sonic Research
Peterson Electro-Musical Products, Inc.
Peterson Electro-Musical Products, Inc. is a music-electronics company founded by Richard H. Peterson in 1948.[1] The Peterson company introduced the first commercial hand held electronic tuner for musicians, the Model 70, in 1964, and later its models of strobe tuners became popular among touring and studio musicians such as the Grateful Dead, The Who, Pink Floyd, Frank Zappa, Jimi Hendrix, and Neil Young.[1] Since its inception the company has also contributed notable inventions and innovations to the electronic organ, and its products are in use in many thousands of pipe organs, and hundreds of thousands of electronic organs, worldwide.

Peterson StroboClip HD Clip-On Tuner
Clip-on tuner for guitar, bass, ukulele, banjo, mandolin, dobro, brass and woodwind instruments, violin, steel guitar, bagpipes, and more.
The StroboClip HD (SC-HD) features a high-definition, real-time tuning display that delivers 1/10th cent (1/1000th of a semitone or fret) tuning accuracy. It comes complete with alternate temperaments for a vast array of string, brass, and wind instruments. Over 50 exclusive, preset Sweetened Tunings are onboard to help correct inherent tuning issues exhibited by many instruments. Designed and engineered by Peterson Strobe Tuners - pioneers in the field of tuning and metronome equipment.

Peterson StroboPlus HD Desktop Strobe Tuner
Desktop strobe tuner for guitar, bass, ukulele, banjo, mandolin, dobro, Buzz Feiten, brass and woodwind instruments, violin, steel guitar, pedal steel, bagpipes, and more.
Charge up this large-screen chromatic StroboPlus HD tuner (with over 90 Sweetened tunings) and use the built-in microphone or ¼" input to plug in and tune it's that simple! Edit with software to customize this tuner to be precisely what you want it to be!

Peterson StroboStomp HD
Pedal strobe tuner with true-bypass operation and buffered output tuning modes for guitar, bass, Buzz Feiten, steel guitar, pedal steel, and more.
The StroboStomp HD boasts a high-definition, LCD screen that incorporates a variable color LED backlight. The user-selectable colors can be used to personalize the tuner or to increase display viewing quality in different levels of ambient lighting depending on the usage environment. The vibrant screen colors can also be assigned to stock or user presets to significantly reduce menu navigation time and increase on-stage tuning confidence at the gig.