Learning Ukulele with Curt
In an era, where when so many of the great Jazz Ukulele players have gone on to play in the angel band, Curt rightly steps up to be my personal favorite when it comes to jazz on the ukulele. His musical knowledge is unending and his improvisational chops are #1. When the planets align and we're able to jam it's a real thrill. - Lil' Rev
Don't Get Around Much Anymore: the Muse and Magic of JAZZ UKULELE MAVEN CURT SHELLER by Lil' Rev
by Lil' Rev Published: Summer, 2019, UKulele Magazine
If the ukulele world had its own trading cards, there would be no shortage of superheroes. We know their names and have heard many of them at festivals and on YouTube, except perhaps one, whose humble and unassuming manner might have caused you to overlook his cool jazz stylings. Ladies and gentlemen, allow me to introduce to you, Curt Sheller.
By day—and often into the night—Sheller plies his trade teaching an impressive load of private lessons (over 60 students a week) from Funky Frets, a music store he opened with his wife Bernadette and daughter Kelly Thompson in Boyertown, Pennsylvania.
Check out the complete article at: www.ukulelemag.com/stories/jazz-ukulele-curt-sheller
Don't Get Around Much Anymore: the Muse and Magic of JAZZ UKULELE MAVEN CURT SHELLER by Lil' Rev • Published: Summer, 2019, UKulele Magazine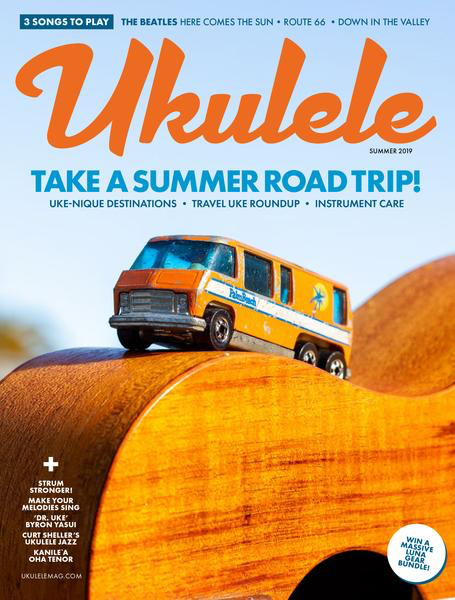 The `Ukulele
LearningUkulele.com Blog, News and Posts
Getting Started with `Ukulele
Learn a New Chord Every Day of the Year
Start with the - January 1st - C Chord. The first chord all new players learn.
Site Membership Plans
Forever Plan

$100 OFF

Till End of FALL 2019 - Never Pay Again
Lessons, Songs, Series, Books, Videos
650+ Lessons
64+ Lessons Series
129+ Songs & Tabs
130+ Premium Play-along Tracks
66+ Books
129+ Videos
Resources, Links, Reference, Clubs, Festivals...
Ukulele Luthiers, Manufactures, & Gear
Ukulele Clubs Around the World
Ukulele Festivals
Study with Curt
Private On-on-one Lessons with Curt
Mega List of Ukulele Links
About Curt & LearningUkulele.com
Gear For Sale
Some gear and goodies

FOR SALE

- Gear Page...
Go to LearningUkulele Site
No Tricks • No Secrets • No Shortcuts • Nothing for Dummies — and you're NOT going to learn the ukulele in 7 days or 30 days or even master it in your lifetime. You just enjoy the ride, explore, and have a lifetime of fun!
93604 2018-12-22