Welcome to LearningUkulele.com
The home for Learning Ukulele and All Things Ukulele by Curt Sheller.
All the great ukulele content, links, resources, lessons I've created, songs I've tabbed out and much more with ALL of the original ukulele content from my personal www.CurtSheller.com website is right here.
This is a truly massive site rich in content ( on the web since 1992 ) where visitors have said you can spend days and days on it and not see everything. Listings for instruments, clubs, festivals, luthiers, strings, cases, links and pretty much anything ukulele related is all here.
The main focus on LearningUkulele.com is naturally, on learning ukulele and letting you take advantage of my extensive experience studying, learning, teaching and exploring music using the ukulele since 2003 - the ukulele as my, now MAIN performance instrument and teaching focus. hAve studied jazz and been a performing jazz guitars for over 30 years I bring extensive teaching and performing experience to all my ukulele content.
Featured Song - I'll Remember April
First - What's Different About LearningUkulele.com
No Tricks • No Secrets • No Shortcuts • Nothing for Dummies — and you're NOT going to learn the ukulele in 7 days or 30 days or even master it in your lifetime. You just enjoy the ride and have a lifetime of fun!
Here are few more Snake Oil pitches you get on-line BUT not here:
Learn Step-by-Step and Master the UKULELE in less than 30 days - Step-by-step is good depending on the steps but - 30 days.
Practice Only a Few Minutes X Days a Week - We've all seen these claims for achieving somethings with little effort - IT WILL NOT WORK. You have to put the time in.
Without Learning Scales or Getting Bogged Down with Fancy theory - You would try to be a write without learning about the alphabet, words, nones, adjectives, pronouns and the grammar that puts it all together.
So, it after you've tried all the other Quick, Easy methods of learning ukulele on your own and haven't gotten the results you're looking for. It's probably not you - it's the methods or teachers that you have been using. Time to put the pieces together.
Proven Methods - If there's one thing that I've learned over 30 years of studying and research, as well as the 50 to 60 students a week I teach. It's that everyone is different and I can adapted to pretty anything and have a multitude of ways of teaching any given topic.
The only guarantee I can make with my methods and guidance is — if, you put the time and work into it you WILL get results. I've put the time in and have been down all the same roads that your starting to go down.
Now, What You WILL Get
I develop ukulele players into musicians. Although my specialization is jazz I work with and develop ukulele players in every style. Subjects taught include technique, chord work and applications, improvisation, solo ukulele, sight reading, ear training, theory, songwriting and development of a performance repertoire and the skills to pull it all off.
With my, almost 40 plus years of serious study of music and 20 years of private teaching. I'm more than sure - I guarantee I can help you achieve your goals.
I haven't toured to world or played with this player and that player that you might now - so no name dropping here. I made a decision to stay at home and not travel. I've make a living at music locally.
If you want to know if I have to chops to back it up - I DO ( listen to my How About More Uke CD ).
"The self-taught man seldom knows anything accurately, and he does not know a tenth as much as he could have known if he had worked under teachers; and, besides, he brags, and is the means of fooling other thoughtless people into going and doing as he himself had done." ― Mark Twain
My methods are customized and drawn from my background of teaching, performance, recording, publishing, research and my own thirty plus years of studying with world renowned jazz guitarist and educator Chuck Anderson . I just never stopped learning, exploring and researching music.
My private teaching programs are devoted to learning and advancing your ukulele skill and chops and will help you while exploring any style of music - especially contemporary and jazz ukulele styles. Jazz Ukulele requires the most information, knowledge and technique of all styles of ukulele. These programs will benefit any ukulele player trying to advance his or her skills and enjoyment on the ukulele.
Take advantage of my twenty plus years of teaching, thirty plus years of intense study and research to help you advance in the art of the ukulele and become the ukulele player to match your goals.
Take a look around the site and checkout the many FREE lessons, my many books.
Talk the Talk and Walk the Walk
Not only do I know what I'm doing I can explain in detail what I do/did and guide you through the proccess you achieving the same. Checkout my Curt Sheller Jazz Trio, How About More Uke? CD for what I can offer to ANY aspiring ukulele player.
Now, to be honest one thing that I'm not that great at is typing, hence all the typos and I never formally studied writing ( probably self evident ).
Start Today!!!
For more information and discuss your goals, you can reach me by eMail curt@cursheller.com or by telephone at 484-942-8040 ( USA EST ). We can discuss your goals, access your current level, your schedule and design the program that will be best suited to maximize your progress.
I have purchased many books over the past 15 years I have been playing and none of them come even close to having the detailed and easy to understand information yours have. - Nick Matty
For Booking a Concert, Workshop or Clinic Contact:
Curt Sheller is available for concerts, workshops, book signings, festivals, etc... Simply contact Curt directly or Kelly for the quickest response or more information. Booking 2016 dates and beyond now.
Visit Curt's site ( www.curtsheller.com ) for music, video and additional information on Curt and/or the trio.
Kelly Thompson
484 • 415 • 9677
kelly@funkyfrets.com
Curt Sheller
484 • 942 • 8040
curt@curtsheller.com
Learning Ukulele
The Good News - initially the ukulele is a lot easier to learn than the guitar or most other fretted stringed instruments. You can get initial success pretty early one. Now the Bad News - there are no Tricks, Secrets or Shortcuts when learning any musical instrument and the ukulele is no different. To take it beyond the basic requires learning how things work in music and mastering the technique required for simply enjoying the ukulele.
Using my proven teaching methods All I can guarantee IS that you WILL learn and progress.

Jack Webb of Dragnet TV fame said if best, "Just The Facts, Ma'am." The Tricks are just the tools and building on a core - solid foundation. The Secrets - well there are no secrets, it's pretty music how music works and we work in relationship to music. And Shortcuts typically come back and bite you. Skip the tricks, secrets and shortcuts and you won't regret it down the road. My site does dispense a lot of tips I've discovered, researched and explored along the way to help with learning the ukulele. I can be your guide, coach, mentor, teacher for exploring the ukulele.
You won't have to:
Practice - you'll EXPLORE the ukulele and all its potential.
There are no Rules - just the PRINCIPLES of music and how it all works together.
Play - well you can call it play but it is a bit of WORK - but a lot of fun
Your Fearless `Ukulele Leader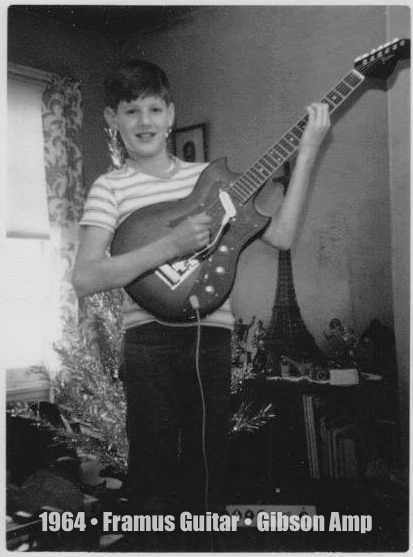 Curt Sheller - ( Me, myself and I ) is-are an independent, by choice, musicians, artist, publishing company, etc... catering to the needs of ukulele players and musicians worldwide with the resources, expertise and information you need to develop as a musician.
Curt Sheller Publications was created by Curt Sheller (me) in 1995 and has been on the web since - over 20 years. I have over 50 plus years ( I sound old ) of playing experience and I have been involved in private music education for the past 30 years. I have performed and presented workshops at various ukulele festivals around the USA over the last 10 plus years.
I'm one of those rare performers that can actually communicate exactly what I do to a student in a detailed manner and customized to their needs. Like I said - I'll guarantee you progress as long as you do the work.
Back to the Uke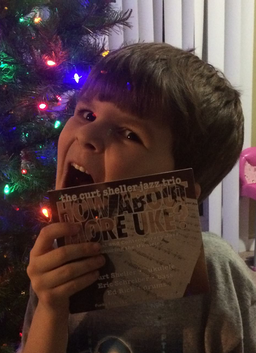 After a 20 plus year break from the ukulele ( couldn't figure it out back then and no info around, let alone a finding a qualified teacher for ukulele ). I began taking advantage of my jazz guitar skills, training, teaching and performance experience and started pursuing the potential of the ukulele. Researching the field I saw very little material organized at a level that actually works for intermediate to advanced players – most the beginner stuff is suspect as well. I have developed an international reputation as a ukulele expert having written 40+ books for ukulele and 10+ books for guitar. In my private teaching practice I typically have between 50 to 60 students a week depending on the season.
Checkout my debut ukulele CD, "How About More Uke?" - I've been planning and talking about this CD for a few years and finally have gotten around to getting it done.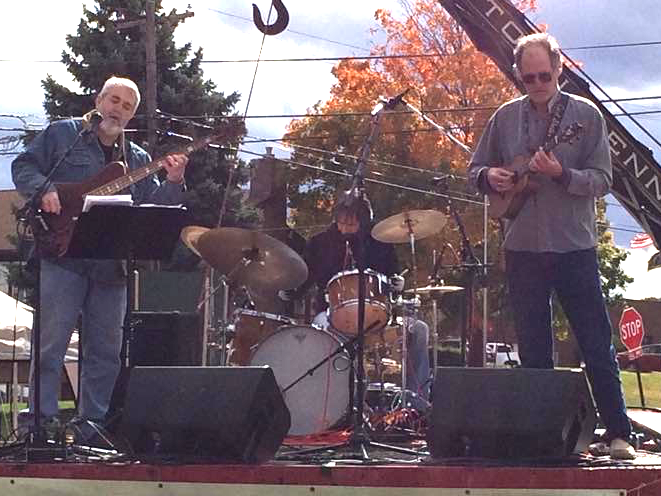 The Curt Sheller Trio at the Boyertown Pickfest, October 2015
A windy cold day and an outside gig.
A Few Popular Lessons

"Press on: Nothing in the world can take the place of persistence. Talent will not; nothing is more common than unsuccessful men with talent. Genius will not; unrewarded genius is almost a proverb. Education will not; the world is full of educated derelicts. Persistence and determination alone are omnipotent."
Calvin Coolidge, The 30th. President [ 1923-1929 ]

"The ukulele is a noble little instrument... anyone serious about music will eventually come to play one."
Bob Brozman
"How long can you call something a fad before you just have to admit the thing is just here, it's hit a steady state, and it's just going to be around?"
James Hill
Curt, I really enjoyed your set at The Whiskey--your low key intros, mic persona provided a cool contrast with your complex uke technique and ingenious arrangements! - Best wishes, Jared Denhard
"Chords can not be named out of context. They can only be named in the context of a chord progression or chord sequence and then only when the chord's harmonic function within that progression can be determined." - Curt Sheller (me)
That's the single most sensible statement about music that I've read in months, maybe years. Thanks, Curt.
John Kavanagh - The 4th Peg Parlor Room
I have purchased many books over the past 15 years I have been playing and none of them come even close to having the detailed and easy to understand information yours have. - Nick Matty
Here is what Peter Rhee said about my (Curt Sheller) books.
"Just browsing over both books, they look fantastic! I'm a guitarist and uke player for over 25 years and was thinking about writing a ukulele book but you've already written what I think are the best, most comprehensive and thorough books I've ever seen for the instrument. I just might end up buying every book you've written and I'll be giving my highest recommendation for your books to my friends and students. Thank you so much for taking the time to write such great books!" - Peter Rhee

Updates and new information posted just about everyday.
If I'm not teaching or gigging I'm working on the web site.
More Info on My Background
You can checkout my Music, Art, Publishing and Programming bios at: Bios. I have worn a lot of different hats over my adult working career – music and art has always been the BIGGEST part of it.

Should you study music with a teacher or should you "wing" it on your own? This question always comes up in this type of discussion about music.
An objective assessment of the two alternative approaches leads me (Chuck Anderson) invariably towards the formal route. Why? Because without guidance, there is a tendency to go in circles, What do you practice, when do you move to the next topic? When are you doing something wrong? How do you practice what doesn't exist to you? - Chuck Anderson
Student and Site Membership Options
Two ways to get the greatest benefit from the LearningUkulele.com and myself — more info about Curt Sheller.
I've had countless ukulele players at festivals and guitarists approach me and say, "I wish I lived closer to you. I'd love to take lessons." With the Internet your as close as ever and can take advantage of my performance and teaching experience.
Monthly One-on-One Private Lesson Plans
Details of the two possible monthly plans are available on the main page of the student section.
Simply log in and select a lesson plan
3 Month, 6 Month and Annual Site Membership Option
A second way of taking advantage is subscribing to an affordable site subscription plan. There are are several membership plans available that include FREE months and FREE books downloads.
Just browsing over both books, they look fantastic! I'm a guitarist and uke player for over 25 years and was thinking about writing a ukulele book but you've already written what I think are the best, most comprehensive and thorough books I've ever seen for the instrument. I just might end up buying every book you've written and I'll be giving my highest recommendation for your books to my friends and students. Thank you so much for taking the time to write such great books! — Peter Rhee
Aloha, Curt, All I can say is WOW! What you have accomplished is simply incredible! All the best — Glen Hirabayashi, The Aloha Boys
Folks, if you haven't stopped by Curt's site, do so right now! ..And get his books, they are fantastic. This guy knows his stuff and is able to pass it along too. — Alan Johnson Proprietor, The 4th Peg
I can highly recommend Curt's Uke books — I have four of them and they are excellent. — fatveg — Portland
Thanks for visiting and checking out the site!
Content is always being added and updated. So check-in often. Thanks, for visiting!!!
One of the largest collections of lessons, songs and TABS, archtop luthiers, ukulele builders, festival information, ukulele links on the web. I've been on the web since the early 90's and growing everyday. This site just never stops growing!!!