Getting Started with `Ukulele - Lesson One
Got a ukulele, it's in tune and your now ready for your first `ukulele lesson.
For the first lesson you'll learn to following basics:
What is a `Ukulele Chord Diagram is and how the read it?
Your first chord, the chord everyone learns first: C major.
The types of chords possible on ukulele.
Fingering Drills for developing finger independence and strength.
The Major Scale - The major scale or Ionian scale is one of the most commonly used musical scales, especially in Western music.
You'll also learn a basic strumming pattern, the primary chords of the common key of C major and the names of the open strings.
NOTE Although these lessons are presented as a weekly series you can take as long as you like to master each week's lesson.
The lessons in this series are viewable from the Lessons... tab above.
---
Understanding the Ukulele Chord Diagram
Your First Chord
Using Songs to Learn Ukulele
The Quarter Note Strum
Types of Ukulele Chords
Primary Chords - C Major
Learning The Ukulele Fingerboard
Technique - Single Finger - Single Note Fingering Drills
The Major Scale
Reading Ukulele TAB - Alternate Notation
---
---
End of Lesson - Thanks, Hope You Enjoyed It!
---
Basic Ukulele Chord Chart
A chart of the most common ukulele chords in the most common keys.
Ukulele Fingerboard Chart for C Tuning, Low or High G
Ukulele Fingerboard Chart for C Tuning, Low or High G. Shows natural, sharp and flat notes for the ukulele fingerboard. This tuning can be used on a soprano, concert, tenor and baritone ukuleles.
Members Only
Log-in to access.
Key Signatures - Cycle of Fourths and Fifths
A handy reference chart of all 15 major and relative minor key signatues.
Members Only
Log-in to access.
Open Position Flash Cards for Ukulele C Tuning
Standard music notation flash chards for learning the notes in open position for C tuning.
Members Only
Log-in to access.
Movable 7th Chords for Ukulele Chord Chart - C Tuning
A handy dandy single sheet chart showing the each voicing of the four, seventh chords Big Six seventh chord voicings.
Members Only
Log-in to access.
Learning the Fingerboard, C Tuning - Open Strings
There is nothing that returns more value for your investment when learning a fretted musical instrument like the ukulele than really, and I mean really knowing the names of the notes of the fingerboard. This is not the same as learning to read music — but simply knowing the name of any note on the fingerboard - intuitively, second-nature.
Your First `Ukulele Chord
Your first ukulele chord is typically an open position C major chord. It's only one finger and ukulele players love to show new players this, the easiest, usable ukulele chord for new players. Especially someone coming from guitar where an open position C major is three fingers and not that easy as the first chord.
Reading Music on `Ukulele Series - Reading in Open Position
This series of lessons will allow you finally, to check that Reading item off your music To Do list. Learning to read standard music notation opens a world of music to you. Music notation is the Lingua franca of amateur and professional musicians alike.
Key Signatures - C Major and A Minor
Learn the recognize the key signature for C Major and A Minor. Learn their corresponding Major and Natural Minor scales with basic ukulele chords for each scale. Sometimes called the learning key, the key of C Major is one of the easiest keys to memorize and begin using.
Learning the Ukulele Fingerboard - C Tuning
Finally, learn the names of the notes of the fingerboard. Learning the notes of your instrument allows you the flexibility of not having to remember so many shapes. There are simply way too many chords, scale and notes patterns, and shapes to remember. It all comes down the notes.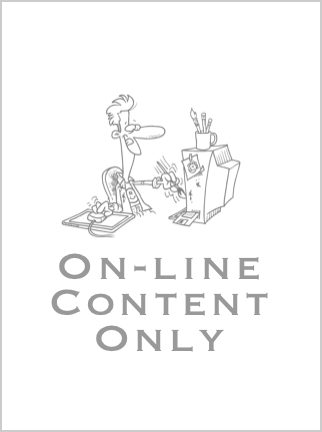 Getting Started Series of `Ukulele Lessons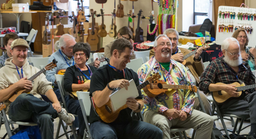 This series of lessons is intended to take a beginning ukulele player, just Getting Started through the basics. Your goal, as well as mine, is to help you create a solid foundation for future learning and development with this fun, cool instrument - the `ukulele. This series of lessons are also a great refresher for all players who've been playing for awhile or are in a position to offer assistance or advice to fellow players.
No related songs for Getting Started with `Ukulele - Lesson One at this time.
No videos for Getting Started with `Ukulele - Lesson One at this time. Filming a lot of videos for various lessons, songs and books.
---
NOTE: Each higher membership level includes ALL the benefits of each of the lower levels of membership. The Private Lesson Plans include all the benefits of the Premium Access Plans
Just browsing over both books, they look fantastic! I'm a guitarist and uke player for over 25 years and was thinking about writing a ukulele book but you've already written what I think are the best, most comprehensive and thorough books I've ever seen for the instrument. I just might end up buying every book you've written and I'll be giving my highest recommendation for your books to my friends and students. Thank you so much for taking the time to write such great books! — Peter Rhee
Aloha, Curt, All I can say is WOW! What you have accomplished is simply incredible! All the best — Glen Hirabayashi, The Aloha Boys
Folks, if you haven't stopped by Curt's site, do so right now! ..And get his books, they are fantastic. This guy knows his stuff and is able to pass it along too. — Alan Johnson Proprietor, The 4th Peg
I can highly recommend Curt's Uke books — I have four of them and they are excellent. — fatveg — Portland
Thanks for visiting and checking out the site!

Original Curtie Animation - 1987 for my first web site
31 years ago years ago.
Content is added and updated almost daily - so check back often.
LearningUkulele.com has one of the largest collections of lessons, songs, and TABS, luthiers, ukulele builders, ukulele festival and club information, and, ukulele links on the web. I've been on the ®Internet since the early 1990's and This site just never stops growing!!!