Getting Started with `Ukulele - Lesson Two
For lesson two we'll add and build on the lessons and material from lesson two.
In week two you'll learn the following:
Learning the Fingerboard, Key Fret (5)
Secondary Chords - Key of C
Common Chord Progressions for C Major
Two Finger - Two Note Fingering Drills
The Quarter Note Strum - Variations
Whole Steps and Half Steps Explained
The Chromatic Scale
NOTE: Although these lessons are presented as a weekly series, you can and should take as long as you like to master each week's lesson as there is a lot of material in each lesson in the series.
The individual lessons in this series are viewable from the Lessons button bar above.
The Fingerboard - Key Fret (5)
The key frets are the three frets that have no sharp or flat notes - only natural notes. Fret (5) is C F A D from strings four to one.
After memorizing the chromatic scale, the seven letters and twelve notes of music we can derive the higher and lower frets from any fret we know.
If you know the open strings, G C E A you get fret (1) for G# C# F A#. Fret (12) is also G C E A this gets you fret (11) Gb B Eb Ab
From this weeks fret (5) C F A D you get fret (6) C# F# A# D# and the fret (4) B E Ab Db.
From three frets you now know over 50% of the fingerboard.
Turns out you only need five frets and you can get the entire fingerboard.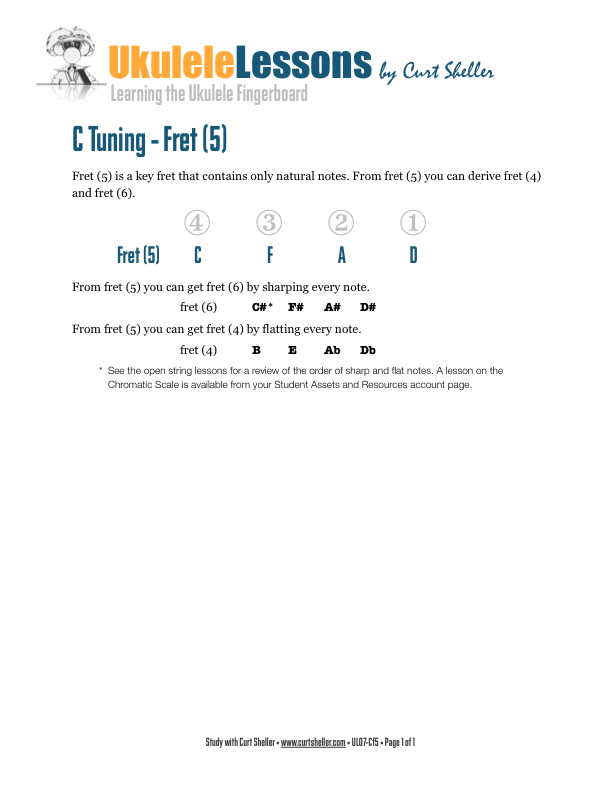 Technique - Two Finger - Two Note Fingering Drills
The Ukulele Gymnastics series contains quite a few lessons for developing your finger strength and independence of the fretting hand. The fretting hand is responsible for playing chords and single notes. The fretting hand and plucking hand are responsible for getting the music out.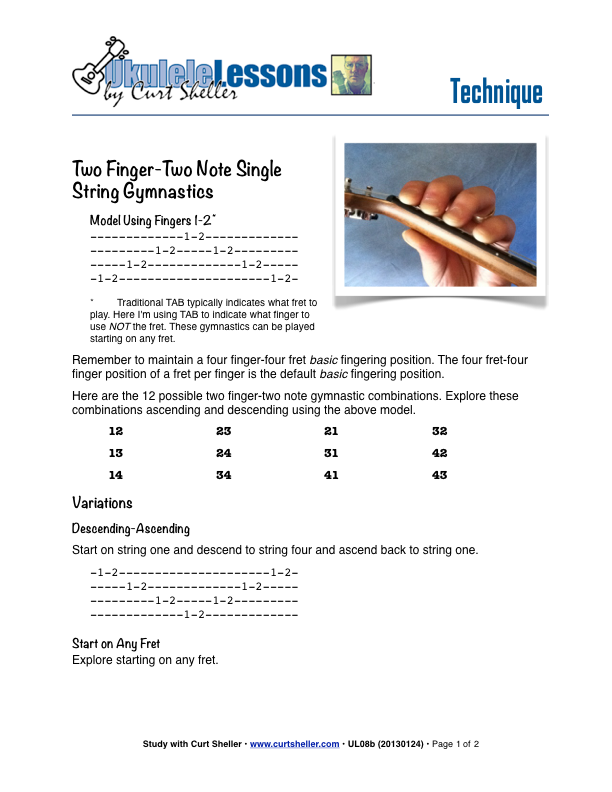 Secondary Chords - Key of C
Continuing with the common of key of C major and adding to the primary chords C, F, G and G7 from last week's lessons. We can add the secondary chords Dm, Em, and Am.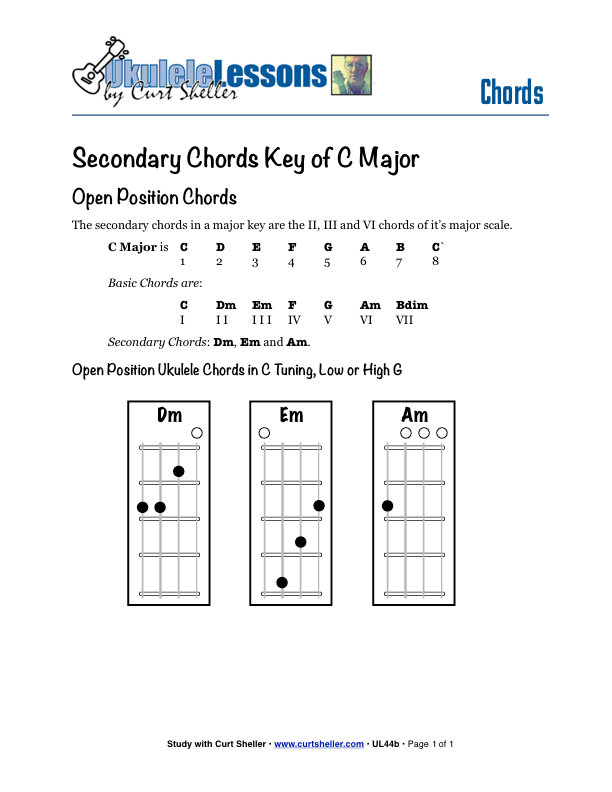 Common Progressions - Key of C
With the primary and secondary chords in the key of C.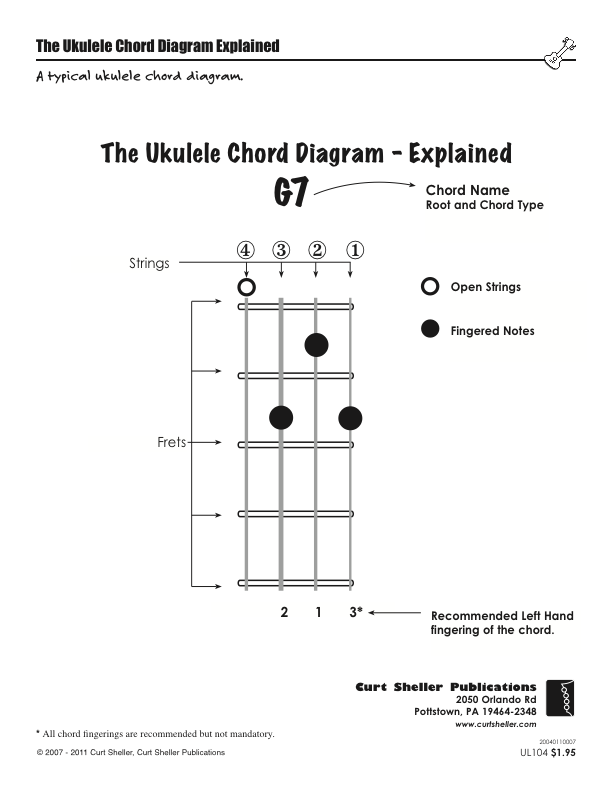 The Quarter Note Strum - Variations
Learning an instrument is about building on what you already know. This is a perfect principle for building on strumming patterns.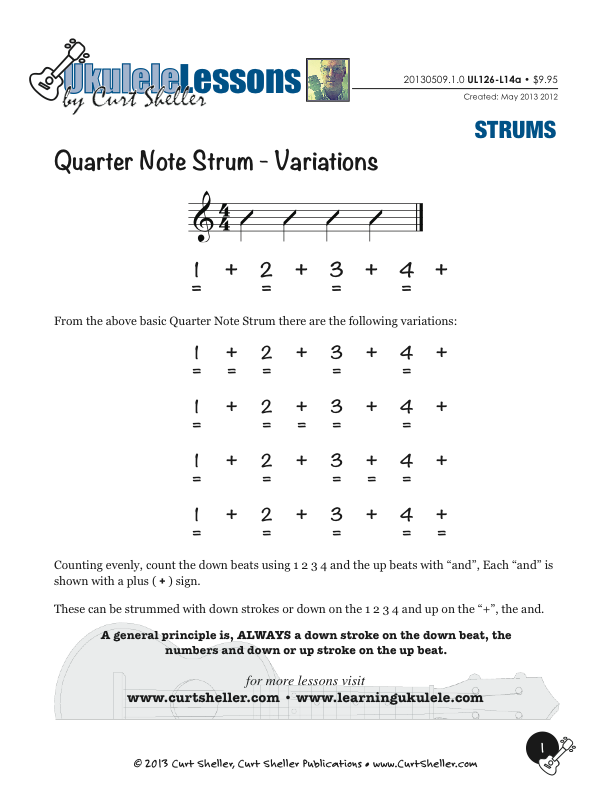 Whole Steps, Half Steps
There is only one scale that contains ALL 12 notes of music in one octave, the Chromatic Scale.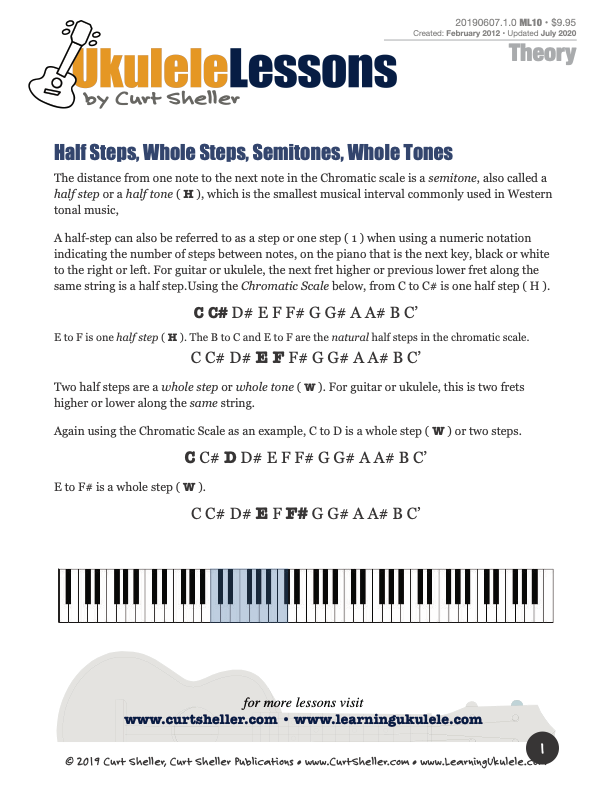 ---
End of Lesson - Thanks, Hope You Enjoyed It!

Related Lessons
Related Lessons for Getting Started with `Ukulele - Lesson Two at this time.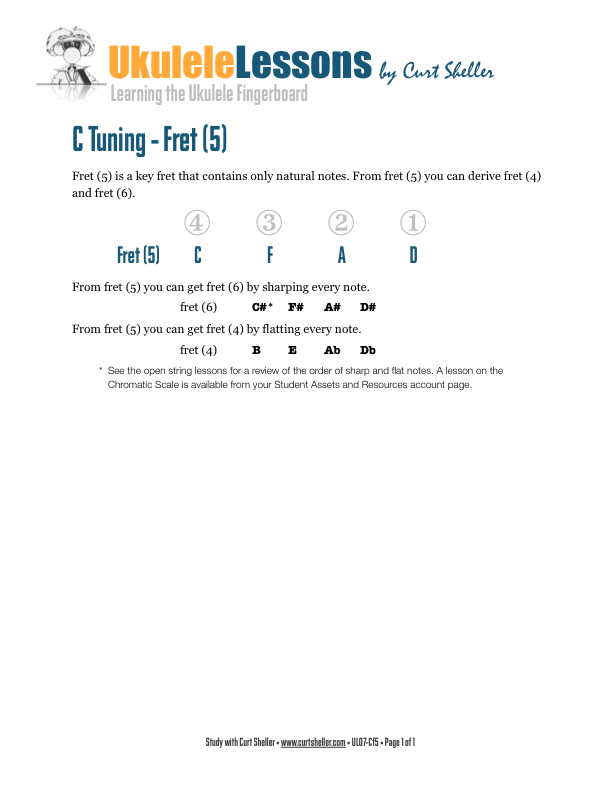 Learning the Fingerboard, C Tuning - Fret (5)
• Updated: Feb 17, 2013
There is nothing that returns more value when learning a fretted musical instrument like the ukulele than really, and I mean really knowing the names of the notes of the fingerboard. This is not the same as learning to read music — but simply knowing the name of any note on the fingerboard.
Fret (5) is a Key fret. From the key and secondary key frets, adjacent frets can be memorized relative to that fret.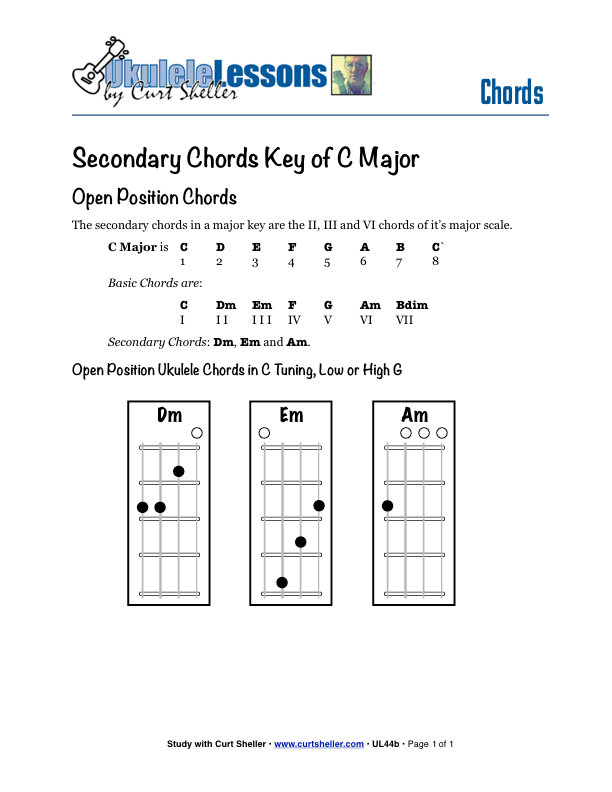 Secondary Chords - C Major
• Updated: Feb 8, 2013
The secondary chords for any major key are the II, III and VI chords of it's corresponding major scale. For C Major the secondary chords are: Dm, Em and Am
From the primary and secondary chords of a major key countless songs and chords progressions can be played.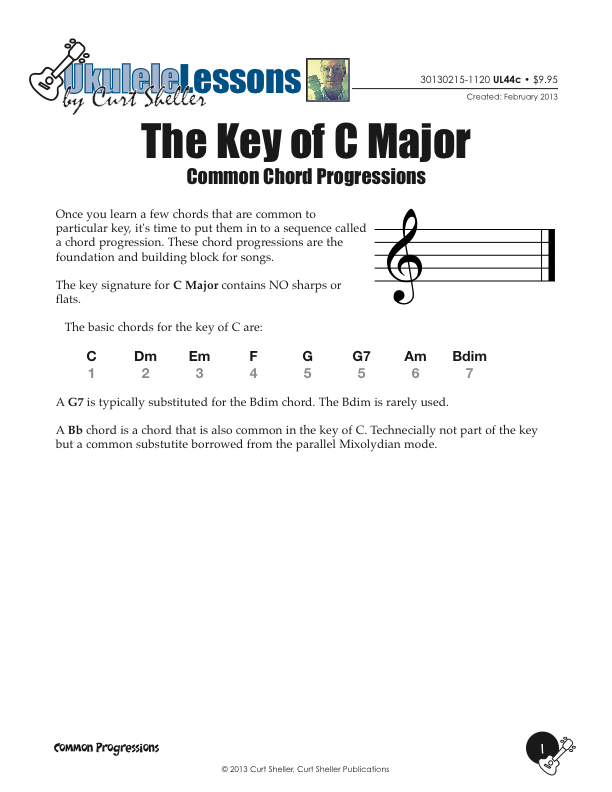 Common Chord Progressions for the Key of C Major
• Updated: Feb 25, 2013
Sometimes called the "learning key", the key of C Major is one of the easiest keys to memorize and begin using.
The key signature for C Major and A Minor contain NO sharps or flats.
C major (often just C or key of C) is a musical major scale based on C, with pitches C, D, E, F, G, A, and B. Its key signature has no flats or sharps.
Its relative minor is A minor, and its parallel minor is C minor.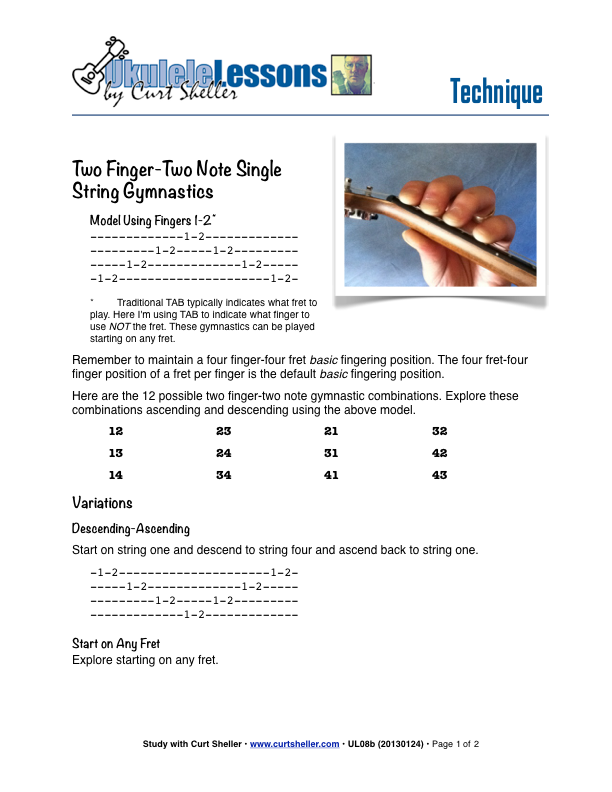 Two Finger-Two Note Basic Single String Fingering Drills for `Ukulele
• Updated: Jan 17, 2020
To play the ukulele effectively, your fingers need physical strength, agility, flexibility and coordination. This two finger-two note drill is designed to get your hands in shape. These exercises work no matter what style of ukulele you play or want to play.
Related Books
Related Books for Getting Started with `Ukulele - Lesson Two at this time.
Related Songs
Related Songs for Getting Started with `Ukulele - Lesson Two at this time.
Related Lesson Series
Related Lessons Series for Getting Started with `Ukulele - Lesson Two at this time.
Related Lesson Files, Resources and Assets
Related Assets for Getting Started with `Ukulele - Lesson Two at this time.
NOTE: Each higher access level includes ALL the benefits of the lower levels. Private Lessons include all the benefits of a Premium Access Plans as long as you remain a student on the schedule.
Just browsing over both books, they look fantastic! I'm a guitarist and uke player for over 25 years and was thinking about writing a ukulele book but you've already written what I think are the best, most comprehensive and thorough books I've ever seen for the instrument. I just might end up buying every book you've written and I'll be giving my highest recommendation for your books to my friends and students. Thank you so much for taking the time to write such great books! — Peter Rhee
Aloha, Curt, All I can say is WOW! What you have accomplished is simply incredible! All the best — Glen Hirabayashi, The Aloha Boys
Folks, if you haven't stopped by Curt's site, do so right now! ..And get his books, they are fantastic. This guy knows his stuff and is able to pass it along too. — Alan Johnson Proprietor, The 4th Peg
I can highly recommend Curt's Uke books — I have four of them and they are excellent. — fatveg — Portland
Thanks for visiting and checking out the site!

Original Curtie Animation from 1987 for my first web site on a Macintosh II.
33 years ago.
"Built for myself (Curt), and sharing with the `Ukulele community!"
LearningUkulele.com has one of the largest collections of lessons, songs, and TABS, luthiers, ukulele builders, ukulele festival and club information, and, ukulele links on the web. I've been on the ®Internet since the early 1990's and This site just never stops growing!!!
Content is added and updated almost daily - so check back often.