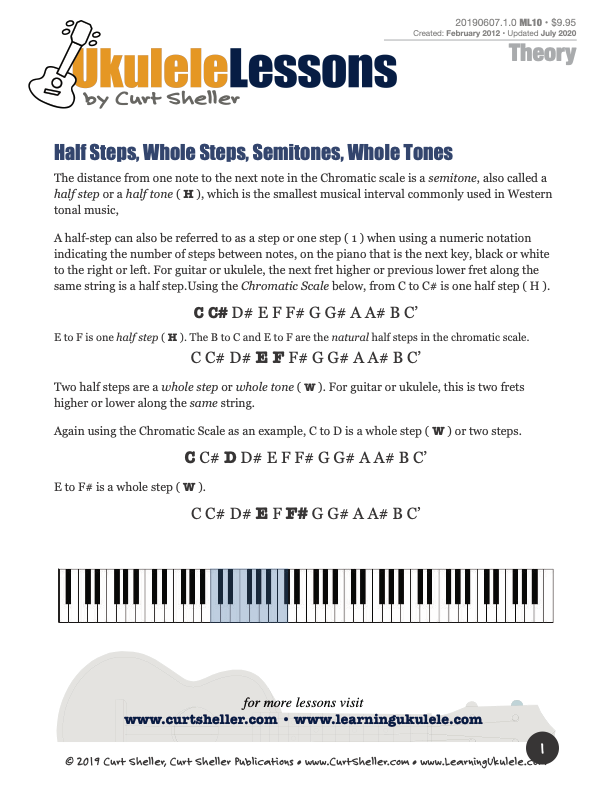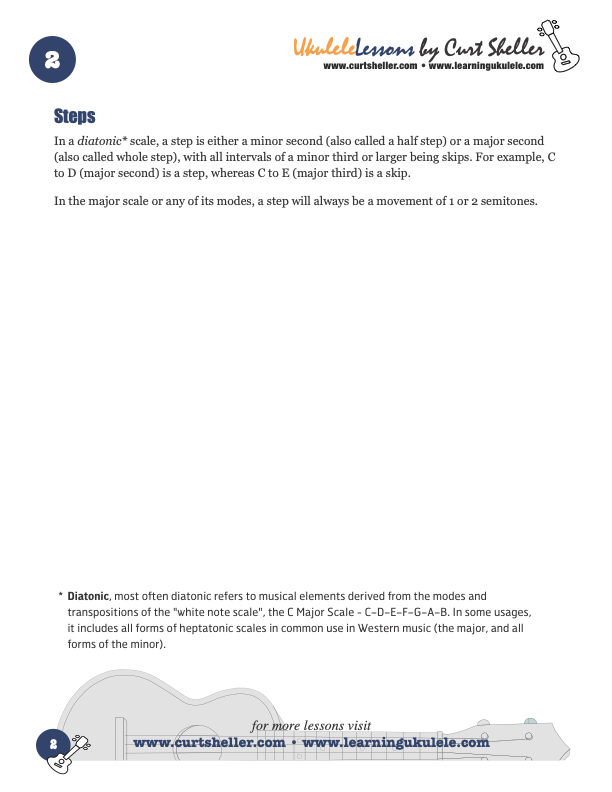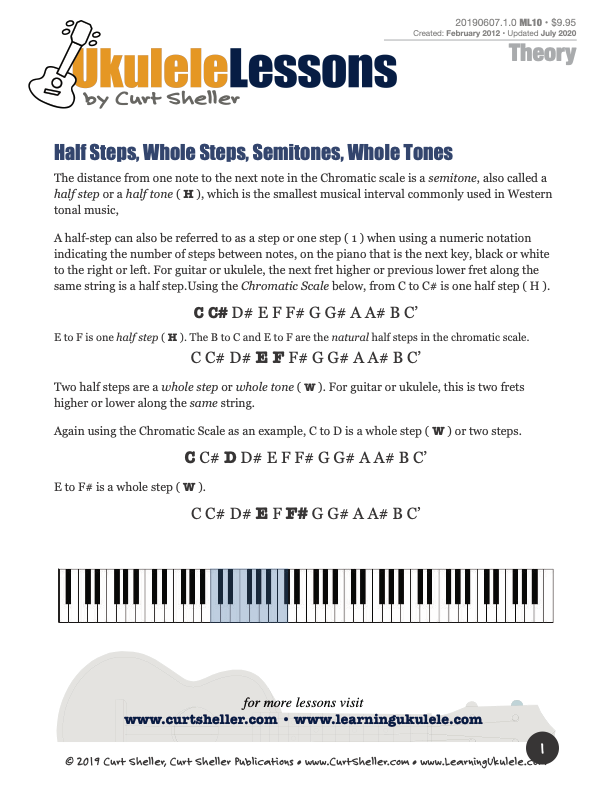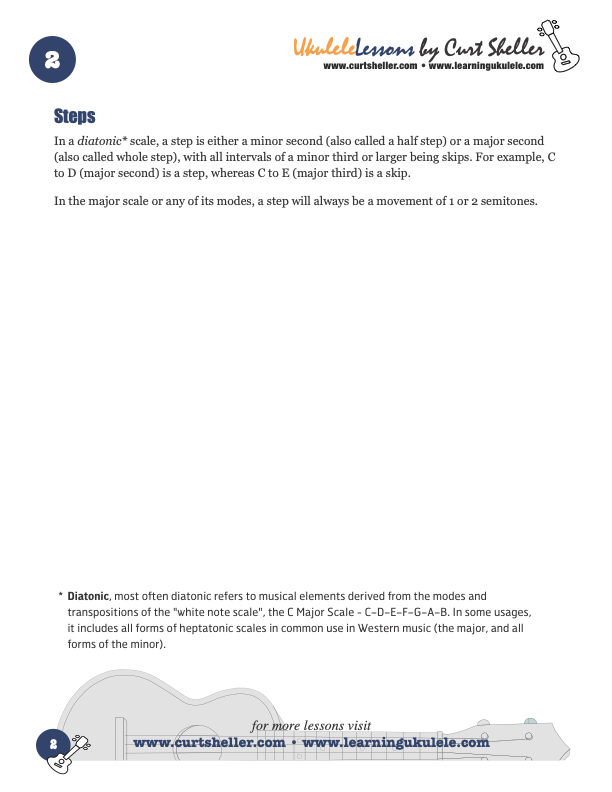 All 2 sample page(s) are viewable on-line.
If you are a registered site member and have the correct permissions you can view ALL the pages of this PDF or Samples pages at a larger size. You can resize the browser window smaller to a tablet or phone size and the pages will magically grow larger.
Or, use the Online PDF Viewer . available for premium members .
Each PDF file is a formatted, high resolution file that prints out great. You'll need Adobe Reader or a PDF viewing application to view your PDF file.
Whole Steps and Half Steps Explained
The distance between any two notes can be defined by steps - half steps, whole steps, semi-tones, whole tones. From this series of steps you can get the names of the notes of ANY of the fifteen major scales.
Additional Content
Available for Premium Site Access Plans Only
Half Steps, Whole Steps, Semitones, Whole Tones
The distance from one note to the next note in the Chromatic scale is a semitone, also called a half step or a half tone ( H ), is the smallest musical interval commonly used in Western tonal music, A half-step can also be referred to as a step or one step ( 1 ) when using a numeric notation indicating the number of steps between notes. On piano that is the next key, black or white to the right or left. The next key or note to the right is a 1/2 step higher. The next key or note to the left is a 1/2 step lower. For an instrument like guitar or ukulele the next fret higher or lower is a 1/2 step.
Using the Chromatic Scale below, all twelve notes in one octave starting from C. The notes C to C# is one half step ( H or 1 ).
C C# D D# E F F# G G# A A# B C'
E to F is one half step ( H ).
C C# D D# E F F# G G# A A# B C'
Two half steps are a whole step or whole tone ( W or 2 ). This can also be referred to as two steps ( 2 ). For guitar or ukulele this is two frets higher or lower along the same string.
C C# D D# E F F# G G# A A# B C'
Scales are made up of a series whole steps and half steps forming a step pattern.
The major scale's step pattern is W W H W W W H OR 2 2 1 2 2 2 1.
Download or View PDF for Complete Lesson
Download this lesson's PDF file for the latest, complete, and most up-to-date version of the lesson. As well as additional information not presented on-line.
Members and Active Students need to sign-in to download this lesson's PDF for the complete lesson.
Related Lessons
Related Lessons for Whole Steps and Half Steps Explained.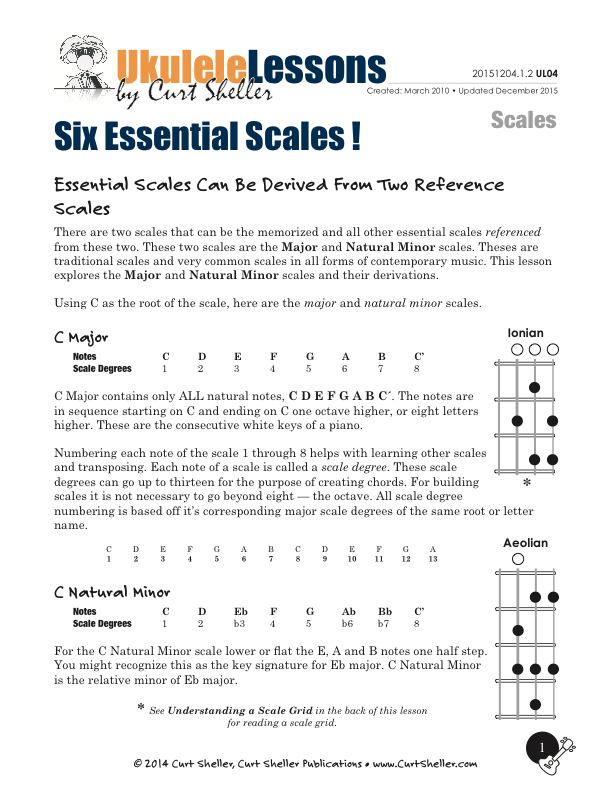 Six Essential Scales for `Ukulele
• Updated: 09 Nov 2021
The six essential scales are: Blues Major Pentatonic Mixolydian Dorian Aeolian and Ionian From the six essential scales, you can get through a wide variety of traditional and contemporary music. A scale is simply a collection of pitches or notes, not really a "this is a Jazz scale", "this is a Blues" or "this is a Rock scale". It's how a scale is used that really matters not its name.
Related Songs
Related Songs for Whole Steps and Half Steps Explained.
Related Lesson Series
Related Lessons Series for Whole Steps and Half Steps Explained.