Six Secrets of Ukulele Fingering
Learn the six fingering principles to navigating the ukulele fingerboard.
PUBLISHED: Mar 15, 2006 UPDATED: Dec 31, 2019 • VIEWS: 140 • BOOK CODE: 6SUF •
Instruments: ukulele Subjects: technique • fingerboard • fingering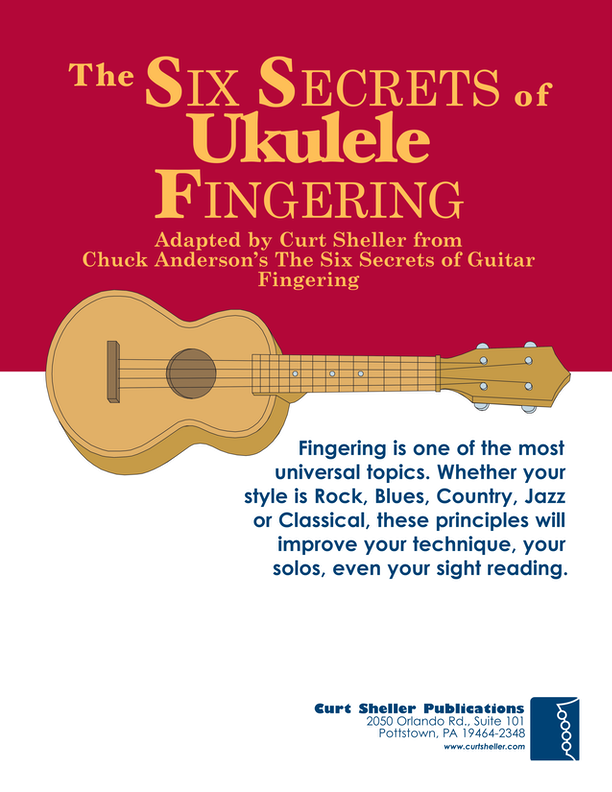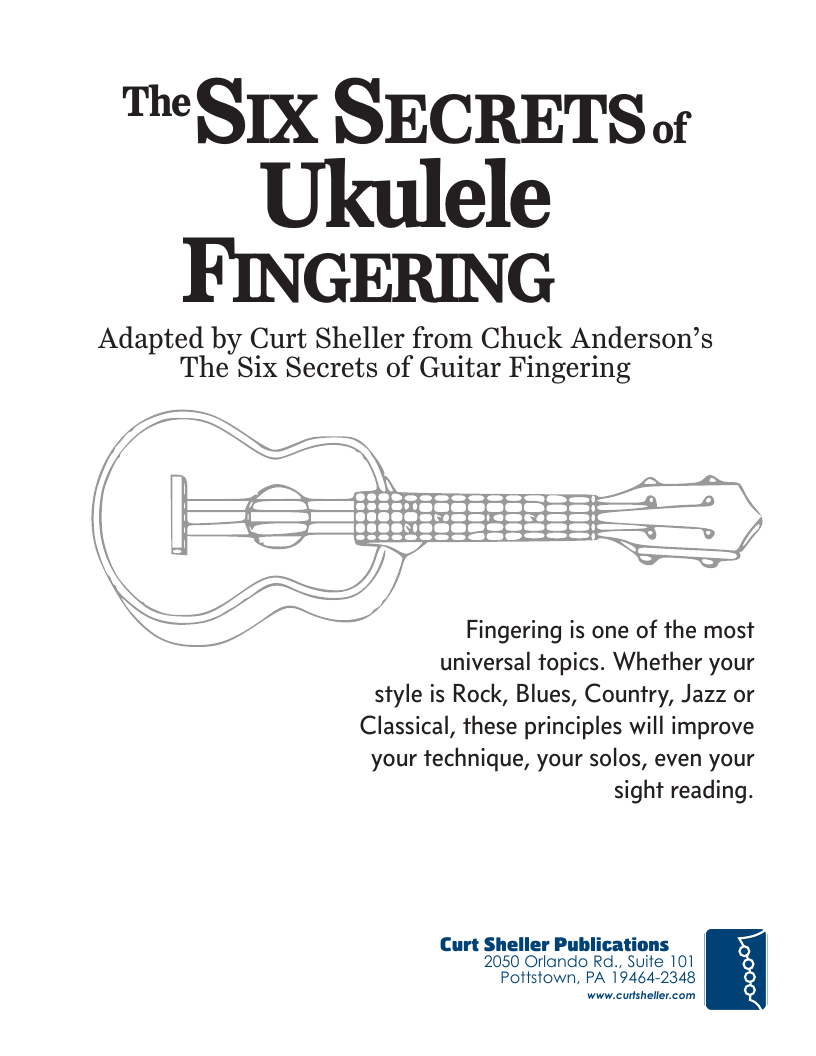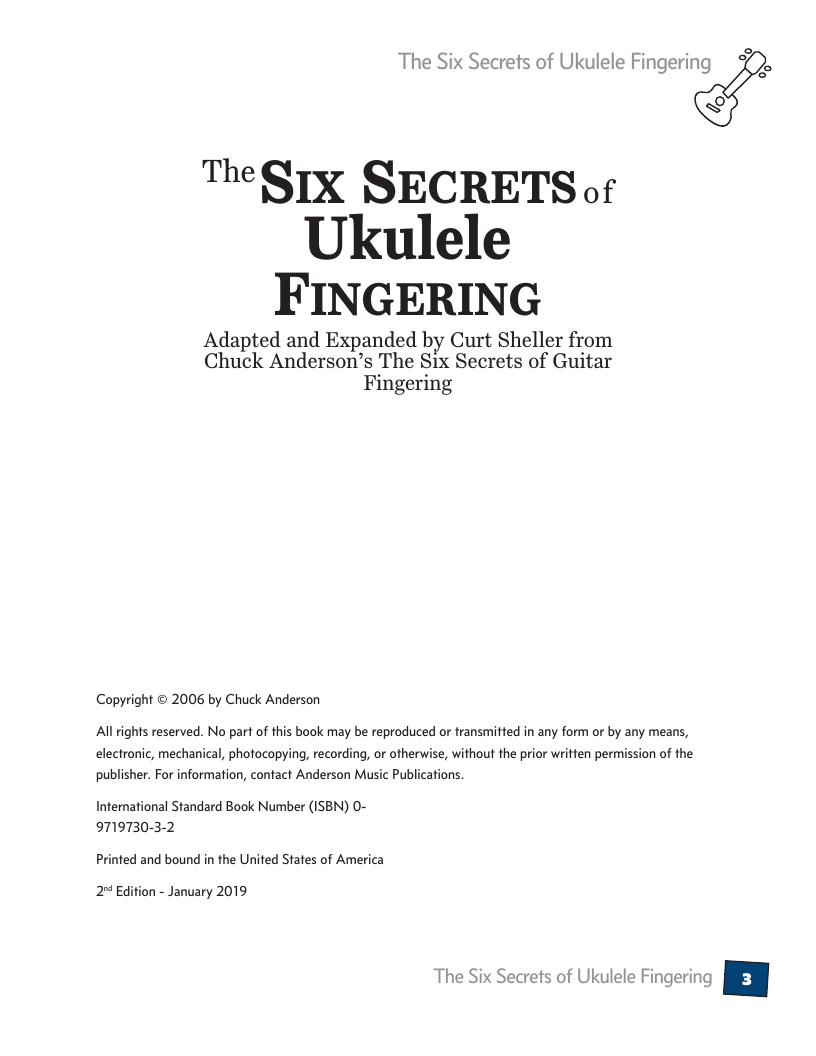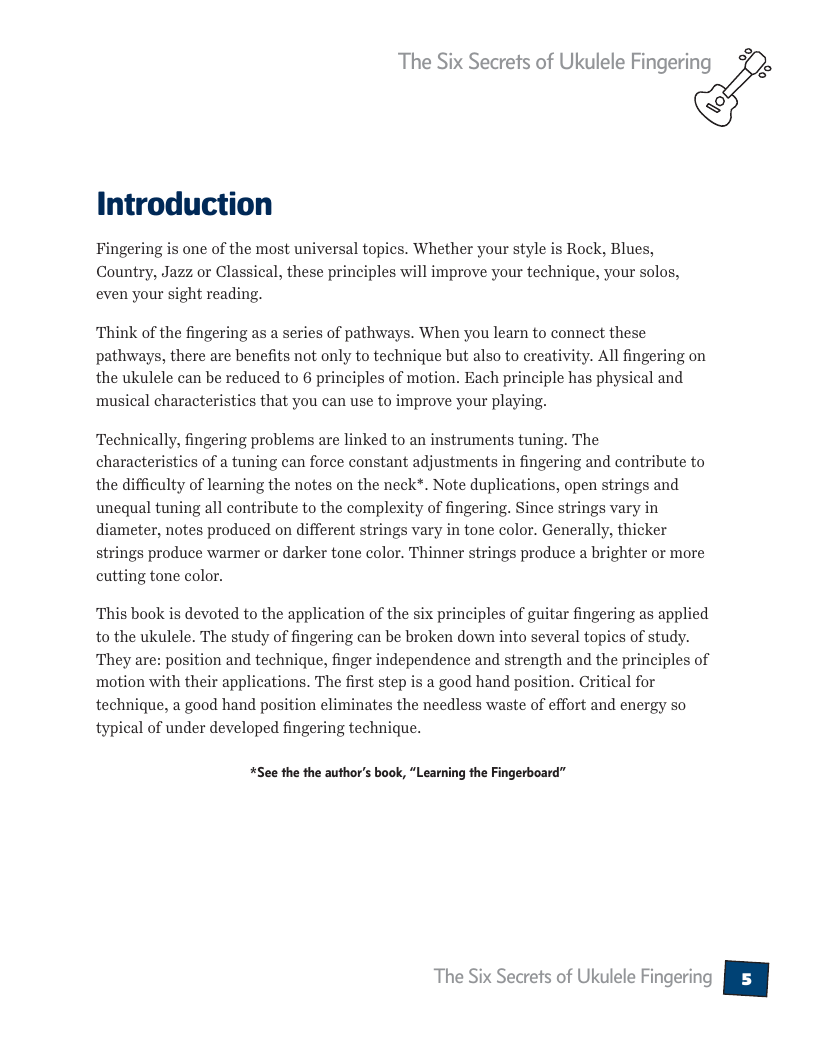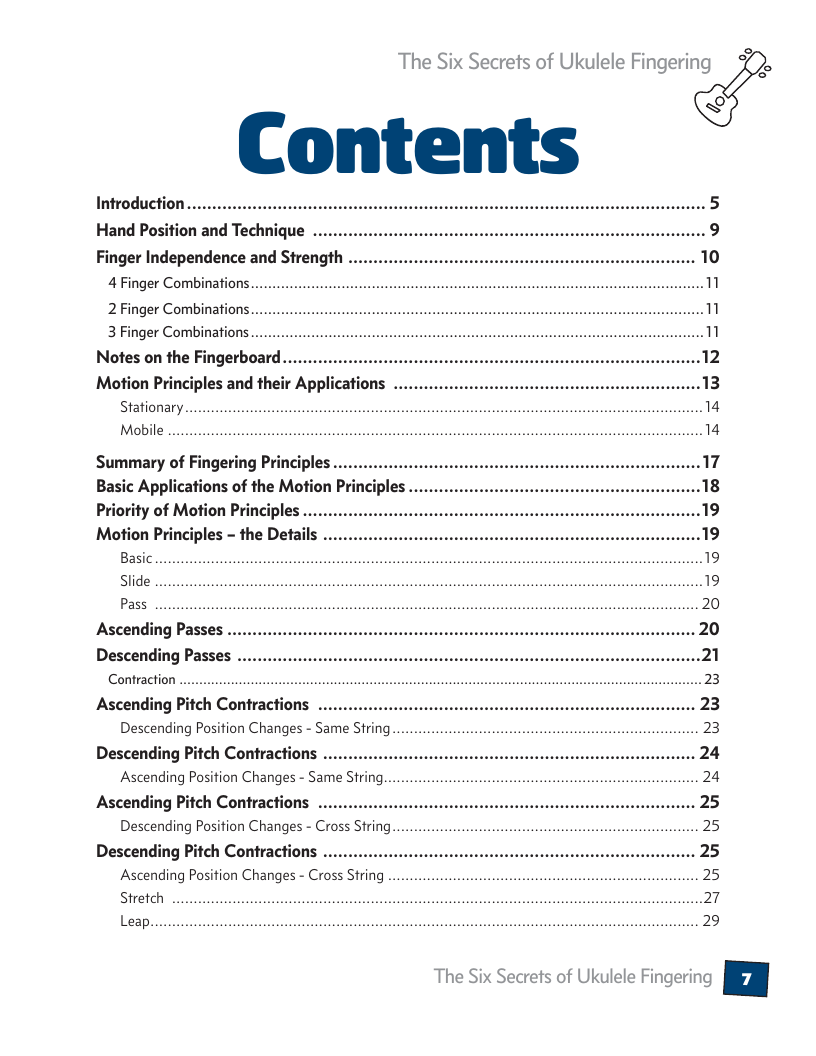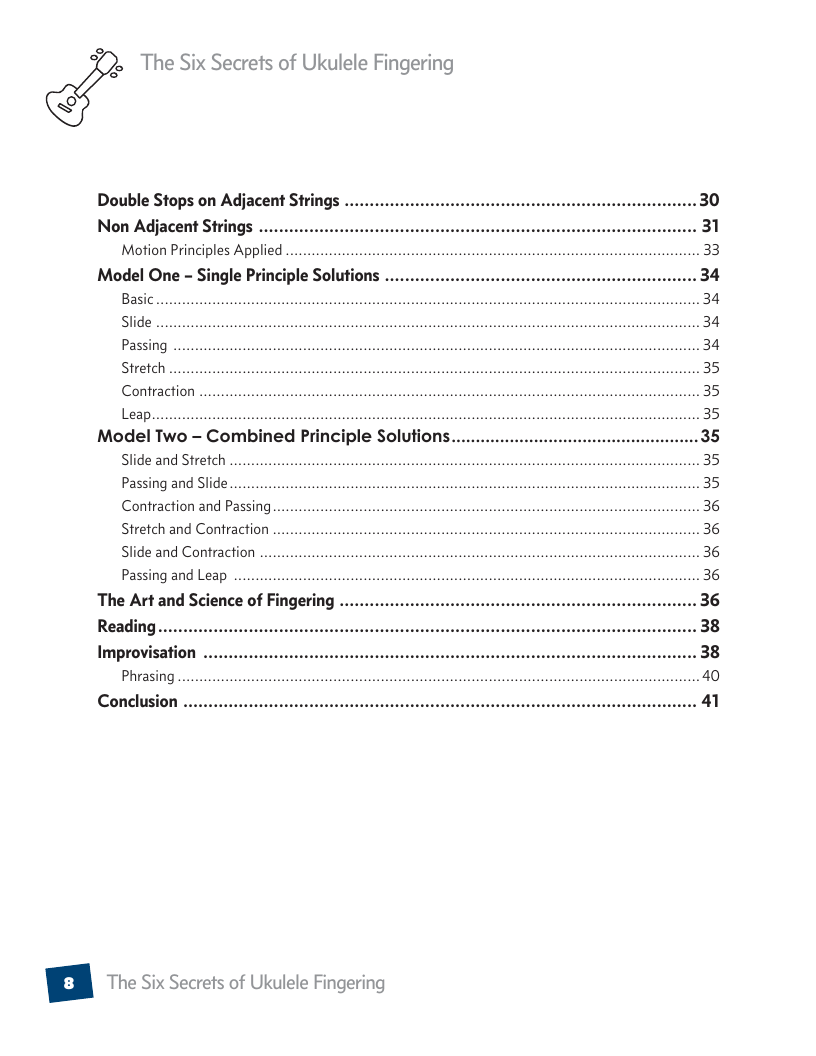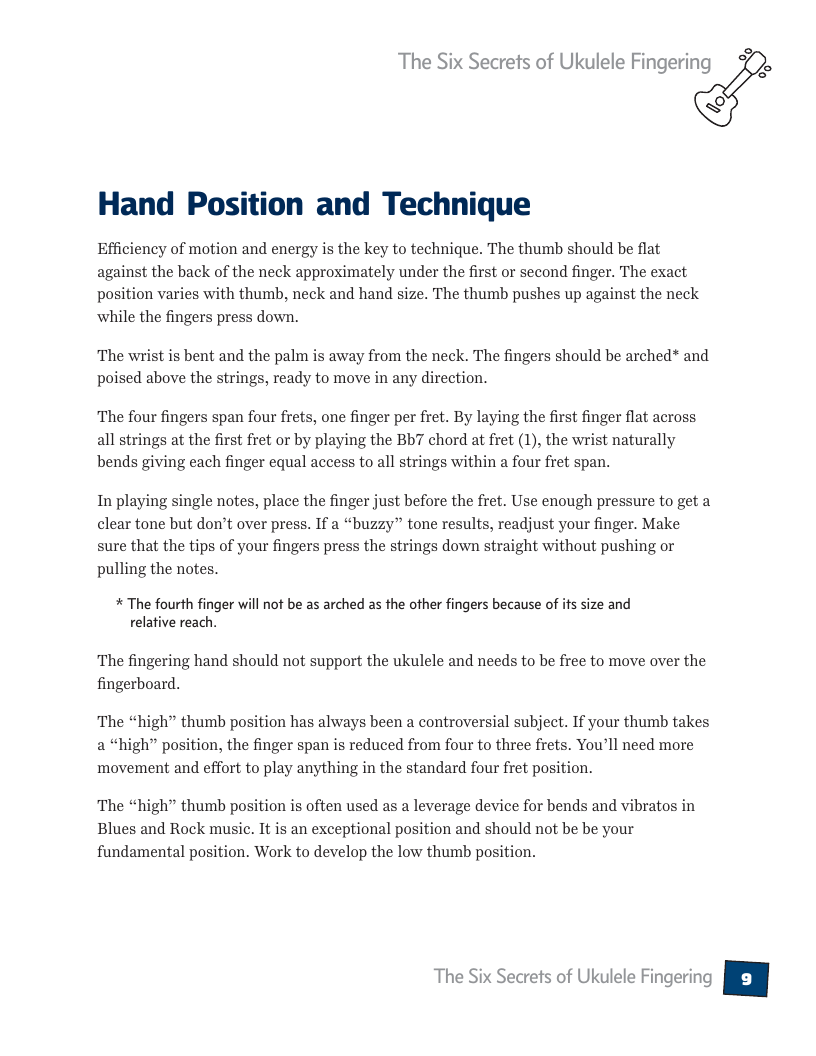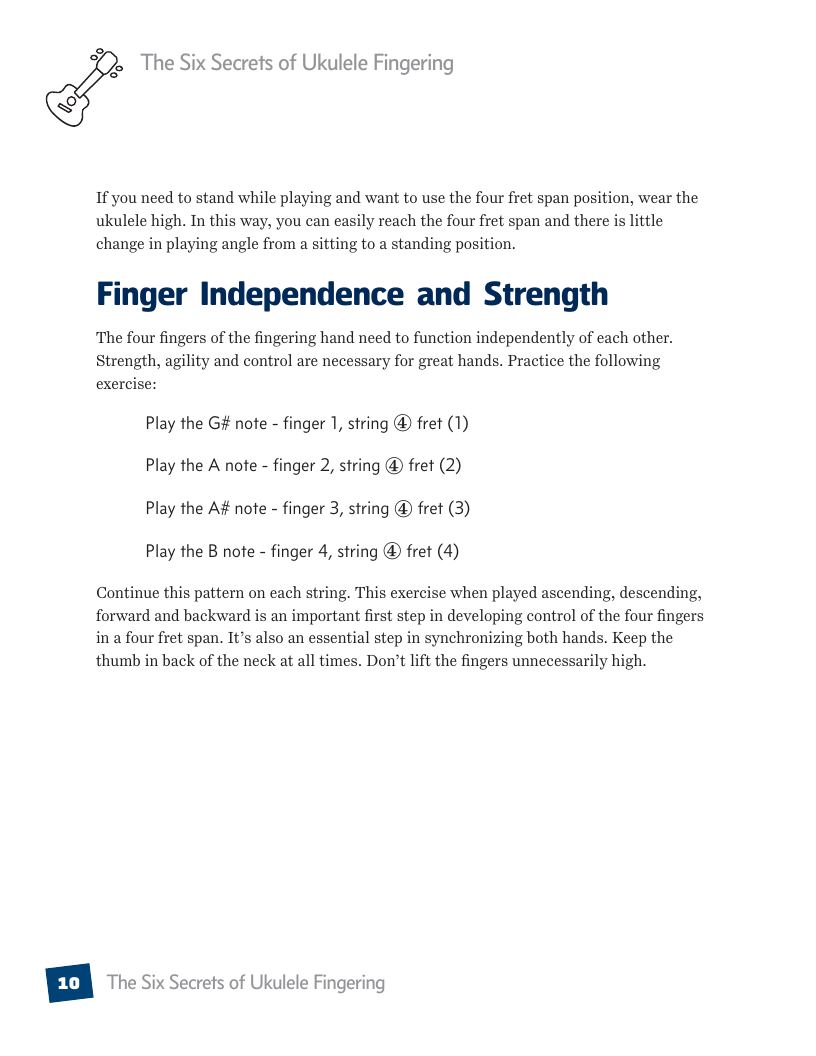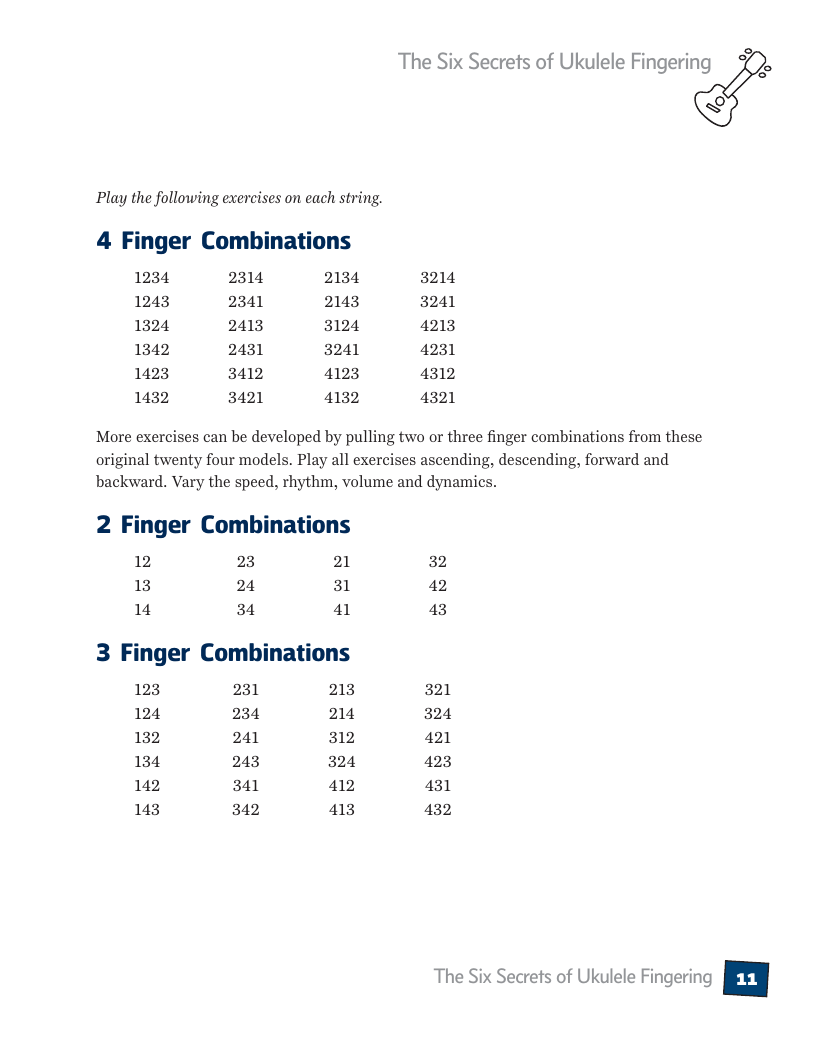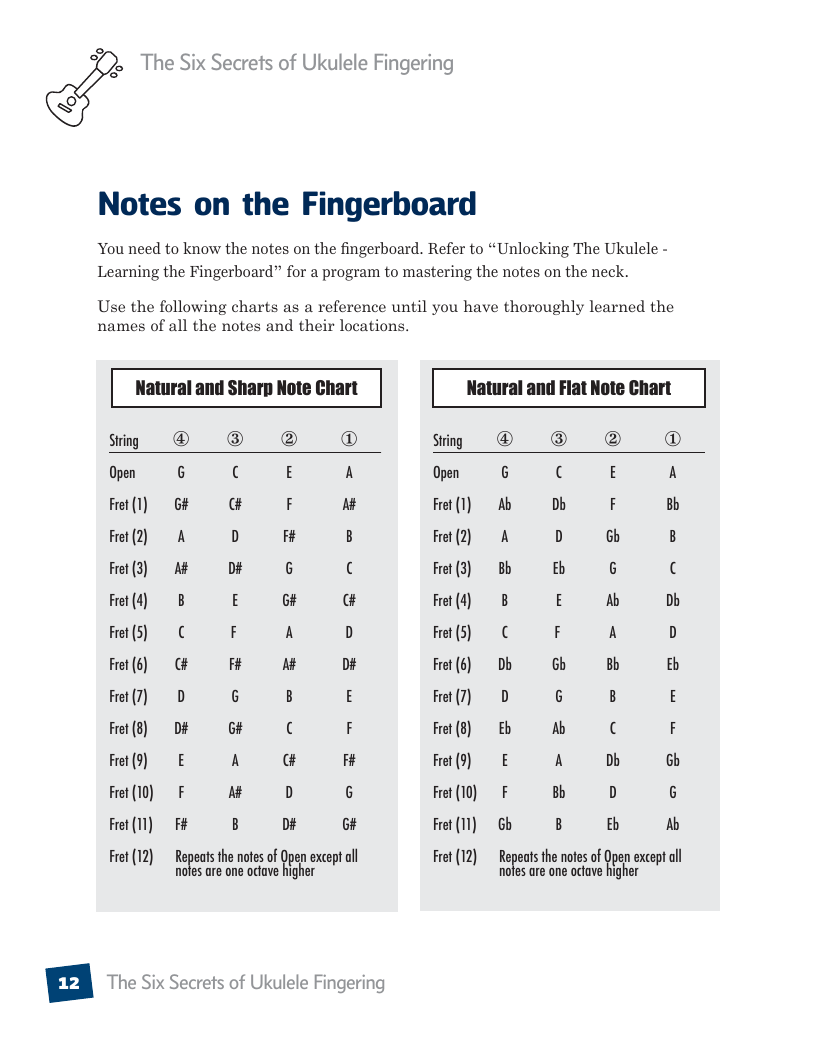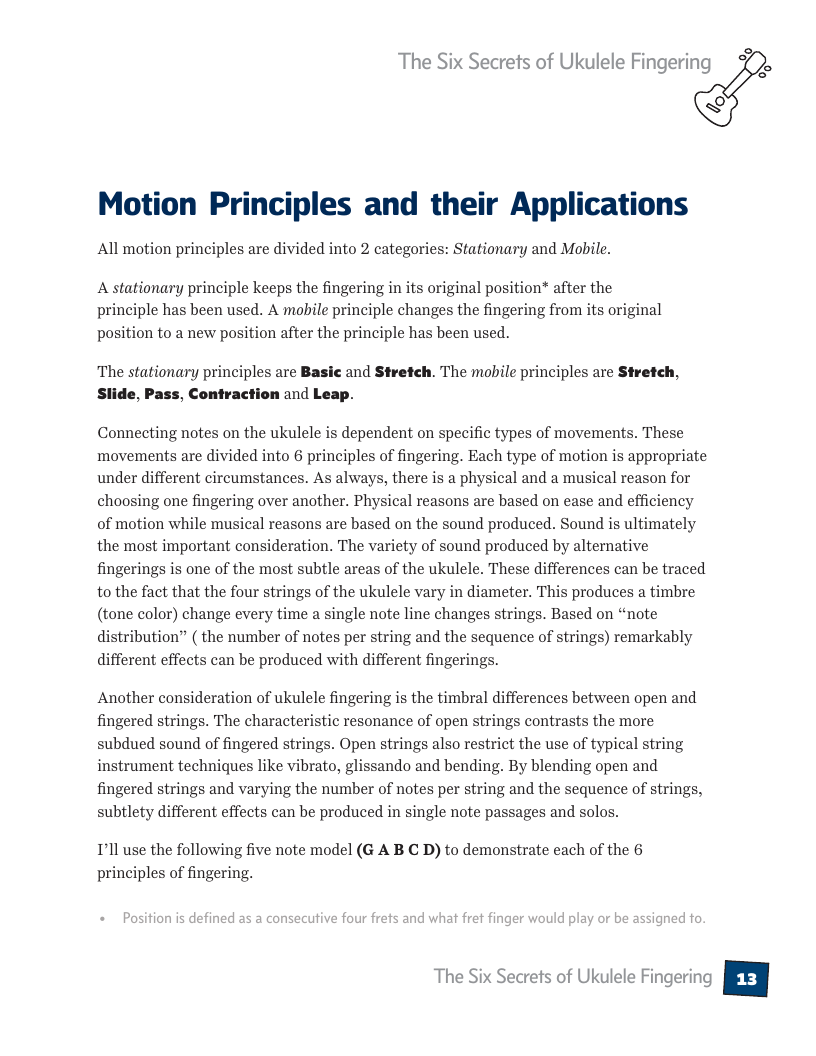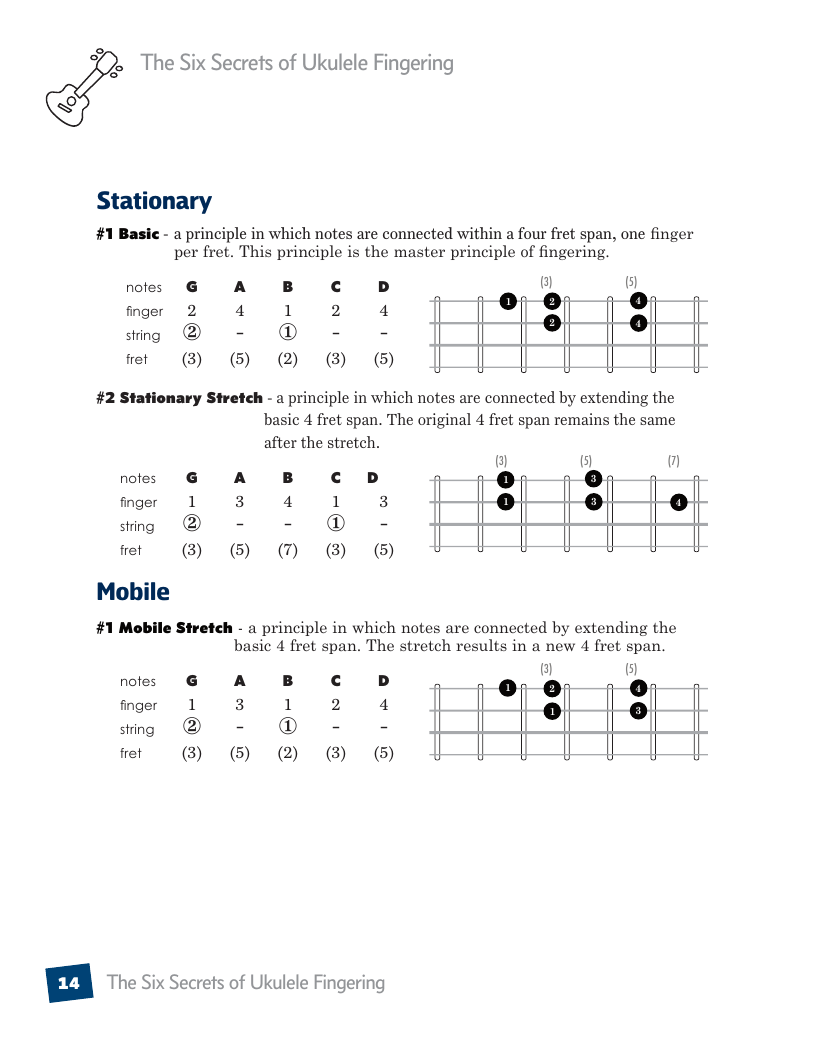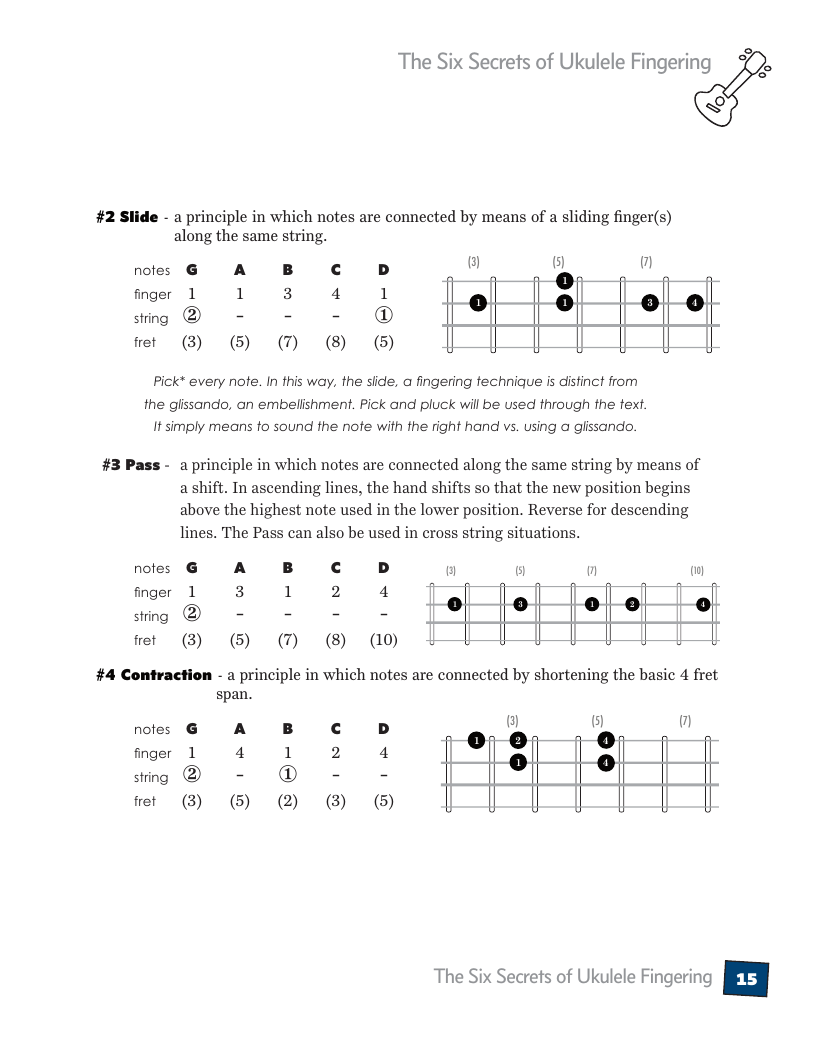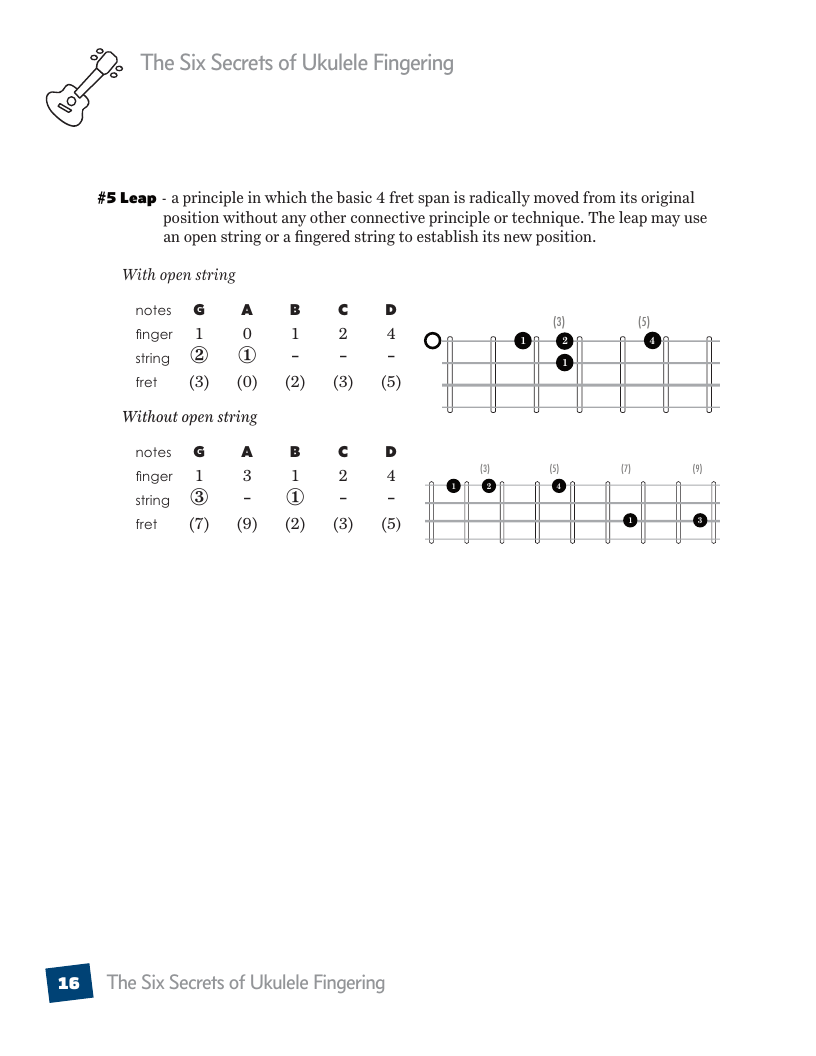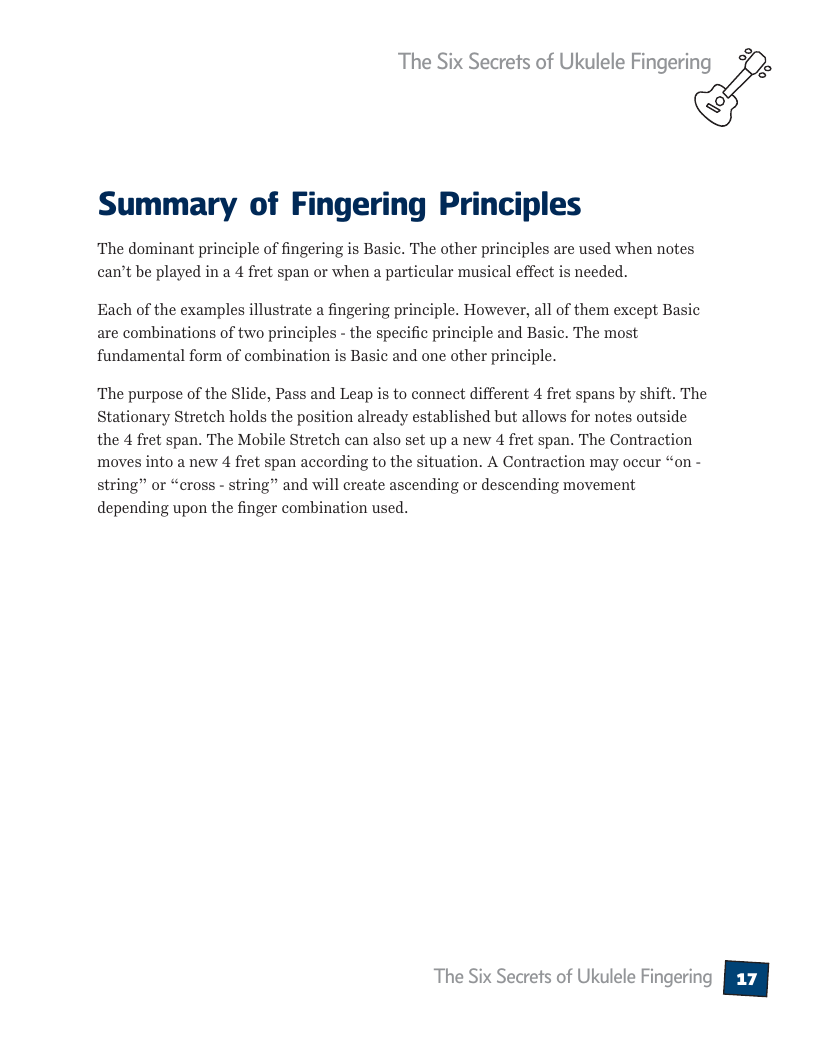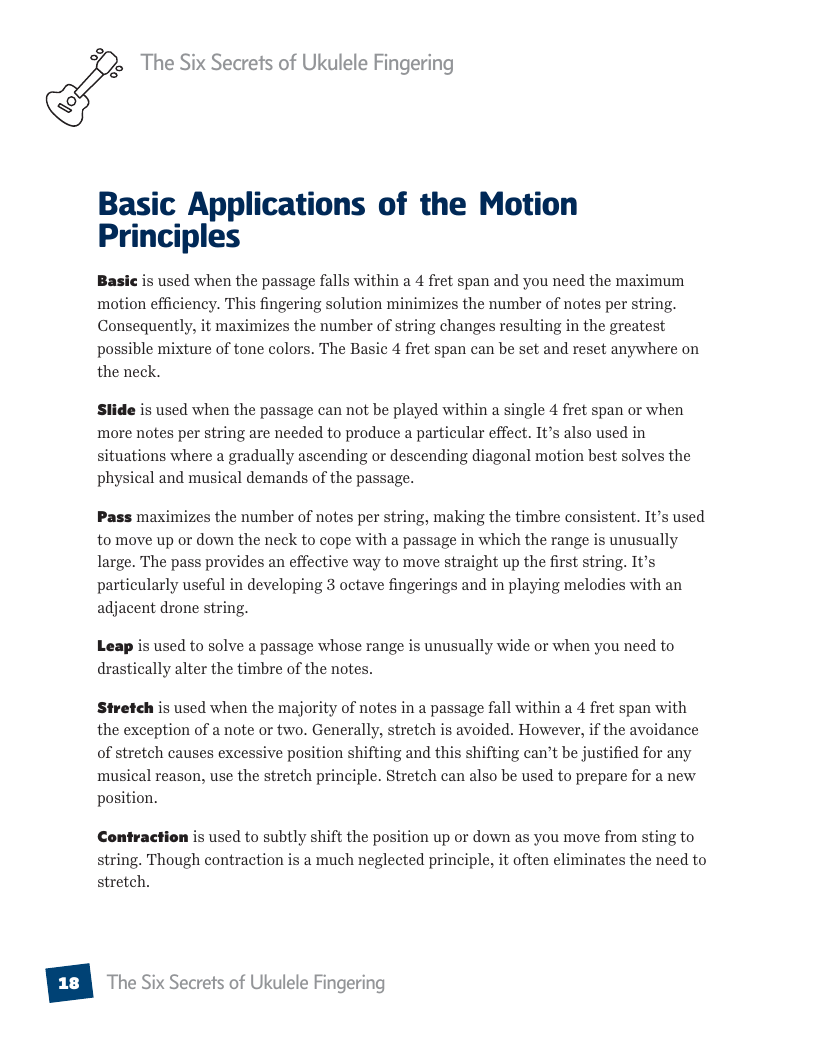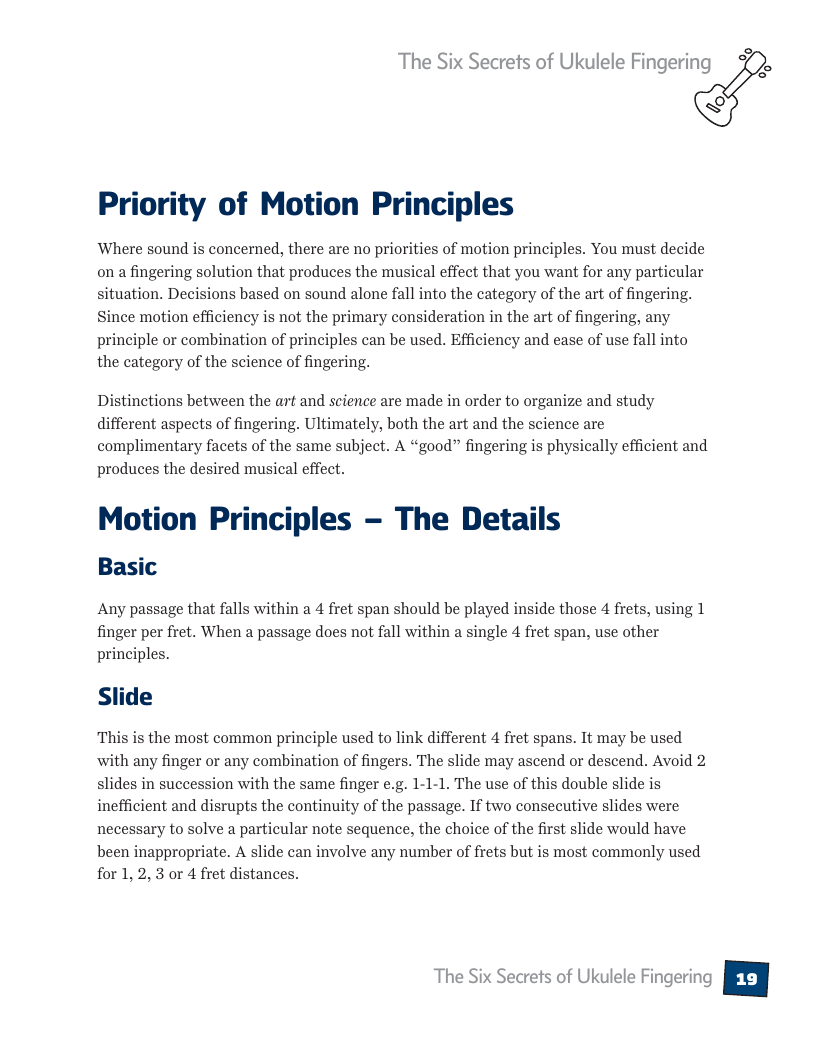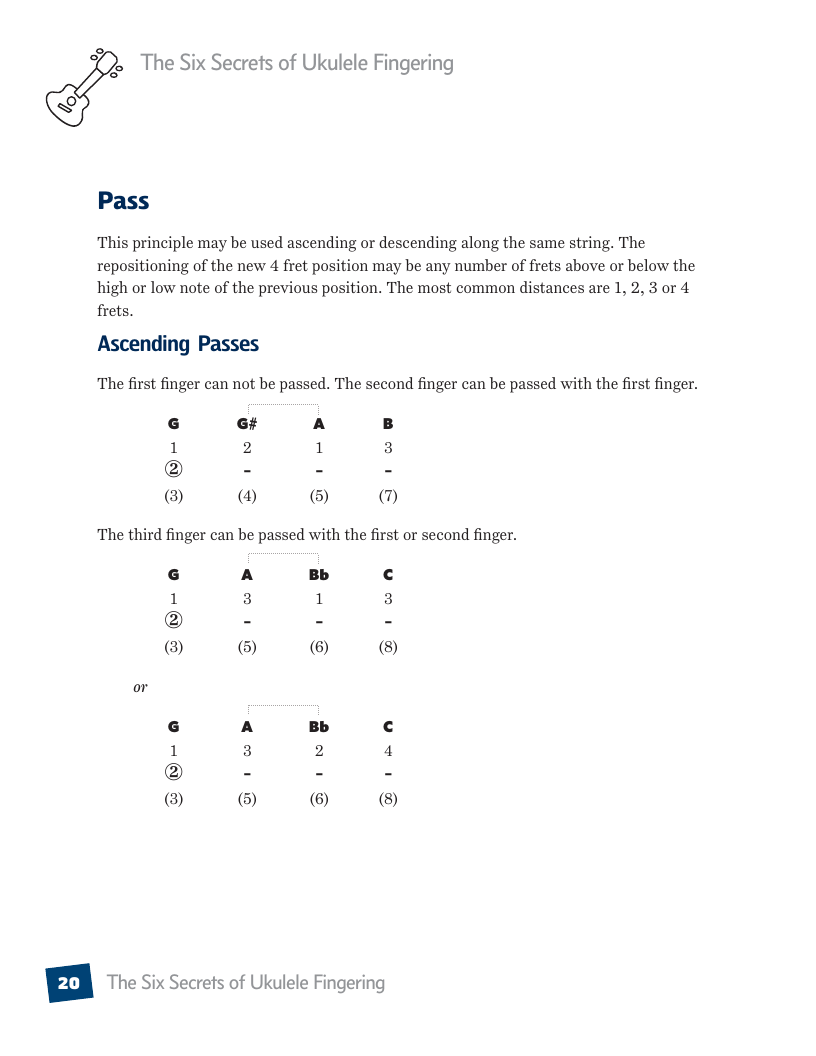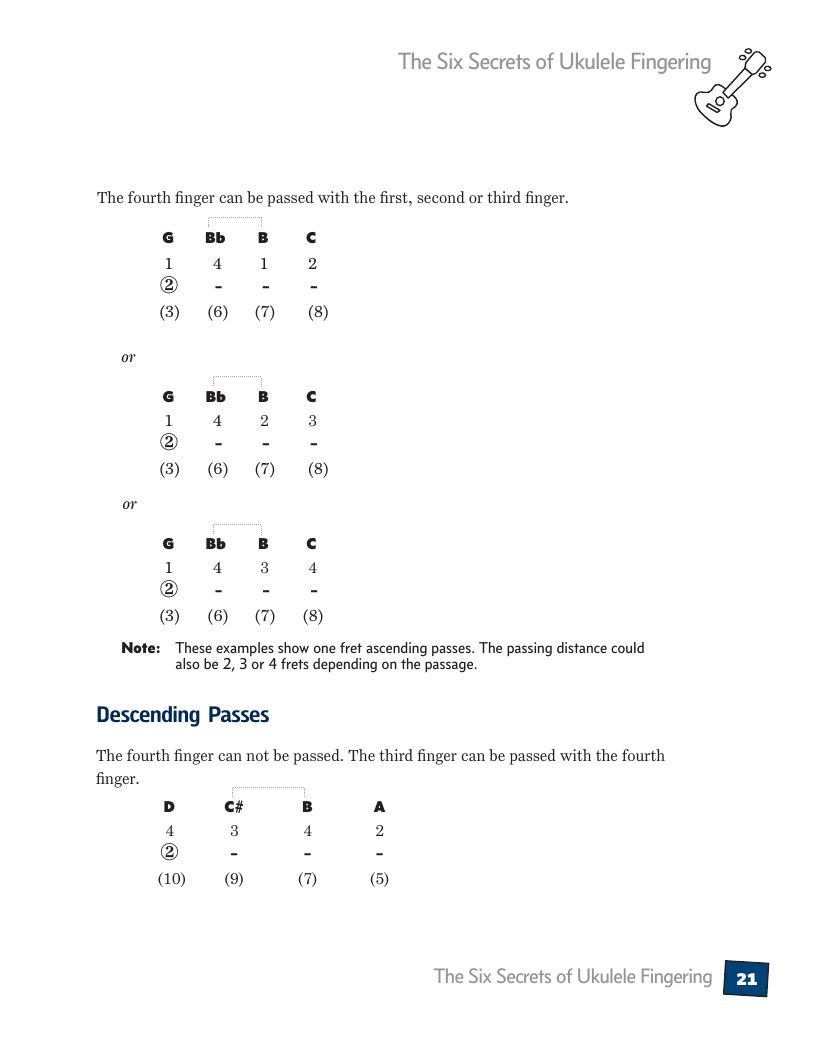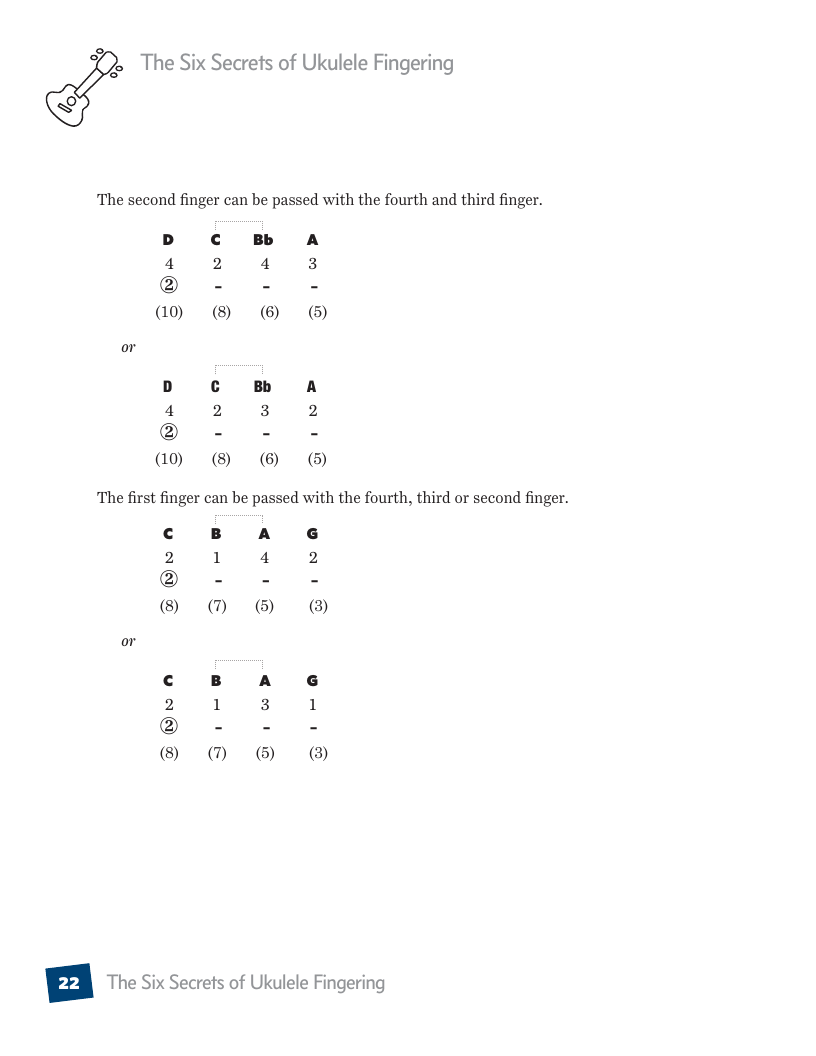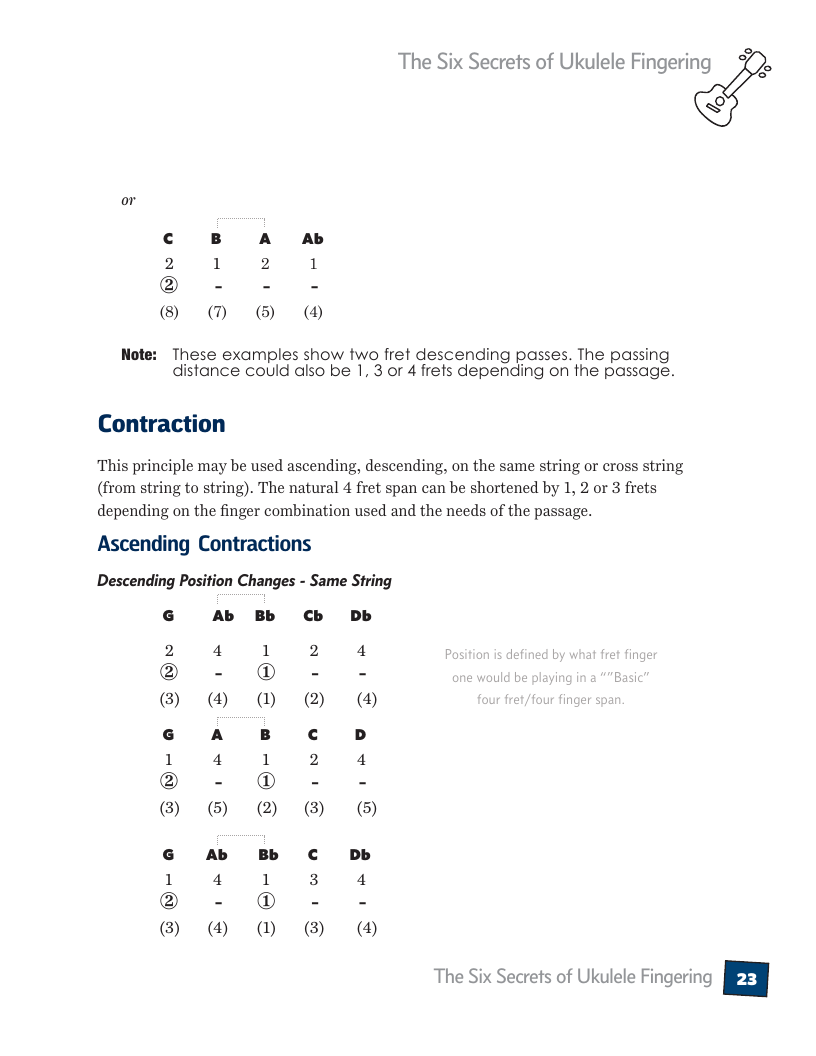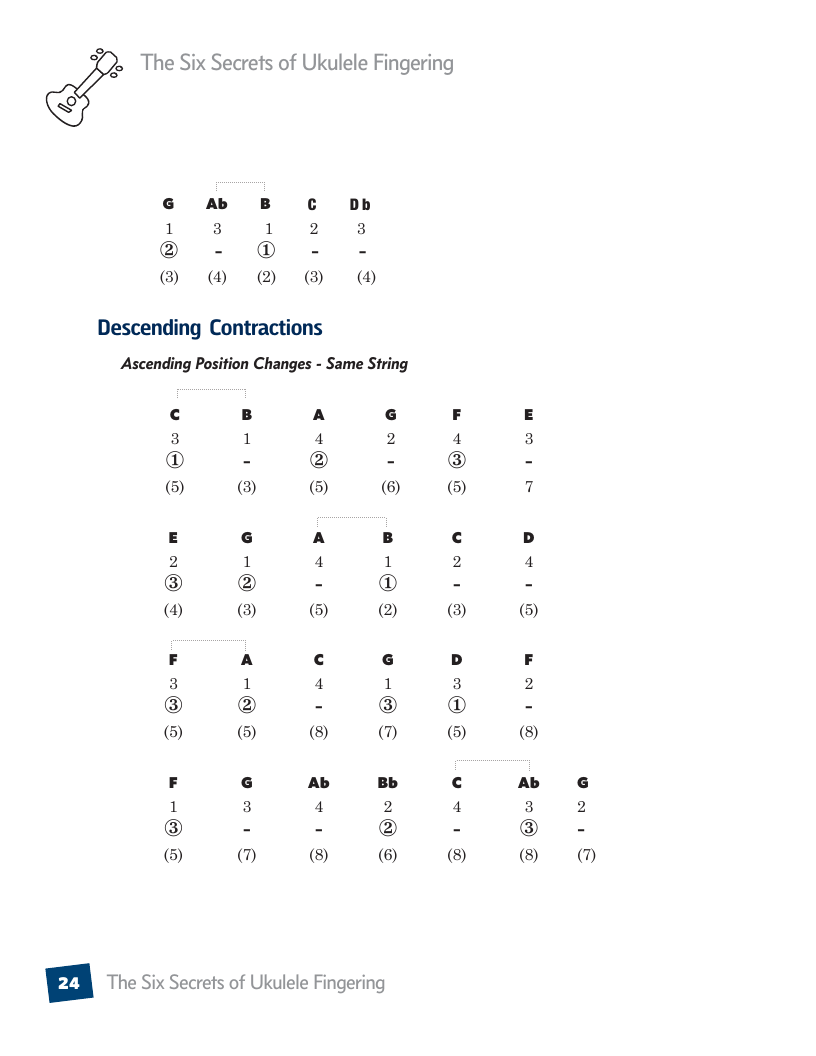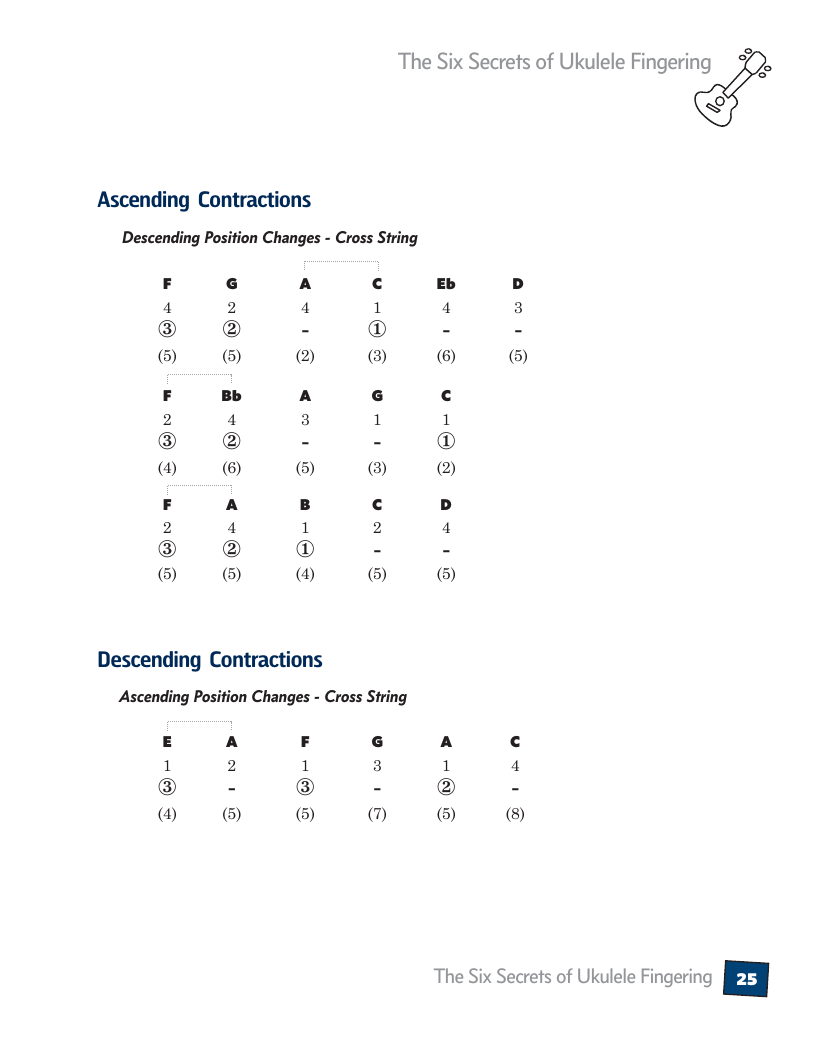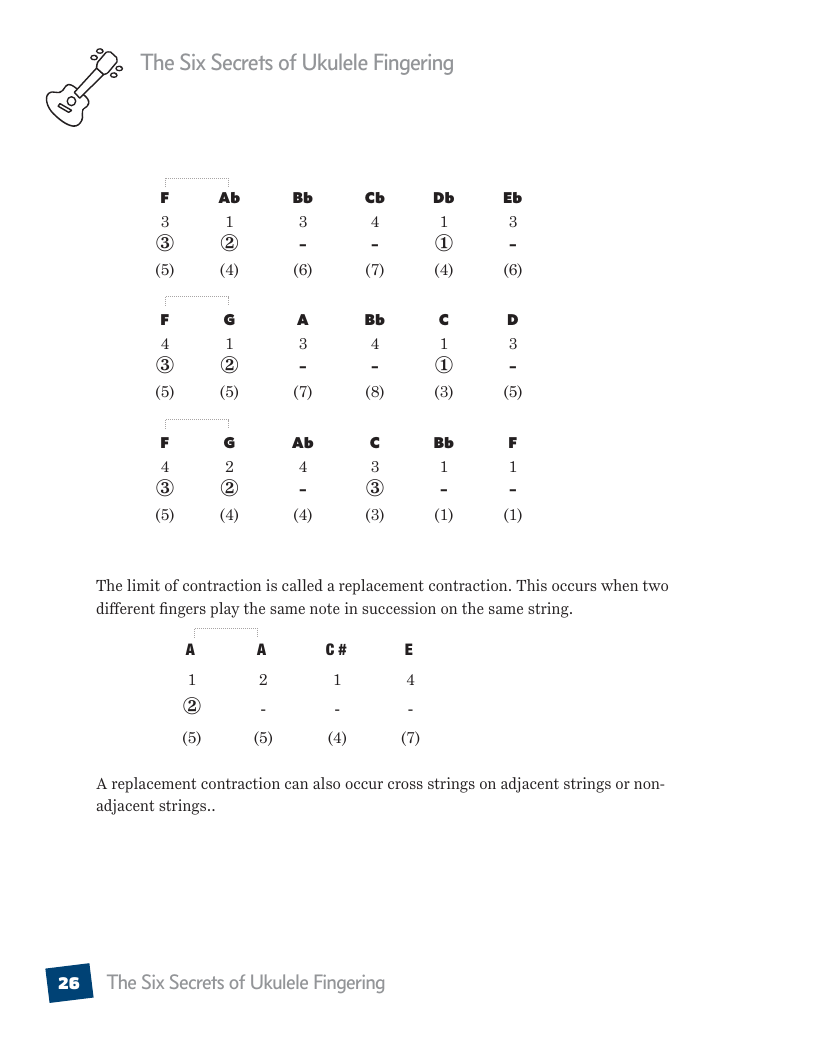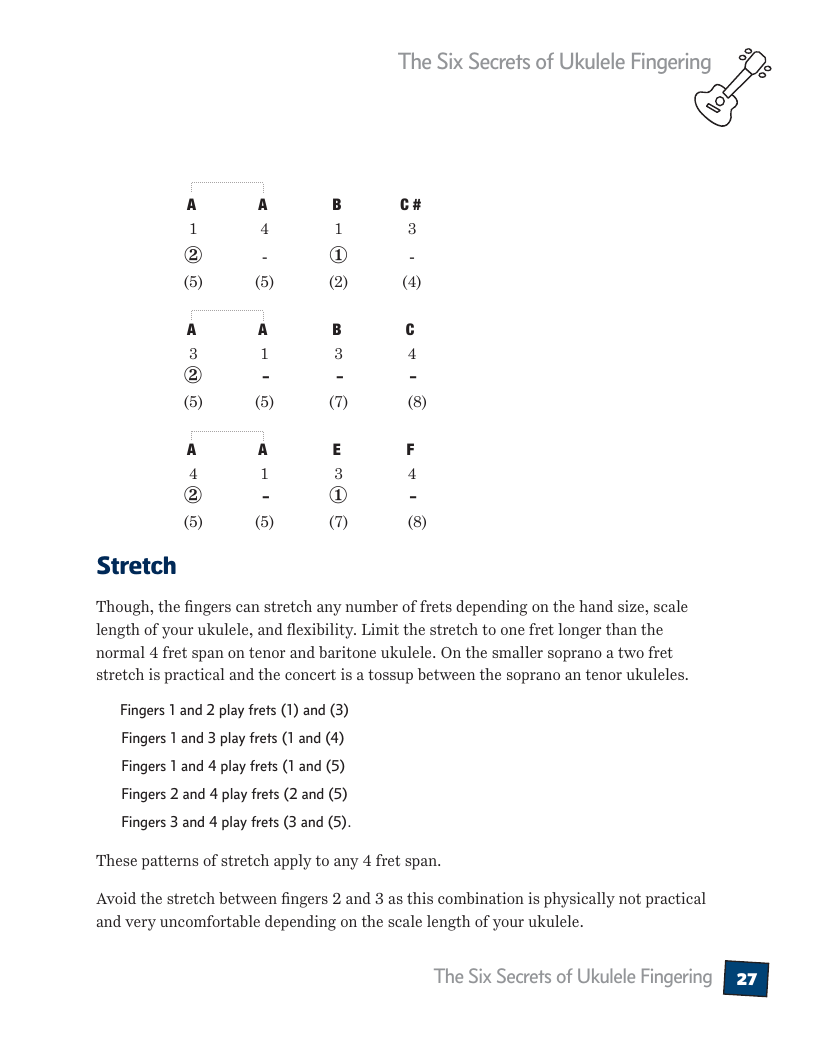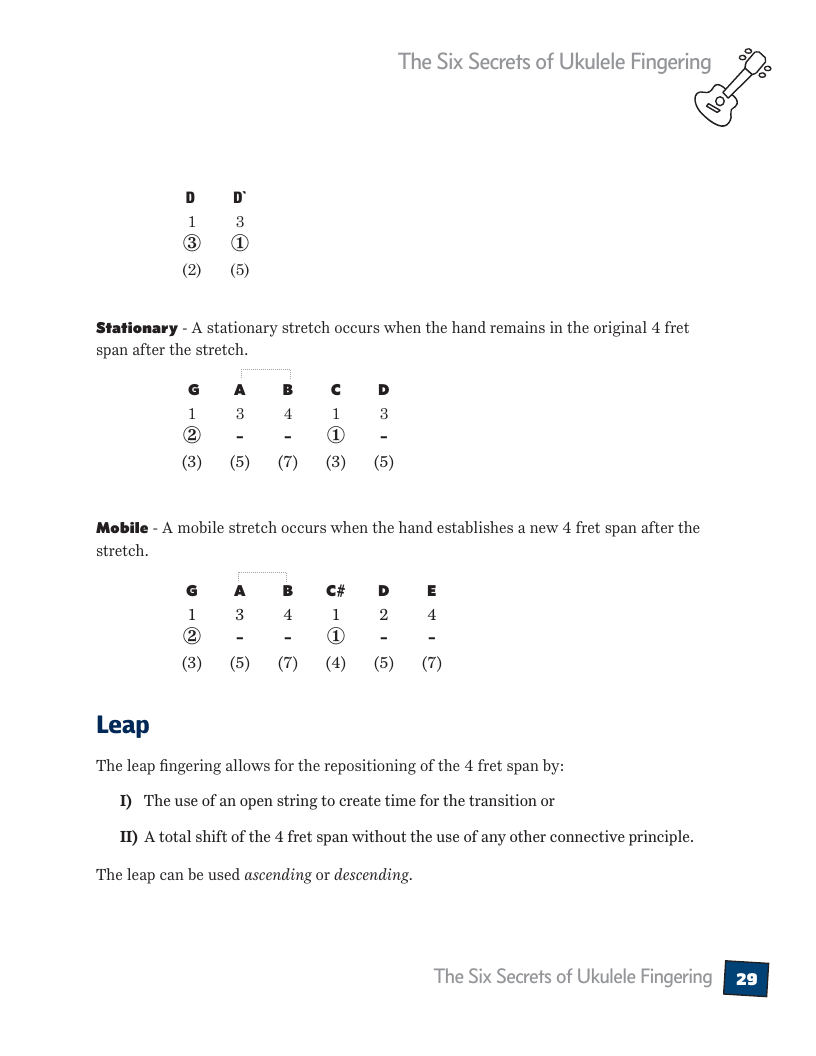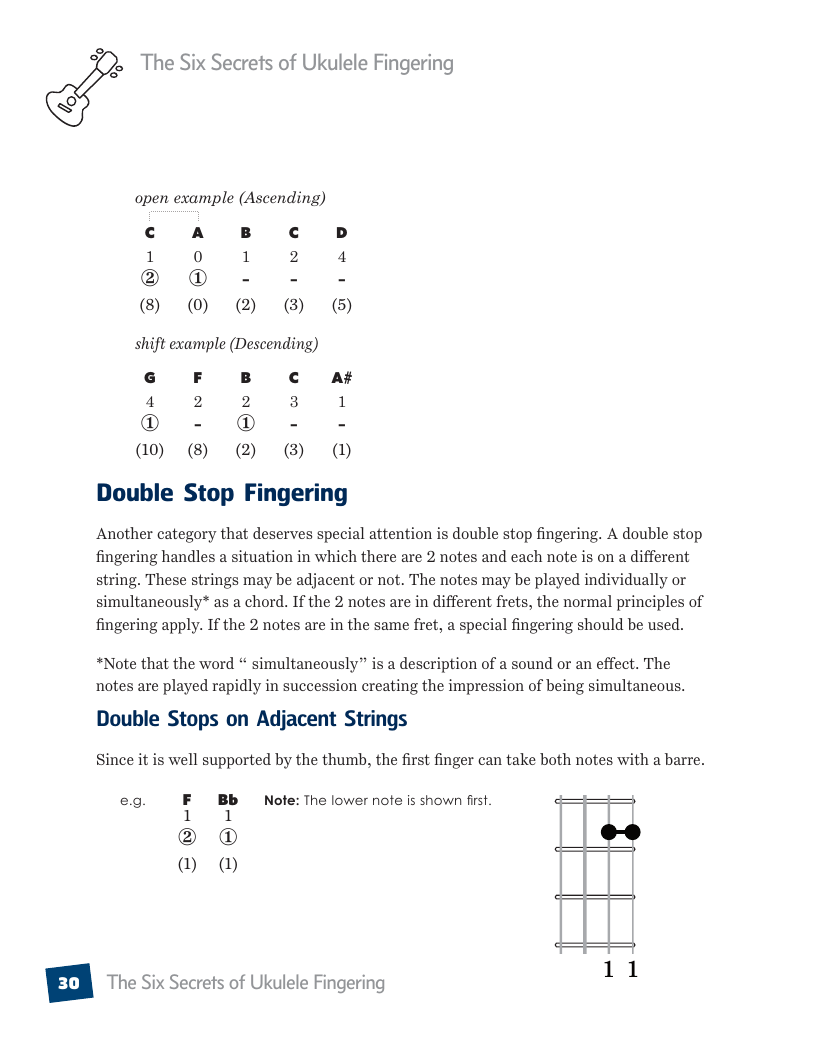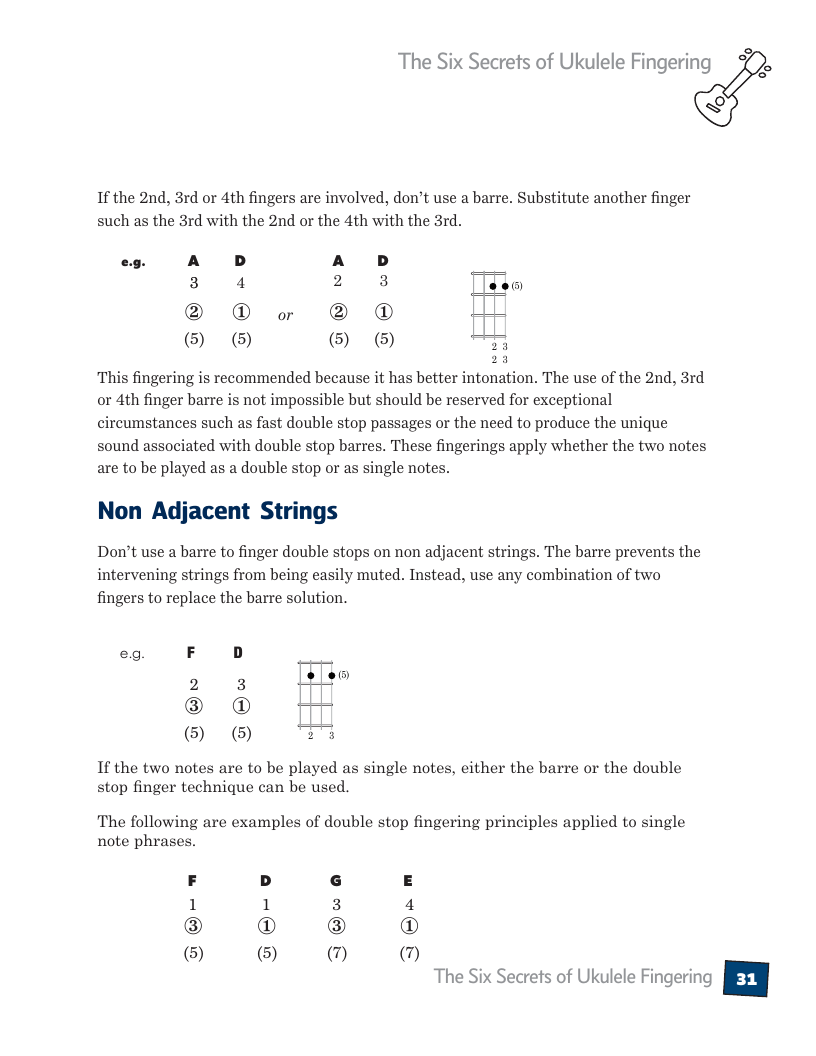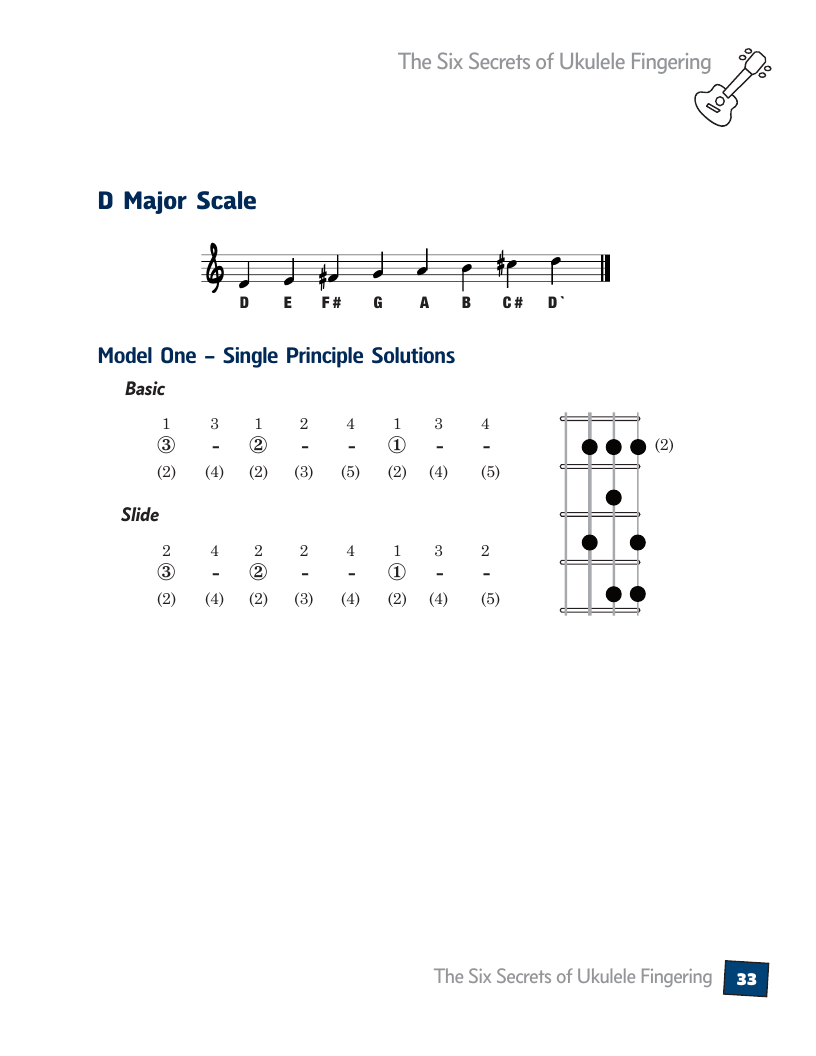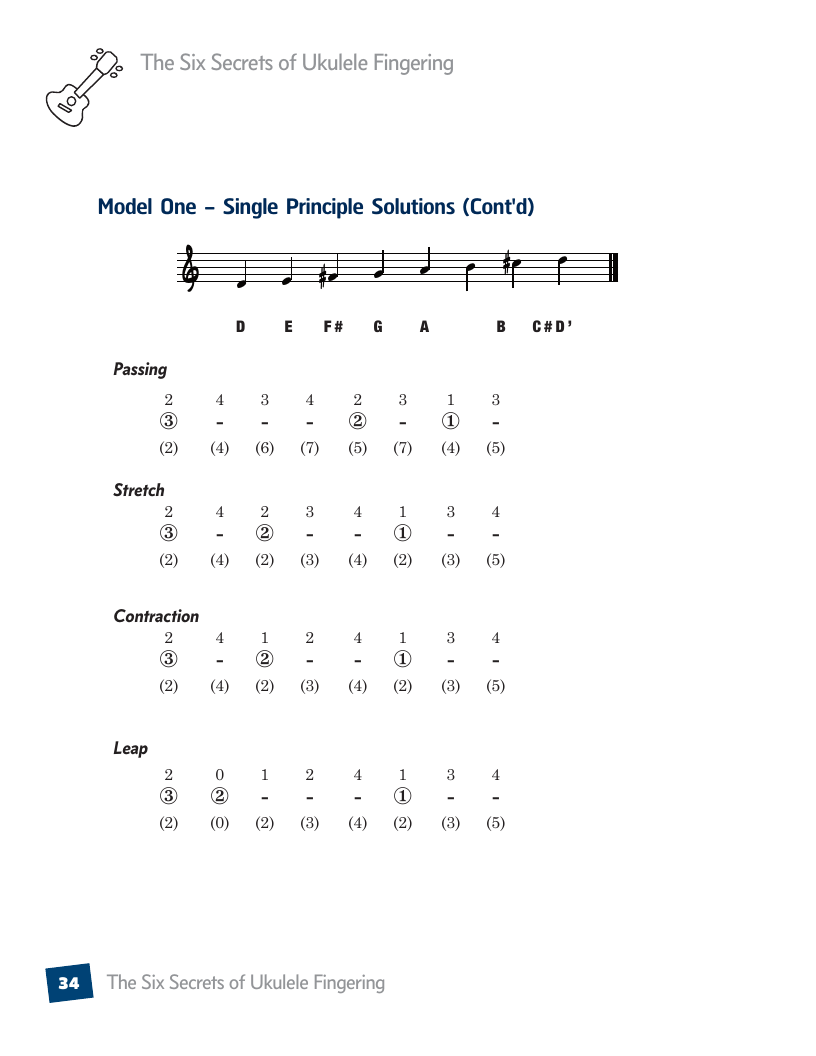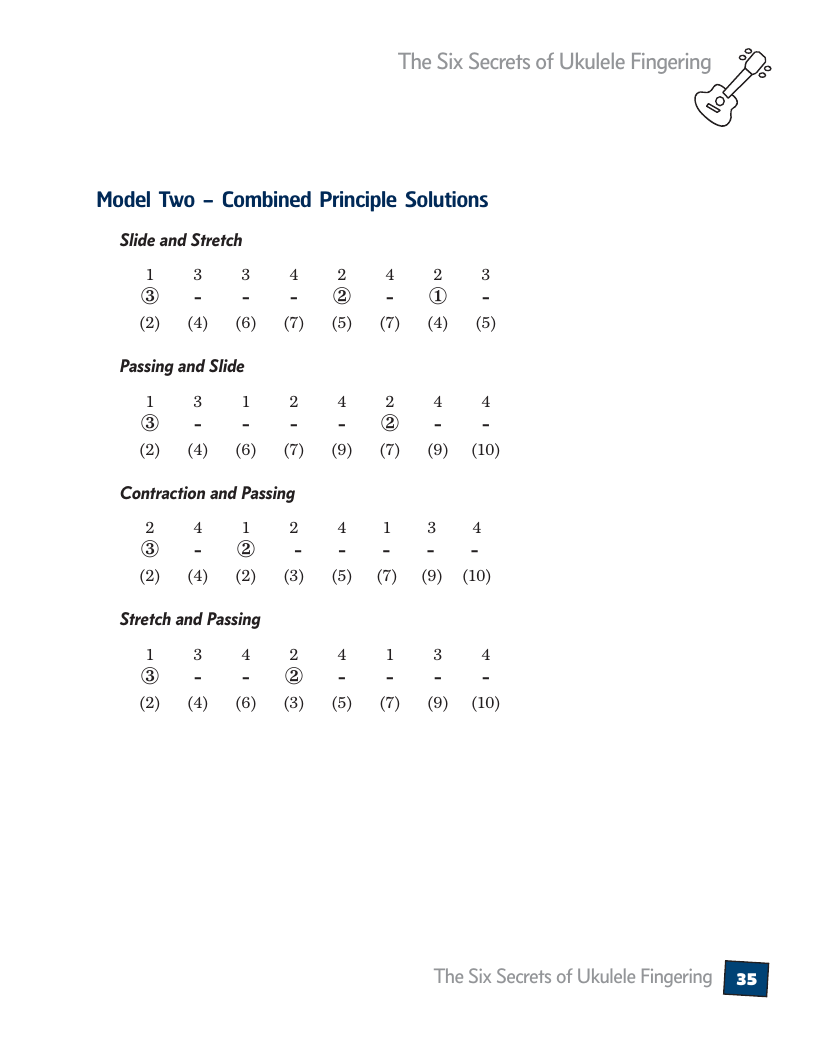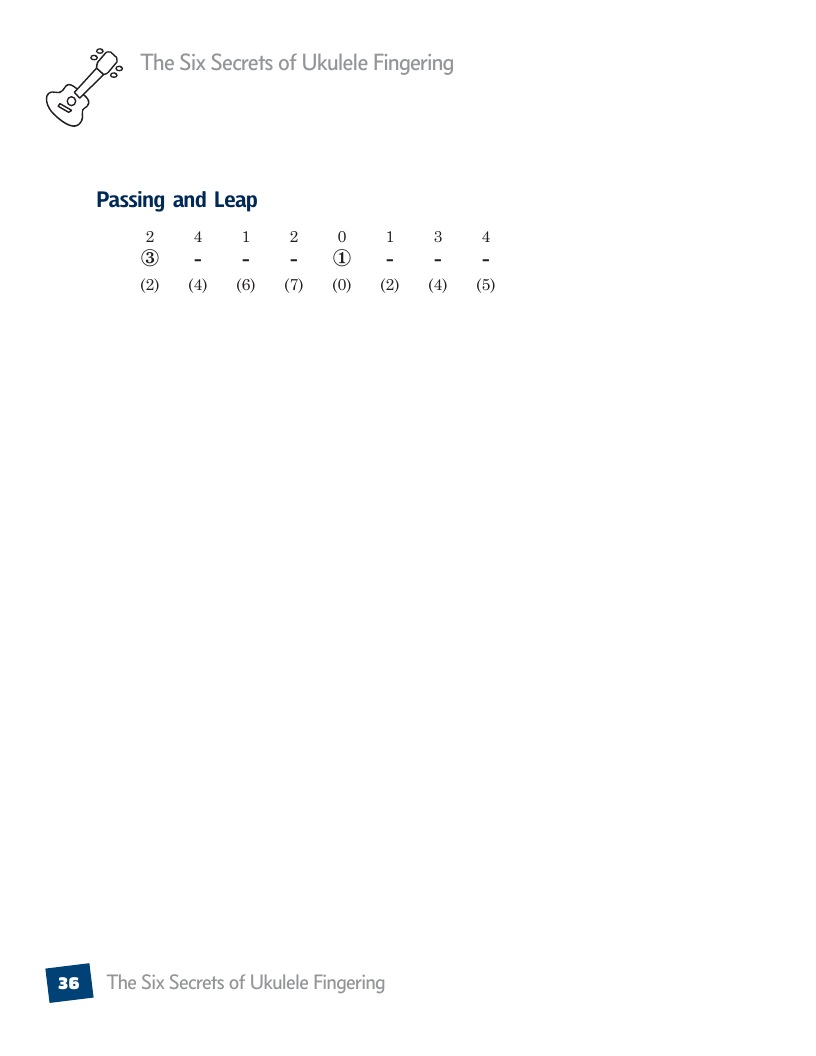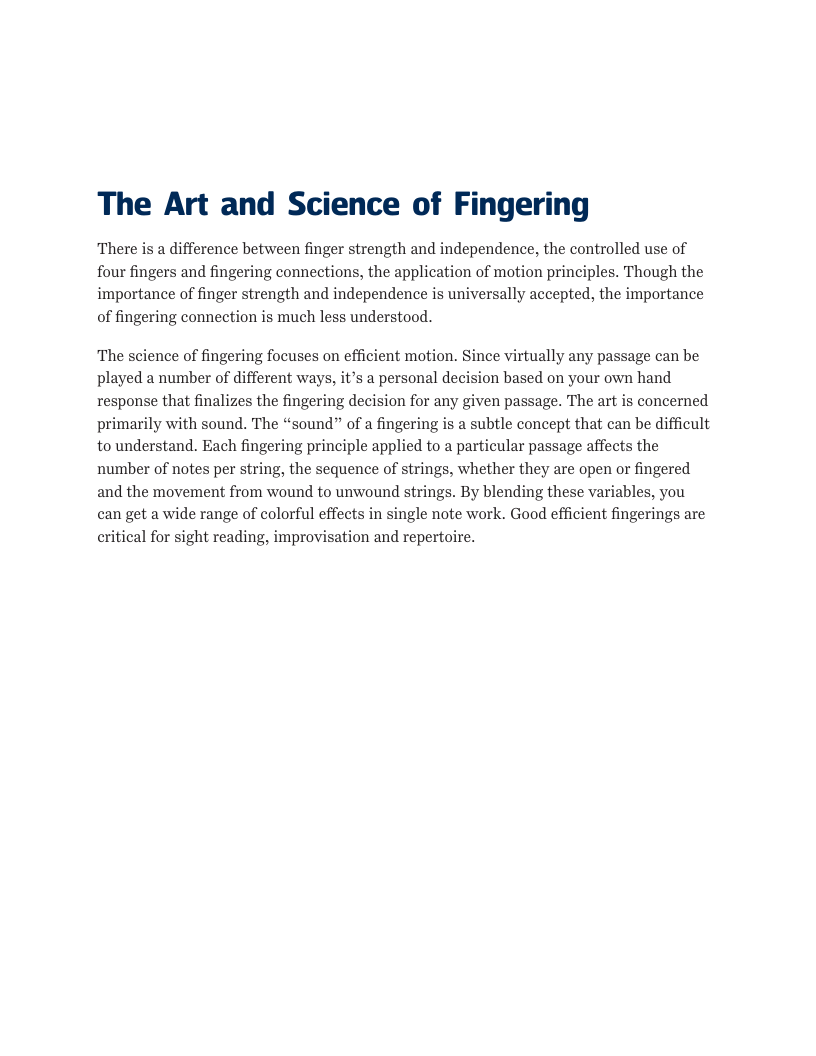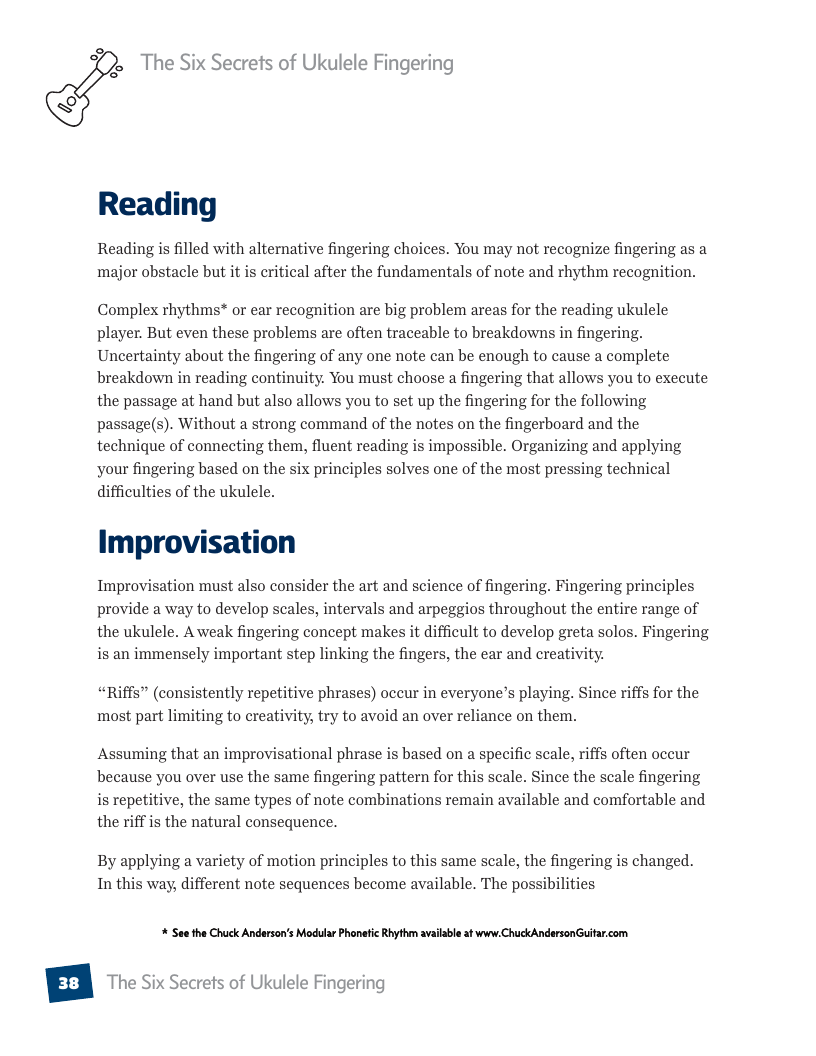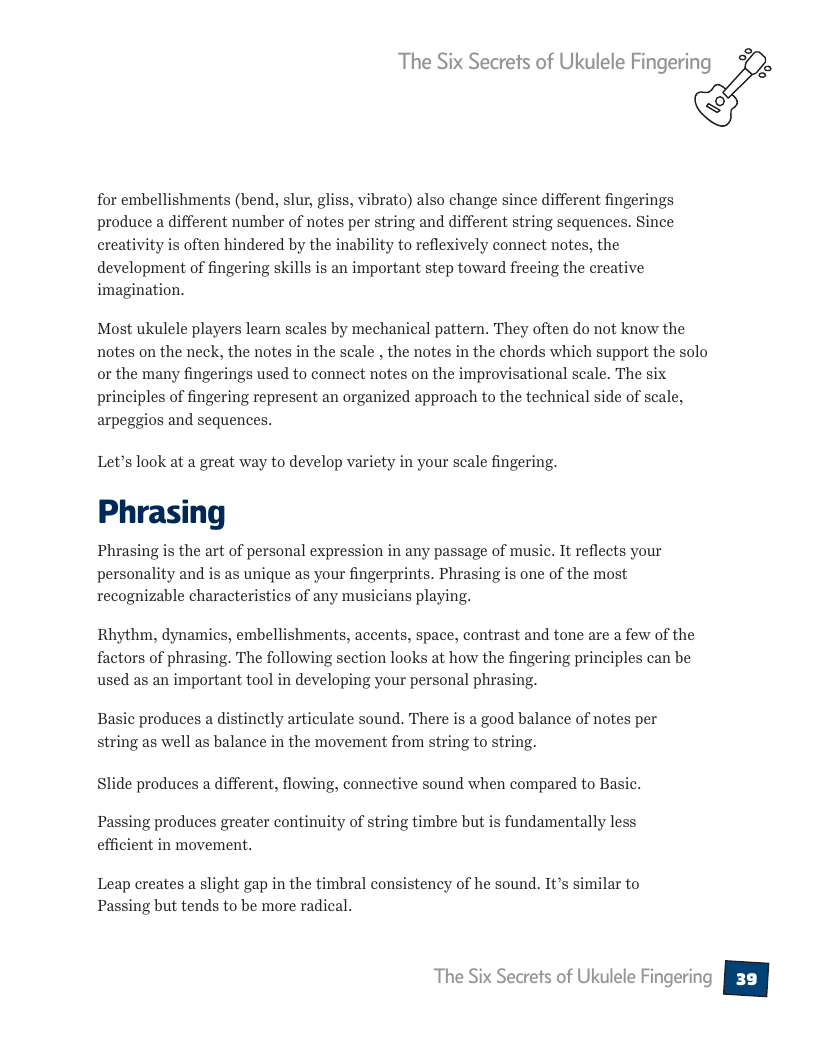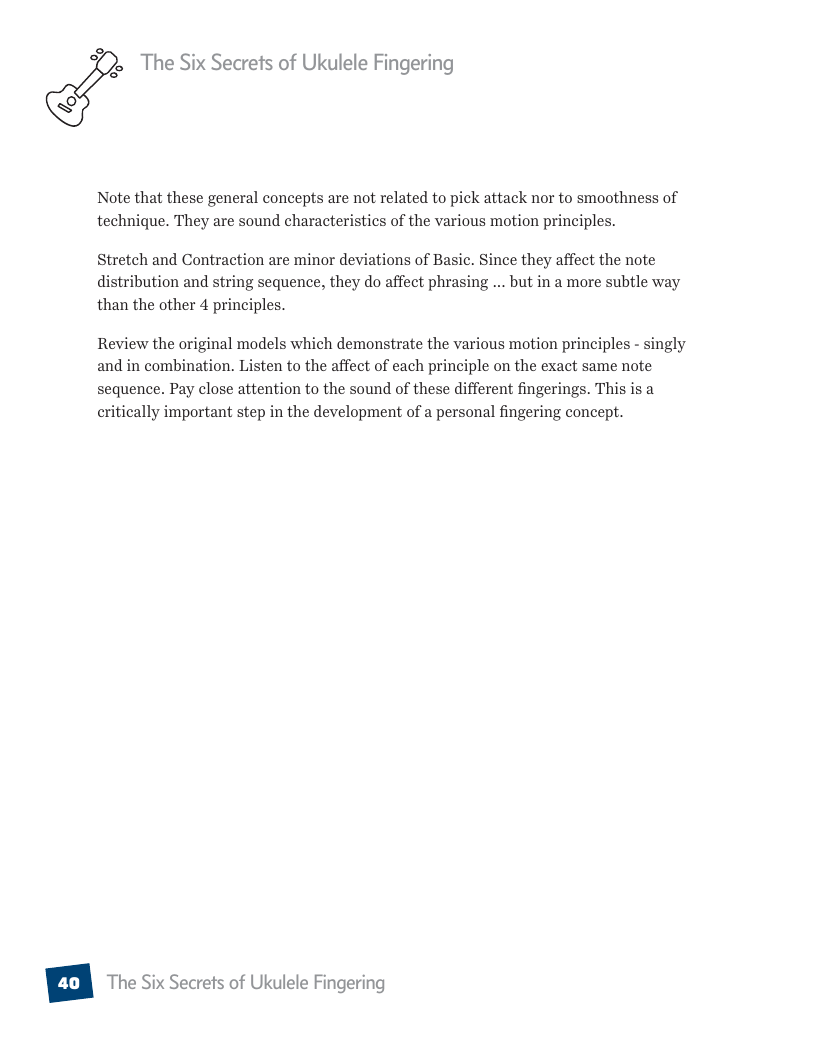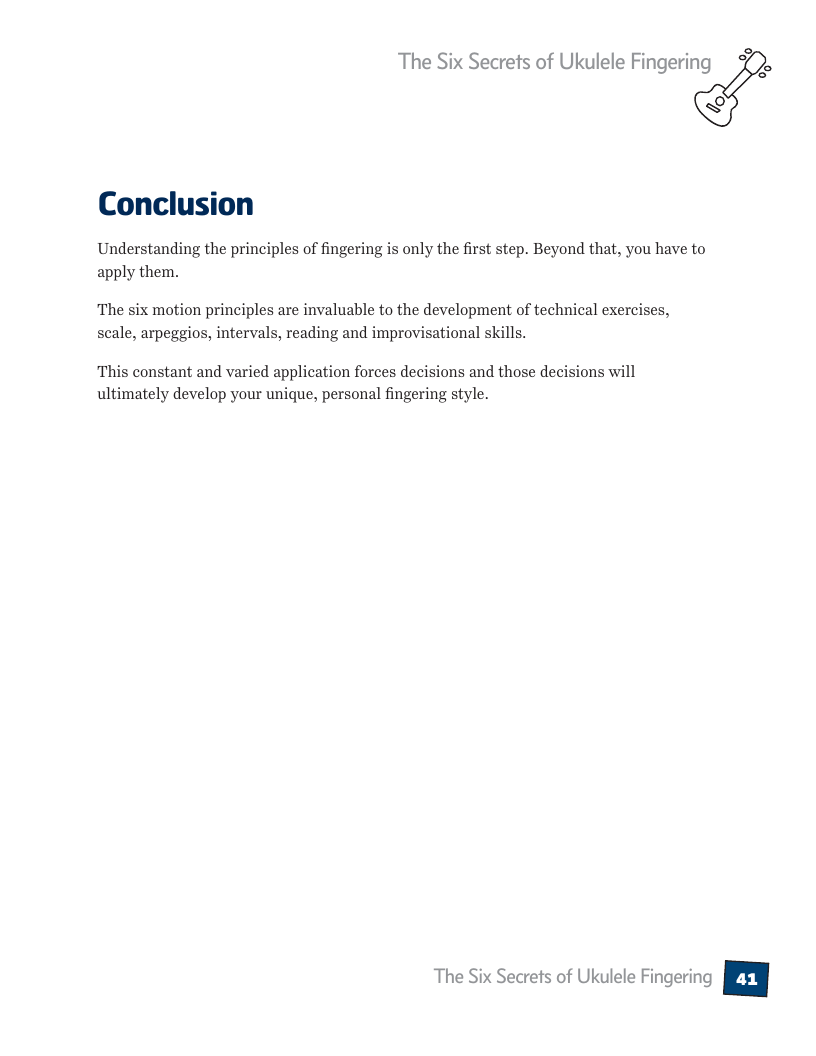 All 42 sample page(s) are viewable on-line.
To view the pages at a larger size you can resize the browser window smaller to a tablet or phone size and the pages will magically grow larger. If you are a registered member and have the correct permissions.
This Download is NOT part of your LearningUkulele.com membership level. Sign-up for a Site Access or Upgrade your current access level to download this PDF or your can purchase a copy for download.
Each PDF file is a formatted high resolution file that prints out great. You'll need Adobe Reader or a PDF viewing application to view your PDF file.
Six Secrets of Ukulele Fingering
Product Code: 6SUF
Author(s): Curt Sheller, Chuck Anderson
Publisher(s): Curt Sheller Publications
Published: 2006-03-15 00:00:00
ISBN-10: 1-60321-041-5
ISBN-13: 978-1-60321-041-6

Size: 8.5 x 11
Size: 8.5 x 11
Pages: 42
Price, Hard Copy: $19.95
Price, PDF: $9

Learn the six fingering principles to navigating the ukulele fingerboard.
Introduction
Fingering is one of the most universal topics. Whether your style is Rock, Blues, Country, Jazz or Classical, these principles will improve your technique, your solos, even your sight reading.
Think of fingering as a series of pathways. When you learn to connect these pathways, there are benefits not only to technique but also to creativity. All fingering on the ukulele can be reduced to 6 principles of motion. Each principle has physical and musical characteristics that you can use to improve your playing.
Technically, fingering problems are linked to an instruments tuning. The characteristics of a tuning can force constant adjustments in fingering and contribute to the difficulty of learning the notes on the neck*. Note duplications, open strings and unequal tuning all contribute to the complexity of fingering. Since strings vary in diameter, notes produced on different strings vary in tone color. Generally, thicker strings produce warmer or darker tone color. Thinner strings produce a brighter or more cutting tone color.
This book is devoted to the application of the six principles of guitar fingering as applied to the ukulele. The study of fingering can be broken down into several topics of study. They are: position and technique, finger independence and strength and the principles of motion with their applications. The first step is a good hand position. Critical for technique, a good hand position eliminates the needless waste of effort and energy so typical of under developed fingering technique.
NOTE: The fingering principles in the books are suitable for ANY ukulele tuning.
Hand Position and Technique

Efficiency of motion and energy is the key to technique. The thumb should be flat against the back of the neck approximately under the first or second finger. The exact position varies with thumb, neck and hand size. The thumb pushes up against the neck while the fingers press down and poised above the strings, ready to move in any direction.
The four fingers span four frets, one finger per fret. By laying the first finger flat across all strings at the first fret or by playing the Bb7 chord at fret (1), the wrist naturally bends giving each finger equal access to all strings within a four fret span.

In playing single notes, place the finger just before the fret. Use enough pressure to get a clear tone but don't over press. If a "buzzy" tone results, readjust your finger. Make sure that the tips of your fingers press the strings down straight without pushing or pulling the notes.
NOTE: The fourth finger will not be as arched as the other fingers because of its size and relative reach.
The fingering hand should not support the ukulele and needs to be free to move over the fingerboard.
The "high" thumb position has always been a controversial subject. If your thumb takes a "high" position, the finger span is reduced from four to three frets. You'll need more movement and effort to play anything in the standard four fret position.
The "high" thumb position is often used as a leverage device for bends and vibratos in Blues and Rock music. It is an exceptional position and should not be be your fundamental position. Work to develop the low thumb position.
If you need to stand while playing and want to use the four fret span position, wear the ukulele high. In this way, you can easily reach the four fret span and there is little change in playing angle from a sitting to a standing position.
Finger Independence and Strength

The four fingers of the fingering hand need to function independently of each other. Strength, agility and control are necessary for great hands. Practice the following exercise:

Play the G# note - finger 1, string ④ fret (1)
Play the A note - finger 2, string ④ fret (2)
Play the A# note - finger 3, string ④ fret (3)
Play the B note - finger 4, string ④ fret (4)

Continue this pattern on each string. This exercise when played ascending, descending, forward and backward is an important first step in developing control of the four fingers in a four fret span. It's also an essential step in synchronizing both hands. Keep the thumb in back of the neck at all times. Don't lift the fingers unnecessarily high.
Why Buy My Books
How to pay for this book
Thanks for visiting LearningUkulele.com! I hope you've enjoyed the site so far. My site does not run ads. It's supported by visitors, premium site members, and readers like you.
Short Answer
Because this book is only available directly through me (Curt Sheller), this site and at our Funky Frets family music store. It is the only way this book can earn its keep and its only source of revenue is visitors and site members like you. If you don't pay, the book dies, gets no updates, etc…
Good news is you can become a Premium Site Member and get this book for FREE as part of your paid access.
Long Answer
I'm not a venture-funded startup nor a major corporation. I'm—a self-employed musician, author, teacher, graphic artist located in southeastern Pennsylvania, USA. And this web site, books, lessons, songs and content have been grinding along in one form or another along since 1995, the ukulele part has literally been a full time effort since 2003 - literally years of effort have gone into creating this content.
Making my books only available on this, my web site is an experiment in using the web as a serious book publishing platform. My goal is to take my music expertise and knowledge that I've gained from the past 40 plus years of serious study, research and application as a performer, student, author, private music teacher and make it available in your quest to be a better musician, enjoy the ukulele more or just having more fun in what you are doing.
I wanted to deliver and present this material with a high standard of quality typically associated with traditional printed, mass produced books by traditional publishers. While taking advantage of all the web has to offer.
All my, Curt Sheller books are the sole product, with 100% of, and all the effort, graphic design, site coding, content, marketing, fulfillment, etc... - by one person – yours truly. And with the help of a few trusted fellow musicians and friends to review before a book is released to wild.
Your purchase supports all that it takes to keep this site going. And, a membership is the best way to do that. I'll not do the Pateron or Kickstarter route for begging for money ( nothing against fellow artists that go that route - just not my cup-of-tea.
Table of Contents: Six Secrets of Ukulele Fingering
Introduction 5
Hand Position and Technique 9
Finger Independence and Strength 10

4 Finger Combinations 11
2 Finger Combinations 11
3 Finger Combinations 11

Notes on the Fingerboard 12
Motion Principles and their Applications 13
Summary of Fingering Principles 17
Basic Applications of the Motion Principles 18
Priority of Motion Principles 19
Motion Principles - the Details 19

Basic 19
Slide 19
Pass 20

Ascending Passes 20
Descending Passes 21
Ascending Pitch Contractions 23

Descending Position Changes - Same String 23

Descending Pitch Contractions 24

Ascending Position Changes - Same String 24

Ascending Pitch Contractions 25

Descending Position Changes - Cross String 25

Descending Pitch Contractions 25

Ascending Position Changes - Cross String 25

Stretch 27
Leap 29
Double Stop Fingering 30

Double Stops on Adjacent Strings 30

Non Adjacent Strings 31

Motion Principles Applied 33

Model One - Single Principle Solutions 34

Basic 34
Slide 34
Passing 34
Stretch 35
Contraction 35
Leap 35

Model Two - Combined Principle Solutions 35

Slide and Stretch 35
Passing and Slide 35
Contraction and Passing 36
Stretch and Contraction.36
Slide and Contraction.36
Passing and Leap 36

The Art and Science of Fingering 36
Reading 38
Improvisation 38
Conclusion 41
Errata: Six Secrets of Ukulele Fingering
21 JAN 2010 - Book updated and corrections made.

Any owners of the book can e-mail curt@curtsheller.com for an updated version.

Changes when made to a few of the examples.

17 OCT 2003 - Book Released and Errata Log File Created
The latest download ( PDF or eBook ) always has the latest changes and errata changes incorporated and contain the most up-to-date version of the file. If you download the book from LearningUkulele.com you'll be notified when there is a new version of the book available.
Related Lessons
Related Lessons for Six Secrets of Ukulele Fingering at this time.
Related Book Files, Resources and Assets
Related Assets for Six Secrets of Ukulele Fingering at this time.
Related Books
Related Books for Six Secrets of Ukulele Fingering at this time.
Related Songs
Related Songs for Six Secrets of Ukulele Fingering at this time.
Related Lesson Series
Related Lessons Series for Six Secrets of Ukulele Fingering at this time.
NOTE: Each higher access level includes ALL the benefits of the lower levels. Private Lessons include all the benefits of a Premium Access Plans as long as you remain a student on the schedule.
Just browsing over both books, they look fantastic! I'm a guitarist and uke player for over 25 years and was thinking about writing a ukulele book but you've already written what I think are the best, most comprehensive and thorough books I've ever seen for the instrument. I just might end up buying every book you've written and I'll be giving my highest recommendation for your books to my friends and students. Thank you so much for taking the time to write such great books! — Peter Rhee
Aloha, Curt, All I can say is WOW! What you have accomplished is simply incredible! All the best — Glen Hirabayashi, The Aloha Boys
Folks, if you haven't stopped by Curt's site, do so right now! ..And get his books, they are fantastic. This guy knows his stuff and is able to pass it along too. — Alan Johnson Proprietor, The 4th Peg
I can highly recommend Curt's Uke books — I have four of them and they are excellent. — fatveg — Portland
Thanks for visiting and checking out the site!

Original Curtie Animation from 1987 for my first web site on a Macintosh II.
33 years ago.
"Built for myself (Curt), and sharing with the `Ukulele community!"
LearningUkulele.com has one of the largest collections of lessons, songs, and TABS, luthiers, ukulele builders, ukulele festival and club information, and, ukulele links on the web. I've been on the ®Internet since the early 1990's and This site just never stops growing!!!
Content is added and updated almost daily - so check back often.