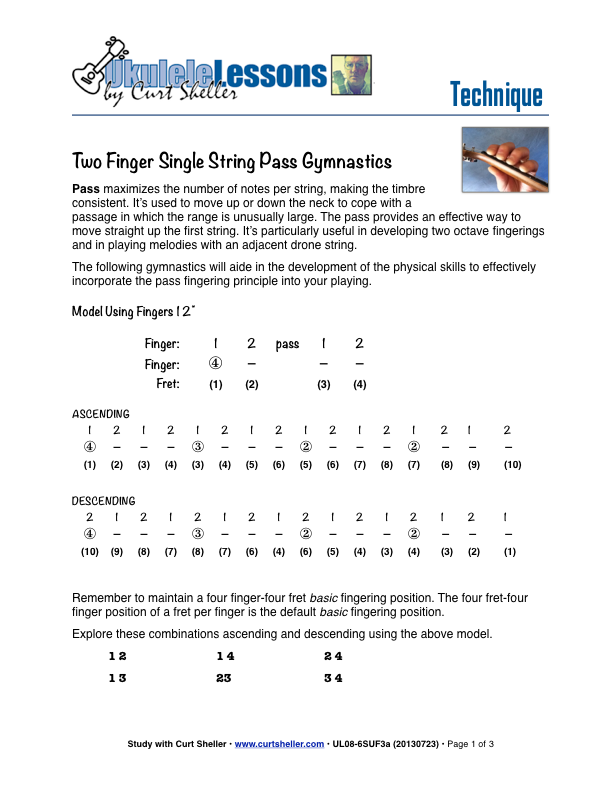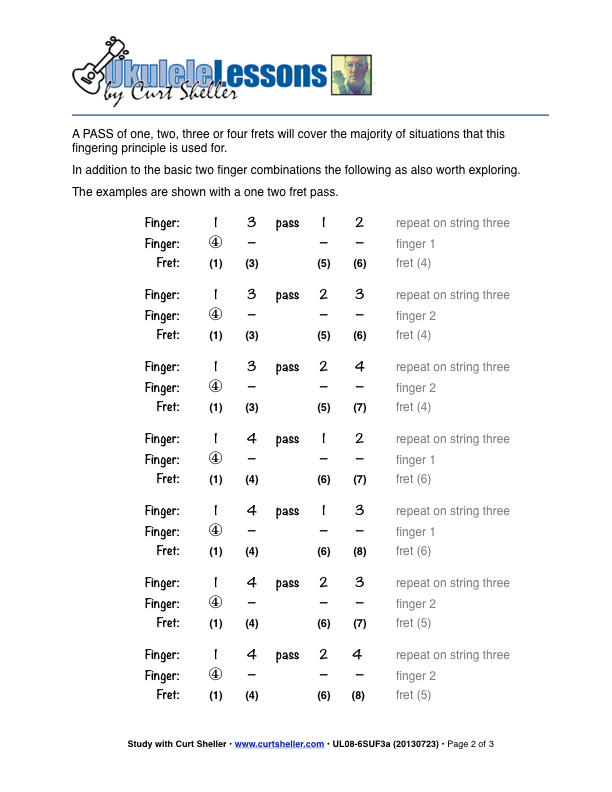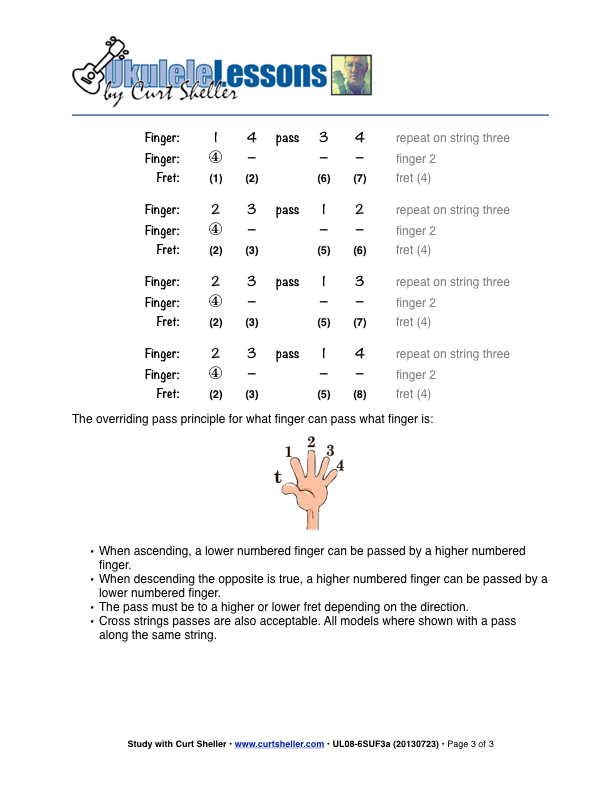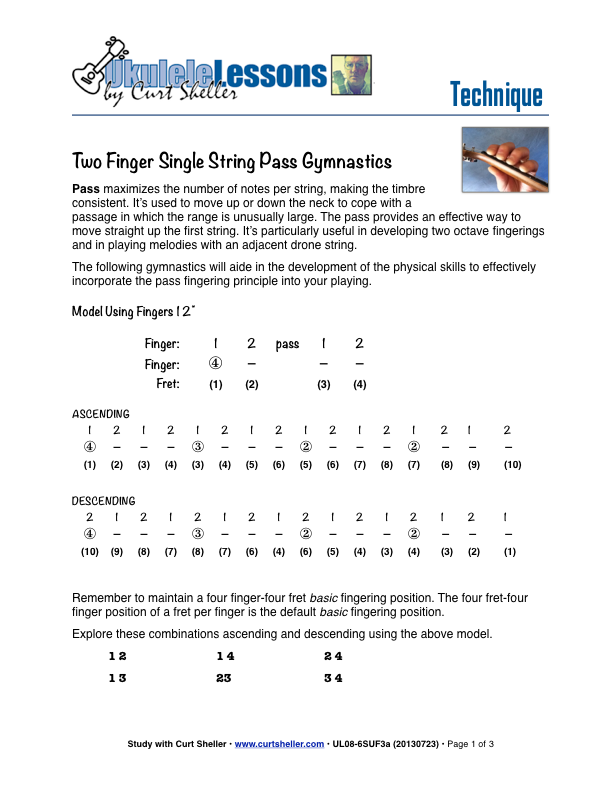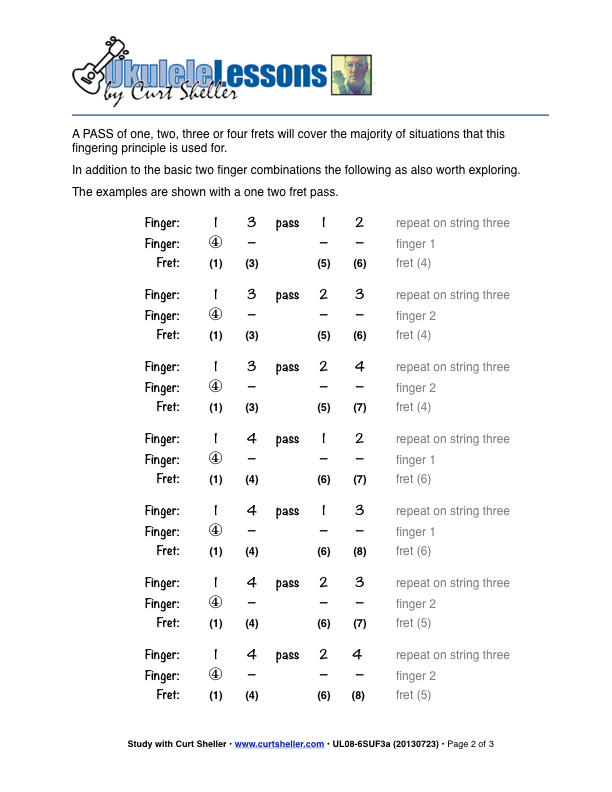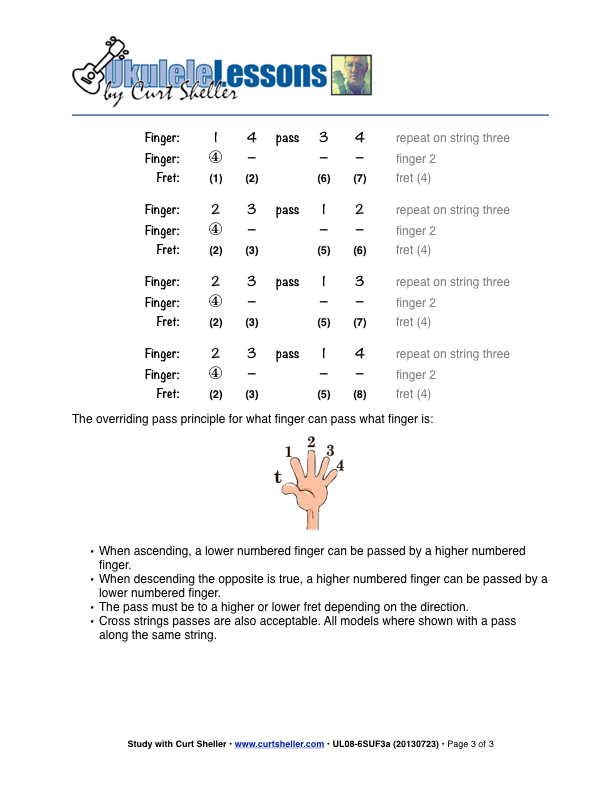 All 3 sample page(s) are viewable on-line.
If you are a registered site member and have the correct permissions you can view ALL the pages of this PDF or Samples pages at a larger size. You can resize the browser window smaller to a tablet or phone size and the pages will magically grow larger.
Or, use the Online PDF Viewer . available for premium members .
Each PDF file is a formatted, high resolution file that prints out great. You'll need Adobe Reader or a PDF viewing application to view your PDF file.
Two Finger Pass Fingering Drills for `Ukulele
Pass maximizes the number of notes per string, making the timbre consistent. It's used to move up or down the neck to cope with a passage in which the range is unusually large. The pass provides an effective way to move straight up the first string. It's particularly useful in developing 3 octave fingerings and in playing melodies with an adjacent drone string.
The two finger pass gymnastics in this lesson will aide in the development of the physical skills to effectively incorporate the pass fingering principle into your playing.
End of Lesson - Thanks, Hope You Enjoyed It!
Download or View PDF for Complete Lesson
Download this lesson's PDF file for the latest, complete, and most up-to-date version of the lesson. As well as additional information not presented on-line.
Members and Active Students need to sign-in to download this lesson's PDF for the complete lesson.
Related Lessons
Related Lessons for Two Finger Pass Fingering Drills for `Ukulele.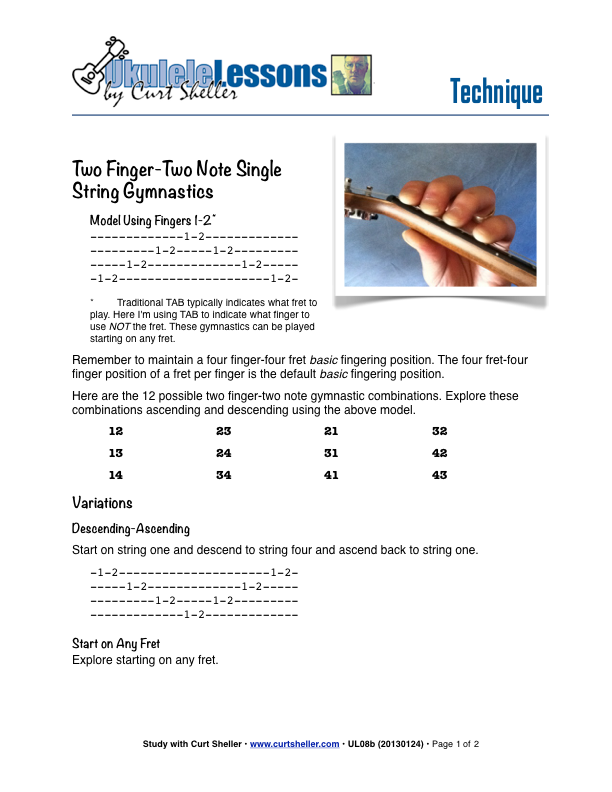 Two Finger-Two Note Basic Single String Fingering Drills for `Ukulele
• Updated: 17 Jan 2020
To play the ukulele effectively, your fingers need physical strength, agility, flexibility and coordination. This two finger-two note drill is designed to get your hands in shape. These exercises work no matter what style of ukulele you play or want to play.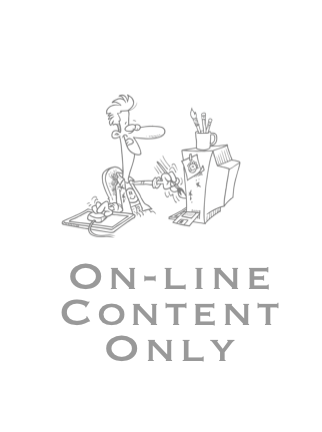 Fingering Gymnastics - a.k.a. Fingering Drills Introduction
• Updated: 18 Dec 2018
Ukulele Gymnastics series contains quite a few lessons for developing your finger strength and independence of the fretting hand. The fretting hand is responsible for playing chords and single notes. The fretting hand and plucking hand are responsible for getting the music out.
Related Books
Related Books for Two Finger Pass Fingering Drills for `Ukulele.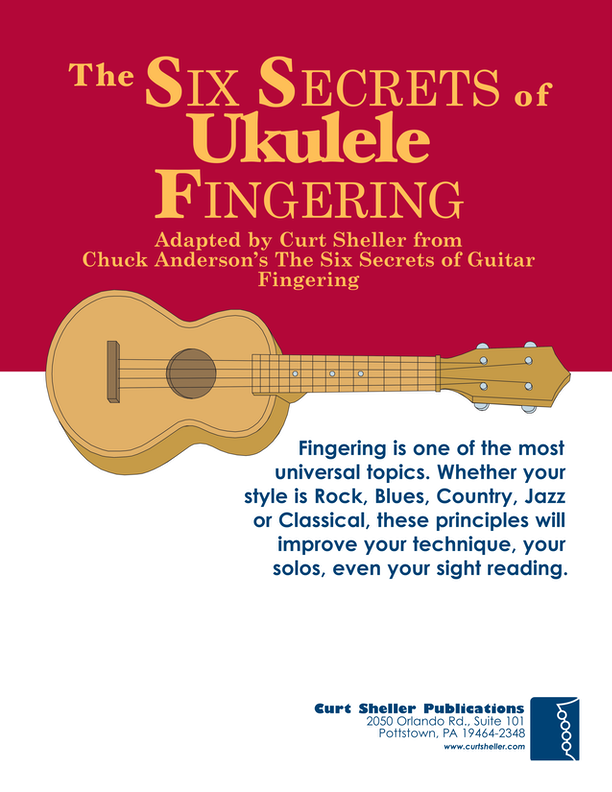 Six Secrets of Ukulele Fingering

Updated: Aug 17, 2021
Learn the six fingering principles to navigating the ukulele fingerboard. Fingering is one of the most universal topics. Whether your style is Rock, Blues, Country, Jazz or Classical, these principles will improve your technique, your solos, even your sight reading. Think of fingering as a series of pathways. When you learn to connect these pathways, there are benefits not only to technique but also to creativity.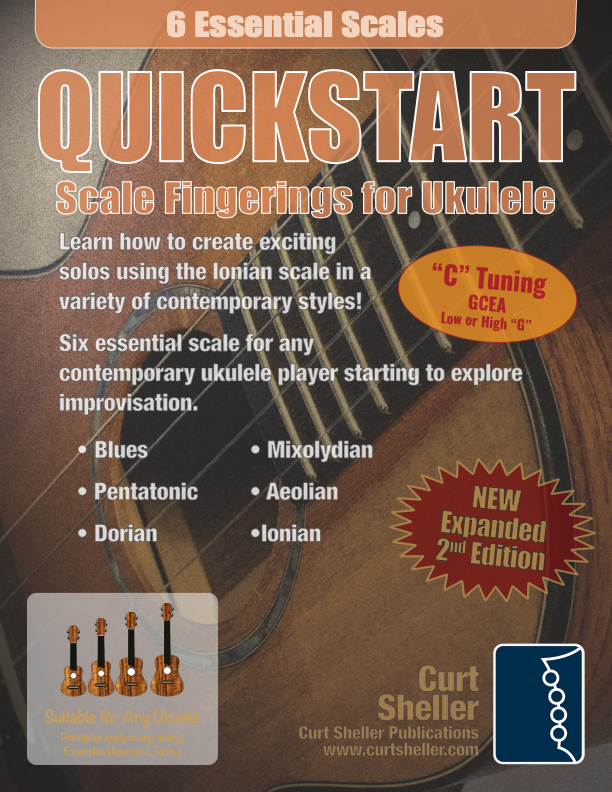 QuickStart Scale Fingerings for Ukulele, Volume I, C Tuning

Updated: Jan 24, 2022
Learn to create exciting solos in a variety of contemporary styles! Scales are used to improvise, create melodies and riffs. With a broad knowledge of the essential scales that are used in contemporary music and a mastery of the ukulele's fingerboard and fingering principles you're well on your way.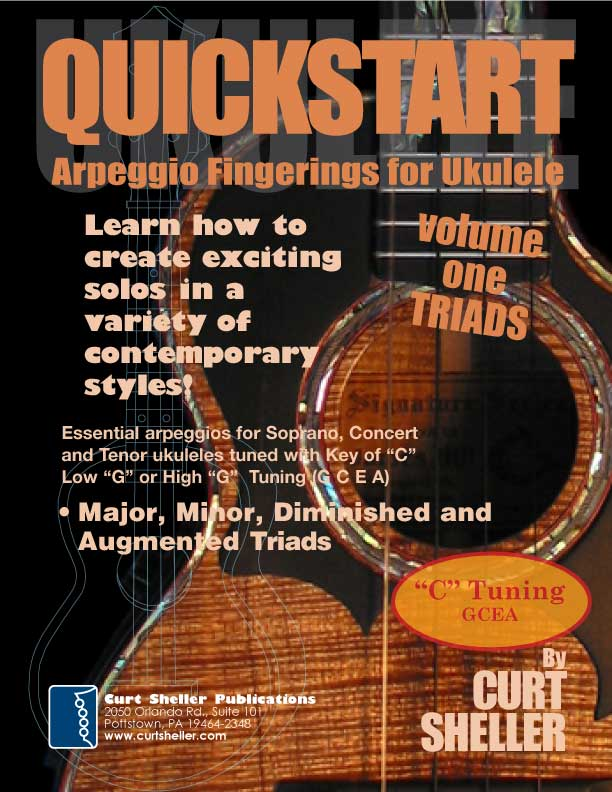 QuickStart Arpeggio Fingerings for Ukulele, Triads C Tuning

Updated: Jan 10, 2020
QuickStart Scale Arpeggio Fingerings for Ukulele - Triads is a concise, well organized book ideal for any ukulele player beginning to explore the ukulele's full potential as a musical instrument. Arpeggio Fingerings for Ukulele - Triads keeps a sharp focus on essential arpeggios and their fingerings. All material is covered in every key.