Chicago Blues
Chicago Blues—a form of blues music developed in Chicago, Illinois. It is based on earlier blues idioms, such as Delta blues, but performed in an urban style. It developed alongside the Great Migration of the first half of the twentieth century. Key features that distinguish Chicago blues from the earlier traditions, such as the Delta blues, is the prominent use of electrified instruments, especially the electric guitar, and especially the use of electronic effects such as distortion and overdrive.
Muddy Waters, a colleague of Delta blues musicians Son House and Robert Johnson, migrated to Chicago in 1943, joining the established Big Bill Broonzy, where they developed a distinctive style of blues music. Joined by artists such as Willie Dixon, Howlin' Wolf, and John Lee Hooker, Chicago Blues reached an international audience by the late 1950s and early 1960s, directly influencing not only the development of early rock and roll musicians such as Chuck Berry and Bo Diddley , but also reaching across the Atlantic to influence both British blues and early hard rock acts such as Eric Clapton, the Rolling Stones, and Led Zeppelin. Prominent record labels such as Vee-Jay Records and Chess Records helped promote and spread the style. The Chicago Blues Festival has been held annually since 1984, on the anniversary of Muddy Waters death, as a means of preserving and promoting Chicago Blues. (WikipediA: Chicago Blues )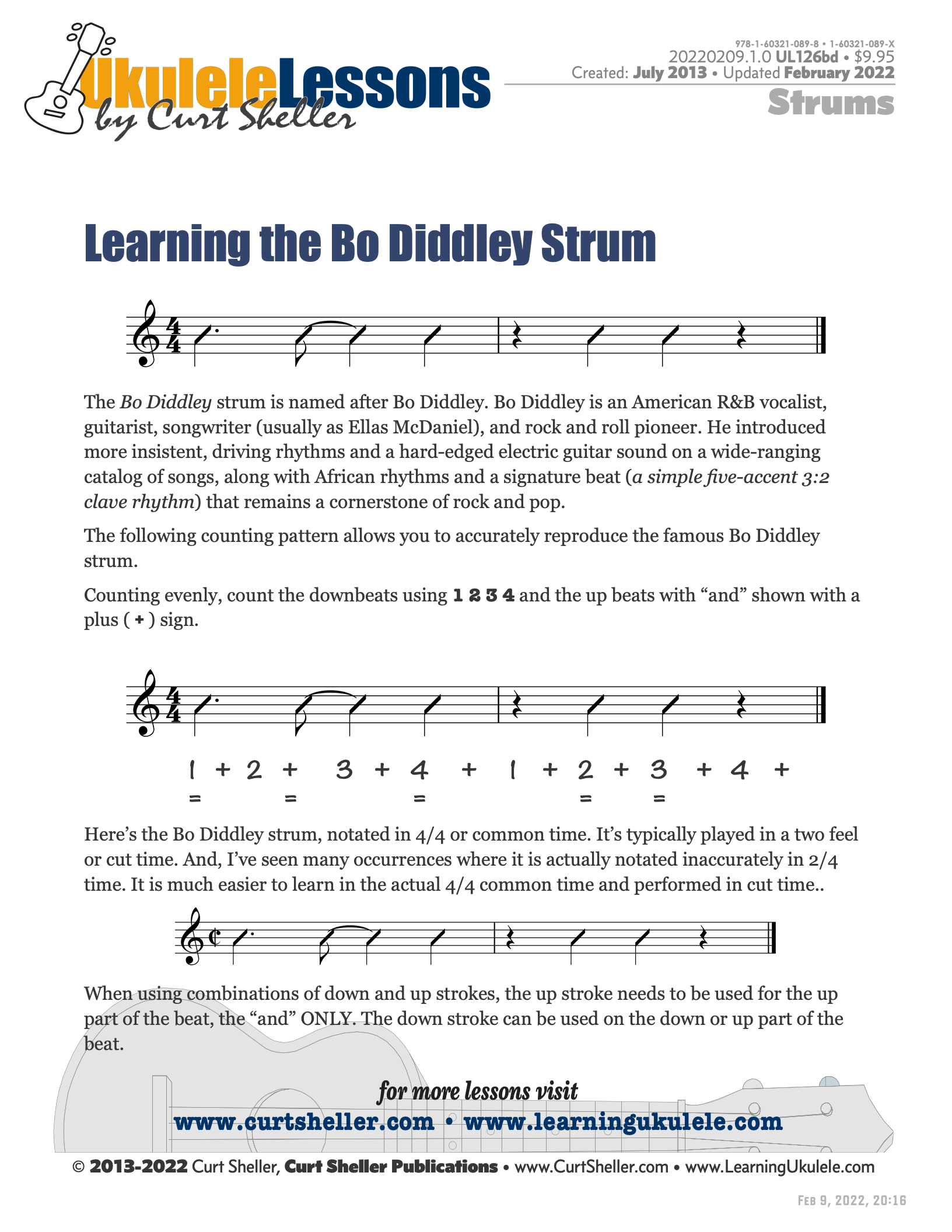 Learning the Bo Diddley Strum
Updated: 31 May 2022
The Bo Diddley strum is named after Bo Diddley. Bo Diddley is an American R&B vocalist, guitarist, songwriter ( usually as Ellas McDaniel ), and rock and roll pioneer. He introduced more insistent, driving rhythms and a hard-edged electric guitar sound on a wide-ranging catalog of songs, along with African rhythms and a signature beat (a simple five-accent clave rhythm) that remains a cornerstone of rock and pop.
Country Blues
Country Blues—(also folk blues, rural blues, backwoods blues, or downhome blues) is one of the earliest forms of blues music. The mainly solo vocal with acoustic fingerstyle guitar accompaniment developed in the rural Southern United States in the early 20th century.
Artists such as Blind Lemon Jefferson (Texas), Charley Patton (Mississippi), Blind Willie McTell (Georgia) were among the first to record blues songs in the 1920s. Country blues ran parallel to urban blues, which was popular in cities. (WikipediA: Country Blues )
Delta Blues
Delta Blues—one of the earliest-known styles of blues. It originated in the Mississippi Delta, and is regarded as a regional variant of country blues. Guitar and harmonica are its dominant instruments; slide guitar is a hallmark of the style. Vocal styles in Delta blues range from introspective and soulful to passionate and fiery. (WikipediA: Delta Blues )
Dirty Blues
Dirty Blues—encompasses forms of blues music that deal with socially taboo and obscene subjects, often referring to sexual acts and drug use. Due to the sometimes graphic subject matter, such music was often banned from radio and only available on a jukebox. The style was most popular in the years before World War II, although it had a revival in the early 1950s.
Many songs used innuendo, slang terms, or double ententes, such as Lil Johnson's "Press My Button (Ring My Bell)" ("Come on baby, let's have some fun / Just put your hot dog in my bun"). However, some were very explicit. The most extreme examples were rarely recorded at all, a rare example being Lucille Bogan's obscene version of "Shave 'Em Dry" (1935), which Elijah Wald has noted as "by far the most explicit blues song preserved at a commercial pre-war recording session" (WikipediA: Dirty Blues )
Hokum Blues
Hokum Blues is a particular song type of American blues music—a humorous song which uses extended analogies or euphemistic terms to make sexual innuendos. This trope goes back to early blues recordings and is used from time to time in modern American blues and blues rock.
Piedmont Blues
Piedmont Blues (also known as East Coast, or Southeastern blues) refers primarily to a guitar style, which is characterized by a fingerpicking approach in which a regular, alternating thumb bass string rhythmic pattern supports a syncopated melody using the treble strings generally picked with the fore-finger, occasionally others. The result is comparable in sound to ragtime or stride piano styles. Blues researcher Peter B. Lowry coined the term, giving co-credit to fellow folklorist Bruce Bastin. The Piedmont style is differentiated from other styles, particularly the Mississippi Delta blues, by its ragtime-based rhythms. (WikipediA: Piedmont Blues )
Texas Blues
Texas Blues is blues music from Texas. As a regional style, its original form was characterized by jazz and swing influences. Later examples are often closer to blues rock and Southern rock. (WikipediA: Texas Blues )
Texas blues blues began to appear in the early 1900s among African Americans who worked in oilfields, ranches and lumber camps. In the 1920s, Blind Lemon Jefferson innovated the style by using jazz-like improvisation and single string accompaniment on a guitar; Jefferson's influence defined the field and inspired later performers. During the Great Depression in the 1930s, many bluesmen moved to cities including Galveston, San Antonio, Houston and Dallas. It was from these urban centers that a new wave of popular performers appeared, including slide guitarist and gospel singer Blind Willie Johnson. Future bluesmen, such as, Lightnin' Hopkins, Lil' Son Jackson, and T-Bone Walker were influenced by these developments. Robert Johnson's two recording sessions both took place in Texas, although he was from Mississippi. (WikipediA: Hokum Blues )
Think Albert Collins, Freddie King (Hide Away ), Johnny Winter, Jimmie and Stevie Ray Vaughan, and ZZ Top.