Learning the Bo Diddley Strum
PUBLISHED: Jul 19, 2013 UPDATED: Jul 19, 2013 • VIEWS: 89 • LESSON CODE: UL126-bd •
Instruments: Subjects: beginner • intermediate • rhythm • strums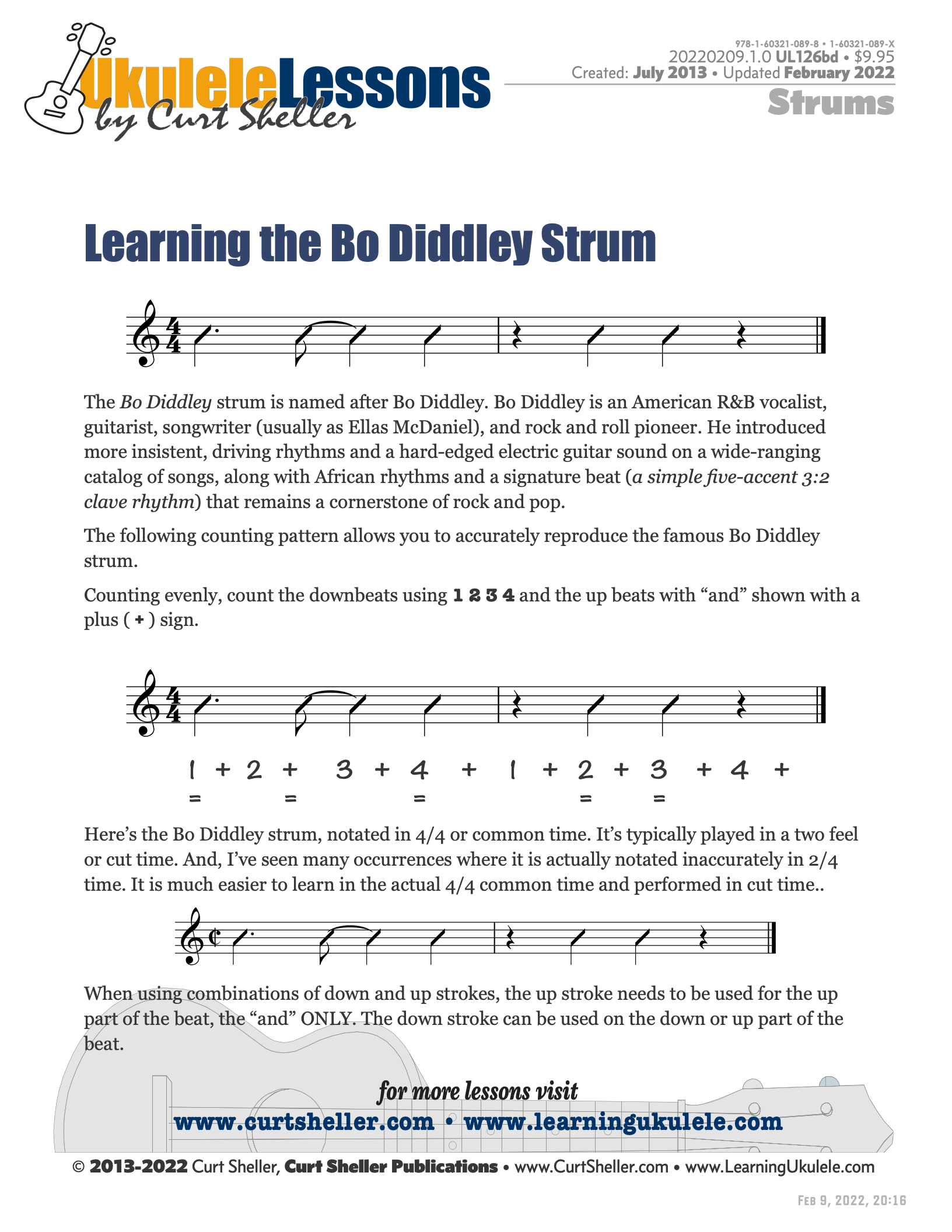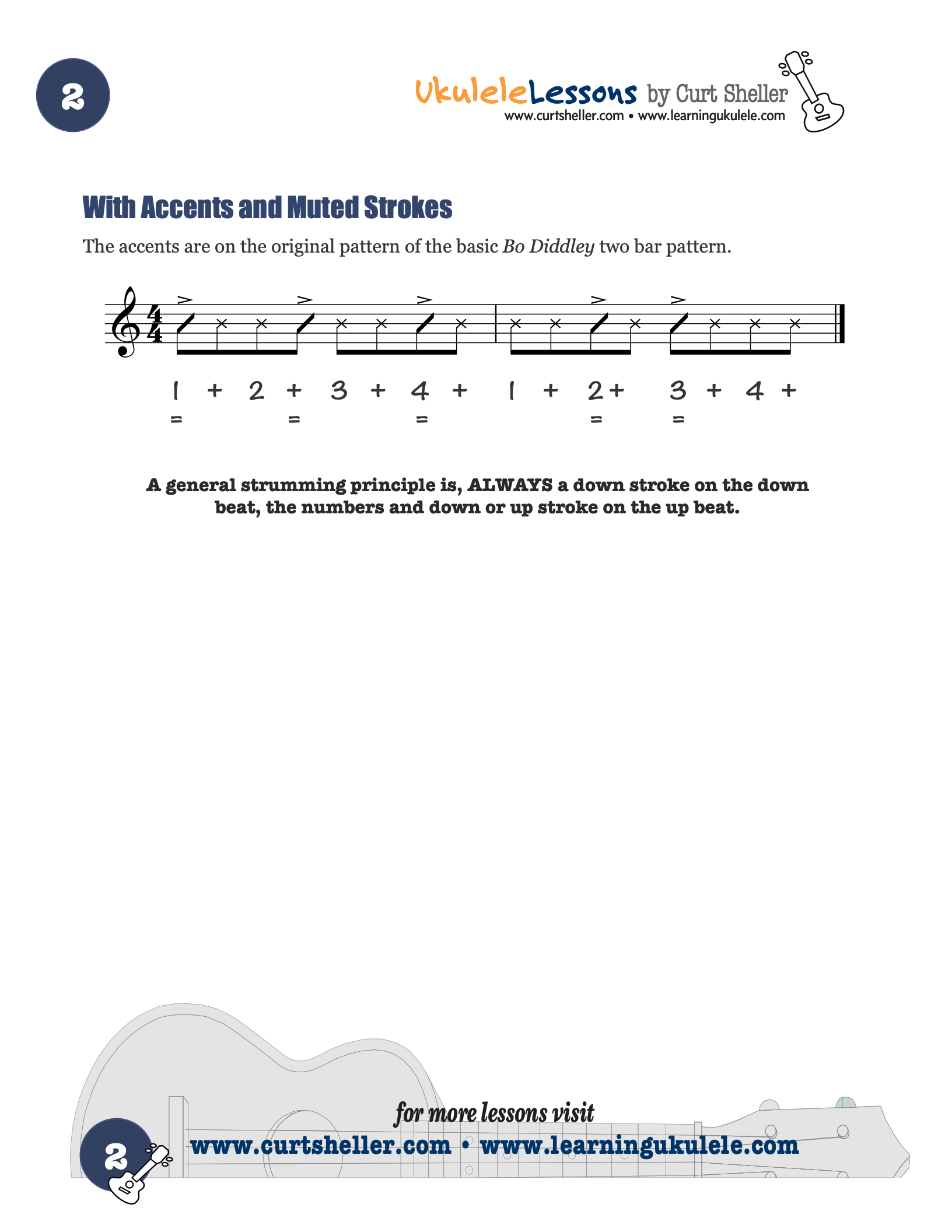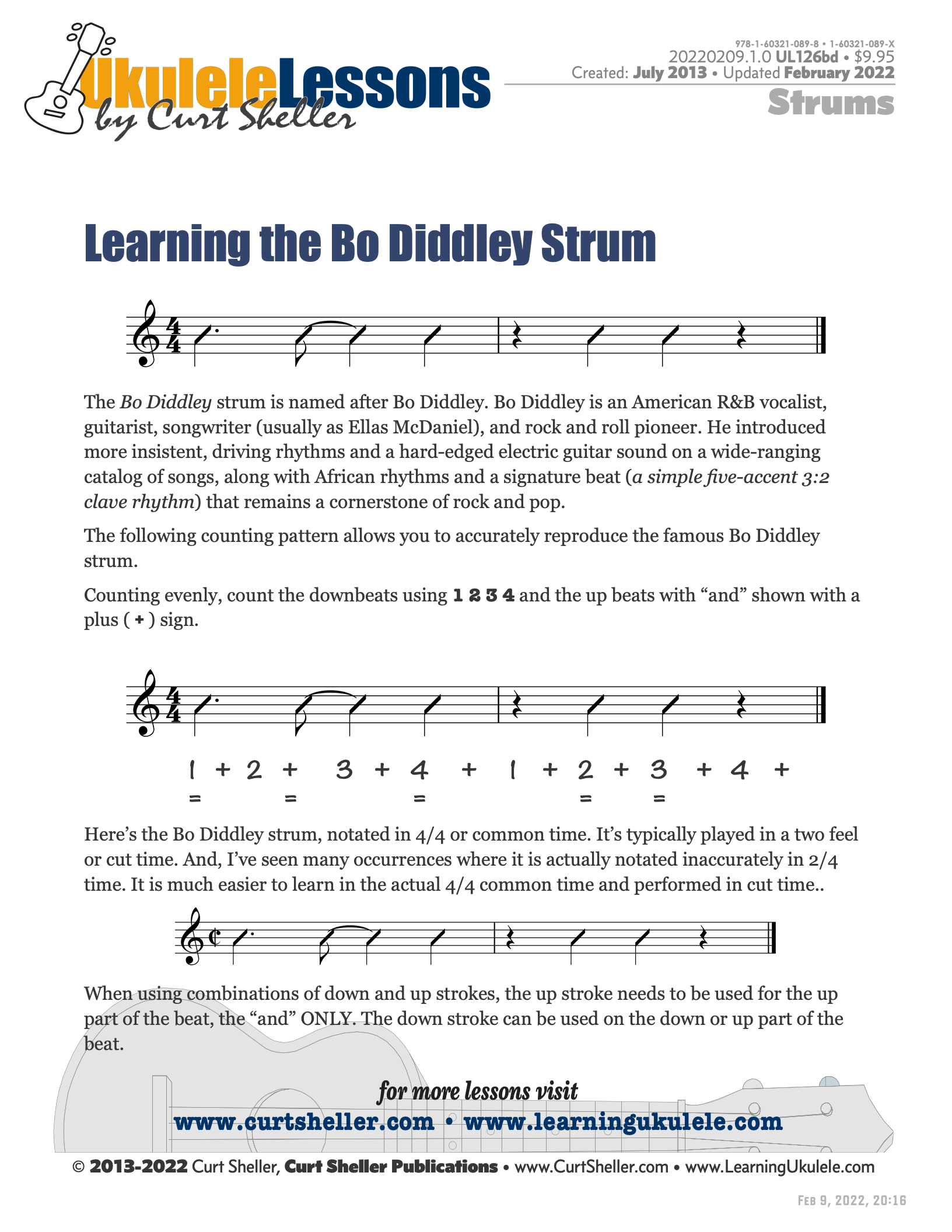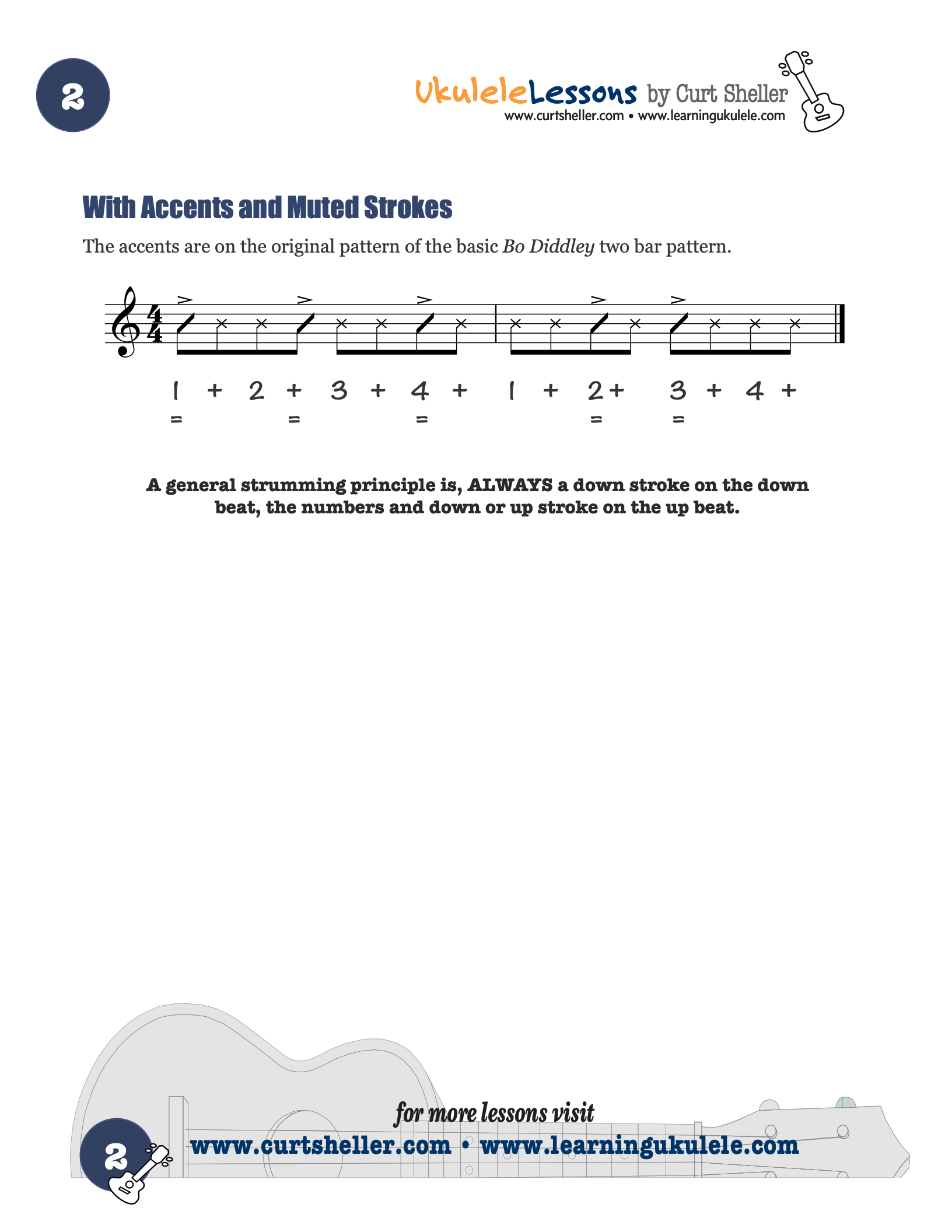 All 2 sample page(s) are viewable on-line.
If you are a registered site member and have the correct permissions you can view ALL the pages of this PDF at a larger size. You can resize the browser window smaller to a tablet or phone size and the pages will magically grow larger.
Each PDF file is a formatted high resolution file that prints out great. You'll need Adobe Reader or a PDF viewing application to view your PDF file.
Learning the Bo Diddley Strum
The Bo Diddley strum is named after Bo Diddley. Bo Diddley is an American R&B vocalist, guitarist, songwriter ( usually as Ellas McDaniel ), and rock and roll pioneer. He introduced more insistent, driving rhythms and a hard-edged electric guitar sound on a wide-ranging catalog of songs, along with African rhythms and a signature beat (a simple five-accent clave rhythm) that remains a cornerstone of rock and pop.
This pattern can be played in cut time but should be learned in common time. It is often notated in cut time, making if a bit harder for beginner and intermediate player to learn.
Famous Songs with the Bo Diddley Beat
In addition to Bo Diddley's namesake song here are a few others songs that use the Bo Diddley beat or variations.
NOT FADE AWAY – THE ROLLING STONES
MAGIC BUS – THE WHO
(MARIE'S THE NAME) HIS LATEST FLAME – ELVIS PRESLEY
WILLIE AND THE HAND JIVE – THE JOHNNY OTIS SHOW
SHAME, SHAME, SHAME – SHIRLEY & COMPANY
SHE'S THE ONE – BRUCE SPRINGSTEEN
I WANT CANDY – BOW WOW WOW
MR. BROWNSTONE – GUNS N' ROSES
FAITH – GEORGE MICHAEL
DESIRE – U2
A Note Regarding Learning Strums and Rhythm
Many people fall into the trap of mixing up play by ear with learning by ear. Learning by ear is a hit and miss, hunt and peck proposition with more misses than hits.
The goal is to play and perform with the inner ear in control - that is "Playing by Ear". Learning is better suited with a system and plan of attack.
I've seen it way too many times with my own private students. They insist on trying to learn a specific strumming pattern by their intrinsic stroke directional pattern - the down and up pattern. For only the basic, simplest of strums this might work at times. But, it falls apart for really learning rhythm, which is directly linked to strumming. It is helpful when training the strumming hand to place to emphasis on the downbeats or pulse of music with a down stoke.
Cutting to the Chase - You CAN learn any rhythmic pattern by it's standard music notation and the counting pattern used to recreate the sound of the pattern. What this does is allows you a method to accurately reproduce any patter on demand - no need to resort to hearing it first. You hear it first with you inner ear and you hards are trained enought to reproduce it on demand. Eyes -> Ear -> Hands.
For years, early in my development I had several teachers that tried to teach me the quarter note triple rhythmic pattern by rote. I'd get it in the lesson and 20 minutes after the lesson - at home I wouldn't be able to duplicate what I had learned in the lesson. No fault of the teacher, they just didn't have a system for effectively teaching rhythm and give their students the ability to accurately reproduce any rhythmic pattern on their own without needing a teacher or coach or to even have to hear it first.
Then finally studying with Chuck Anderson the creator of the Modular Phonetic Rhythm System I now use. In 30 seconds I could play the quarter note triplet and more importantly reproduce it myself - on-demand when needed. Plus even teach it to others. It's all based on learning any rhythmic pattern by knowing how it relates to the beat and the subdivision of the beat. It's actually that simple. The hard part is getting the hands and fingers to get with the show.
I guarantee, that by using this system – you will have success.
Download or View PDF for Complete Lesson
Download this lesson's PDF file for the latest, complete, and most up-to-date version of the lesson. As well as additional information not presented on-line.
Members and Active Students need to sign-in
to download this lesson's PDF for the complete lesson.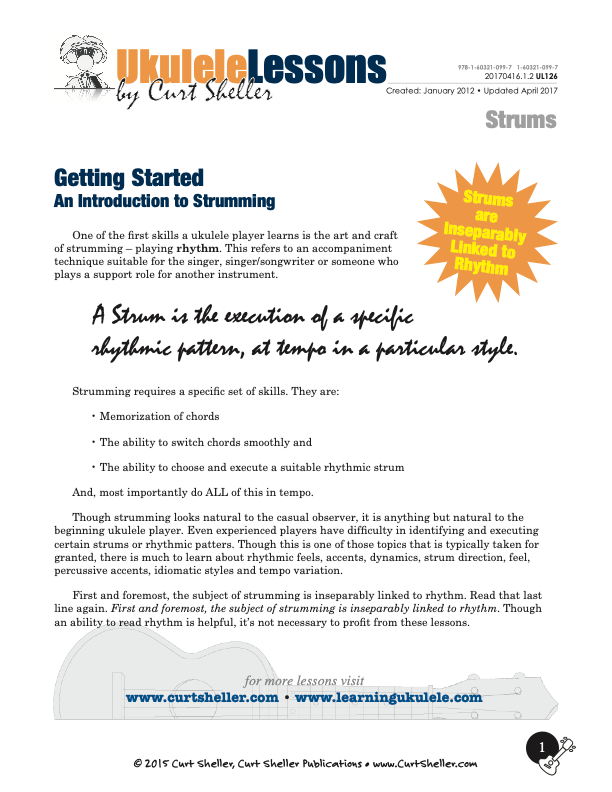 `Ukulele Strums - Getting Started
• Updated: Apr 6, 2020
One of the first skills a ukulele player learns is the art and craft of strumming – playing rhythm. This refers to an accompaniment technique suitable for the singer, singer/songwriter or someone who plays a support role for another instrument.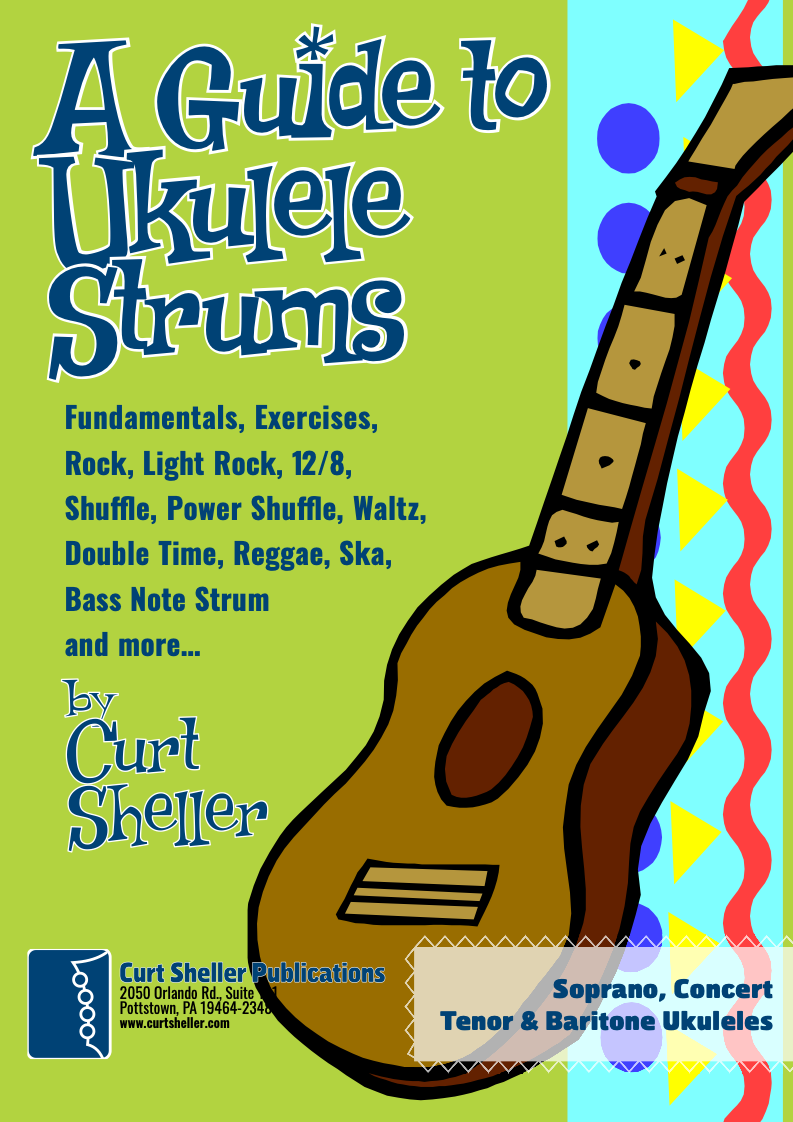 A Guide to Ukulele Strums

Updated: Apr 11, 2019
Learn a variety of strums and rhythmic patterns in wide range of musical styles. One of the first skills a ukulele player learns is the art and craft of strumming, playing rhythm. This refers to an accompaniment technique suitable for the singer, singer - songwriter or someone who plays a support role for another instrument.
NOTE: Each higher access level includes ALL the benefits of the lower levels. Private Lessons include all the benefits of a Premium Access Plans as long as you remain a student on the schedule.
---
Just browsing over both books, they look fantastic! I'm a guitarist and uke player for over 25 years and was thinking about writing a ukulele book but you've already written what I think are the best, most comprehensive and thorough books I've ever seen for the instrument. I just might end up buying every book you've written and I'll be giving my highest recommendation for your books to my friends and students. Thank you so much for taking the time to write such great books! — Peter Rhee
Aloha, Curt, All I can say is WOW! What you have accomplished is simply incredible! All the best — Glen Hirabayashi, The Aloha Boys
Folks, if you haven't stopped by Curt's site, do so right now! ..And get his books, they are fantastic. This guy knows his stuff and is able to pass it along too. — Alan Johnson Proprietor, The 4th Peg
I can highly recommend Curt's Uke books — I have four of them and they are excellent. — fatveg — Portland
Thanks for visiting and checking out the site!
Original Curtie Animation from 1987 for my first web site on a Macintosh II. 34 years ago. Man, does time fly.
"Built for myself (Curt), and sharing with the `Ukulele community!"
LearningUkulele.com has one of the largest collections of lessons, songs, and TABS, Luthiers, ukulele builders, ukulele festival and club information, and, ukulele links on the web. I've been on the ®Internet since the early 1990's and This site just never stops growing!!!
Content is added and updated almost daily - so check back often. I really do need to get out more ;-)