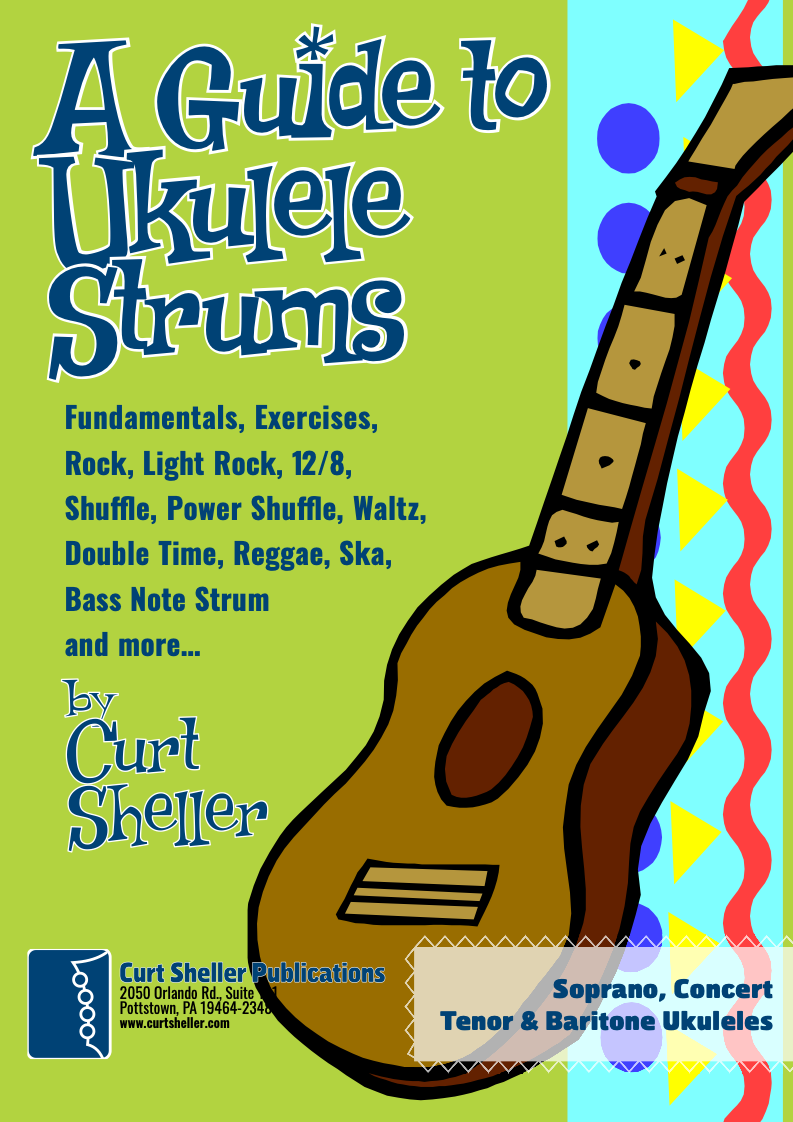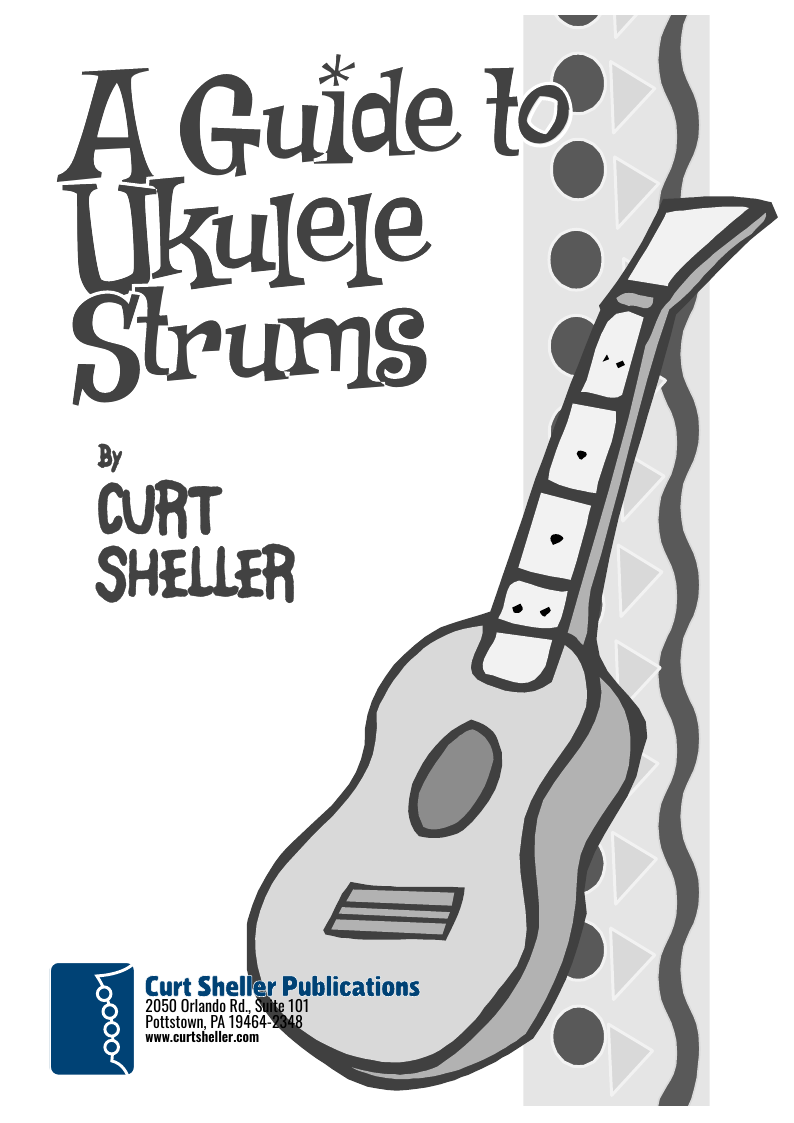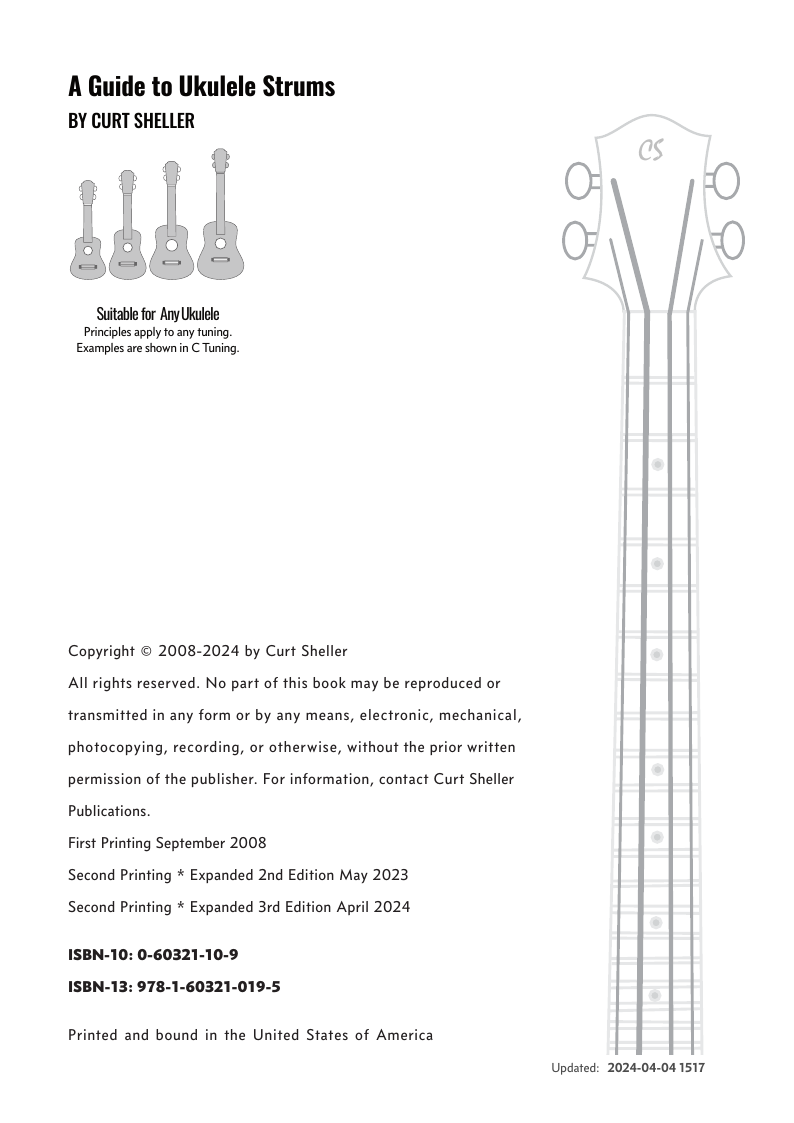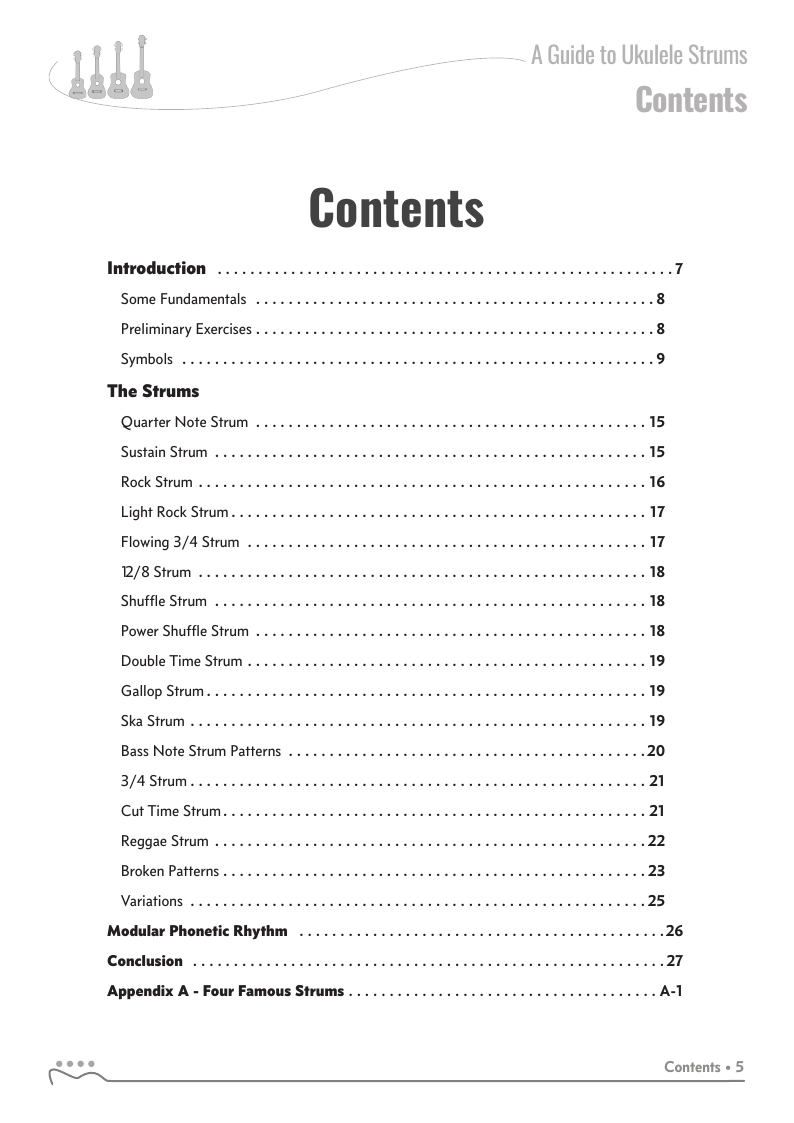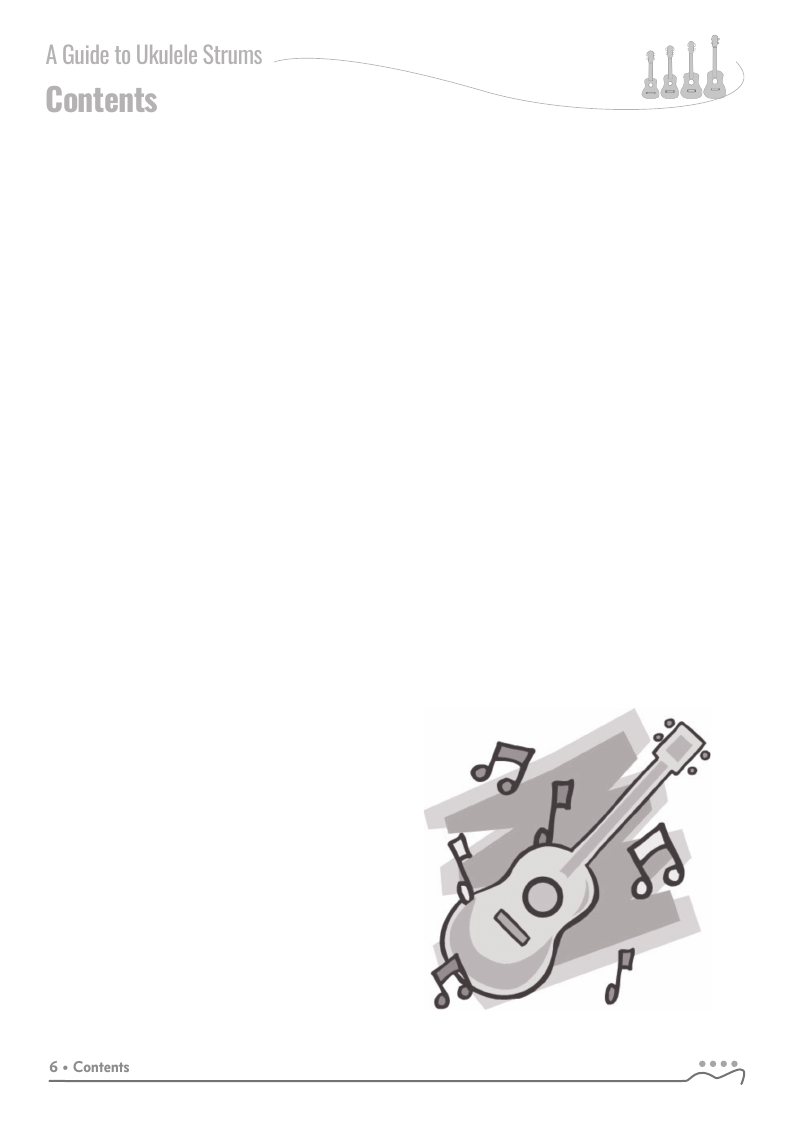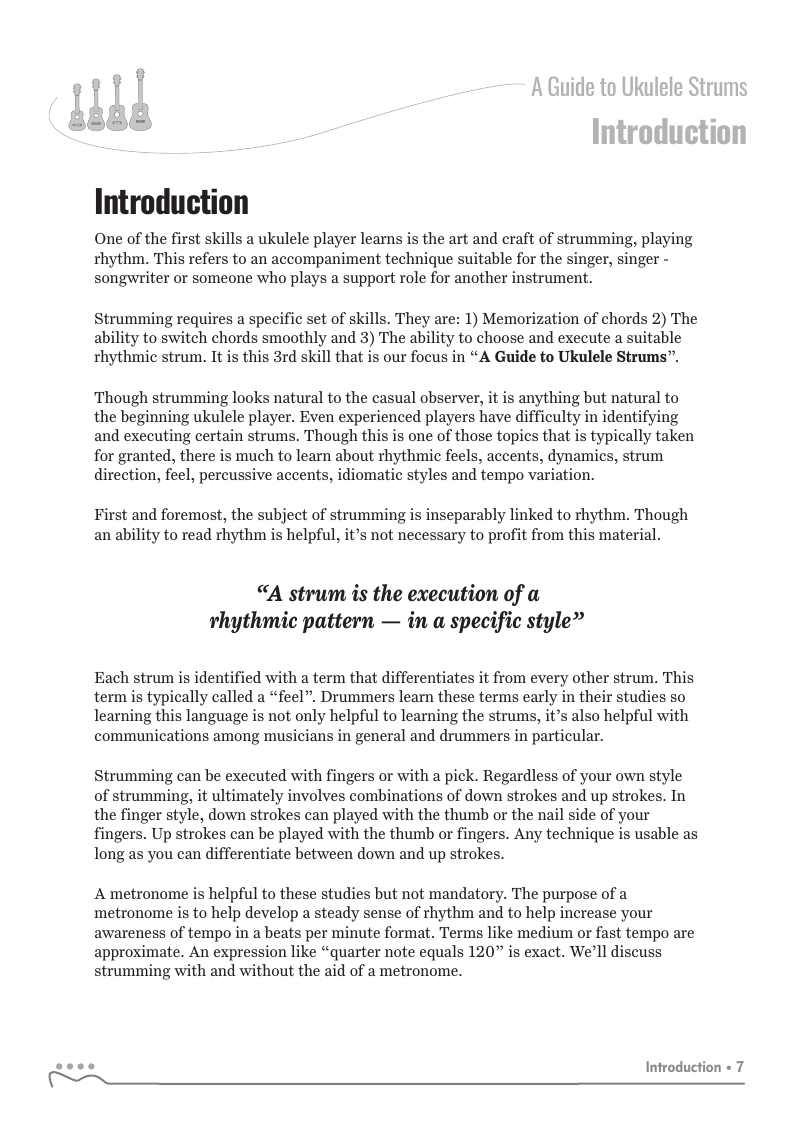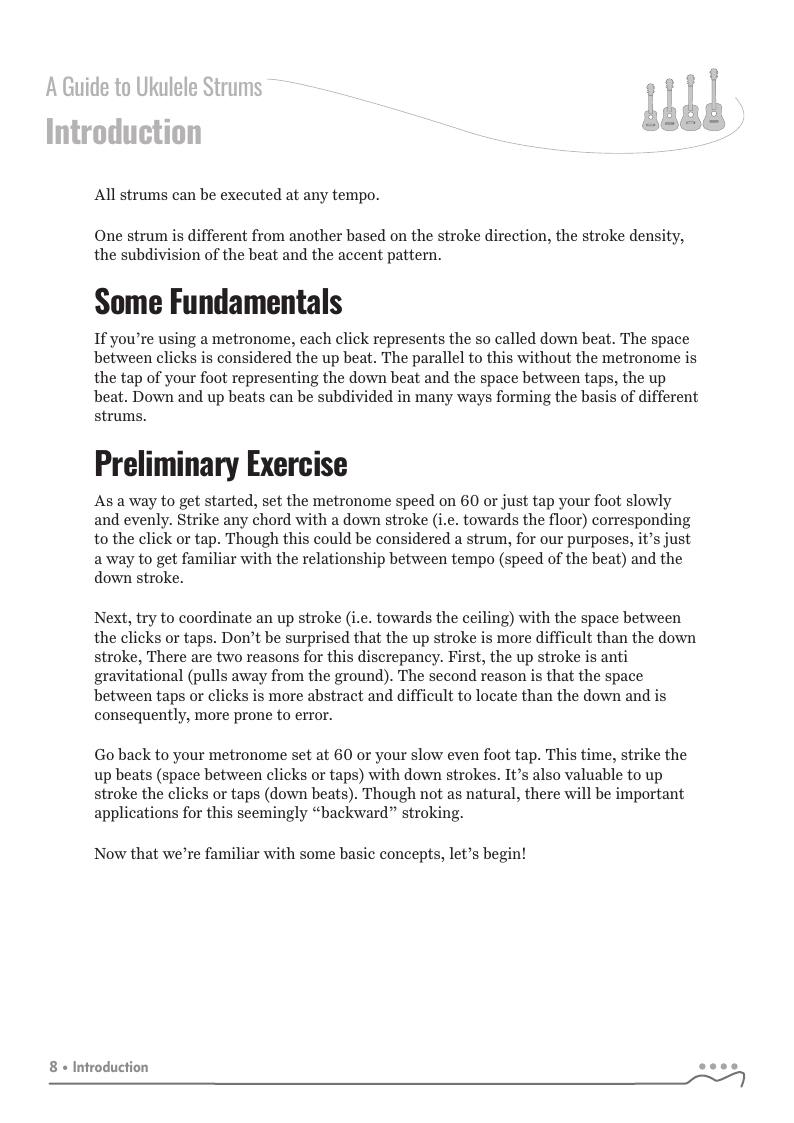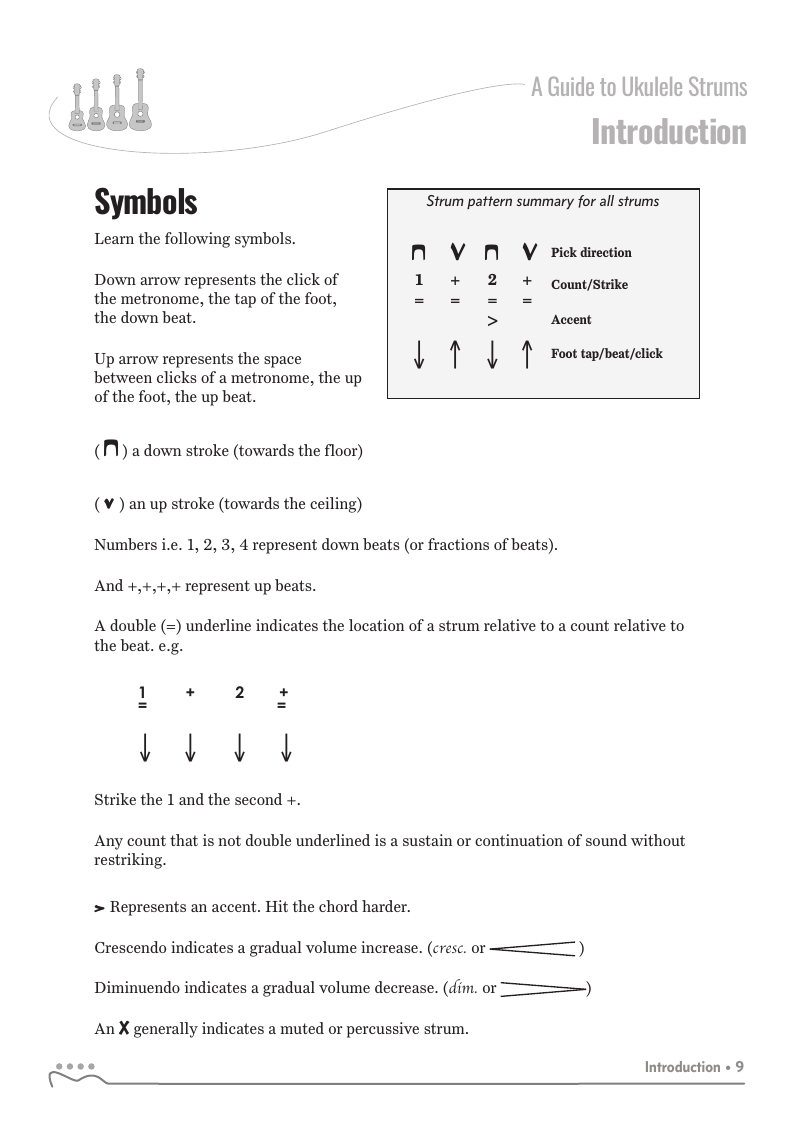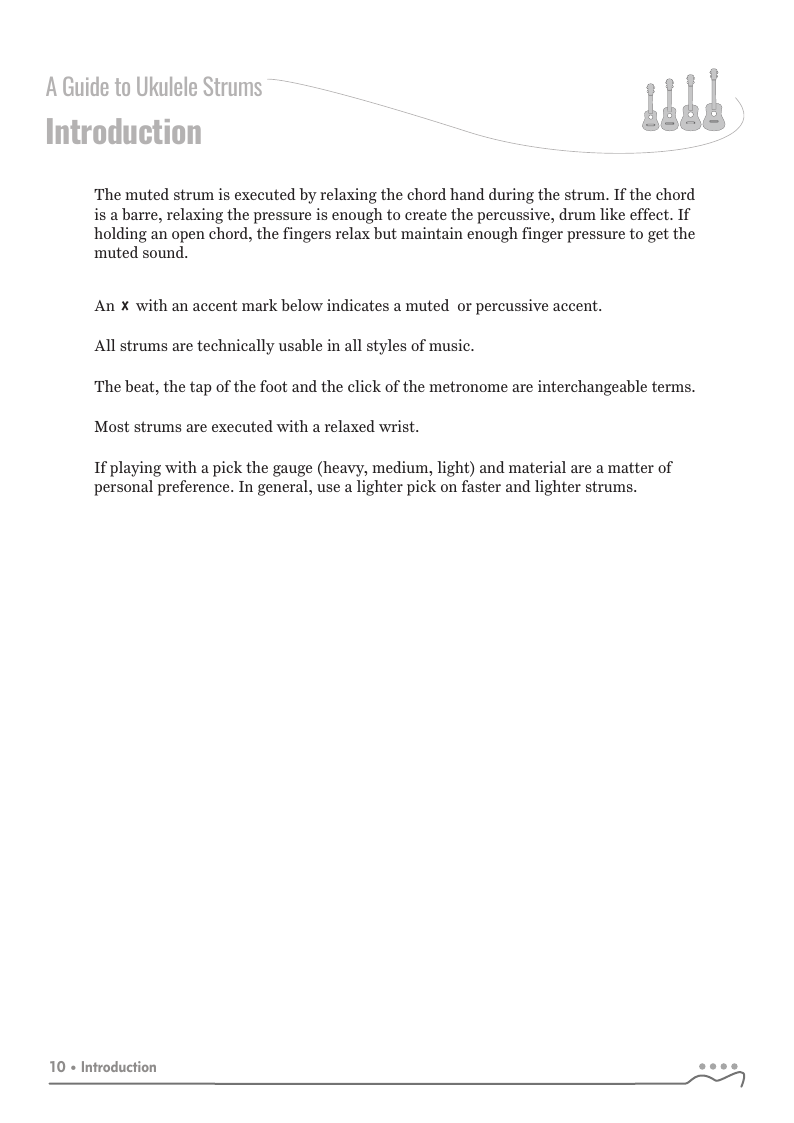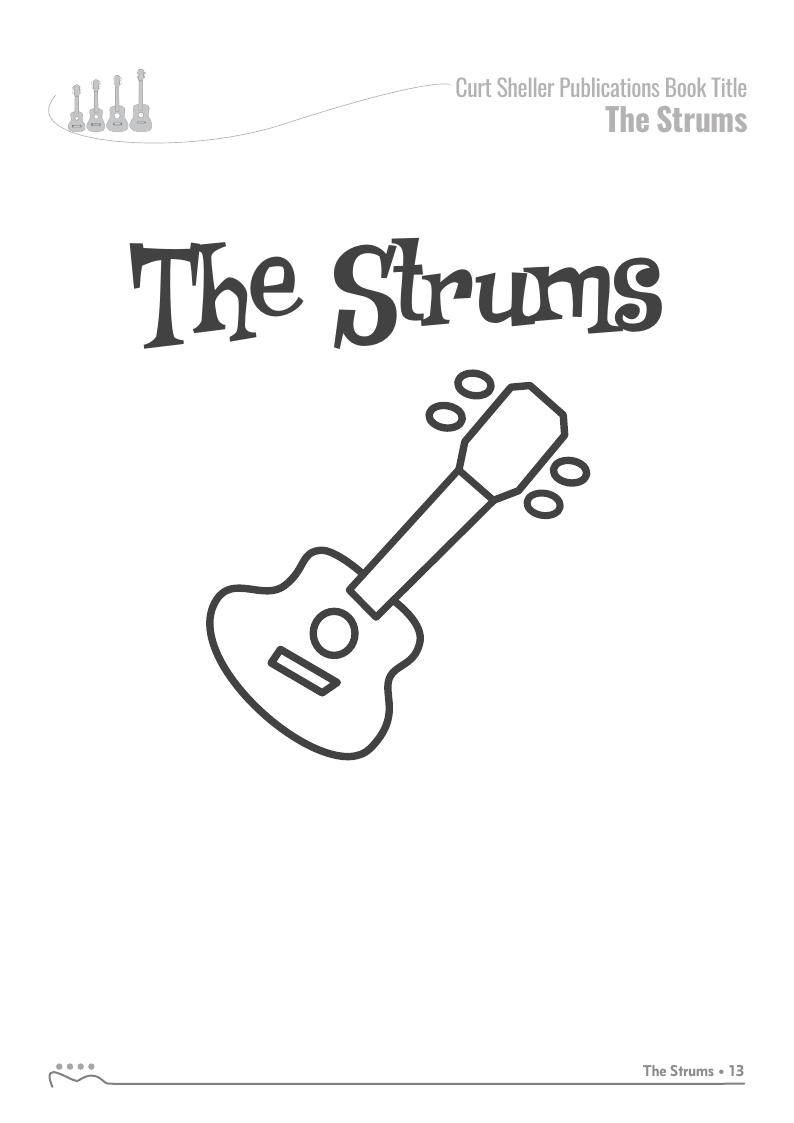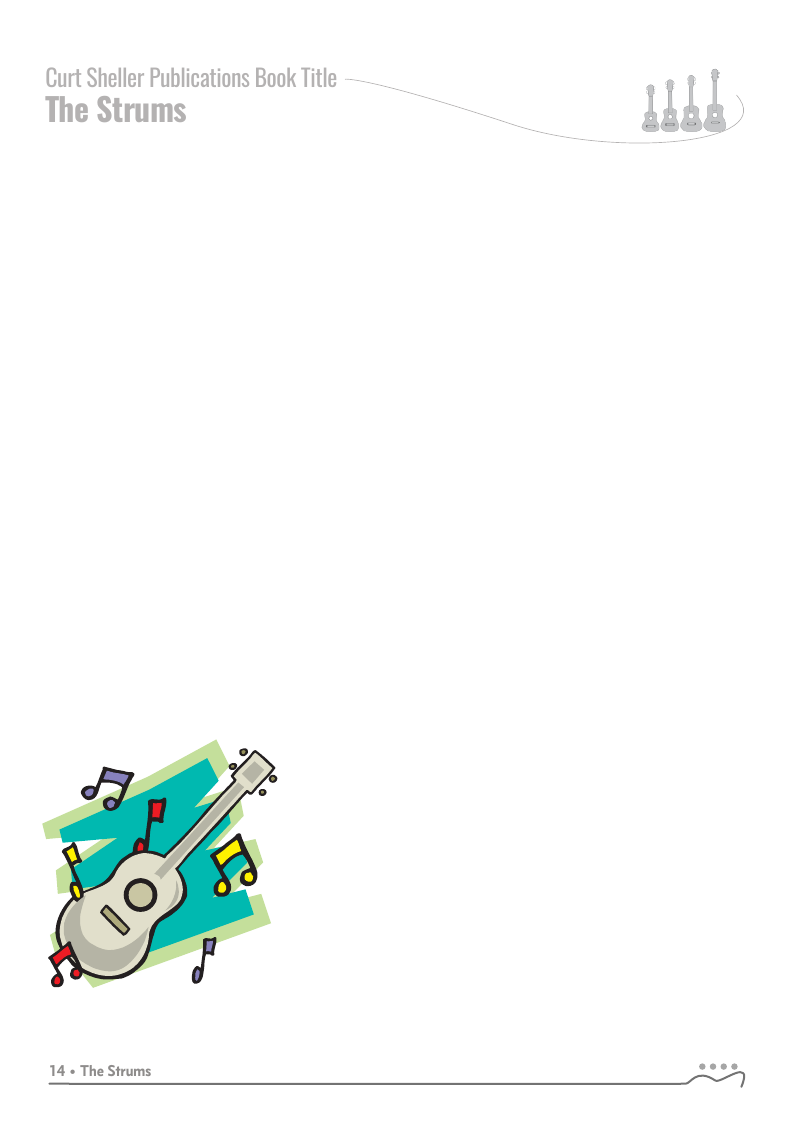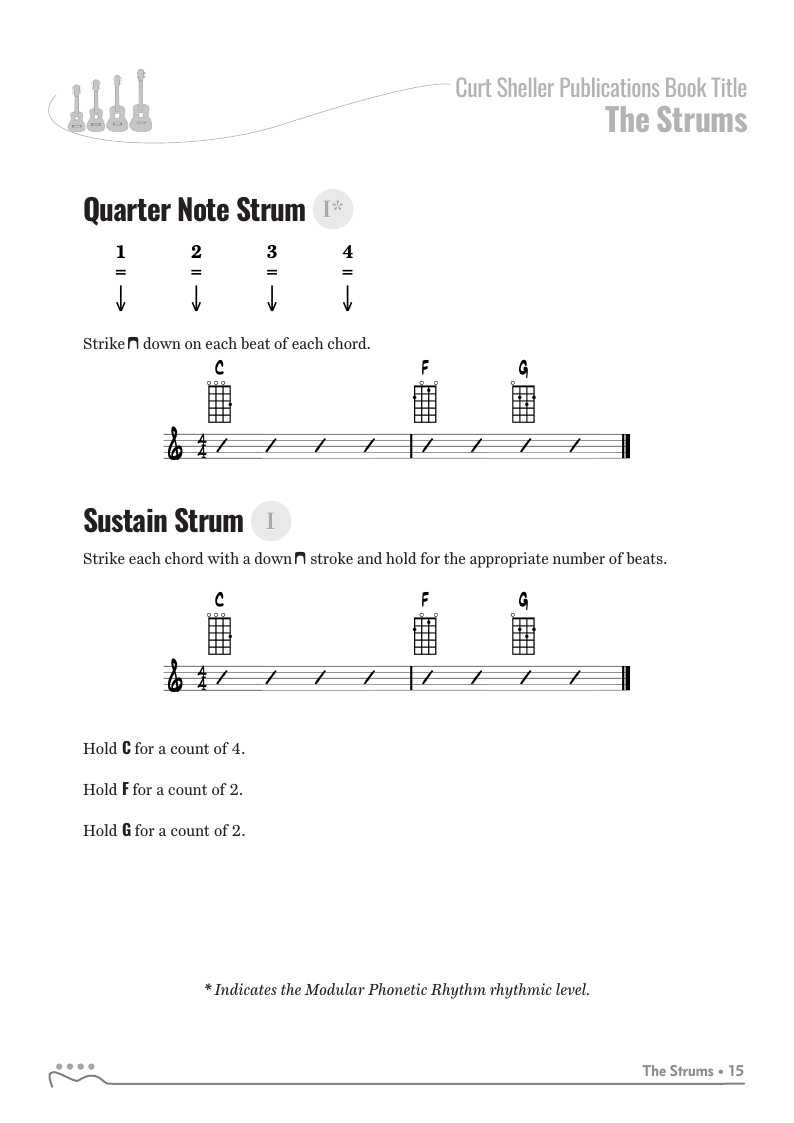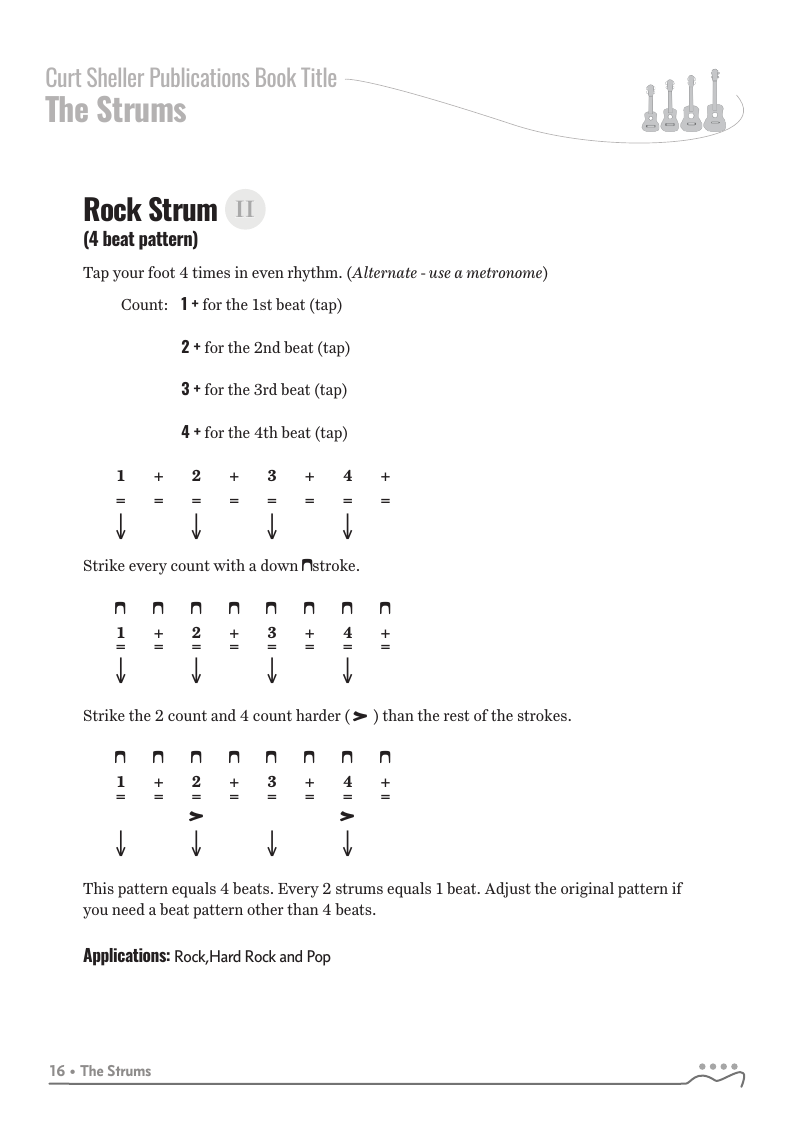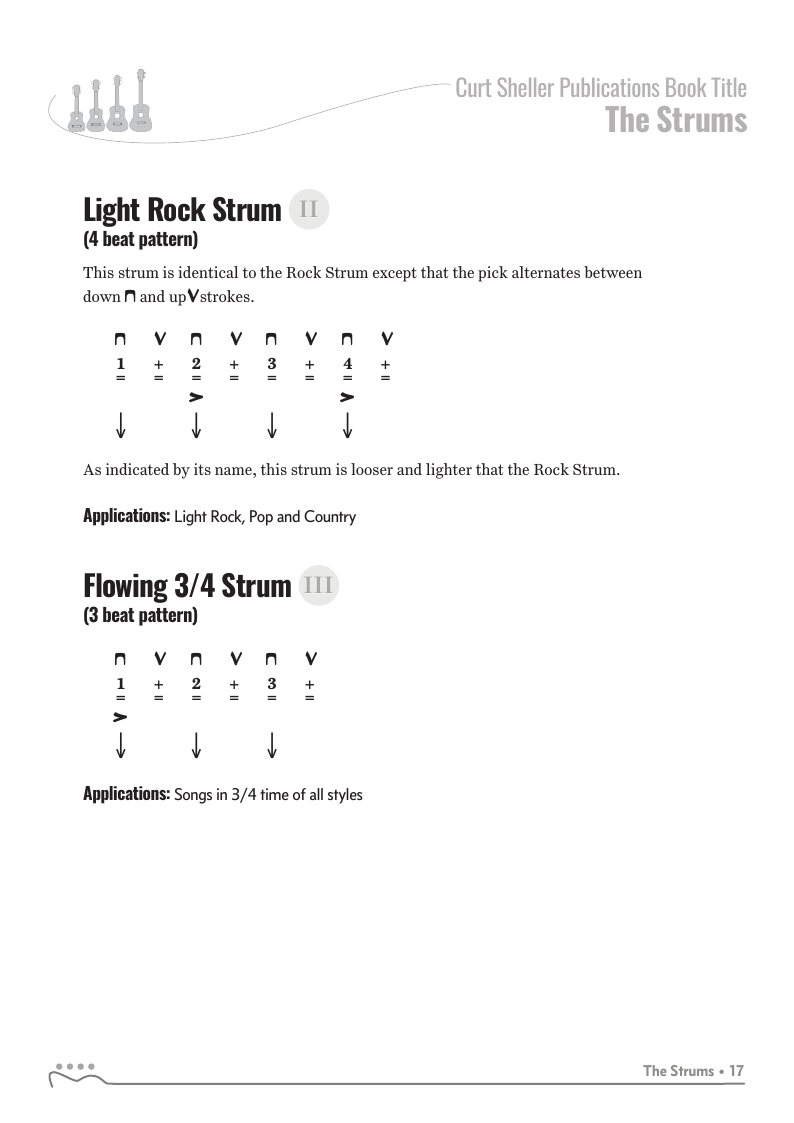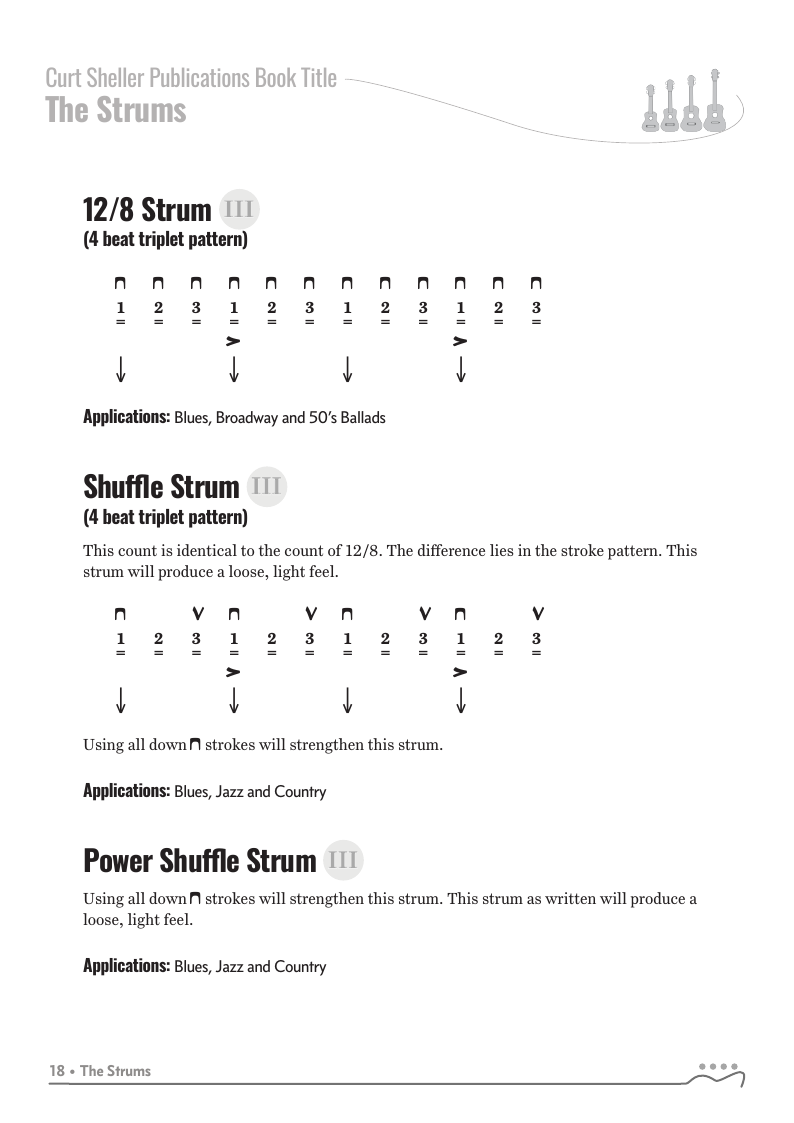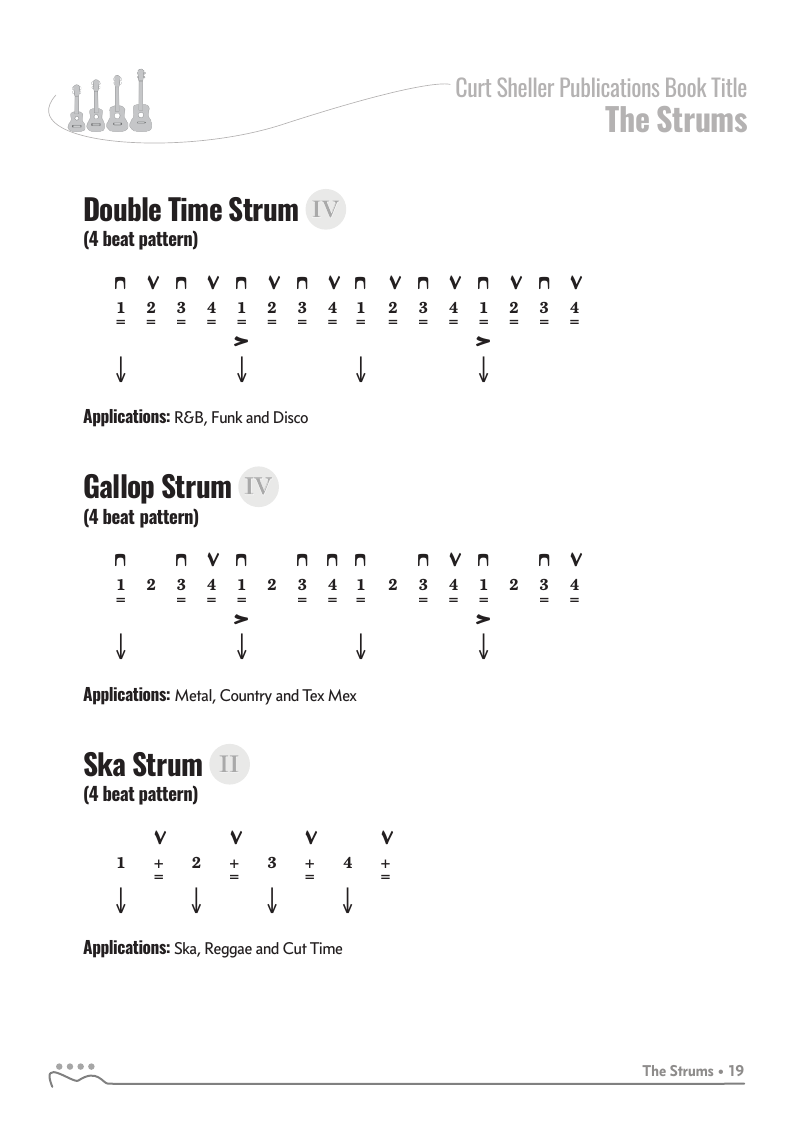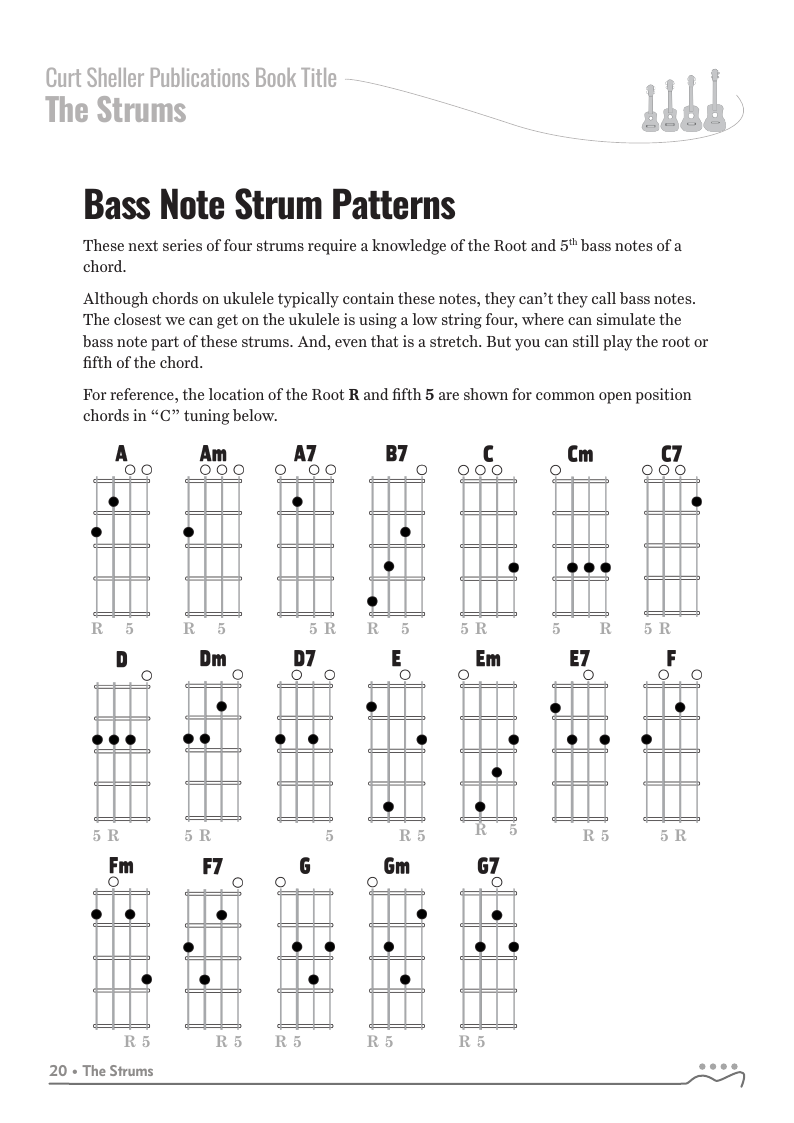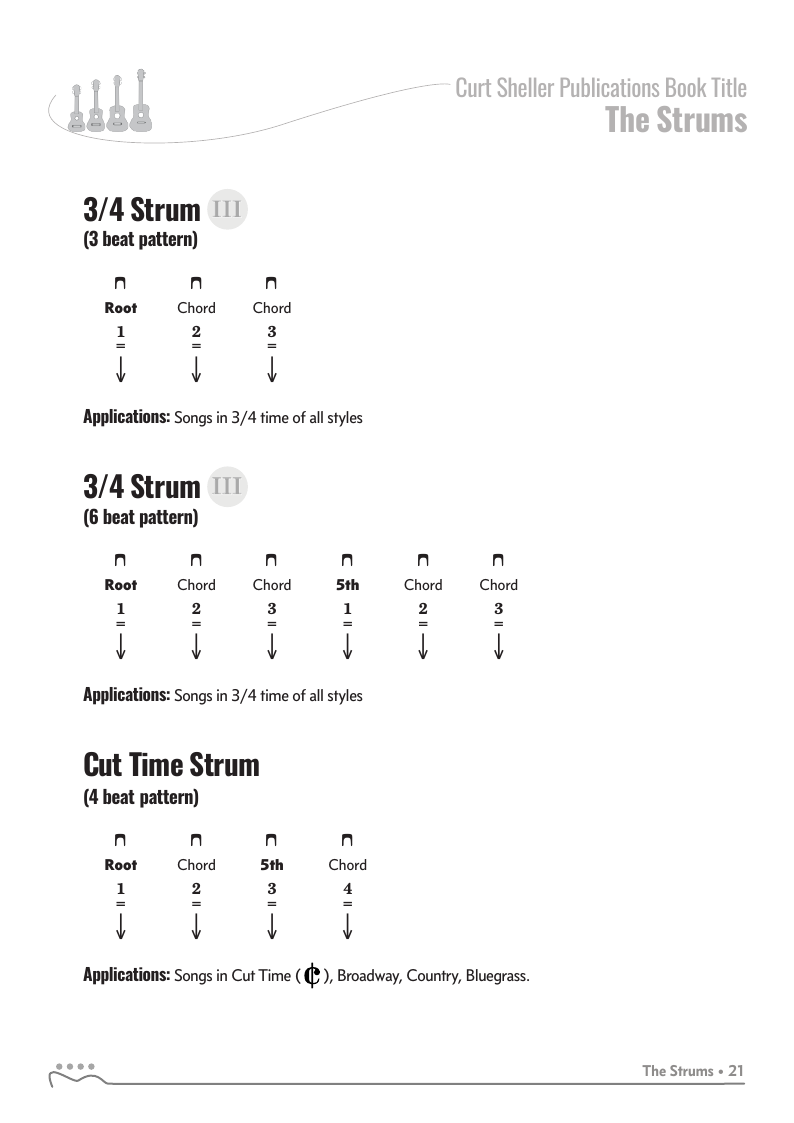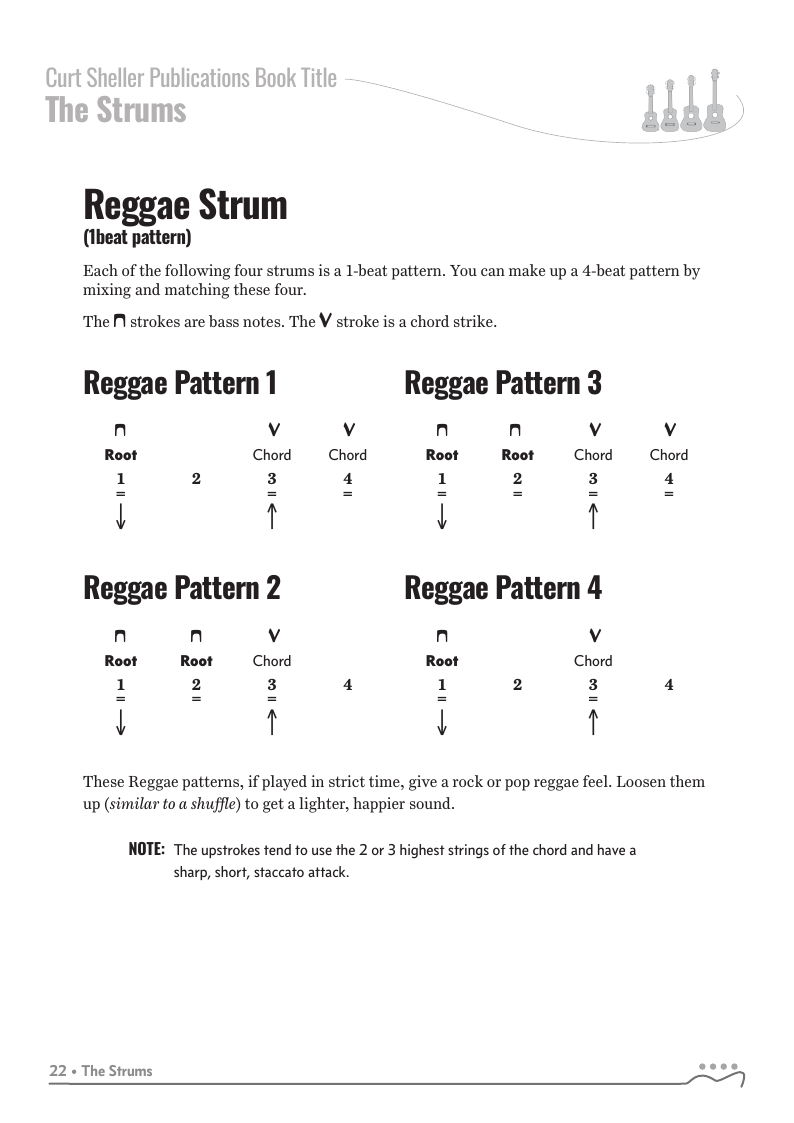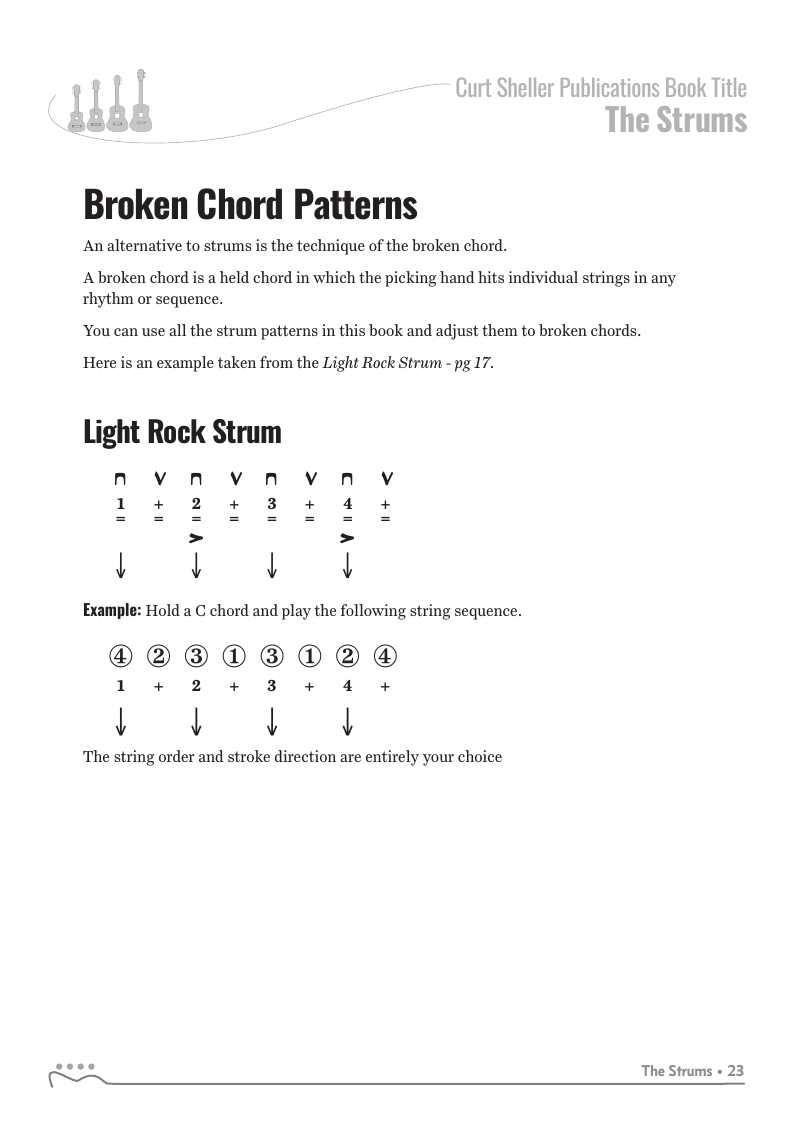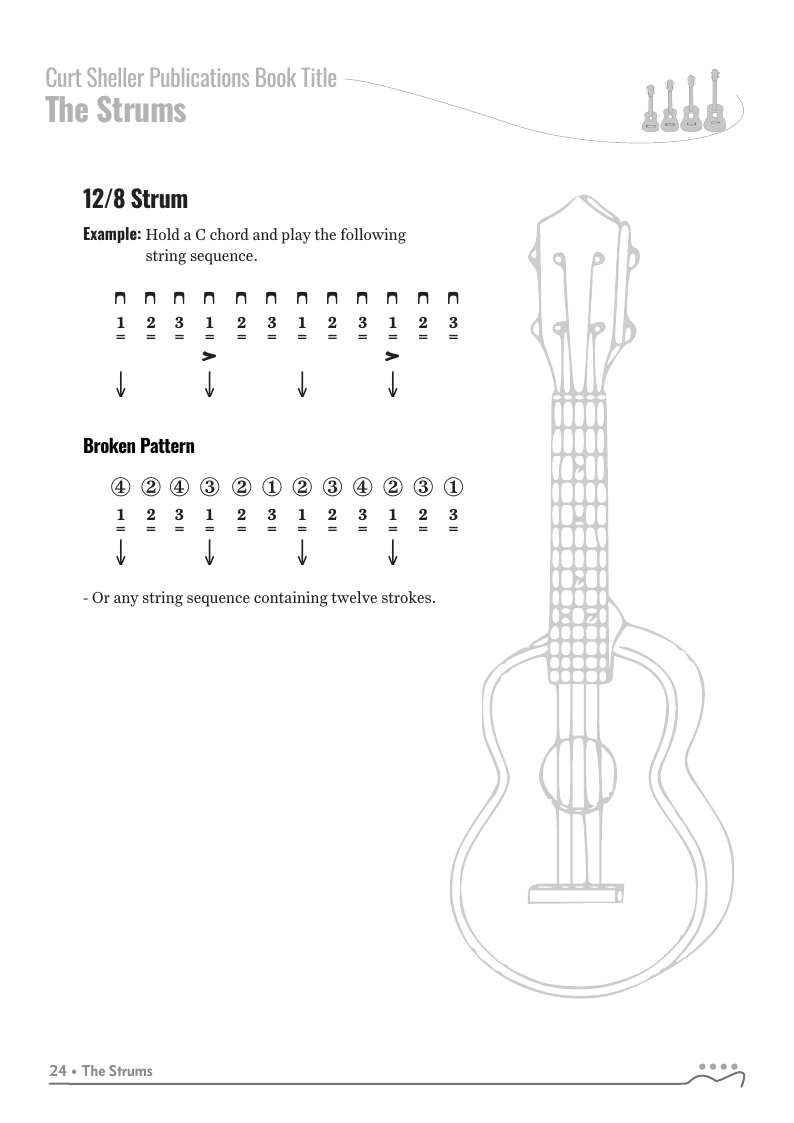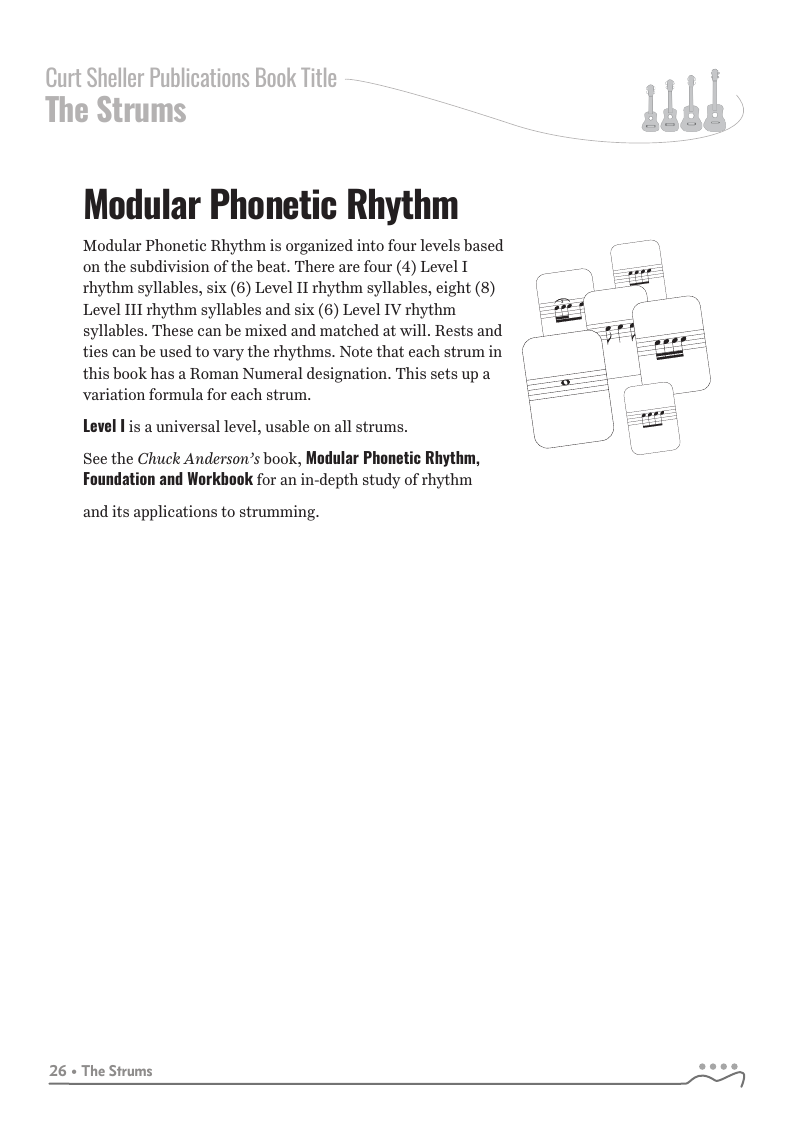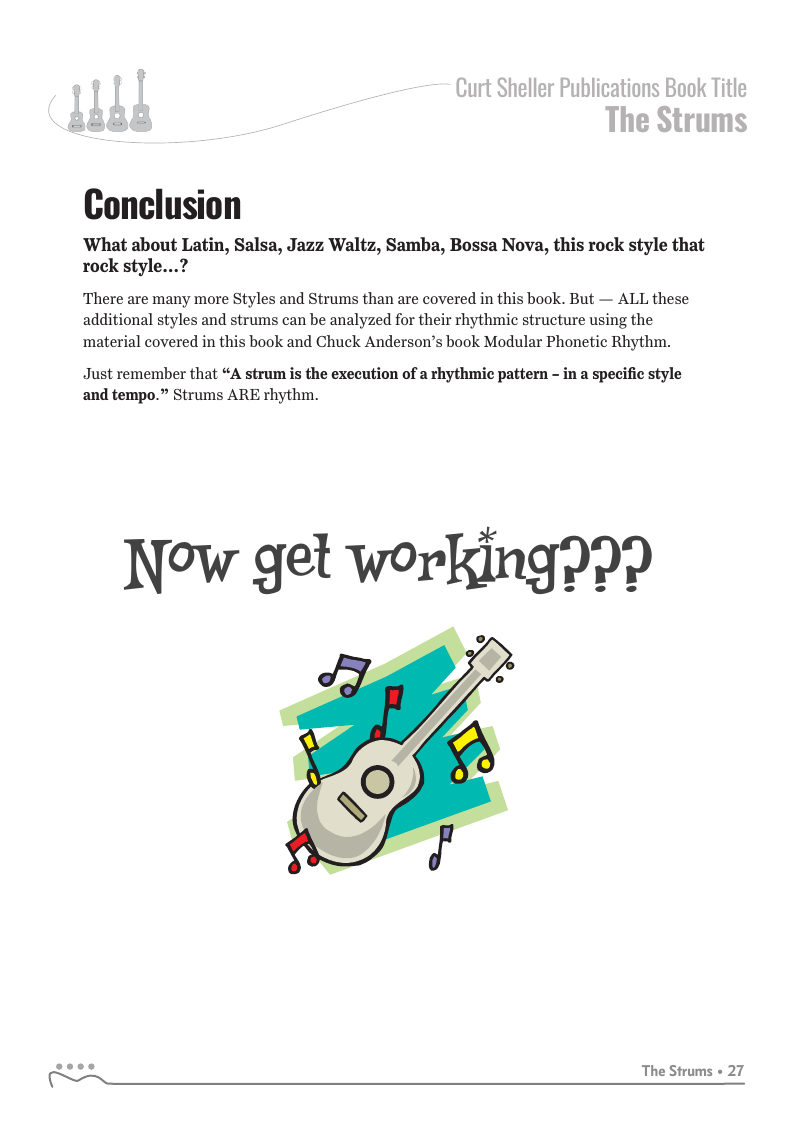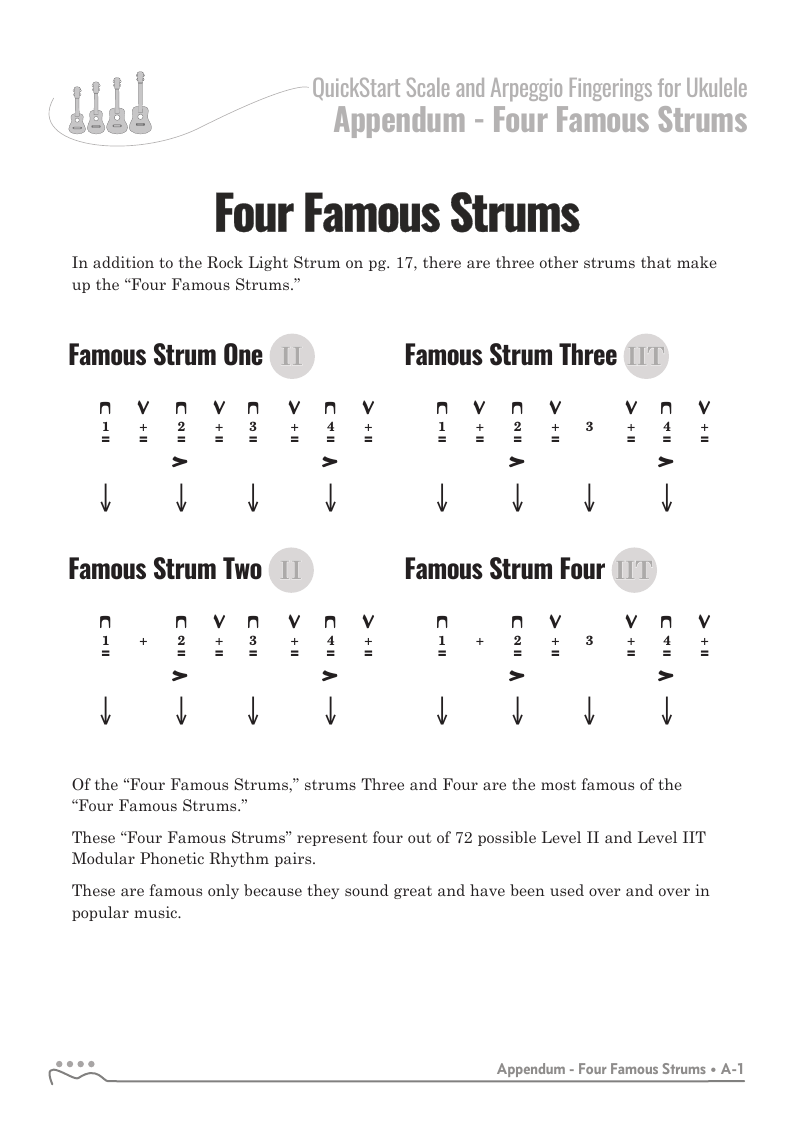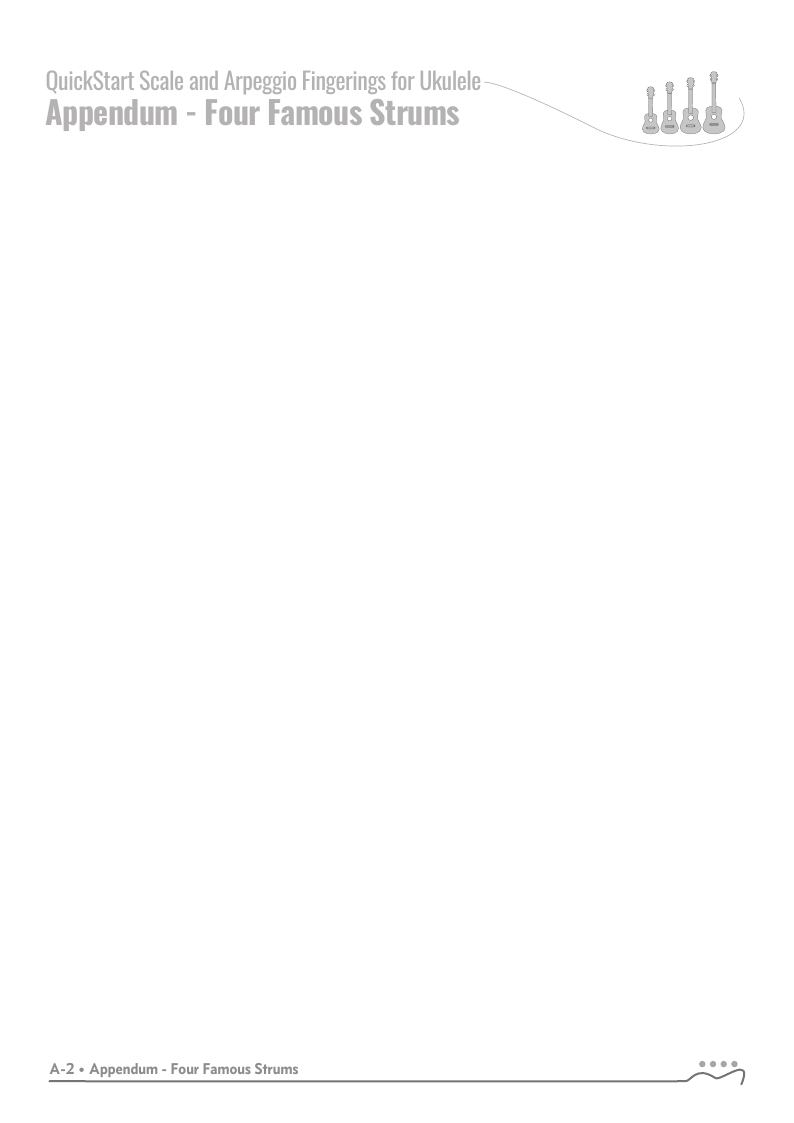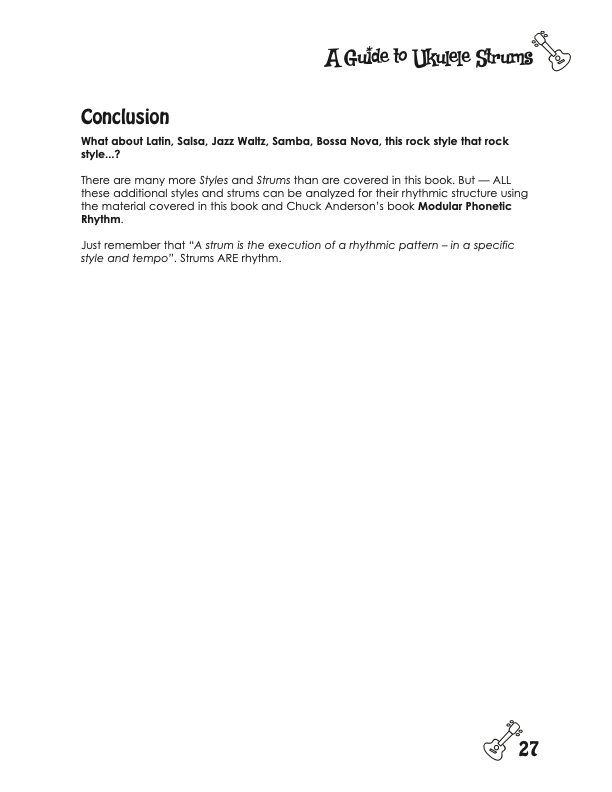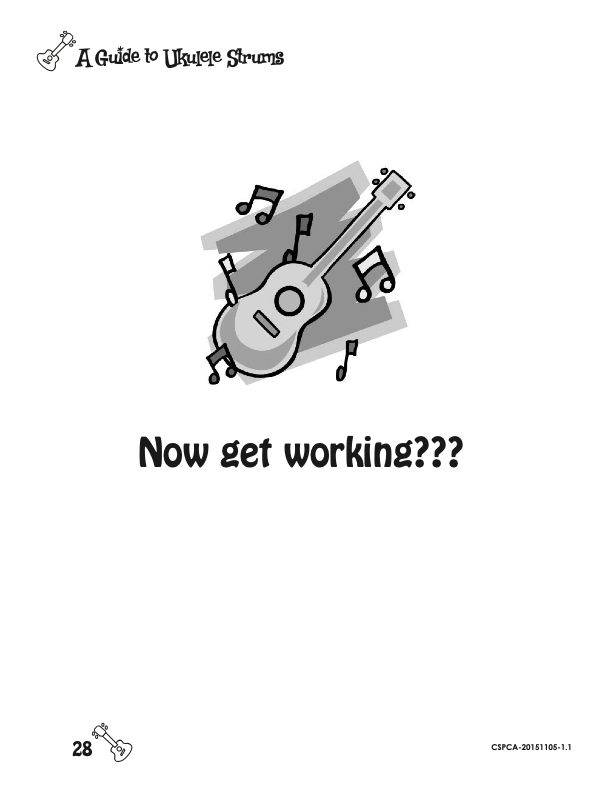 All 28 sample page(s) are viewable on-line.
To view the pages at a larger size you can resize the browser window smaller to a tablet or phone size and the pages will magically grow larger.
Or, a PDF Only View .
Sign-In to access this download if you are already have full site access or Sign-up for a Premium Site Access , — Or your can purchase a copy for download.
Each PDF file is a formatted high resolution file that prints out great. You'll need Adobe Reader or a PDF viewing application to view your PDF file.
A Guide to Ukulele Strums
Product Code: UKESTRUM1
Author(s): Curt Sheller
Publisher(s): Curt Sheller Publications
Published: 2008-07-12
ISBN-10: 1-60321-019-9
ISBN-13: 78-1-60321-019-5

Size: 8.5 x 11
Size: 8.5 x 11
Pages: 28
Price, Hard Copy: $12.95
Price, PDF: $9

Learn a variety of strums and rhythmic patterns in wide range of musical styles.
One of the first skills a ukulele player learns is the art and craft of strumming, playing rhythm. This refers to an accompaniment technique suitable for the singer, singer - songwriter or someone who plays a support role for another instrument.
Strumming requires a specific set of skills:
Memorization of chords
The ability to switch chords smoothly
The ability to choose and execute a suitable rhythmic strum
It's this 3rd skill that is our focus in A Guide to Ukulele Strums and Rhythmic Patterns.
Though strumming looks natural to the casual observer, it is anything but natural to the beginning ukulele player. Even experienced players have difficulty in identifying and executing certain strums. Though this is one of those topics that is typically taken for granted, there is much to learn about rhythmic feels, accents, dynamics, strum direction, feel, percussive accents, idiomatic styles and tempo variation.
First and foremost, the subject of strumming is inseparably linked to rhythm. Though an ability to read rhythm is helpful, it's not necessary to profit from this material.
Each strum is identified with a term that differentiates it from every other strum. This term is typically called a feel. Drummers learn these terms early in their studies so learning this language is not only helpful to learning the strums, it's also helpful with communications among musicians in general and drummers in particular.
The strums in this book work in any tuning or instrument. Chord examples shown for ukuleles in C tuning.
One strum is different from another based on the stroke direction, the stroke density, the subdivision of the beat and the accent pattern.
Strums covered include: Quarter Note, Sustain, Rock, Light Rock, 12/8, Shuffle, Power Shuffle, Double Time, Gallop, Flowing 3/4, Ska, Bass Note Patterns, 3/4, Reggae and Broken Patterns.
Why Buy My Books
How to pay for this book
Thanks for visiting LearningUkulele.com! I hope you've enjoyed the site so far. My site does not run ads. It's supported by visitors, premium site members, and readers like you.
Short Answer
Because this book is only available directly through me (Curt Sheller), this site and at our Funky Frets family music store. It is the only way this book can earn its keep and its only source of revenue is visitors and site members like you. If you don't pay, the book dies, gets no updates, etc…
Good news is you can become a Premium Site Member and get this book for FREE as part of your paid access.
Long Answer
I'm not a venture-funded startup nor a major corporation. I'm—a self-employed musician, author, teacher, graphic artist located in southeastern Pennsylvania, USA. And this web site, books, lessons, songs and content have been grinding along in one form or another along since 1995, the ukulele part has literally been a full time effort since 2003 - literally years of effort have gone into creating this content.
Making my books only available on this, my web site is an experiment in using the web as a serious book publishing platform. My goal is to take my music expertise and knowledge that I've gained from the past 40 plus years of serious study, research and application as a performer, student, author, private music teacher and make it available in your quest to be a better musician, enjoy the ukulele more or just having more fun in what you are doing.
I wanted to deliver and present this material with a high standard of quality typically associated with traditional printed, mass produced books by traditional publishers. While taking advantage of all the web has to offer.
All my, Curt Sheller books are the sole product, with 100% of, and all the effort, graphic design, site coding, content, marketing, fulfillment, etc... - by one person – your truly.
Your purchase supports all that it takes to keep this site going. And, a membership is the best way to do that. I'll not do the Pateron or Kickstarter route for begging for money ( nothing against fellow artists that go that route - just not my cup-of-tea.
Table of Contents: A Guide to Ukulele Strums
Introduction 7
Some Fundamentals 8
Preliminary Exercises 8
Symbols 9
Quarter Note Strum 13
Sustain Strum 13
Rock Strum 14
Light Rock Strum 15
12/8 Strum 15
Shuffle Strum 16
Power Shuffle Strum 16
Double Time Strum 16
Gallop Strum 17
Flowing 3/4 Strum 17
Ska Strum 18
Bass Note Strum Patterns 19
3/4 Strum 20
Reggae Strum 22
Broken Patterns 23
Variations 25
Modular Phonetic Rhythm 26
Conclusion 27
Related Lessons
Related Lessons for A Guide to Ukulele Strums at this time.
top
Related Books
Related Books for A Guide to Ukulele Strums at this time.
top
Related Songs
Related Songs for A Guide to Ukulele Strums at this time.
top
Related Lesson Series
Related Lessons Series for A Guide to Ukulele Strums at this time.
top
Building Your Core Strums for Ukulele

Updated: Apr 3, 2020
Rhythm are in-separately linked to strums. Using the Modular Phonetic Rhythm System developed by Chuck Anderson this series of lessons start with the core four strums all ukulele players use and throughly digs in to the many variations possible.
Modular Phonetic Rhythm by Chuck Anderson

Updated: Apr 3, 2020
Modular Phonetic Rhythm represents a significant advance in the teaching and application of rhythm. Eliminating many inefficient aspects of rhythm education, Modular Phonetic Rhythm streamlines the traditional educational approach, resulting in a reflexive reaction to rhythm.
Ukulele Strums - Getting Started

Updated: Apr 3, 2020
Strums are in-separately linked to rhythm. Using the Modular Phonetic Rhythm System developed by Chuck Anderson this series of lessons starts with the core four strums all ukulele players use, need to know and throughly digs into the many variations possible.
NOTE: Each higher access level includes ALL the benefits of the lower levels. Private Lessons include all the benefits of a Premium Access Plans as long as you remain a student on on the schedule.
Just browsing over both books, they look fantastic! I'm a guitarist and uke player for over 25 years and was thinking about writing a ukulele book but you've already written what I think are the best, most comprehensive and thorough books I've ever seen for the instrument. I just might end up buying every book you've written and I'll be giving my highest recommendation for your books to my friends and students. Thank you so much for taking the time to write such great books! — Peter Rhee
Aloha, Curt, All I can say is WOW! What you have accomplished is simply incredible! All the best — Glen Hirabayashi, The Aloha Boys
Folks, if you haven't stopped by Curt's site, do so right now! ..And get his books, they are fantastic. This guy knows his stuff and is able to pass it along too. — Alan Johnson Proprietor, The 4th Peg
I can highly recommend Curt's Uke books — I have four of them and they are excellent. — fatveg — Portland
Thanks for visiting and checking out the site!

Original Curtie Animation from 1987 for my first web site on a Macintosh II.
33 years ago.
"Built for myself (Curt), and sharing with the `Ukulele community!"
LearningUkulele.com has one of the largest collections of lessons, songs, and TABS, luthiers, ukulele builders, ukulele festival and club information, and, ukulele links on the web. I've been on the ®Internet since the early 1990's and This site just never stops growing!!!
Content is added and updated almost daily - so check back often.