Ear Training
Ear Training is the development of the active and passive capability to relate to music aurally. This includes the ability to recognize melodic and harmonic intervals, chords, chords progressions, rhythm, melody and harmony.
Functional Pitch Recognition
Functional pitch recognition involves identifying the function or role of a single pitch in the context of an established tonic. Once a tonic has been established, each subsequent pitch may be classified without direct reference to accompanying pitches. For example, once the tonic G has been established, listeners may recognize that the pitch D plays the role of the dominant in the key of G. No reference to any other pitch is required to establish this fact.
Many musicians use functional pitch recognition in order to identify, understand, and appreciate the roles and meanings of pitches within a key. To this end, scale-degree numbers or Solmization can be used for this purpose.
solfège (do, re, mi, etc.) can be quite helpful. Using such systems, pitches with identical functions (the key note or tonic, for example) are associated with identical labels (1 or do, for example).
Solmization / solfège The seven syllables normally used for this practice in English-speaking countries are: do, re, mi, fa, sol, la, and ti (with sharpened notes of di, ri, fi, si, li and flattened notes of te, le, se, me, ra).
Ear Training is the development of the active and passive capability to relate to music aurally. This includes the ability to recognize melodic and harmonic intervals, chords, chords progressions, rhythm, melody and harmony. This is a skill by which musicians learn to identify, solely by hearing, pitches, intervals, melody, chords, rhythms, and other basic elements of music. The application of this skill is analogous to taking dictation in written/spoken language. Ear training may be contrasted with sight-singing, which is analogous to reading aloud in language. Ear-training is typically a component of formal musical training.
Relative Pitch - The term relative pitch may denote:
the distance of a musical note from a set point of reference, e.g. "three octaves above middle C"
a musician's ability to identify the intervals between given tones, regardless of their relation to concert pitch (A = 440Hz)
the skill used by singers to correctly sing a melody, following musical notation, by pitching each note in the melody according to its distance from the previous note. Alternatively, the same skill which allows someone to hear a melody for the first time and name the notes relative to some known starting pitch.
WidipediA Ear Training
Playing by Ear
Before talking about playing by ear, one needs to understand what is commonly called ear training. As the WikipediA definition for Ear Training mentioned, ear training has an active and passive roll.
Passive Ear Training
PASSIVE EAR TRAINING is the ability to recognize and name intervals, chords, chord progressions, melodic sequences, rhythm, etc... An example of passive ear training would be if someone played the first two notes of the song "Here Comes the Bride" and you can recognize them as an interval of a perfect fourth. You might not know the actual pitches, that would be perfect pitch, the ability to identify or re-create a given musical note without the benefit of an external reference.
ASCENDING Intervals
Unison: ( Do - Do* )

Happy Birthday To You
Minor second:

Theme from Jaws (movie), Pink Panther
Major Second: ( Do - Re )

Frere Jacques
Do A Dear
Silent Night
Minor Third:

Smoke on the Water
Brahms' Lullaby
First two notes of a Blues scale
Greensleeves
Major Third: ( Do - Mi )

Michael Row Your Boat Ashore
When the Saints Go Marching In
Kum By Ya
Have Yourself a Merry Little Christmas
Perfect Fourth: ( Do - Fa )

Here Comes the Bride
The Look of Love
Auld Lang Syne ("Should Auld...")
Tritone (♯4 or ♭5):

The Simp - sons
Ma ri a, from West Side Story
Perfect Fifth: ( Do - Sol )

Twinkle, Twinkle Little Star
My Favorite Things
Theme from Star Wars
Hey There Georgie Girl
Minor Sixth:

Black Orpheus
Theme From Love Story
Scott Joplin's The Entertainer (Main theme after the intro)
In My Life (guitar intro)
Major Sixth: ( Do - La )

My Bonnie Lies Over The Ocean
the N B C theme
I Heard the Bells
Take the A Train
Major Seventh: ( Do - Ti )

Theme from Fantasy Island
Minor Seventh:

Theme from Star Trek
Somewhere (from West Side Story)
Octave: ( Do - Do )

Hi Ho Hi Ho
Some where Over the Rainbow (then descends a minor second to the major seventh of the scale
Let It Snow
The Christmas Song
* Fixed do solfège
Fixed do solfège - In the fixed do system, accidentals do not affect the syllables used. For example, C, C♯, and C♭, as well as C double sharp and C double flat are all sung with the syllable "do", For more information, history and visit the Wikipedia page for Solfège
DESCENDING Intervals
Minor second:

Joy to the World
Jingle Bell Rock
Stella by Starlight

Major Second:

Three Blind Mice
Mary Had a Little Lamb
Satin Doll

Minor Third:

Camptown Races
This Old Man
Misty, Start Spangled Banner

Major Third:

Beethoven's 5th (G G G Eb)
Summertime

Perfect Fourth:

Old MacDonald
Frere Jacques ("Ding Dang Dong...")
When Johnny Comes Marching Home
I've Been Working on the Railroad

Tritone:

The Simp - sons
Ma ri a, from West Side Story
Perfect Fifth:

Feelings
Have You Meet Miss Jones
Seven Steps to Heaven
Flintstones Theme (Flint stones meet the ...

Minor Sixth:

Your Everything

Major Sixth:

Crazy

Minor Seventh:

Watermelon Man

Major Seventh:

I love you (Cole Porter)

Octave:

Hi Ho Hi Ho
Some where Over the Rainbow
Crazy (2nd line "I'm crazy..."
Willow Weep For Me
ASCENDING Scales
Major Pentatonic:

My Girl guitar lick, I Saw Mommy Kissing Santa Claus
DESCENDING Scales
Major Scale:

Joy to the World
ASCENDING Arpeggios
Major 7th chord:

Jingle, Jingle, Jingle ( the first four notes a major seventh chord, the 1 3 5 7 of the major scale of key of the song. )
Active Ear Training
ACTIVE EAR TRAINING is the ability to reproduce intervals, chords, chord progressions, melodic sequences, rhythm, etc... An example of active ear training would be to play the first two notes of the song "Here Comes the Bride" anywhere on your instrument or sing that interval (in tune).
NOTE: Getting your fingers and or voice to follow you ear is one of the harder things to do. This is technique and takes a lot of work. All, well worth the effort.
Where the Ear Fits In - (Ear, Hands, Mind)
The hands are the weakest link in the Ear to Hands to Mind combination that is used to play music (by ear) and the hands need to be trained to follow the ear. It is the hands training that takes the longest.
The ear can remember stuff after ONE time hearing it. The Mind two or three and the hands to develop the muscle memory take about a few hundred times. How else can we recognize melodies after hear it once?
When practicing you should be doing stuff to train the hands to follow the ear. That is the sequence for developing this connection:
Mind to Hands to Ear
The Mind tells the Hands what to play and the Ear listens. DON'T practice by ear. Have a plan and organization of the material you would like to cover.
Practicing your scales in intervals of 2nds, 3rds, 4ths, 5ths, 6ths, 7ths, etc... Some more common than other for melodies. Practice both ascending and descending. I would go with 2nds, 3rds, and 6ths first.
Ear to Hands to Mind
The Ear tells the Hands what play and you can involve the Mind if needed or wanted after the fact.
The hands will not do anything they have not done before.
So to be able to play by ear you either:
1) Hunt and Peck enough to train your fingers to follow the ear – or –
2) Have a plan to train the ear and hands to work together, thus making the hands to the ear connection quicker. Creating a plan is where a teacher can really help. And, if you've had bad experiences with teachers don't give up on them just try another teacher, good teachers are out there. Typically jazz musicians will be the best teachers in the playing by ear department. Remember playing by ear does not mean practicing by ear. Practicing and learning are different then performing.
Here is an example of learning a specific interval. The first two notes of "Here Comes the Bride" are a perfect fourth. Try putting any finger on any note of the ukulele and then play the second, "Here Comes..." correctly the first time. If you can't the fingers haven't been trained enough to "Play by Ear", to obey the hands for the particular sound of that interval. This is then where the mind comes in and intellectually knows where the interval of a perfect fourth is and trains the hands to follow the ear.
Same goes for chords, chord progressions, melodies, rhythms. The process starts with the mind telling hands what to do and the ear taking it all in.
View the complete lessons on this topic: The Learning Process - The Mind, Hands and Ears
End of Lesson - Thanks, Hope You Enjoyed It!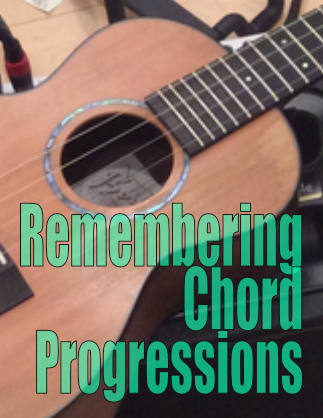 Remembering Songs
• Updated: Mar 19, 2019
Listening to songs and wanting to play the same songs on ukulele - that's what draws most people to the ukulele. That and it looks like a load of fun and easy too play - which it is. Then you need to actually remember the songs that you're learning so you can play them again. And, hopefully not have to read them off a sheet all the time.
Remembering a song is lot like remembering the directions for a road trip. There are the turn-by-turn directions, road maps, signs and landmarks that will get you to where you are going. Turn here, turn there, remember this and remember that landmark. With a songs it's the chords, the melody, style, the harmonic cells, the form, etc that are part of the song that you want to remember.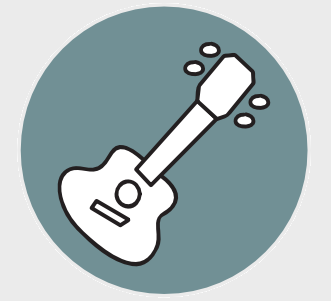 The Learning Process - The Mind, Hands and Ears
• Updated: Jan 22, 2020
For music and learning an instrument like the ukulele or guitar, it's all about the making the connection between the Mind, the Hands and the Ear. When listening to music, we enjoy it at the tempo the composer or artist intended, in real time. Only the ear is involved in listening. This is passive listening and you're simply enjoying the music. This is what we do everyday and it's what draws us to want to learn a musical instrument.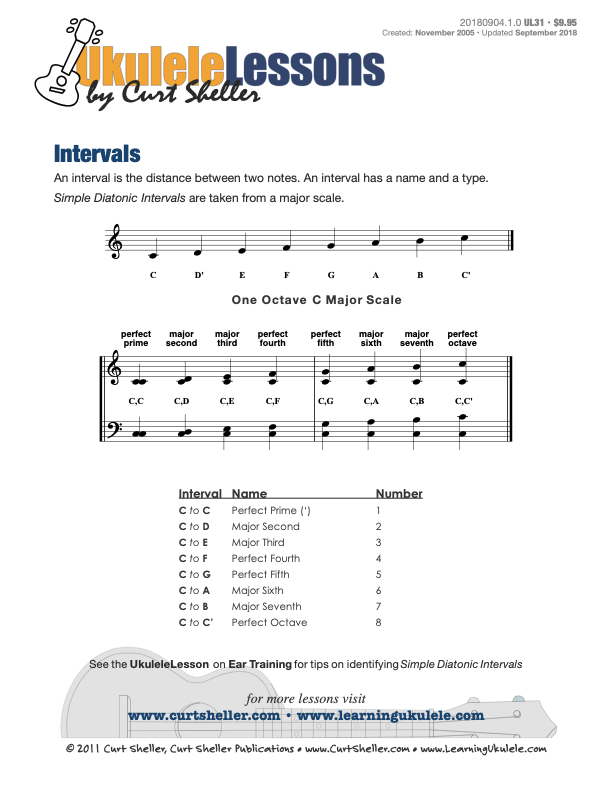 Understanding Diatonic Intervals
• Updated: Dec 9, 2011
An interval is the distance between two notes. An interval has a name and a type. Intervals can be played one note (melodic) or two notes (harmonic) at a time, ascending or descending.
Simple and Compound Intervals are taken from a major scale.
Chromatic Intervals are NOT taken from a major scale. They are derived from the diatonic intervals.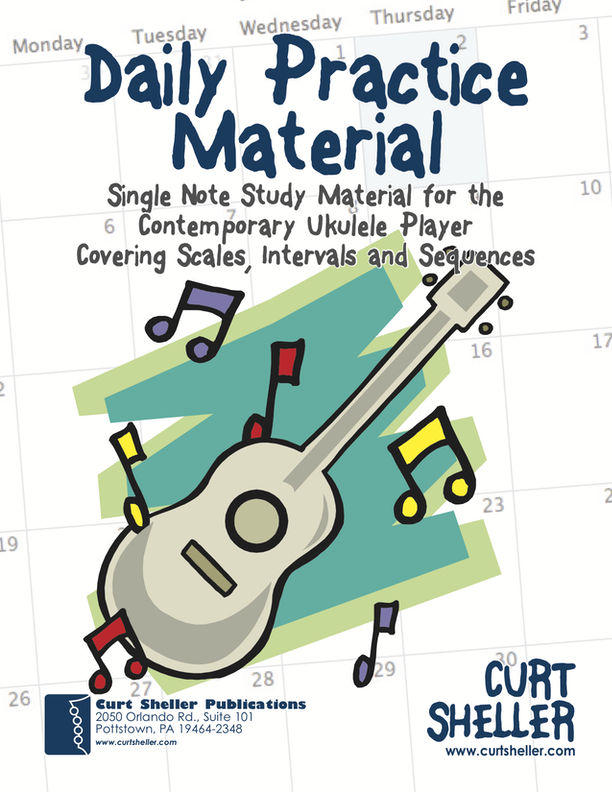 Daily Practice Material for the Contemporary Ukulele

Updated: Nov 20, 2019
An organized collection of daily practice and reference material for the contemporary ukulele player. This material can be used to develop the vocabulary and knowledge necessary for single note playing. Material includes: Scales, Intervals, Arpeggios and Sequences, the source material for improvisation.
NOTE: Each higher access level includes ALL the benefits of the lower levels. Private Lessons include all the benefits of a Premium Access Plans as long as you remain a student on the schedule.
---
Just browsing over both books, they look fantastic! I'm a guitarist and uke player for over 25 years and was thinking about writing a ukulele book but you've already written what I think are the best, most comprehensive and thorough books I've ever seen for the instrument. I just might end up buying every book you've written and I'll be giving my highest recommendation for your books to my friends and students. Thank you so much for taking the time to write such great books! — Peter Rhee
Aloha, Curt, All I can say is WOW! What you have accomplished is simply incredible! All the best — Glen Hirabayashi, The Aloha Boys
Folks, if you haven't stopped by Curt's site, do so right now! ..And get his books, they are fantastic. This guy knows his stuff and is able to pass it along too. — Alan Johnson Proprietor, The 4th Peg
I can highly recommend Curt's Uke books — I have four of them and they are excellent. — fatveg — Portland
Thanks for visiting and checking out the site!
Original Curtie Animation from 1987 for my first web site on a Macintosh II. 34 years ago. Man, does time fly.
"Built for myself (Curt), and sharing with the `Ukulele community!"
LearningUkulele.com has one of the largest collections of lessons, songs, and TABS, luthiers, ukulele builders, ukulele festival and club information, and, ukulele links on the web. I've been on the ®Internet since the early 1990's and This site just never stops growing!!!
Content is added and updated almost daily - so check back often. I really do need to get out more ;-)