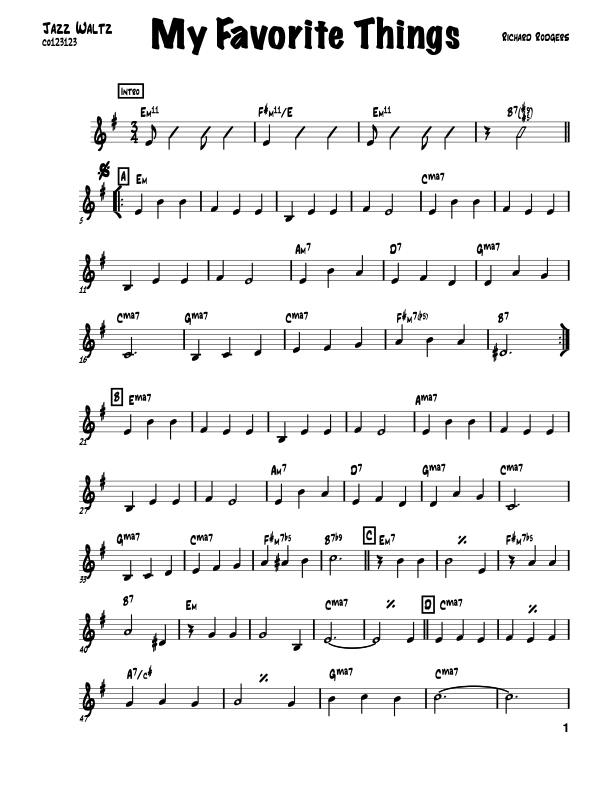 All 1 sample page(s) are viewable on-line.
If you are a registered site member and have the correct permissions you can view ALL the pages of this PDF or Samples pages at a larger size. You can resize the browser window smaller to a tablet or phone size and the pages will magically grow larger.
Or, use the Online PDF Viewer . available for premium members .
My Favorite Things is a show tune from the 1959 Rodgers and Hammerstein musical The Sound of Music.
The song was first introduced by Mary Martin in the original Broadway production, and sung by Julie Andrews in the 1965 film adaptation.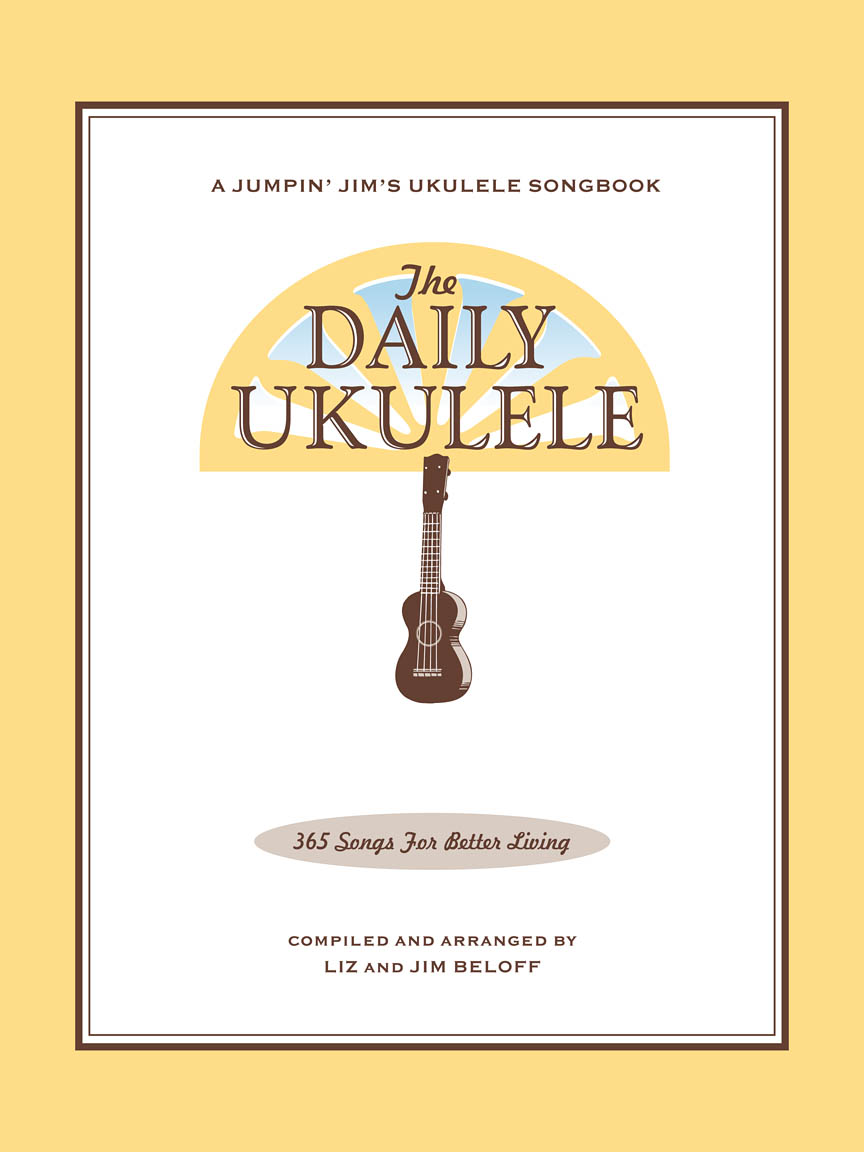 My Favorite Things is in the The Daily Ukulele — 365 Songs for Better Living book.
"Curt, your CD was fantastic. You are amongst the ukulele masters of our day." — John K.
In the musical, the lyrics to the song are a litany of things that Maria loves, such as "raindrops on roses and whiskers on kittens, bright copper kettles and warm woolen mittens." These are the things she selects to fill her mind with when times get bad and sad.
As a jazz musician I was turned on to this song by the John Coltrane recording.
The song has been recorded hundreds of times. Jazz artist John Coltrane did an extended, close to fourteen-minute version on his 1961 album taken from the title of the song. It became a jazz classic and a signature for Coltrane in concert, also appearing on New Thing at Newport and Live at the Half Note: One Down, One Up in 1965, and Live at the Village Vanguard Again! in 1966. Coltrane's version differs significantly from the song as originally conceived; using modal patters and being much darker and more frenzied in feel.
Web Resources
My Favorite Things is a 1961 jazz album by John Coltrane. It is considered by many jazz critics and listeners to be a highly significant and historic recording. It was the first session recorded by Coltrane on the Atlantic label, the first to introduce his new quartet featuring McCoy Tyner (Piano), Elvin Jones (Drums) and Steve Davis (Bass) - neither Jimmy Garrison nor Reggie Workman featured as yet.
My Favorite Things

— Premium Play-along Track
Play-along Demo: Desafinado
This play-along track is ONLY available to active users with Gold Level, Premium Site Access. "Can't give it all away."
Listen to this FREE track as a sample of the quality of these custom play-along tracks.
---
I, (Curt) originally created these tracks to perform over for gigs and this was a demo for booking gigs.
These Premium Play-along Tracks are available to LearningUkulele.com Site Members and are my personal one-of-kind tracks I (Curt) and Chuck Anderson recorded and arranged.
How About More Uke?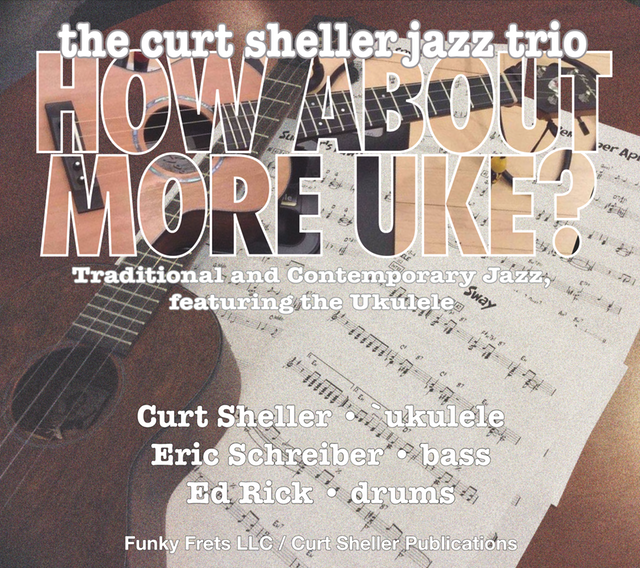 Release Date: December 2, 2015
Here is Jazz Ukulele, Trio CD: How About More Uke? — A collection of jazz standards, original compositions by myself (Curt Sheller), Chuck Anderson and Jim Beloff / Herb Otha. Featuring Curt Sheller: `ukulele, Eric Schreiber: bass and Ed Rick: drums.
10 Minute Demo of How About More Uke? CD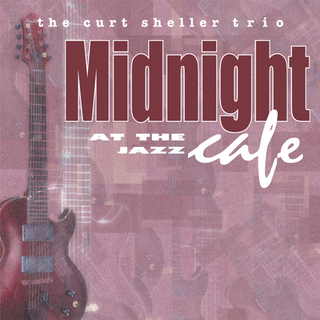 Midnight at the Jazz Cafe
My Favorite Things is available on my 2002 Jazz Trio CD: Midnight at the Jazz Cafe. The CD is available right here on the LearningUkulele.com eStore
Main Song Download(s)
The main downloads for this Song.
My Favorite Things - Lead Sheet

Updated: 31 Dec 2016

Members Only
Log-in to access.
My Favorite Things - Premium Play-along Track

Updated: 31 Dec 2016

Members Only
Log-in to access.
My Favorite Things - How About More Uke? CD - Curt Sheller Trio

Updated: 31 Dec 2016
From How About More Uke? CD - Curt Sheller Trio

Members Only
Log-in to access.
Related Lessons
Related Lessons for My Favorite Things.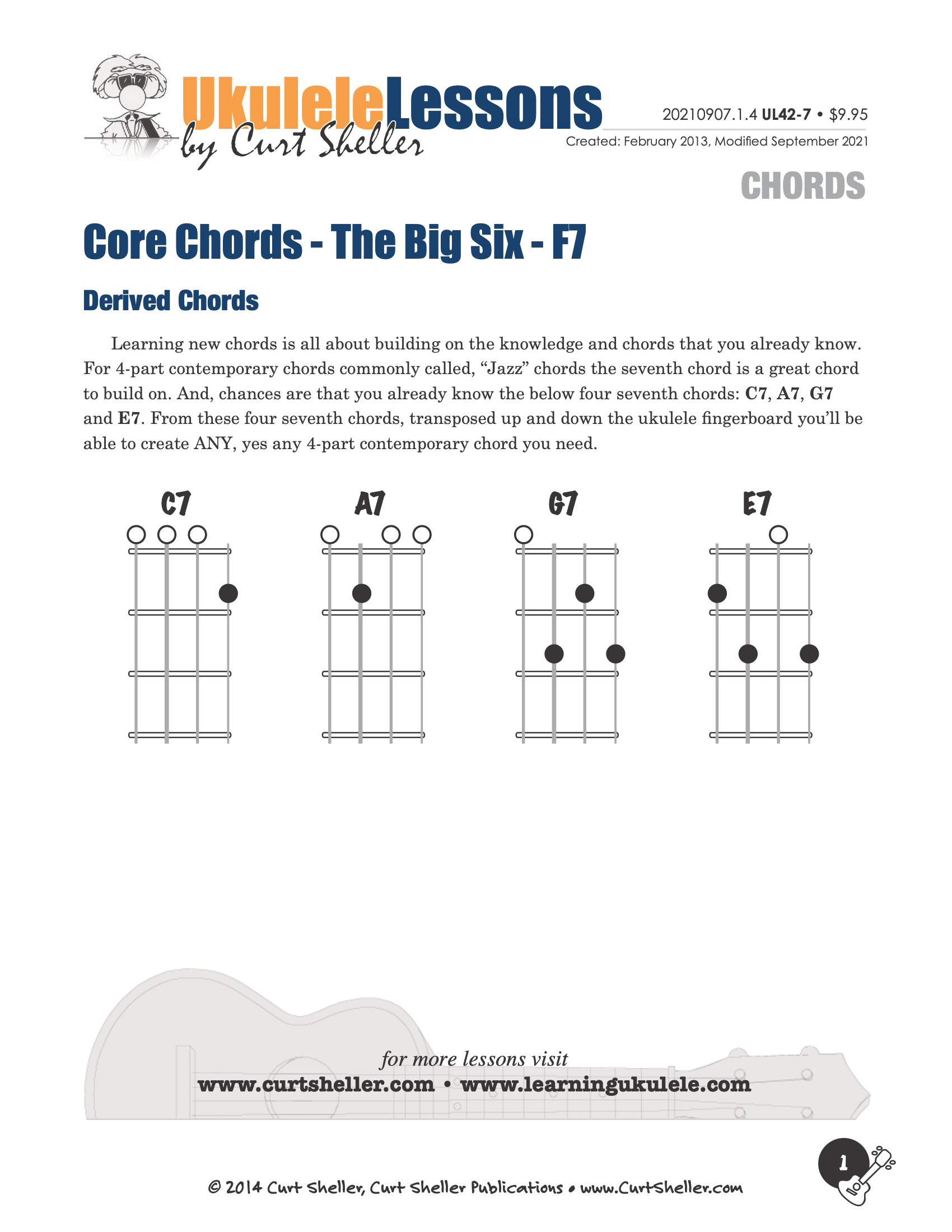 Core Chords - The Big Six - Building a Solid Chord Foundation
• Updated: 07 Sep 2021
The Big Six Core Chords is a series of lessons for building your core, essential 4-part chords. These chords commonly called jazz chords, are really just 4-part chords used in a wide range of musical styles. These chords include: Seventh , Major Seventh, Minor Seventh, Half Diminished Seventh or Minor Seven Flat Five, Diminished Seventh, and Augmented Seventh. These six chords form a core set of chords.
Related Books
Related Books for My Favorite Things.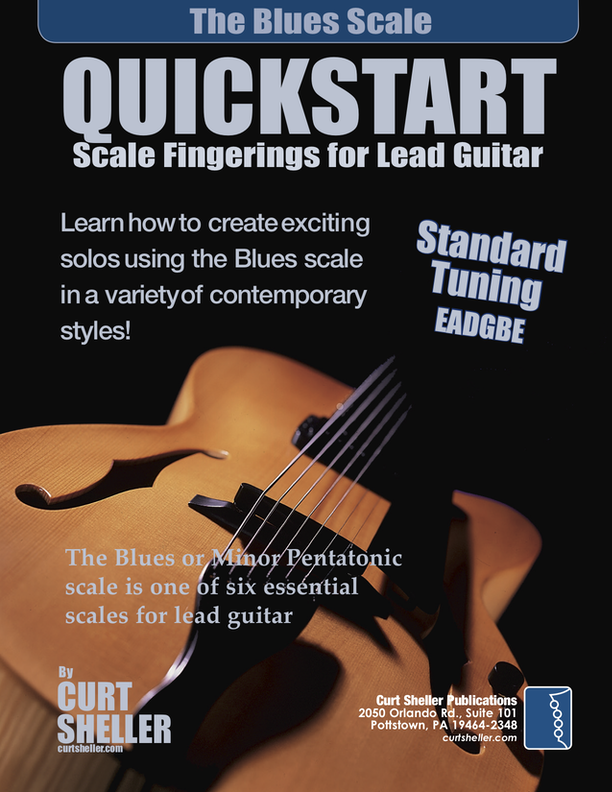 QuickStart Scale Fingerings for Lead Guitar - Blues Scale

Updated: Nov 24, 2009
The Blues or Minor Pentatonic is one of six essential scales for ALL guitar players. One octave scale fingering solutions with the Blues scale chords are covered in all keys. Sample chord progressions for practice are included. Book includes four studio recorded backing tracks for exploring the Blues scales in the book.
Related Song Files, Resources and Assets
Related Assets for My Favorite Things.