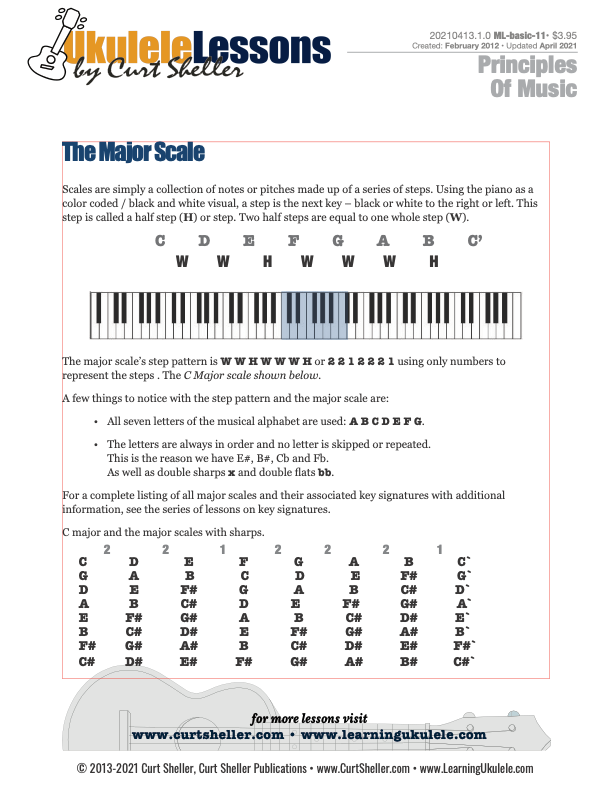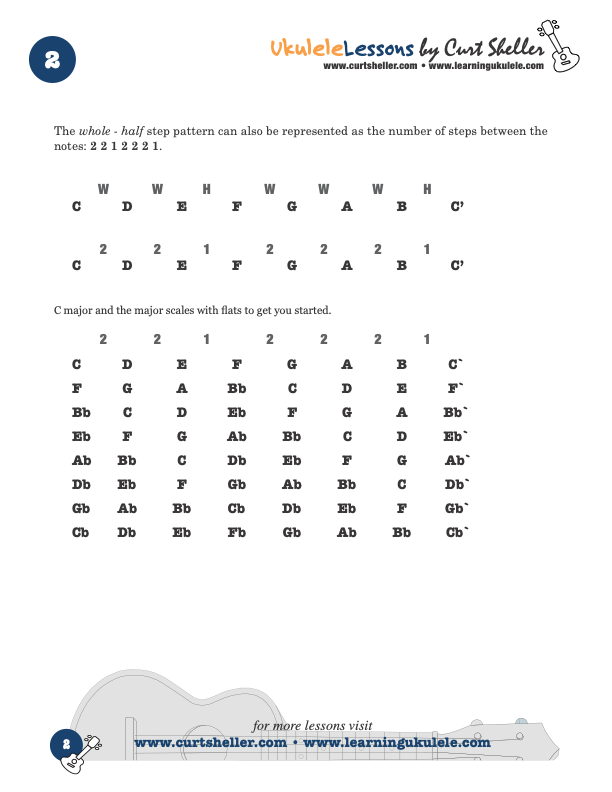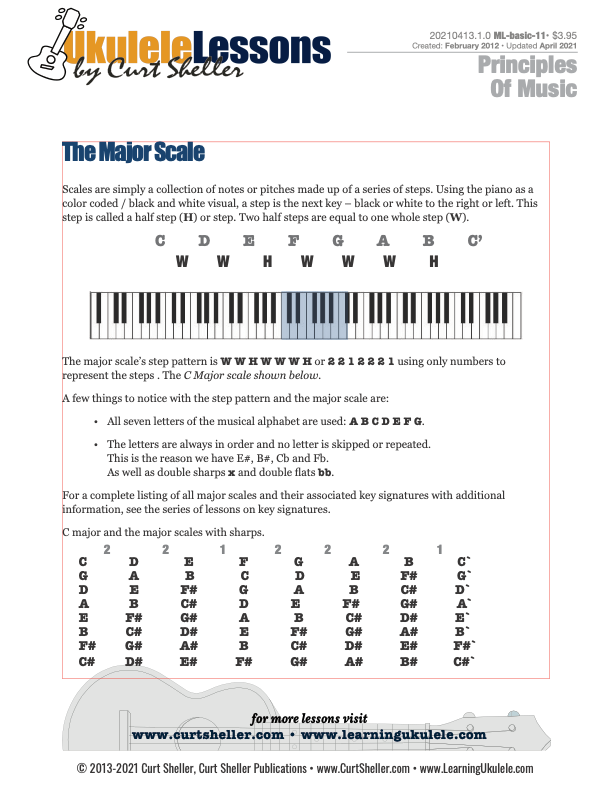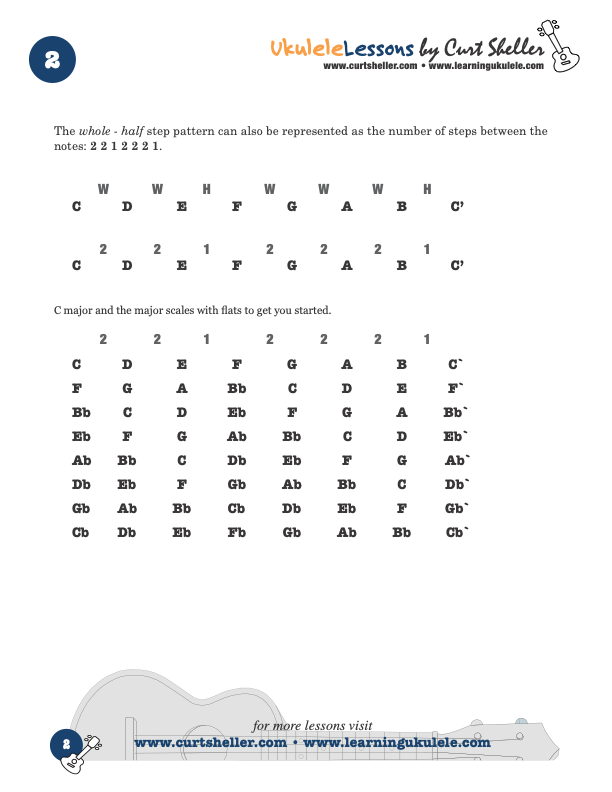 All 2 sample page(s) are viewable on-line.
If you are a registered site member, have verified your email address, and have the correct permissions you can view ALL the pages of this PDF or Samples pages at a larger size using the LearningUkulele.com Online PDF Viewer .
This Download is NOT part of your LearningUkulele.com membership level.
Sign-up for Premium Site Access or Upgrade Your Plan your current access level to download this PDF or your can purchase a copy for download.
After purchasing a PDF , a download link will be sent to you within 24hrs. Working on getting it to be automated.
Each PDF file is a formatted, high resolution file that prints out great. You'll need a PDF Reader or application capable of viewing PDF files to view the PDF.
Download the PDF file for the latest, complete, and most up-to-date version. As well as additional information not presented on-line.
Members and Active Students need to sign-in to download this lesson's PDF for the complete lesson.
The Major Scale
Called the learning scale for a reason. The major scale is a great scale for learning how music and chords work. It's a core scale from which a majority of your core, essential scales can be derived.
Additional Content
Available for Premium Site Access Plans Only
For learning the names of the chord tones of all your chords, the major scale is the scale used.
There are 15 Major scales/keys: C , G , D , A , E , B , F♯ , C♯ , F , B♭ , E♭ , A♭ , D♭ , G♭ , C♭ . YES, fifteen (15) NOT just twelve – the three Enharmonic Equivalent scales are: B/C♭, C♯/D♭, F♯,G♭, although not common keys they are essential scales and need to be mastered.
In Western music, the Major scale is one of the most fundamental and widely used scales. It is a diatonic scale, meaning it consists of seven notes (ALL seven letters A B C D E F G) and spans an octave. The pattern of intervals between the notes of the Major scale is as follows: Whole – Whole – Half – Whole – Whole – Whole – Half Or, in terms of semitones (half–steps): 2 – 2 – 1 – 2 – 2 – 2 – 1
The result for the C Major scale, is the notes C, D, E, F, G, A, and B. • the white keys of a standard piano.
The Major scale has a bright and happy sound, and it serves as the basis for many melodies, harmonies, and chord progressions in Western music. Each note in the Major scale can be associated with a specific degree or number, which forms the basis for understanding music theory, chord construction, and key relationships.
Download the PDF file for the latest, complete, and most up-to-date version. As well as additional information not presented on-line.
End of Lesson - Thanks, Hope You Enjoyed It!
Related Lessons, Videos, Lesson Series, Songs, Books & Reference Charts, Resources & Assets, Workshops are below.
Related Lessons
Related Lessons for The Major Scale.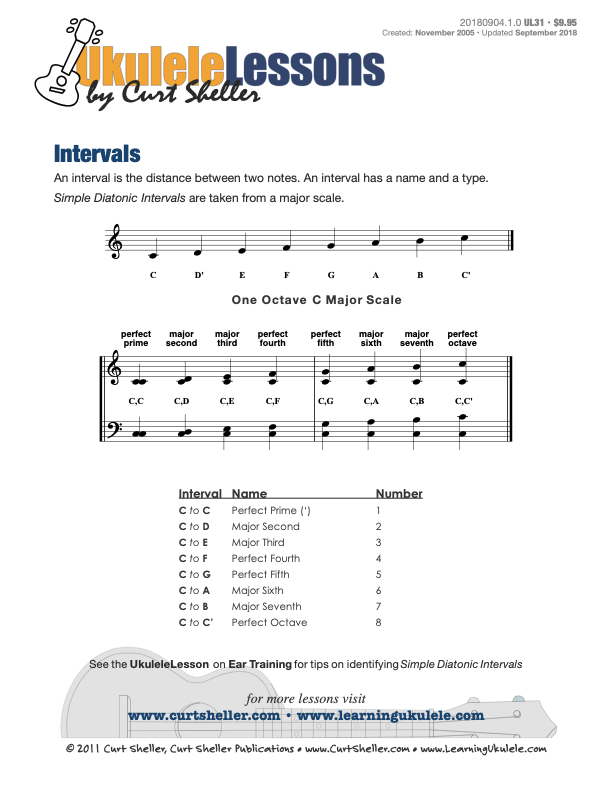 Understanding Diatonic Intervals
Updated: 12 Nov 2022
An interval is the distance between two notes. An interval has a name and a type. Intervals can be played one note (melodic) or two notes (harmonic) at a time, ascending or descending. Simple and Compound Intervals are taken from a major scale. Chromatic Intervals are NOT taken from a major scale. They are derived from the diatonic intervals.
Related Books & Charts
Related Books for The Major Scale.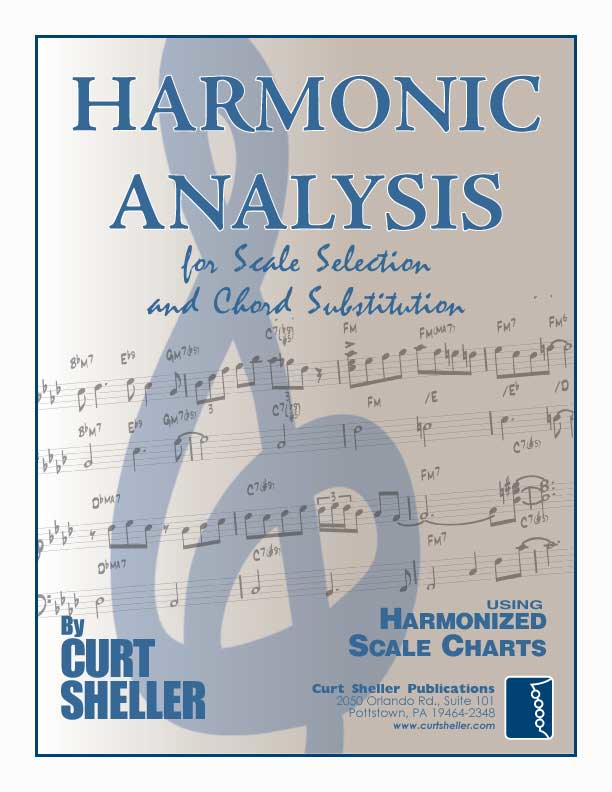 Harmonic Analysis for Scale Selection and Chord Substitution
Updated: 10 Jun 2021
Harmonic Analysis is the understanding of the functional sequence of chords. It is the process used to analyze the harmonic structure of a progression, song or composition. This analysis is then used to make scale selections for improvisation and chord substitution.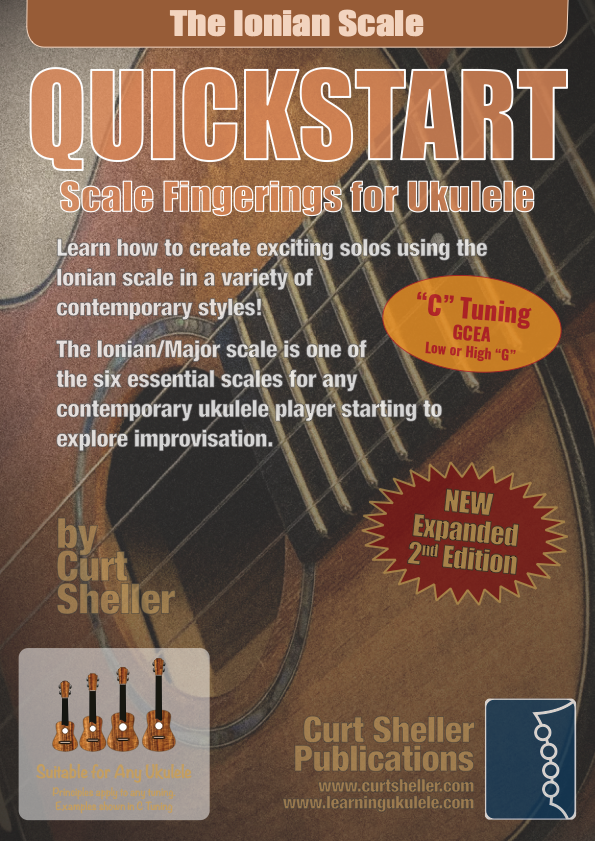 QuickStart Scale Fingerings for Ukulele, C Tuning - Ionian Scale
Updated: 30 Jul 2019
The Ionian scale is a major scale more commonly known by its traditional name - Major and one of six essential scales for ALL ukulele players. One octave scale fingering solutions for strings four and three and any finger with the Mixolydian scale chords are covered in all keys. Sample chord progressions for practice are included. Tunings: C with low or high G - (GCEA or gCEA). This book includes access to four studio recorded backing tracks for exploring the scale and improvisation in a variety of settings. Tracks are also great for practicing your chords against.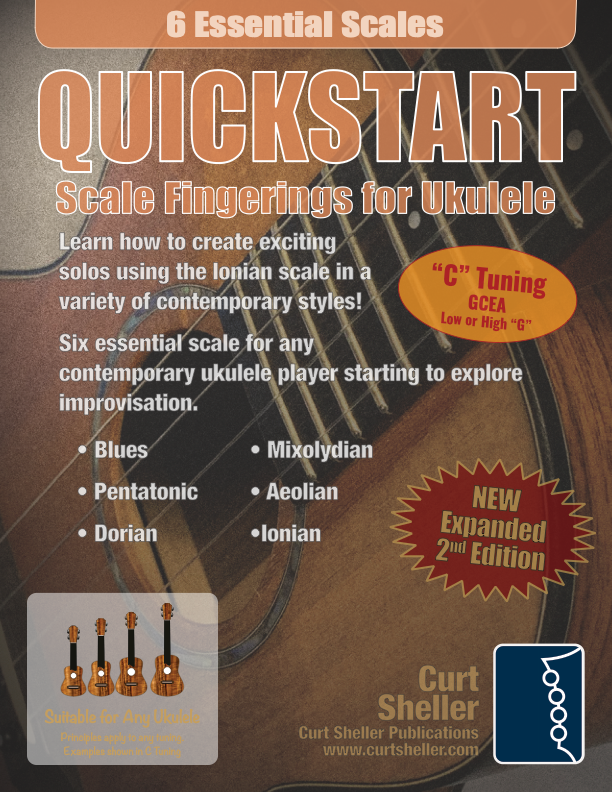 QuickStart Scale Fingerings for Ukulele, Volume I, C Tuning
Updated: 16 May 2023
Learn to create exciting solos in a variety of contemporary styles! Scales are used to improvise, create melodies and riffs. With broad knowledge of the essential scales that are used in contemporary music and a mastery of the ukulele's fingerboard and fingering principles, you're well on your way.
Books
Reference Charts
Related Lesson Files, Resources and Assets
Related Assets for The Major Scale.