Learn a New Ukulele Chord Each Day of 2018!!!
Today's Chord a Day, March 23rd - C13 •
Each day of 2018 there's a new chord you can learn and add to your chord vocabulary. First time here? Start with the January 1st chord.
There is also a series of lessons I ran 2013 called Chord a Week, "Open Position Chords" Series . This series explores several open position chords and their movable versions.
Learn a new strumming pattern(s) starting each week 2018 with my new video series!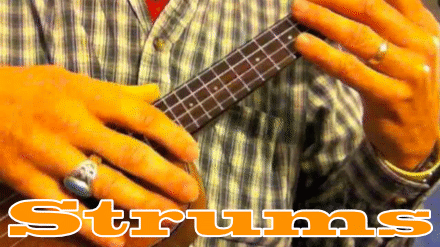 The Ukulele History
In 1879, a Braguinha arrived in Hawaii on a Portuguese ship loaded with laborers destined for the sugar cane fields with a Portuguese instrument called a Machete . Hawaiians made the instrument their own and calling it "ukulele" which translates to "jumping flea," It's believed to have originated because of the way a performer's fingers jump around on the strings.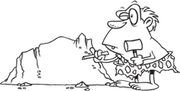 Three immigrants in particular, Madeiran cabinet makers Manuel Nunes, José do Espírito Santo, and Augusto Dias, are generally credited as the first ukulele makers
Here is a link to a great article on the history of the ukulele by Dagan B.
The Ukulele Timeline
Virtuoso musicians such as Jake Shimabukuro and James Hill are altering traditional perceptions of ukulele music. As well as singer / songwriters such as Victoria Vox touring the world
The third wave of the ukulele corresponding the influence of YouTube and the Internet.
Check out all the famous people and musicians associated with the ukulele on the ukulele musicians page .
Weekly TV host Arthur Godfrey keeps ukuleles in the spotlight.
A shift from the popularity of radio to most household have access to a TV and the second wave of the ukulele craze.
Ukulele craze revived by GIs returning home from South Pacific after World War II.
Ukuleles all the rage. This corresponds to the popularity and availability of radio in the decade of the 20s to 40s.
Panama Pacific International Exposition in San Francisco, California USA unveils ukulele to the world. The Panama–Pacific International Exposition (PPIE) was a world's fair held in San Francisco, in the United States, between February 20 and December 4 in 1915. Its ostensible purpose was to celebrate the completion of the Panama Canal, but it was widely seen in the city as an opportunity to showcase its recovery from the 1906 earthquake.
Portuguese sailors introduce Hawaiians to small four-stringed instrument that gave rise to the ukulele. King David Kalakaua was influential in the initial rise of popularity of the ukulele.
Ukulele virtuoso and master educator James Hill has a great take on how the three ukulele crazes have spread — They ALL corresponded to the adoption of new vehicle for the delivery of mass media. He has a great point that Radio, TV and the Internet all created a sense of community around the ukulele.
Notable Players and People That Influenced the Popularity of the Ukulele
David Kalakaua (1836 - 1891)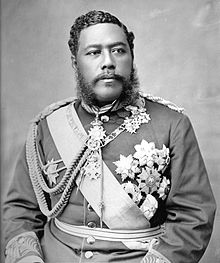 During his reign hula was revived, after having been banned in 1830 by Queen Ka'ahumanu, who had converted to Christianity. He is also known for having revived surfing and the Hawaiian martial art, Kapu Kuialua.
Kalākaua and his brother and sisters were known as the "Royal Fours" for their musical talents. He wrote "Hawaiʻi Ponoʻī", which is the state song of Hawaii today. His ardent support of the then newly introduced ukulele as a Hawaiian instrument led to its becoming symbolic of Hawaii and Hawaiian culture. He is honored as "Patron of Hawaiian Music Culture" by the Hawaiian Music Hall of Fame and was inducted into the Ukulele Hall of Fame in 1997.
For more in and other influential people and player that have contributed to the various time the ukulele became popular there is not better place then the Ukulele Hall of Fame and their Ukulele Hall of Fame Inductees.
Visit the Famous Ukulele Players page for more notable players.
Just browsing over both books, they look fantastic! I'm a guitarist and uke player for over 25 years and was thinking about writing a ukulele book but you've already written what I think are the best, most comprehensive and thorough books I've ever seen for the instrument. I just might end up buying every book you've written and I'll be giving my highest recommendation for your books to my friends and students. Thank you so much for taking the time to write such great books! — Peter Rhee
Aloha, Curt, All I can say is WOW! What you have accomplished is simply incredible! All the best — Glen Hirabayashi, The Aloha Boys
Folks, if you haven't stopped by Curt's site, do so right now! ..And get his books, they are fantastic. This guy knows his stuff and is able to pass it along too. — Alan Johnson Proprietor, The 4th Peg
I can highly recommend Curt's Uke books — I have four of them and they are excellent. — fatveg — Portland
Thanks for visiting and checking out the site!
Content is added and updated almost daily - so check back often.
LearningUkulele.com has one of the largest collections of lessons, songs, and TABS, luthiers, ukulele builders, ukulele festival and club information, and, ukulele links on the web. I've been on the ®Internet since the early 1990's and This site just never stops growing!!!