Learn a New Ukulele Chord Each Day of 2017!!!
Today's Chord a Day, February 21st - dim7
Each day of 2017 there's a new chord you can learn and add to your chord vocabulary. First time here? Start with the January 1st chord.
News and Announcements for LearningUkulele.com
All the news, announcements and posts that's fit to print around here at LearningUkulele.com. For the latest on Curt Sheller or Funky Frets checkout their respective sites. There is a lot planned for the end of 2016 and for 2017.
---
Here is an announcement from Glen Hirabayashi regarding a performance and workshop event that in Herfom, VA. - Curt
---
Aloha e Ukulele Afficionados,
We are incredibly fortunate to have ukulele master, Curt Sheller, coming to Northern Virginia on Saturday, March 18, 2017. He will be conducting 3 workshops in the afternoon, and performing in a house concert setting that evening.
Workshops are:
1:00-2:30: Set Yourself Up for Ukulele Success
Get Sound Fundamentals, Good Habits, Practicing Technique, and Basic Music Theory in one compact session,
3:00-4:30: Exploring Jazz Chords on Ukulele
Explore contemporary 4-part chords on ukulele. Learn the principles of chord construction, and learn the notes of the ukulele fingerboard, so you WILL be able to create ANY chord you come across just from the name.
5:00-6:30: Ukulele Improvising, Introduction to Scales and Soloing on Ukulele
Here is a workshop for any level ukulele player on creating your own music, taking what you already know and creating music.
From a few SIMPLE chords and a few single notes you can create music and entertain yourself for hours.
Pot Luck Pupus at 7:00 and concert at 8:00 p.m.
In my opinion, Curt is one of the most knowledgeable ukulele teachers today. His two websites, CurtSheller.com and LearningUkulele.com provide a hint of his knowledge and abilities. His Learn Ukulele website has more than 600 lessons. Curt seriously studied and performed jazz guitar for more than 30 years before taking all of that knowledge of music and guitar and meticulously applying it to the ukulele.
Seats are limited. Tickets must be purchased and reservations for workshops must be made online. Please visit Eventbrite Ticket Site to do so. The password is "Aloha".
*Feel free to share this email with other ukulele aficionados. *
This is a wonderful opportunity to grow as an ukulele player.
Call me if you have questions.
Glen Hirabayashi mobile 571 224-3067
---
There are several ways to finger an open position D major chord. Depending on the context of how it's being used, one fingering might be better than another.
This is the fingering I use most often.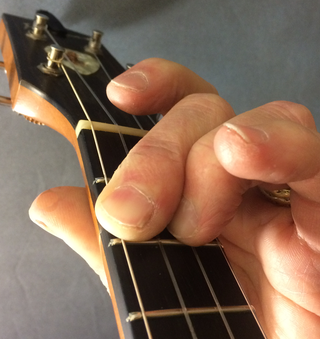 Finger two is covering string four and three with a partial barre. This chord can be transposed up and down the fingerboard by placing finger on on string one, two frets lower than the fingers on string two, three, and four.
For fingering single notes its always a goal of trying to get right behind the fret. That is is location that requires the least amount of effort for pressing the string down to the fingerboard. This fingering is also the goal for the individual notes of a chord. And, is not always possible - especially when the notes are on the same fret on adjacent strings. This barre of finger two allows you to get as close to the frets as possible. And, with the added benefit of still being able to use finger one and four for embellishments and added notes.
Just browsing over both books, they look fantastic! I'm a guitarist and uke player for over 25 years and was thinking about writing a ukulele book but you've already written what I think are the best, most comprehensive and thorough books I've ever seen for the instrument. I just might end up buying every book you've written and I'll be giving my highest recommendation for your books to my friends and students. Thank you so much for taking the time to write such great books! — Peter Rhee
Aloha, Curt, All I can say is WOW! What you have accomplished is simply incredible! All the best — Glen Hirabayashi, The Aloha Boys
Folks, if you haven't stopped by Curt's site, do so right now! ..And get his books, they are fantastic. This guy knows his stuff and is able to pass it along too. — Alan Johnson Proprietor, The 4th Peg
I can highly recommend Curt's Uke books — I have four of them and they are excellent. — fatveg — Portland
Thanks for visiting and checking out the site!
Content added and updated often. So check-in often. Thanks, for visiting!!!
LearningUkulele.com has one of the largest collections of lessons, songs, and TABS, archtop luthiers, ukulele builders, festival information, ukulele links on the web. I've been on the ®Internet since the early 90's and growing every day. This site just never stops growing!!!