News and Announcements for LearningUkulele.com
All the news, announcements and posts that's fit to print around here at LearningUkulele.com. For the latest on Curt Sheller or Funky Frets checkout their respective sites. There is a lot planned for the end of 2016 and for 2017.
---
Time to chime in and reveal how simple it is to learn to play triplets and triplet based strums.
Counting
Counting triplets is as simple as counting anything else. Simply use the counting system we all learned early on - use numbers.
A triplet, as the "tri" in the name implies, means three. It's the subdivision of the beat where there are three even sub divisions of the beat. Notice I had to use the word for the number three a lot in writing this. So, if I'm counting any beat where it can be sub divided by three it's 1 2 3. No need to use words such as trip-o-let or one triplet, two triplet, etc to count.
And there's no need to count the beats as in 1 2 3 2 2 3 3 2 3 4 2 3. That's just too darn complicated and turns into a tongue twister. Simply use 1 2 3 1 2 3 1 2 3 1 2 3. If counted and played evenly the beats will fall into place and take care of themselves.
Here are a few exercises to do before you even pick up the ukulele:
Count 1 2 3 1 2 3 1 2 3 over and over evenly.
Clap or tap you foot on the 1 of the 1 2 3 - those are the downbeats.
Then grab the ukulele and the harder part, to actually execute the rhythmic pattern.
First take you thumb and tap on the body of the ukulele like a drum to your 1 2 3 1 2 3 1 2 3 count. Listen to the sound and sing any single syllable sound, replace the tapping of the thumb. If you not comfortable tapping not the ukulele simple clap your hands to the count. The goal is to internalize the rhythm before trying to play anything on the ukulele.
Strumming
Now using any chord that you know that involves strumming all the strings - play that chord wil counting evenly 123123123123... For strum stroke dorection it is best to do a down stroke on the one of each 123. You can do any combination of down and up for the 2 3 of the 1 2 3 count.
---
There are several ways to finger an open position D major chord. Depending on the context of how it's being used, one fingering might be better than another.
This is the fingering I use most often.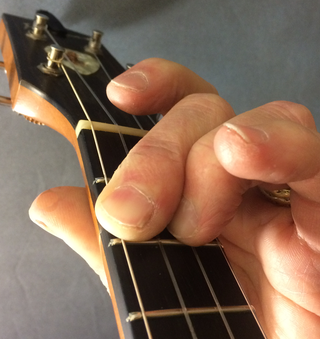 Finger two is covering string four and three with a partial barre. Finger three is on string two, frets (2). This chord can be transposed up and down the fingerboard by placing finger one on string one, two frets lower than the fingers on string two, three, and four.
For fingering single notes it's always a goal of trying to get right behind the fret. That is is location that requires the least amount of effort for pressing the string down to the fingerboard. This fingering is also the goal for the individual notes of a chord. This is not always possible - especially when the notes are on the same fret on adjacent strings. This partial barre of finger two allows you to get as close to the frets as possible. With the added benefit of still being able to use finger one and four for embellishments and added notes.
Just browsing over both books, they look fantastic! I'm a guitarist and uke player for over 25 years and was thinking about writing a ukulele book but you've already written what I think are the best, most comprehensive and thorough books I've ever seen for the instrument. I just might end up buying every book you've written and I'll be giving my highest recommendation for your books to my friends and students. Thank you so much for taking the time to write such great books! — Peter Rhee
Aloha, Curt, All I can say is WOW! What you have accomplished is simply incredible! All the best — Glen Hirabayashi, The Aloha Boys
Folks, if you haven't stopped by Curt's site, do so right now! ..And get his books, they are fantastic. This guy knows his stuff and is able to pass it along too. — Alan Johnson Proprietor, The 4th Peg
I can highly recommend Curt's Uke books — I have four of them and they are excellent. — fatveg — Portland
Thanks for visiting and checking out the site!
Thanks, for visiting!!! Content is added and updated almost daily - so check back often.
LearningUkulele.com has one of the largest collections of lessons, songs, and TABS, luthiers, ukulele builders, festival informations, clubs, and ukulele links on the web. I've been on the ®Internet since the early 1990's. This site just never stops growing!!!