The Funky Frets Jamulus Server
The "Funky Frets" Jamulus Server: Funky Frets Two
LIVE!!!
•
(Actually ALWAYS Running & FREE)
The Funky Frets/LearningUkulele.com Jamulus Server (Funky Frets Two), is a dedicated and FREE place for ukulele players worldwide to jam. It is a public server and open to anyone in the world and ALWAYS running. LearningUkulele.com and Funky Frets will maintain, pay for and use these servers to periodically host Ukulele Jams.
This server is located in Northern New Jersey on cloud server providers, super close to one of the Internet backbones and they are typically very low latency. There are named Funky Frets and Funky Frets Two — very creative name(s) if I don't say myself.
Connection to a Jamulus Server
After launching the Jamulus client application, click on the "Connect" button in the Jamulus (Mixer) window and select All Genres from the List menu in the "Connection Setup" window. Then select the Funky Frets server, Newark, NJ United States. For scheduled Funky Frets/LearningUkulele.com jams, select the scheduled server or enter the IP Address that your where sent. You can setup your own jams on non-scheduled times and use any of the Funky Frets servers.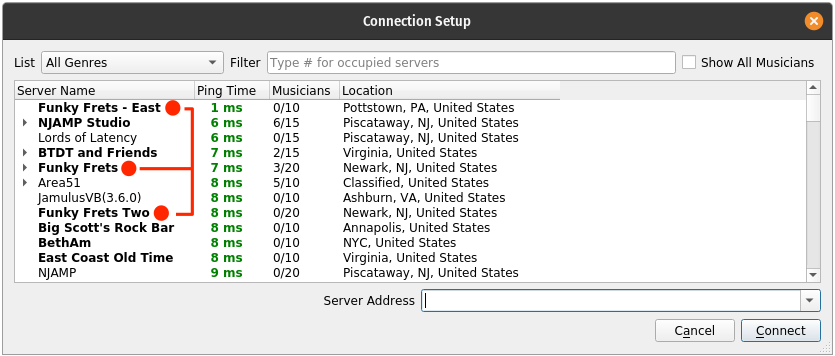 Select the Funky Frets Two server. Funky Frets Two will be the most available with the lowest ping times. The Funky Frets East server and the Jamulus client where on the same computer at my home and that is why it's 1ms. The "ping" times are all relative to a Northeast, USA connection.
The Jamulus Settings Panel on the Linux, the Pop!_OS distro.
If you are connecting to a private Jamulus server then enter the IP Address you where emailed in the Server Address field at the bottom right hand corner of the "Connection Setup" window.
Troubleshooting
Most, easy initial problems you might have are selecting you sound source.
The Jamulus Settings Panel on Linux . This is a sample from my System76 Thelio computer running the linux Pop!_OS system. On my Mac computer there are a lot of entries to pick from.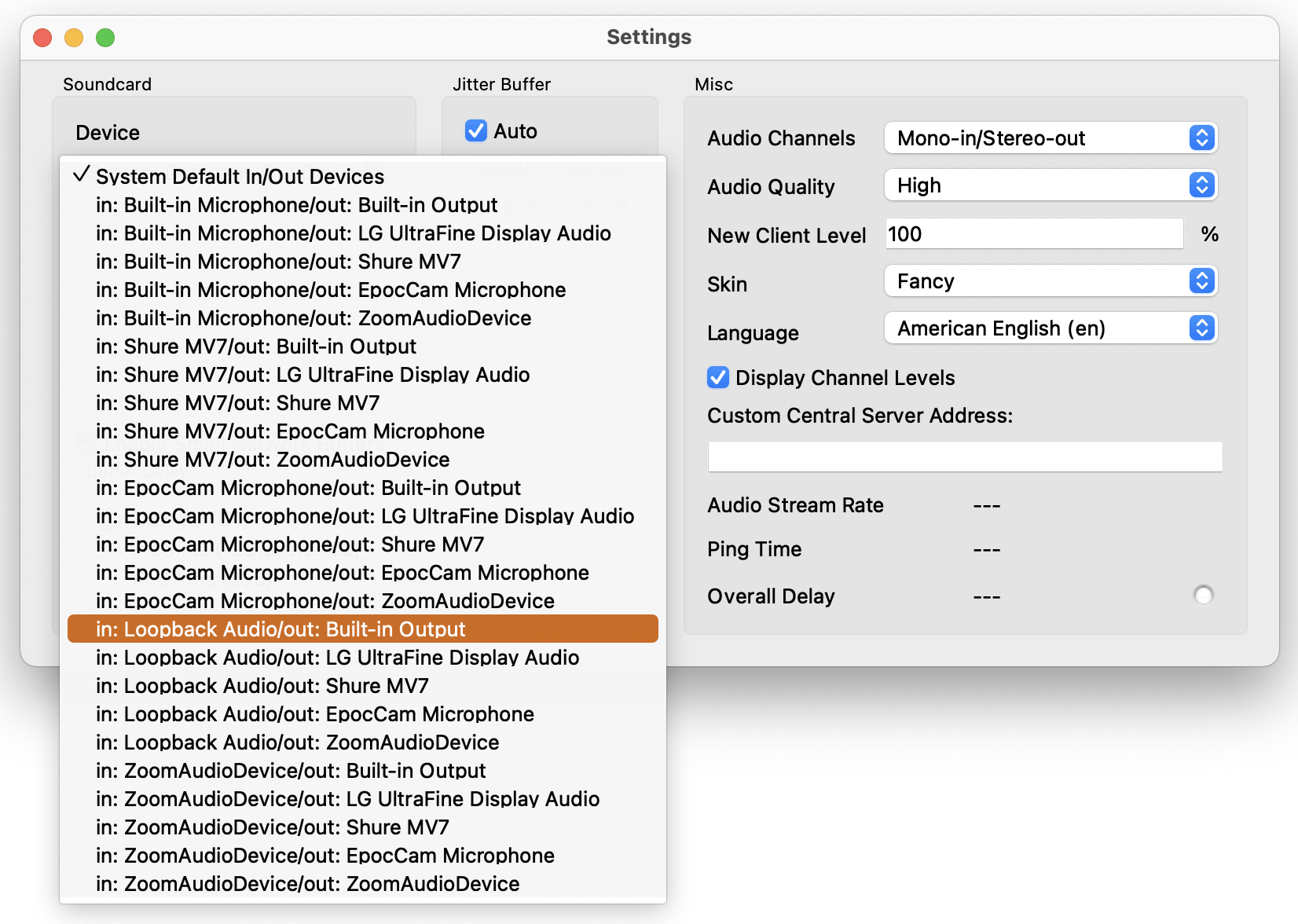 The Jamulus Settings Panel on Apple macOS . This is a sample from my Apple, iMac computer running the Big Sur OS. On my Mac computer there are a lot of entries to pick from.
Getting your computer sound can be a tricky area.
Here are some Jamulus Wiki Page resources pages for more information.
Checkout the Introduction - To Jammin' On-line and Gear & Optimizing Your Settings pages for using Jamulus and what is needed for a successful on-line jammin' experience.
NOTE: Each higher access level includes ALL the benefits of the lower levels. Private Lessons include all the benefits of a Premium Access Plans as long as you remain a student on the schedule.
---
Just browsing over both books, they look fantastic! I'm a guitarist and uke player for over 25 years and was thinking about writing a ukulele book but you've already written what I think are the best, most comprehensive and thorough books I've ever seen for the instrument. I just might end up buying every book you've written and I'll be giving my highest recommendation for your books to my friends and students. Thank you so much for taking the time to write such great books! — Peter Rhee
Aloha, Curt, All I can say is WOW! What you have accomplished is simply incredible! All the best — Glen Hirabayashi, The Aloha Boys
Folks, if you haven't stopped by Curt's site, do so right now! ..And get his books, they are fantastic. This guy knows his stuff and is able to pass it along too. — Alan Johnson Proprietor, The 4th Peg
I can highly recommend Curt's Uke books — I have four of them and they are excellent. — fatveg — Portland
Thanks for visiting and checking out the site!
Original Curtie Animation from 1987 for my first web site on a Macintosh II. 34 years ago. Man, does time fly.
"Built for myself (Curt), and sharing with the `Ukulele community!"
LearningUkulele.com has one of the largest collections of lessons, songs, and TABS, Luthiers, ukulele builders, ukulele festival and club information, and, ukulele links on the web. I've been on the ®Internet since the early 1990's and This site just never stops growing!!!
Content is added and updated almost daily - so check back often. I really do need to get out more ;-)