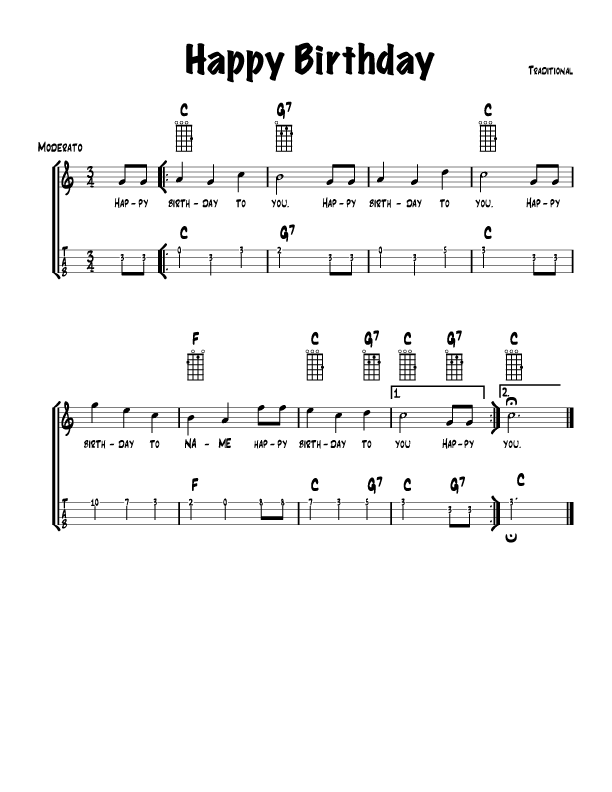 All 1 sample page(s) are viewable on-line.
If you are a registered site member, have verified your email address, and have the correct permissions you can view ALL the pages of this PDF or Samples pages at a larger size using the LearningUkulele.com Online PDF Viewer .
View the Main Song Downloads section below to download the song files for the complete and most up-to-date versions.
Happy Birthday to You, also known more simply as Happy Birthday, is a song that is traditionally sung to celebrate the anniversary of a person's birth. According to the 1998 Guinness Book of World Records, "Happy Birthday to You" is the most recognized song in the English language, followed by "For He's a Jolly Good Fellow" and "Auld Lang Syne".
Performance Notes for Happy Birthday
Here is how I remember the melody of Happy Birthday:
Song starts on the 5th of the key of the song. Plays that note twice and then up a perfect 4th (Here Comes the Bride interval) and down 1/2 step
repeat, then up a perfect 5th (Do You Hear What I Here interval and a bell like tone), done 1/2 step) then repeat again and up an octave
The octave (8) is the fifth of a descending major triad, the I chord, then descending 1/2 step, then to whole step.
up a major sixth. This ones sounds a little dissonant in the context of all the constant melody. Then down 1/2 step and to root of key/scale, up M2 and back - DONE
Happy Birthday…
Happy Birthday is WikipediA : NOW in the public domain in the United States and the European Union. Warner Chappell Music had previously claimed copyright on the song in the US and collected licensing fees for its use; in 2015 the copyright claim was declared invalid and Warner Chappell agreed to pay back $14 million in licensing fees.
Open Position Chords
Resources & Links
Main Song Download(s)
The main downloads for this Song.
Related Lessons
Related Lessons for Happy Birthday.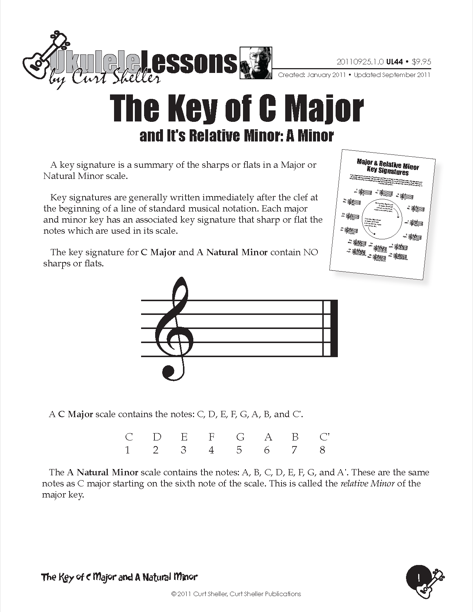 Key Signatures - C Major and A Minor
Updated: 21 Sep 2011
Learn the recognize the key signature for C Major and A Minor. Learn their corresponding Major and Natural Minor scales with basic ukulele chords for each scale. Sometimes called the learning key, the key of C Major is one of the easiest keys to memorize and begin using.
Related Lesson Series
Related Lessons Series for Happy Birthday.
Related Songs
Related Songs for Happy Birthday.
Related Books & Charts
Related Books for Happy Birthday.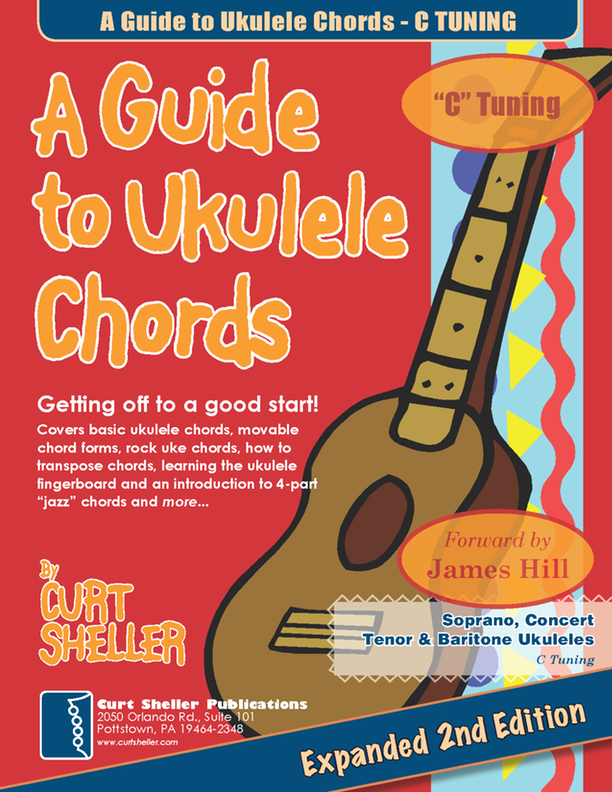 A Guide to Ukulele Chords, 2nd Edition
Updated: 10 Jan 2020
A Guide to Ukulele Chords, Second Edition is designed as a guide to ukulele chords. Covering the basic ukulele chords that ALL ukulele players SHOULD know. A Guide to Ukulele Chords covers movable chord forms, rock chords, how to transpose chords, learning the ukulele fingerboard and includes an introduction to 4-part, a.k.a jazz chords and more...
Related Song Files, Resources and Assets
Related Assets for Happy Birthday.